An email for business purposes can add credibility to your communications and set them apart from generic names and addresses. There are services on the internet that are user-friendly and priced economically, which can be viable for small and new businesses.
Choosing one from the plethora of options is time-consuming and research-intensive. So, we've listed down the best business email hosting solutions to help you select an option apt for your needs.
What is a business email address, and why do you need it?
Business emails are addresses that use a custom company domain for internal and external communications. Such emails also come with greater storage, better security, and assistive apps that can help companies of all shapes and sizes.
Business email hosting allows your employees to segment work and professional communications. They give clients one set of emails to send messages to and can help prevent accidental data leaks. These qualities make such emails crucial for any business.
How will a professional business email impact your brand?
Every external communication you send presents an opportunity for you to flaunt your brand; emails are no different. An address with your business's domain can display your business name to clients before they open the email.
Additionally, business email hosting allows you to create shorter, more contextual emails that are easier to recall. Finally, custom emails look professional and show your audience that you invest in your business.
All these qualities make business emails shareable, helping more people learn about your brand.
Launch your brand in minutes with a free logo
10 options for the best email for business branding to consider in 2023
Selecting the right email for business communications can be overwhelming due to the numerous options online. To simplify the process, we've hand-picked the ten best hosting services online and listed standout features with pros and cons.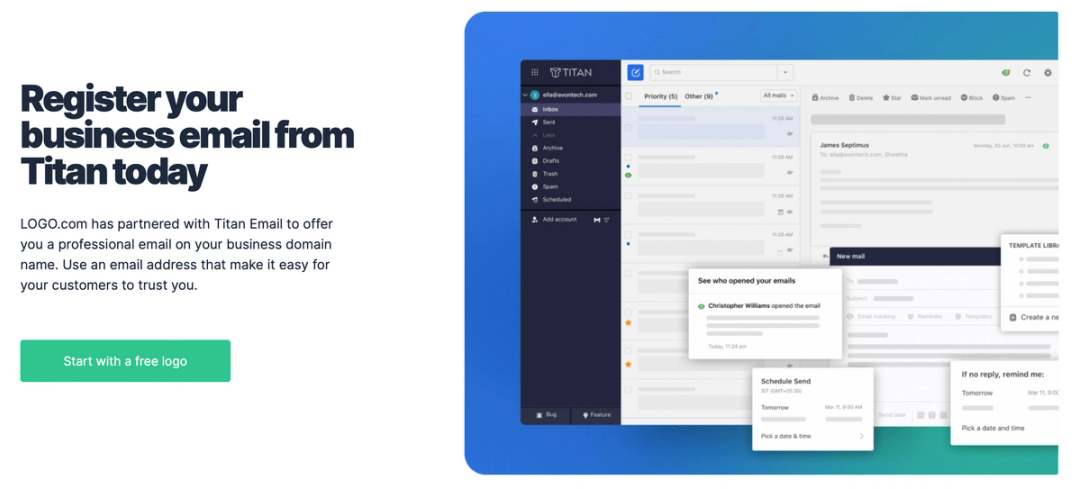 LOGO.com packs a punch as an all-in-one business solution, giving you a free logo design, branded materials, and a powerful business email to top it off. Thanks to a mighty collaboration with Titan Email, LOGO.com is more than capable of providing you with an efficient business email, along with everything else you need to start a business — all in one place.
Best features:
50 gigabytes of email storage, which is perfect for small businesses
Read receipts, scheduled emails, priority inboxes, and so much more – intended to increase and streamline your business communications
Ability to group contacts efficiently to save time when sending emails
Two-Factor Authentication to ensure complete privacy with your account
Pros:
Your business email is a part of a vast collection of important business materials, which will also be accessible to you.
You get the best of both worlds with LOGO.com's expertise in business-building and Titan's ability to produce streamlined communication
You can choose among different email templates to better express your brand identity.
Cons:
You need a domain name to use this service. Fortunately, you can affordably get one at LOGO.com before proceeding to the business email.
Pricing: LOGO.com's business email feature is only 5.75/month. However, users who have subscribed to its LOGO Pro plan get a free trial of Titan email for up to three months.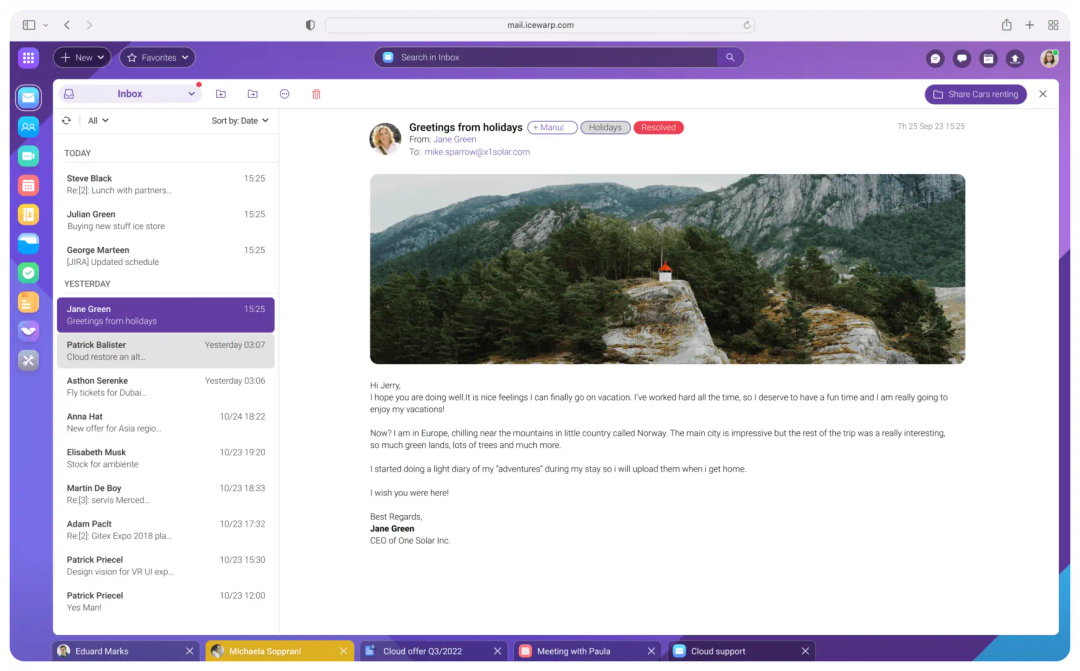 IceWarp's business email hosting platform is well-designed and allows you to seamlessly access your messages and calendar. They provide apps for various operating systems and browsers, making them accessible to most people.
However, their webmail suffers from lags and issues in performance on some browsers, which is less than ideal.
Best features:
Authenticator app for added security while logging in
Offers apps to help you easily migrate from your previous business email hosting
Pre-included antivirus program that scans for threats in emails
Pros:
They provide a three-month trial for new subscribers.
They offer plans at low prices for small businesses.
The calendar syncs seamlessly with the email client, indicating if you can accept a proposed meeting time.
Cons:
Startup plan users don't get access to desktop apps.
Their pricing page is confusing and can take some time to understand.
It is complicated to sync your email with third-party mailing apps.
Pricing:
Startups plan – $1.50 per person per month.
Corporate plan – $2.60 per person per month.
Business plan – $3.50 per person per month.
Business Desktop plan – $7 per person per month.
Public plan – Price available upon inquiry.
Hosting plan – Price available upon inquiry.
Education plan – $1 per person per month.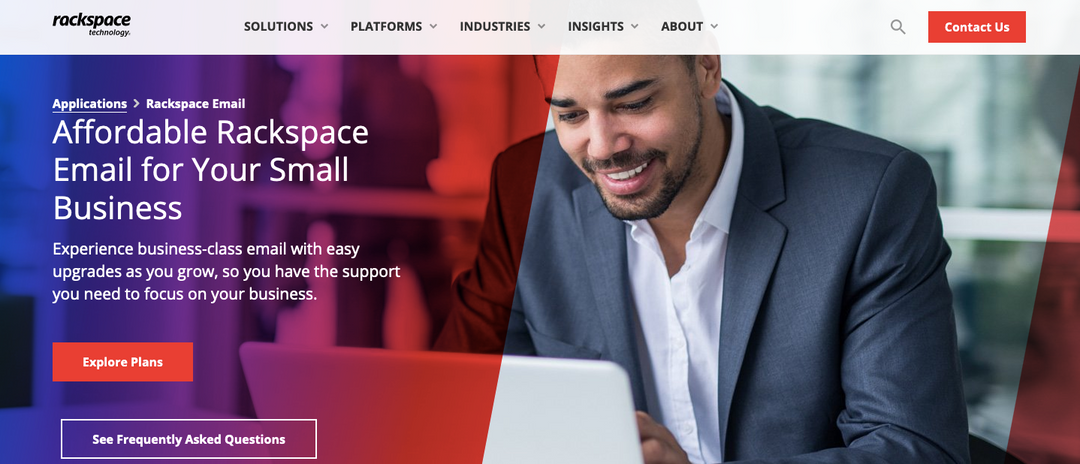 Rackspace's 100% uptime guarantee ensures you don't miss crucial emails with your clients and vendors. The webmail is well-designed and easy to use, working smoothly on most browsers. However, the business email lacks a smartphone app, which is inconvenient when you want to communicate on the go.
Best features:
100% uptime guarantee for non-interrupted conversations
User-friendly browser email platform
Customer service is available on all days of the year
Pros:
The platform does not show you ads or track your data.
Their spam filter prevents spam and phishing messages from reaching your inbox.
They offer free migration from other email providers.
Cons:
Your attachments can only be up to 50 MB – a negligible upgrade from what many free email services provide.
They offer limited storage compared to others in this list.
You have to pay a premium to get a calendar app.
Pricing:
Rackspace Email plan – $2.99 per user per month.
Rackspace Email Plus plan – $3.99 per user per month.
Add Archiving plan – $6.99 per user per month.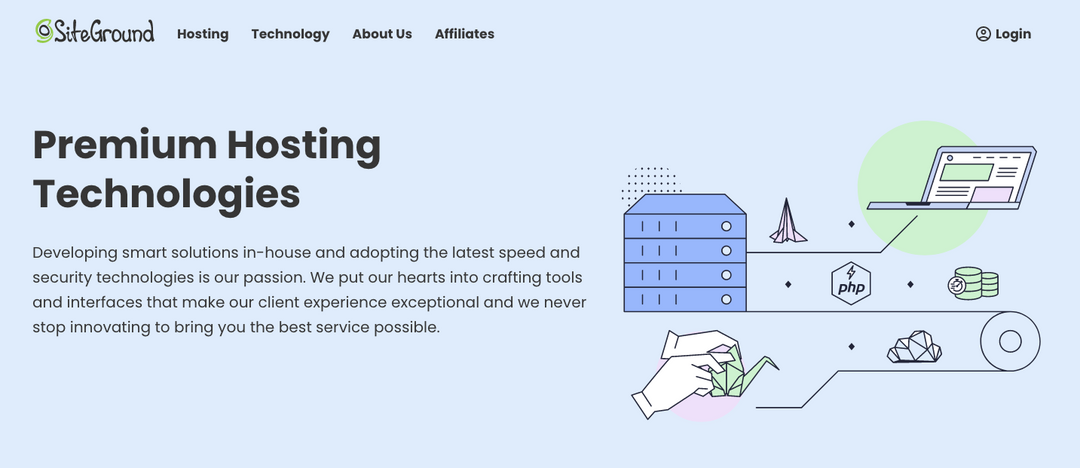 SiteGround is a web hosting platform for businesses that want to create a website on a platform like WordPress. Those on their plans also get an email for business communications.
However, they do not offer an email-only plan – it may be inconvenient and potentially expensive for companies with existing website hosting to use this service.
Best features:
Plans for up to 2 years for added discounts
Free email migration from your previous platform
Quality WordPress hosting for companies that want a website
Pros:
The business email hosting is free of ads.
They regularly discount their plans.
You can create unlimited email accounts.
Cons:
They don't offer an email-only plan; you must get website hosting to use their email service.
They don't provide first-party apps for their emails.
The storage space is shared between the website and the email platform, which can be insufficient.
Pricing:
StartUp plan – $24.99 per month.
GrowBig plan – $34.99 per month.
GoGeek plan – $49.99 per month.
Launch your brand in minutes with a free logo

A2 Hosting is one of the few services that offer 3-year plans, which can help you save on monthly subscription prices. Those curious about their business email hosting features can contact their customer care at any time of the day.
However, it can be tedious and time-consuming to migrate to A2 from other platforms, which can disrupt your communication with clients.
Best features:
Pooled contact list that suggests contacts to all your email addresses
Always-available customer support by phone, chat, and email
Flexible refund policy
Pros:
They encrypt your emails at various points to keep your data safe.
Their antivirus software checks all inbound and outbound emails to keep you and your vendors safe.
They allow you to undo and edit an email you've already sent.
Cons:
They do not offer automatic migration solutions if your previous business email did not use cPanel.
Their storage is among the lowest on the list.
The webmail's email categorization is cluttered and needs improvement.
Pricing:
Professional plan – $2.49 per month per user.
Pro Plus plan – $3.49 per month per user.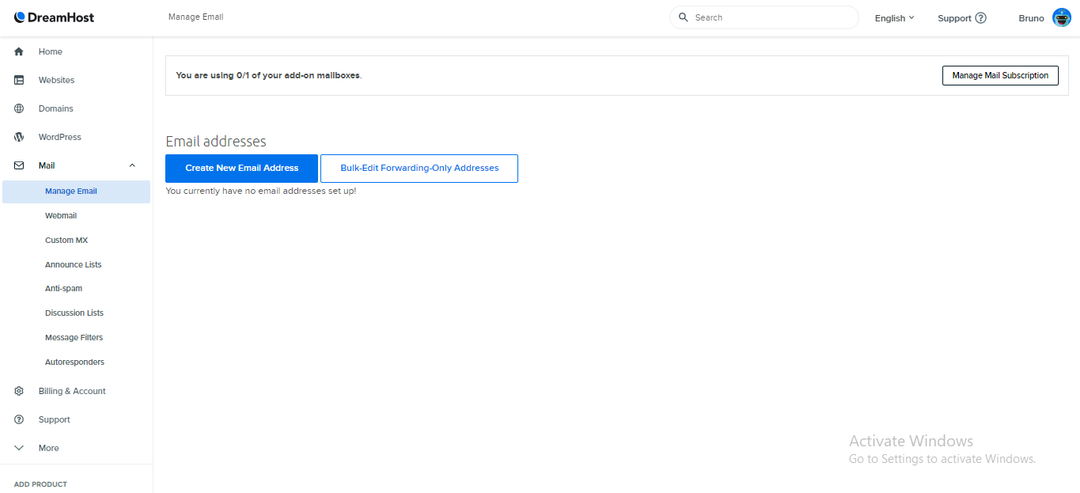 DreamHost offers an affordable email for business needs for small companies with limited requirements. Unlike competitors, they offer one plan with all the features, which throws choice paralysis out of the window.
However, it has limited storage space, and with no way to upgrade, this can be inconvenient for people who may want more.
Best features:
24/7/35 customer support on multiple channels
Spam, phishing, and malware filters for all your emails
Emails sync without hiccups on mobile and desktop devices
Pros:
Their monthly and yearly plans are economical in price.
Their desktop webmail has a beautiful and well-designed UI.
You can register your domain on DreamHost and use it for your email for a complication-free experience.
Cons:
They only offer one plan with no way for growing companies to upgrade.
Their storage is limited and not pooled.
The webmail may glitch from time to time on mobile devices.
Pricing:
DreamHost Email plan – $1.99 per person per month.
Bluehost offers two options for those who want an email for business needs: in-built webmail and Google Workspace hosting. Its first-party app is affordable but lacks the security and productivity suite that Google Workspace brings to the picture.
Additionally, with no way to upgrade the storage, Bluehost's first-party app is more suited to smaller teams that haven't scaled yet.
Best features:
Affordable first-party plans for small companies
Included productivity apps on the first-party platform
One-click migration tool that allows you to seamlessly transition to Bluehost
Pros:
Their first-party email client has anti-virus and spam filters.
Their webmail loads quickly and works smoothly on most browsers.
They allow you to undelete the emails you've accidentally deleted.
Cons:
You can only create up to 50 emails on its most expensive plan.
There are no advantages to getting Workspace from Bluehost instead of purchasing it directly from Google.
They only offer a maximum of 80GB storage for your entire organization, which can be limiting.
They do not offer month-by-month plans for their first-party business email hosting.
Pricing:
Professional Email plan – $14.99 per year.
Professional Email Plus plan – $24.99 per year.

Hostinger provides various services for businesses– from WordPress hosting to domain registration and everything in between. Their business email hosting is affordable and easy to set up. However, the service comes with a poorly designed webmail app that leaves much to be desired.
Best features:
Read receipts on all plans to check if your recipients opened your emails
Two-factor authentication for added security
Well-designed email smartphone app
Pros:
You can pair their domain registration, website hosting, and email for a seamless experience.
You can get a free email for business purposes with their web hosting plans.
Their customer support is helpful and responds on time.
Cons:
You get suboptimal storage on their base plan.
You can categorize your emails only on the best plan.
Their webmail could do with a design update.
There is no financial incentive to get the 2-year or 4-year plans.
Pricing:
Business Starter plan – $55 per user per month.
Business Premium plan – $129 per user per month.
Launch your brand in minutes with a free logo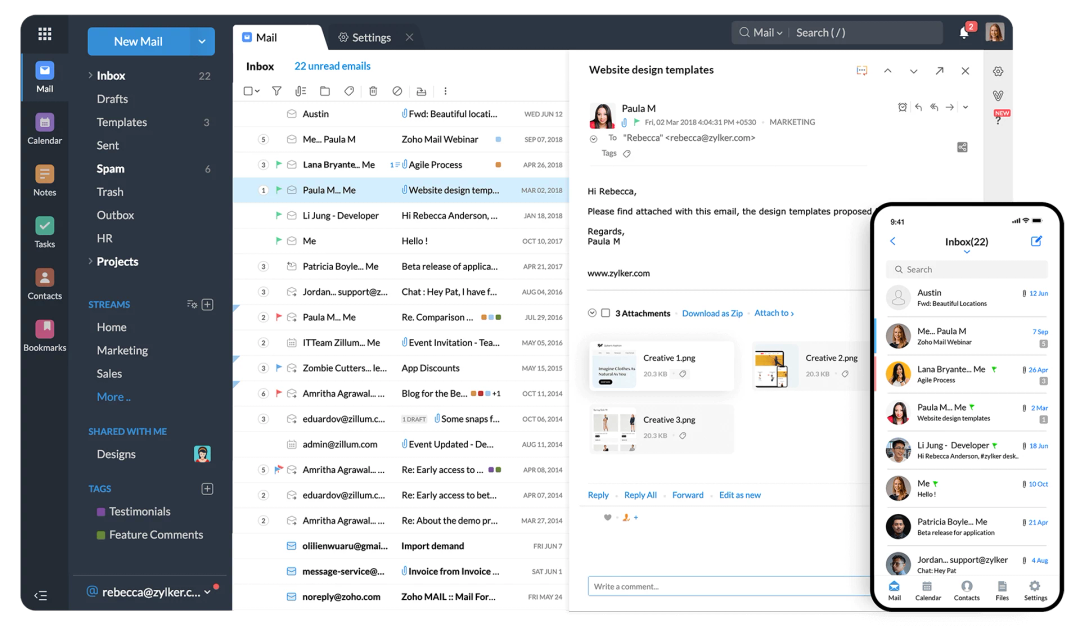 Zoho provides a free email for business communications for small teams and solopreneurs with limited needs. While not the best designed, their webmail has all the essentials to send and receive emails. However, the platform gets increasingly restrictive the more you grow – its inflexible storage space is one such deterrent.
Best features:
Option to set passwords to confidential emails
Seamlessly syncs with third-party mailing applications
Recall and edit previously sent emails
Pros:
You can mix and match features from different plans to build a custom one.
You can opt for a 15-day trial to test the platform and make a decision.
Their 1GB attachment limit can be useful for creatives and media professionals.
Cons:
Their mail-lite plan lacks email backup and restoration.
They provide limited mailbox storage without an option to expand it.
They do not offer a first-party desktop application.
Pricing:
Mail Lite plan – $1.25 per user per month, billed annually at $15/year.
Workplace plan – $3 per user per month, billed annually at $36/year.
Mail Premium plan – $4 per user per month, billed annually at $48/year.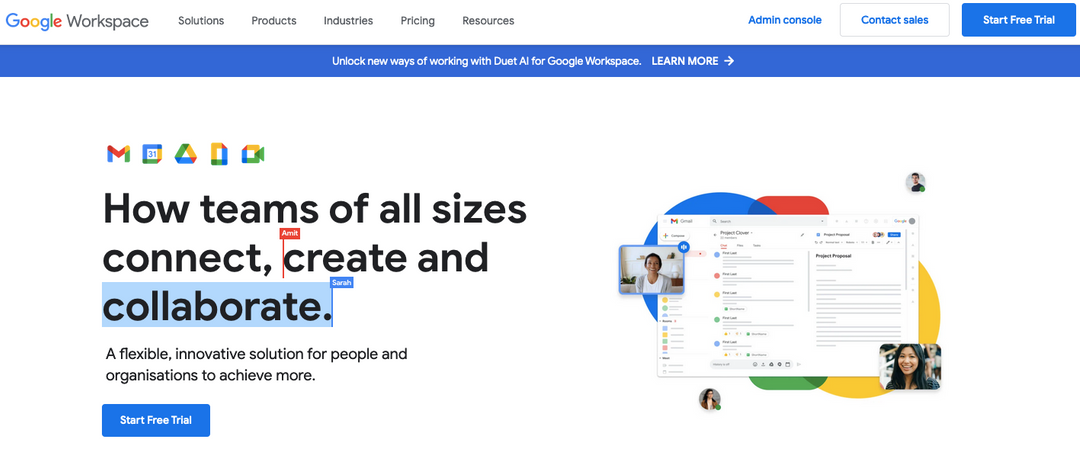 Google Workspace is one of the most used email and productivity suites by people from all walks of life. This familiarity may make it easy for your team to get used to. However, the email client is costly compared to many others on this list.
Given the quality alternatives online, purchasing solely for familiarity may not be the best choice.
Best features:
Bug-free, with regular security and UI updates
Ample storage space options across all the plans
Alternative UI for slow internet connections
Pros:
You can seamlessly register a name on Google Domains and use it for your business email.
Given its large user base, it may be easy to use for your team.
Their smartphone apps are well-designed and run smoothly.
Cons:
Their plans can get increasingly expensive for growing organizations.
You have to pay more for better customer care and email security.
Email data loss prevention is only available on their most expensive plan.
Pricing:
Business Starter plan – $6 per user per month, on a one-year commitment.
Business Standard plan – $12 per user per month, on a one-year commitment.
Business Plus plan – $18 per user per month, on a one-year commitment.
Enterprise plan – Price available upon inquiry.
What aspects should the best email hosting service have for beginners?
Beginner-friendly business email hosting prevents unneeded communication delays and ensures a smooth adjustment period for your employees. You should look out for the following qualities when evaluating every platform:
Tutorials: The more video and written tutorials, the better!
Customer support: How easy is it to reach customer support to solve issues?
User Interface: Look for webmail and apps with simple visual design that allow you to categorize your incoming emails.
Administrative controls: Email apps that let you control how much information your employees can see can help make the experience less overwhelming.
This list should help you shortlist beginner-friendly business email hosting services.
What are the best practices for choosing the best business email hosting?
Choosing an option from the sea of business email hosting solutions can seem near-impossible. However, you'll develop clear preferences once you have a clear picture of the features, pros, and cons. Here are the best practices that can help you choose the best option for you:
Trials: Try options for a few days till you land on one you like.
Research: Read this article thoroughly to understand what each business email hosting provider brings to the table.
Compromise: You shouldn't get a plan with the most features if your organization doesn't need them.
Calculate: Do long-term investment calculations to understand whether you can afford a shortlisted provider.
This list should make it easy to select the best professional email.
How do you choose the best email for business online?
Having a plan before you select an email for business needs can save unnecessary expenses and help choose an option that you and your employees can enjoy.
Use this checklist to select the best option:
How affordable is this service in the long run (one to three years)?
What kind of security options does this service provide? Am I safe from spam, phishing, and malware?
What is the maximum storage I can get? Is this enough for my company?
How easy is it to navigate the UI?
What email app do my clients use?
Is this service accessible on different operating systems?
Does this business email hosting come with additional apps that can be useful for my company?
Answering these questions should put you on the right track.
When in doubt, remember this: the best email for business purposes is a tool that works for you and not the other way around. Software that you can't navigate or learn is not worth the effort if there are similar and simpler available.
Launch your brand in minutes with a free logo