Purchasing a domain name is important because it acts as your internet address. However, you may still need management tools to optimize your website's online visibility.
Luckily, the best registrars provide such add-on services that can give your site the boost it needs. This article weighs the pros and cons of the top domain services so that you can find the right one for you!
How do you check for the best place to buy domain names?
Along with domain registration, different registrars provide added services that aid in managing your domain and generating traffic for your business. These services may be complimentary or at an additional cost.
To determine the best place to buy domain name options, you must identify your needs — from obtaining a great domain name to securing an email domain name — and see which domain registrar best fits these needs.
Why is it important to know how to register a domain name?
In this internet age, an online presence is crucial to directing potential customers and clients to your business.
Hence, knowing how to register a domain name has become as important as how to come up with a business name. Not only does it increase your brand's visibility, but it also helps legitimize the credibility of your business.
The 10 contenders for the best place to buy domain name at minimal cost
Every domain registrar offers different perks – from generating catchy business names to providing a custom email to offering free domain names.
As such, determining the best place to buy domain name options can become overwhelming. The following list should make this decision easier.

In order to distinguish yourself from the competition, you need a domain name that is both memorable and straightforward. Trust LOGO.com, your home for brand-building needs, to provide you with a state-of-the-art domain name that takes you to new heights. All you have to do is input your preferred domain name and buy it for an affordable price with privacy protection that is 100% satisfaction guaranteed.
Best features:
Affordable domain names compared to anywhere else on the market
Complete transparency with pricing with preferred name and alternatives
SSL certificate is included with your purchase
24/7 customer support for any inquiries and guidance on domain name use
Works in tandem with a business name generator for memorable names
Pros:
You have the option to use your domain name right away with a website builder on the same platform.
When you choose a domain name, it'll be delivered to you with the highest quality of customer service.
Your domain name comes with a free logo design that you can endlessly customize with unlimited revisions.
Cons:
Taxes will be included at checkout, which is mandatory to adhere to the law of asset acquisition.
There is no phone support.
Launch your brand in minutes with a free logo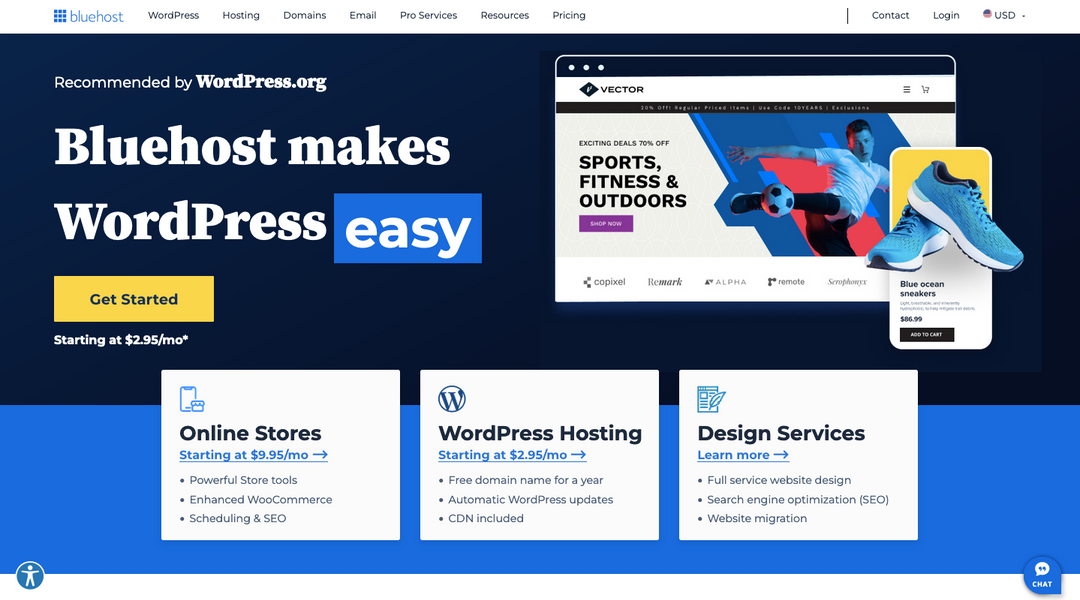 Bluehost is a secure and decent option for those with minimal domain hosting needs. It provides affordable domain names and makes it easy to set up websites, which can be helpful for first-timers. However, the storage can become slow for sites with high traffic.
Best features:
Offers a free domain name for one year upon signing up
Integrates with WordPress to ensure a seamless website setup
Search Engine Optimization tools and design consultation for websites
Pros:
Its WordPress integration can be a plus for those who can't code.
It provides SSL certification for free, which can help establish trust with your site's visitors.
Its user interface is simple, and its hosting tools are intuitive.
Cons:
Its basic web hosting plans cannot handle sites with high traffic.
It has limited templates in its website builder library.
It makes migrating your site to another platform difficult and expensive.
It has limited domain extensions.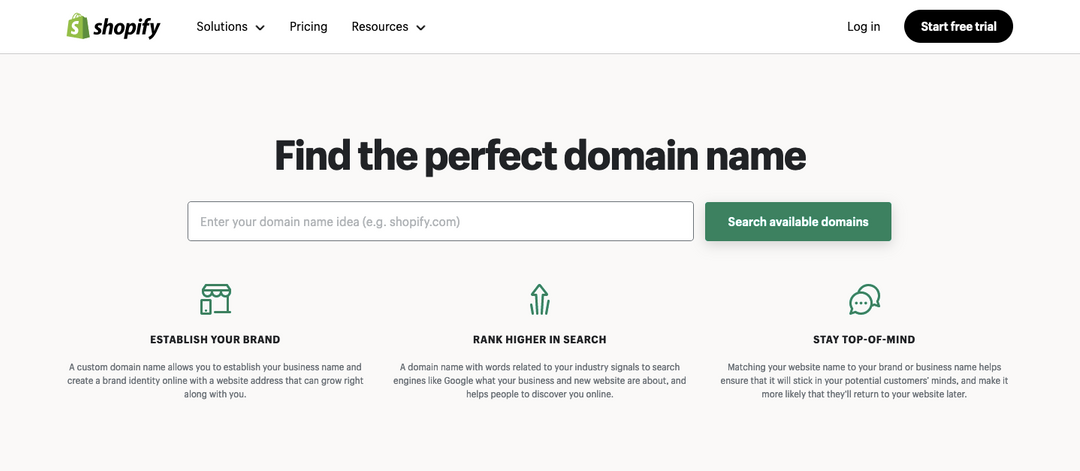 Shopify is an efficient platform for small to medium-sized businesses looking to set up an online store. Those who want to add a domain name to their store can do it directly from the platform. While doing this can save time, a lack of discounts on Shopify may have you looking for the domain names elsewhere.
Best features:
Fast-loading domain search tool
Marketplace with apps to customize your website
AI business and domain name generator
Pros:
Those already on the platform will find it easy to link a Shopify-managed domain with their store.
Its backend platform is easy to navigate.
It has an app that automatically creates a landing page for your domain name.
Cons:
It does not provide email hosting.
Many website and store themes, apps, and plugins are not free.
It offers fewer discounts on domains than many competitors.

Porkbun offers competitively priced domain names, including top-level domain extensions like .com. It also provides services like web hosting and custom emails. However, it may not be the best place to buy domain name options for those looking for feature-rich web hosting plans.
Best features:
User dashboard that helps connect a new domain name to a website in a few clicks
AI-powered generator to check domain name availability and give appropriate suggestions
Six affordable web hosting options for various types of websites
Pros:
It provides Link In Bio hosting for social media creators.
Its website is easy to navigate, even for people who aren't tech-savvy.
It provides long-term domain name registrations – up to 10 years.
Cons:
Its web hosting plans can be confusing to understand as the website has limited information on them.
Its domain discounts aren't as lucrative as others on this list.
Its customer support is slow to respond.

Namecheap is one of the most popular domain registrars with a sizeable portfolio of domain names. It offers inexpensive web hosting services but at the cost of low storage for its basic tiers. While it may not be the absolute best place to buy domain name options, it can be helpful for small businesses that don't need complex websites.
Best features:
Straightforward and easy-to-use dashboard for managing domains and hosting websites
Drag-and-drop website builder for those without coding skills
Offers a 100% website uptime guarantee with its higher-paid web hosting tiers
Pros:
Its domain prices are some of the most affordable among its competitors.
It boasts a 30-day money-back guarantee on some of its web hosting services.
It offers a free domain name for one year in all its web hosting plans.
Cons:
Its renewal costs jump significantly after the first year.
Its bulk domain name search menu is difficult to navigate.
Its business mail loads slowly, and its UI looks dated.
Launch your brand in minutes with a free logo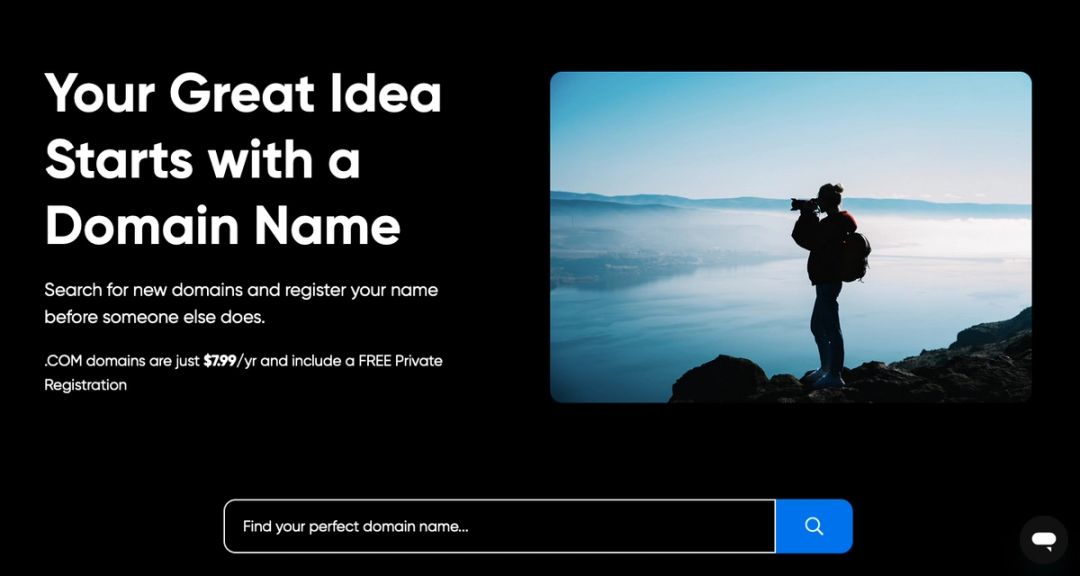 DreamHost has a lot of domain extensions and hosting plans for people with different website needs. However, it only allows you to register domains for three years, which can increase costs in the long run (due to annual domain price hikes and inflation). As such, those looking for the best place to buy domain name options affordably should check elsewhere.
Best features:
Offers unlimited bandwidth on all its web hosting plans, allowing its websites to handle heavy traffic
Offers a free WordPress website builder with over 200 widgets on all web hosting plans
Dreamhost Academy with tutorials on how to design a website and more
Pros:
It sells .com domains on the lower side of typical pricing.
You can add unlimited domains to its control panel.
It has over 400 domain extensions available for registration.
Cons:
It charges for its website anti-malware tool, unlike some competitors.
Its pro marketing, management, and web development services are expensive.
Its control panel loads slowly, which can make performing domain-related tasks frustrating.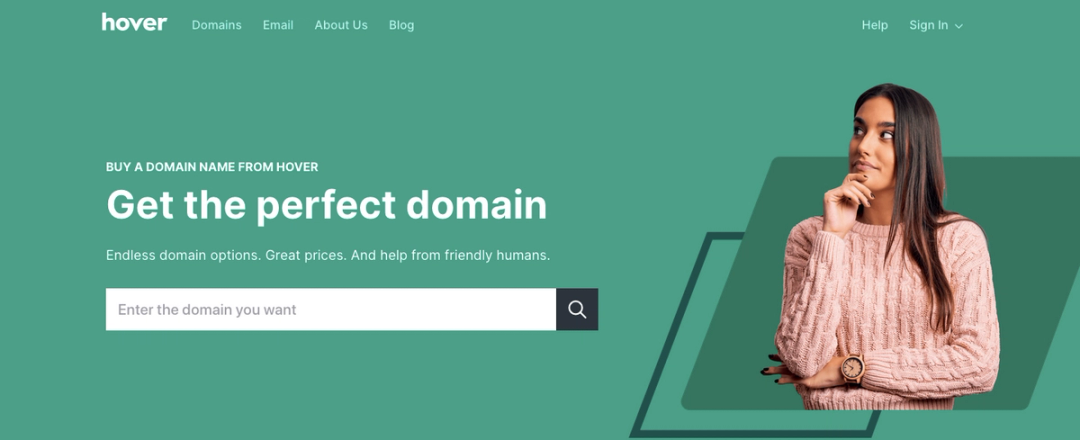 Hover's free provision of Whois privacy can be useful for those who don't want their information on the internet after they purchase a domain. However, unlike many other domain registrars on this list, it does not provide web hosting services. This forces you to look for an additional service and can complicate the website-creating process. Those looking for a simpler experience should check other options.
Best features:
Free domain name privacy with every domain registration
Offers on bulk domain name purchases
12-hour-a-day customer care service, available across multiple channels
Pros:
It offers a domain name-based business email at an affordable rate.
Hover's tool, "Connect", can easily link your domain to leading web hosting providers and website builders.
Its interface is user-friendly, making the process of purchasing a domain quick.
Cons:
It does not offer web hosting like many other domain name registrars.
Its domain prices and renewal costs are on the higher side.
Its website is slow to load.

GoDaddy offers an all-in-one service wherein users can obtain a domain name, a web hosting plan, and a website builder. It is historically reliable and offers several free features upon purchase of a new domain name. However, what keeps it from being the best place to buy domain name options are high domain renewal fees and upsells that can add to long-term costs.
Best features:
Affordable domain registration prices for your first year
Intuitive website builder, which is easy to use for beginners
99.9% website uptime guarantee on its hosting plans
Pros:
It provides an appraisal service for those looking to buy and sell premium domain names.
You can opt for a free domain name with its hosting plan.
It provides simple step-by-step instructions on transferring a domain to and from its control panel.
Cons:
It is difficult to find domain renewal pricing and add-on costs in its fine print.
It bills for domain privacy and other add-ons that are provided for free by many other competitors.
Customers have to go through multiple steps and upsells to purchase one domain.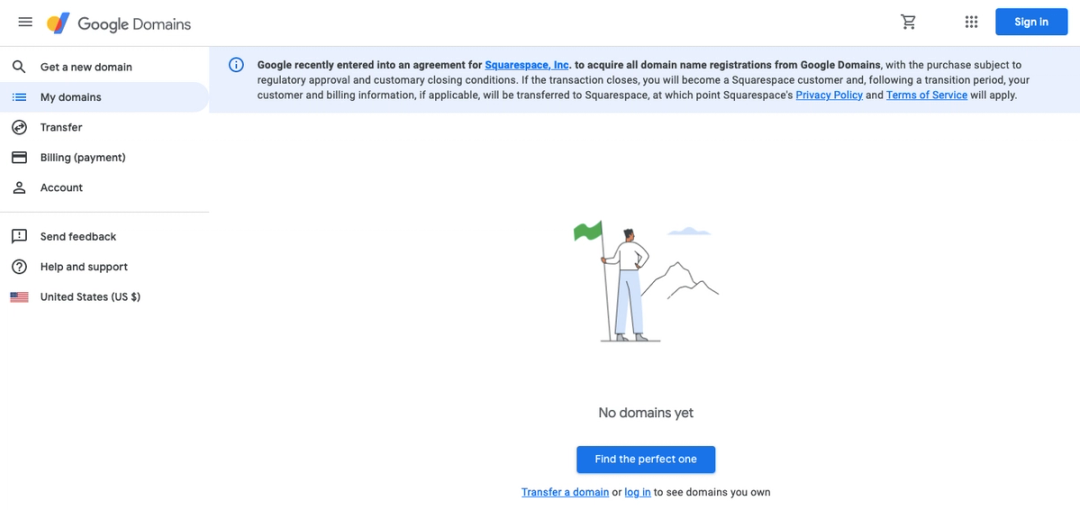 Google Domains has a simple user interface, making it easy to look for and select domains. Those well-versed Gmail can easily connect their domain to a custom email. However, its potential sale to Squarespace may complicate the management and migration of domains.
Best features:
User-friendly interface not riddled with pop-ups and upsells
Pricing does not increase upon renewal
Shows insights for each domain name, which helps users determine the right one for their business
Pros:
All purchased domains come with free Whois privacy protection.
It has a help centre complete with user-friendly guides and live 24/7 support via live chat and email.
You can easily set up a business email through Google Workspace.
Cons:
It does not provide privacy on some domain extensions, which can restrict what domains you can purchase.
Connecting your domain to Google Workspace may not be viable since it is expensive and requires a one-year commitment.
The potential sale to Squarespace can be inconvenient to those in the Google ecosystem.
It has fewer discounts on domains than many registrars on this list.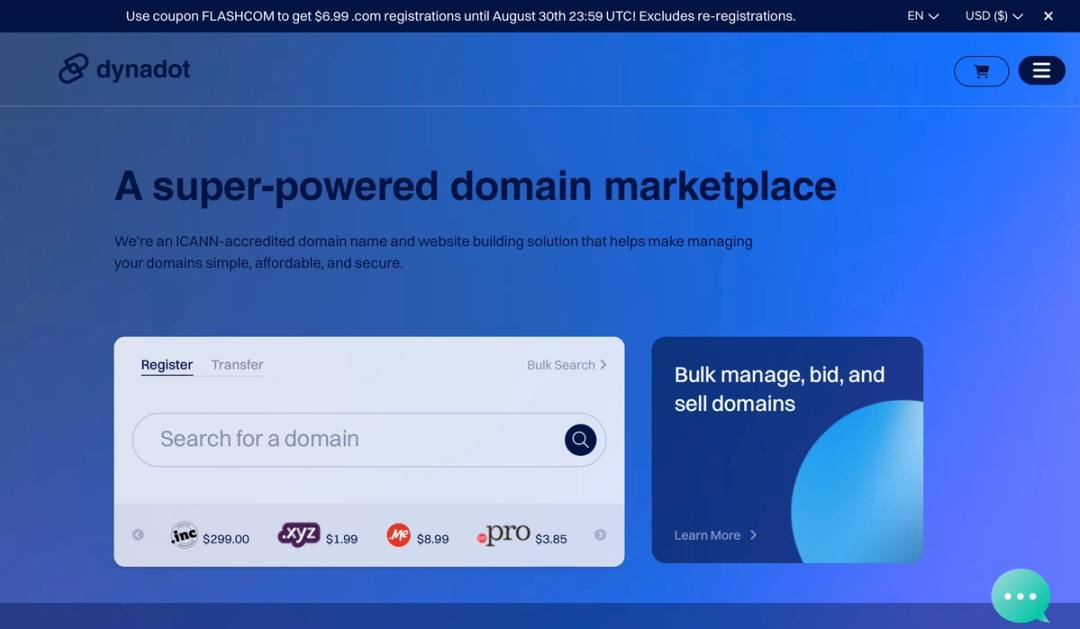 Dynadot offers regular discounts on popular domain extensions like .com. All domain purchases come with a free business email address and website builder, which can be helpful for new entrepreneurs. However, expensive domain prices and renewal rates as high as $119 dilute the impact of its free benefits.
Best features:
Responsive customer support that is available across multiple channels
Offers unlimited business email addresses at an affordable rate
Extensive library of domain name extensions
Pros:
It offers 'grace deletion', which allows you to return domains after purchasing them within a certain time frame.
It gives access to a free drag-and-drop website builder upon purchasing a domain.
Its 'Suggestion Tool' provides suitable alternatives if the domain you want is unavailable.
Cons:
You need to purchase SSL certificates (required for legitimization purposes), unlike with many other competitors – who provide it for free.
Its .com rates are on the higher end compared to others.
It only has one option for web hosting, which can be too simple and restrictive for many customers.
Is naming a business important before I check the best place to buy domain name?
This may seem like a chicken or egg situation, but it may be helpful to check whether a domain name is available before legalizing your business name. You may register a clever name for your business only to find out that the domain name is unavailable.
In such a case, you may have to pay an exorbitant price to purchase the domain name from its current owner. This is why doing both the tasks together can help save costs and time.
How do I know which available domain names are good?
Some domain registrars offer insights on names and extensions, which can be helpful. However, objectively choosing good names can be tricky. Of course, the domain registrar that you go with has a lot to do with the quality of your choice.
What's good for you may not work for another. You can rely on the checklist below to shortlist some and leave the rest to your gut instinct:
Does the domain name match your business name or project?
Does the domain extension (.xyz, .com, .net, etc.) seem logical next to the name?
Are there unnecessary spelling errors, added letters, numbers, or signs that make your domain name longer than it needs to be?
Is your domain name catchy or memorable? (Try this out with a few friends!)
There may not be a hack to create the perfect name, but adhering to this list can get you close.
How do I choose the best place to buy domain names online?
It is difficult to discern which domain registrar is the best place to buy domain name options. You can use these criteria to choose one from the above list:
Determine the size of your business – small, mid-size, enterprising – and see which domain registrar offers features that can support your business traffic, storage, and speed on that scale.
Look into how difficult or easy a domain registrar allows domain name transfers from one website to another.
Determine which add-on services are necessary to your business. Do you require website hosting, website builders, marketing services, and business email addresses?
Look at the pricing page and registration period. Most importantly, look at the renewal price. Determine which one best fits your budget.
These points should help determine the best place to buy domain names for your business.
Launch your brand in minutes with a free logo