There are more email accounts than people on Earth – a number that keeps increasing by the minute. This can make email seem like an unviable medium to get attention for your products and services. But that is far from the truth.
You can stand out by investing in the best email for business communications. Such custom, domain-based emails are more affordable than ever and can elevate your brand's presence in no time.
Why do you need business email hosting?
Generic email names are a dime a dozen and may not be entertained by your audience and potential customers, as a result. A business email, as well as an email signature, shows effort and professionalism on your part, heightening the legitimacy of your organization.
With business email hosting, you're also more likely to get a name you want – an accurate, true-to-your-business name. So, no more extra letters, hyphens, numbers, or spelling errors!
Are there guidelines for choosing the best email for business?
While there aren't any guidelines set in stone, there are some rules you can follow to get the best email for business purposes:
Avoid expletives, slang, and jargon that may not sit well with your clients.
Choose a business email plan that lets you create emails for internal and external communication.
Get creative with your professional business email name! Why make '[email protected]', when you can give yourself a fun title?
Select email plans that give you plenty of storage space – you'll need it as your business grows.
These guidelines should set you in place with the basics. The rest is up to your personal preferences.
Launch your brand in minutes with a free logo
10 hosting providers to get the best email for business communications
With plenty of options, choosing one email service provider can be difficult. Worry not – we've done that for you!
The resources below can help you get the best email for business work in minutes. Evaluate their perks and weaknesses to choose the one most suitable for your business.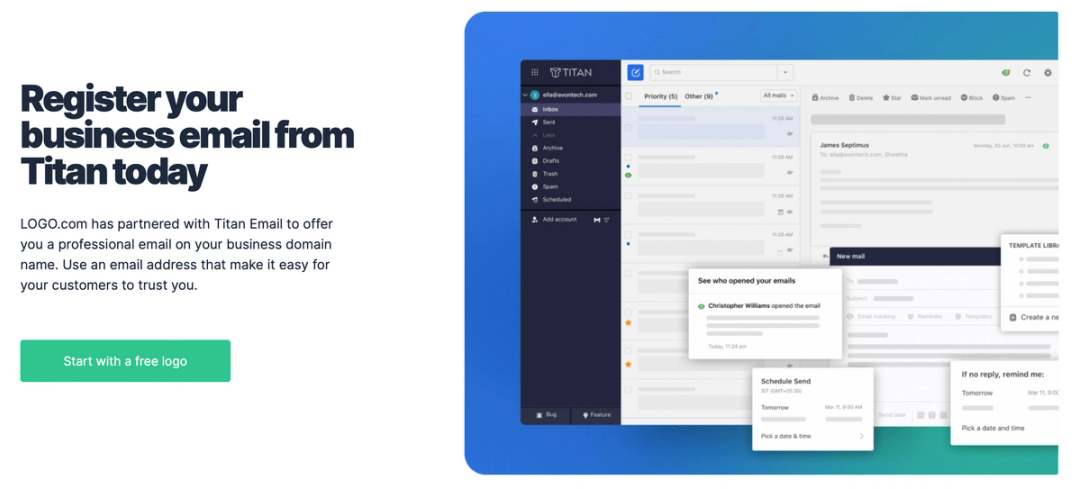 LOGO.com packs a punch as an all-in-one business solution, giving you a free logo design, branded materials, and a powerful business email to top it off. Thanks to a mighty collaboration with Titan Email, LOGO.com is more than capable of providing you with an efficient business email, along with everything else you need to start a business — all in one place.
Best features:
50 gigabytes of email storage, which is perfect for small businesses
Read receipts, scheduled emails, priority inboxes, and so much more – intended to increase and streamline your business communications
Ability to group contacts efficiently to save time when sending emails
Two-Factor Authentication to ensure complete privacy with your account
Pros:
Your business email is a part of a vast collection of important business materials, which will also be accessible to you.
You get the best of both worlds with LOGO.com's expertise in business-building and Titan's ability to produce streamlined communication
You can choose among different email templates to better express your brand identity.
Cons:
You need a domain name to use this service. Fortunately, you can affordably get one at LOGO.com before proceeding to the business email.
Pricing: LOGO.com's business email feature is only 5.75/month. However, users who have subscribed to its LOGO Pro plan get a free trial of Titan email for up to three months.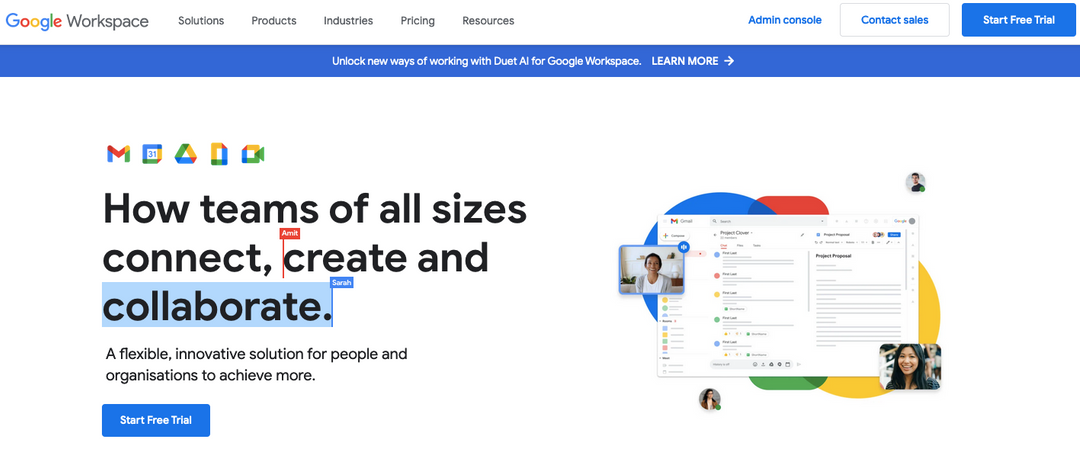 Google Workspace offers a professional version of the world's most-used personal mail service, Gmail. Subscribers get the best email for business correspondences, plenty of cloud storage space, and enhanced support from Google.
However, these features come at a premium cost that may be unaffordable by new businesses with smaller budgets.
Best features:
Fast and intuitive mail service
World-class security features and customer support
Ample cloud storage for business customers
Pros:
The platform may be a familiar experience for most people due to its popularity.
People can sync their existing domain names to create custom emails.
Businesses get pooled storage space that team members can share.
Cons:
Most customers must pay extra (over their subscription fees) for Google's Enhanced Support.
Some paid plans don't allow video call recording.
You are required to commit to the service for one year.
Most of Google's apps are free and don't get upgrades commensurate with the price.
Pricing:
Business Starter plan – $6 per user per month, on a one-year commitment.
Business Standard plan – $12 per user per month, on a one-year commitment.
Business Plus plan – $18 per user per month, on a one-year commitment.
Enterprise plan – Price available upon inquiry.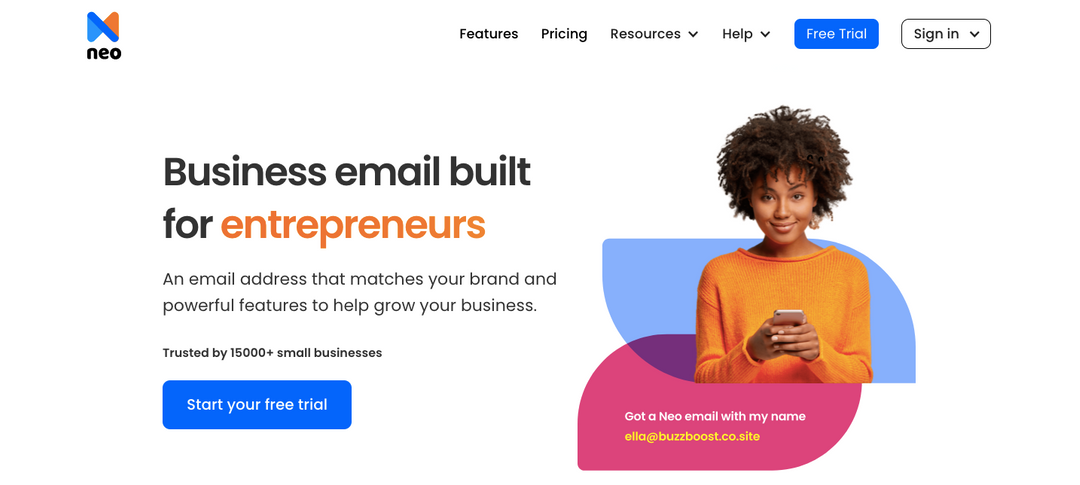 Neo provides read receipts with its paid plans, allowing you to track who opens your emails. This can prove useful for targeting clients and creating an accurate sales funnel for your business. However, both its plans have suboptimal storage, making it tedious to maintain a business email in the long run.
Best features:
User-friendly email UI
Free domain included in all plans
Option to schedule emails for a later date and time
Pros:
Both its paid plans are affordable.
It provides a 30-day trial for its email service.
The emails come with an included anti-virus program for increased safety.
Cons:
It does not provide a free version of its business email service.
Read Receipts are only available on its most expensive plan.
It offers lesser cloud storage compared to others on this list.
Pricing:
Business Starter plan – $2.49 per person per month.
Business Plus plan – $4.99 per person per month.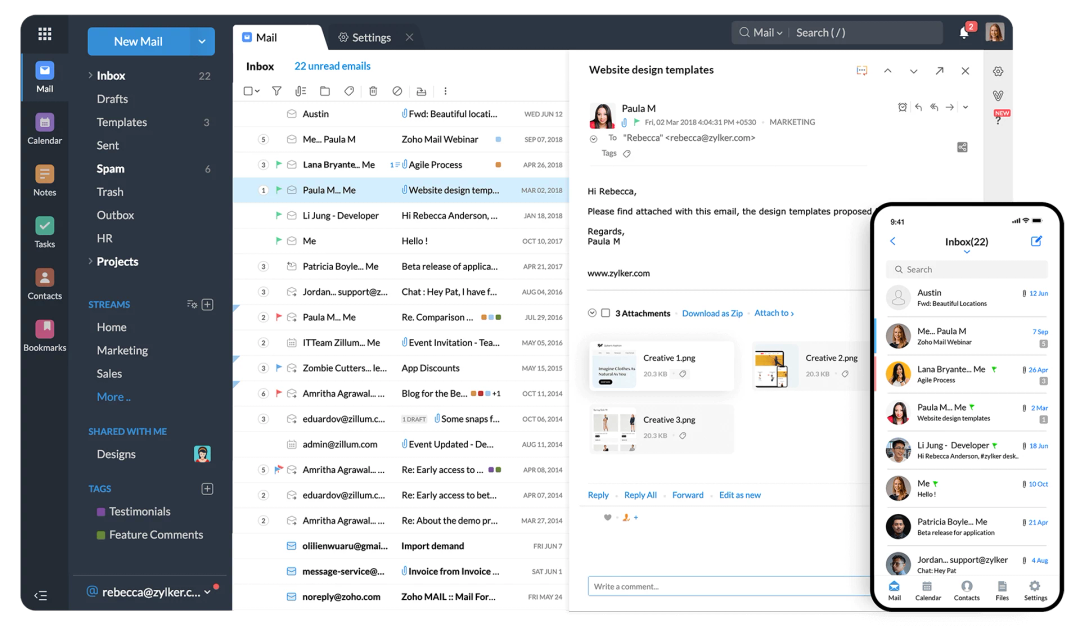 Zoho provides a well-known productivity suite and custom emails at affordable rates for businesses of all shapes and sizes. It is one of the few services to offer a free plan for small teams. However, its platform looks dated and can be more difficult to navigate compared to many other professional business email services.
Best features:
Friendly customer support
Free plans for small teams
Email hosting for multiple domain extensions
Pros:
It has a free plan for those who need a productivity suite with their email.
You can attach and send files up to 1GB on some plans.
You can set a passcode for emails that contain sensitive information.
Cons:
Its lower-tier paid plans have limited storage space.
Its dated UI can lead to email clutter and confusion, especially if you have multiple clients.
Email backup is only available to businesses that purchase the highest-tiered plan.
Pricing:
Mail Lite plan – $1.25 per user per month, billed annually at $15/year.
Workplace plan – $3 per user per month, billed annually at $36/year.
Mail Premium plan – $4 per user per month, billed annually at $48/year.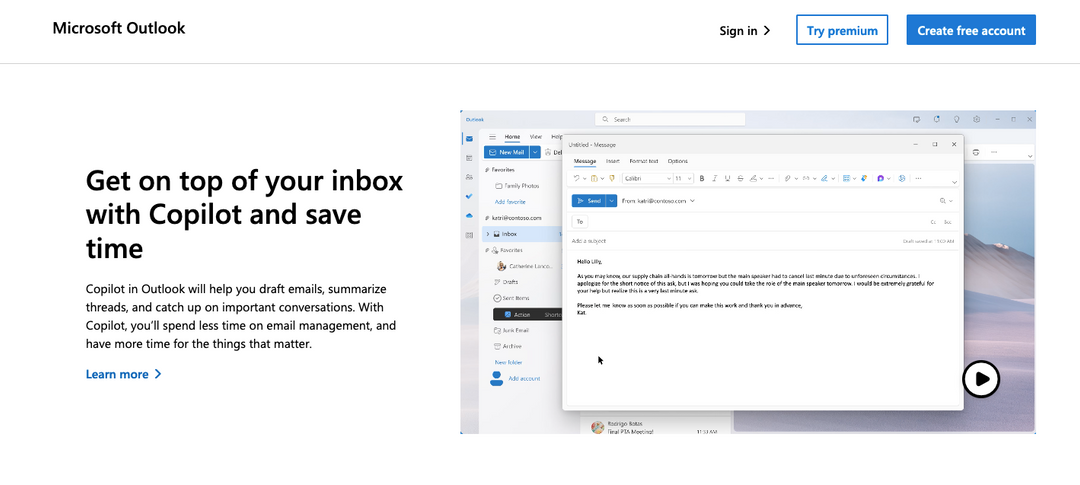 Microsoft's business email hosting is rife with features, making it useful for businesses of all shapes and sizes. However, it has its fair share of issues.
For starters, there aren't any plans for just business emails – you have to subscribe to its productivity suite to get an email. Many of these plans come at a premium rate, which may make them unviable for new and small businesses.
Best features:
World-class support from Microsoft
Outlook's simple UI makes it easy to view and organize emails
Dependable security for emails and other apps
Pros:
All plans offer 1 TB of cloud storage space per user.
You can try the paid plans for free for a month.
Its apps are available on most desktop and mobile platforms.
Cons:
There are no plans for just business emails.
The subscription plans are expensive compared to many others on this list.
Microsoft's Teams platform (for communication and video calling) is prone to lagging and crashing.
Pricing:
Business Basic plan – $6 per person per month, billed annually at $72/year.
Business Standard plan – $12.50 per person per month, billed annually at $150/year.
Business Premium plan – $22 per person per month, billed annually at $264/year.
Launch your brand in minutes with a free logo

Mailgun is a developer-friendly platform that allows programmers to create a custom business email system quickly. Teams with software development can create a bespoke email for their company with this platform.
However, it may be overwhelming for teams without in-house programmers, especially as many competitors provide simpler solutions for business email needs.
Best features:
Well-designed dashboard user interface
24/7 customer support
Email verification removes invalid and non-existent email addresses from your list
Pros:
It lets you easily set up email forwarding in a few steps.
It offers a month-long trial with a limit of five thousand outbound emails.
You can create unlimited email addresses on all of the plans.
Cons:
Its plans are expensive; its lowest-tier plan, for example, costs more than what many competitors charge for their best features.
You cannot send unlimited emails on any of its plans.
Businesses that need added apps or a productivity suite will have to look elsewhere.
It may be too technical to use for teams without developers or programmers.
Pricing:
Foundation plan – $35 per month.
Scale plan – $90 per month.
Custom plan – Price available upon inquiry.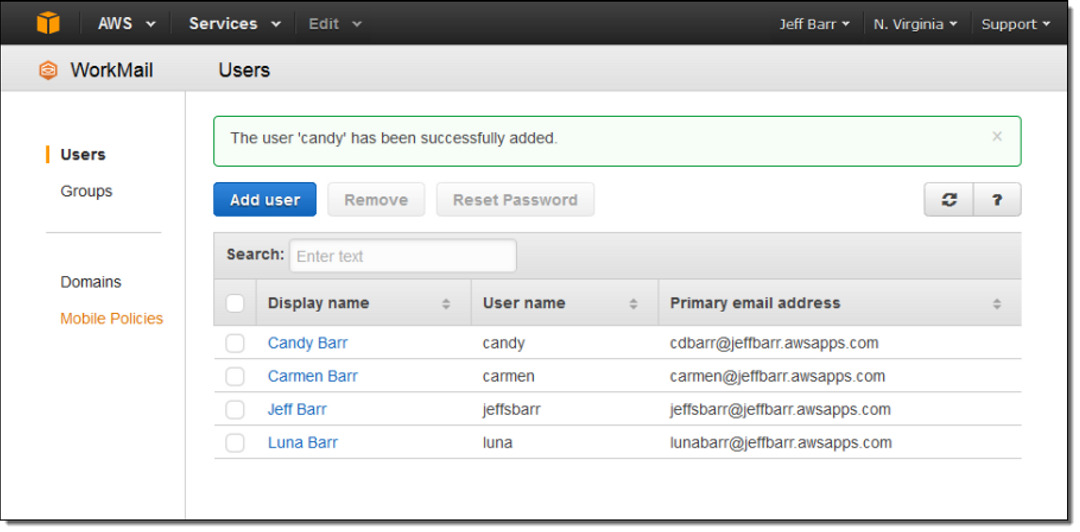 While Amazon is known for its world-class delivery service, it also offers B2B solutions like WorkMail for business email hosting. Its web app is secure and can work on most browsers. However, its lengthy sign-up process and confusing pricing page complicate an otherwise simple purchase.
Best features:
Quality support from Amazon
Affordably priced, which is helpful for small teams
Syncs seamlessly with most mail apps on macOS and Windows
Pros:
It can integrate with Outlook, allowing you to use your business email on a familiar application.
It lets you choose the region where you want to store your email data.
The web app runs smoothly without many hiccups.
Cons:
You must go through a long sign-up process just to create a business email.
It does not have pricing plans, requiring you to use its app to create estimates, which can be confusing.
It does not have in-house downloadable mailing apps for smartphones or computers.
Pricing:
Price starts at $4 per user per month.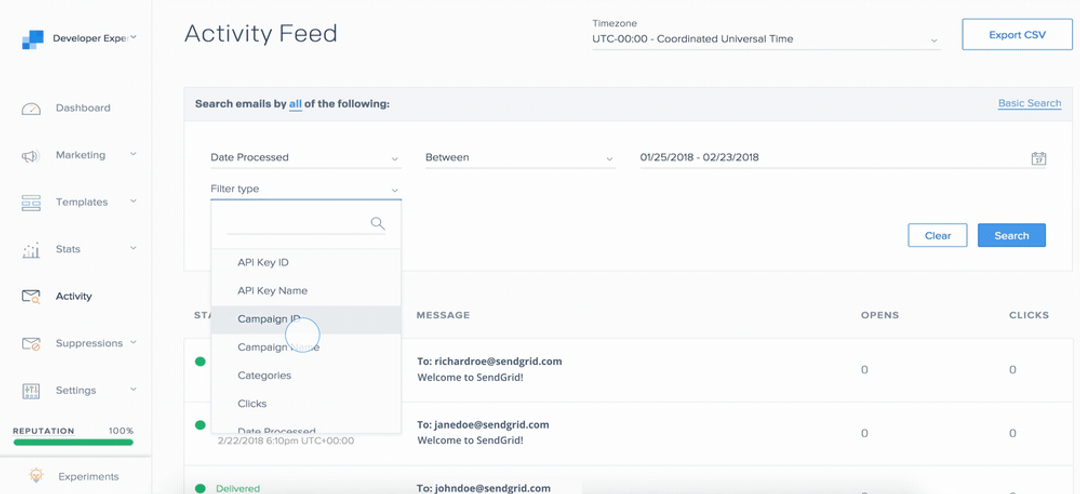 SendGrid offers flexible pricing plans for business email hosting and email marketing. While this can be useful for small teams, the platform comes with an opportunity cost of an increased setup time. This is because only those with technical know-how can integrate business emails with third-party mail applications.
Best features:
Offers flexible pricing plans
Provides various analytics and email marketing insights
Global customer support across multiple channels
Pros:
Its free-forever plan can be useful for small teams and solopreneurs.
They offer email marketing services at competitive rates.
You can monitor and improve your sender reputation so your emails reach your recipients' inboxes.
Cons:
Their customer service can be slow to respond.
It is complicated to integrate it with your existing mail app or website.
Its highest-tier plan is amongst the most expensive on this list.
Pricing:
Free plan
Essentials plan – Starts at $19.95 per month.
Pro plan – Starts at $89.95 per month.
Premier plan – Price available upon inquiry.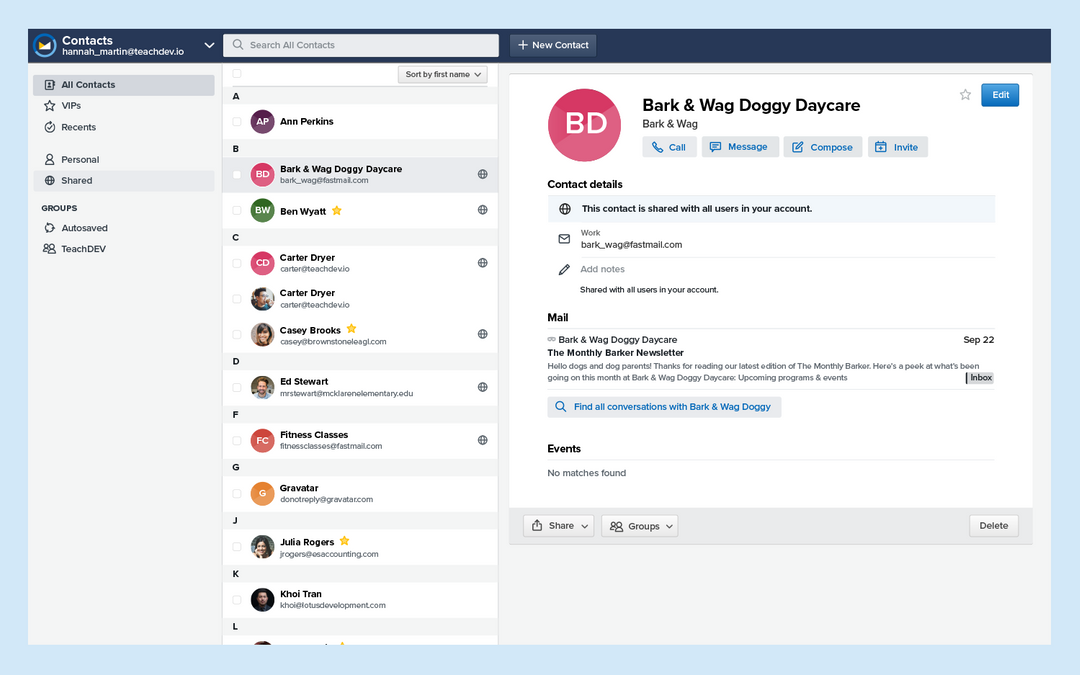 Fastmail's business offers affordable email hosting while being ad and tracking free. It also has features that can hide your email addresses from potential spammers. However, its lower-tier plans can be limiting, with small storage space and a lack of support for third-party mailing apps.
Best features:
Provides an email, calendar, and contacts in one app
Affordable plans for small and large teams alike
Offers alternate and masked mail addresses for increased privacy
Pros:
You can change plans and cancel your subscription at any time.
Its email platform is ad and tracking-free.
You can categorize your emails into smart folders with different colors.
Cons:
You cannot integrate your domain with your email on its basic plan.
It does not offer free plans.
All its plans have limited storage, which can become a hindrance with time.
Basic plan customers cannot use their emails on apps like Outlook.
Pricing:
Basic plan – $3 per user per month.
Standard plan – $5 per user per month.
Professional plan – $9 per user per month.

Postmark offers feature-rich business email hosting with variable pricing based on how many monthly emails you send. However, its per-email price is high, which may detract companies with large subscriber lists. Postmark may not be the best choice if affordability is your primary decider.
Best features:
Free for those who send fewer than 100 emails a month
Dedicated support team on email, phone, live chat, and more
In-depth guides, tutorials, and videos on using the platform
Pros:
All of its features are available on every plan.
It offers a dedicated IP for those who send over 300,000 emails a month.
You can get its free plan without including payment information.
Cons:
It may become unaffordable if you send emails in bulk.
It is time-consuming to integrate it with your existing mail applications.
Its web app loads slowly on some browsers.
Pricing:
Free plan
Paid plan – Pricing starts at $15 per month for up to 10,000 emails.
What should you look for when choosing the best email for business?
Going through a hosting service's features can take time. You can shorten the process by looking for the following qualities when choosing the best email for business purposes:
Affordability: Can you sustain the payments over an extended period?
Backups: What are the service's backup policies in case you lose local data or want to migrate elsewhere?
Apps: Does the business email hosting service have a user-friendly app?
Integration: How easy is it to sync your custom business email with your existing apps?
These questions should help you shortlist the best email services for your business.
How much should a great business email hosting cost?
A higher price is not directly proportional to a better experience. Various business email hosting services offer free plans for smaller teams and solopreneurs.
Select a service you can afford over a long period to sustain chaos-free communication. This is because constantly migrating from one service to another will waste time and may lead to data loss.
A good rule of thumb is to set an annual budget and stick to it.
How do you choose the best email for business online?
The services mentioned in this article are top-notch, each with strengths and weaknesses. Some basics can help you decide the best email for business needs.
How many business emails does this service let me create?
Can I seamlessly send and receive emails with this software?
Does this business email hosting plan provide good security features?
Is it easy to set up this email service for my team or the entire organization?
Will it be beneficial for my company to invest in a package deal for business email hosting and a productivity suite?
Are there any limitations on how many emails I can send in a month?
Ask yourself these questions before purchasing a subscription plan. It may seem tempting to opt for multiple trials. However, that may confuse your employees and lead to potential data loss.
Choose one that you can afford for a year (or two) and keep evaluating the service as your needs evolve. Best of luck!
Launch your brand in minutes with a free logo