Business email hosting is crucial for all companies in 2023. Email marketing can give you access to clients, vendors, and other people in parts of the world you cannot yet access in person.
Such a critical communication channel needs the best hosting providers, and selecting one can seem impossible. We've made your search easier by compiling a list of the most trustworthy business email hosting providers on the internet.
What makes a great business email hosting?
A great business email hosting service offers quick delivery times, sufficient storage space, and security features that protect your data. Expecting all these qualities is not merely a result of optimism – many services offer these (and more) at affordable rates.
This article lists the best of the best, so you don't have to evaluate every professional business email service out there.
What kind of benefits should you look for when choosing a provider?
There are some attributes that every professional business email provider should have. Have this checklist ready when shortlisting options:
Security features: Does this provider offer malware, spam, phishing, and fraud protection?
Storage space: How much storage space am I getting with this provider?
Email count: Is there a limit on how many outbound emails I can create?
Deliverability: How quickly does this provider send and receive emails?
Custom name: Can I integrate my domain with this service?
Affordability: Can I afford this provider for a long period of time?
Only choose a provider that fulfills most or all of these criteria. With ample competition in the market, it is reasonable to expect the best for your business.
Launch your brand in minutes with a free logo
The 10 best business email hosting to consider in 2023
This article will help solve any analysis paralysis you have with choosing the perfect professional business email.
We've listed the pros, cons, and best features for all the providers. Go through the list to make your final decision easier.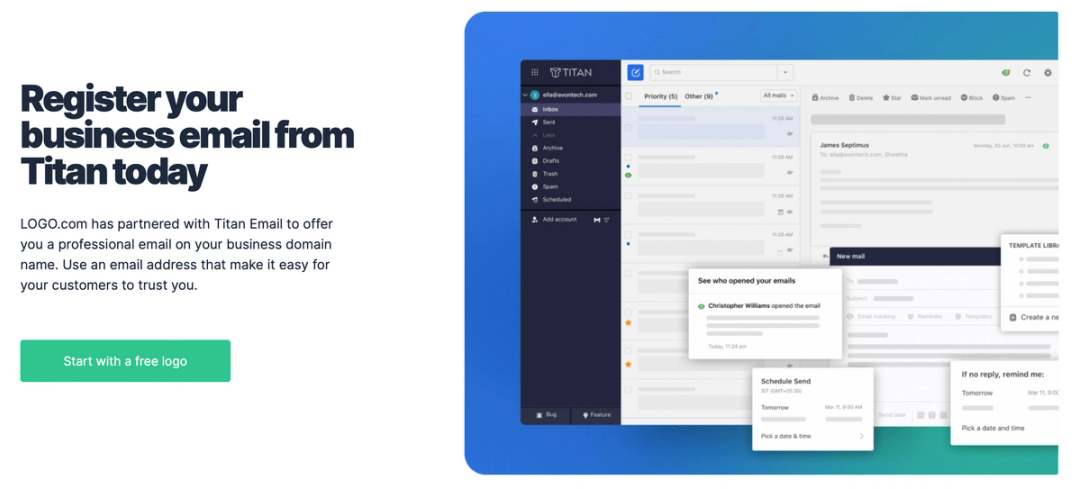 LOGO.com packs a punch as an all-in-one business solution, giving you a free logo design, branded materials, and a powerful business email to top it off. Thanks to a mighty collaboration with Titan Email, LOGO.com is more than capable of providing you with an efficient business email, along with everything else you need to start a business — all in one place.
Best features:
50 gigabytes of email storage, which is perfect for small businesses
Read receipts, scheduled emails, priority inboxes, and so much more – intended to increase and streamline your business communications
Ability to group contacts efficiently to save time when sending emails
Two-Factor Authentication to ensure complete privacy with your account
Pros:
Your business email is a part of a vast collection of important business materials, which will also be accessible to you.
You get the best of both worlds with LOGO.com's expertise in business-building and Titan's ability to produce streamlined communication
You can choose among different email templates to better express your brand identity.
Cons:
You need a domain name to use this service. Fortunately, you can affordably get one at LOGO.com before proceeding to the business email.
Pricing: LOGO.com's business email feature is only 5.75/month. However, users who have subscribed to its LOGO Pro plan get a free trial of Titan email for up to three months.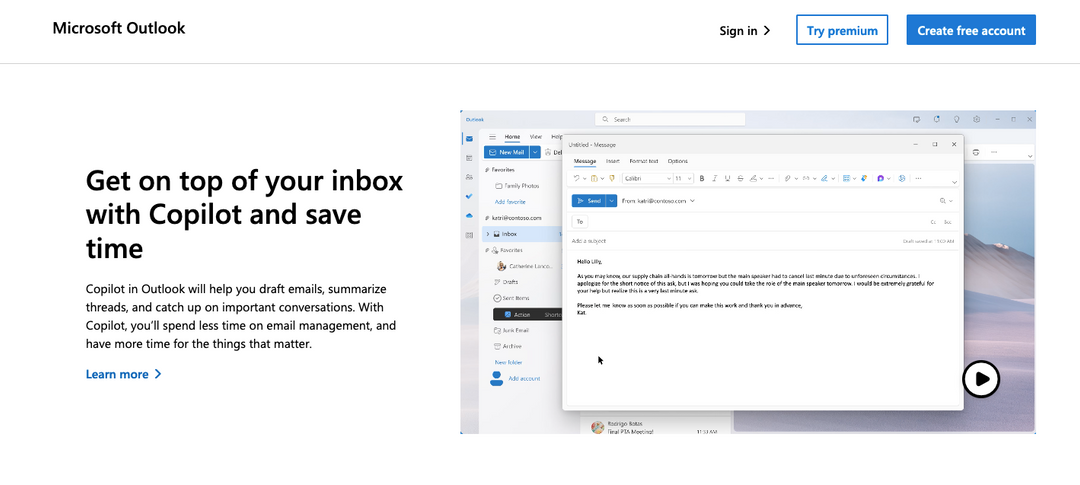 Microsoft 365 is a productivity suite that can elevate your day-to-day operations with Word, Excel, Outlook, and other apps. Its business email is fast, secure, and works well with most third-party mailing apps.
However, those with pre-existing productivity suites will be disappointed to know that there isn't a plan to get just business email hosting.
Best features:
Copilot AI assistant helps with scheduling and emailing tasks
Free one-month trial
Organized and clean email and calendar UI
Pros:
Microsoft's AI, Copilot, can draft emails for you.
All plans come with ample storage space.
You can enhance your email's security by using the Microsoft Authenticator app.
Cons:
They do not offer plans catered exclusively to business email hosting.
Subscribing to it when you already have a productivity suite can confuse your team and create productivity issues.
Businesses on the free plan cannot add a custom domain to their email addresses.
Pricing:
Business Basic plan – $6 per person per month, billed annually at $72/year.
Business Standard plan – $12.50 per person per month, billed annually at $150/year.
Business Premium plan – $22 per person per month, billed annually at $264/year.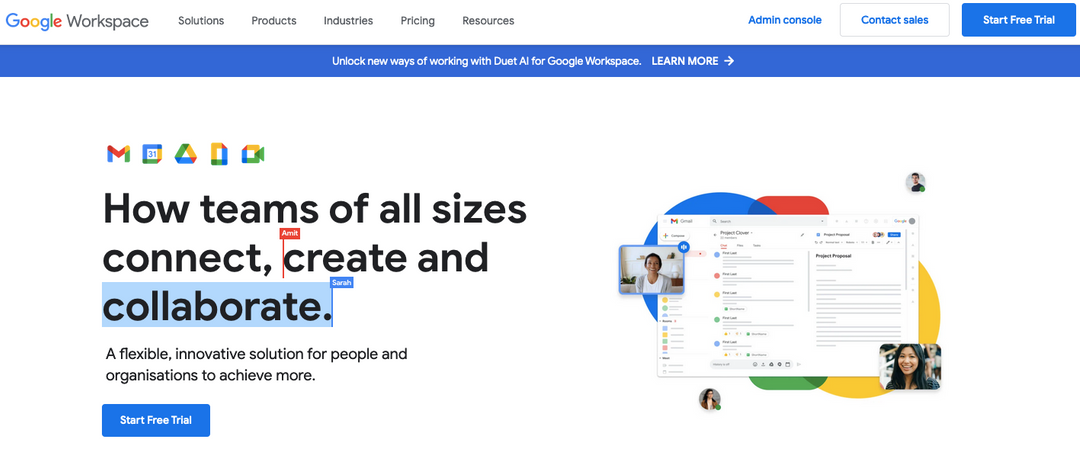 Google has become a household name due to its practical and accessible offerings. Unlike the free version of Gmail, Workspace is ad-free, and your data is under your control. Its biggest flaw is upselling customer support from Google, which can disappoint companies already paying a premium for Workspace.
Best features:
Well-organized inboxes
Generous storage space across all plans
Smart suggestions that aid in drafting polished emails
Pros:
You are not shown ads, and your data is kept private.
You can purchase a name from Google Domains and sync it with Workspace for a seamless experience.
They offer shared storage space, enabling teams to allocate it optimally.
Cons:
Customers who want Enhanced and Premium Support from Google must pay extra.
There are no monthly plans; they require a minimum commitment of one year.
The plans are expensive compared to those of many competitors on this list.
Pricing:
Business Starter plan – $6 per user per month, on a one-year commitment.
Business Standard plan – $12 per user per month, on a one-year commitment.
Business Plus plan – $18 per user per month, on a one-year commitment.
Enterprise plan – Price available upon inquiry.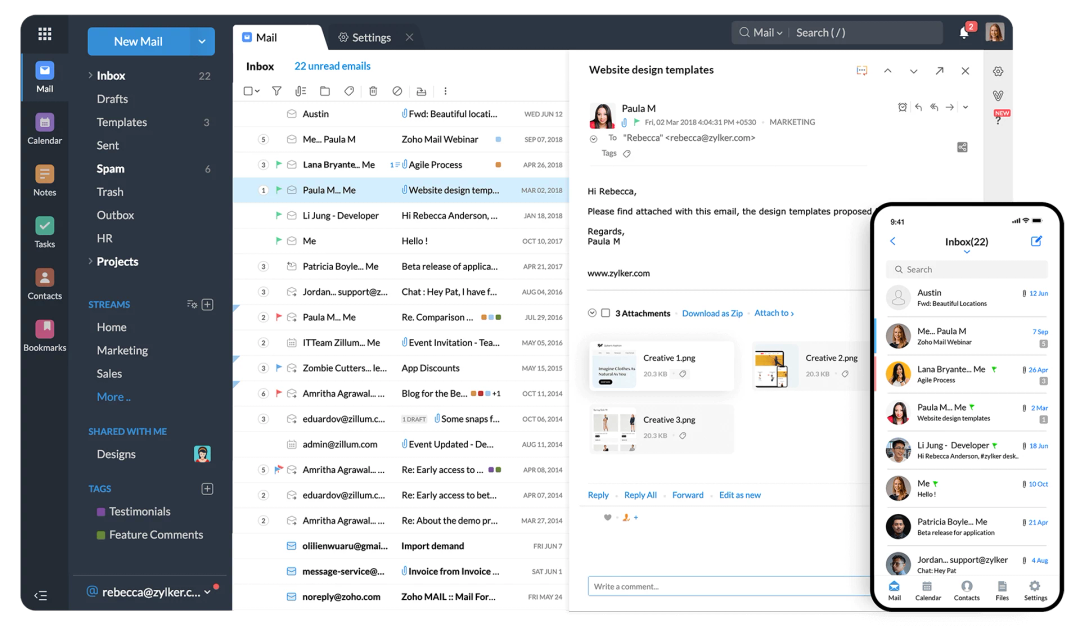 Zoho is one of the few providers that offer free business email hosting. This can be helpful for small businesses with limited budgets. However, the affordability comes with its own cost – a significant one being limited storage space that may feel obsolete as your business scales.
Best features:
Easy-to-use smartphone apps
Allows you to send emails with large attachments
Offline email access if you want to read and review messages remotely
Pros:
They let you mix and match features from different plans to create a plan that suits your company.
They offer a mail-only plan for teams that do not need a productivity suite.
All paid plans enable you to create emails using multiple domain extensions.
Cons:
They offer less storage compared to many others listed here.
Only Premium plan members get access to crucial features like email backup.
Their customer team is slow to respond from time to time.
Pricing:
Mail Lite plan – $1.25 per user per month, billed annually at $15/year.
Workplace plan – $3 per user per month, billed annually at $36/year.
Mail Premium plan – $4 per user per month, billed annually at $48/year.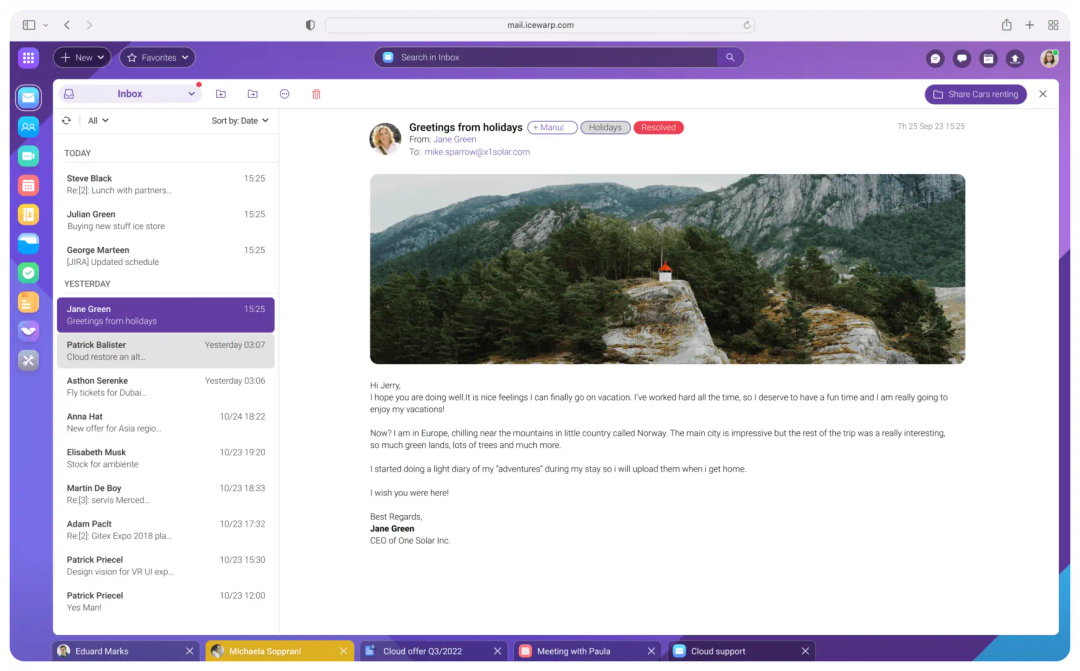 IceWarp's business email hosting comes with a well-designed app with a short learning curve. However, the web app does lag from time to time on older devices and some browsers. It may not be perfect, but affordability makes it a strong contender in the market.
Best features:
Modern UI for easy navigation
Affordable pricing for companies of all shapes and sizes
Option to attach files to an email after having sent it already
Pros:
They offer apps for desktops, smartphones, and web browsers.
They offer a free 3-month trial to new users.
The app automatically converts large attachments on emails to shareable links.
Cons:
The web app runs slowly on some commonly used browsers.
They don't offer email-only subscription plans.
It takes more time than competitors to send and receive emails.
Their pricing page is confusing and divided.
Pricing:
Startups plan – $1.50 per person per month.
Corporate plan – $2.60 per person per month.
Business plan – $3.50 per person per month.
Business Desktop plan – $7 per person per month.
Public plan – Price available upon inquiry.
Hosting plan – Price available upon inquiry.
Education plan – $1 per person per month.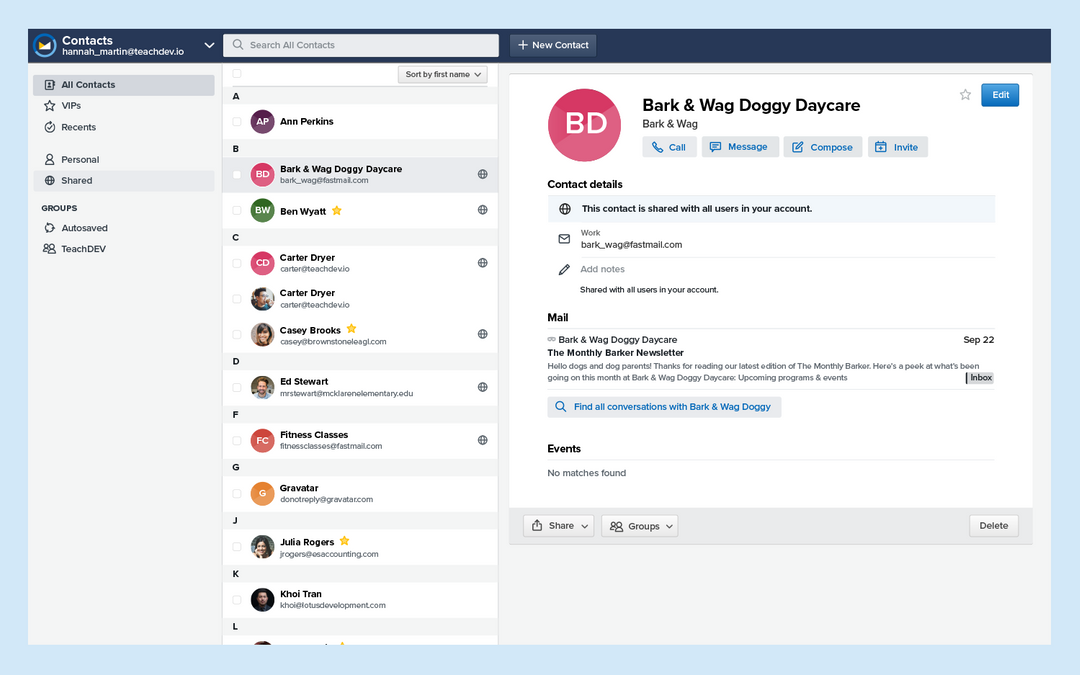 Fastmail offers a privacy-focused professional business email by keeping the platform ad-free and providing disposable email addresses. It does that while offering affordable plans – with limitations.
Those on the lower-tier plans get suboptimal storage space and can't use third-party mailing apps with their email addresses. These are flaws in an otherwise quality business email hosting service.
Best features:
All-in-one app for emails, calendars, and more
Option to cancel your subscription at any time
Option to categorize folders with labels and colors
Pros:
You get a 30-day trial when you sign up
They offer an ad-free platform that does not tamper with your data or privacy.
Their plans are affordable for small and new businesses.
Cons:
The available storage space can be insufficient in the long run.
Basic plan users cannot integrate their domain names with their email addresses.
Only those on the more expensive Standard and Professional plans can use their emails on Outlook.
Pricing:
Basic plan – $3 per user per month.
Standard plan – $5 per user per month.
Professional plan – $9 per user per month.
Launch your brand in minutes with a free logo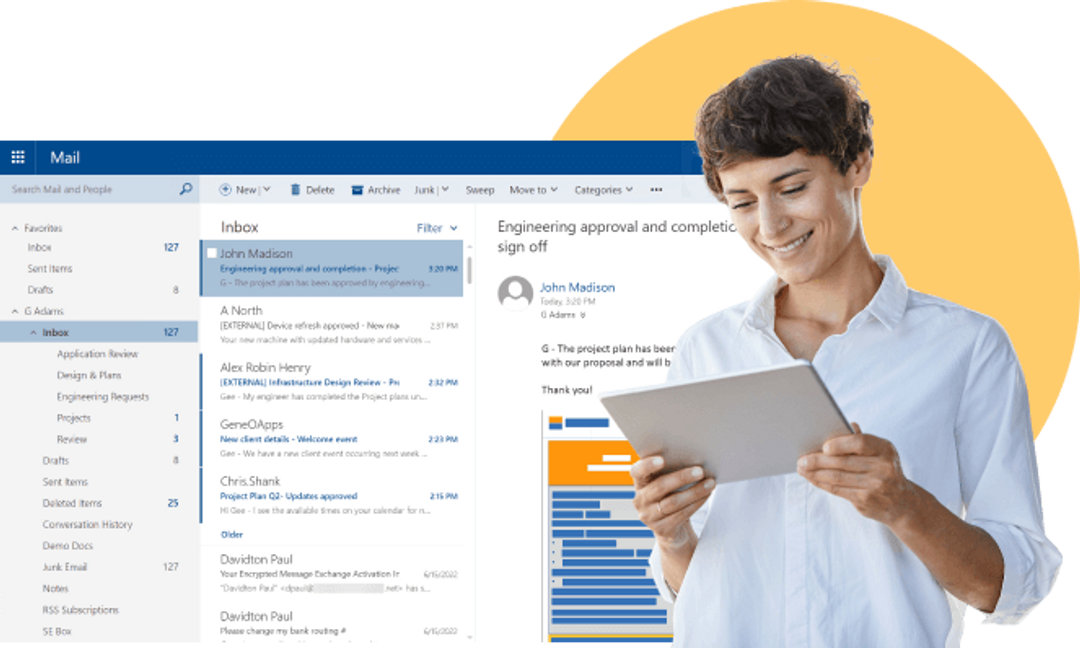 Intermedia is one of the largest independent business email hosting providers on Microsoft's Exchange server. Their unlimited mailbox storage and thorough security checks are standouts among its offerings. However, these features come at a premium that will likely overwhelm many small to medium-sized businesses.
Best features:
AI-powered security app that acts proactively to protect your data
Unlimited mailbox storage across all plans
24/7 customer support
Pros:
The email platform's admin control panel is user-friendly, with a short learning curve.
They offer free and seamless migration from other business email hosting providers.
Their anti-malware program scans all incoming and clicked links in real time for enhanced security.
Cons:
It is one of the more expensive services on this list.
Premium email protection, productivity apps, and email archiving are offered as expensive upsells.
Its security measures may be overkill for new companies that don't deal with sensitive information.
Pricing:
Exchange Email plan – $7.94 per user per month.

Instead of charging per user, Postmark offers plans for the number of emails you send monthly. While this pricing may benefit large teams, the costs can exponentially increase if you have a growing email subscription list. As such, Postmark is not the best option for scaling companies.
Best features:
Template engine that generates well-written emails
Offers servers for teams that send over 300,000 emails a month
Free plan for those that send a few emails per month
Pros:
The platform has a fast 'Time to Inbox' metric, with emails reaching mailboxes in seconds.
You get all the features, even as a free customer.
You can reach their support team through multiple channels like phone and live chat.
Cons:
The per-email cost significantly increases after you exceed a plan's limit.
You need to hire people with programming skills to set up and maintain the platform, which is an added cost.
It can become expensive for businesses that send bulk emails.
Pricing:
Free plan
Paid plan – Pricing starts at $15 monthly for up to 10,000 emails.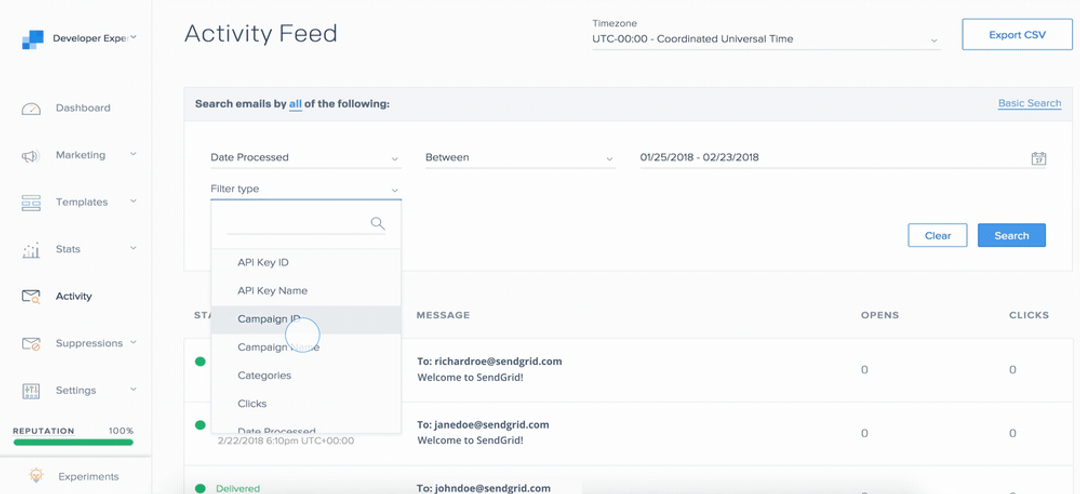 SendGrid is an email API that programmers can use to create business email hosting for companies. It takes technical expertise to set it up, which may lead to additional costs. However, they make up for it by providing global customer support to help with your queries.
Best features:
Free for teams that send fewer than 100 emails a month
Global customer support across multiple channels
Offers free email marketing campaign plans
Pros:
They offer flexible pricing plans that can make business email hosting affordable.
They offer insights about sender reputation, helping your emails reach primary inboxes instead of being marked as spam.
Their email delivery times are fast, which allows for timely communication.
Cons:
Phone support is exclusive to customers who subscribe to their more expensive plans.
You may incur additional costs to hire programmers capable of setting up and maintaining the platform.
Their customer support response times can be long.
Pricing:
Free plan
Essentials plan – Starts at $19.95 per month.
Pro plan – Starts at $89.95 per month.
Premier plan – Price available upon inquiry.

Mailgun's platform can be tedious to set up, especially if you have a few (or no) developers in your team. Those willing to invest in programmers will get bespoke business email hosting with quick delivery times.
However, this may not be the best long-term solution for growing businesses, as Mailgun limits the number of emails you can send monthly.
Best features:
99.99% uptime of email service
Easy-to-navigate dashboard for company admins and developers
24/7/365 support for customers of all plans
Pros:
You can opt for a one-month trial to test its features.
There is no limit on how many emails you can send in a month.
You can set up real-time email verification to evaluate your contact list and remove spam addresses.
Cons:
It is more complicated and time-consuming to set up than traditional business email hosting providers.
Regardless of the plan, there is a limit on how many monthly emails you can send.
It is one of the more expensive services on this list.
Pricing:
Foundation plan – $35 per month.
Scale plan – $90 per month.
Custom plan – Price available upon inquiry.
How do you set up business email hosting for a small business?
A small business will require fewer email addresses compared to a multinational conglomerate. You can set up a professional business email in no time with these steps:
Start by evaluating how many emails you need and add a few extra for email and emergency communication needs.
Next, select additional features like level of security, storage space, and email delivery times.
Finally, check if you need services like a productivity suite or a video-calling platform to opt for package deals.
Preparing your needs in advance will help you select the most affordable plan. You may even qualify for free business email hosting if your requirements match the offerings.
What security measures should a business email hosting provide?
While every business email hosting solution has different security features, there are a few basics that they should all cover:
Spam checking: How accurately does this provider separate spam from regular emails?
Malware protection: Does this provider offer file scanning, warnings, and URL analysis?
Two-factor authentication: Can I set up two-factor authentication for additional security?
Features in addition to the ones above are a green flag for your provider. You can get the clearest picture by contacting a service and learning about their security measures.
How do you choose the best business email hosting online?
Choosing from one of the stellar services above can seem near-impossible (and subjective, to a certain degree). However, you can shorten the process by asking yourself these questions:
How many emails can I create with this provider?
How fast are the delivery and receiving times on this service?
Do I need to hire programmers to set up this service? Can I afford that?
What kind of security measures does this professional business email host provide?
Does this service limit the number of emails I can send monthly? Can I stick to the number on a particular plan?
Can I afford this in the long run?
Answering these questions should make selecting the best business email hosting easy. Don't make the mistake of trying and migrating to new services repeatedly. This can frustrate and confuse a team – and nothing is worth that. Happy emailing!
Launch your brand in minutes with a free logo