So, you have a new brand, and the internet overwhelms you with information about what you need to achieve soon. All this advice seems uplifting and encouraging in theory, but where do you start?
The answer is straightforward: gather all the puzzle pieces that form the completed image of your brand.
Your new brand exists as an idea and maybe a couple of slides in a presentation. Your prototype has moved ahead into beta testing, and everything looks great.
Now's the time to get real stuff done, which includes creating your brand's identity, defining your customers more clearly, and creating a plan to reach out to them.
‍
Easy as 1-2-3! Build your new brand from scratch with these 12 branding materials
Branding may seem like something you do in the future (when you have your product ready, sales are coming in, leads are nurturing, etc.), but to build long-term trust, it helps to start working on these minor aspects of your business from day one.
Take your email signature, for instance. It seems like a 'good to have' aspect, but it is much more. Your email signature could be your first point of contact with a potential customer.
The better your brand, the more credible you look.
Below is a list of the 12 essential branding materials you can get started with today!
‍
1. Business name
Your business name is the first chapter in your success story. Pick a business name that aligns with your goals, industry, and the story of why you started.
If you're scratching your head for ideas, try a good business name generator for a list of name options to brainstorm. A business name generator takes the complication away with a treasure trove of great ideas.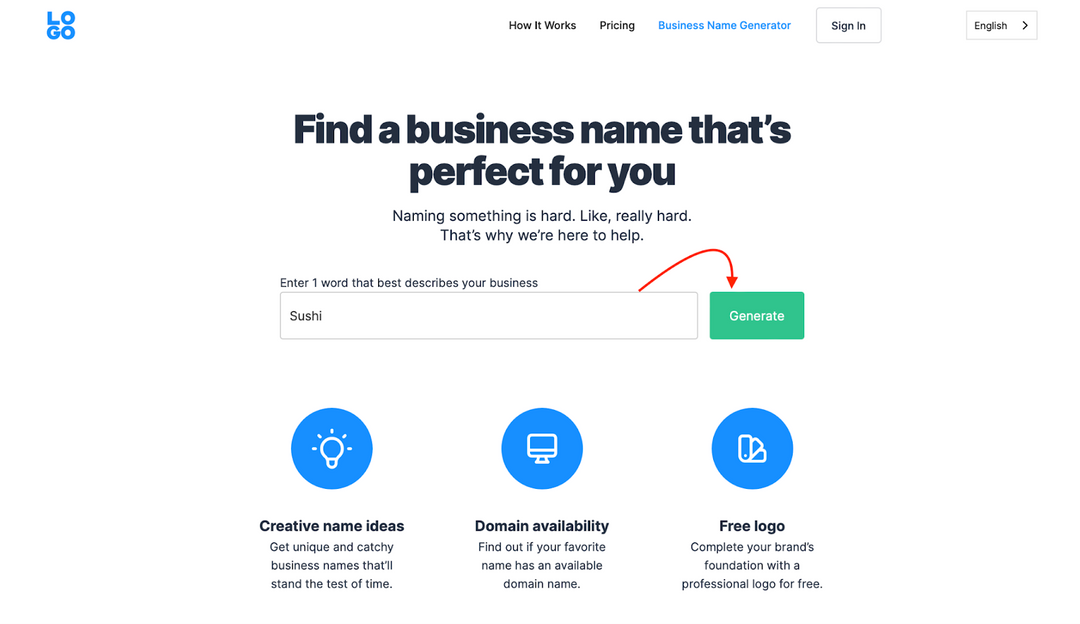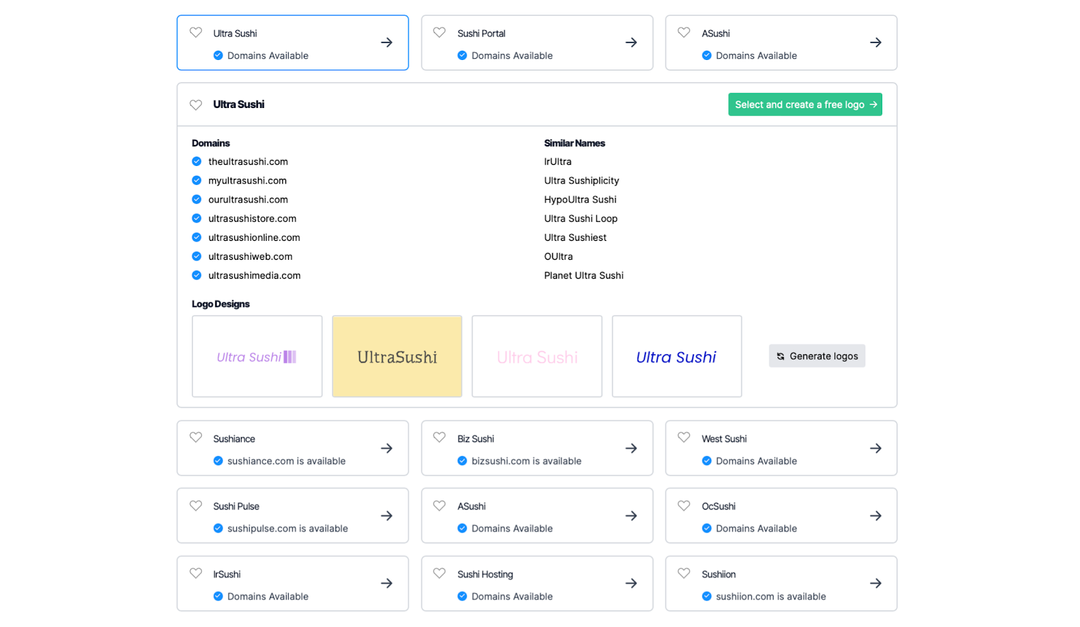 Look at these ideas collectively and write names that are aligned with your vision for your business. Ask your peers what they think about your business name; feedback is the best teacher.
Take a trip to our business name generator and find the optimal choice for your brand.
‍
2. Logo design
A good name is a great start. Take it up a notch with a professional logo design, which will be the visual identity of your brand.
Logos can be created in all forms and sizes, but what's important is that your logo spotlights your one fundamental value proposition. A value proposition is what makes your business valuable to your customers.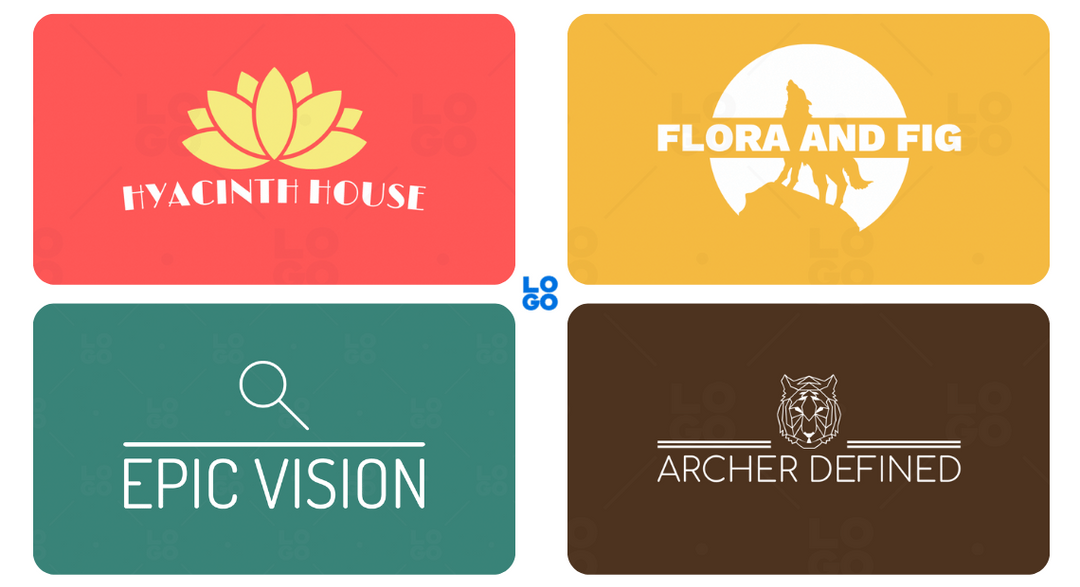 A good logo will communicate your brand's identity, and it'll help you present yourself as a professional in the market. Therefore, it makes sense that your logo be designed by the person who understands your business to its core: you and only you.
With our free logo maker, you can create your logo design in minutes. With every color in the color wheel, millions of icons, and dynamic font options, you can design a logo for your business that stuns your audience. The best part? It's completely free (no credit card and no surprise payments).

Logos are the symbol by which consumers identify your company. In an ideal world, people would remember what your business does and, more notably, how it inspires them the instant they see your logo.
Head on over to our free logo maker and create the perfect design for your business.
‍
3. Logo files
Your logo isn't just one design file that goes out to your marketing team and clients. It is an amalgamation of different parts you must create to represent your brand in different applications such as hoardings, t-shirts, digital banners, social media profile pictures, and more
When you create a logo with LOGO.com, you get 20+ logo files free of charge. These include:
Low-resolution logo files
High-resolution logo files
Logo files with transparent backgrounds
Business name only
Whether it's for your website, social media channels, or merchandise, we will provide the right file with the right proportions.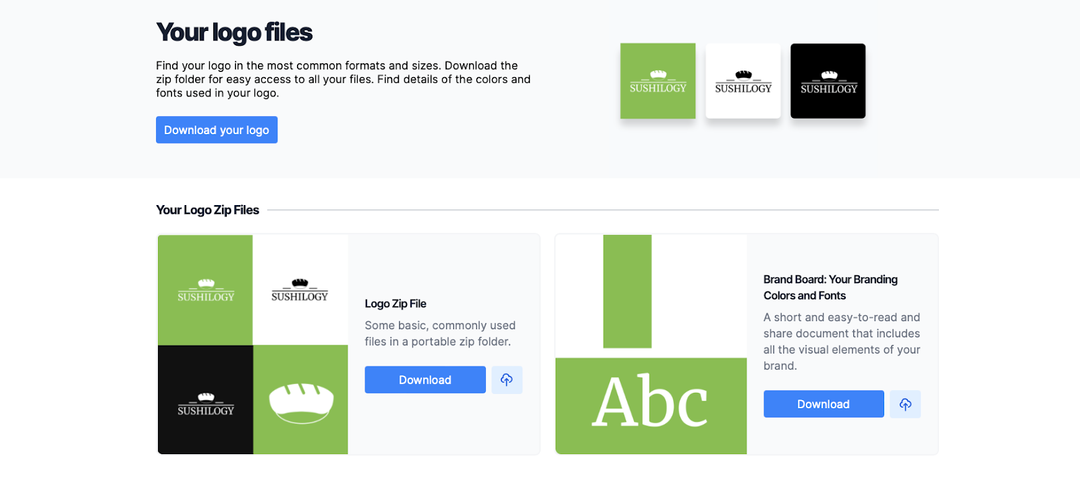 You can download every single one of your logo files in a convenient ZIP file. If you ever lose them, you can always come back to your LOGO.com account to recover your branding collateral.
‍
4. Brand guidelines
Brand guidelines are the principles everyone must follow when referring to your brand in any form of communication.
Brand guidelines guide people on the dos and don'ts of how to use your logo, fonts, colors, tone of voice, and other brand elements. Sounds like a lot, doesn't it? Don't worry, your brand on LOGO.com comes with its own branding guidelines.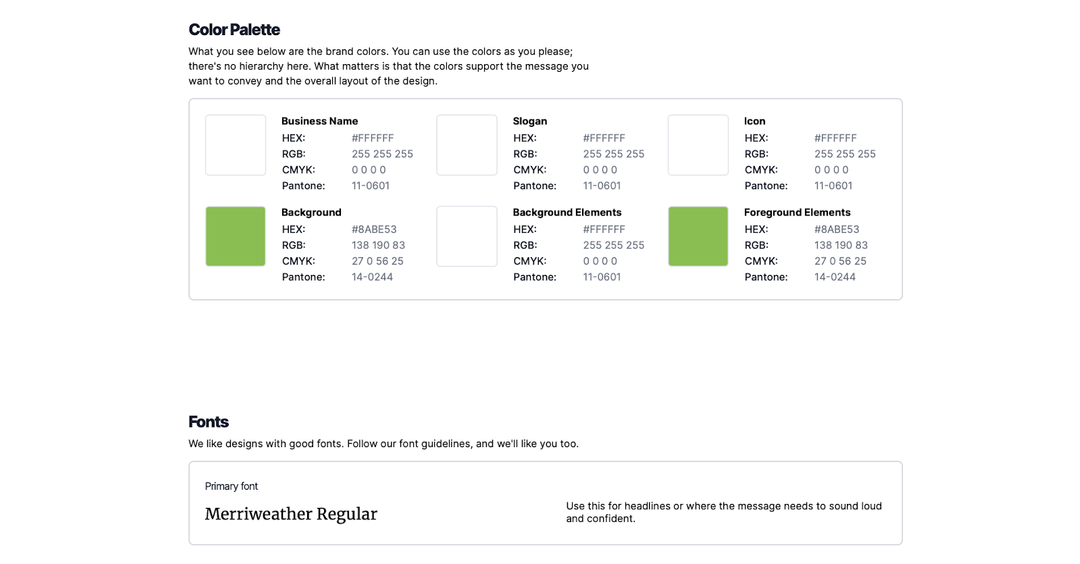 Whenever you approach a designer or an external marketing company to create advertisements for your brand, the first thing they will require to get started is your brand guidelines document. Have it ready and available to everyone who may need it.
‍
5. Business cards
Those who consider business cards to be "old school" may be missing out on a huge opportunity. While business cards aren't a new form of introduction, they still go a long way in ensuring that your new connections and acquaintances know how to reach you and your business.
Choose a business card design that represents your business and vision. An underrated quality of business cards is not necessarily what goes into them but the design of the card. People are visual creatures, and you definitely want a business card design that makes people want to keep it.
With us, you never have to worry about developing an astounding business card design because we will provide it for you. Each business card has a dynamic two-sided layout with your free logo automatically placed on it. The only thing you have to do is customize it with your business information.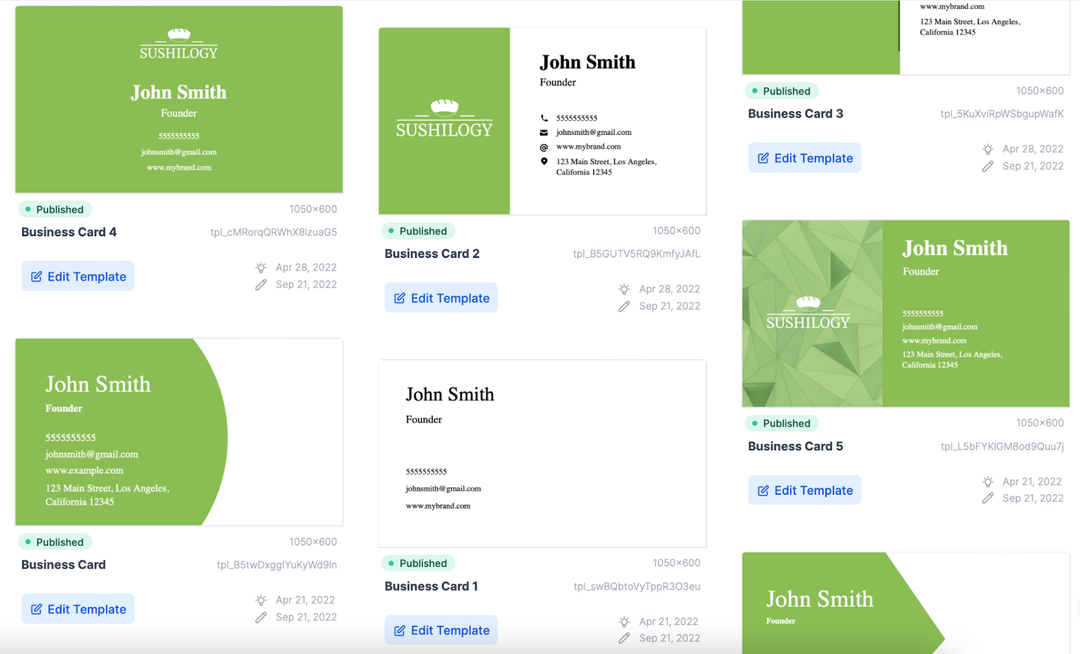 When you're happy with the outcome, download your business card file and have it printed at your nearest printing shop. It's as easy as that!
Having a business card that is both visually appealing and thoughtfully designed (keeping your brand in mind) can do wonders for your company's reputation.
‍
6. Email signature
Every professional email is signed off with a signature that contains four essential components:
Your name
Designation
Company name
Contact information
Branded email signatures allow you to add one or more hyperlinks that can redirect your customers to your social media channels and even your company or campaign website.
Developing an email signature can be challenging due to the sheer versatility of these designs. Not to mention, email signatures follow a strict hierarchy of information that needs to be organized properly.
Our email signature maker gives you access to ready-to-use email signatures that are branded with your logo and key business information. Simply copy and paste them into your email settings, and make every email you send a potential marketing opportunity.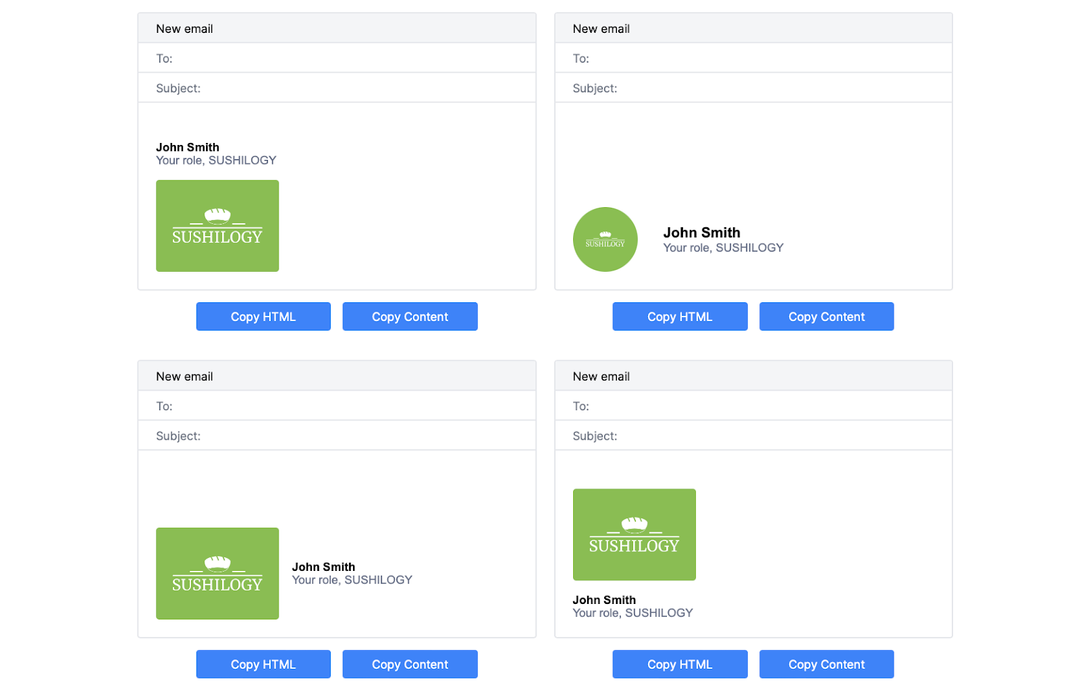 Keep your email signature modest, but highlight any achievements by you or your company. It helps build credibility.
‍
7. Official letterheads
Even in the digital age, letters find their purpose and need. Create an official letterhead that covers all aspects of your brand, such as your logo (which should be in a prominent space), your company address and contact details, and placeholders for the date and agenda of the letter.
Let's get this straight: corporate letterheads don't have to be all-white, boring documents you send out to your employees. Official corporate documents still need to scream your brand colors, logo design, and even your personality on a page.
Fortunately, you can get professional (and not boring) letterheads at LOGO.com. The templates come pre-set with your logo and brand colors, and there are various templates you can choose from that best suit your brand personality.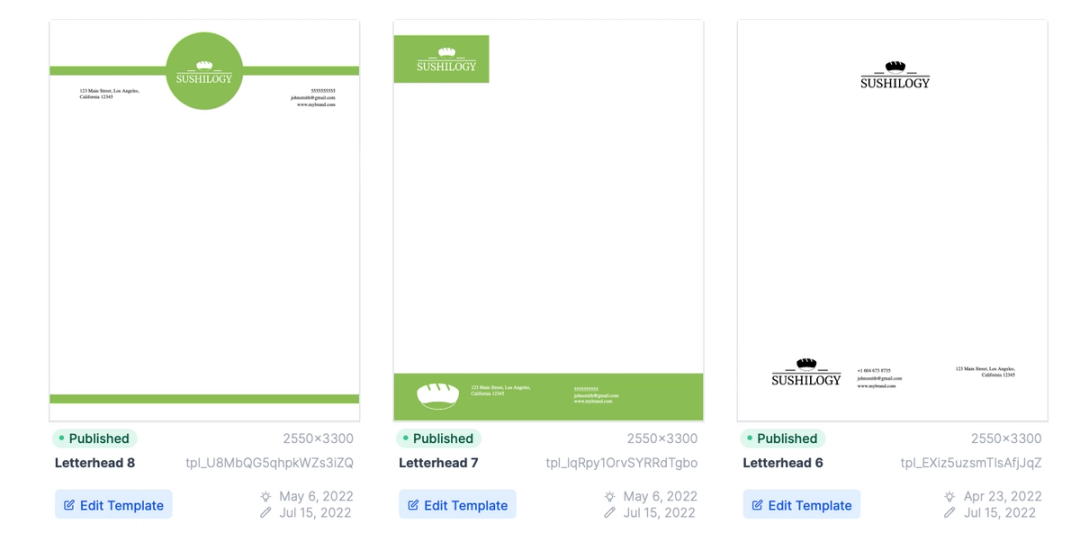 Your letterhead is just as important as your logo in making a good first impression on potential clients.
‍
8. Merchandise
Imagine walking into a meeting room with your company's branding across the pen and pad you use. You open your laptop before your client, and they notice a sticker on its back that shows you are part of the company.
Company merchandise can be a cost center, but it goes a long way in developing credibility and trust in a consumer's mind. Customer loyalty is influenced by company merchandise. Everyone enjoys a freebie now and then.
Merchandising is a vast enterprise, but it doesn't have to be. At LOGO.com, you can order a variety of merchandise that already have your logo placed on them in dynamic formats. Our partnership with Zazzle allows you to order merchandise at the click of a mouse at affordable prices.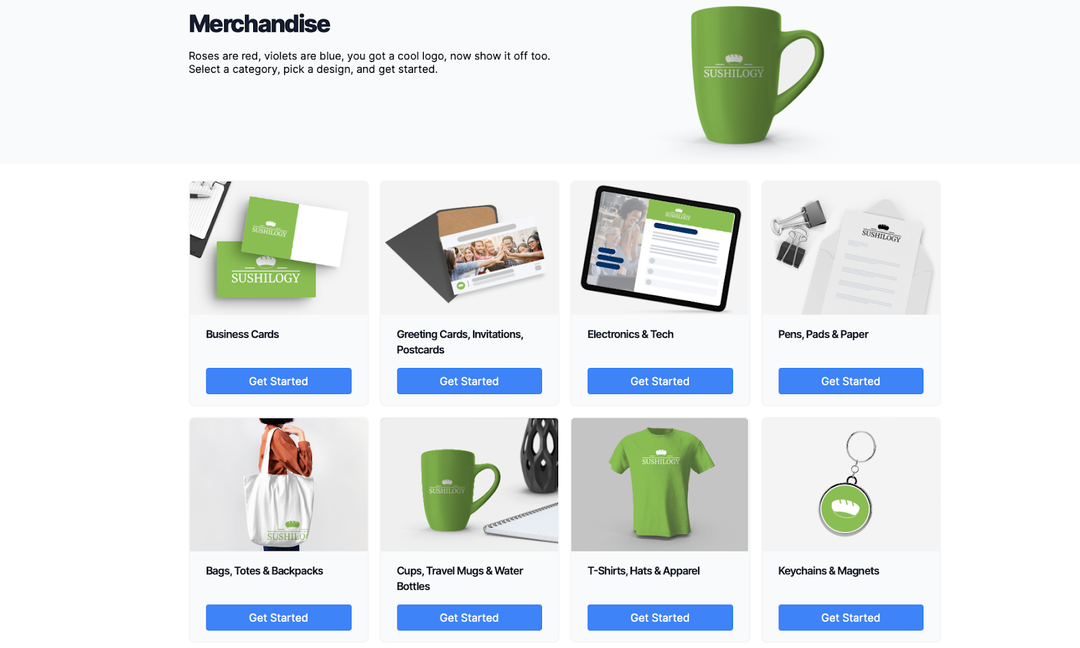 Every sticker, mug, and t-shirt design helps bring your business front and center to the rest of the world.
‍
9. Social media posts
You just got some beautiful merchandise for your brand. Why not show them off on your social media accounts?
It's free and fun, and your customers love using it; social media marketing has (almost) become mandatory for brands that want to flourish. Your social media content should complement and build your brand.
You can reach out to potential clients on their preferred social media platforms, be it LinkedIn, Twitter, YouTube, Facebook, Instagram, or even TikTok. You can keep your target audience interested with the right social media strategy, beautiful designs, and some well-crafted content.
We'll hit the trifecta for you with our ready-made social media templates that are fully customizable according to your needs. Thanks to Stitch, our custom design tool, you can craft beautiful social media content for your audience that keeps them engaged.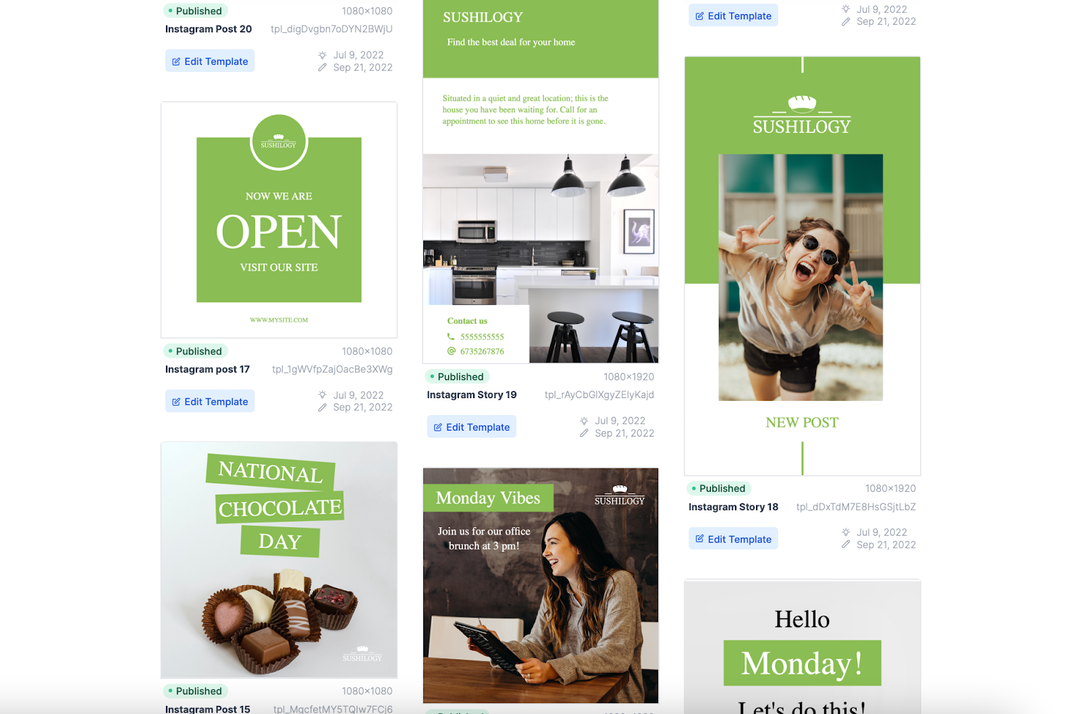 According to research, small businesses that market themselves on social media are twice as likely to see a rise in sales as those that don't. When targeting the right demographic, a small business's online presence has the potential to explode in popularity thanks to the wide reach of social media.
‍
10. Domain name
To have a credible business, you need a website. And you can't put up a website without a proper domain name. Having a domain name that is identical to your company's name will help customers remember your brand and return. Customers will have a better memory of your brand and be more likely to recommend it to others.

Luckily, you can find the perfect domain name on the market right at LOGO.com. Thanks to our partnership with GoDaddy, the world's largest and most trusted domain registrar, you can purchase a great domain name and build your brand all in one place. Not only do we offer affordable prices, but we also show you all related domain extensions if your name of choice isn't available with a .com.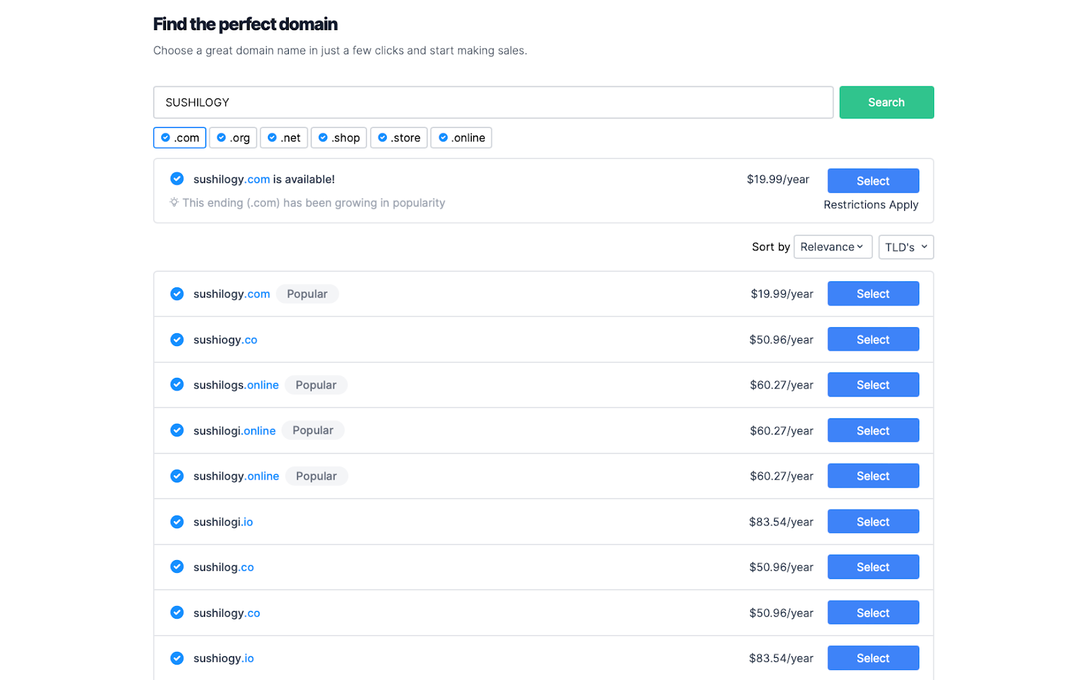 You have the choice to choose from different top-level domains (TLDs), such as .com, .org, .net, .shop, .store, and .online. If you're inspired by the list of options, you can sort them by popularity, price, and length, depending on your preferences.
A website is your brand's online real estate, and your domain name is the address. Without a solid domain name, your website will be lost.
‍
11. Website
You just bought an amazing domain name. Now what? Build a magnificent website.
Your brand's website will become the central meeting point of all your communications. You can start small, with a few pages that cover your:
Home page
About Us page
Services pages
Contact Us page
As time goes on, you can invest more heavily in creating additional pages that detail specific advantages of your business, media sections, news and updates, and a blog.
Your website needs to evolve with your business, and no matter where you are in your journey, your website needs to clearly communicate who you are and what you do.
Our partnership with Duda, a professional website builder, allows you and any beginner to build a professional website. The process is simple, and the interface provides steps to assist you along the way.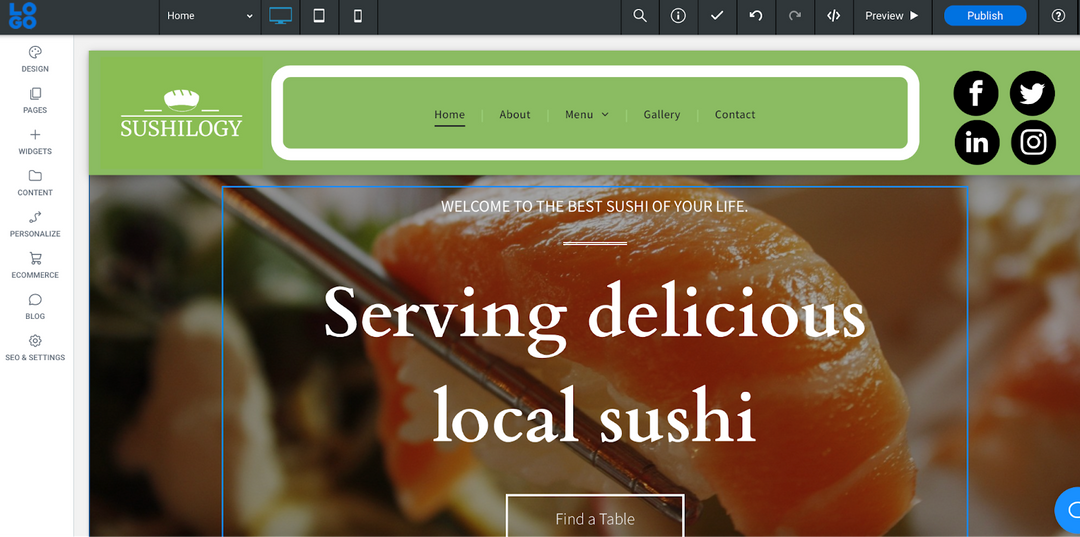 Your website will be accessible to anyone anywhere at any time, so make sure you build a website you can be proud of and that helps customers learn more about your awesome brand.
‍
12. Start marketing
You've got all the ingredients to drop into a bowl and conjure up a delightful brand. It's now time to start marketing. Here is where you upload your social media posts, make your website live, send out initial emails to your database of prospects with a branded email signature, and get all sign-offs on your brand guidelines.
What are you waiting for? Follow these 12 steps to branding perfection, and yes, you can achieve it all in one place. It's never too early to achieve your business goals, and it all starts with a powerful brand.
‍
Frequently asked questions about building your brand
What are some commonly asked questions about building a new brand? Get your questions answered with these three FAQs.
1. Why is branding important?
The ability to set expectations for your customers and clients is a major benefit of branding. It's a way to set yourself apart from the competition and make it crystal clear why you're the best option.
2. What is a strong brand example?
Apple represents the epitome of a thriving brand. Apple creates unique and stunning products that are unlike anything else available. More than that, they have achieved immense success with minimalistic branding and innovation in their products.
Apple is a prime logo example that proves your business branding doesn't need to be complex to flourish.
3. What makes a great brand?
A strong brand consistently displays its core values, communicates its story to its target market, maintains a visual identity that reflects these aims, and has a firm grasp on its target demographic.
‍
Launch your brand today!
Being a new brand is easier than you may believe. All it requires is resilience, determination, and the ability to make quick and well-educated decisions. Over time, your brand's reputation will become essential to maintain.
As your brand finds its feet, you may need help finding the above materials. With the best partner and the finest online tools, you can propel your business to new heights, from a startup to a flourishing enterprise.
Ready to design your free logo? Get started with our logo maker!