As we're starting to realize, all of a company's departments need to be on the same page, but aligning customer service marketing with departments is particularly crucial.
Perhaps you've just launched a successful new TikTok marketing campaign - your click rate has skyrocketed, and you're gaining new visitors to your brick and mortar stores, landing pages, and inbox. Inevitably, some of these visitors will have questions, which ideally need to end up with customer services.
You could just hope that somehow these customers make their way to the correct channels where the customer service department can be of assistance and provide information about the company, while hopefully resolving all outstanding issues.
However, if you know anything about customers, you're probably aware that they don't always do what you want them to. Any channel that can be used to air their questions will be utilized, whether this is through social media mentions, brand ambassadors, or chatbots.
On the off chance they do make contact with customer services, it wouldn't be surprising if they have specific questions about the email marketing they received. Yet, as different departments are often kept quite separate, your customer services may not know anything about the specific marketing campaign and even your marketing strategy in general.
This makes answering questions and directing customers to the right department quite tricky as, even within the company, it's not always clear which the correct departments are.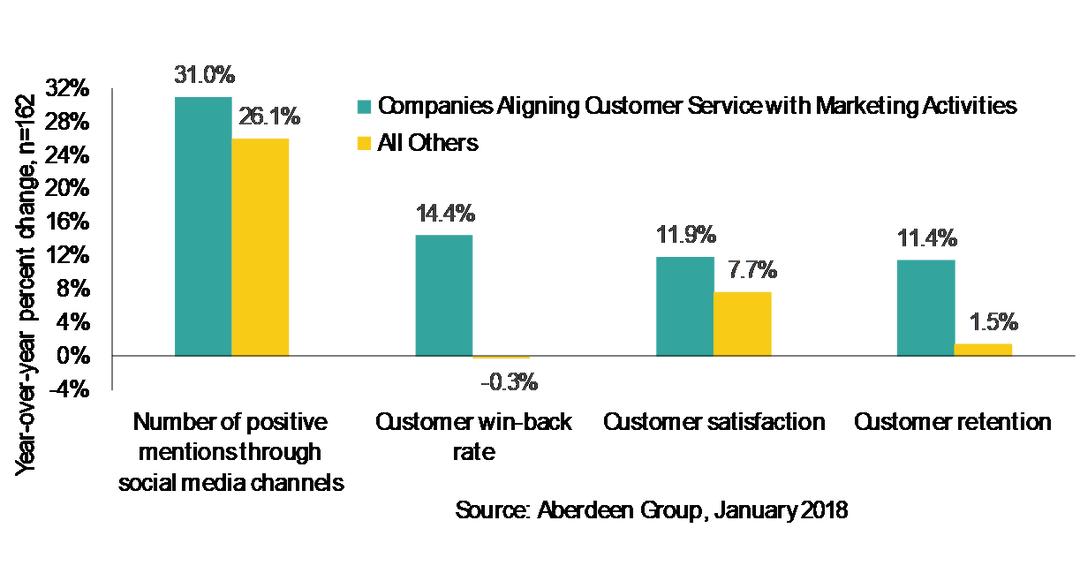 Customer Service Marketing: Aligned Vs Misaligned
Simply put, aligning your marketing and customer service teams gets them singing from the same song sheet. Solid customer service marketing will determine your symphony.
When marketing launches a new strategy, customer services are kept in the loop and know precisely what's going on. Likewise, some of the skills and tricks of being in customer services are shared with the marketing team, enabling them to tackle some of the customer questions that find themselves coming in through alternative channels of communication.
It's a lot easier to let the two separate teams remain as they are. That way, all your employees know what they're doing. However, if you want to deliver the best customer experience possible, research shows that companies that align report a 55% greater annual increase in customer satisfaction rates.
Our businesses are becoming more and more fluid, with the lines between the realms of one department and another becoming fuzzy. Where promotions and sales are used to fit securely in marketing queries with customer service, more often than not, both departments have to chip in at points to provide a holistic digital CX strategy. For example, if a marketing department launches a business promotion or a coupon code to attract new customers, the customer service team needs to be able to relay the details correctly if a customer has a query.
A big issue facing both service agents and marketers is that anyone in your company could be needed to do something outside their remit, and unfortunately, not everyone is prepared for that.
Benefits Of Aligned Marketing & Customer Service Teams
We've now seen that aligned services can make things a whole lot more unified from the customer perspective and can allow for different departments to share expertise. But there are plenty more ways that having aligned marketing and customer service can give your business a boost. No matter the scale of your company, aligning your departments can:
Reduce churn and sustain customer retention. Confusion in the customer experience can be massively off-putting and cause churn. Alternatively, having contact with a team that knows what's going on can consolidate a customer's decision and finalize a sale.
Make the most of spending. It's an accepted truth that good customer experiences lead to loyal customers, who generally need less convincing to make purchases. If they're particularly satisfied, they may even turn into brand ambassadors themselves.
Create positive experiences and reviews. A customer experience that runs like a well-oiled ship will put your business in a good light and get people talking. It's great for online reviews and building up social proof in your favor.
Align your brand. Using brand marketing can help give your business a developed public image and lead to brand recognition amongst prospective customers. If your marketing and customer support team are aligned, this can help to bring the whole brand together as one cohesive entity.
Develop clearer customer experience goals. Both marketing and customer service have goals surrounding customer experience, but the success of these is going to be far more likely if both are aiming at creating the same great experience.
How to Align Your Marketing And Customer Service
You've seen the benefits of aligning your customer service and marketing teams, but doing it is a whole different kettle of fish.

It does take a bit of grit and intentionality to begin with but, once the habits and communication patterns are in place, it gets easier and you can start to see the difference it makes to your customer experiences.

This isn't a quick fix - it takes time and consistent effort to improve. It may even involve a bit of a brush up on customer service training on both ends, but this is what exceptional customer service requires, and everyone must be on board.

We've gathered some of the best ways of aligning your customer service and marketing teams that can transform the look of your customer experiences. Give them a try and establish which methods work best with your business.
Create A Knowledge Base
Having complete knowledge of the company is challenging for your customer service team at the best of times and even more so when time-sensitive events or deals are in play. This is why many companies today invest in a customer self-service portal that comes with access to a knowledge base, containing comprehensive information about the company's products, services, policies, and frequently asked questions.
Having all the information accessible in one place means that no one has to scramble trying to work out what the answer is for a customer on the phone or make up an informed guess for a customer that has got in contact through unconventional means.
Keep the knowledge base up to date, sending out reminders when new pages have been added or updated to keep everyone - even the entire company - in the know.
It's one of the cloud computing benefits that your staff can access information from wherever they are, with whatever device that is to hand. It's great for marketers who accidentally resolve customer queries, as they know they've got their facts straight, and for customer service who aren't 100% on the ins and outs of the latest offer.
From the customer perspective, this means that wherever they ask questions about any part of your company; its structure, products, services, or discounts, they can guarantee that they will get the right answer from someone who knows what they're talking about.
If you're already established and want to go another mile, you can build a separate customer base your customers can refer to. Not only will this contribute to ensuring positive customer experiences, it will help your customer support reps manage their work by providing additional social channels.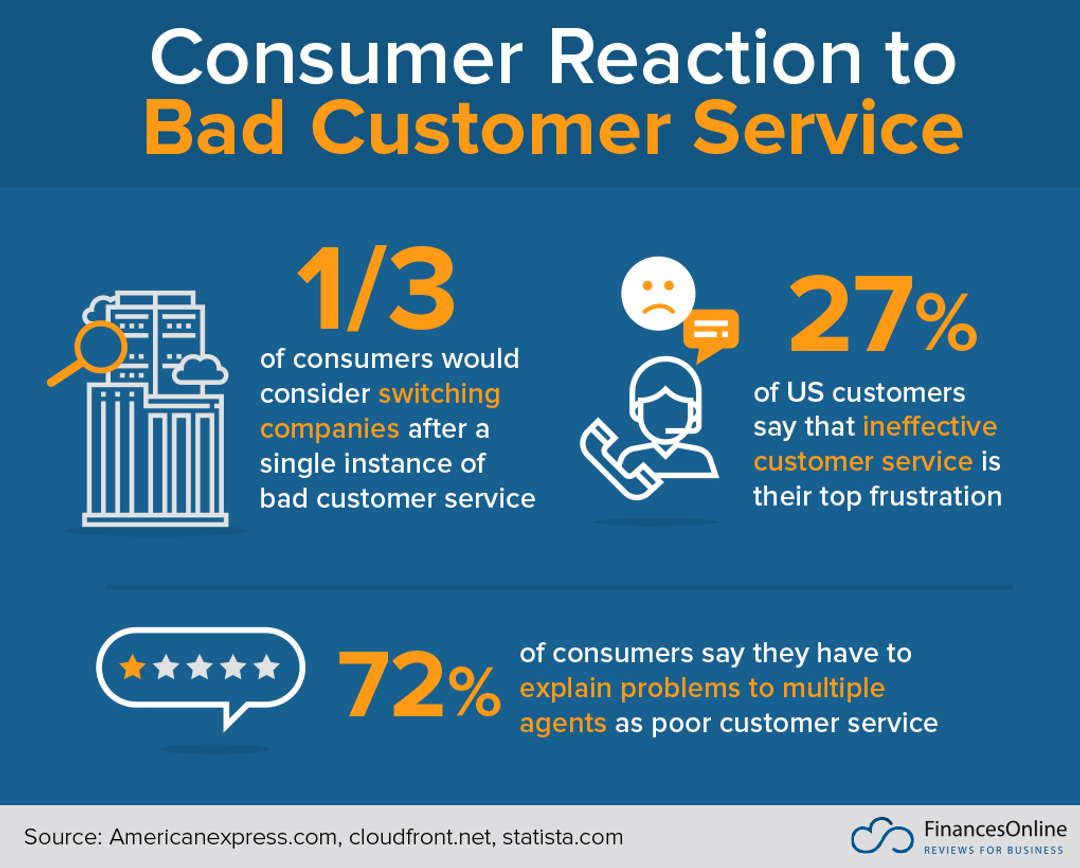 Flesh Out Your Buyer Personas
It's likely your marketing department has already got some form of buyer personas to help inform its strategies and campaigns. These can be super helpful if they're given the crucial details that enable customer service marketing efforts to target individual customers and their habits.
Often, these personas are informed by general trends in your current customers and statistics about their patterns and routines. But customers can't be broken down into simply qualitative and quantitative data.
Use information from customer services to build up your buyer personas, informing the questions they're asking, their concerns and challenges, as well as how they experience different marketing strategies.
This provides the marketing team with a lot more personality to their personas and better insights into how customers are going to respond to campaigns, as well as some insights into using eCommerce automation with customer interactions. Letting the customer support team look over the buyer personas can also give them some helpful insights.
Finding out the recurring pain points and segmenting your customers according to demographics and the sorts of lifestyles they have can inform how your customer service reps manage their customer interactions, which solutions or products they might emphasize, and tailor their advice to support your buyer persona.
Keep An Eye On KPIs
Key performance indicators are relevant to all areas of your company. However, different departments will have their eyes on different KPIs.
Sharing these between teams will help both to sync up on what they measure as success and align the goals within your top-notch customer service marketing teams and efforts more closely. In turn, this helps both teams in aiming at the same sort of customer experience and outcomes from interacting with customers.
Identify the KPIs that are especially relevant to both marketing and customer service. For example, net promoter scores can be handy to both teams as promoters can end up doing the marketing for their friends and families, as well as providing answers to their peers' questions.
If this KPI is doing well, both departments can see they must be doing something right and creating a customer experience well worth raving about.
This doesn't have to mean throwing out all other KPIs in your marketing strategy as some, such as app retention metrics or response times, can be useful more specifically within the separate teams.
However, noticing where KPIs are relevant inter-departmentally can help build up communication between marketing and customer service teams and open up a conversation about how to deliver a cohesive experience for customers.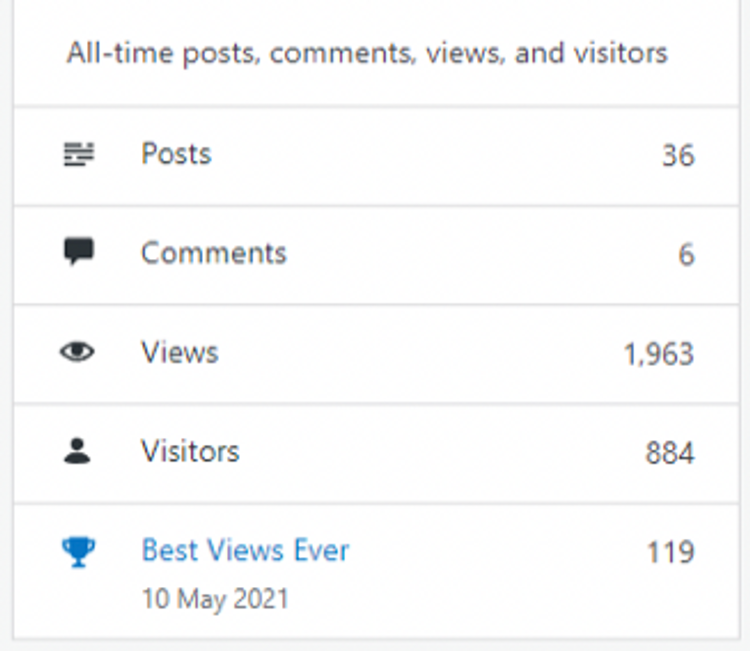 Stick To Consistent Communication
When it comes to presenting a united front, you must keep to one message that you're giving customers.
Things like having one logo, one slogan, and one brand image all help customers to know they're in the right place, whether reaching out over social media, on your website, or even in a physical office. When different elements of your company are misaligned, delivering a unified message becomes more of a game of chance rather than a planned occurrence.
For the customer, there's not much worse than calling up a customer helpline to ask about trialing a product through augmented reality, only to find the person at the other end has no idea what you're talking about.
The customer service rep may venture an answer, but it's likely to be spreading a different message to the original promotion. This leaves customers confused and unsatisfied, aware that they aren't getting the customer service experience they deserve. Every customer service team should be on the same page of avoiding negative experiences at all costs.
Prime your marketing and customer service teams to be repeating the same messages so that there is one answer that everyone is aware of.
Having your knowledge base will help with this, as well as giving customer services a heads up about what's going on elsewhere in the company. This can enable your customer services to promote the same things as your marketing department, giving your customers the same clear answer no matter who they ask.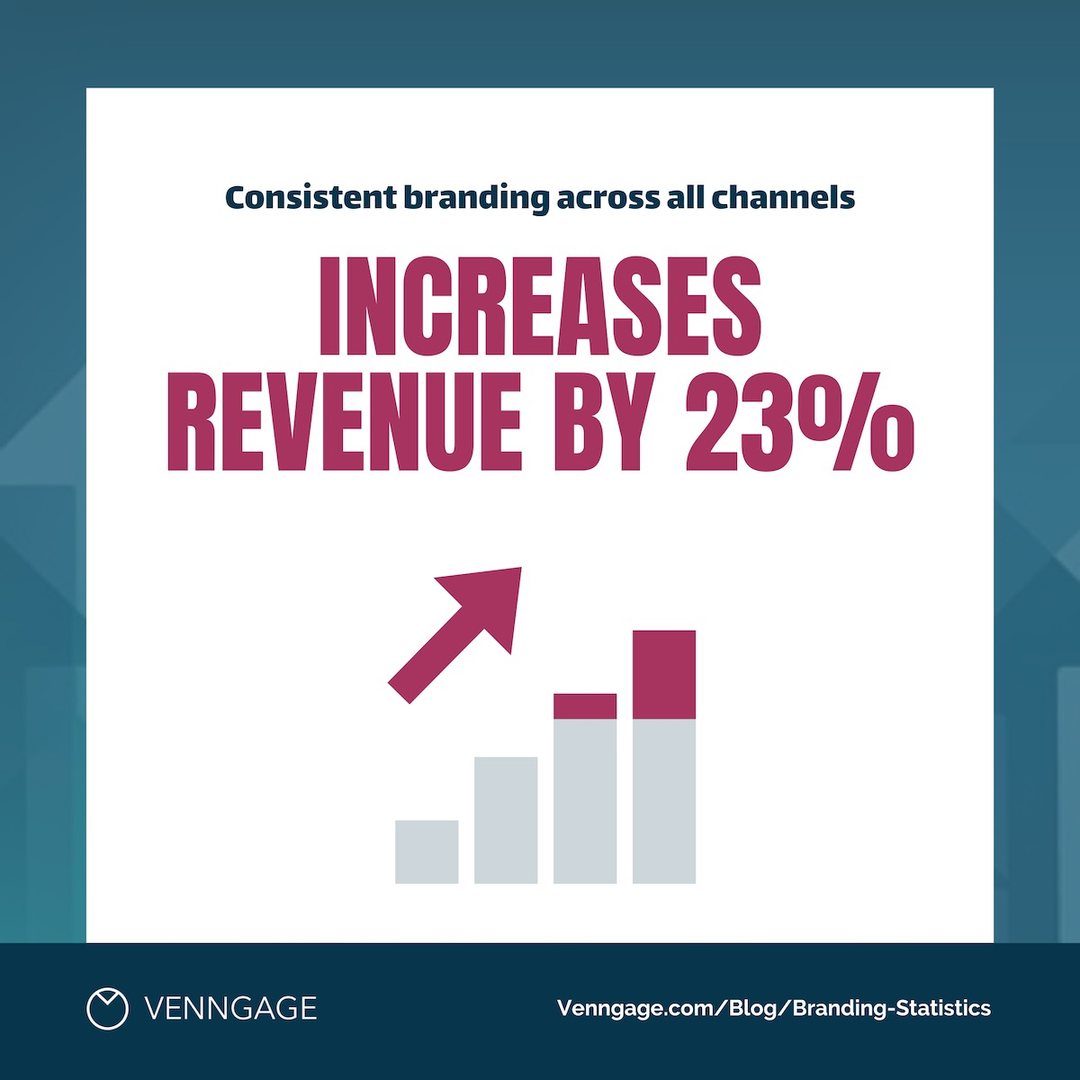 Check On Your Socials
54% of browsers use social media to research products, with a further 19% then asking questions to brands through social media. It makes sense that social media usually falls within the remit of marketing efforts but, when questions come up, your marketing department might not be best equipped to deal with these.
Letting your customer service marketing team in on the action can align the two teams and ensure those reaching out on social media don't fall through the net.
Some apps can filter your social media interactions, so those asking for help end up with customer service teams. Alternatively, giving someone in customer service access to the socials means that they can deal with the inboxes, whilst marketing focuses on what they do best.
Likewise, by using omnichannel software, it doesn't matter if your customers tweet, email, phone, mention, or direct message you as they all land in the same inbox.
The worst thing you can do is ignore messages from customers.
The longer customers wait for a reply, the less inclined they are to do business with you. It can also lead to negative reviews, all because the customer reached out on a communication channel that was inaccessible to customer services.
At the bare minimum, install automated processes to handle typical customer service issues and train your marketing teams to acknowledge customer messages, directing them to the appropriate communication channels. For instance, you can take things to phone support from social media by outsourcing your call center. This can help you deliver instant problem resolution.
Remember, customer feedback gives you a gold mine of data you can use in improving your CX and also getting a viewpoint on what makes your services shine. It would hurt if customer feedback drives away potential customers.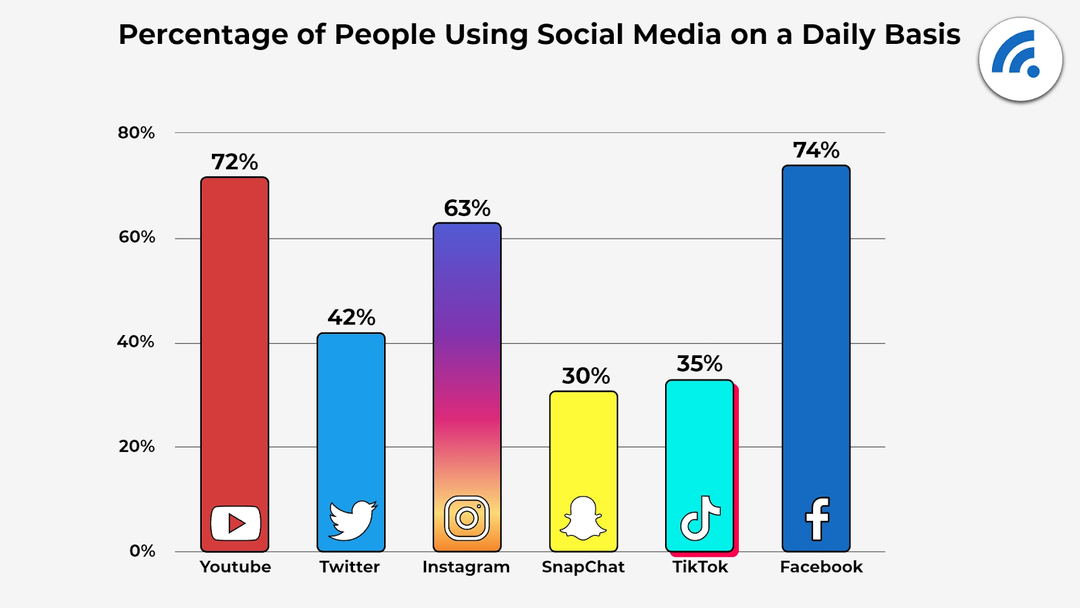 Collaborate On Content
Your marketing team spends weeks trying to develop lead generation strategies and get customers engaged in your business. Meanwhile, your customer service team spends their days listening to customers complaining about various pain points.
It's a bit of a no-brainer that aligning these two departments will help to create content that customers are interested in and invested in and, at the same time provides holistic positive experiences to your customers.
Invite the marketing team to listen in on some of your customer calls and also ask customer service what the most frequent questions and requests are. This demonstrates where your marketing isn't quite hitting the mark and what else customers are looking for, straight away.
Customer services can also point out information as part of your campaigns that are likely to be stumbling blocks for customers or create more questions than they resolve.
By anticipating customer queries and reactions to marketing materials and content, you can save your customer service teams a fair amount of work.
Whether in providing "how-to" blog posts, clarifying the most common confusions, or doing question and answer sessions on your social media - it all shows you care about your customers and you want them to get the most out of your products and services.

Clarify Your Roles
We've seen the lines between marketing and customer service get pretty murky, especially as social media and new ways of buying change the situation massively.
It seems counter-intuitive but, by clarifying each department's responsibilities, you can align customer services and marketing more closely. By knowing what is within your remit, it makes it easier to ask for help with something outside of that, rather than doing a potentially slapdash job of it.
Write a list of all the things each department does every day. Yes, include the marketing department responding to social media, customer services explaining promotional small print, and who has responsibility for the company's app management software.
Using these lists, identify what the separate roles should include and what they are not. Ensure everyone is equipped for their role, knowing how to delegate or pass on jobs that they shouldn't be doing.
Having a sales app that both departments use can also help to keep a track of customers, the lines of communication you have with them, and any other details it might be handy to pass between teams.
A large part of aligning your customer service marketing departments is having clear communication so that people can step in and help each other out. This tool can help align your customer communications and strengthen your marketing strategy without any faff from you.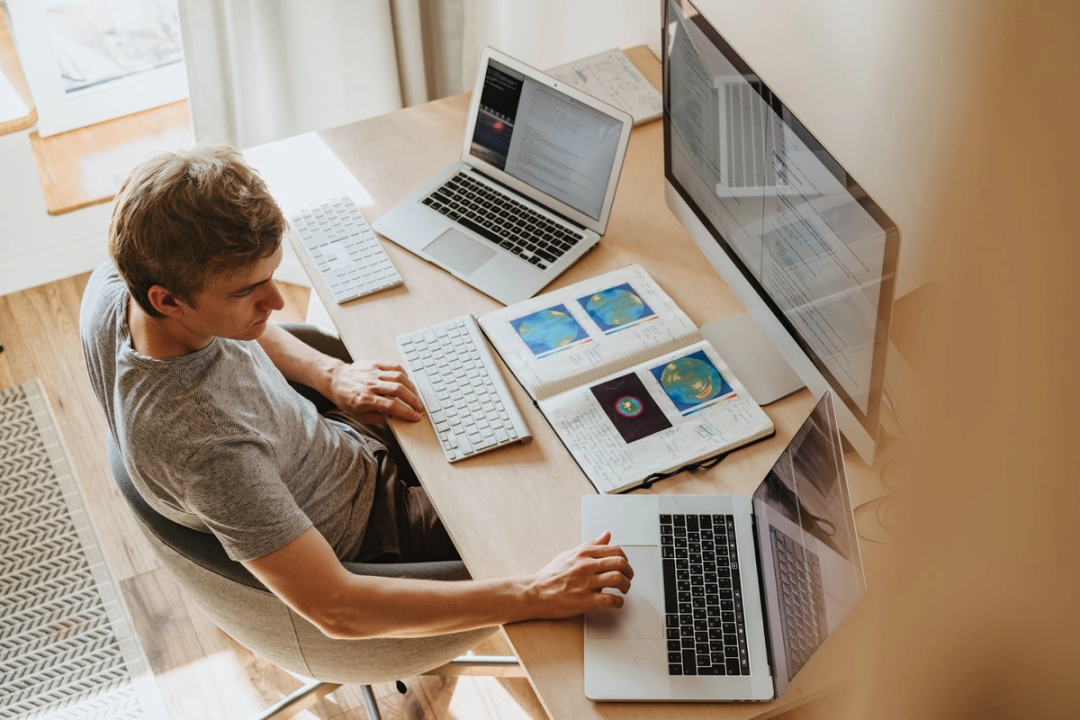 Your Departments Have Aligned… There Will Be Better CX And Customer Service Marketing In The Future
As a business, the customer experience should be top of the list when it comes down to aims and goals. After all, happy customers make our businesses worthwhile - they buy our products, give us feedback, and inspire us to create new and innovative solutions.
It's time we gave them the customer experience they deserve - not one that's been patched together and has serious holes in, but an experience that is unified and complete from head to tail. It's time we step up and make no room for a bad experience - both on the customers' end and on our teams' end.
Marketing and customer services might not be the first two departments you think of aligning, but from the customer expectations and viewpoint, these very much go hand in hand.
Marketing draws you into the customer onboarding process, whilst customer service gives you the support and encouragement to make a purchase. If they're not working together, it's very obvious for customers and puts a damper on their whole experience with your business.
Get started on aligning your customer service and marketing teams today and see the change in customer experiences and in your customer service marketing.
It's a long process and takes energy and commitment from every individual involved but, if you want to stop losing customers from silly mistakes, it's a simple move that sets the tone of the customer journey.
Do you want to treat your customers right and provide excellent customer service? Well, this is exactly the way to do it.

Ready to design your logo? Get started with our logo maker!
Grace Lau is the Director of Growth Content at Dialpad, an AI-powered cloud PBX communication platform for better and easier team collaboration. She has over 10 years of experience in content writing and strategy. Currently, she is responsible for leading branded and editorial content strategies, partnering with SEO and Ops teams to build and nurture content. Here is her LinkedIn.