Brand collateral is tangible materials that prove your company's existence. With the breadth of options that exist today, first-time entrepreneurs have a great variety to choose from. But there's no one-size-fits-all approach to choosing collateral for your business. You do need to cherry-pick what works best for your brand.
6 Must-Have Business Requirements To Start On Your Collateral
In today's digital marketplace, you're compelled to think about branding the moment you have your business idea. After all, the market is an unfenced playground and open to anyone. So, making a mark is key.
But even before you begin planning what collateral you need, there are other brand elements you must have checked off your list:
1. Business Name
Do you have a unique and catchy business name? There are no cutting corners with this one. Your name is your business's identity, and it must be memorable. The perfect business name not only impacts your monetary success but is quintessential to how customers recognize and remember you.
Remember that the approach you use for naming your business should stem from understanding your brand. And if you're stuck needing some inspiration, consider using a business name generator to give you ideas on potential names for your brand.
2. Logo
Your business logo must reflect your brand identity and business name. It should also be easily recognizable and simple, yet allow you to stand out from the crowd. This requires several iterations, so it's essential to start early. Here's a detailed guide on designing the logo of your dreams!
Launch your brand in minutes with a free logo
3. Slogan
This is an ideal opportunity to put your creativity to the test. A slogan is only 3 to 5 words but can stay with your customers forever. It doesn't exactly need to say what you do, but should reflect your brand's personality and core values. Most importantly, it should be timeless, universal, and memorable.
Here are some awesome slogans as examples:
I'm lovin' it: The McDonald's slogan works because it's fun, casual (in tandem with what they do), and stays in your mind.
Just do it: Inspiring athletes and go-getters everywhere, Nike's "Just do it" is motivational and drives you to take action.
Because You're Worth It: L'Oreal Paris's tagline evokes self-confidence and unites its consumers with its empowering message.
4. Brand Colors
Brand colors are one of the most integral elements of the branding process. Different colors symbolize different emotions, so you must keep in mind the emotion you want your customers to experience.
For example, soothing colors like blue or green work well for a health and wellness brand. For a high-tech startup, you want colors that symbolize innovation, like gray or purple.
5. Font
The most important characteristics when choosing a font for your brand are readability and relevance. Extremely cursive fonts, for example, can be very hard to read, and as a brand, the last thing you want is for the customer to not understand your name.
The font should also be in coherence with your brand's tone and style. Simple fonts are often used to demonstrate classic brands, whereas modern or innovative brands can opt for something more stylish.
6. Brand Guidelines
While this is optional, if you have the time and bandwidth, compiling a brand book with all your brand's elements such as name, tagline, logo, font, tone, persona, and so on can come in handy. Brand books can then be used by companies and their stakeholders (vendors, employees, designers) to create other collateral.
The Three-Way Approach To Determining Collateral
With these vital brand elements covered, you will be in a great position to move forward with your branding collateral. A great three-way approach to determining your collateral is:
Who are you?
Who are you selling to?
Who are you in comparison to your competitors?
Most businesses still don't have a solid answer to "Who are you?" This one-liner may be called the elevator pitch, value proposition, or unique selling proposition.
Next comes your target audience and how you want to be seen against your competitors—do you want to fit in or stand out?
Once you have clear and confident answers to these questions, you will be in a much better position to design secondary brand elements and marketing materials.
10 Branding Collateral You Need For Your Business
There are fundamental branding collateral to consider for your business. Some branding materials are more relevant to your industry than others, but all of them can help you move closer to effective brand marketing.
If you need a little help along the way, this is where the Brand Plan comes in.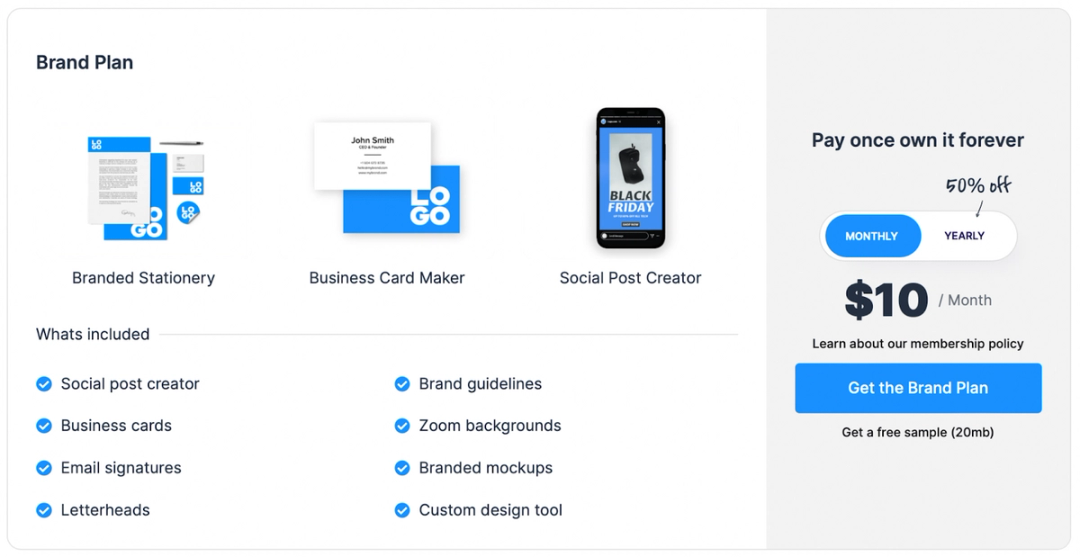 Our Brand Plan is your brand-building best friend. For only $10/month, you have instant access to:
Unlimited logo edits
Business card maker
Email signature maker
Custom design tool (Stitch)
Brand showcase
Brand guidelines
Perpetual brand backup
Now, let's get into the 10 pieces of branding collateral you need for your business and what makes them important to your marketing strategies.
1. Website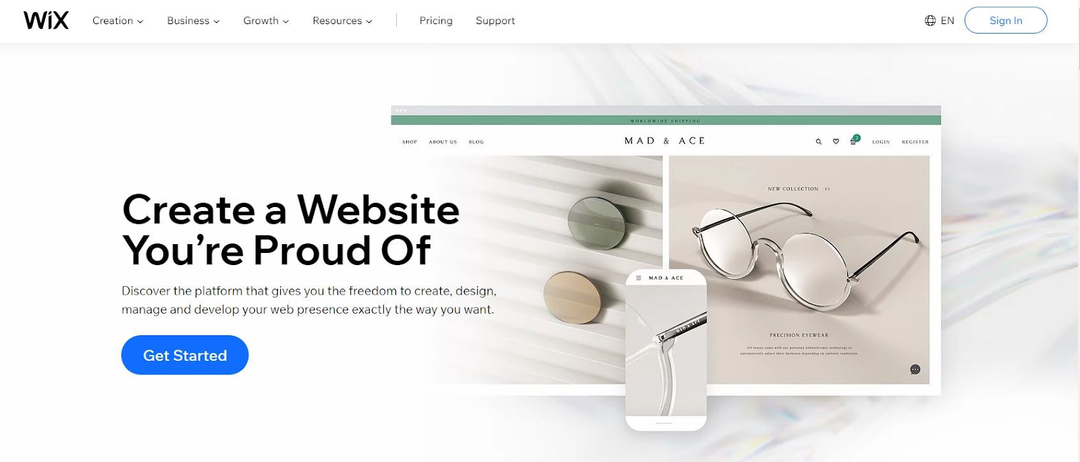 This is one brand collateral that every modern company needs in its arsenal.
Simply put, a website is your business's digital identity. Anyone who Googles your business would like to see a website to verify your credibility. So, this one brand collateral is unskippable.
Today, you can create a comprehensive and user-friendly website using services like Wix and Squarespace. Do remember that most website builders will require you to connect to a domain, so it's important to pay utmost attention to choosing one.
While premium domains are the most coveted, not all businesses can afford them. But you can choose options that are less expensive, like short domain names that are up-to-date.
Launch your brand in minutes with a free logo
2. Business Cards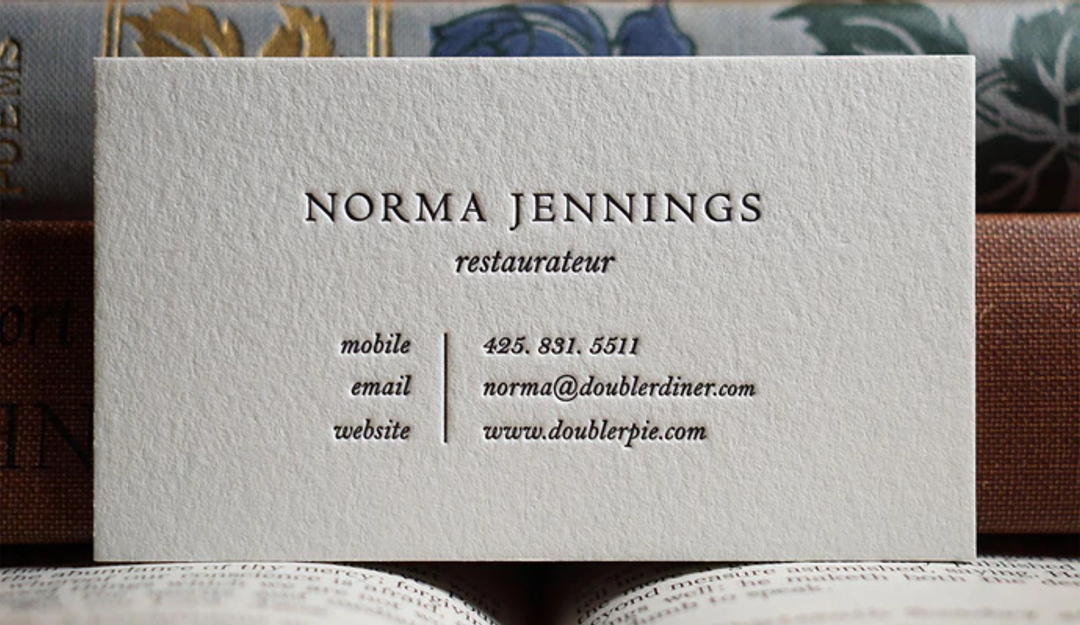 If you need to share contact information on-the-go or as part of networking events, business cards are the most professional way to do so. You can choose an online service to print business cards. They must contain your name, logo, and contact information such as your e-mail address or phone number.
Although one can easily create digital business cards today with QR code scanners, many local businesses still prefer physical business cards.
3. Merchandise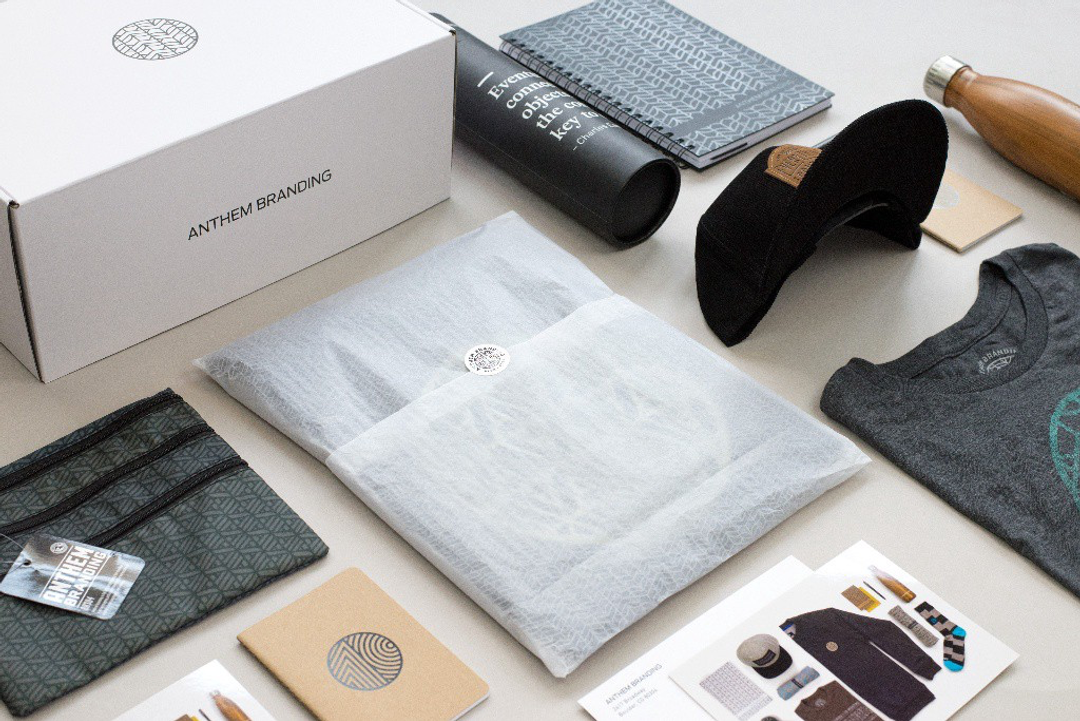 Most people love merchandise, and as a local business, this is the perfect opportunity for you to help them remember your brand. Pens, mugs, notebooks, planners, stress balls, etc. usually make for great paraphernalia or "swag" and are used by most. Ensure that your name and contact information are legible when printed on merchandise.
4. Packaging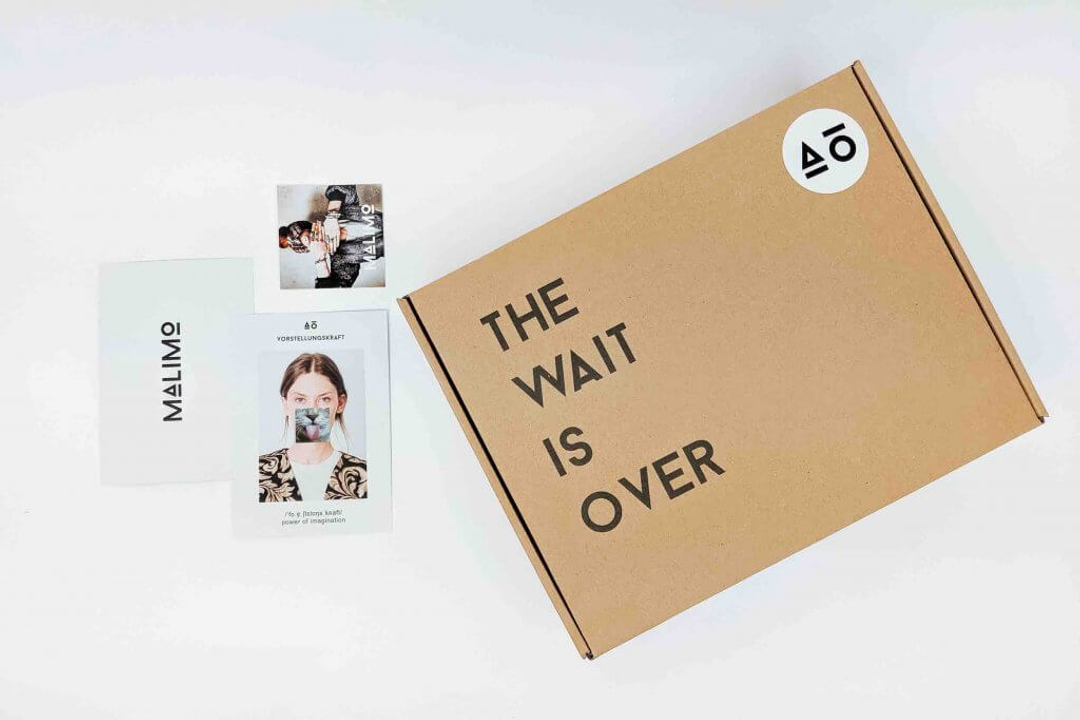 Companies, especially e-commerce brands, delivering products can benefit from creating appealing and user-friendly packaging.
This should catch the customer's eye, urge them to share feedback on social media, and contain important information like names, discount offers, contact details, social media handles, etc. to help users remember them.
5. Social Media Presence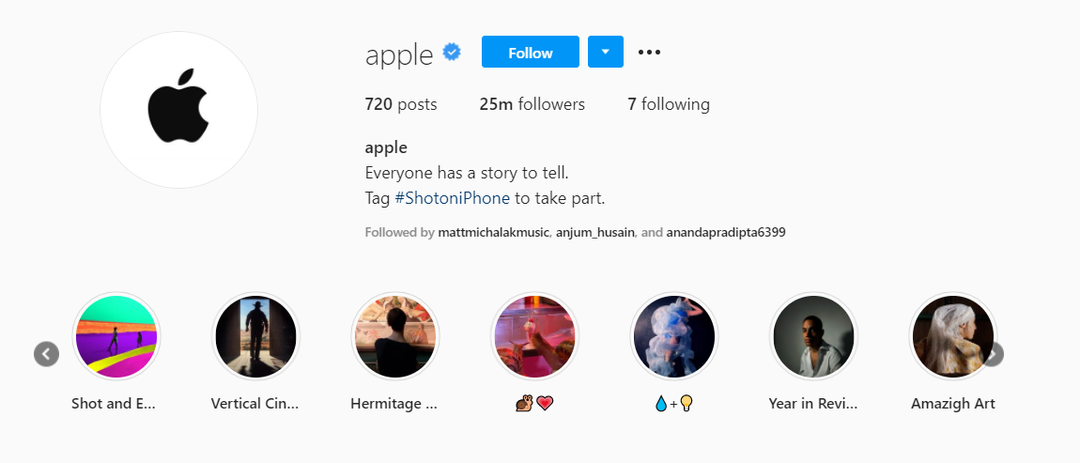 If you're an online business, your social media presence largely influences your success and is also vital to your operations. You can create profiles on some of the most popular platforms, such as Facebook, Instagram, YouTube, and LinkedIn. Ensure that your profiles are complete and active.
Most brands will have specialized personnel to manage social media accounts. Even if you decide to do it yourself, it's best to understand the nuances of each network.
6. Digital Ad Banners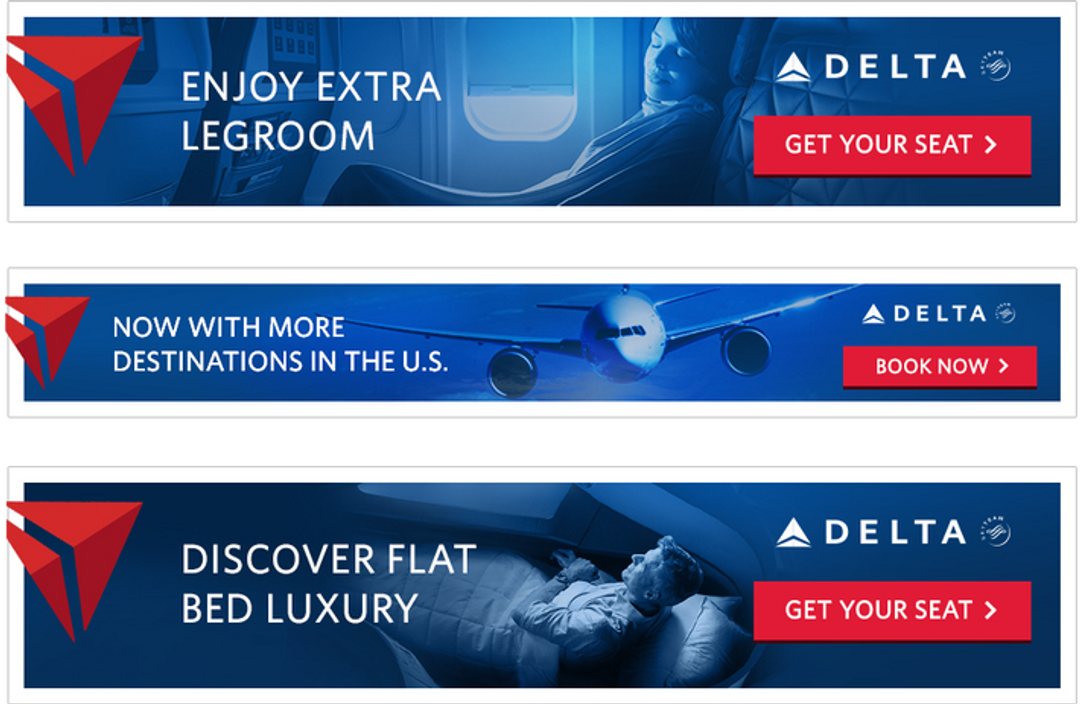 These are ads for your business that are displayed on other websites. The objective is for surfers on the host website to be convinced to click on your company's ad. The ad must be catchy and relevant to the types of users who visit the host sites. These ads are then hosted through an ad server such as Google Ads or Kevel.
7. Video Content For Website And Ads
It is widely known in the social media community that videos garner a significantly higher engagement rate than images. Hence, you want to have videos on your website and for social media ads. You can use stock video repositories such as Pexels, Shutterstock, or Promo to create interesting videos for your brand.
8. Flyers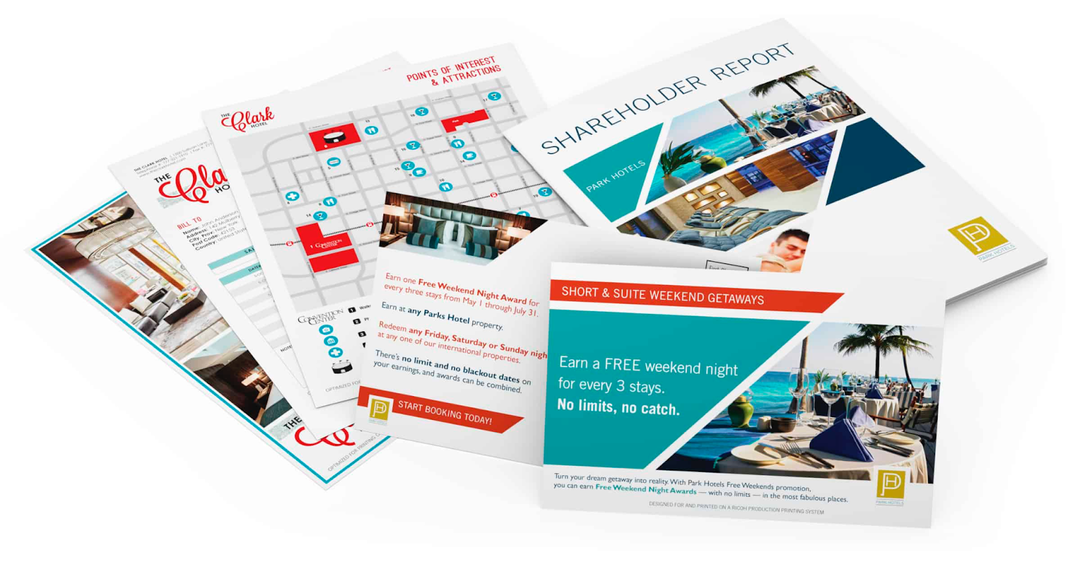 As a local business, you will need to generate awareness about your business in neighboring areas.
Flyers, given as inserts in newspapers, or handed out separately at an appropriate event and location, are a remarkable way for potential customers to gain access to all the information about your business in one go. You can use readily available templates online to create flyers.
9. Print Ads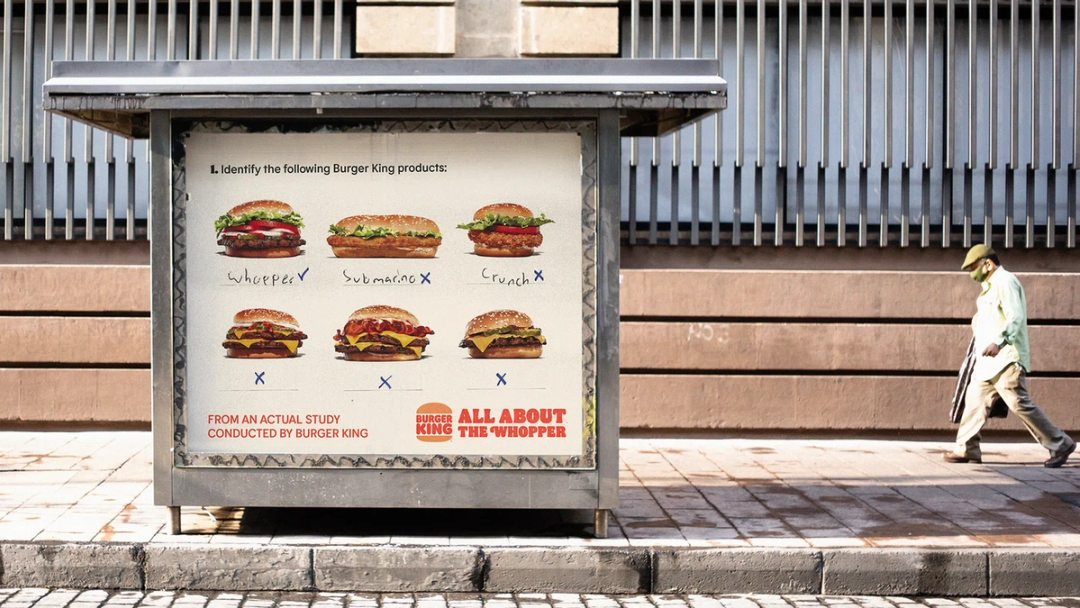 Whether it is local magazines, directories, or trade publications, as a local store, you can benefit from ads embedded in them as they are circulated to a wide audience. You will need to evaluate the size, budget, and relevance of such an ad before you go ahead with it.
10. Billboard Ads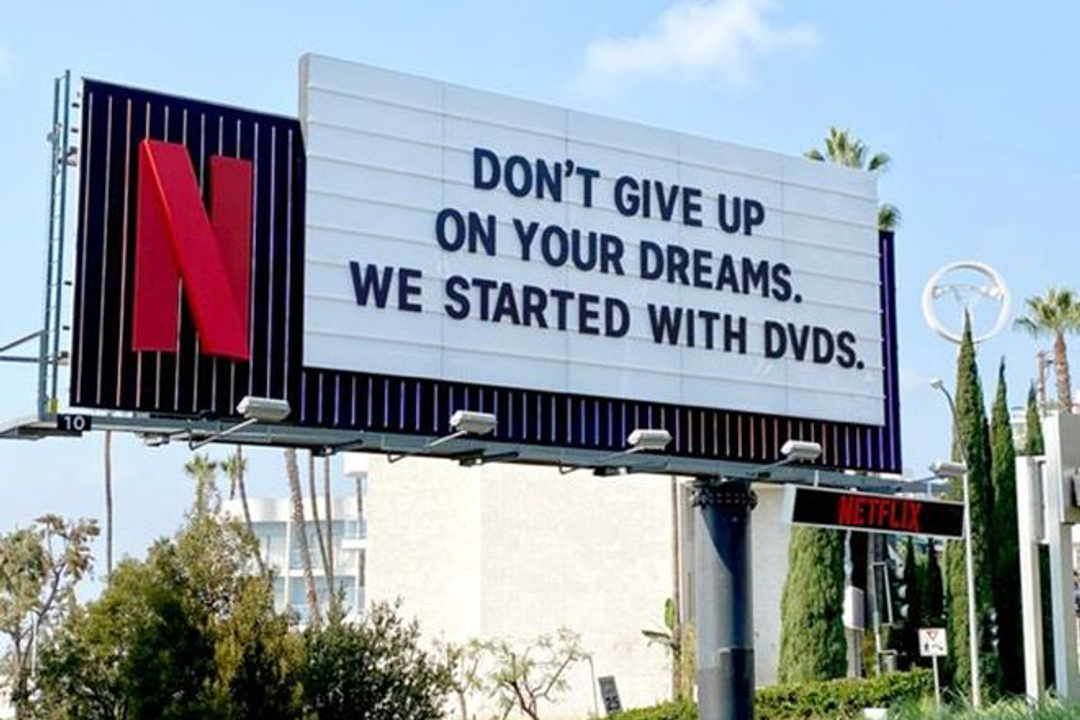 Both large businesses and smaller local enterprises may benefit from engaging billboard ads. Remember Netflix's "Don't give up on your dreams. We started with DVDs." billboard in Los Angeles?
When done well, billboard ads can be very powerful.
Additional Collateral Depending On Your Industry
Here's a list of other brand collateral that can be useful to people in specific types of businesses:
Tradeshow collateral: People who sell at trade shows need strong visual collateral and handouts.
Truck and large vehicle wraps: This is considered highly useful in the logistics and transportation industries, especially for smaller businesses. Think of it as a moving billboard.
Uniforms: To ensure professionalism, we-come-to-you service providers will often wear a uniform that's indicative of their company in some way. Usually, it will showcase the brand's color, the professional's name, and the company name.
Storefront and in-store signage: As a physical store, you'll need signage for your store to highlight your brand elements. A standing banner, a signboard, and advertisements in the area are common forms of collateral for local stores.
Digital ads for local digital resources: Similar to physical publications, you might be able to advertise in local digital resources as well. This can include a regional online newspaper, a small-business magazine, websites of other local businesses, etc.
Bottom Line
Brand collateral is an indispensable part of your marketing toolkit.
Yet, for brand collateral to be effective and influential, it must be built on clear and meaningful brand principles. These should bring to the fore and restate a brand's most striking and vital traits, while distinctly highlighting what it does.
Apart from a website, brand collateral may be decided based on the nature of the business and who it will serve. When brand collateral is founded on a solid identity and brand principles, you increase its chances of creating the desired impact.
Ready to design your free logo? Get started with our logo maker!
Launch your brand in minutes with a free logo
Grant Polachek is the head of branding for Squadhelp.com, 3X Inc 5000 startup and disruptive naming agency. Squadhelp has reviewed more than 1 million names and curated a collection of the best available names on the web today. We are also the world's leading crowdsource naming platform, supporting clients such as Nestle, Dell, Nuskin, and AutoNation.