‍
When you're at the helm of a new business, there are myriad details to consider. From packaging and shipping to distribution and marketing, a lot of factors demand your attention. However, all of these are rendered insignificant in the absence of an official brand name that represents your business.
In 1994, Jeff Bezos almost finalized "Cadabra" (inspired by Abracadabra) as the name of his company. But when his lawyer misheard the word as "cadaver," which means "a corpse," Bezos quickly renamed it as "Amazon." Today, in 2020, Amazon is the most valuable brand with an estimated brand value of around $221 billion.
‍
What's in a name?
Learning how to come up with a name for your business is as simple as understanding your aim with it. Firstly, the name of your business is more than its identity. It is a unique word that is searched on the internet. New companies with common words in their names find it harder to rank on search engines like Google and Bing.
Secondly, your business name should not impersonate or represent another business. How do you pick a business name? A great name stands out above all your competitors and makes it easier for customers to discover your company and distinguish it from theirs.
‍
10 tips on how to name your business right
You may be wondering, "How do I create a catchy business name?" It's understandable to worry. Knowing how to name your business isn't always easy. The way you put into words the vision and the purpose of your enterprise is a matter of significance?
Have a look at a few of our top tips for choosing the best name for your brand.
‍
1. Say it out loud
Today, there are more omnichannel marketing and distribution platforms than ever before, encompassing written, audio, and digital media. You need to make sure your company name sounds great on all of them.
It isn't enough to have a name that looks good on a screen. It should also sound great when spoken aloud. Before nailing one down, repeat it as many times as possible.
Does it roll off your tongue easily, or is it coming across as a tongue-twister?
Take a page from the rulebook of Zara, Coca-Cola, and Jimmy John's and look for words that employ repetition of sounds, making them easier to pronounce.
‍
2. Make it relevant
This isn't the time to ask customers to play the guessing game. Especially if your business is service-oriented, your company name should clearly explain what service you provide.
Take Time Warner Cable, for instance.
The provided service is right there in their brand name, so there's no question about what kind of company they are. More examples include UberEATS, Paychex, and Servpro, among others.
‍
3. Consider SEO
The name of your business can have a major impact on your search engine optimization (SEO) strategy. If it's unique, easy to spell, and ties in seamlessly with your target keywords, it will be easier to attain higher rankings on the search engine results pages (SERPs).
Research shows that voice searches are on going to outpace text searches on mobile with nearly 50% of web users speaking their search queries rather than typing them. To help your name inch higher on SERPs, keep it short and easy to remember.
‍
4. Avoid geo-specific names
Unless you plan to do business only in a specific location, avoid names that highlight a particular geographic region. Doing so can limit your audience reach and make it more difficult to grow outside your perimeter.
Consider the case of Minnesota Manufacturing and Mining. Based in Minnesota, the name made sense for the fledgling mining group when it formed in 1902.
However, as the company grew, a more universal name was required, and thus, 3M was born.
‍
5. Ensure trademark availability
Even if you're an established business, it pays to trademark your brand name.
This way, you hold the exclusive rights to use it nationwide, and you can make sure no imposters try to piggyback on your success.
Before you settle on a name, check to make sure a trademark is available. You can visit the U.S. Patent and Trademark Office (USPTO) website to search the trademark database.
Once your website is set up, you can also trademark your domain name.
‍
6. Be specific
Are you starting a fitness brand focused on core-based workouts? You could call it "Quick Abs," but "10-Minute Abs" is much more effective.
Where feasible and relevant, incorporate numbers, days, or times into your brand name.
From 5-Hour Energy to 7-11, there are plenty of brands that rely on such figures to convey their purpose. This helps add specificity to your name to avoid overgeneralization.
At the same time, avoid pigeonholing yourself into a corner by being too specific. For instance, say you open a computer repair shop.
You could call it Apple Repair, but what if you decide to branch outside of the Mac space and work on Windows or Linux instead? A more appropriate name would be Next-Day Computer Repair or a name that speaks about your expertise.
‍
7. Avoid initials or obscure words
Sure, IBM, CVS, and IKEA have all made it to the top with just initials or acronyms. However, these are billion-dollar companies with instantly recognizable logo designs and branding guidelines. Until you're a household name, it's best to avoid this approach. The reason is simple: No one will know what the letters stand for, or what your brand does. They're also far less likely to search for it online.
In your quest to keep it interesting, however, avoid the use of obscure words that no one knows. It might have worked for Google, but rearranging the letters in your name just to be unique can work against you.
‍
8. Test on Google Ads
If you're second-guessing a name, it helps to test your shortlist of prospective names on Google Ads. Use the Keyword Planner tool to search for each name on your list. When you do, you'll see a list of similar search phrases, along with their respective search traffic. If there's a domain name similar to yours that's getting a significant amount of traffic, choose a different one to stand out.
For example, if you are searching for "Dream Designs," and the search results comprise a name called "Dream Designers" that's receiving a lot of traffic, it's wise to go for another name.
‍
9. Take advantage of online tools
You're not alone in your search for the perfect domain name! There are online tools that can help. Domain suggestion tools can generate available names based on the keywords that you input. For instance, CaliWinery.com is taken, but after inputting the keywords "cali" and "winery" the domain suggestion tool will recommend TheCaliWinery.com as an available alternative. These tools are simple, effective, and ensure that you find a great domain name.
It's also important to note that just because your desired domain is already registered doesn't mean that it's impossible to get. Test your luck! First, do a WhoIs Lookup on the domain name to find out the domain owner's contact information.
Depending on if they have privacy enabled, you might get the owner's contact information or their domain registrar's. Either way, you can send an email showing interest in the domain to see if the owner is willing to sell it. If so, you can make them an offer and negotiate a deal that will make the domain yours. You never know if you don't try!
‍
10. Use a business name generator
Learning how to pick a good business name can be bypassed with a little help (for free!).
If you need business name help, a great way to get started when trying to find a business name is to use a business name generator. With a company name generator, you'll either find a name that you love, or you'll get great inspiration to get those creative juices flowing.
A great business name must achieve two important things:
It should resonate with you and your passion
It should appeal to your target audience
You can use our business name generator free of charge, which not only gives you a unique and memorable name for your business, but each name comes with a sleek logo design that you can customize and use.
Coming up with a business name doesn't have to be complicated. Our company name generator is incredibly easy to use, wherein it shares a list of business name suggestions based on the keywords that you put in the search box. Enter the words that you want your business and its name to resonate with, and the tool will generate several business names that you can choose from.
‍
How to name your LLC – What to do and what not to do
When deciding how to name your LLC, you must consider a few things that will give you an edge. You have several advantages that will help you succeed as a Limited Liability Company (LLC) owner. Still, more importantly, you want to turn a profit and comply with the jurisdiction of the region you are operating within.
You can employ various strategies on how to name your LLC. Here are seven essential tips you need to keep for how to come up with a company name and LLC without hurdles.
‍
1. Make it compliant with the law
If you're debating how to name your LLC while keeping it compliant with the law, then you're on the right path. It is advisable to function within legal guidelines.
If you do not have the bandwidth to understand the legal implications that the naming process can entail, onboard a consultant. Addressing this challenge is a non-negotiable activity and must be done to safeguard your business from legal liabilities.
Ensure that your LLC has a unique name. Do a trademark search for the LLC name you desire in your local and national search directories. Include "LLC" or "Limited Liability Company" in the company's name. Your name must imply what kind of business you are to avoid misleading customers. It is advisable to abide by state and national laws diligently.
‍
2. Create a lasting impression
Wondering how to name your LLC so that it is more memorable? Choose a name that sets it apart from others in your category. Ensure that your LLC's name represents your business category in some way.
Some ways you can make your business name more memorable are:
Using an anecdote to tell the brand story of your LLC and having a name that evokes the narrative
Alliterations are memorable and make for fun names, like Dunkin' Donuts
Offer your customers a peek into what kind of business you are through your LLC name
Once your business has a name that is easily remembered, most of your marketing efforts can focus on propagating its benefits rather than getting customers to remember the name.
‍
3. Give it some depth
A business name that doesn't tell a story or speak of a benefit is like an empty shell. As an entrepreneur, you must brace yourself for questions like, "What does your name mean?" from potential business acquaintances.
If your company name alone can help you hold a conversation with potential leads, you already have a foot in the door. It also conveys how much you have cared to name your brand.
‍
4. Think outside the box
Make a list when working out how to name your LLC. Omit the first few names that come to mind because there is a good possibility that others in your space already have those names in mind. Typical and expected words in your LLC name make your business seem to lack innovation. Clever names can firmly position your business.
‍
5. Strive for originality
Work hard to research the existence of the name you want to give your brand. If there are other brands that have a suffix like your brand or even remotely sound like yours, avoid using the name. When your brand's name stands out, customers are curious to know what else is different about your brand.
‍
6. Prepare the domain name for it
It is impossible to run a business today without giving it a residence online. Find an appropriate domain name for it.
If you're in need of good options, you could always turn to LOGO.com's amazing domain names, which will help you pick the best one for your business. If your business is exclusively available online, then you could benefit from designing a logo that has the complete domain name in it.
All you have to do is type in your preferred domain name, and you'll see a list of awesome options to choose from. For only $19.99/year, you can secure the domain name of your dreams at a massive discount.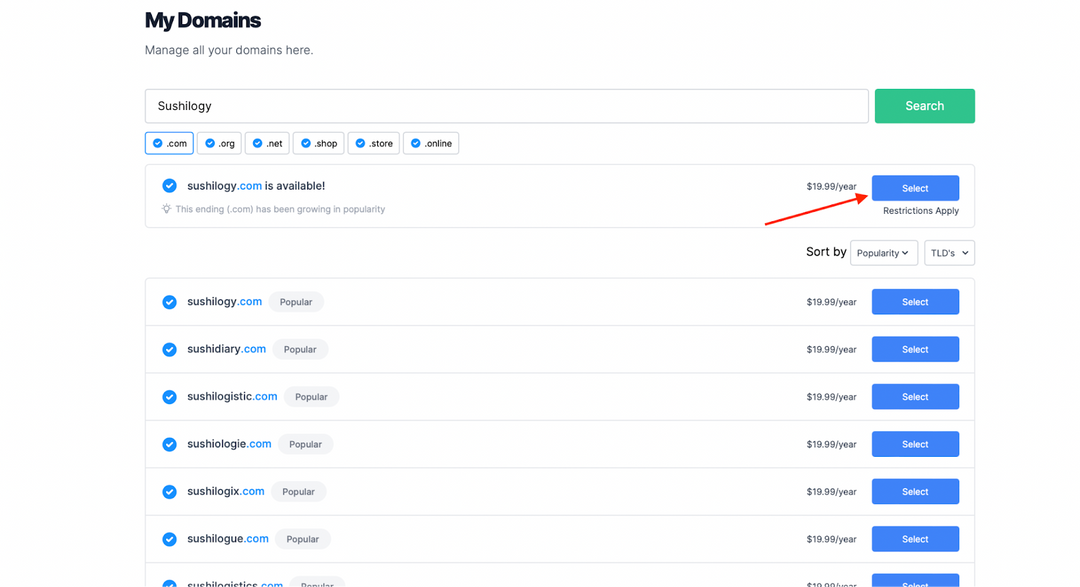 ‍
There is a possibility that another LLC may have claimed the domain name you pick. In this case, too, you can turn to other TLDs, such as .net, .org, .shop, and many more. This exercise also helps you gain insights into the uniqueness of your business name.
‍
7. Make it compatible with social media platforms
Today, brands are privileged to have a dialog with their customers rather than just keep advertising to them.
When deciding how to name your LLC, leave some room to consider its adaptability across your social media branding. It is here that your customers will discover you, be able to engage with you and show interest, and, most importantly, reach out to you for support or sales opportunities.
‍
How to name your LLC – What not to do!
While we focus on the best thing to do when you're considering how to name your LLC, it is also helpful to stay away from practices that could be detrimental to the growth of your LLC. Here are some activities you should consciously refrain from:
‍
1. Don't mislead the public
Your business serves a unique purpose. The only way it can reach the goal you set for it is by winning your customers' trust. If you are an LLC that brands itself as something that delivers an experience or a unique service, you are doing a great disservice to your customers.
Let alone loyalty, they will refuse to make even the first purchase and hold you responsible for the time they wasted investing themselves in learning more about your brand.
Your business name must convey its purpose. You could face legal penalties by naming your LLC as something other than misrepresents your business function. Some words attract the attention of authorities, so even if you're planning on clever wordplay, have your justifications ready to present before the law.
‍
2. Don't choose an irrelevant name
Be clever, but also be clear. You cannot call your LLC something strange and off-beat simply because it sounds cool. LLC naming conventions require you to keep the name such that the service of the business is easily decipherable.
‍
3. Avoid names similar to those of well-known companies
Choose a name distinct from other LLCs and larger enterprises in your line of business. Do not choose names from famous logos and companies that own the mindshare of the audience. Doing so will make it challenging to create a niche for your business. You will also have a difficult time outranking your competitors in Google's rankings.
‍
4. Avoid these words
Each country and state has judicial boundaries that one shouldn't cross. Depending on how allowable it is, you could name your LLC after your name, a story that has inspired the creation of the LLC, a service benefit you offer, or any other entity, as long as it is compliant.
This is what you absolutely need to avoid at all costs:
Obscene or controversial language
Text that positions you as a government-sponsored entity (if you're not)
Words that indicate activities forbidden by law
Any other term that your local administration objects to
Naming your LLC is a one-time effort. Once you're done with this, your LLC will have the name for a while. You will have to wear it like a badge of honor — something you and your team should take pride in.
Take time to identify and finalize a name that suits your LLC best. If you are not a branding expert, feel free to consult a specialist on how to name your LLC.
‍
10 best business name generators for catchy business names
Coming up with a business name takes work. It's what your business, your dream, will be known as, and you want to give it the best title possible. When the inspiration to name your brand does not come easily, you can turn to some of the best business name generators available on the internet.
‍
How do business name generators work?
All the best business name generators use the same methodology to create a business name you can choose from. They require you to enter basic information about your business, the sector you operate in, a few keywords that inspired you to start the company, and so on.
The generators use your inputs to create combinations of words and synonyms that could be a potential name for your business.
‍
10 best business name generators in 2022
Need business name help or inspiration? We have curated a list of the best business name generators you can explore. Each one offers you convenience and additional branding options for your new business.
‍
1. LOGO.com
It's a happy coincidence to be reading this blog post on LOGO.com, which hosts one of the best business name generators you could use in 2022. The contemporary business names recommended on the platform can range from quirky to formal. The most exciting aspect of LOGO.com's Business Name Generator is that it also provides you with an excellent, free logo and some of the best domain names in the world.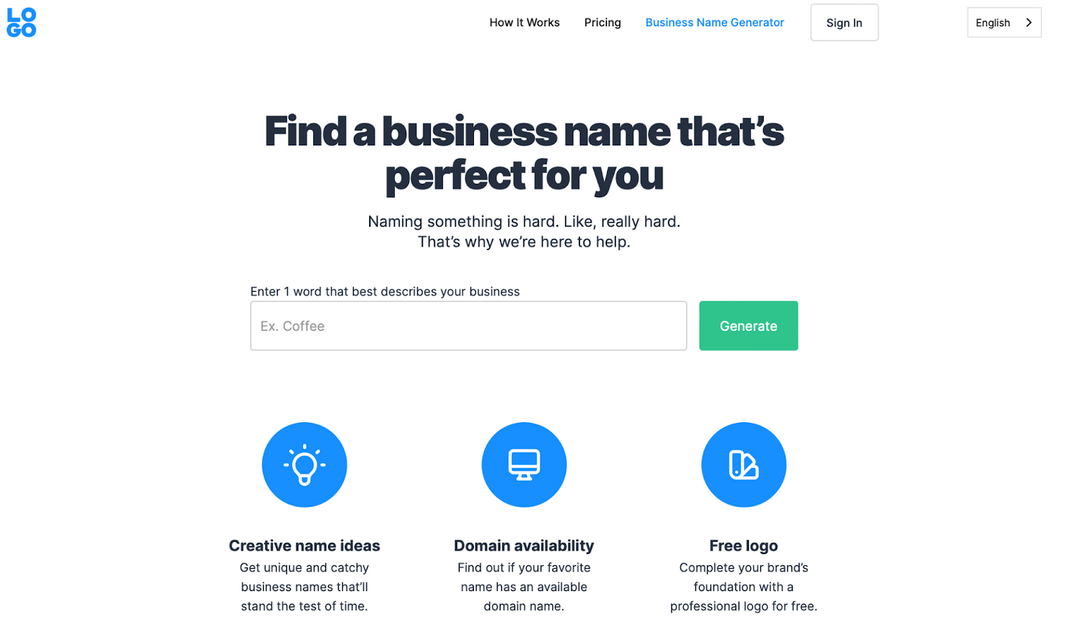 You can try the company name generator free of charge, which is packed with valuable guidelines and tips that help you pick a business name that is ideal for your business today. For example, if you enter the word 'Vision' on the website, you receive several practical suggestions of business names and a typographic logo suggestion you could use immediately.
This catchy name generator is your best choice, providing you with free branding materials along with it.
From there, if you want to secure a domain name for that business name, LOGO.com lets you do that in a hassle-free environment. You can find the best business name ideas and the best domains in the world right on one platform for the easy, affordable launch of your business.
‍
2. Wix
Wix has grown in popularity thanks to a massive advertising campaign. Largely credited for its website-building tool, the platform assists new business owners in coming up with catchy names. Wix uses artificial intelligence to achieve creativity in the business names it recommends.
The platform requests two primary inputs: a keyword that could be a word or analogy you attach to your business, and the industry to which it belongs. A few scrolls below, Wix offers pre-created, industry-specific links for you if your business is an app, a jewelry business, a travel agency, or even a YouTube channel.
‍
3. Shopify
Shopify prides itself on being a tool to help businesses set up their online presence and online store. The website has introduced a new, free business name generator. All it requires from you is one word to describe your brand. Shopify claims it can help you develop a business name in ten seconds.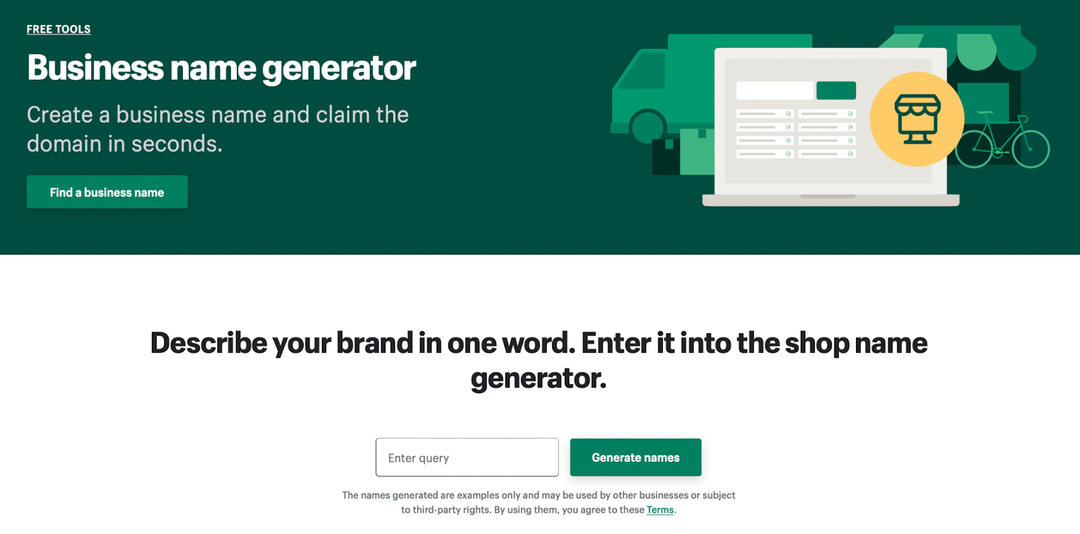 If you cannot come up with words to enter into the name generator, you can scroll to the bottom of the Shopify page. Like most of the best business name generators, it enumerates the business sectors in which you operate. Simply select one of the sectors that matches your business closely, and you will find a business name that suits you.
‍
4. Anadea
Simply called Name Generator, this helpful tool by the software development company Anadea makes naming your new business easy. It requires just a single field to be entered with any keyword you deem fit for your business. It can be the industry you operate in or something to do with the concept around which it was built.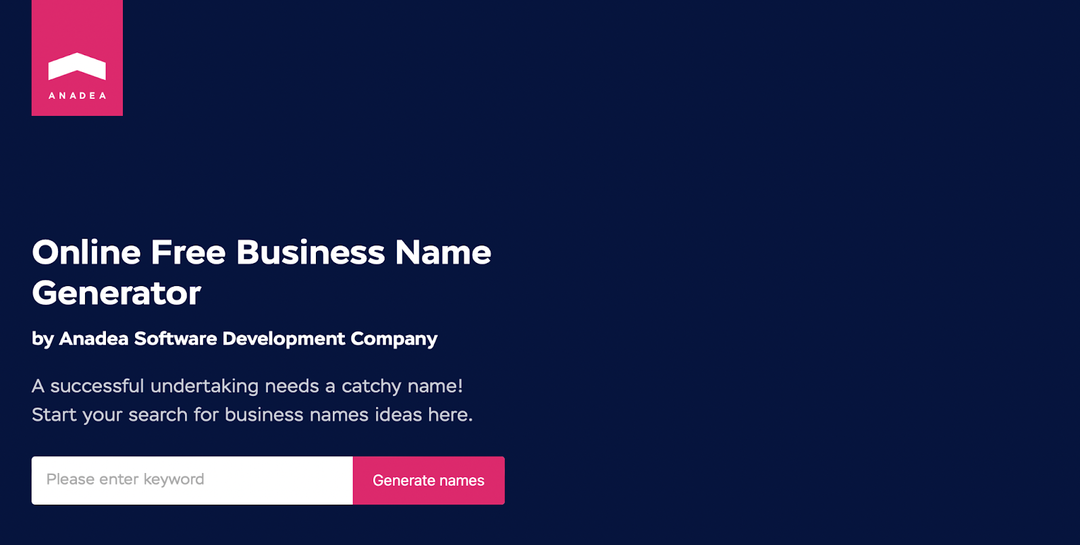 This catchy name generator is free to use for anyone who is looking for a compelling business name. It also recommends names that have domains available so you can instantly register your company on the internet.
‍
5. Namesnack
All the above recommendations offer various other services besides being the best business name generators. Namesnack is exclusively a name generator. With the help of machine learning and artificial intelligence, Namesnack cooks up names for your business instantly.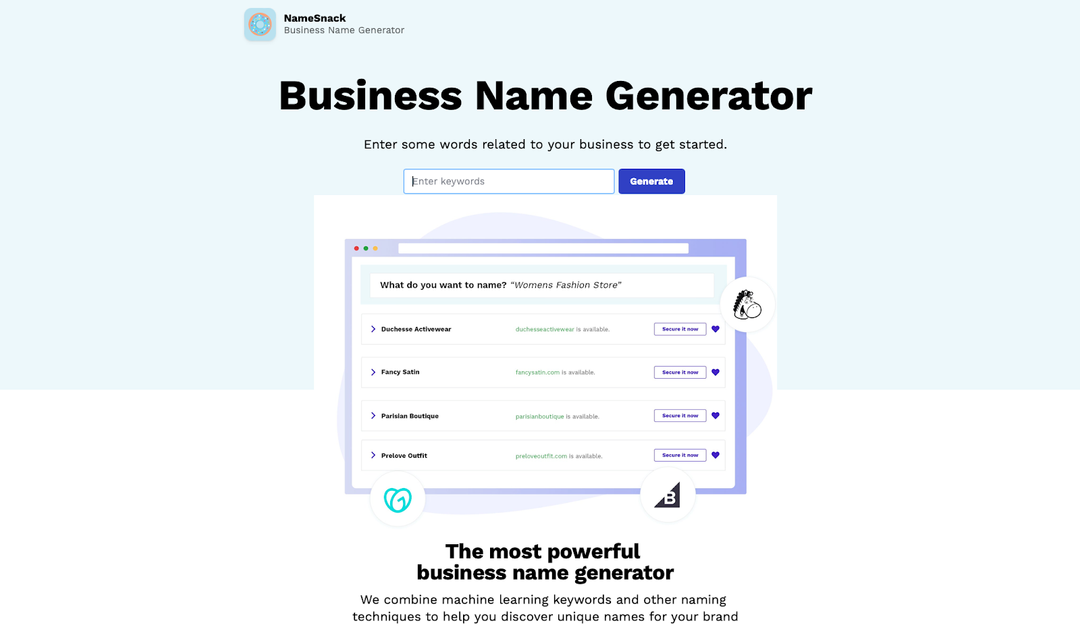 You can enter keywords on the website and click "Generate" to see the results. Once you have picked a name that suits you, Namesnack checks for available domains that match your name. It is 100% free.
‍
6. Freshbooks
Primarily a cloud-accounting tool for new businesses, Freshbooks also integrates a business name generator. The interface is simple and intuitive. Unlike its competitors, Freshbooks doesn't present you with an empty textbox for keywords right away. Instead, it begins by asking you to choose your industry.
After selecting your industry of choice, the tool displays the keyword text box with a "Make Me a Name" button.
‍
7. Brandroot
Brandroot doesn't delay its sales proposition for you. It focuses on the objective at hand (finding a business name) and directly proposes the best domain names you can use with it.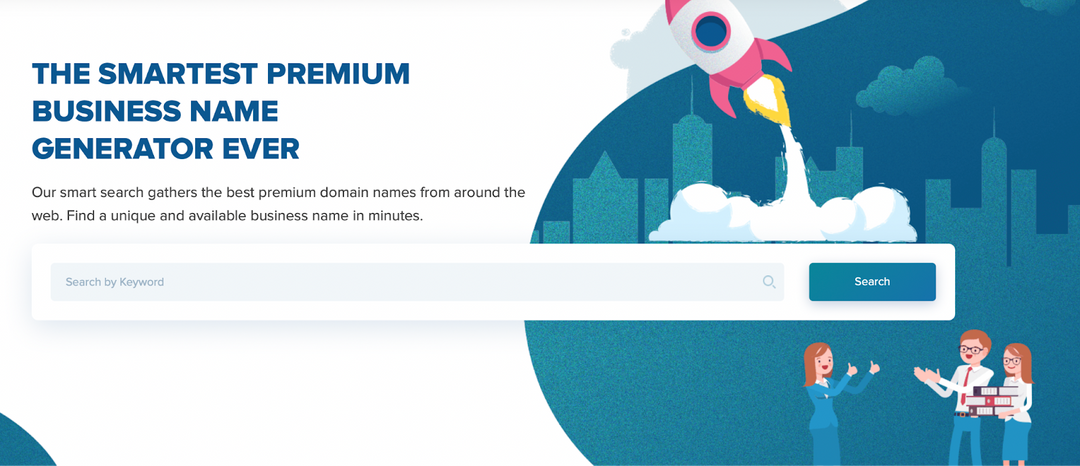 The tool compares your queries with those of several other brand names on the internet. It presents a unique option that can be instantly converted into a domain name and a logo package. This package saves you the trouble of looking for domain names after naming your business.
‍
8. DomainWheel
Not too different from the best business name generators on this list, DomainWheel prioritizes the availability of your business name as a domain. You can select the domain registrars from the name selection page. You can switch on or off the domain availability feature while looking for your business' name.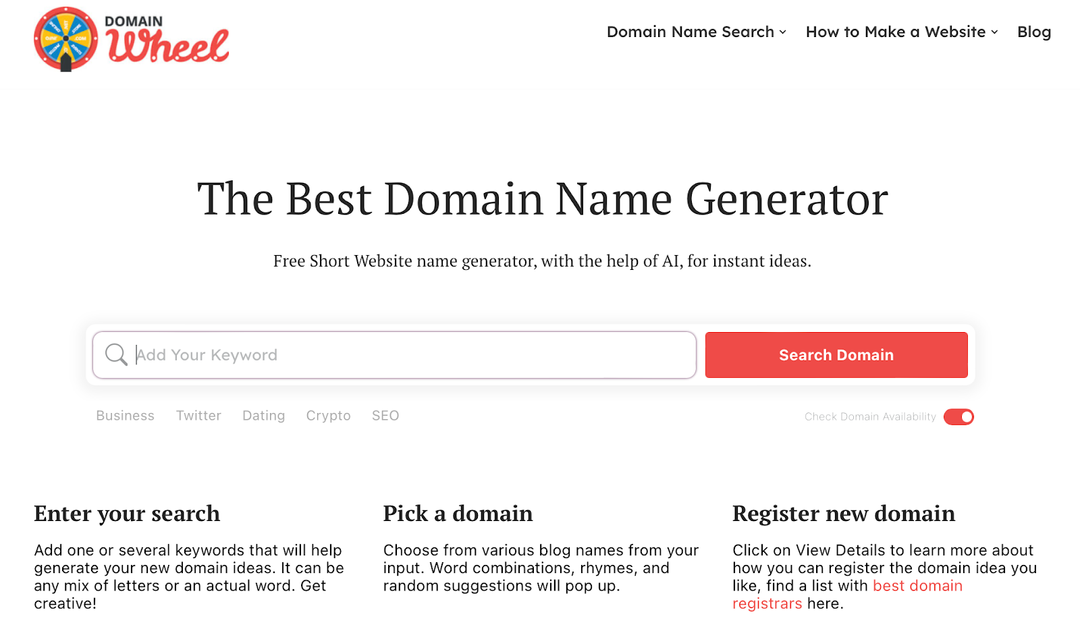 It is recommended to always check for a domain name that can incorporate the business name you select. It helps establish your business more firmly. A domain name that sounds nothing like your website wouldn't be advisable.
‍
9. Hipster
Why stick to the regular name generators if your business can have a hipster name? This cool and interesting name generator is for entrepreneurs who think creatively. Unlike other name generators, it does not bucket your business under an industry title. Instead, it opens up the possibility of naming your business abstractly.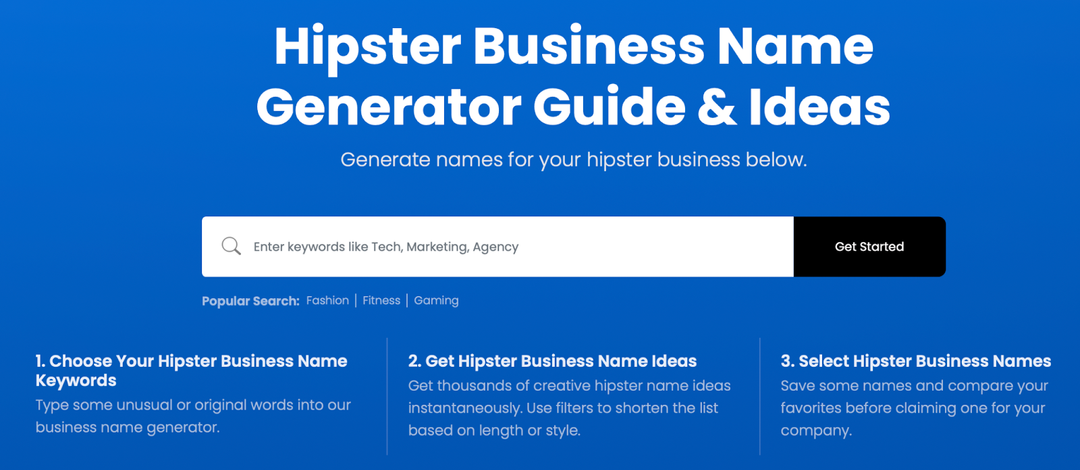 That's not all. Hipster suggests creative merchandise like t-shirts with your brand's name on them.
‍
10. Zyro
Zyro helps you build your website while also lending you a helping hand when you're looking to name your new business. It uses artificial intelligence to pick up on the keywords you submit and recommend a wide choice of business names.

Zyro is a free tool. The website provides a handy tool that helps you pick names with critical pointers in mind.
‍
Frequently asked questions about how to come up with a business name
What are some commonly asked questions about how to choose a business name? Get your questions answered with these three FAQs.
1. Do business names really matter?
Choosing the right name for your company is crucial. If you do it right, you can give your products and services a distinct brand identity. If you get it wrong, potential customers may forget it quickly or decide not to buy from you.
2. How do I name my business after myself?
You are free to use your own name for your limited liability company (LLC), but do remember to add "LLC" whenever you make reference to your business.
3. How do I choose a lucky business name?
Unique and easily recognizable brand names tend to be successful. Good fortune is commonly associated with the meanings of these signs, brand colors, and ideas. Because lucky symbols can vary from one culture to the next, it's important to find the one that speaks to your target audience.
‍
Bottom line
Names and identity go hand-in-hand. The one you choose for your new business can help shape the way your audience perceives it. It can also determine how easily they can search for and find you among a sea of competitors.
Naming a business doesn't have to be a struggle. With the right approach, it can be the launching pad that sets your company up for years of success.
Ready to design your free logo? Get started with our logo maker!