With over a billion websites worldwide, domain names are everywhere and more available than ever. The best domain registrars offer affordable domain names and give you a platform to resell at premium rates.
They also provide new extensions like .food, .store, and more, which can closely represent the nature of your business and give it an attractive name for years to come. This is why knowing how to buy a domain name can become a worthwhile investment.
Why is it important to know how to buy a domain name?
Knowing how to buy a domain name secures your business's identity online. A memorable domain name, website, and email address shows professionalism, builds credibility, strengthens brand identity, and can boost your search engine positioning. Therefore, identifying the best place to buy domain names can be beneficial.
How do I check for domain name availability online?
All competent and credible domain registrars have easy-to-use search engines to check domain name availability. Many also provide generators that suggest alternative names if your preferred one is unavailable.
However, researching reliable domain registrars can be a task and a half and then some. Hence, we've collated a list of the best domain registrars for you to determine the best place to buy domain names.
The 10 best sites for excellent, available domain names in 2023
Many domain registrars offer interesting extensions, sizable discounts, and additional services. These services include free domain names, custom business emails, website builders, and other perks to get your website up and running.
Just go ahead and read the article to find the best place to buy domain names based on your needs.

In order to distinguish yourself from the competition, you need a domain name that is both memorable and straightforward. Trust LOGO.com, your home for brand-building needs, to provide you with a state-of-the-art domain name that takes you to new heights. All you have to do is input your preferred domain name and buy it for an affordable price with privacy protection that is 100% satisfaction guaranteed.
Best features:
Affordable domain names compared to anywhere else on the market
Complete transparency with pricing with preferred name and alternatives
SSL certificate is included with your purchase
24/7 customer support for any inquiries and guidance on domain name use
Works in tandem with a business name generator for memorable names
Pros:
You have the option to use your domain name right away with a website builder on the same platform.
When you choose a domain name, it'll be delivered to you with the highest quality of customer service.
Your domain name comes with a free logo design that you can endlessly customize with unlimited revisions.
Cons:
Taxes will be included at checkout, which is mandatory to adhere to the law of asset acquisition.
There is no phone support.
Launch your brand in minutes with a free logo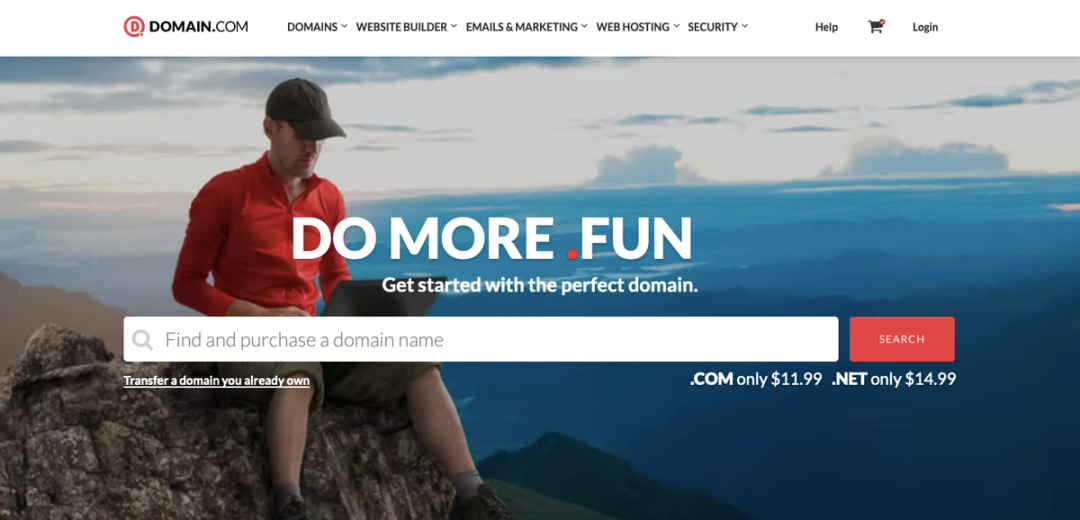 Domain.com offers a free annual domain name to its web hosting service subscribers. But a difficult-to-navigate website, a complicated domain transferring process, and paid domain privacy don't work in its favor. But it may be an option for those who want a domain name, a web host, and a website builder in one place.
Best features:
Free domain for a year upon purchasing a web hosting plan
Discount on Google Workspace for the first year
Provides a brokerage service for those who want unavailable premium domain names
Pros:
Customers can opt for paid safeguards to delay the loss of expiring domain names.
It provides attractive discounts on domain names.
It offers premium SEO services to give your website a better rank online.
Cons:
It has a limited collection of new domain extensions.
It makes it difficult and frustrating to transfer domains.
Most of its add-on services are expensive.
It makes you pay for domain privacy protection to keep your personal information private on domain lookups.

GoDaddy is a one-stop shop for everything website-related. It offers domain names, web hosting, website design, and more. However, its cluttered checkout process, overwhelming website, and upsells can seem complicated for those who don't know how to buy a domain name.
Best features:
AI-powered name generators for new entrepreneurs
Auctioning platform for investors to bid on premium domain names
Attractive first-year discounts on long-term domain name purchases
Pros:
It offers an online store builder for small businesses.
Customers can get a free domain name and email with a paid web hosting plan.
It regularly adds new features, services, and perks for potential and existing customers.
Cons:
Its domain name rates beyond the first year are costly.
It charges for Whois privacy, which hides personal information linked to the domain name purchased.
It upsells essential security features like two-factor verification for domain transfers.

Network Solutions, a subsidiary of Web.com, offers a host of services along with domain name registration, such as web hosting, business email, and domain security. However, none are at affordable price points. On top of this, its limited features and unreliable customer support may persuade you to look elsewhere.
Best features:
Offers domain name registration for long terms – anywhere from one to ten to a hundred years
Provides one month of web hosting for free
Offers sizeable storage and unlimited bandwidth on some web hosting plans
Pros:
It makes it easy to connect your domain to third-party web hosting services.
It offers website security plans for daily malware scans and automatic malware removal.
Its drag-and-drop website builder is easy to use for newcomers.
Cons:
Its domains cost significantly more than its top competitors.
It shows domain costs only during the final step of the checkout process, making it difficult to compare prices.
Its website is glitchy and sometimes adds a domain you've searched for directly into your cart, which can lead to accidental purchases.
It only offers domain privacy for free for one month.

Wix is a well-known website builder with modern templates and a beginner-friendly interface. It also offers domain names for registration – both paid and free (with some subscription plans). However, it fails to provide the significant discounts on domains that many competitors do.
Best features:
Free domains with premium website builder plans
In-built SEO tool with a website builder to boost ranking on Google
Large reserve of editable templates for your website
Pros:
Its domain search engine is simple and easily navigable for those who don't know how to buy a domain name.
Its websites come with a free SSL certificate, which increases your website's trustworthiness and security.
It is easy to transfer domains to and from Wix.
Cons:
It does not offer significant discounts on domains and is an expensive option in the long run.
Those looking for more space with its website builder are forced to upgrade plans rather than just pay for more storage.
Its customer service takes a long time to respond from time to time.
It does not offer premium domain names.

Bluehost has a collection of domain extensions for various industries at competitive prices. Those who don't know how to buy a domain name can easily register one and set their website up with Bluehost's user-friendly tools. However, its basic hosting plans don't offer much storage, which can become limiting for those who want to expand their website.
Best features:
Offers a free domain name for a year with web hosting plans
Flexible web hosting plans for people with different needs
Provides free SSL certification, which increases your website's security
Pros:
It provides SEO tools to help your website rank better on Google.
Its knowledge base can help beginners who haven't purchased a domain before.
They offer pro services for those who can't design a website themselves.
Cons:
Its additional services, such as the pro website design, can be expensive.
Its prices for domain privacy services are higher than those of the competition.
It has limited domain extensions compared to many competitors.
Launch your brand in minutes with a free logo

HostGator is more known for its affordable web hosting plans than domain registration services. Regardless, it has competitively discounted domain names, which is viable for those on a budget. However, its overwhelming website and dated UI can make registering domains more complicated than it needs to be.
Best features:
Affordable domain extensions with desirable discounts
Suggests domain names similar to your entered keywords
Allows easy transfer of domain names to and from its platform
Pros:
It has discounts on new domain extensions like .online, .site, and more.
It offers affordable web hosting packages for those who manage multiple domains.
It provides flexible web hosting plans for everyone – from individuals to small businesses to large enterprises.
Cons:
It has limited domain extensions compared to many competitors.
Its registration is limited to three years, increasing long-term renewal costs.
Its domain privacy costs are one of the highest – close to $15.
Its website UI is quite outdated and not easy to navigate.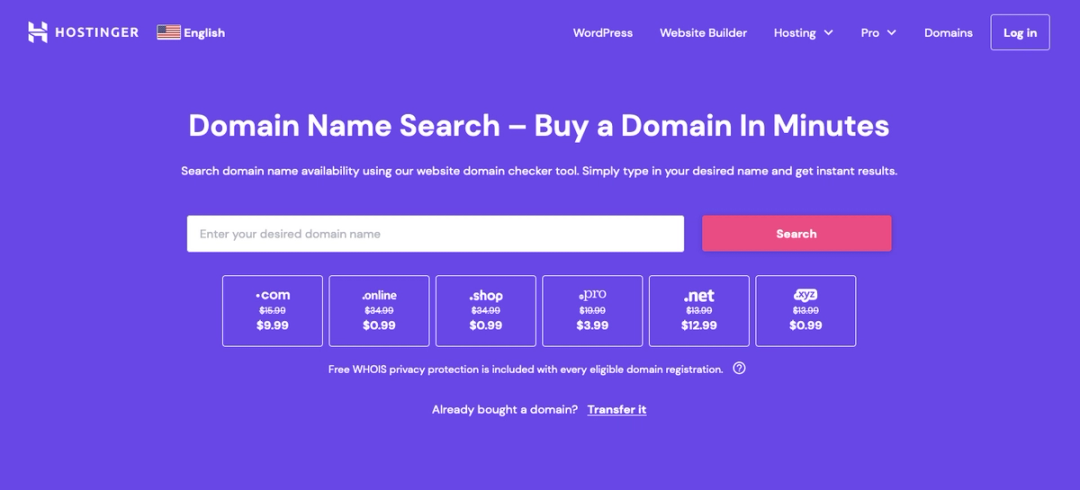 Hostinger offers an affordable website builder and email, along with domain names. Those on a tight budget will appreciate this, but they may see a need to eventually go elsewhere. This is because the features of its add-on services are basic and don't stand out from those offered by its competitors.
Best features:
Provides a free domain locking service, which prevents unauthorized domain transfers
Automatic renewal option for those who want to avoid the risk of losing domains
Offers unmetered bandwidth and unlimited storage across all paid web hosting plans
Pros:
Those on its web hosting plan can get a domain name for free for a year.
Its website has a modern UI and lacks jargon, making it easy for newcomers to navigate.
Its 24/7 customer service can guide those who don't know how to buy a domain name.
Cons:
Its dedicated web hosting plans can be expensive for many.
It offers fewer and less impactful discounts to those who want to renew their domain name.
Its domain search engine loads slowly from time to time.

Namecheap offers domains at affordable domain prices along with services like business emails, WordPress hosting, and more. However, those not well-versed in registering domains are bound to get overwhelmed due to its cluttered website. Its lack of phone support can further deter newcomers.
Best features:
Its marketplace holds auctions for bidding on high-end domain names
Provides several add-on services like business email, WordPress hosting, and free security certificates
Provides domain extensions like .film and .studio for creative industries
Pros:
It offers domain privacy services for free.
It provides a free domain name with its annual shared hosting plan.
It regularly adds new website and domain-related features and services.
Cons:
Its basic web hosting plans have low storage and limited customer support.
It does not provide phone-based customer support.
Renewal of domain names can become expensive.
Its website may come off as too technical for beginners.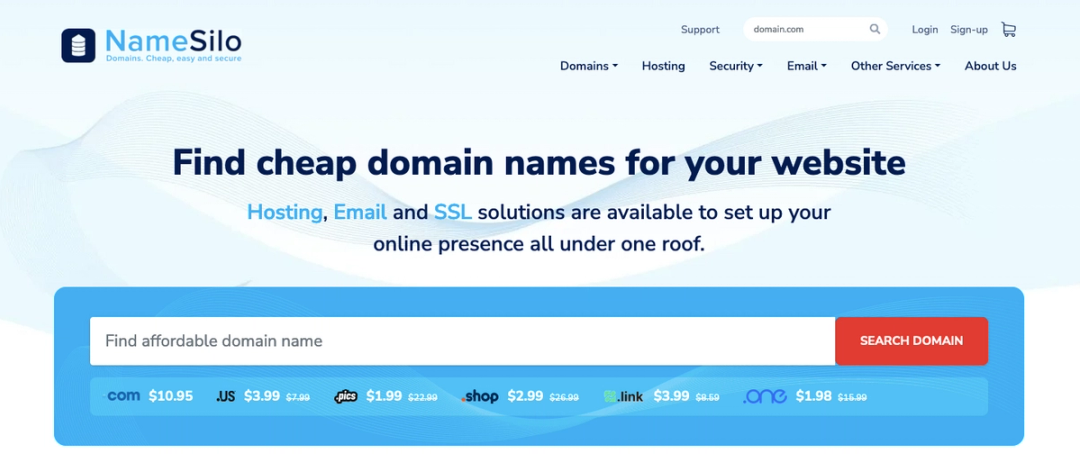 NameSilo offers a wide variety of new domain extensions at affordable rates. However, its domain prices get truly competitive when bought in bulk. Individual buyers can get similar domain names at cheaper rates from competitors. As such, it is a platform more suited for domain resellers than those planning on buying their first domain name.
Best features:
Offers domain backorders on premium unavailable names
Various domain extensions for different industries, interests, and projects
Provides phone-based customer service
Pros:
It offers a free domain renewal for a year if you transfer a name to its platform.
Its renewal prices are more affordable than those of many competitors.
It offers a reseller platform for investors and domain traders.
Cons:
Its best discounts are reserved for bulk and multi-domain purchases.
You need to create an account to review your cart's contents.
Its support is only available during limited hours, which can be an issue for international customers.
How do I choose the best place to buy domain name registrations?
Choosing the best place to buy domain names for your needs can be challenging. But the process is much easier when you have the facts right in front of you.
When you're uncertain, go over the most important factors concerning your online identity:
Does the domain registrar offer names and extensions appropriate to my business?
Do the first year and renewal rates fit my budget for a domain name?
Do I need guidance? What degree of customer care do I require?
Do I have additional services like web hosting and website design in place, or should I look for a registrar that offers these?
Most registrars offer affordable starter prices, but these costs can escalate exponentially in the succeeding years. You are the best judge in determining if the services justify the costs. If so, you have found the best place to buy domain names for your needs.
How do I know which available domain names are best for me?
The best domain name is subjective to your and your business's needs. However, there is a basic guideline you can follow for catchy and memorable names. After you select a domain registrar and know how to buy a domain name, you can place these checks before making your final purchase:
Choosing a domain name with as few spelling errors as possible.
Ensuring that the domain extension (if it is not .com) is aligned with the nature of your business.
Selecting names that are easy to remember, short, and not generic.
Avoiding names with numbers, hyphens, and other add-ons that make it complicated to type.
Remember, a name may not be perfect if it doesn't fit your business card or impress those around you. However, decisions are rarely this easy – you may have to choose between two great choices and stick with your gut.
How do I learn how to buy a domain name with the best results for my business?
It may seem like the internet has barely any real estate left, with many .com extensions not available to purchase. How do you get the best name in that case? Follow this checklist, and you'll learn how to buy a domain name in no time:
Make sure your domain and business (or project) name match to avoid confusion and make it easy to find online.
Consult an SEO service or use the ones offered by domain registrars to get a name that can rank high on search engines.
Use name and domain generators if you can't think of a catchy enough option.
Don't go with the most affordable domain extension. Choose one that fits your business.
Finally, ask customers and prospective buyers what they think of your name. They won't lie!
These tips can help you get started on how to buy a domain name that can get the best results for your business.
Launch your brand in minutes with a free logo