‍
Great business card design ideas can help remind people of the time they first encountered you—and if executed well, it will encourage them to get in touch with you and check out your services. The card itself is a physical reminder, but its design is the grip that pulls them in.
According to data from Statistic Brain Research Institute, 72% of people judge a company or a person based on the quality of their visiting cards. Almost every business owner out there has their own personal business card, but how many of these designs are actually effective?
Key takeaways:
To have a great business card design, you must express your authenticity and go bold with your design elements.
Play with different textures and unique visual content to make your business card stand out.
It's essential to do research on pleasing designs surrounding your industry of choice and incorporate that into your business card.
Consider using a business card designer to help you retain crucial information in a beautiful template.
Your business card should say a lot about your business with a single glance, so avoid being too minimalistic with your design.
Ensuring that your business card design is pleasing to the eye increases the chances of it not being discarded by receivers.
‍
10 best business card designs for the best first impression
The best business card designs can make a great first impression. Here are the ten best business card ideas for entrepreneurs and freelancers to make their mark.
‍
1. Play with texture
Next to the design, the texture of the cards brings out the most obvious reaction in recipients and there are a ton of choices to choose from. You can go with eco-friendly options, velvet, lamination, soft cotton, and unique spins on the traditional cardboard textures.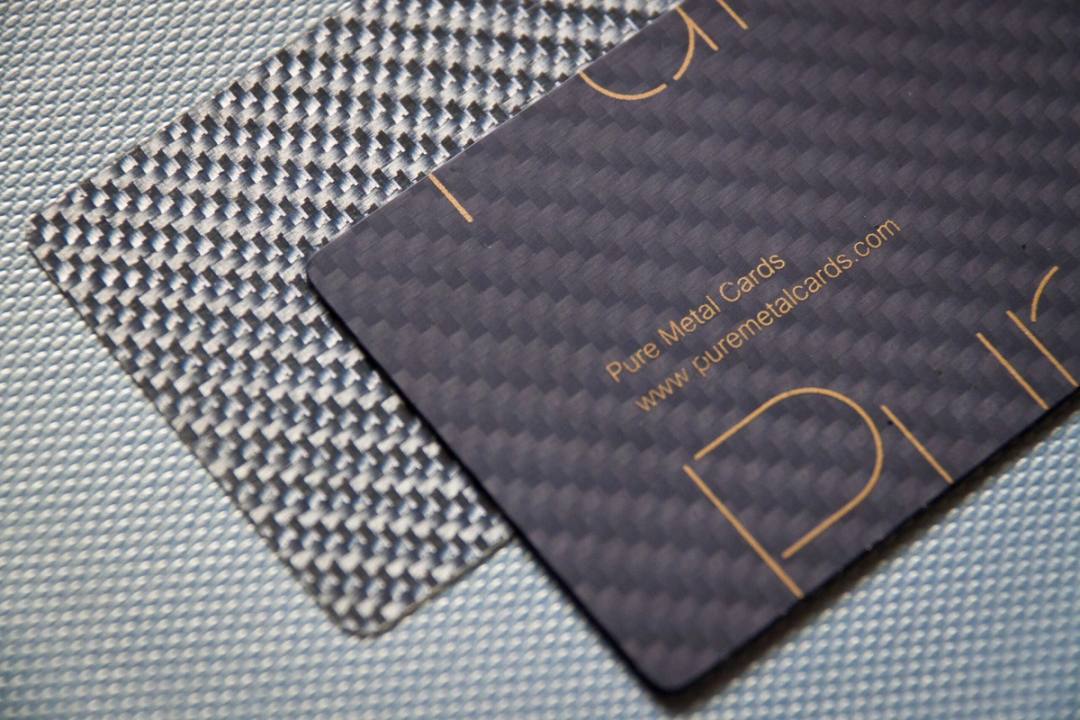 Some selections may be on the pricey side, but it does show clients that you take your work seriously enough to put in the time and investment. You can even consider using plastic, which is a highly durable material with a modern twist.
Your choice of texture should represent you, just as every element of the visiting card should— so go crazy and play around with what seems intriguing and exciting. Experiment with different textures, ask for feedback, and give them out as a test run to see the response. Soon enough, you'll get insight into the best option for you.
‍
2. Go bold with colors
According to stats published by Graphics Zoo, a potential customer is more likely to keep a colored business card ten times longer than a standard monochrome one.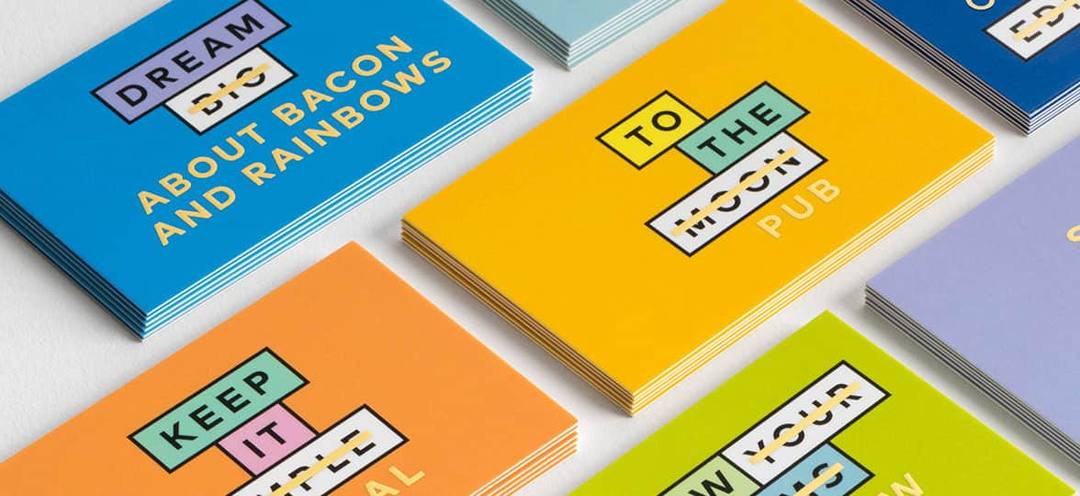 Nowadays, visiting cards are packed with color for that added oomph, grabbing the attention of anyone who sees them. It's also a great way to communicate who you are and the emotions you want to evoke in people.
Is your business a daycare facility? Go with soft, pastel colors. Is it a gym? Go with bright, electrifying colors. Take a deep dive into what your business represents, and let the colors speak for you.
You can also pull the focus on yourself: what color represents you as a business owner? Are you a creative person oozing with unique ideas? Incorporate some purple into the cards. Are you joyful and happy-go-lucky? Bring in some yellow! The opportunities in the realm of brand color are endless.
A little tip? Gradient and metallic colors in business cards have been trending lately, and they're unique options sure to set you apart if you're looking for a wow factor.
Launch your brand in minutes with a free logo
‍
3. Express your authenticity
When you run a business, it's also helpful to remind people that you are also a person who just wants to help society and make lives easier. Instead of taking a corporate approach to the design, present yourself from the perspective of your mission.
For the longest time, business owners have opted for a business card design that speaks to what the business is all about. To some extent, that is useful. But most people respond to artistry, creation, and emotion, so consider ditching the overtly professional visual designs and opting for a more authentic and personal feel.
You can do this by including hand-drawn illustrations, doodles, and down-to-earth visuals. Not only is it humble and endearing, but it also gives your business card a unique and customized look that speaks to who you are.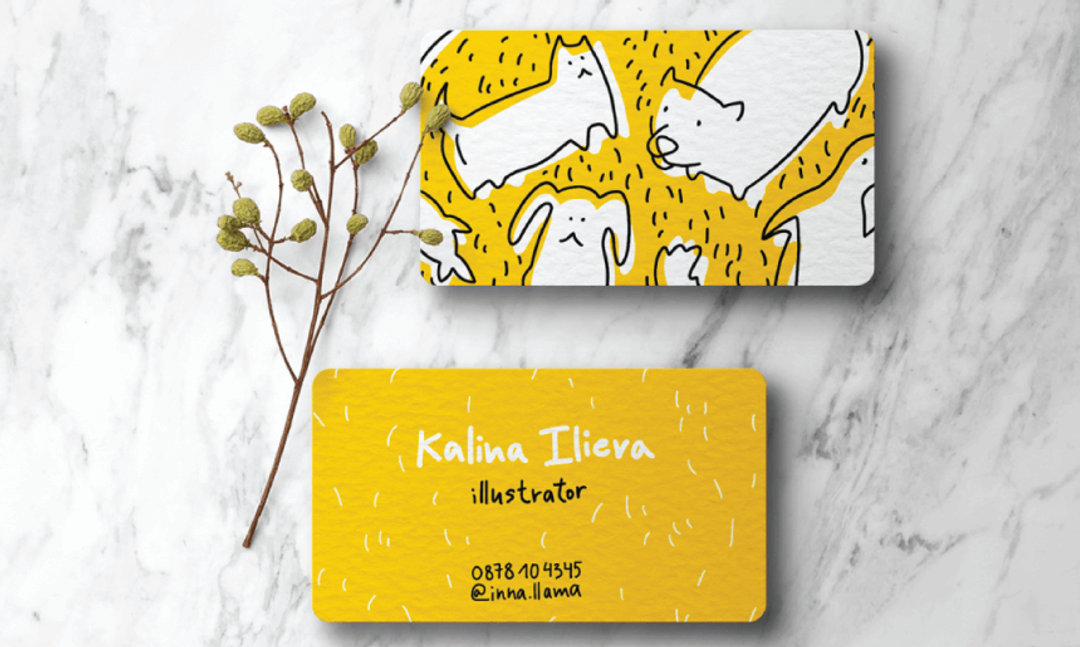 Bringing an air of authenticity to your visiting card design ideas shows others that you put real time and effort into everything you do. Don't worry if you're not a professional artist—it's the imperfection that makes something real. It wouldn't hurt to get some help with the finishing touches, of course!
‍
4. Transition to dual-side designs
Retire the one-sided card. Your brand is multi-faceted, and you have more to offer than a simple and ordinary design characteristic. Dual-side visiting card designs have been gaining traction for years now, and you can use this practice to include unique styles in the way you present yourself.
You can use one side for a stunning, minimalistic approach and the other for a vibrant twist of color. Feel free to divide your business information in the way that suits you the best. It's all a matter of preference and understanding the highlights of your brand.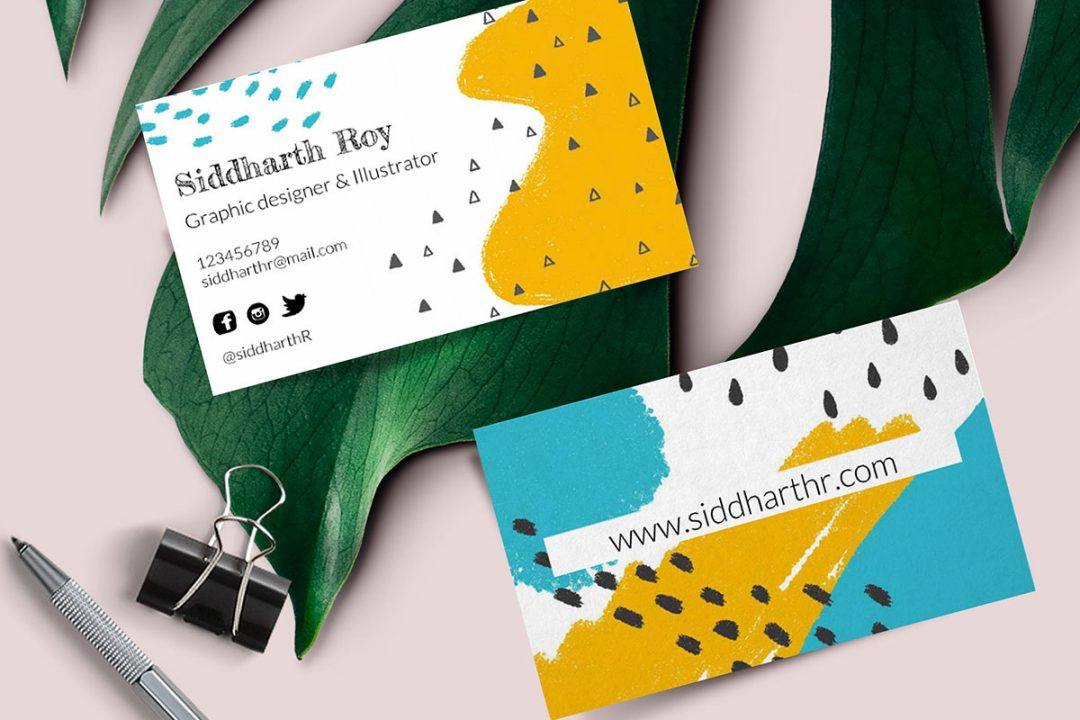 If you feel like your logo is strong enough to steal the show, use up one whole side for it. If you want to emphasize your business name the most, use it on one side with the rest of your information on the other. Dealer's choice!
‍
5. Consider pop culture elements
Millennials grew up in a time when pop culture dominated the media and society. Bring in the essence of what it means to be a millennial with fantastic pop culture references bound to inspire fun and excitement.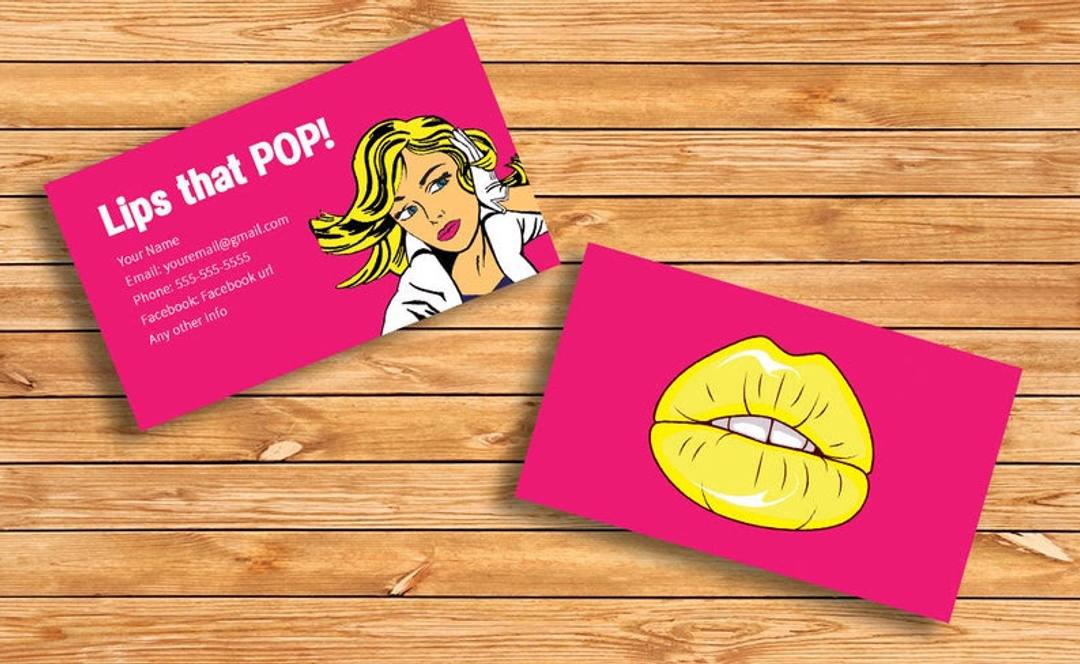 Crazy cartoons, funky patterns, bold and solid color schemes—it's hard for these elements not to catch attention and evoke an air of freedom and creative liberation. The designs are rich in color and detail, showing people that you are an out-of-the-box thinker willing to go the unconventional yet creative route.
Great business card ideas entail going where one would be hesitant to go, but these are exactly the things that stand out and set you apart from the sea of traditional cards you see everywhere. Say goodbye to dull visuals and hello to exciting designs.
‍
6. Experiment with thermochromatic cards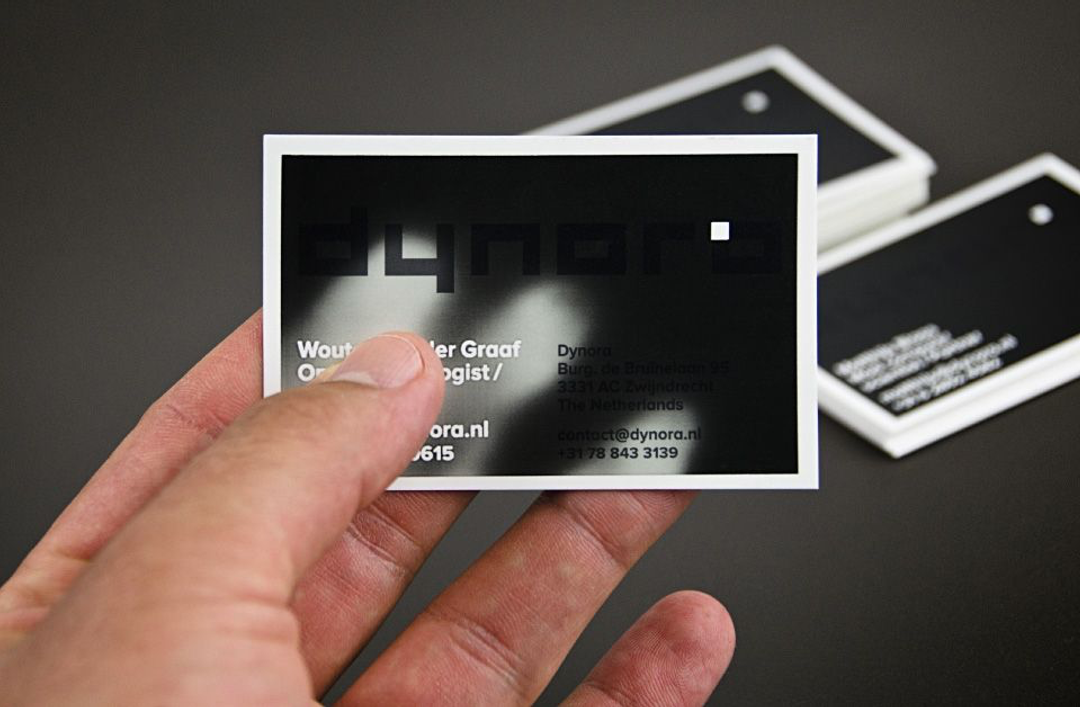 When touched, thermochromatic prints can change color or become brighter. A business card like this will raise intrigue, encouraging the receiver to hold it often. You can opt to be playful and add quotes and hidden messages to display your brand's personality.
To prevent your peers from assuming that your card is a blank piece of paper, include information that can be read without them having to touch your card.
‍
7. Consider a design with a QR code
QR codes have become increasingly common because of how easily they can be read by smartphone cameras. They make transitioning to the internet easier because users don't have to type URLs manually.
By including QR codes, you can ensure that your card stays with a client in digital form. You can also generate a dynamic QR code to lead your clients to your creative portfolio, product catalog, or landing page. This allows you to simultaneously give your card a minimal design and share as much information as you want.
Scanning a QR code and waiting for a webpage to load can become extra work. Make life easier for your audience by including crucial information on one side.
‍
8. Enhance your branding with stickers
Adding detachable stickers can be an effective way of creating brand recall, especially if your business has an attractive logo. In this example, you should include the contact information on the non-sticker part because people would be less likely to paste a company's address on their laptops.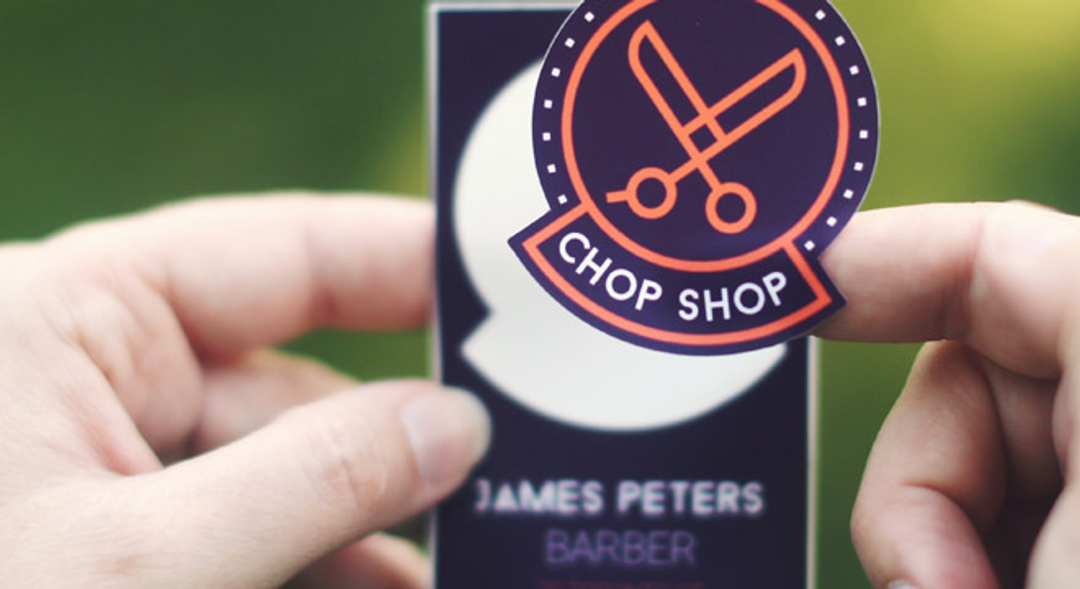 A design like this is ideal for a brand that sells entertainment-related products and caters to young individuals such as college students.
‍
9. Include an image of yourself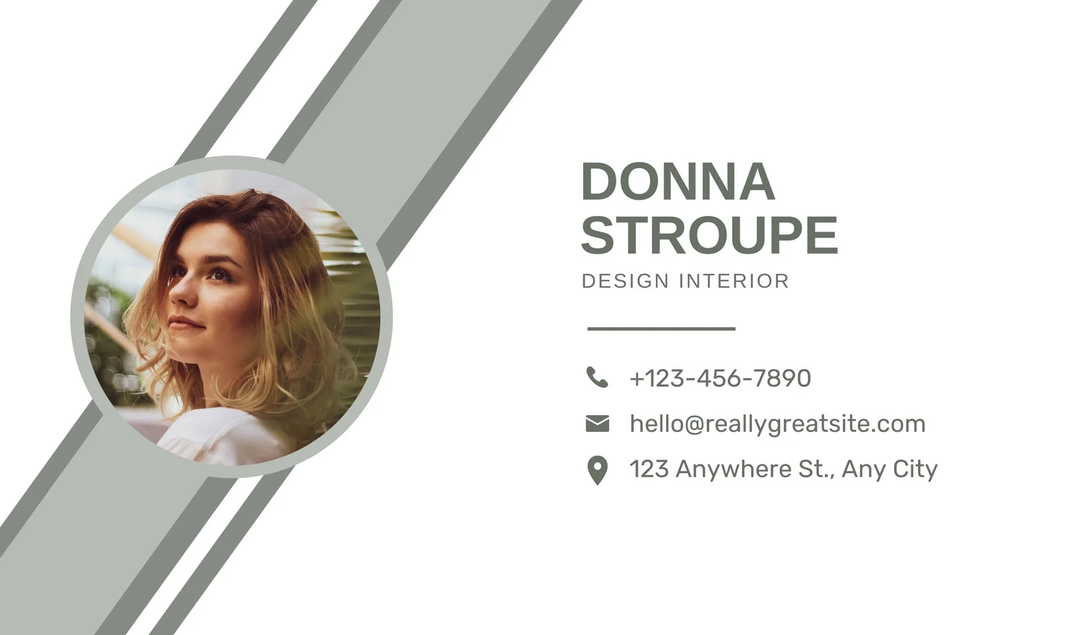 Whether you're a creative freelancer or a solopreneur, adding an image of yourself gives your business card a human touch and gives clients a face behind all the hard work.
A business card with your face restricts the use of one side for text because it may render the information unreadable or your face illegible. You should guide clients to a landing page with a link, social media handle, or QR code if you want them to read additional information or see your portfolio.
Launch your brand in minutes with a free logo
‍
10. Think outside the box with different shapes
Making business cards rectangular has become an unspoken rule for companies, which is why you should break the mold and experiment with shape. You can be as creative as you want and choose shapes that are contextual to your product.
For example, clients can tell that this circular business card is related to pizza even before they read the information.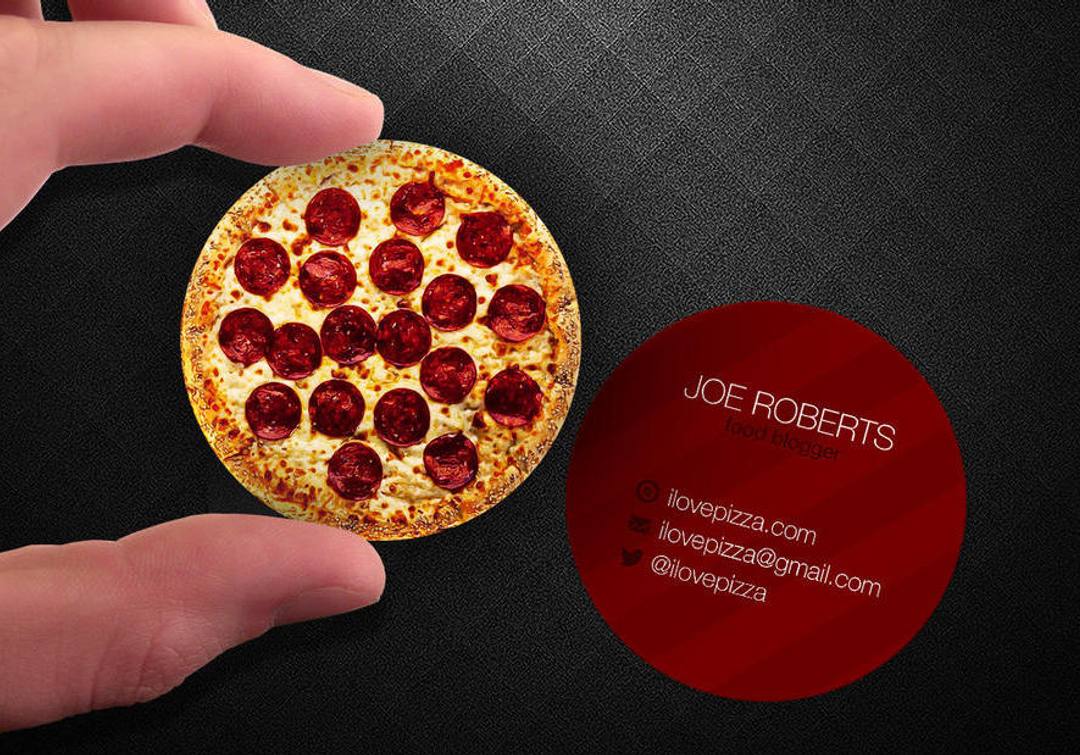 A circle, triangle, or shuriken will look unique in a stack of square and rectangular business cards. It will guarantee a quick read at a minimum and a phone call if your services seem intriguing.
‍
5 business card design ideas across popular industries
A business card design isn't a one-size-fits-all. You can take cues from these examples when brainstorming creative business card ideas for your company.
‍
1. Embrace trends with fashion business cards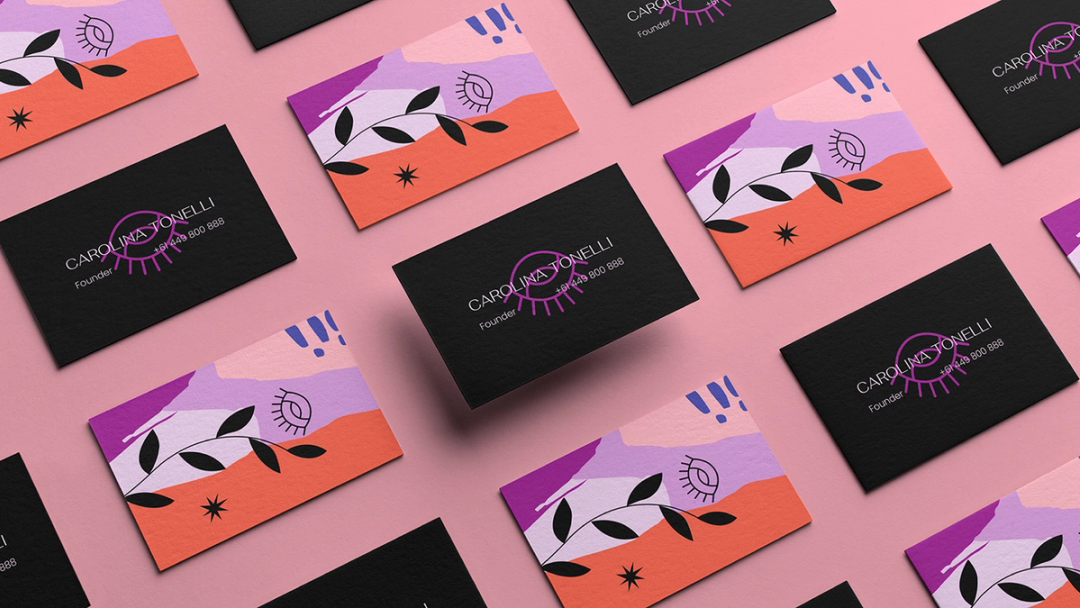 The fashion industry is known for having high attrition on-trend, and customers want to know what's in and outdated. Your visiting card design ideas should be a reflection of the industry and include designs that are in style for a particular year. You can also create a stylish fashion logo to go flawlessly with your trendy business cards.
💡Tip: Keep the front simple to make it easy for the readers to process the information. Add clean sans serif fonts, solid colors, and minimal text to exude elegance.
‍
2. Flaunt your art in creative industries
The creative industry is known for having a high rate of freelancers. In the UK, the self-employed workforce in the industry (32%) is twice as much as the national average. This allows artists to express themselves but creates a high level of competition where standing out is vital.
You can use your business card as a mini-portfolio and display your artwork, tonality, and overall style, which can raise a reader's intrigue. For example, someone would instantly know that Adam Trageser specializes in media design by looking at the front and back of the above card.
One way you can further stand out is to show off your artsy expertise with an art logo on your already eye-catching business cards.
‍
3. Opt for a no-nonsense design for your law firm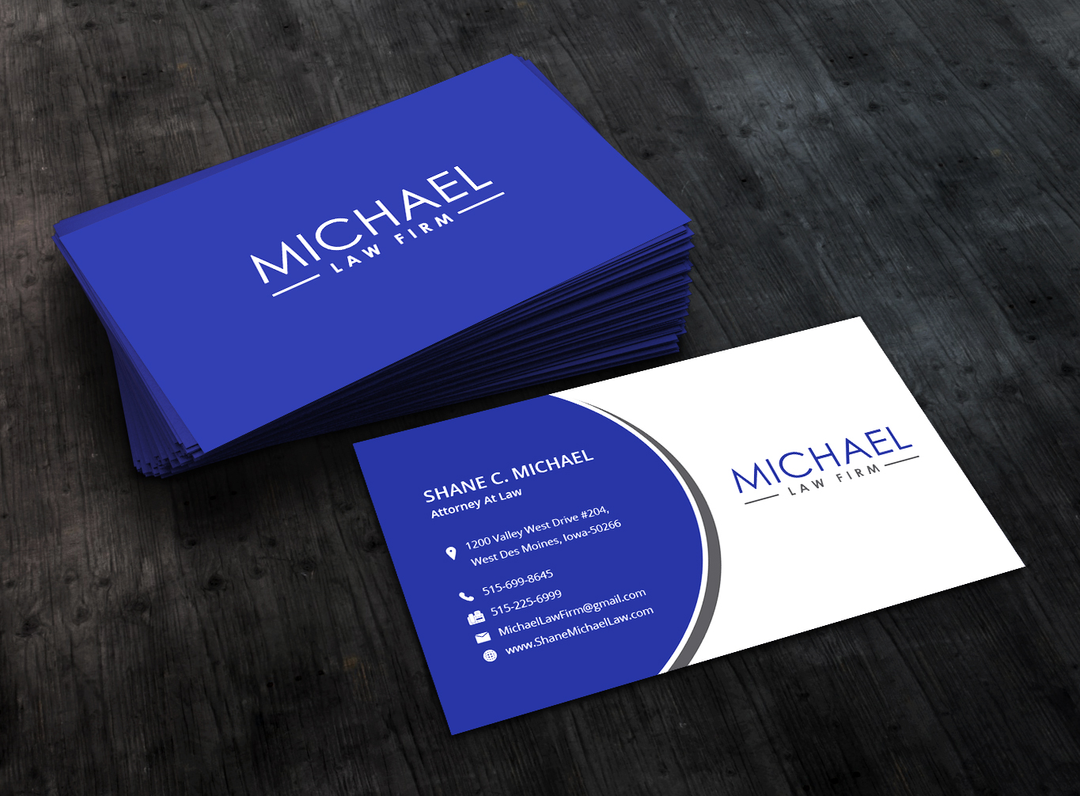 Visiting card design ideas for a law firm should evoke dependability and trust, which you can achieve by using an impactful, clean font, which will make it easy for your audience to read the text. You may also want to utilize all-caps for elements you want people to notice, but don't capitalize everything—people perceive it as you shouting at them.
Keep the design simple and avoid including illustrations, geometrical shapes, and elements that don't convey any information. Receivers should want to contact you for serious business, so your card shouldn't look frivolous. Communicate your skills with a professional law firm logo and let it sit dominantly on one side of your business card.
💡Tip: If branding allows, use blue as it evokes trustworthiness. You can use the back of the business card and include a bold blue that will grab attention.
‍
4. Raise appetites with restaurant business cards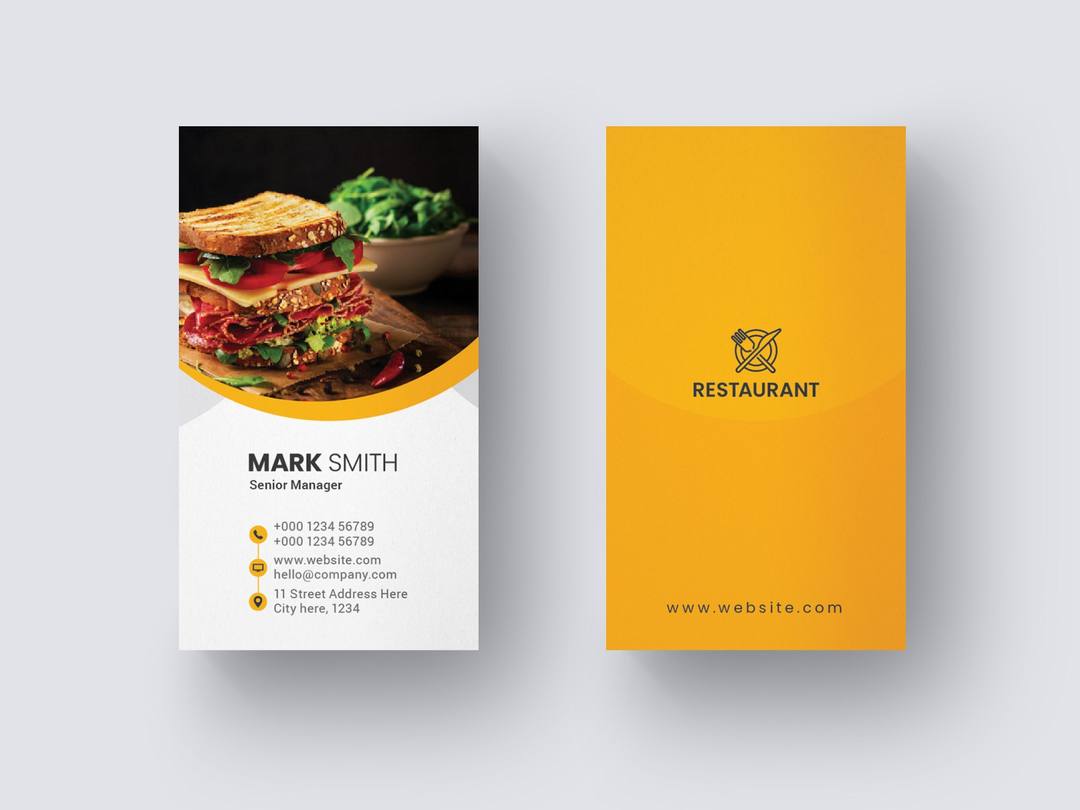 Appetizing colors in a restaurant business card can boost your customer's appetite and inform them of the kind of restaurant you run.
The right imagery can give your customers an idea of the kind of food you serve, so include images of your most popular food items. Just make sure you specify the kind of restaurant you run under the business name. It will tell them whether you run a sushi restaurant, an Italian bistro, or something completely different.
Speaking of beautiful visuals, you can't go wrong with an appetizing restaurant logo to go along with your business card design.
💡Tip: Include red, yellow, and orange in your business card as they can make viewers hungry. Use green if your restaurant serves vegan, organic, or exclusively healthy food because the color signals health. Avoid blue and gray at all costs.
‍
5. Create glamorous cards for makeup and hair salons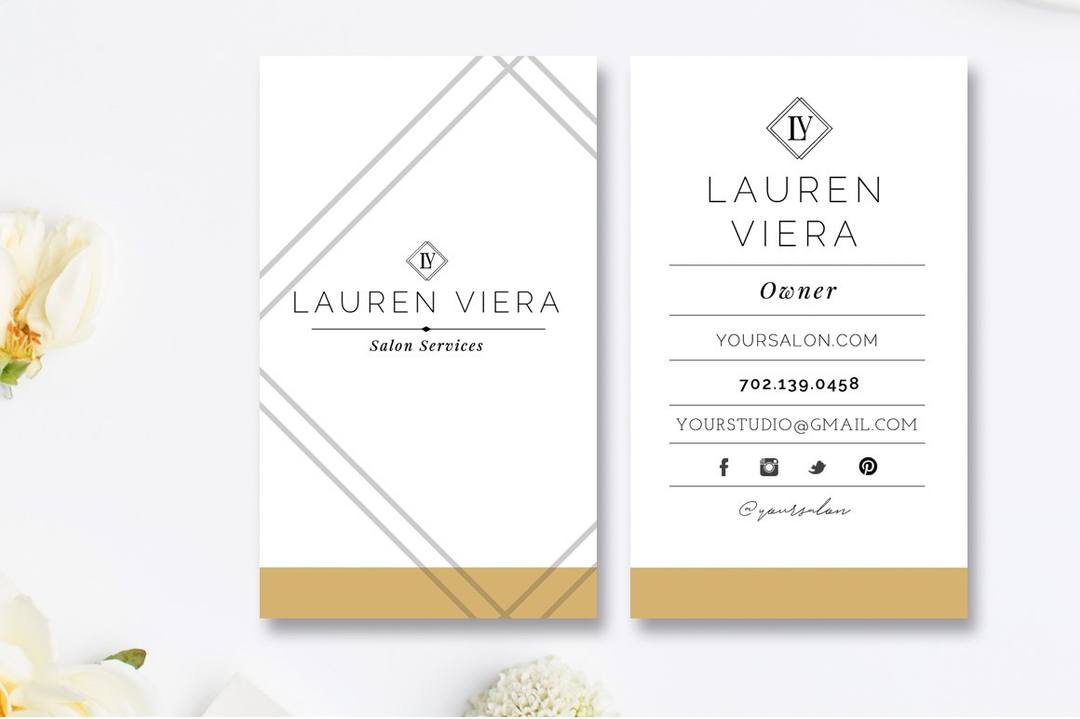 The clever use of color and texture can make your salon's business card look fabulous and make it stand apart from the rest. You can use graphic textures to make your card appear brighter and happier. Glitter and paint splashes are two viable options to make your card more noticeable. Another option is to design a glamourous salon logo to make your business card pop.
Creating a positive experience is critical to running a successful salon, and the primary color of your business card should reflect that. Experiment with pastels and a happy color palette with shades like pink, light purple, magenta, and more.
💡Tip: Give your business card a personal touch by using fonts that mimic cursive, but your font should be readable first and foremost.
‍
How to design a good business card
There are many ways to design business cards, so you want yours to be eye-catching and memorable, something that makes someone take a second look and want to keep it with them. Good business card designs should also include exactly the right amount of information — not too much, not too little — and be able to be read at a quick glance.
Launch your brand in minutes with a free logo
Keep the following tips in mind to get a great visiting card design:
Keep all your key content at least 5mm from the trim edge
Work at 300dpi for best image reproduction
Design in CMYK unless you're working exclusively with spot colors
Provide a bleed as specified by your printer. This is commonly 3mm but can be 5mm, so make sure to check
Use special finishes such as foil blocking, spot-UV, and metallic inks
Find a way to recycle old visiting cards
But hey, if you want to save yourself the headache of coming up with your own unique business cards design ideas, you can always rely on an efficient business card designer.
‍
Start designing your business cards effectively with a business card maker
There are various ways for you to design your visiting card. If you have design skills, then you can design them yourself. Another option would be to hire a graphic designer or a design agency to design your cards. While these are good options, they aren't feasible all the time. Not to mention how expensive they are.
When you design a logo using our logo maker, you get access to our very own graphic design platform called Stitch. What this means is that you can get all your branding and marketing collateral designed on one platform. Your LOGO.com dashboard will give you access to ready-to-use business card templates with your logo already added to them.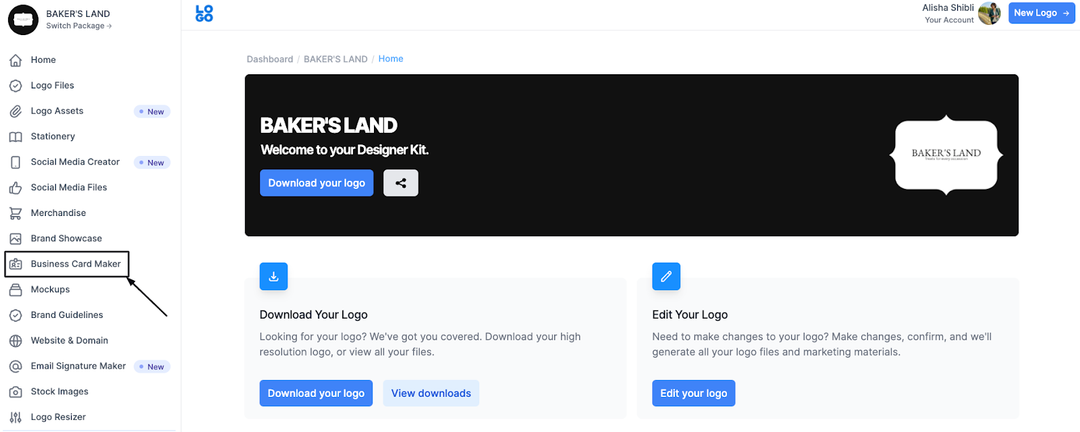 All you have to do is customize the card by adding your business and contact information, download the card, and send it to the printers.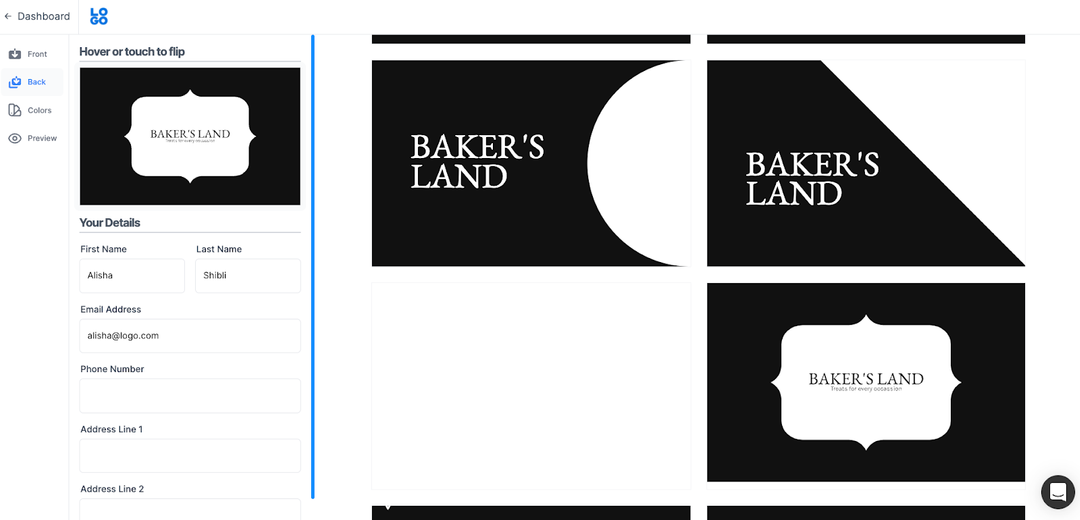 ‍
How to use business cards to increase your reach
Here are full-proof tips on how to get the most out of your visiting cards:
1. Hand them out
Be liberal with who you give your business cards to. Give them to anyone and everyone you meet. You never know when someone might need your services, so it's good to be around when they're thinking about what you have to offer.
2. Drop them everywhere
Drop your visiting cards in places where people will see them, like restaurant tables, store windows, or community bulletin boards.
3. Get creative
Use the business card layouts mentioned above to get creative with your business cards and make them more memorable. For example, use unique shapes, sizes, or materials. You can even include a QR code or an exclusive discount or coupon on your visiting card to encourage people to get in touch with you.
‍
Should you use business cards for your business? Yes, and here's why:
Business cards are a must if you're starting a business or building a brand. If your answer to the following questions is yes, then you should design a custom visiting card today.
Are you looking for an easy and affordable way to get in front of potential clients?
Do you want to leave lasting impression and become memorable?
Do you believe in the importance of having a network and want a good way to keep in touch with them?
If you answered yes to any of these questions, you should get your visiting cards right away! They are a great marketing tool and an easy and affordable way to get your name and information in front of potential clients.
Start by leaving business cards everywhere you go. You might be surprised by how many people end up reaching out to you.
‍
What are popular business card design ideas for millennials?
These days, millennials have a particular flair for style in coming up with great business card ideas—some of which possess characteristics one could only dream of!
For example, Pure Metal Cards is a business that caters to business owners looking to adopt a metal visiting card. It's truly an out-there idea, but it's a perfect example of innovation that can grab the attention of many people. These are the kinds of calling card design ideas that millennials go for: a far cry from the expected.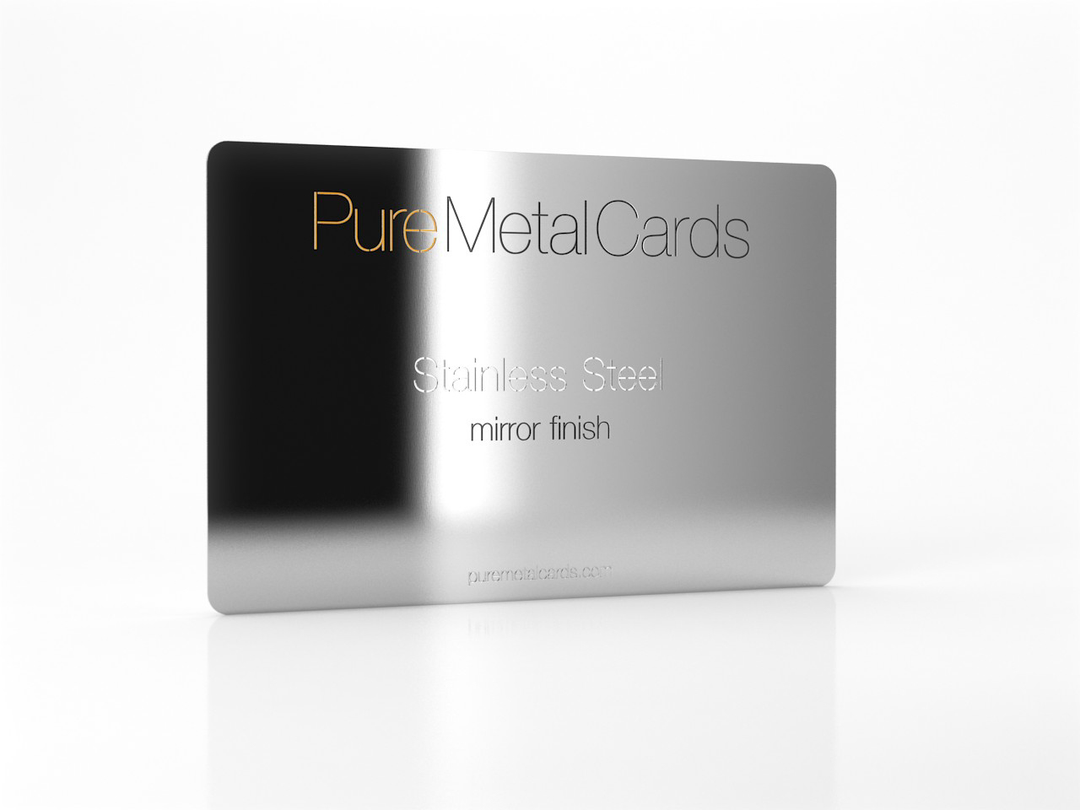 For millennials, the purpose of a great visiting card is to leave people with an artistic impression and an explanation of who they are. Usually, the information is vague but innovative enough to leave room for the imagination, inclining receivers of the card to learn more and initiate a conversation.
With calling card design ideas for millennials, the goal is to evoke a genuine reaction instead of simply circulating their identities. It's about making people stop in their tracks and wonder what exactly brings them so far from the norm and how they incorporate this creativity into their business.
This doesn't necessarily mean that the design for business cards needs to be too farfetched and overboard with a shockingly artistic style. It just needs to be a powerful and symbolic representation of a cutting-edge business owner brimming with ideas. It also doesn't mean that simplicity is out of style; as long as it keeps the core visions intact, that's all that matters.
Launch your brand in minutes with a free logo
‍
Why do business cards work? Here are the facts:
Business cards work for various reasons; one of the biggest being that they're a physical reminder of you and your business.
When someone meets you and exchanges visiting cards, the transaction will make it more likely for them to remember you and your business. Business cards are also a good way to keep track of your growing network. You can file them away in a contact management system or keep them in a cardholder.
Business cards are a valuable marketing opportunity, and having a good one with your business name and logo on it can go a long way in building brand awareness. If you're a new business and searching for ways to get your name out there, start by leaving your business cards everywhere.
‍
Frequently asked questions: 4 popular FAQs about business cards
What are some commonly asked questions about business cards? Get your questions answered with these four FAQs.
1. Do business cards still work in today's time?
As the world continues to acclimate to the pandemic, creating meaningful connections in the corporate world is a little more challenging. But yes, business cards are still relevant. In fact, digital business cards have been trending as the safer alternative (and it's good for the environment!).
Either way, business cards are here to stay, whether digital or paper. Ideally, secure both kinds because 1) not everybody is comfortable with technology and 2) you don't want to be perceived as "old-fashioned." Get the best of both worlds! You never want to appear unprofessional by being unprepared to hand out a proper business card.
2. How do I make my business cards look good?
Choose a design for your business card that reflects your brand because it says a lot about you and your small business. Maybe you're an interior decorator who appreciates clean lines and excels in modern styling; if so, your template should reflect that.
A business card looks good when you achieve the balance between adhering to design principles and capturing the spirit of your brand. It's important to be authentically you while maintaining an eye-catching template for your business card.
3. What should I put on a business card design?
Many design principles go into constructing a visiting card—even the simple concept of negative space can make or break a design. It's all about knowing what to add and retain; elements coming together for a strong, eye-catching, and unified message. Most importantly, it needs to represent you.
Whichever route you choose, your business card needs to have these fundamental elements:
Your full name
Job title
Contact and website details
You're in total control of your creativity here—what matters the most is representing yourself in a way that you feel most confident.
4. Which business card layouts motivate people to keep it?
Looking unprofessional is the quickest way to have your business card thrown in the trash. On the other hand, developing a strong image is one of the best ways to keep prospects interested in your card. Make sure your business card is printed by a professional and has a beautiful design.
A poor-looking business card will reflect poorly on your firm. If your business card looks excellent, you'll also seem terrific, and the other components of your card will help close the deal.
‍
Get the best business cards design ideas right here
Business cards design ideas refuse to be a thing of the past. This branding collateral is an essential tool in the world of networking, allowing collaborators and potential clients to remember and keep in touch with you.
These are business card design ideas that will surely have people excited to get in contact with inspired minds.
Ready to design your free logo? Get started with our logo maker!
Launch your brand in minutes with a free logo