The power of an inked signature hasn't dwindled with time; it has simply changed its form into a professional email signature. It can be the primary identity for your brand, informing the receiver about who you are, which organization you represent, your designation within that organization, and more.
When it comes to creating professional emails, marketers fuss over subject lines, headlines, visuals, and calls to action but can completely miss an email signature. This remarkable tool isn't merely a hygiene aspect — it is essential.
Key takeaways:
Email signatures are an opportunity to market your brand in every email you send.
Prioritize your role and designation rather than accolades to avoid showing off.
Your name, business name, and logo design are the most important aspects of your email signature. Display them with pride!
Consider using an email signature maker to bypass the hurdles of creating a design by yourself.
Stick to two colors at most to retain a classy design that doesn't overwhelm viewers.
‍
How to create a professional email signature: 15 tips to perfection
It's time to learn how to write an email signature to perfection. Thanks to the evolution of email servers over the last few years, your email signature can offer so much more than just a sign-off and your name. Here are some of the best company email signature practices:
‍
1. Know who you want to be remembered as
Type in your full name. It's better to avoid middle names if they are lengthy and unnecessary identifiers. If you are an artist and have an alias or stage name, then you could add it in between your first name and last name. Make sure you use this signature for all of your correspondence. If you plan to add a PDF digital signature electronically, for example, it better be the same as your email signature.
‍
2. Type in your designation and not your accolades
This could be straightforward in most cases. Write the designation that you hold in regard to the email and the organization to which the email is being sent. Avoid unnecessary accreditations and titles.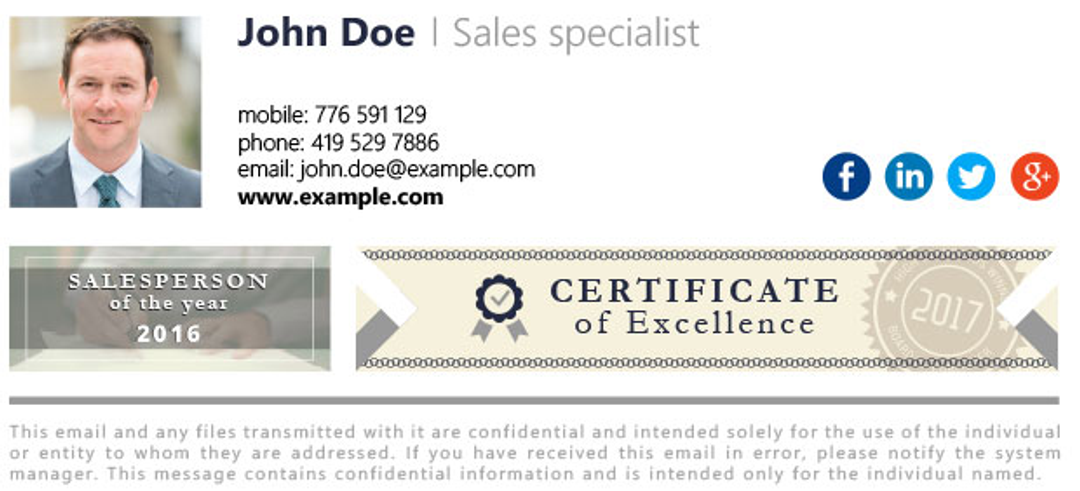 ‍
3. Include your company name and logo
Write your company name in full. When using your logo design, make sure that it is a file that has a smaller size (preferably under 50 kB) so that it downloads quicker. Test it out to ensure that it isn't skewed or pixelated.
Launch your brand in minutes with a free logo
‍
4. Use an email signature maker
What if you could bypass the headache of putting together a professional email signature yourself and have it automatically without much effort on your part? Well, that's precisely what an email signature maker does for you.
The LOGO.com email signature is a user-friendly tool that allows you to craft automatic email signatures and instantly copy them to your Gmail account. You can even choose from different templates to find the one that suits your fancy the most. Learning how to create a business signature has never been easier.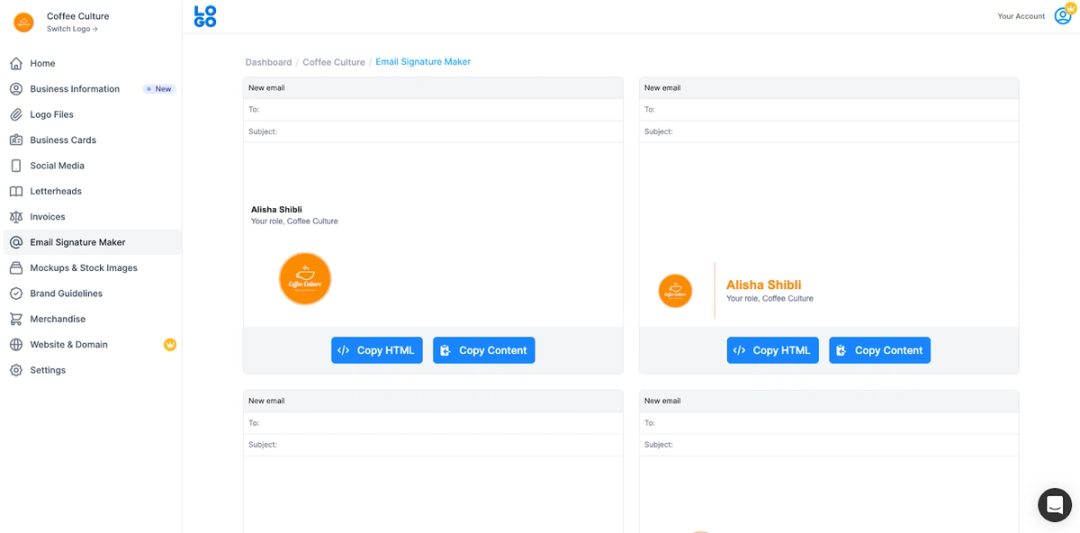 Create a free logo with us and our affordable Brand Plan will give you access to essential branding requirements, such as:
Email signature maker
Business card generator
Unlimited logo edits
Custom design tool (Stitch)
Brand showcase
Brand guidelines
Perpetual brand backup
For only $10/month, you can conveniently secure all your branding and marketing collateral and get an email signature maker that melts all your stress away in seconds.
‍
5. Keep your contact information brief
The best company email signatures avoid multiple phone numbers at all costs. Use only one business phone number if possible. If you want to be reached only at your work desk, then add your landline number. Add your online fax number only if absolutely necessary.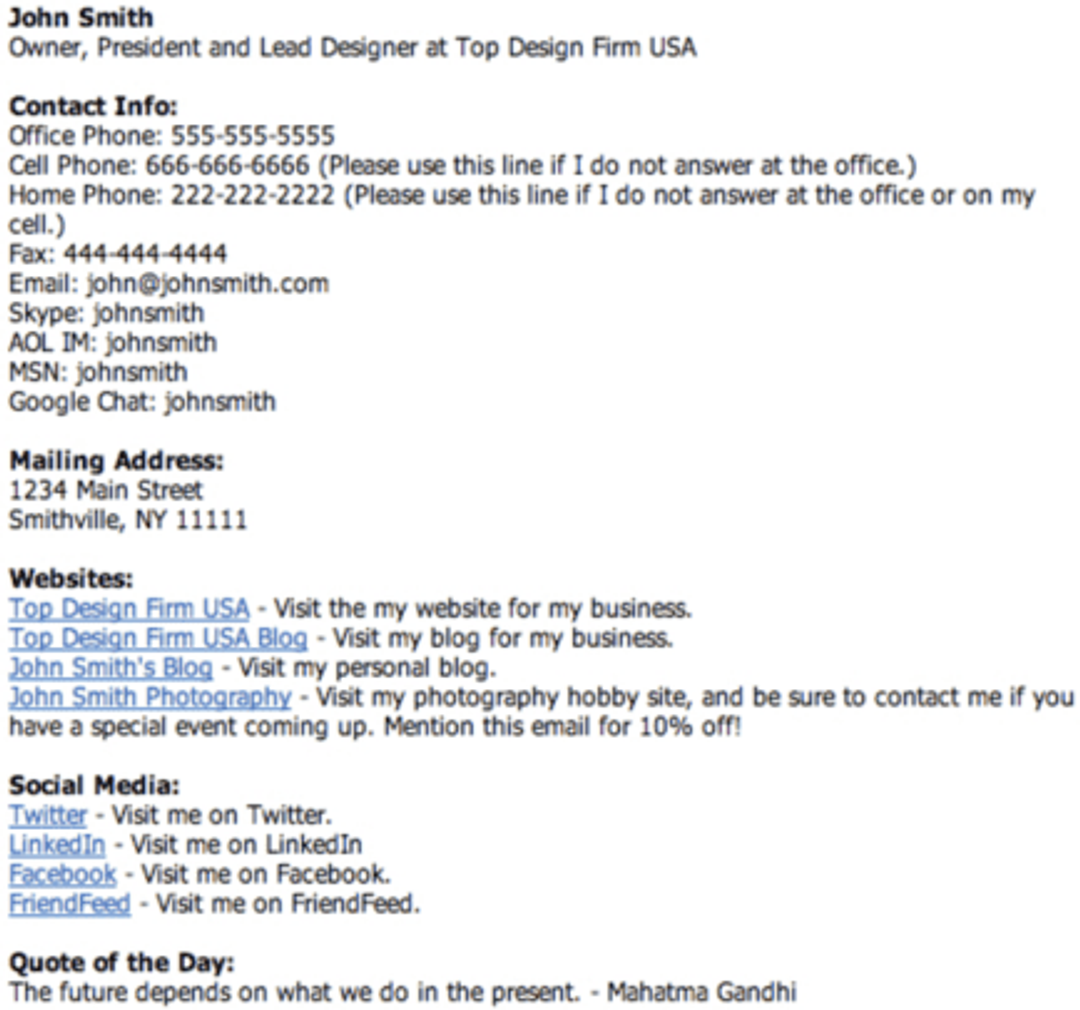 ‍
6. Tick mark all your legal mandatories
Some countries and companies have mandatory footnotes that are part of email signatures, such as privacy and confidentiality clauses, to prevent the misuse of your organization's valuable data and intellectual property.
‍
7. Share your most valuable information
By now, you may be inspired to pour your heart out and make your company signature the hub of every touchpoint that your company has to offer. Stop right there. Include information that is of great value to your communication and the nature of business.
‍
8. Have an eye-catching and engaging design
Creating a professional email signature requires a fair amount of art direction. If you are to arrange your photograph, logo, name, contact details, social media links, etc. in an aesthetic design, it is best to work with a designer and get it right, because you're going to be stuck with it for some time to come.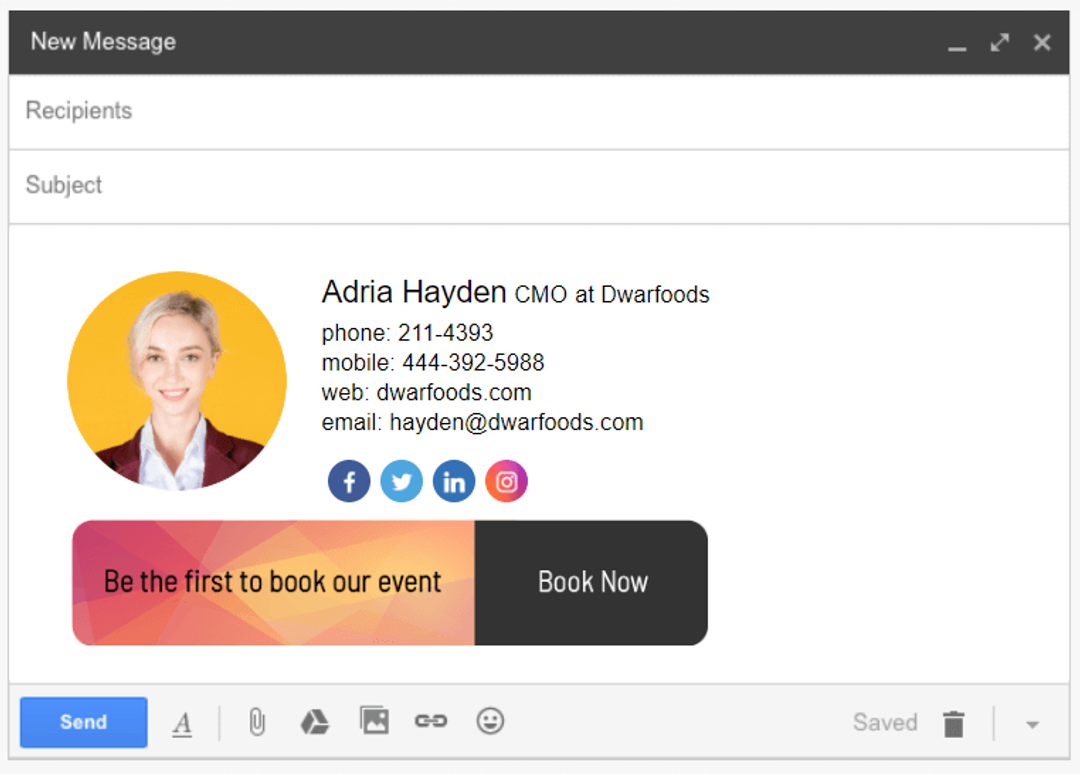 ‍
9. Align it with your brand personality
If you are a financial consultant, you want to keep your company signature in a serious zone. If you are a playschool business, you want to come across as fun yet smart. Stick to your brand personality while designing your professional email signature.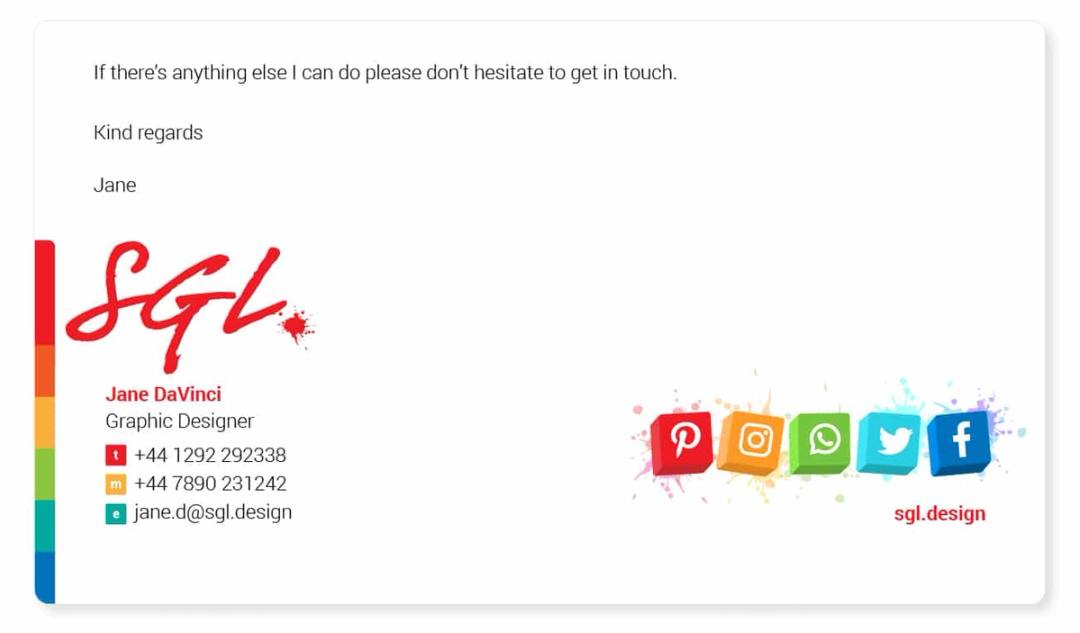 ‍
10. Make it mobile-responsive
Over 65% of emails are opened on mobile devices. This is enough evidence for you to make your email signatures adaptable for both, desktop and mobile platforms.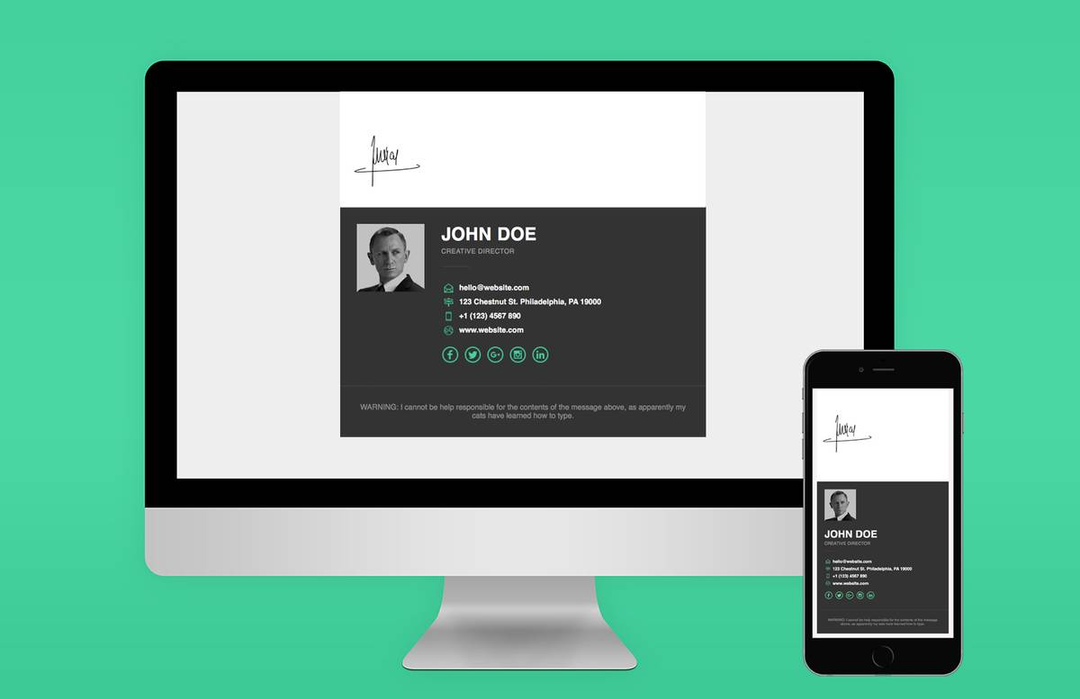 11. Use legible fonts
Do not go crazy with the fonts you use, even if you are a fun brand. There's no point in going so funky that your customer cannot read your phone number to contact you.
Launch your brand in minutes with a free logo
‍
12. Assign a hierarchy to the parts of your signature
What's the first thing you want the receiver to notice? The answer to this is almost always the same — your name. What's the second most important thing? And the third? By using the hierarchy style, you can ensure that your information is absorbed how you intend it to be absorbed.

‍
13. Color versus black and white
This is quite a simple choice to make. The answer lies in what kind of image you wish to project. Depending on the kind of industry you belong to, you would like to go for one or the other. Financial, pharmaceutical, legal, or consultancy services would prefer to go with black and white or two-color tone email signature designs.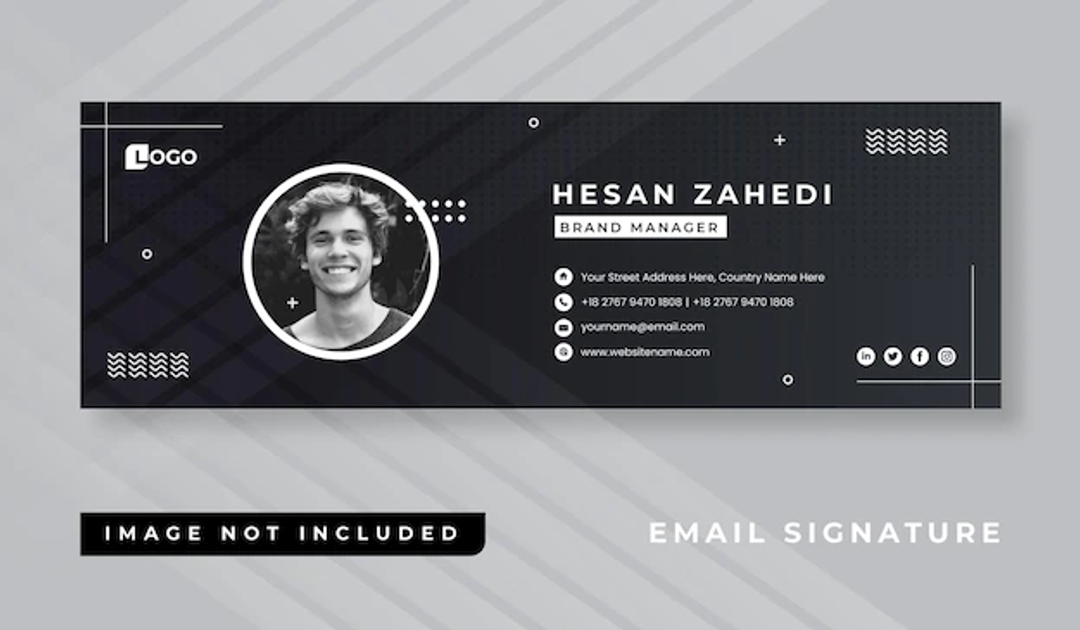 ‍
14. Go DIY
If you want to design your email signature using HTML, then try the simple techniques explained here.
‍
15. Do not over-complicate
It could be overwhelming to be told this after learning about all the possibilities. However, it is better to keep your signature simple. Maintain spaces between sections, and leave negative spaces so that things do not look cramped up.
‍
Good examples of how to make a professional email signature
Here are some of the best company signatures in the way they capture what they need to.
Inspired by a template from Envato Elements, this neatly laid out signature has everything that's essential for a graphic designer. Notice the presence of only one contact number.
Signatures with wordy legal mandates and disclaimers can be presentable too. Notice how the fonts used are lighter, while the designation is the only word in a colored font.
Minimalism is great too. If you do not want to put in too much but have a powerful call to action, it could just get the job done for you.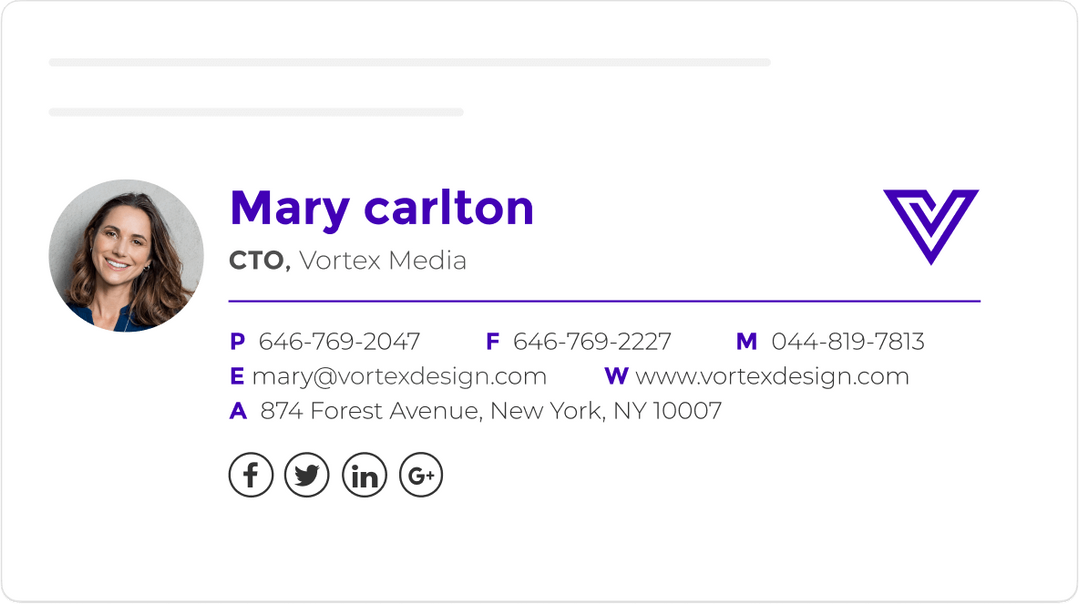 In some cases, a professional email signature could be a glimpse into your portfolio too. Do not overdo it with the imagery though, especially if you are going to correspond over multiple emails with your recipients, as seeing the same image may lead to visual fatigue.
You could also offer value to your recipient in a unique way by including an infographic that pertains to your industry or interest area. It offers your reader a great insight into your psyche.
‍
The anatomy of an email signature format
There are a dizzying number of things you can add to your email signature. But then, you must consider how dizzying it would be for a recipient to receive one that has everything in it.
A good work email signature format should include the following:
Name and surname
Department and title
Business phone number and email address‍
Business name and logo
Company address
Icons for social media that lead to official corporate profiles
Disclaimer
Not everyone needs every possible detail included in a business email signature. Some people go for a more minimalistic design that includes little information yet packs a punch of intrigue. Regardless, there are some tips you absolutely need to consider when you create company email signature that makes an impact.
‍
Include your personal image and logo
Your recipient isn't seeing you in person, and there's a good likelihood that they have never seen you before. Adding an image of yourself to your email signature format can work wonders. It makes you come across as more trustworthy and helps the other party put a face to the name. Learning how to create a business signature logo is equally important.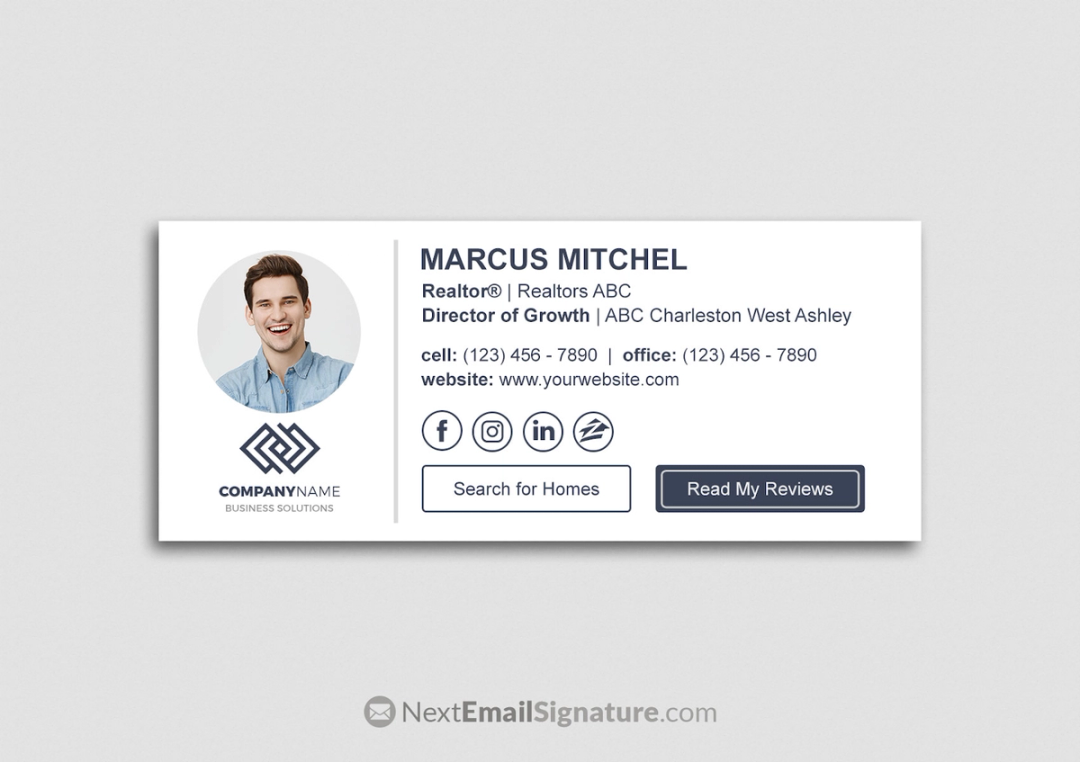 Once you add these visual elements, you need to test them by sending an email to an external recipient to check if they are pixelated or skewed. You do not want your face or company's identity to be misrepresented, do you?
💡Tip: Selfies are an absolute no-no.
Launch your brand in minutes with a free logo
‍
Add your social media channels
Adding links to your social media channels will help your receiver get to know you better and trust you more. If you are an organization, then add links to your company's social media channels in the signature. If you are an individual, then add your personal links.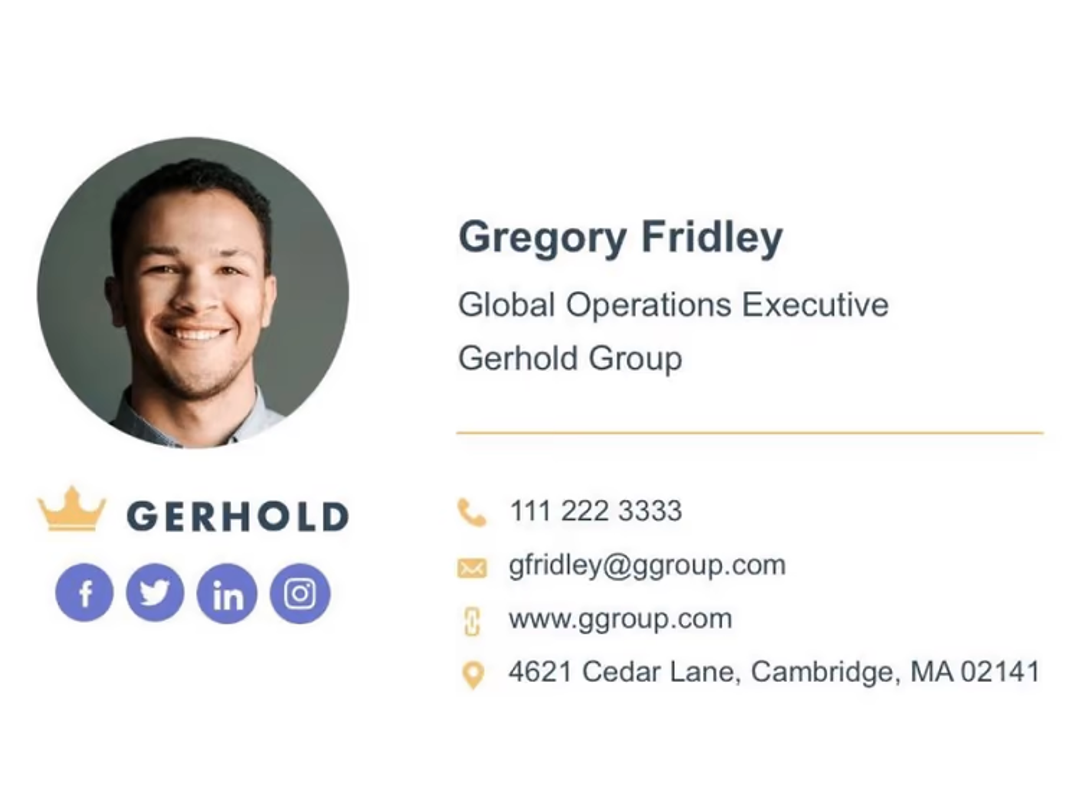 You could simply add the icons of the social channels and hyperlink them to your personal handles. Do keep in mind that the social channels you hyperlink are active and offer relevant content to establish your brand.
‍
Use a Call To Action (CTA)
Your email could have its very own call to action, but is there a larger objective you have for your target audience to take? Your email signature presents you with an excellent opportunity to accommodate an interesting call to action.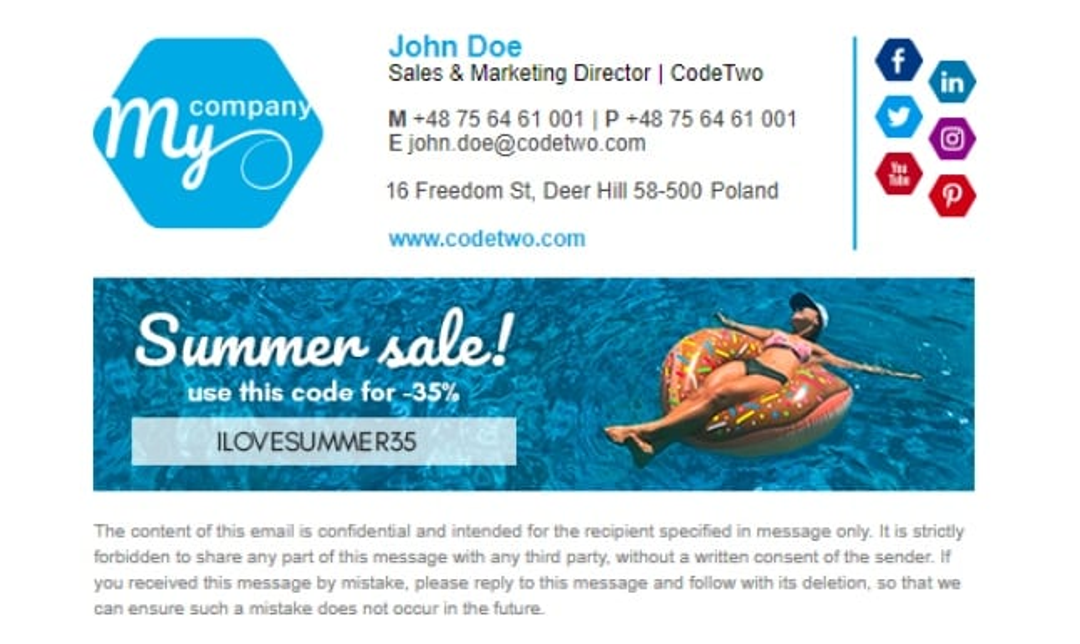 This can give your marketing efforts a significant boost, drawing leads straight from your email campaign. It is, however, recommended not to over-populate your email signature format with links to every marketing campaign that you are running.
‍
Cold emailing + your business email signature = more conversions
When looking for leads in avenues you haven't explored yet, you must expect your receivers to be more discerning. Cold emailing has its cons, but it also brings in a flurry of new customers, if you successfully establish trust. This is where a business email signature can do the job for you.
Firstly, it positions you as an individual or company that is serious and professional enough to have a logo, a contact address, and maybe even social links where you are already engaging with other customers. Learning how to write an email signature format means finding the best ways to connect with people.
Adding your personal image only cements this trust. The option of multiple contact links gives the recipient an option to reach out to you via a touchpoint they are comfortable with.
‍
Why do you need a professional email signature?
Just like how an email substitutes your physical verbal communication with the receiver, so does a professional email signature substitute your business card. It's that they are digital and therefore easier to make use of since you can include links and more vital information within them.
You wouldn't be the only one who's wondering 'what's the hype' about creating professional email signatures when you can get away with a half-decent sign-off, your name, and your business telephone number. A well-constructed signature that makes your recipient take you more seriously. It appears professional and can be a way for the reader to learn more about you and your organization.
‍
Frequently asked questions: 3 popular FAQs about professional email signatures
What are some commonly asked questions about how to create company email signatures? Get your questions answered with these three FAQs.
1. Should my email be in my email signature?
Some people believe that putting your email address in your email signature is unnecessary. However, the best company signatures are a way to share your contact information. They function similarly to business cards. That is why they should provide every method of contacting you. Inserting an email address indicates that email is a common or default method of getting in touch with you.
2. What should a signature look like on an email?
Professional email signatures are similar to digital business cards that are attached to the bottom of emails. They normally include your full name, business information, and contact information. For marketing and other business objectives, email senders can also include more interactive components such as photographs, logos, or even links.
3. What color should my email signature be?
Black and white with a splash of color. White represents purity, perfection, and security. The color black represents power and authority. These two basic colors produce a beautiful combination that is widely acknowledged and required for every email signature. And a little color never hurts! If you have brand colors, by all means, use them in your email signature.
‍
Create an email signature that suits you perfectly
Who said that having more choices makes things easier? When you are out to create your professional email signature, you need to reserve space only for elements that matter to you and your business.
Ready to design your free logo? Get started with our logo maker!
Launch your brand in minutes with a free logo