As a business owner in today's world, ask yourself three questions:
Why should you care so much about domain names?
Can domain names help you with marketing and branding your business?
Is building a solid digital presence necessary for your brand?
The days when you had to flip through dusty old phone books to find a number for a business are long gone. Now, all it takes is a simple Google search to get an answer.
And when a potential customer is on the hunt for a product or service you provide, you'd want every aspect of your business, from your website to even your domain name, to make them want to engage with you.
This article dives into the importance of domain names in brand-building and sales. Believe it or not, a good domain name can be the difference between a customer choosing you over your competitor.

What is a domain name?
Think of your domain name as the digital equivalent of your home address. It's the sign that guides potential customers directly to your business's doorstep.
It's a no-brainer that selecting the right domain name is a critical task. Yet, you'd be surprised how many savvy entrepreneurs still get it wrong or, worse, delay their domain registration. This often leads to them not getting their first choice because it's either already taken or available at a premium cost.
Launch your brand in minutes with a free logo
How to choose the best domain name
A good domain name will check the following boxes:
It's short and simple
It doesn't have any numbers, hyphens, or distorted spellings (skills vs. skillz)
It's keyword-rich
For example, let's assume someone wants to visit your website. Between handcraftedmagnets.com and hand-crafted-magnetz.com, which domain name do you think will be easier to remember (and maybe share via word of mouth)?
Most people don't remember what they ate for dinner last night; they won't remember the hyphens or the odd spellings in your domain name.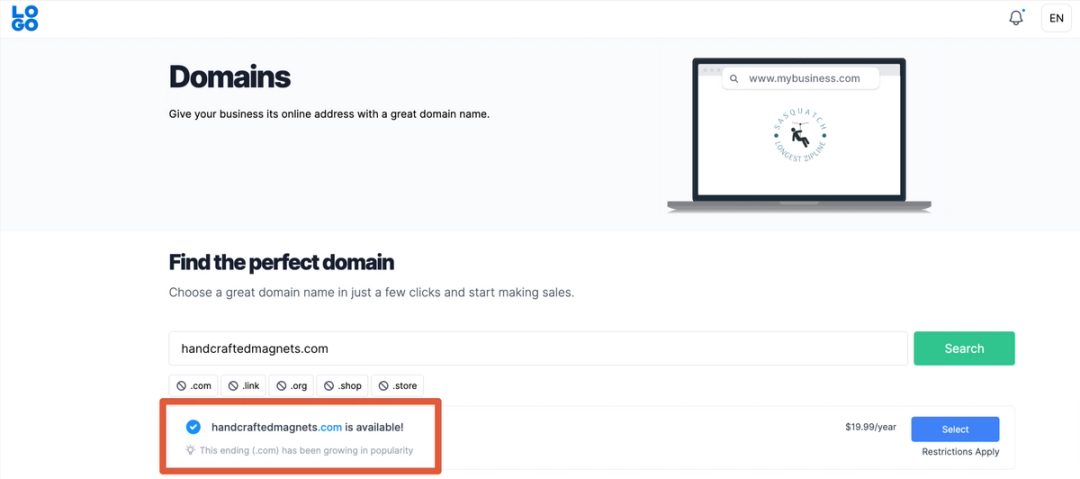 Given the hundreds of thousands of domain names already registered, your first choice domain name may not be available or may have a premium dollar value attached to it. What do you do then?
In such a situation, instead of complicating your domain name, consider another domain extension, such as:
.online (if you're a freelancer or a small online business)
.shop or .store (if you're selling something online)
.tech or .ai or .io (if you're in the tech space)
While these domain extensions aren't as common as .com, they have sweet branding benefits. For example, handcraftedmagnets.shop automatically lets your customers know they can shop for handcrafted magnets on your website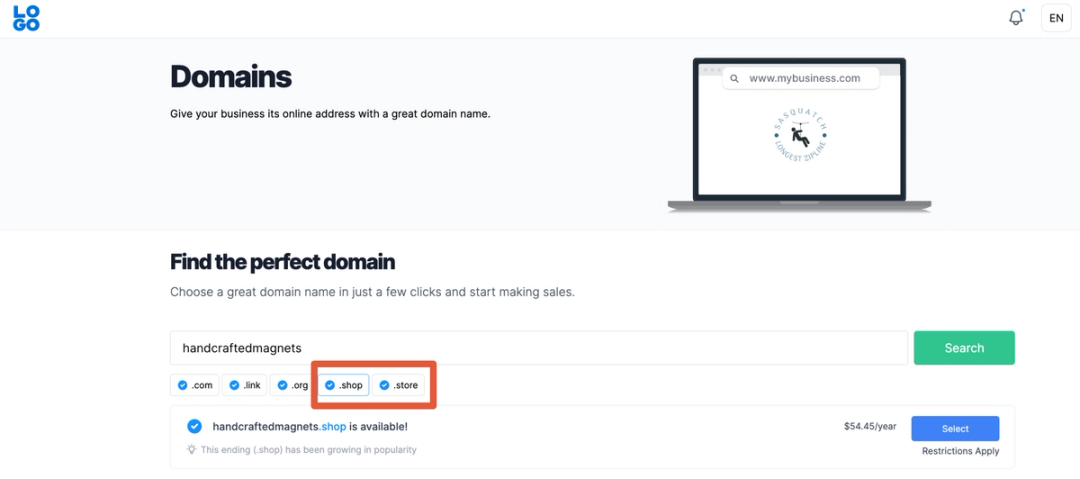 When registering a domain name, choose something that's easy to communicate and remember.
Before you start investing in marketing strategies and campaigns, make sure that your business is standing on a solid foundation of a good domain name coupled with a website, a professional logo, and a business email.
Today, the exercise of searching, evaluating, and buying happens, you guessed it, online. Therefore, building a great digital brand will only fuel your growth for years.
How a domain name can help build your brand's digital presence
To thrive in this fiercely competitive environment, it takes more than just a brilliant idea and zeal. Every aspect of your business should showcase the artistic and unique qualities that define your brand.
Prioritizing these details gives you a competitive advantage and differentiates your marketing communications from the rest.
Here are four ways your domain name can help build your brand.
1. Helps you promote your products effectively
Domain names help you add more character to your products or services. For example, Coca-Cola, a brand that boasts many different and popular products, has a dedicated website for each of them, such as dietcoke.com or minutemaid.com.
Creating multiple websites isn't feasible for most small businesses. But you can register your domain name and redirect it to the product page on your Amazon or Etsy store.
These product-specific domain names help customers cut through the fluff and get to the product page they're truly interested in. This strategy enables you to build your brand and give every product a unique online identity. And while this may seem like an unnecessary activity initially, these investments reap sweet fruits as your business grows bigger.
2. Helps you rank well on Google search
First, an important caveat – having a good domain name alone will not help you rank well on Google search results. But couple that with good content, backlinks, and a solid website, and this will act as the perfect icing on the cake.
Good-quality and relevant backlinks are critical elements of a strong Search Engine Optimization (SEO) strategy. Not only does it make Google trust your content, but it also directs users to your website. Businesses use various techniques to earn these backlinks, including guest posting, being a guest on podcasts, publishing ebooks, whitepapers, user research, and more.
However, they often tend to miss out on a small yet powerful detail: anchor text, the specific words/phrases on which the hyperlink rests.
What is an anchor text, and why does it matter?
Using anchor texts correctly is a simple yet impactful way to make your backlinks look relevant and authentic to the search engine. And one of the best ways to do it is to match the anchor text to the words in the domain name. Anchor texts are also often the keywords your customers might use to search for your product online.
For example, between simplicity.com and simplicity.coop, it's simplicity.online that's ranking in the first position for the keyword "simplicity online." The perfect pairing of a good domain name and anchor text leads to more visibility and, eventually, more sales.
What does this mean for you? Having a strong, keyword-rich domain name can help you build your business across different verticals.
Considering the example from before, when the anchor text "shop handcrafted magnets" gets a backlink to handcraftedmagnets.com, it validates the link's relevance to the content and helps rank your business website at the top for your business keyword.
3. Helps you look credible, which can lead to more sales
Domain names are important to users, and users are important to Google. A short, simple, and clean domain name is easier to remember and recall. It's all about understanding your user's navigation habits and getting the most out of it.
For example, both hand-crafted-magnetz.com and handcraftedmagnets.com can be the same website that sells magnets, but which one would you mark as spam, and which one would you consider exploring?
Your domain name could be the reason why a user chooses to visit or not visit your website. A good domain name provides information, relevance, and credibility by explaining what the website offers before someone even clicks on it.
4. Helps you stand out in voice search
Technology is constantly evolving to make people's day-to-day lives easy. Every phone, computer, and (most) homes are equipped with Siri or Alexa. The presence of voice-first devices, such as Amazon Echo and Google Home, are no more a novelty.
This makes it all the more important to have a good domain name, one that is simple, clear, and incorporates the right keywords. Your domain name could enhance the chances of your website being picked up by a voice search assistant.
There's a key distinction between text-based and voice-based searches. When looking for something online, users typically type the main keywords, leaving the rest to the search engine. However, when using voice search, they phrase the question almost as if they were talking to another person.
For example, imagine using voice search to find places to buy handcrafted magnets. A typical search would go:
"Siri (or Alexa), find places to buy handcrafted magnets online."
In this scenario, a domain name like handcraftedmagnets.com has a better chance to stand out because it checks all the search boxes. That's the benefit of having good domain names.
Seize the domain name
Think of your domain name as the cornerstone of your digital footprint.
In today's fast-paced market, prime real estate in the digital world — good domain names — is snatched up faster than hot cookies in an office party. So, once you've decided on your business name, immediately register the domain name! Even if your website is still on the drawing board, securing your domain name is a crucial first step.
A concise and relevant domain name isn't just a vanity plate; it could be the difference between getting lost in the crowd and standing out.
Launch your brand in minutes with a free logo