A catchy domain name can help rack up the viewers for your website. However, that doesn't mean you must break the bank just to start a website. Quality domain names are more affordable than ever due to new domain extensions like .xyz, .space, and more.
The Internet has more real estate than ever, and this article lists the best domain registrars that can help you get a piece of the proverbial pie.
How do you know a certain domain registrar is credible?
ICANN, the organization responsible for coordinating information about internet addresses, accredits trustworthy registrars.
The first thing you can do is check for this accreditation. But performing due diligence takes time, so we've done it for you. The best domain registrars (the ones listed in the article) are all credible and offer affordable domain names.
Why is it important to know how to buy a domain name?
Knowing how to buy a domain name can get you an asset that can boost your site's visits. At the same time, it can be a quality investment even if you don't have a website.
Many of the best domain registrars offer a platform for people to resell their domains at premium rates. Adding an effective domain name to your portfolio can yield high returns.
Therefore, learning how domain registrars work can be an enriching experience whether you're an entrepreneur, trader, artist, or an everyday internet wanderer.
The 10 best domain registrars to rely on for your website needs
The best in the business provide sizable discounts and additional services for website creation and more. Visiting each registrar and learning about them can take considerable time and energy.
Why do that when this article has got you covered? We've listed the best domain registrars with pros, cons, and notable features to help you choose one.

In order to distinguish yourself from the competition, you need a domain name that is both memorable and straightforward. Trust LOGO.com, your home for brand-building needs, to provide you with a state-of-the-art domain name that takes you to new heights. All you have to do is input your preferred domain name and buy it for an affordable price with privacy protection that is 100% satisfaction guaranteed.
Best features:
Affordable domain names compared to anywhere else on the market
Complete transparency with pricing with preferred name and alternatives
SSL certificate is included with your purchase
24/7 customer support for any inquiries and guidance on domain name use
Works in tandem with a business name generator for memorable names
Pros:
You have the option to use your domain name right away with a website builder in the same platform.
When you choose a domain name, it'll be delivered to you with the highest quality of customer service.
Your domain name comes with a free logo design that you can endlessly customize with unlimited revisions.
Cons:
Taxes will be included at checkout, which is mandatory to adhere to the law of asset acquisition.
There is no phone support.
Launch your brand in minutes with a free logo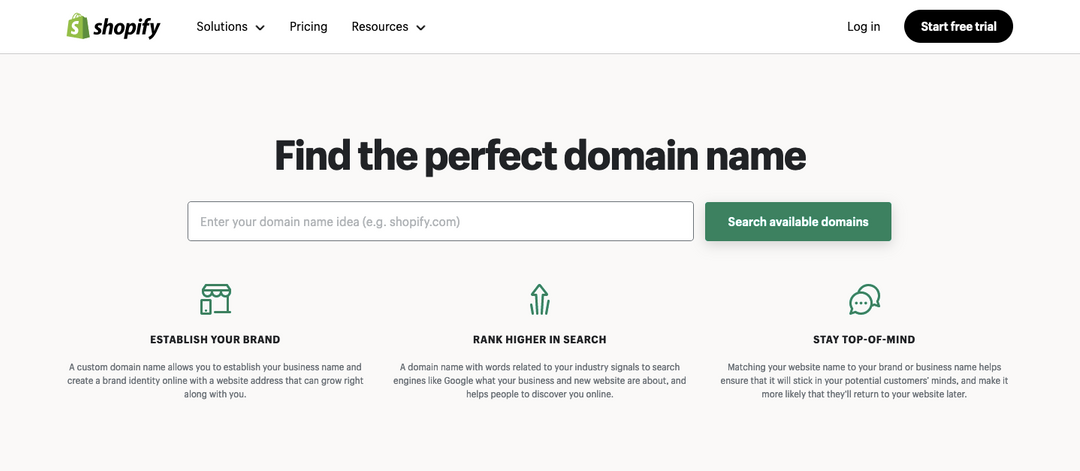 Shopify's extensive range of domain extensions makes it one of the best domain registrars in the market. Business owners already using its e-commerce platform can save time by connecting their online store with the Shopify-registered domain. However, that ease of use may not justify high domain prices, which can be seven times that of other competitors in some cases.
Best features:
Has extensions like .actor and .design for online portfolios
Non-complicated website and backend portal, which are easy to navigate
In-depth analytics that can help increase website visitors
Pros:
It has an AI domain name generator that can help spark ideas.
It lets you connect your domain with a Shopify store in a few easy steps.
Its analytics tool can tell you which pages from your website were most visited by your customers.
Cons:
You must have a Shopify account and store to register a domain on its platform.
Its domain prices are some of the highest on this list.
It only displays ten domain extensions at once, making the search process tedious.

Namecheap is a well-known domain registrar with over two million customers and counting. Its affordable domain prices and add-on services like business email, SEO apps, and more contribute to its popularity. However, Namecheap's cluttered website with technical language can come off as overwhelming to newcomers.
Best features:
Provides add-on services like business email, WordPress hosting, security certificates, and more
Hundreds of unique domain extensions for registration
Intuitive, user-friendly website builder with a short learning curve
Pros:
Its how-to videos can help those who haven't purchased a domain before.
Those who subscribe to its web hosting plans get a free domain for a year.
It has regular sales and discounts on domain extensions.
Cons:
It has high renewal costs after the first year.
It upsells things like SSL certificates, which many competitors provide for free.
Its website is jargon-heavy and can seem overwhelming to people who haven't registered a domain before.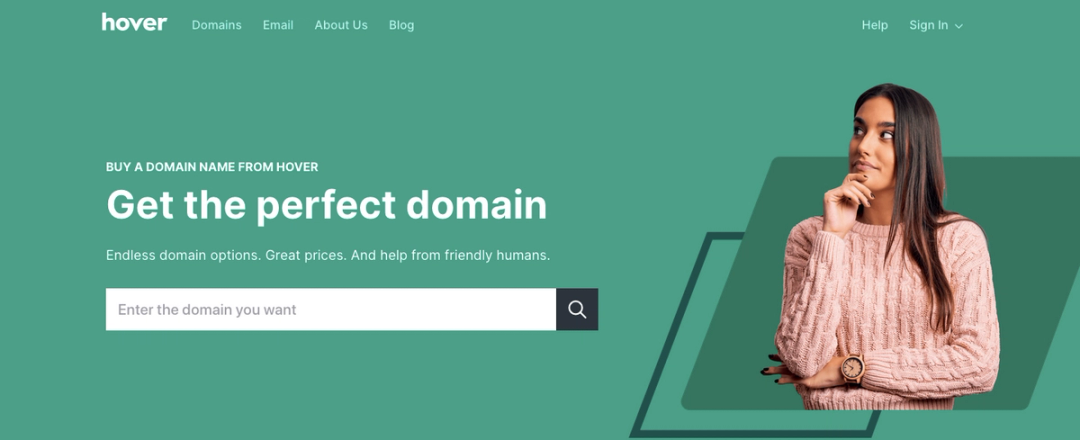 Hover's discounts may not be as attractive as those of many competitors, but it makes up for it by providing domain privacy for free. However, it has limited features beyond domains. Those looking for web hosting and website design in one place should look at other options in the market.
Best features:
Free domain name privacy with every domain registration
Over four hundred domain extensions
Price cuts on bulk domain purchases
Pros:
It makes it easy to connect domains with most third-party web hosting services.
It has industry-based search filters to make searching for domain names easier.
Its business email service comes with a built-in antivirus software.
Cons:
It does not provide web hosting or a website builder.
It offers little to no discounts on long-term domain name purchases.
It has less competitive discounts on new domain extensions.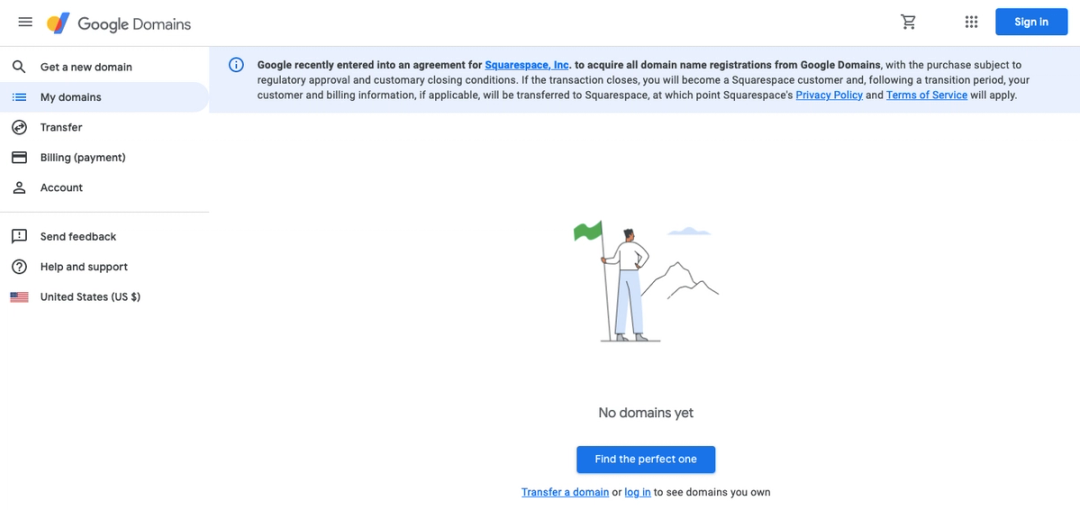 Google Domains's no-nonsense website makes it easy to search for and purchase domain names. However, its prices are higher than the competition's – making it a hard sell to those looking for the most affordable rates. Additionally, its potential sale to Squarespace creates uncertainty over renewal prices, add-on features, domain migration, and more.
Best features:
24/7 customer service for questions about domain registration and transfers
Simple interface with a compact menu and no ads
Free privacy protection on domain purchases
Pros:
It easily lets you connect your existing Google Workspace account with a registered domain.
It provides advantages and disadvantages of each domain name.
It generates suggestions that are similar to your domain name.
Cons:
Its domain prices are higher than many of the other registrars in this list.
It offers no additional features or discounts for long-term domain purchases.
You can only get an SSL security certificate if you sign up for one of its website-related services.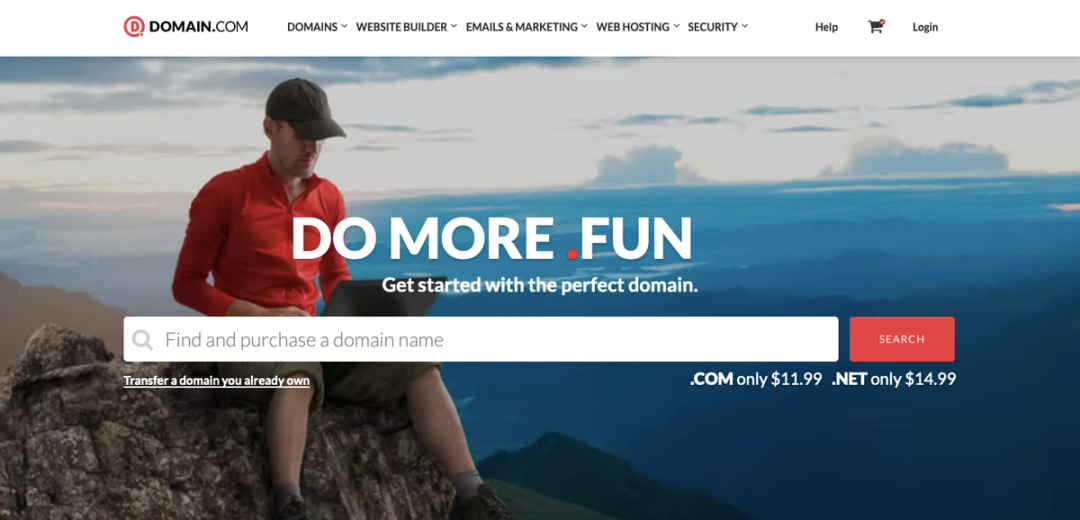 Domain.com offers attractive discounts on domains, a business email, and a website builder that can make website-building affordable. It does that by charging for essential features many competitors provide for free. While this can exponentially increase your costs, it can be an option to consider for those who want all of their website services in one place.
Best features:
Partnership with Web.com to provide a website builder
Has a brokerage service for domains that aren't available in the market
Provides domain expiration protection that prevents the loss of a domain name due to errors such as payment failures
Pros:
It offers regular discounts on domain names
Customers can opt for a free website design consultation.
It provides a 50% discount on Google's business email service.
Cons:
It has a limited collection of new domain extensions.
The upsells in its checkout process can dramatically increase your cart value.
Its domain expiration protection is only available for limited extensions and endings.
Launch your brand in minutes with a free logo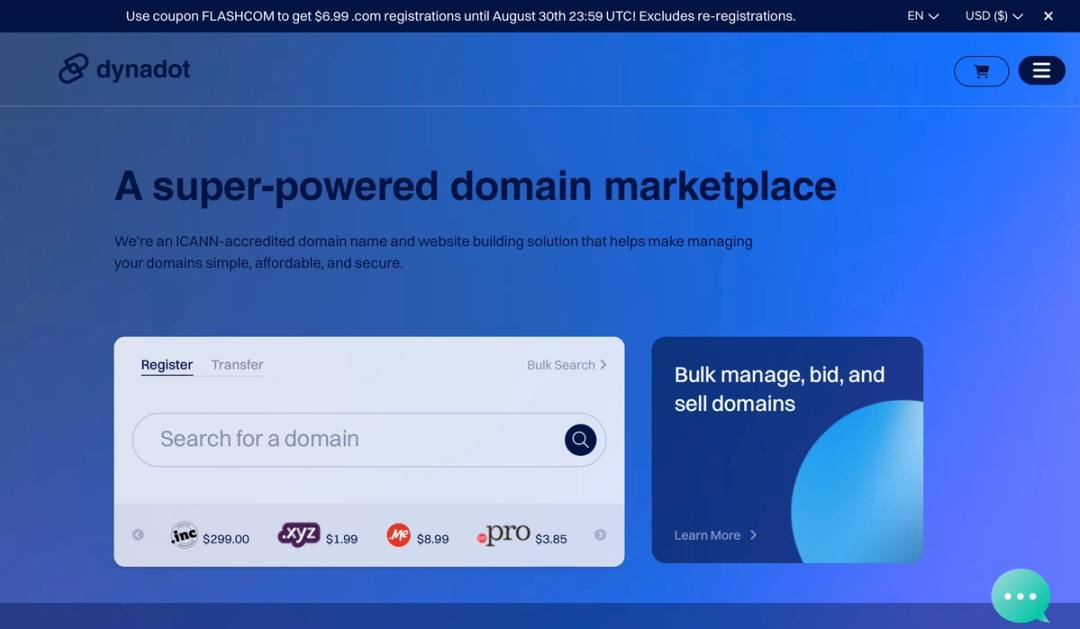 With features like bulk purchasing and back ordering, Dynadot is one of the best domain registrars for traders and investors. It also offers free add-ons like a free website builder, which can make it attractive to those on a budget. However, its high renewal rates on domains make long-term purchases less feasible.
Best features:
Control panel and mobile apps with easy-to-navigate interfaces
AI search engine that generates domain names with keywords
Down payment plan on domain names that cost over $100
Pros:
It has a mobile app for investors to manage their domain portfolio.
With its grace deletion feature, you can return domain names that don't work for your business.
It gives you the option to backorder domains that are expiring soon.
Cons:
Its domain renewal rates are high and can reach up to hundreds of dollars.
You are required to purchase a domain before you can try its website builder.
Unlike many competitors, it does not provide SSL certificates for free, which are needed to make your website more secure.

GoDaddy is well-known globally for its affordable domain prices and quirky advertisements. It provides various services that can make it a one-stop for those who want a fully functioning website in days. However, its upsells essential (and otherwise free) add-ons can make it more expensive than many competitors mentioned in the article.
Best features:
Short and long-term discounts on domain names
Intuitive website builder, which is easy to use for beginners
Free professional email and domain for one year with web hosting
Pros:
It has many options for web hosting, from WordPress to an in-built platform.
Its domain-based email service is affordable and provides plenty of storage.
You can auction and bid for premium domain names on its website.
Cons:
It charges for Whois privacy – a must-have if you don't want your information on the internet after purchasing a domain name.
You have to pay to use two-factor verification for transferring or deleting domains.
Its domain renewal prices are high.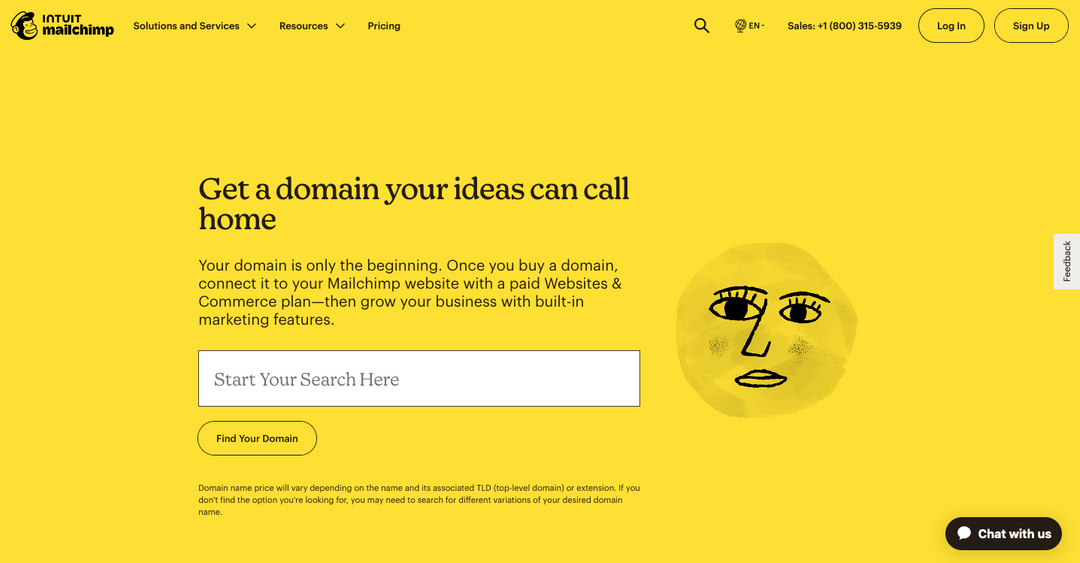 Mailchimp is a well-known marketing platform that also offers domain registration and website-building services. Its domains aren't discounted, which may detract many people. However, its marketing and analytics services can be useful to those who regularly check their website's performance.
Best features:
Free and paid website builder apps
AI-powered content creator for your website
Analytics tool to check website visits and performance of pages.
Pros:
It offers insights on why a chosen domain name is marketable.
Beginners will find its website builder easy to use.
Its domain search engine produces results quickly.
Cons:
It does not provide discounts on domain names.
You must pay a transaction fee on all your sales when using its website builder.
You need to sign up to review your cart.
It has fewer domain extensions than most of the registrars on this list.

HostGator and its mascot Snappy are known around the internet for providing affordable web hosting plans. Its domain prices aren't far behind – they're competitively discounted, if not the most inexpensive compared to competitors. However, those looking for catchy new domain extensions will be disappointed by HostGator's limited library.
Best features:
24/7/365 customer care across multiple channels.
Provides affordable web hosting and design plans for websites of all shapes and sizes
Allows you to transfer domain names to and from other registrars in a few clicks
Pros:
It provides attractive discounts on most domain extensions.
Its search engine suggests domain names similar to the ones you search for.
It has flexible web hosting plans for small and large businesses alike.
Cons:
Its website has an outdated look and cluttered menus
It has only a few domain extensions.
You can only register a domain name for up to three years, which can increase costs in the long run.
Is it possible to get a free domain name in 2023?
It is possible to get a free domain name for an entire year. Many of the best domain registrars have introductory plans for web hosting or website creation with free names, business emails, and more.
You can use such a free domain name as your primary address or use it to redirect your visitors to your main website. Either way, it's a win-win!
Is it important to check domain name availability?
You must check for domain name availability before you make a purchase. You must do this before starting the website designing process to avoid delays and reworks.
Checking for domain name availability isn't difficult and can be done in a few minutes. The best domain registrars have easy-to-navigate search engines. Many even suggest alternative names if the one you like is with someone else.
How do I choose the best domain registrars online?
Choosing from the best domain registrars can be a challenging task. All of them have their perks and strengths that would be suited for many business needs, but at the end of the day, your choice depends on your priorities and current resources.
When in doubt, ask yourself these questions:
What is my budget for a domain name?
Do I need a premium domain name? If so, do I need a person to negotiate the final price?
Why do I need a domain name? Am I building a website or reselling it online?
Do I need additional services like web hosting, SEO, a website builder, or something else?
Do I need available customer care, or can I do this by myself?
Answering these questions should lead you to the perfect domain registrar.
Launch your brand in minutes with a free logo