Thinking of an apt name for your business is more difficult than it looks.
How do you fit your brand tonality, a sense of your industry, an indication of your customer base, and something personal into one name?
It's possible, and you don't have to do it yourself, especially with a quality free business name generator by your side.
How to come up with catchy business names
A creative business name generator can generate catchy options in seconds.
To get the best possible names, provide as much information as possible about your business in the keywords section. The app's AI will use those details to create a list of catchy and marketable names you can mull over.
How would a free business name generator help my brand?
A free business name generator is both cost-effective and helps save time.
You can invest the extra capital in branding, research, acquiring customers, and other activities that can help your business. The generator will also be a boon for your branding team, which can use the free attractive name creatively to generate buzz.
9 free business name generators that provide high-quality ideas
Memorability is the name of the game, and coming up with the perfect business name can help you get there.
We've listed the best ones, so you don't have to test every tool online. Consider their strengths, weaknesses, and distinctive features to make an informed decision.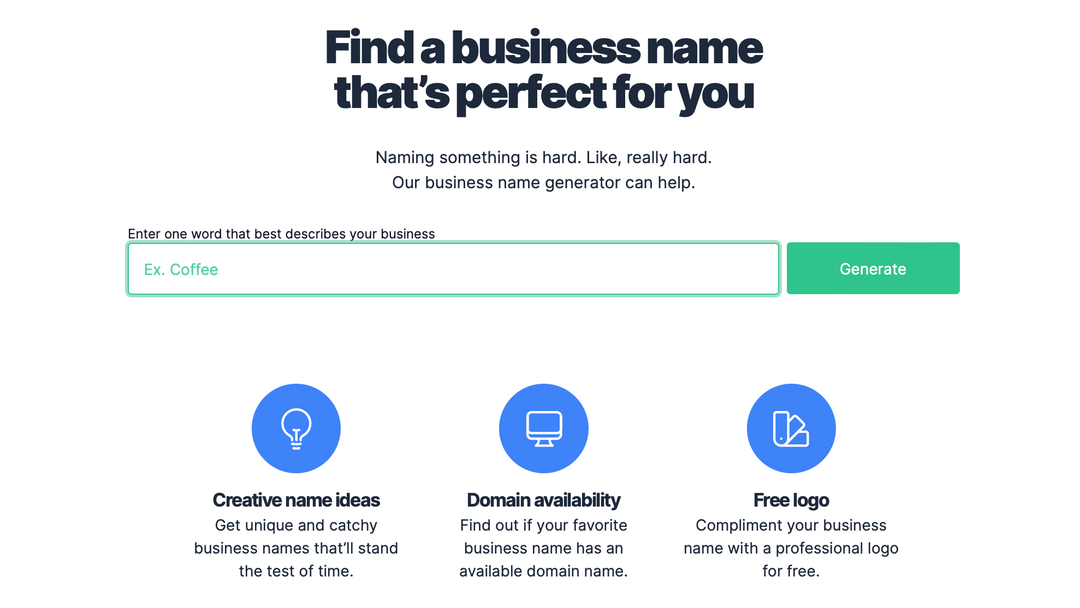 The LOGO.com Business Name Generator is a state-of-the-art, AI-driven tool that provides you with the most fitting business name ideas from a single keyword. LOGO.com's business name generator utilizes cutting-edge algorithms and vast databases to generate unique and memorable business names that capture the essence of your brand.
Best features:
Once you decide on a business name, you get a free logo and a cost-efficient domain name along with it
The business name generator uses machine learning to elevate name suggestions
The business name ideas work smarter using contextual cues, providing unique entries based on a single keyword
The interface has animation smoothness, meaning you will never experience any lags or technical difficulties
Pros:
Easy and efficient way to come up with a unique name for your small business.
A fluid, user-friendly experience as you navigate through the site and explore name suggestions.
The machine-learning generator uses an enhanced understanding of the relationship between words and their meanings.
It tracks your preferences along with market trends to generate the best options.
Cons:
You have to create an account to get your free logo design and affordable domain name.
Pricing: The Business Name Generator is 100% free.
Namelix's free business name generator uses AI to create names quickly. It has a variety of filters that can control the length, language, and tone of the generated names. Many of those filters – like the Randomness filter – are ambitious but lack the polish to produce meaningful results.
Best features:
'Randomness' filter for unique name ideas
Shows results with customizable logos from Brandmark
Scans names for domain availability
Pros:
Its algorithm learns your saved names for better recommendations in the future.
It has a filter for non-English words that speakers of other languages can use.
It integrates with Brandmark, which you can use to create logo designs.
Cons:
Its Randomness filter occasionally generates absurd names.
The integrated logo designer is expensive.
Navigating its generated names can be cumbersome due to its outdated UI.
Pricing:

TRUiC offers a variety of tools that can help small business owners set up shop faster. Its free business name looks for names on different domain extensions, which can be useful for digital brands. However, it produces long generic names that fail the memorability test from time to time.
Best features:
Filters names by domain extensions for those looking to make business websites
Option to heart and save preferred names
Included logo maker and business plan generator
Pros:
The generator loads quickly.
It displays alternative names if those from your keywords are not available.
It offers a 75% discount on all of its generated domain names.
Cons:
A lot of its generated names are generic.
It has no filters to control the name's length or tone.
The app produces limited names per search result.
It automatically opens a new tab that leads to a registrar's website for every search.
Pricing: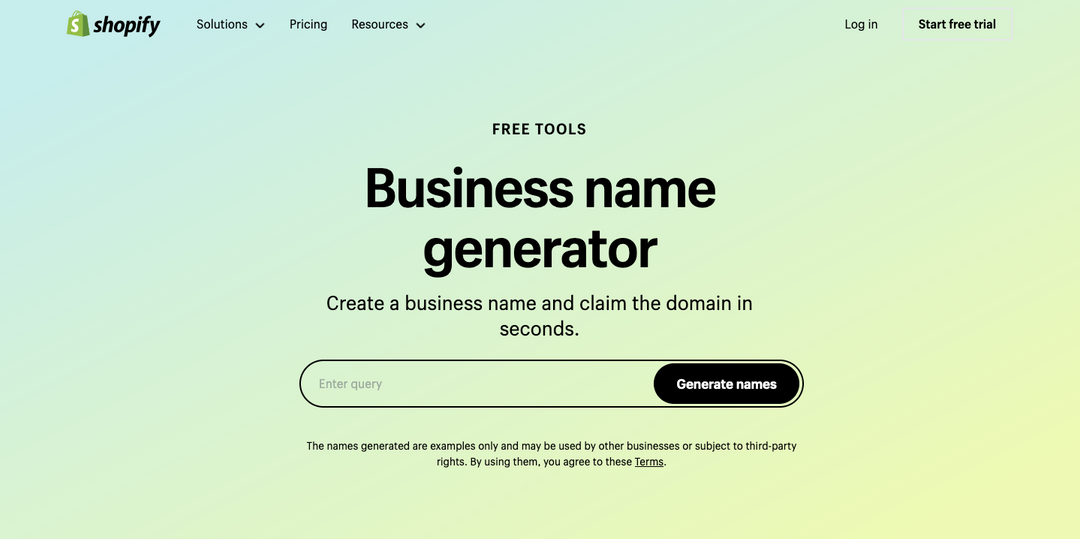 Shopify's free business name generator is fast but has too few features to generate catchy names for your brand. You can use it for ideation purposes and rely on another generator for a final name.
Best features:
Generates names in seconds
Clean, easy-to-comprehend user Interface
Generates a sizeable list of names
Pros:
You can directly buy the domain from Shopify.
You can consult Shopify's customer care to clarify issues before purchasing a domain name.
Shopify customers can start a store with their favorite names with a few clicks.
Cons:
Many of its generated options are suggestions already in use by other businesses.
Shopify requires you to sign up before learning about a name's availability.
The generator has no filters in place, resulting in generic suggestions.
Pricing:

You only need to enter a few keywords to use Renderforest's AI business name generator. The app integrates with an in-house website builder and logo tool for those who need them. However, those who like a name must manually check its domain availability on another website, which can be time-consuming.
Best features:
Customizable logo with each name
Option to shortlist and save names in one click
Included website builder and graphics design app
Pros:
It lets you create a website with your preferred name in one click.
It has a blog on branding, which can be useful for new business owners.
It allows you to preview how a name will look in different fonts.
Cons:
It takes more time than most competitors to generate names.
You have to use a third-party website to check if a name is available as a domain.
Its included logos resemble clip art and look dated by today's design standards.
You need to sign up to download the included logo.
Pricing:
Free plan
Lite plan – $9.99 per month if billed annually.
Pro plan – $19.99 per month if billed annually.
Business plan – $29.99 per month if billed annually.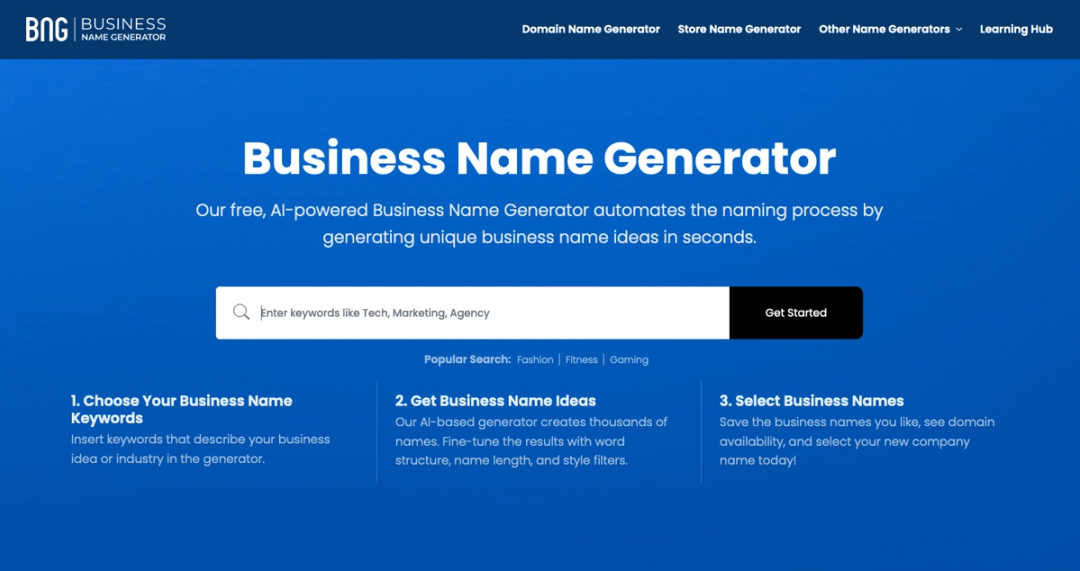 Business Name Generator's app is as straightforward as its name – it needs a few keywords to generate names. Its AI needs work and is prone to generating names that aren't related to your industry. It cushions this issue with filters that can make every search more accurate.
Best features:
Eight 'AI styles' that generate different types of names for similar searches
Included tool that can trademark a selected name
Offers multiple logo options for each name
Pros:
It can generate names in sixteen languages.
You can choose from over fifty industries to generate accurate names.
It offers an 84% discount on its generated domain names.
Cons:
It generates fewer names per search than others on this list.
The website's UI is difficult to navigate and has multiple ads per page.
Its 'God Mode' AI occasionally generates names that aren't contextual to your search.
Pricing:

Turbologo's free business name generator has filters for industries ranging from Medical to Knitting. This may seem useful on paper, but the results don't differ much from industry to industry. The app, however, generates many names and can be one to consider if you can spend time selecting a few options from all its suggestions.
Best features:
Close to ninety business industries to choose from
Filter to control the length of the generated names
Suggests alternatives to shortlisted names
Pros:
It categorizes its results smartly into three groups: Invented, Multi-Word, and Compound names.
The app loads and generates names quickly.
You can see a name's online reputation with the integrated Google search button.
Cons:
Many generated names are mishmashes of words that sound odd together.
Changing the industry does little to affect the results.
The website is glitchy and may require multiple clicks and refreshes to work properly.
Pricing:
Names4Brands specializes in generating names in various languages. However, the generator is a classic case of quantity over quality, as many of its names are illogical and unusable. It can produce a few gems, but unearthing those can be time-consuming.
Best features:
Generates names in nineteen languages
Free consultation service on choosing the right name
Filter for generating names with only positive-sounding words
Pros:
It allows you to check for a name's trademark availability with a few clicks.
It can generate names that start with certain letters.
It can produce a list of random names if you don't have keywords in mind.
Cons:
The website has an aged interface and multiple ads.
The app's AI lacks a vetting option and can generate odd names.
It only has a list of ten industries to choose from.
Pricing: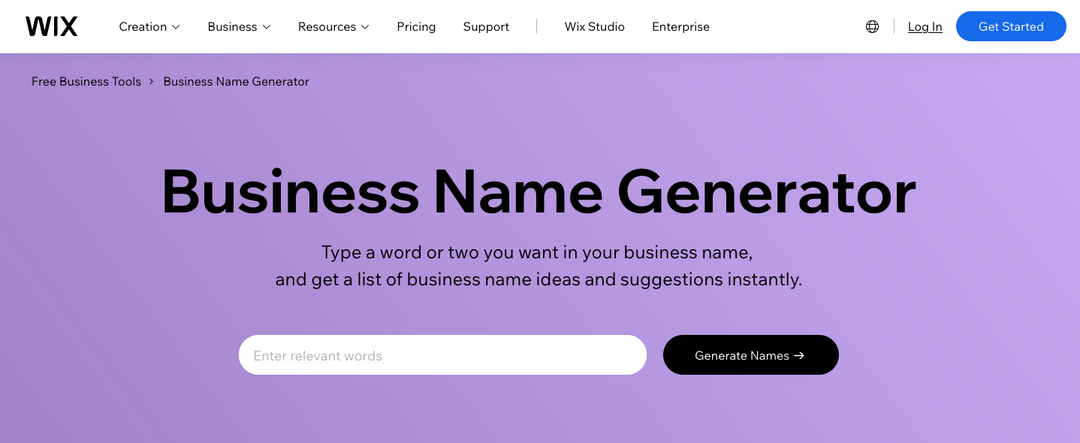 Wix's free business name generator integrates with its website builder, which can be helpful for online businesses. You can also check a name's domain availability directly on Wix. However, the app often produces long and non-catchy names that are unimaginative rather than creative.
Best features:
Generates an editable website template for each name
Clean, easy-to-navigate website
24/7 support for questions about names and creating a website
Pros:
Premium members get a free domain name.
It can generate names for hundreds of industries.
The generator smartly pairs words to create meaningful names.
Cons:
The website requires you to sign up to check your name's availability as a domain.
The app's AI often generates long names that are difficult to remember.
Those who want to create a website with their selected name will need a powerful computer.
Pricing:
What is the importance of having a good business name?
Thanks to global competition, it can be difficult for everyday customers to differentiate between two brands.
A good and memorable business name can be the difference that gets you a product inquiry. Pairing that name with consistent branding materials can increase those inquiries exponentially.
How do you know a business name idea is good enough to choose?
You can evaluate the effectiveness of a business name idea by answering these questions:
Does this name match my brand voice?
Does it talk about my customers, products, or both?
Is it memorable and easy to pronounce?
How do I feel when I say it out loud?
Stick to your gut and choose one if multiple names meet this criteria. If trusting your instincts isn't enough, you can rely on your friends, family, and colleagues to give you sound advice.
How do I choose the best free business name generator online?
The simple answer is that there isn't a best free business name generator. Each app has its set of strengths that may work for some but not for others.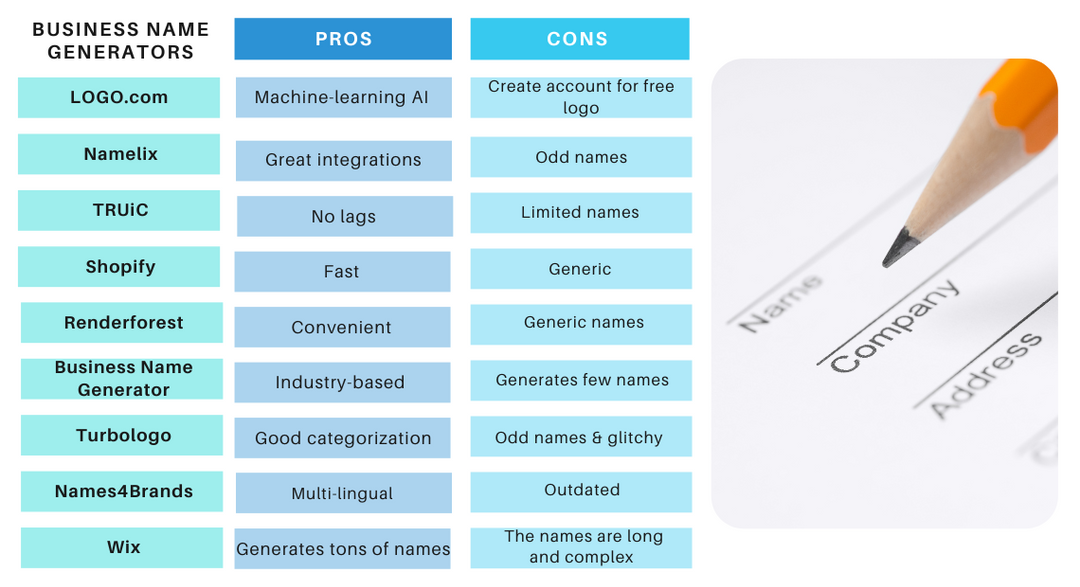 You can ask yourself these questions to make choosing one easier:
Which of these name generators has my business category/ industry as a filter?
Do I need to create a website with a generated app?
Do I need a name in English or some other language?
Do I need a .com domain or a website with another extension? Alternatively, do I need a domain and website at this moment?
These questions can make the selection process easier. When in doubt, try multiple apps to compare and contrast. Sometimes, the difference can be as simple as which app generated results quicker.