Your business's name is one of the first things that will make an impression on your stakeholders. Just ask Elon Musk, who went through scrutiny on social media for changing Twitter's name.
There is no surefire way of picking the right name for your business – there will always be critics and fans. However, some capable tools on the internet can make this decision easier.
What makes a unique business name idea?
A unique business name must accurately represent your brand while standing out. It has to be phonetically sound (or catchy) and easy to remember.
Finally, the name must be original according to your country's trademark laws to prevent confusion with another business. A creative name business generator can let you check off all these points!
Should you consider a free business name generator for your brand?
A free creative business name generator can be as effective as its paid counterpart if it creates names that suit your needs.
The list below has quality free apps that require minimal input to produce interesting names. If you're still unsure, you can always compare the results of various name generators before making a decision.
The 10 best creative business name generators for innovative names in 2023
Time is a valuable asset for every entrepreneur, and investing it in the right tools, such as a creative business name generator, is crucial for a business's success.
Below are the ten best name generators you can find on the internet. All have strengths and weaknesses you can read about before selecting the one you like.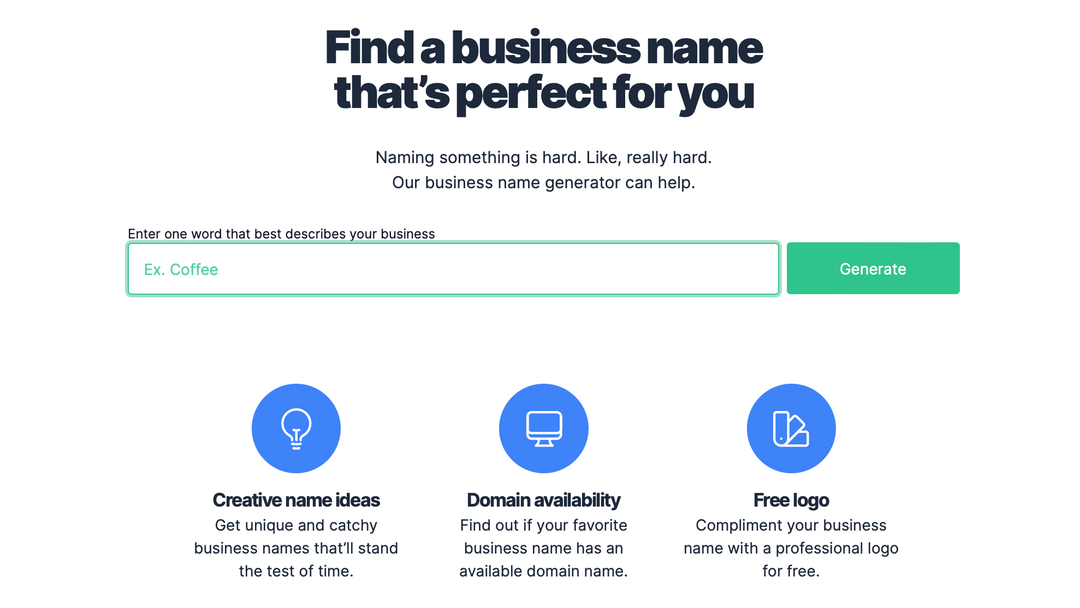 The LOGO.com Business Name Generator is a state-of-the-art, AI-driven tool that provides you with the most fitting business name ideas from a single keyword. LOGO.com's business name generator utilizes cutting-edge algorithms and vast databases to generate unique and memorable business names that capture the essence of your brand.
Best features:
Once you decide on a business name, you get a free logo and a cost-efficient domain name along with it
The business name generator uses machine learning to elevate name suggestions
The business name ideas work smarter using contextual cues, providing unique entries based on a single keyword
The interface has animation smoothness, meaning you will never experience any lags or technical difficulties
Pros:
Easy and efficient way to come up with a unique name for your small business.
A fluid, user-friendly experience as you navigate through the site and explore name suggestions.
The machine-learning generator uses an enhanced understanding of the relationship between words and their meanings.
It tracks your preferences along with market trends to generate the best options.
Cons:
You have to create an account to get your free logo design and affordable domain name.
Pricing: The Business Name Generator is 100% free.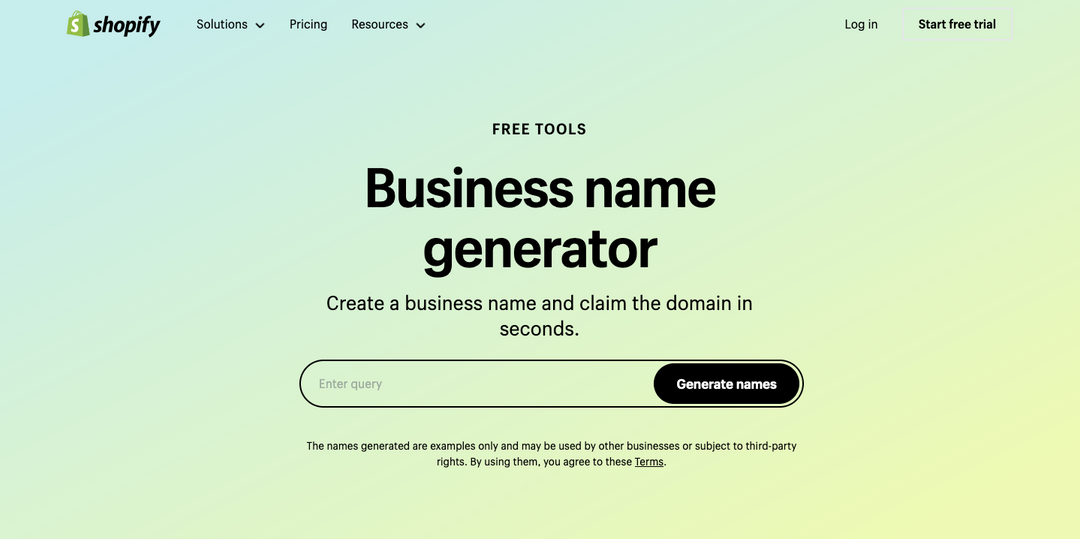 Shopify is a well-known e-commerce platform that empowers many small businesses daily. It has a free tool that generates names within seconds. However, it merely provides suggestions, which may already be in use and not options available for new businesses.
Best features:
Generates names quickly
Names can be purchased as domains directly from Shopify
24/7 industry-leading customer support
Pros:
It generates a large number of suggestions that can serve as inspiration.
The name generator has an easy-to-navigate and clean interface.
It can generate suggestions for multiple industries, such as tech, eco-farming, sports, and more.
Cons:
Its generated names are generic since the tool requires minimal information.
Its names are suggestions that may not be available for commercial use.
You cannot learn about a name's availability without signing up on Shopify first.
Pricing:
Brandroot's business name generator allows people to purchase a name with one click. It goes the extra mile by generating names with sample logos and stylish fonts. While this added feature is a plus, the tool does some basics poorly – such as taking much more time than most competitors to generate names.
Best features:
Generates names with sample logos, which helps with branding
Filters for name's length, word count, and more
Option to preview names in night-mode colors
Pros:
You can view the generated names in bold and light fonts, which can help you visualize potential signage.
It shows you keywords related to the ones you've used, leading to more accurate results.
You can purchase a generated name as a domain with one click.
Cons:
The generator takes time to load results.
You cannot purchase the sample logos.
The system randomly matches a name with a font – you cannot preview a name you like with the font you want.
Pricing:

FreshBooks's creative business name generator requires minimal input to create names. All you need to do is select an industry and enter a keyword – the app does the rest. The app has its fair share of flaws – the biggest one being that it produces repetitive names with similar words across different searches.
Best features:
No limitations on the word count and length of keywords
Fast website with minimal visual design that load quickly
Generates simple and easy-to-remember names
Pros:
It gives you the option to select your industry to generate accurate names.
The app has a clean interface that is easy to navigate.
FreshBooks has a blog on running a new business, which is useful for new entrepreneurs.
Cons:
The generator shows only three names at a time.
It doesn't check for trademark issues and can suggest names being used by other companies.
The generator recycles suggestions from a small pool of words for every name query.
There are only four industries to choose from.
Pricing: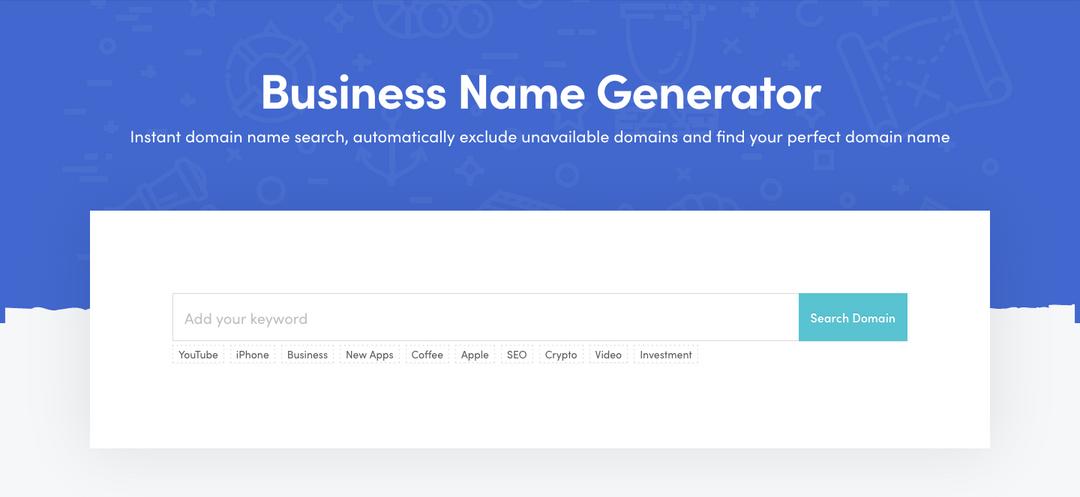 Themeisle's generator has user-friendly features, like keyword suggestions, that can make your search for a quality business name faster. The app is noncomplicated and requires a few details to run. However, it has a dearth of filters, which causes it to generate generic names.
Best features:
Automatically excludes unavailable domain names
AI suggests similar names to your shortlisted options
Requires just three steps to generate names
Pros:
The app suggests keywords, which speeds up the name-searching process.
You can get the selected domain name for free with a web hosting package deal.
The app generates names in a few seconds.
Cons:
The generator only integrates with Bluehost, which can be an issue for people with domains on other registrars.
It does not load on some browsers popular web browsers like Google Chrome.
The app has limited filters, which increases your manual work and time needed to get the perfect name.
Pricing: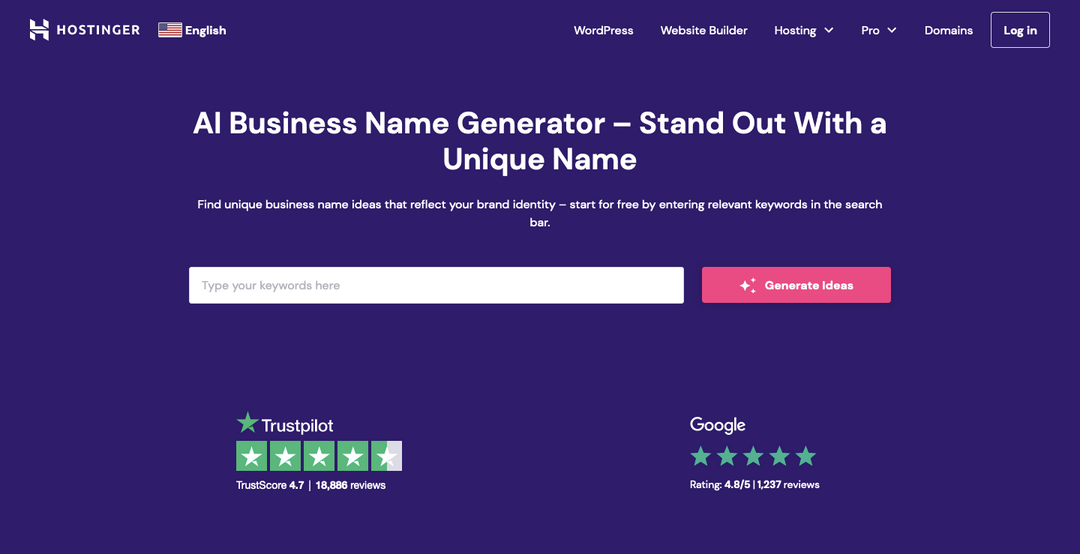 Hostinger has many free tools for people who want to create professional websites. Its creative business name generator is one such app that produces results with the help of AI. It's not perfect and often generates names that are just language translations of your keywords, which people might not understand.
Best features:
Regular discounts on preferred domain names
Displays many domain extensions for the name you select
Fast website that generates names instantly
Pros:
You don't need to go to a different website to register a name as a domain.
The app automatically suggests alternatives if the selected name isn't available as a domain.
It has a detailed blog on creating a catchy name.
Cons:
Many generated names lack creativity – they are either synonyms or simple language translations of the keywords.
It generates names already registered online, showing a lack of cohesion between the app and Hostinger's domain searcher.
Its AI generates odd-sounding and illogical names from time to time.
Pricing: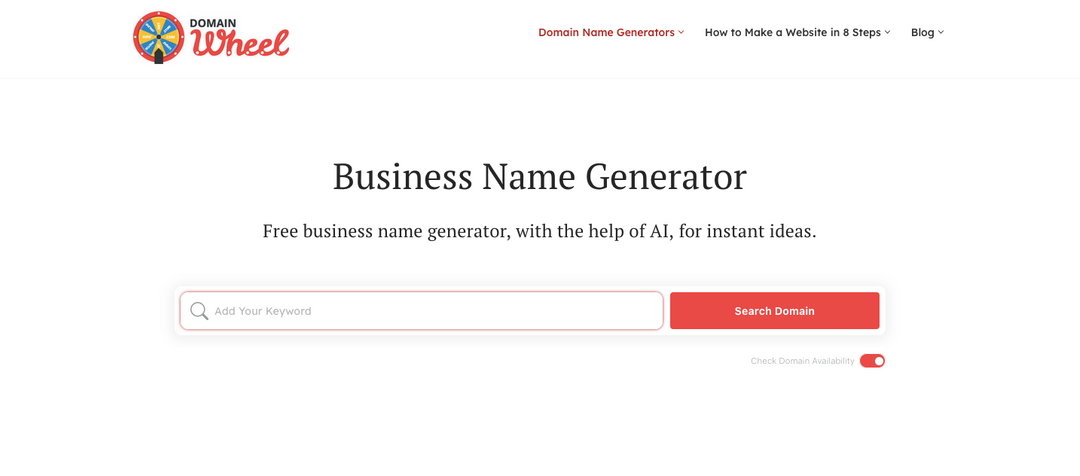 Domain Wheel has name generators for various industries and interests ranging from photography to horses (yes, horses). Its AI business name generator has multiple filters that can reduce your search time. Its output is a mixed bag – you only get results that are available as domains but aren't catchy enough to be business names.
Best features:
Filters for character count and number of words
Filters like Rhymes With, Random Suggestions, and Sounds Like for those looking for inspiration
Detailed blog with dos and don'ts of creating the perfect business name
Pros:
Those who don't want a website can turn off 'domain availability' as a filter.
It lets you search for names available on innovative extensions like .blog, .biz, .club, and more.
It provides links to free resources – like a website where you check a name's social media availability (social media handles).
Cons:
It takes time to generate names.
When you hit the search button, the app redirects you to a third-party partner website without your permission.
It generates long names with hyphens (and sometimes spelling errors) that don't translate appropriately offline.
Pricing: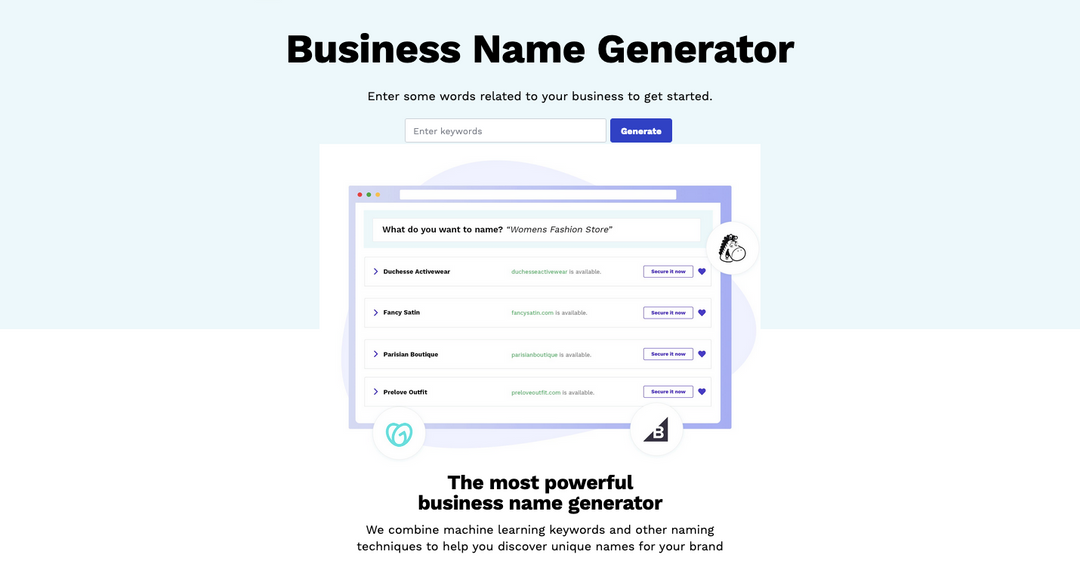 Namesnack's creative name generator uses a business category filter to produce names accurate to your industry. However, the app only generates names available on two domain extensions. It can be a tool to consider if you want a .com or .co.uk website. For everything else, you will have to look elsewhere.
Best features:
Generates unique and catchy names
Fast and responsive website
Instantly shows whether names are available as domains
Pros:
It has a filter for business categories that helps generate contextual names.
You can opt to get a free logo with your preferred name.
It can generate names in six languages based on your preference.
Cons:
It only searches for names available on .com and .co.uk domains.
There are no filters other than 'Category' to help narrow your search.
The logos you get with the names look generic and may not apply to your industry.
Pricing: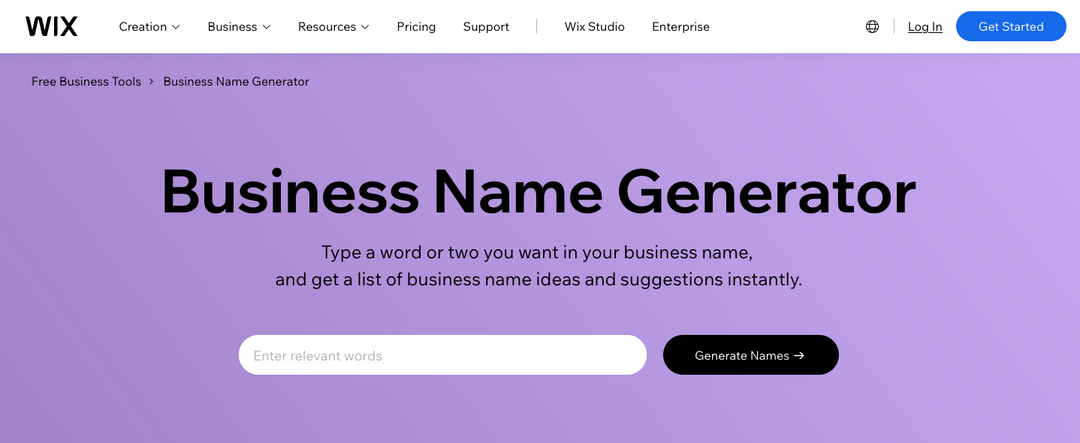 Wix's website builder has become a household name with over 200 million users worldwide. The company also has free resources, such as its creative business name generator, which can produce names for brands of all shapes and sizes. But one has to be patient with its long loading times to make use of it.
Best features:
Option to connect the name to your Wix website
Access to Wix's world-class support
Free name, website, and logo creators in one place
Pros:
It has a sizeable list of industry categories to choose from.
It generates more names per search than most competitors.
You can preview how the name looks on desktop and mobile websites.
Cons:
It uses all the words from the keywords section for each name, resulting in overly long and confusing results.
The website takes a long time to load and produce results.
You must sign up and log in to check a name's online availability.
Pricing:

NameStation provides you with two solutions to get the perfect name: a marketplace with freelancers and an AI-powered creative business name generator. Its paid plans are expensive, and it doesn't offer free plans, making it inaccessible to those on a budget. It can be an option to consider if you run a bigger team with a higher investment cap for names.
Best features:
Comprehensive filters with hundreds of business categories
Contests for those who want to work with professional writers
'Projects' folder that saves all your favorite names in one place
Pros:
The contests, decided by votes, can indicate which names work with real people.
You can create shareable links and invite people to vote or collaborate on naming projects and contests.
It can check for a name's availability in over 400 domain extensions.
Cons:
You need to be a paid member to see all the AI name suggestions.
The paid plans and contests are expensive.
There is no guarantee that the naming contests will yield satisfactory results.
They don't offer a free plan.
Pricing:
Pro Month plan – $15 per month.
Pro Year plan – $12 per month if billed annually.
Name Contest – $40 per contest.
How do you know which business name ideas are good?
The best business name ideas can make your brand seem attractive to your audience and bad ones, unappealing. For example, if you run a restaurant, you should avoid adding words like 'rat' or 'mold' to its name!
However, most naming decisions aren't this straightforward. In such cases, test your shortlisted names with friends, family, and colleagues and ask them to be honest – you'll get the answers you need.
What do you do after finding a business name generator?
You should make a shortlist of keywords after you've selected a business name generator. You can include the kind of products or services you provide, your industry, who your customers are, your brand's tonality, and anything else that represents your brand.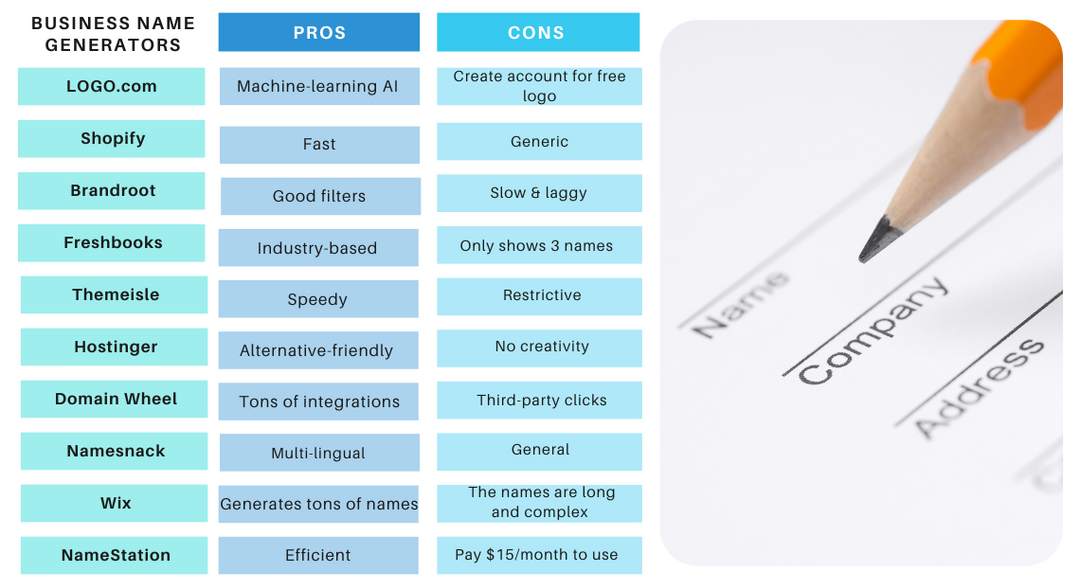 Being as descriptive as possible will help the generator suggest unique names for your business.
How do I choose the best creative business name generator online?
With all the quality options in the market, choosing the best creative business name generator can be difficult. To choose the best from the list provided, ask yourself the following questions:
Which creative name generator has filters for my brand?
What is my budget for a name generator?
Does my business need additional branding services, such as a website builder?
Do I need a generator that also checks for domain availability?
Use these questions to create a shortlist and choose a generator that aligns with what you need. With that, you'll have a quality name for your business in no time!