‍
Searching for ways to define your brand voice? Whether you're starting a business or doing some major rebranding, having a powerful brand strategy is the key to long-term success.
Most businesses already know that, but sometimes they forget that building a brand can go beyond company names and logos.
From website homepages to broadcast emails, your audiences rely on your messages to learn who you are as a brand and fall in love with it.
But first, to catch their attention and get your brand message across, you will need to have an appealing, consistent tone of voice.
That's why in this guide, we will be focusing on helping you establish a successful and effective voice for your brand. But before we move on, let's first understand the definitions.
‍
What is a brand voice?
A brand's voice is an element that represents your brand identity. It includes everything from the way you greet someone to the verbal expression of your personality.
Your tone of voice is an integral part of your overall brand identity, and it can be a vital factor in building a memorable business.
For example, what comes to mind when you think of the slogan "Just Do It"?
High chances are the answer is Nike and the inspiring feeling the brand represents.
It doesn't matter if it is online or offline. Your business constantly communicates with your audience, whether through a web page, social media feeds, or even customer support.
In any case, you'd want to craft a brand voice that your customers will remember.
‍
9 steps for creating your brand voice like a pro
Finding your voice is not an easy journey, but it is an essential building block that will benefit you in the long run. That's why it's best to do it now, if never.
Here are nine steps to help you create your ideal brand's voice.
Step 1: Dig deep into the core of your brand
To start, throw out the idea of building your brand voice as a marketing strategy and replace it with the idea of branding with heart.
At the core of every beloved brand (and yours should, too) is a clear sense of purpose. And that will require you to dig deep into your company's values and mission. A memorable brand voice reflects and expresses who you are as a company. So ask yourself these questions:
What is the purpose of your business?
What is the future you want to help create?
What are your values?
Do a brainstorming session with the brand team, founder, or other key stakeholders to look into these questions. Take time to figure out the larger picture of your branding and how your voice fits into it.
‍
Step 2: Identify your target personas
Establishing a connection with the audience shouldn't be a one-size-fits-all process. But instead, your ideal brand voice should first and foremost appeal to relevant target audiences.
So who are your target personas? You can conduct research to assess your target market by identifying their demographics like age, gender, socio-economic background, and more.
Better yet, take a step further and get into the heads of your existing customers. Consider how these people talk, the challenges they face, how they express themselves, and more.
You can even get into the nitty-gritty and ask questions like what social media platforms they frequent. What do their Twitter feeds look like? And what makes them laugh out loud?
The better you understand your target audience and their archetype, the easier it will be for you to write in a voice that they will relate to.
For example, if you are a fashion company targeting tweens, loosen up your language and use everyday slang in your copywriting to better connect and resonate with your target audience.
Either way, your brand should always be genuine and authentic. Avoid chasing slang and just using it for the sake of it.
‍
Step 3: Research your audience
Are you wondering what the basis for your brand voice should be? It's always the same answer: your audience. After all, every marketing effort you undertake will be to attract your audience.
You need to study the demographic and psychographic factors that define your audience. This exercise will help you unravel what kind of brand voice would attract them most effectively.
Gary Fox's definitions of both methods of segmentation help us understand the clear distinction between both methods of segmentation: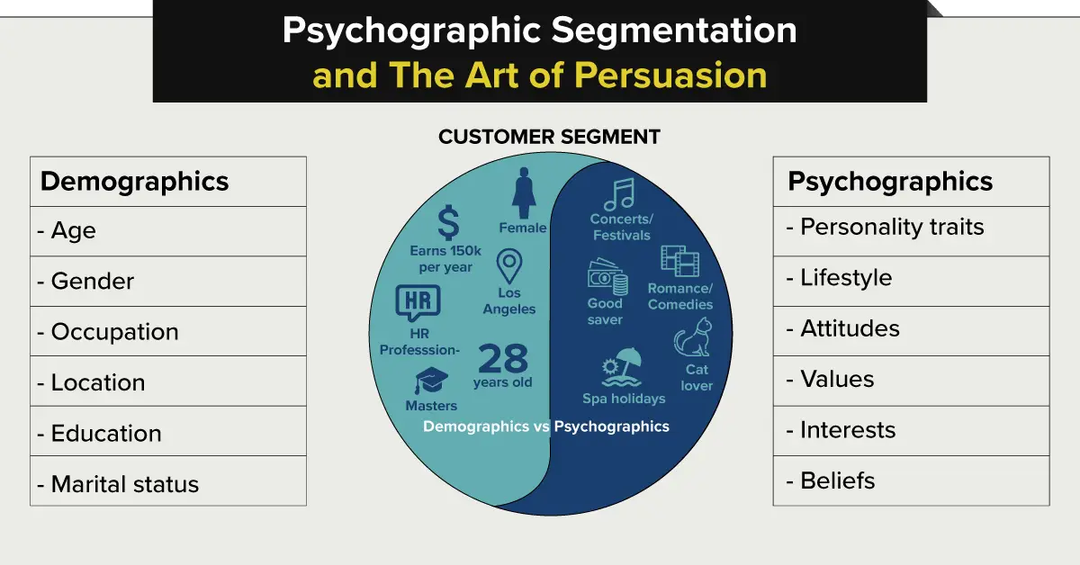 The demographic aspects include your audience's physical and geographical facts, such as gender, age group, location, financial category, ethnicity, etc.
The psychographic aspects will include their way of thinking, decision-making trends, interests, attitude, aspirations, and other qualitative features.
‍
Step 4: Do a competitive analysis
Your brand voice should be distinctive, and differentiating yourself is the key. After all, you want to avoid sounding like another business. Or worse, your direct competitor.
That's why you need to make sure you do a quick research on the players in your industry and a competitive analysis of their style and tone of communication.
To do this, you can tune into conversations about what people say about the brand and how they describe it. Use social media channels to brand monitor mentions of your company and relevant competitors.
Identify the competitors targeting the same audience group as you, and make sure you create a voice and messaging that stand apart from them.
‍
Step 5: Create a brand voice chart
A brand voice chart is easier to arrive at when you understand your brand and its true intentions. Here are some simple steps to creating a chart that will be your go-to reference guide before releasing any and every piece of communication.
Draw four columns on a table.
The first column is the characteristic that defines your brand. It's the adjectives that you use to describe your brand. If it gets too hard to pick just three or four adjectives, then list them all out and eliminate the ones that aren't as close to the rest. Do not list more than four adjectives.
In the second column, write a description that justifies why you picked those adjectives to describe your brand voice. For example, "as a brand that is into entertainment, we want our communication to give people a reason to smile."
In the third column, list all the things that match this characteristic and are absolute to-do tasks to ensure that you achieve this. For example, "Be sharp, witty, and clever when responding to posts on social media."
In the fourth column, list things that are absolute no-nos. Do this to protect your brand from being misunderstood by customers. For example, "Do not be humorous when dealing with disgruntled customers, but use ample charm to give them more belief in the brand."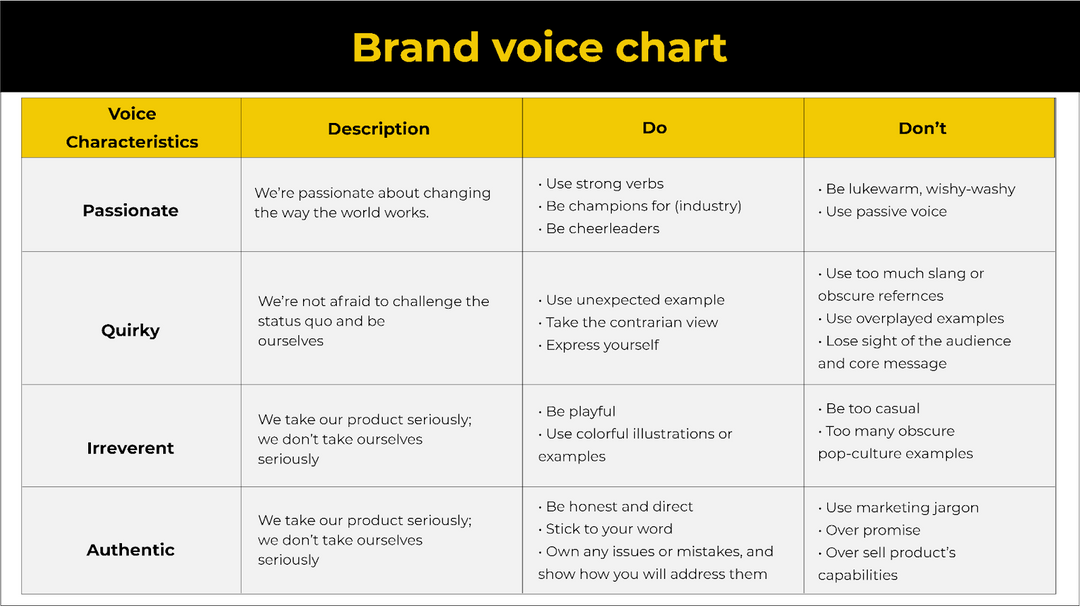 Revise this list If you notice that a particular brand trait is deterring customers. Also, print it out and paste it on the soft boards of your content creators so that they are mindful of your brand voice and keep it in check.
‍
Step 6: Review your company's mission statement
Every company is formed based on the guiding principles that inspire it. This set of values and aspirations helps craft the company's mission statement. Your brand's voice has to be true to its mission statement.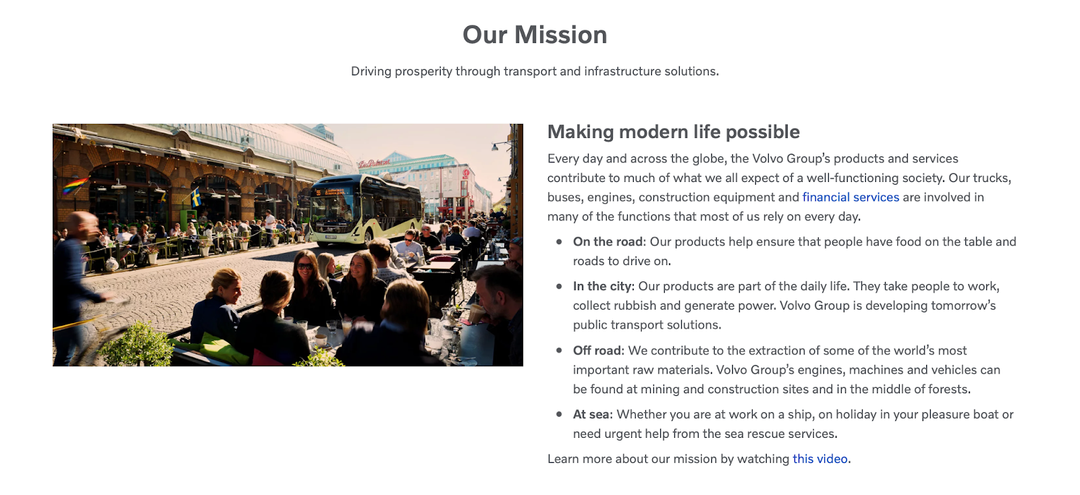 Let's take the Volvo Group's mission statement as an example. Their focus is on driving prosperity through transport and infrastructure solutions. Volvo's group company communication will give its audiences a glimpse of what "prosperity" can be and how their products can help them achieve it.
‍
Step 7: Build your brand voice
Now that you have all the key information you need, it's time to craft your brand voice.
At this stage, you should be thinking about everything, from the words and style to the relevant imagery or marketing assets that are to go with your voice.
Because while it is crucial to stand out, having holistic branding makes sure your brand impression not only sticks with your customer but also earns their trust.
We know that can sound intimidating if you are starting from scratch, so a piece of advice is to just do it and start writing or building your brand voice into current operations.
For example, if your business is focused on social media. Think of your voice and messaging in the context of a Tweet or Facebook post and slowly expand it from there.
Note the do's and don't's when crafting your business messages in a brand tone and review them against your brand's purpose and target audiences to see if it fits.
If you are rebranding, we suggest looking at your current brand's voice. Especially your top-performing posts and newsletter to grab the effective trait you want to retain or emulate.
Another thing is to ask yourself, "How do you want your audience to feel when they interact with your brand?" Identifying the emotional experience you want your brand to deliver can also help create a consistent voice to meet audience expectations.
Regardless of your brand voice, it is always essential to make sure it is appealing, even if it is authoritative or diplomatic. Especially when you are online, you need to make sure you put out an attention-grabbing title to get clicks.
‍
Step 8: Communicate your brand effectively
Defining your brand's voice is just the beginning. More importantly, it is how you use it afterward.
Once you have your voice down, it's time to create content for your brand and share it with the world. At this stage, where you are populating your content, you can also test out aspects of your voice that you are uncertain of using A/B testing.
We recommend using email broadcasts, but you can also try it with your homepage or sales page to find out what communication style can work better for you.
Once you've identified your brand voice, the next step is to ensure every aspect of your brand is aligned and cohesive.
Enforce your brand's voice across all marketing materials. You want to make sure your content is on-brand to meet your audience's expectations.
‍
Step 9: Build consistency with clear guidelines
Now that you have a definitive brand voice chart that will help steer your brand's communication in the right direction, you can further enhance the way your brand projects itself with the help of stringent guidelines.
You also need to make sure anyone creating content for your brand knows how to use it. You want people who follow you on Twitter to visit your website and Facebook to have memorable experiences.
To do so, you need to build a brand style guide. A representative sample can help your marketing team of copywriters.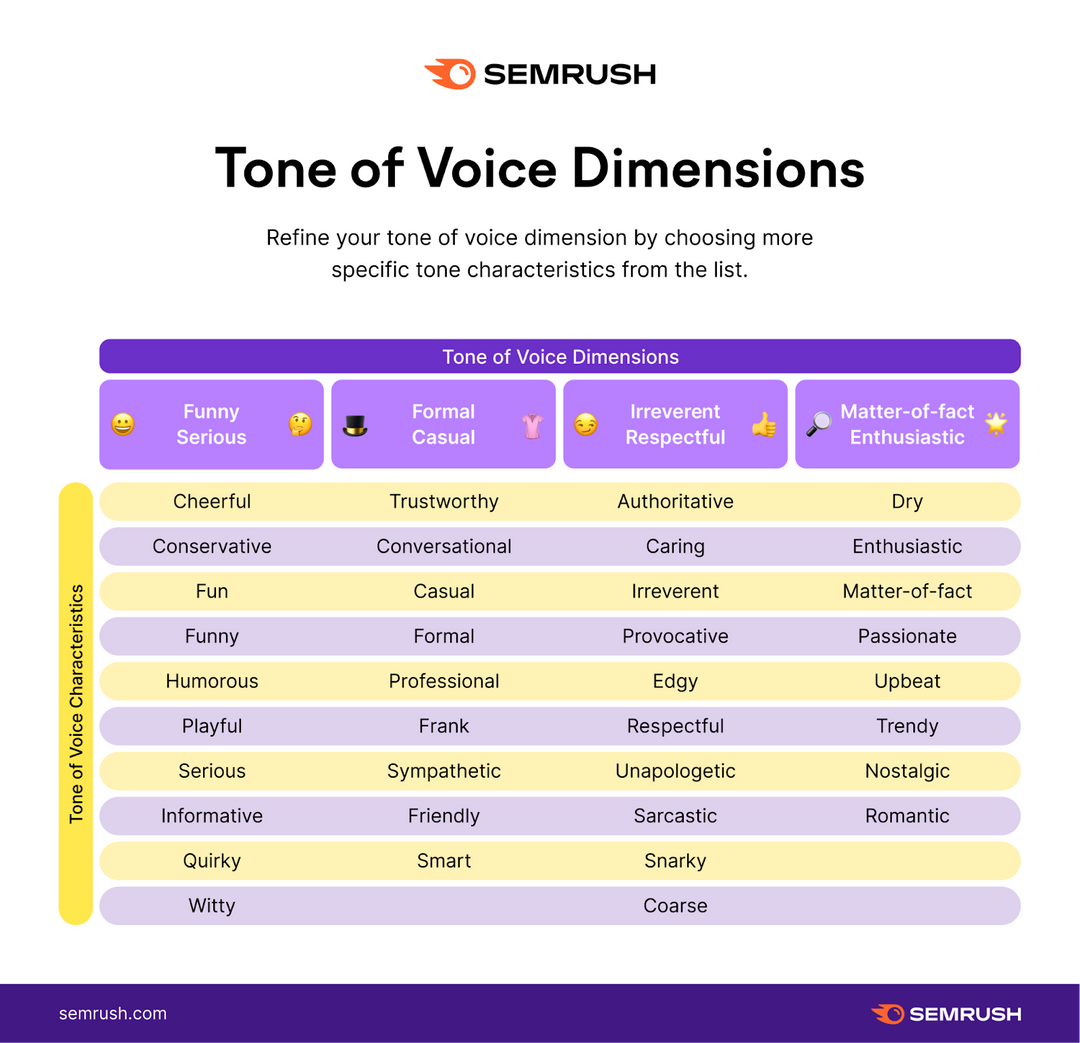 When creating the brand guidelines, including do's and don't's can help create content that fits the brand. While you may have many people on your writing team, a quick writing checklist will ensure that a consistent writing style is used.
Generally, you would also want to build a team that can embody your values across all platforms.
‍
The 7 best brand voice examples for inspiration
The world's best brands have a distinctive voice that translates across channels. From their packaging to their website, their voice is always present.
Here are a few brand examples with some of the most powerful brand voices.
‍
1. Nike
Known for its inspirational brand messaging, Nike's voice shows grit. Its iconic slogan, "Just Do It," created a powerful brand persona that embodies its mission to inspire everyone to become an athlete.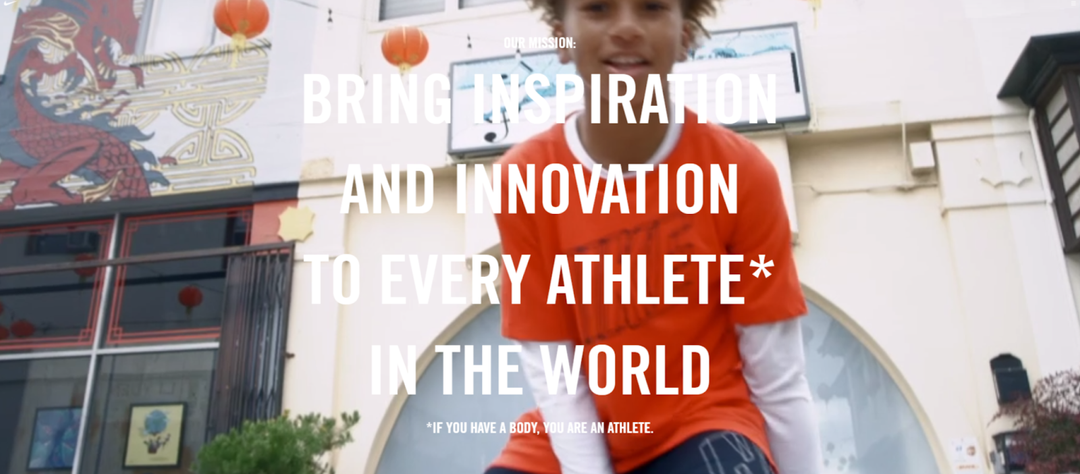 Take a quick tour through the website, and you will notice every aspect of its messaging is fueled with resilience and persistence. From mission statements to product descriptions, its tone of voice is motivational and encouraging, which customers have come to love and appreciate.
‍
2. Apple
Think different. Another iconic brand that stands out in a sea of smartphone brands is Apple. Like its products and services, its voice consistently conveys quality and confidence.
Ask anyone about the Apple voice, and they can tell you how recognizable it is with short, punchy sentences accompanied by minimalized visuals. It is one of the best brand voice examples in the world.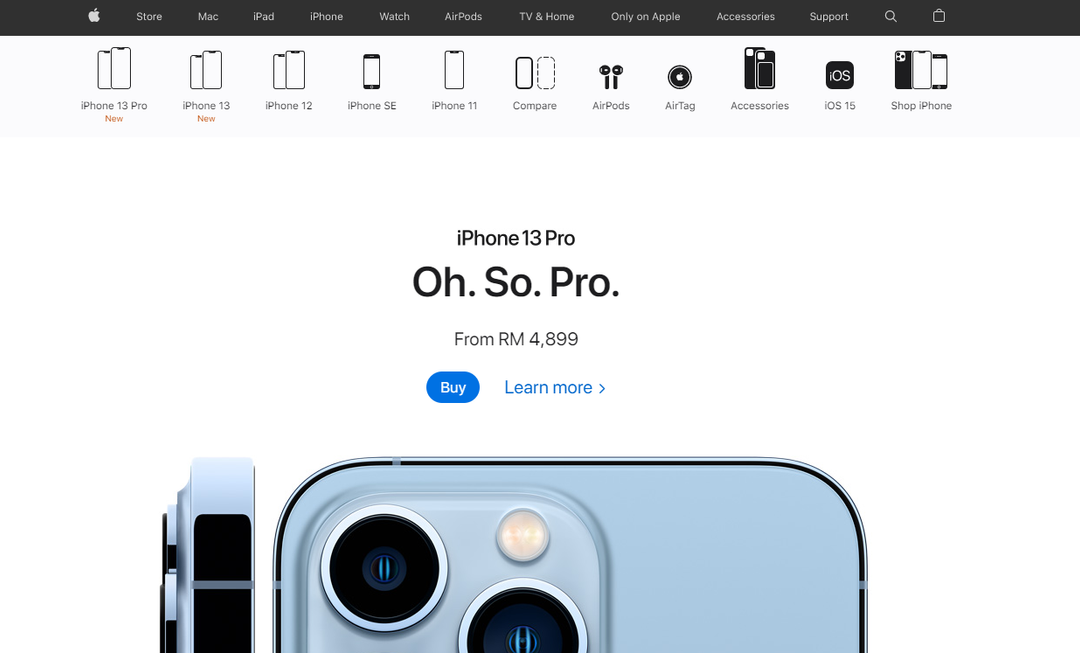 Most importantly, the brand has mastered simple, powerful copy that doesn't read as boring while bringing confidence.
‍
3. Uber
When it comes to brand voice examples, we cannot count out Uber. The brand uses a voice that speaks directly to each person.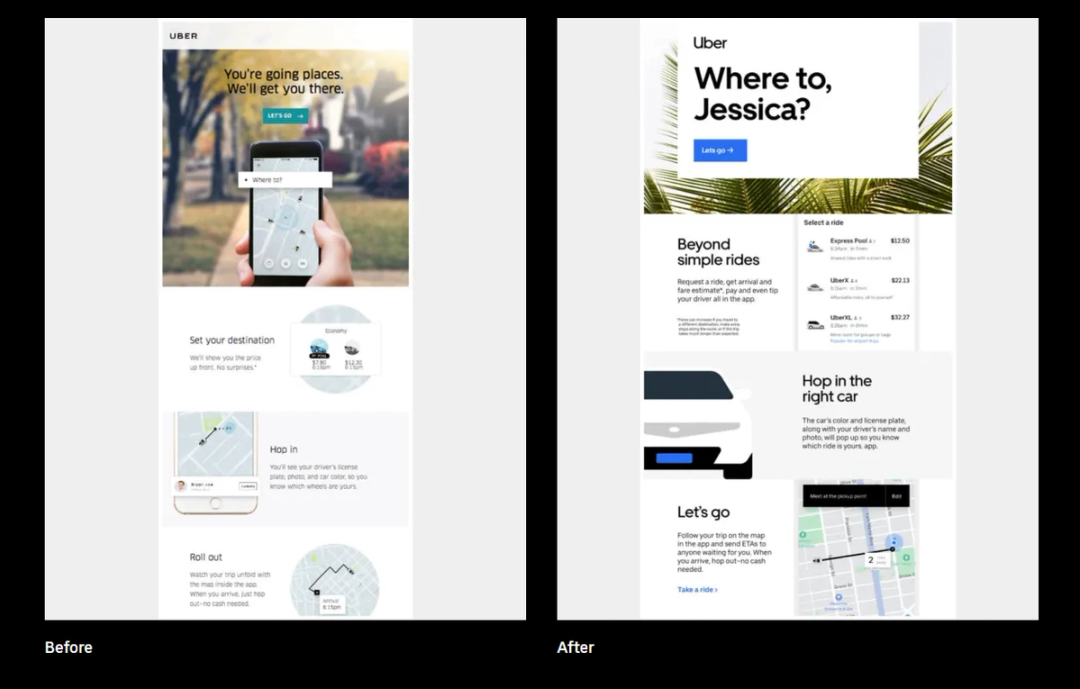 The Uber voice is simple, engaging, and, most importantly, consistent. The company has an effective brand voice guideline that shows how anybody can emulate this feeling that sounds like Uber.
‍
4. MailChimp
As a marketing platform that communicates with brands and professionals, MailChimp could result in formal, drab communication. Instead, they identified their niche by being more quirky and adding a dash of humor and a human touch to their communication. It is possible because of their well-defined brand voice.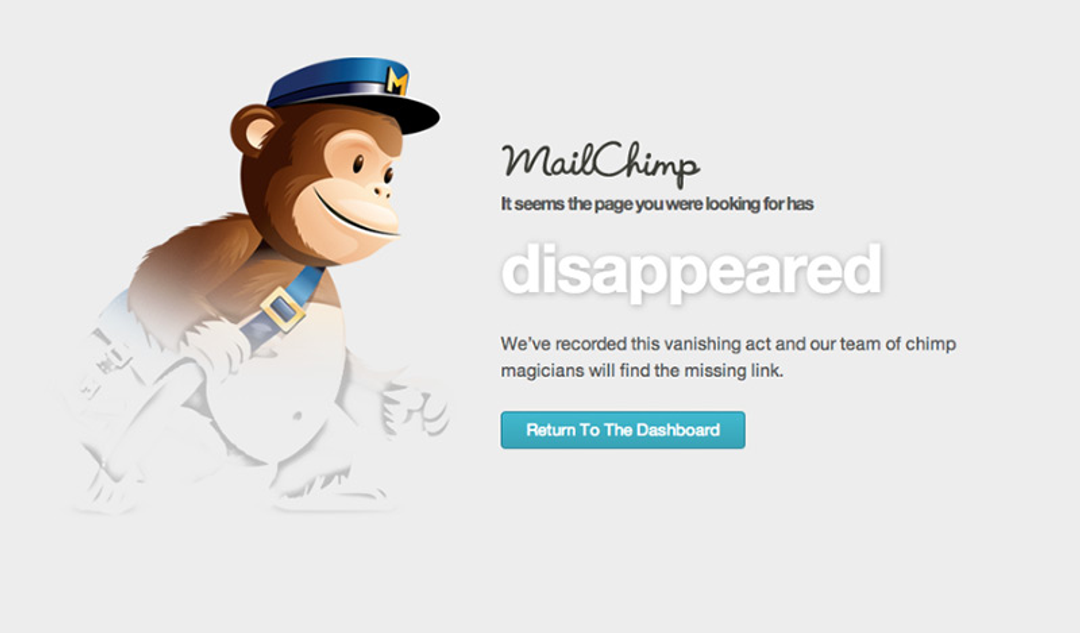 You can see this reflected in every aspect of the brand. Even their error messages, like this one, have a human, non-robotic touch. Doing this increases the trust of customers in MailChimp considerably.
Even their milestone announcements do not read like an extract from a boring press release. It's like every word uttered by the brand is intended to make you smile. So, what makes this possible?
Read about how MailChimp achieves this category-breaking brand voice and the guidelines that make them one of the best brand voice examples in the world.
‍
5. Coca-Cola
One of the greatest exemplars of branding and marketing is Coca-Cola. The brand has been one of the first to create advertising messaging that follows a consistent tone. Whether you watch a Coca-Cola ad from the 80s or the most recent one, it makes you feel the same.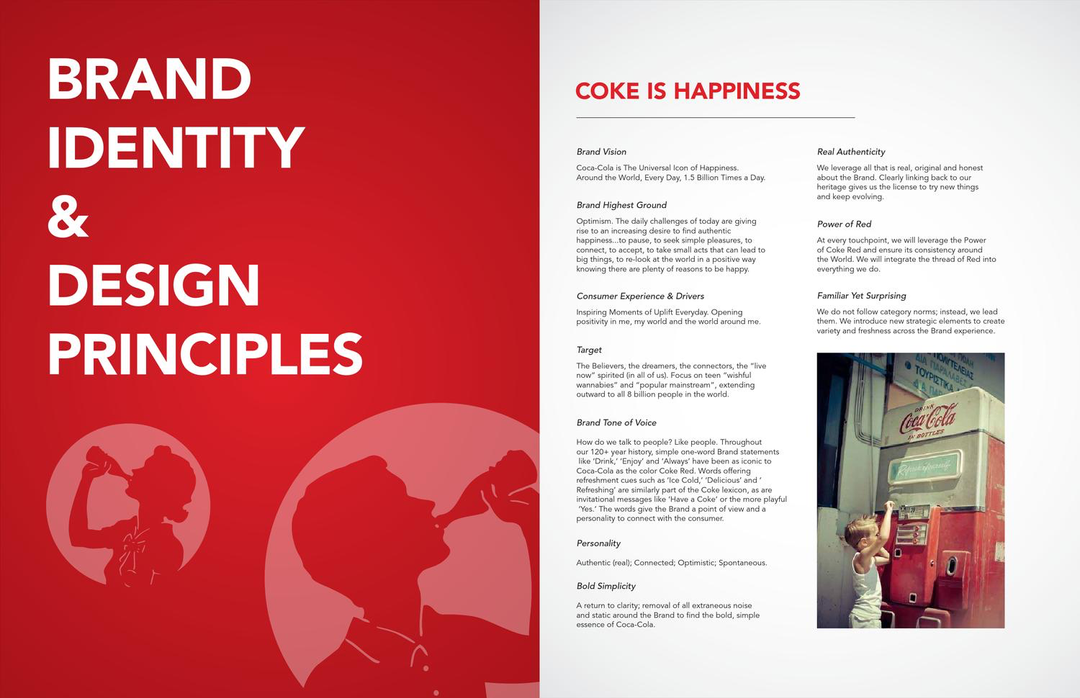 Coca-Cola communicates in a brand voice that is positive, friendly, and real. They use real-life experiences and human moments to illustrate how their product can bring "happiness" to these moments.
‍
6. Starbucks
You will notice how the tone, albeit matter-of-fact, has a strange allure. It's because of how the products are projected, complementing all communication with a perfect sprinkle of adjectives.
Starbucks is a brand for busy bees who stop for a coffee on their way to a lecture or catch up at one of their cafes for a quick meeting. They cannot afford to waste this person's time with excessive creativity, and this brand voice example achieves this perfectly.
‍
7. Old Spice
In an age where masculinity gets defined in numerous ways, Old Spice focuses on delivering its message for its particular man. By creating campaigns such as 'Smell Like A Man, Man,' the brand has been associated with classic masculine characteristics. It keeps humor on the periphery of its messaging.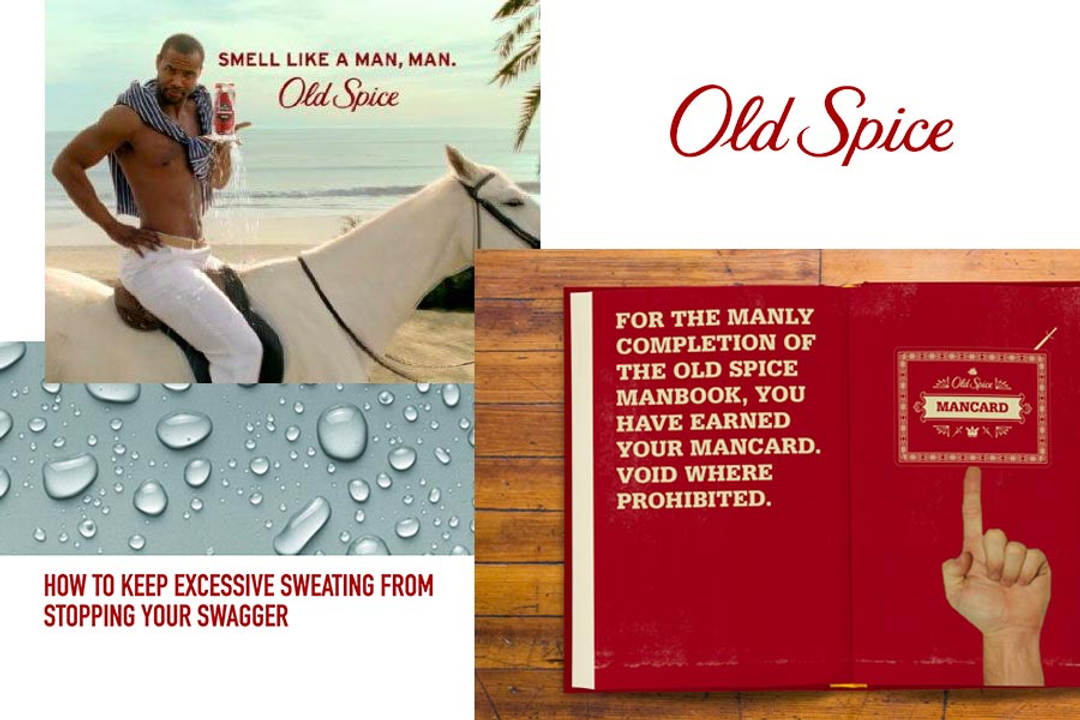 This unapologetically male brand has been around for so long that generations of users have become familiar to its distinct characteristics. The confident brand tone simply completes this relationship.
‍
Why do you need a brand voice?
No matter the size and nature of your business, you need to build a voice for yourself in the industry to create a company that endures, if not to boost sales.
According to a survey done by Contently, 61% of people are more likely to buy from companies that deliver unique content and style of communication.
Why? The reason is simple. Having a unique voice for your brand will allow you to stand out from your competition in the industry. Besides, when customers know who you are and what you represent, they are more willing to interact with your brand and product.
Plus, no one wants to interact with a cold, emotionless business. According to Harvard Professor Gerald Zaltman, 95% of purchasing decisions are emotionally driven, and businesses that can cultivate an emotional connection are the ones that make the sales.
Moreover, the right brand voice makes connecting with your potential buyers easier. Let's say your target audiences are millennials. Then you'd want to have straightforward and clever copywriting instead of using a diplomatic tone.
You can even use memes and popular cultural references like this example from Jimmy John's, which cleverly combines its product with a message that its audiences relate to.
Besides, having a consistent brand voice can also help build familiarity and trust with customers, making them feel more confident about your product or service.
‍
What is the difference between brand voice and brand tone?
There's a lot said about why you need to define and maintain your brand voice, but what exactly is it? Many mistake brand voice for brand tone.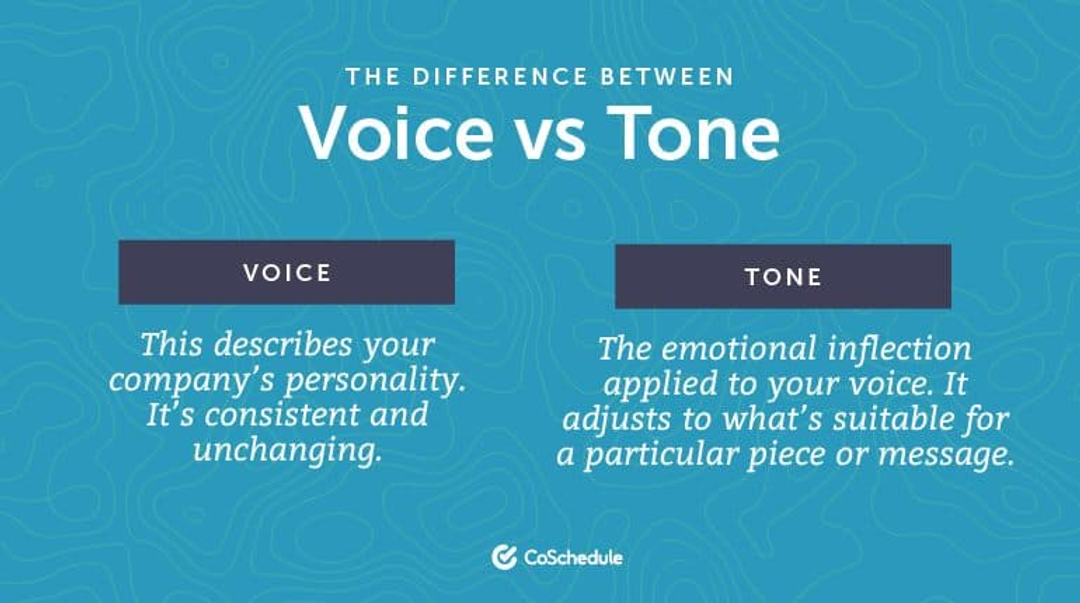 Your brand voice is the way your brand expresses its values and thoughts. It's like a character sketch of your brand, considering the attributes that define and differentiate it. Your brand tone is the result of this definition. It is the way your brand communicates through different channels. Your brand's tone can consist of the style of communication and the attitude it exudes.
‍
Frequently asked questions about finding your brand voice
What are some commonly asked questions about finding your brand voice? Get your questions answered with these three FAQs.
1. What is a brand voice statement?
What you say as a brand and the way you say it make up your brand voice and brand tone, respectively. Different people will respond to different tones, so it's helpful to keep track of when to use which tones in which situations. Different emotions call for different tones when announcing a new product and when responding to a customer complaint.
2. Why is brand voice important?
It speaks directly to your audience.
When a brand's voice is well-defined and directed at the right consumers, it can connect with those people on a personal level and in a way that is pertinent to their product- and service-related way of life. A well-developed brand voice allows for more genuine interactions with consumers and sets you apart from the competition.
3. What is Nike's brand voice?
The sports and fitness community is exactly who Nike is trying to reach with its upbeat, welcoming, and inspiring tone. Case in point: Nike's widespread "Just do it" slogan. The overall feel is upbeat and encouraging (as intended), but it avoids being flowery or overly lengthy.
‍
The bottom line
Ultimately, your brand voice is the heart and soul of your communications. It can be informative, fun, or even snarky, but whatever it is, it needs to be more than specific words or phrases.
The most helpful thing your brand messaging can have is a unique and authentic voice that connects with your audience.
Ready to design your logo? Get started with our logo maker!
Adela Belin is a content marketer and blogger at Writers Per Hour. She is passionate about sharing stories with the hope of making a difference in people's lives and contributing to their personal and professional growth. Find her on Twitter and LinkedIn.