‍
It all starts with a great domain. You can distinguish yourself from the vast numbers of other websites promising overnight riches by investing in a professional domain name. A memorable domain name serves as a virtual shop window, drawing in potential buyers to your business.
The domain you choose will shape your audience's perceptions of your company and can be the deciding factor between a successful online presence and anonymity on the web.
But how do you get a great one? Easy. Rely on LOGO.com.
‍
How to claim your domain name with LOGO.com in 3 steps
Securing your domain name with us is as easy as 1-2-3. We pride ourselves on full transparency and easy accessibility, and these steps will show just that.
‍
Step 1: Create a free logo with us
Start by typing in your business name, ideally the name you'd like closely associated with your domain name. From there, you'll be inputting quick business details and design preferences that lets our logo editor know precisely what you're looking for in a logo.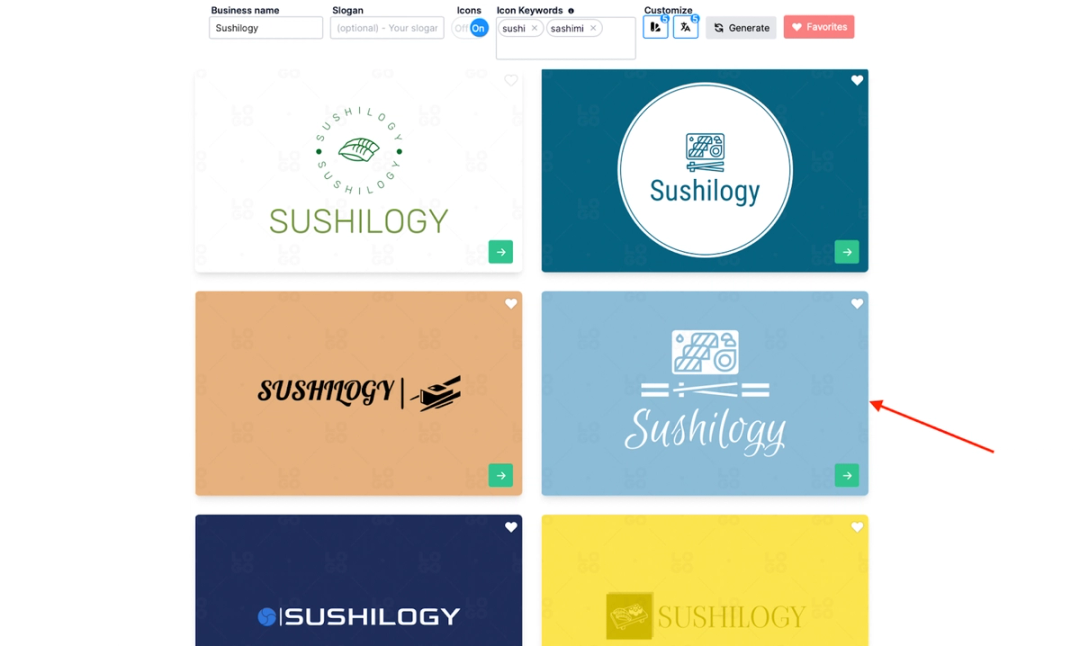 You will eventually see a list of customizable logo templates. Choose a template that most resonates with your ideal design and start customizing it to fit your brand. When you're done, click "Get your logo" in the upper right, and voila! You have a free logo for keeps.

You will automatically be taken to your very own dashboard, where we can start looking for the domain of your dreams.
‍
Step 2: Check the availability of your domain name
Once you're in your dashboard, you'll find a menu on the left-hand side of the page. Look for "Domains" and click it to start checking for available domain names.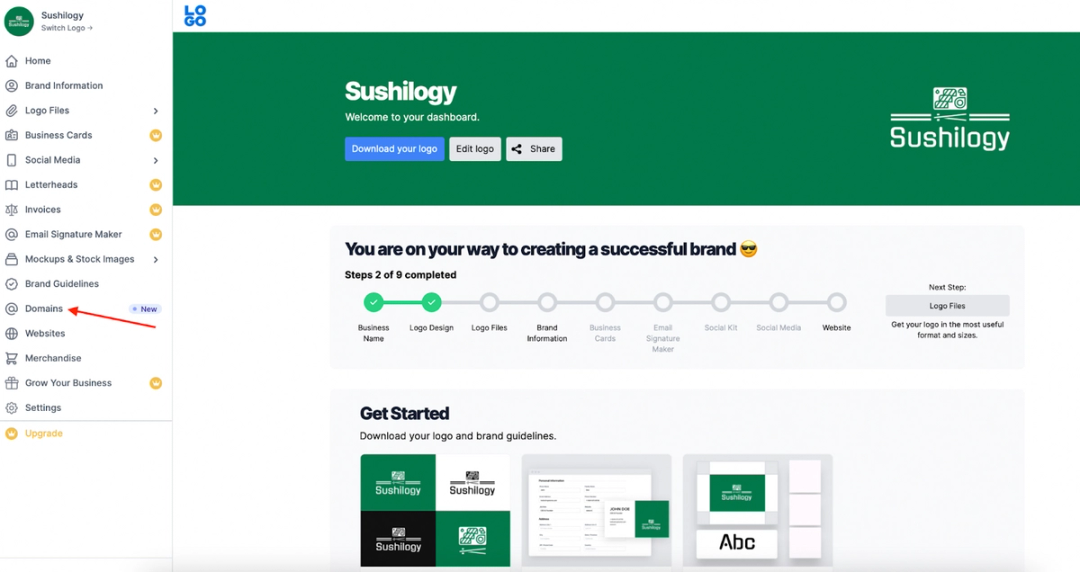 The search bar will already have your business name, but you can type in your preferred domain name and click Search.
You can now take a look and see whether your domain of choice is available. If it isn't, the platform will show you all related domain names that might tickle your fancy if your name of choice isn't available.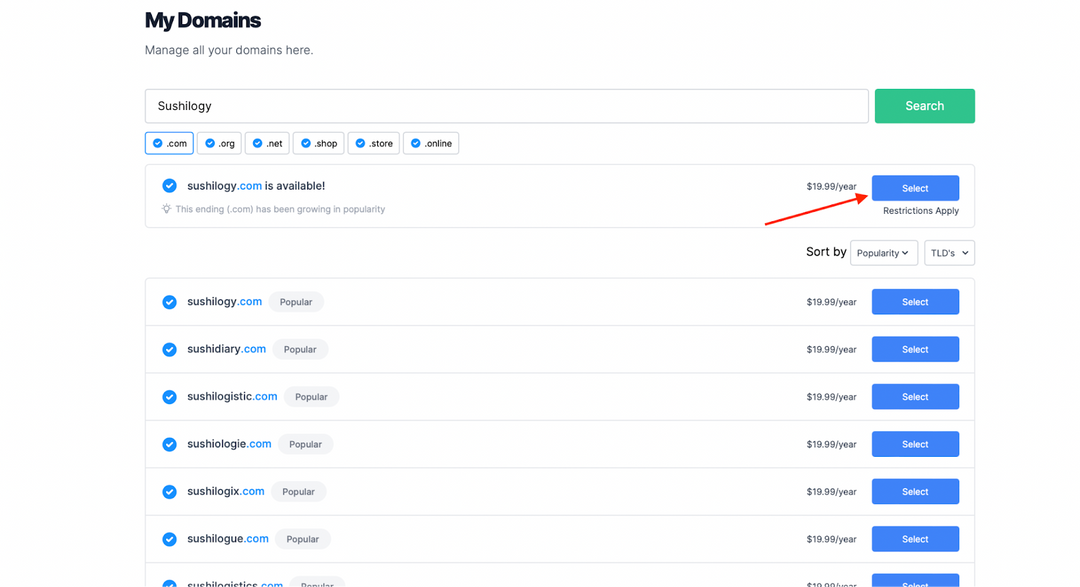 Hooray, your domain name is available! Click Select to purchase your domain name for only $19.99/year. If your preferred domain is taken, we will provide you with other options to choose from.
😎 Top tip: If needed, you can also edit your logo after you purchase a different domain to keep everything consistent.
You have the choice to choose from different top-level domains (TLD's), such as .com, .org, .net, .shop, .store, and .online. If you're inspired by the list of options, you can sort them from popularity, price, and length, depending on your preferences.
‍
Step 3: Launch your business with your new domain
You'll eventually be taken to your cart, which you'll find without any hidden charges or fees.

Your purchase with us is backed up by:
Full transparency: The price you see is the price you pay. Nothing more or less.
Privacy protection: Your information is protected by DNS servers.
24/7 customer support: Around the clock customer care for all your needs.
100% satisfaction guaranteed: If you're not happy, we'll make it right for you.
Moreover, our domain service is in partnership with GoDaddy, the world's largest and most trusted domain registrar.
On checkout, you will be asked to provide some personal details for security purposes.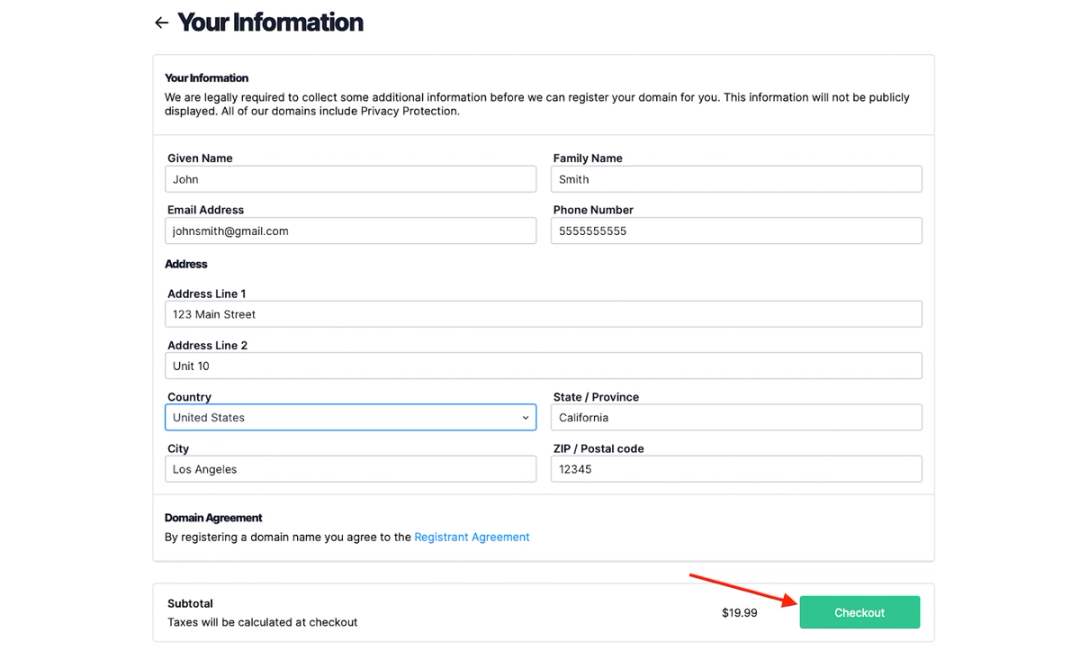 Click Checkout, and you're at the final step to securing your new domain name and showing it for the world to see.

That's all it takes! Can you believe it?
Richard Lau, founder of LOGO.com, believes in the potential behind providing customers with a safe home for all their branding collateral. With domain registration as a feature, customers can now build their online presence along with their branding materials seamlessly. He had this to say about this new development:
"One of our key objectives here at LOGO.com is to offer our customers a simple, fast, and affordable way to get online. Offering domain names in partnership with GoDaddy, the world's largest domain registrar, is a step in that direction. With this, our customers will now be able to get a logo, domain name, website, and branding collateral under one roof."
Having your own domain name establishes your business as legitimate and places you in the same arena as your biggest rivals. Are you ready for the endless possibilities?
‍
Give your business its online home
In order to distinguish yourself from the competition, you need a domain name that is both memorable and straightforward. Trust LOGO.com, your home for brand-building needs, to provide you with a state-of-the-art domain name that takes you to new heights.
Thanks to partnership with GoDaddy, we are fully equipped to help you take your brand online and receive fruitful results with the best domain name you could only hope for.