Be it a conglomerate or a two-person superstar team – invoices are necessary for every type of business. An excellent commercial invoice template is clear, concise, and has all the information your client needs to clear your payment.
It is possible to create a template manually. However, that can take time, and you may miss out on including crucial information. Why have a back-and-forth with your clients when there are quality invoice templates for free on the internet?
What are the benefits of using invoice templates for your business?
Raise your hand (or don't!) if a client has told you that there was something wrong with your invoice. A client may ask you to rewrite an invoice even if it has all the information – if it seems cluttered and unreadable.
The best invoice templates don't look cluttered or unorganized and have all the information your clients need to clear payments. Using these invoices can help you get paid on time, and who doesn't want that?
How does a commercial invoice template help with word of mouth?
Every communication you send out can change your audience's perception of your business. An invoice is no different. Make a positive impact on your clients, and they're more likely to recommend you to others. At the same time, using a shoddy invoice template will show a lack of professionalism that will not work in your favor.
Personalizing a commercial invoice template will take some time. However, it will be time well spent on representing your company in a positive light.
The 10 best options for a commercial invoice template to communicate professionally
All the companies below provide quality invoice templates you can work with. While these templates are of good quality, some may work better for your businesses and industries than others. Evaluate their strengths, weaknesses, and best features to make an invoice you can be proud of.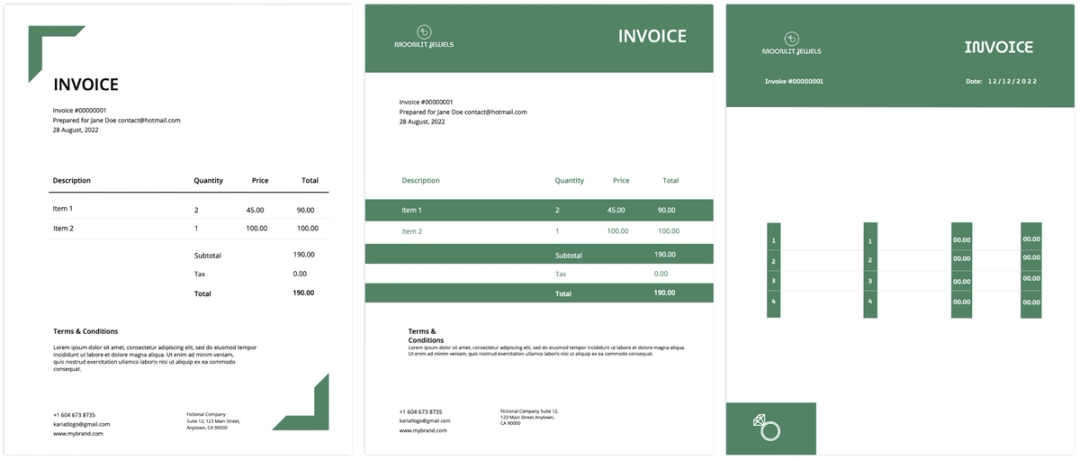 LOGO.com is the home of the most beautiful invoice templates on the web. The platform is perfect for budding entrepreneurs looking to save resources and build their branding materials in one affordable home. Its invoice templates are designed based on the user's free logo design and brand colors. The customization process is easy and straightforward for any design newbie.
Best features:
A variety of 20 commercial invoice templates with dynamic designs
Full customization abilities, such as masking, shaping, and stock photo use
Access to all brand assets created on LOGO.com for design consistency
A 24/7 dedicated customer service team to guide you with tips and inquiries
Pros:
You can customize your readymade invoice templates in less than 20 minutes.
You can save your design in a variety of formats, whether digital or print, with infinite scalability.
The customization tools are incredibly easy to use for anyone without design experience.
Cons:
The templates are saved in image files, meaning you need to convert them into an editable format.
Pricing: LOGO.com's invoice templates are a part of Stitch, its custom design tool. Stitch is a part of a branding suite that only costs $12 every month. The service is 100% satisfaction guaranteed.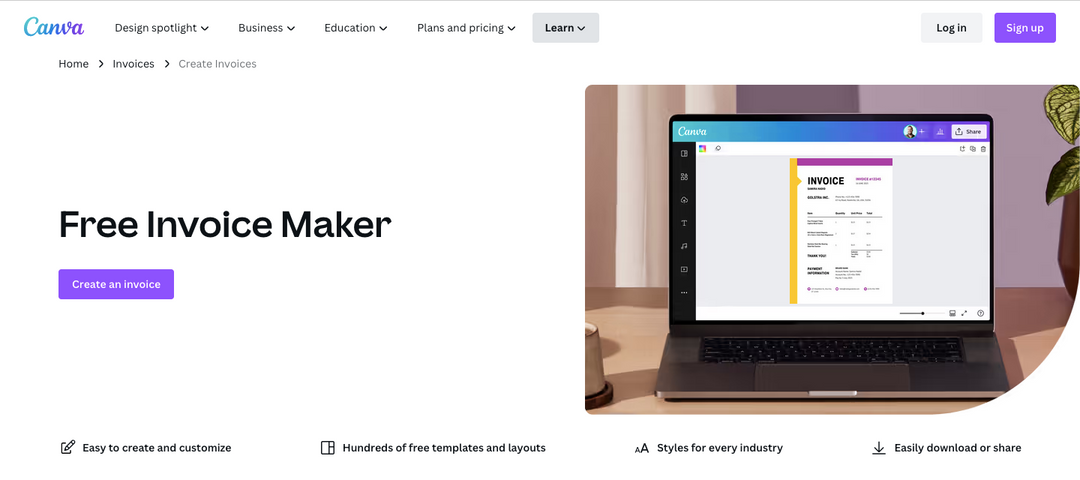 Canva and apps like it are no secret to professional and hobbyist designers alike. Those looking to create unique invoices can customize one of its templates with intuitive editing tools. However, its best templates are on its paid plan, which may not be a wise purchase if you just need invoice templates.
Best features:
Plenty of blank invoice templates to work with
One-click filters to change the look and feel of your design
Collaboration tools for teams to design together
Pros:
All the templates it has are fully customizable and editable.
It is uncomplicated to learn and edit on Canva.
You can export your invoice in PDF, JPG, and other formats.
Cons:
Its designs and editing features can be overwhelming for people who just want a simple invoice template.
Its best templates are only available to its Pro members.
Many templates don't have space for an account number, contact information, and other crucial information.
Pricing:
Free plan
Canva Pro plan – $18.99 per month.
Enterprise plan – $30 per user per month.

Adobe Express is an online graphic design tool by the creators of Photoshop and Illustrator. You shouldn't expect it to have the level of sophistication available on its industry-standard siblings. Its templates, drag-and-drop editor, and one-click filters are targeted towards non-professional designers. Those looking to create invoices will find its features more suited to social media design.
Best features:
Smartphone app to design on the go
Text-to-image AI generator for faster workflows
Active community and customer service to troubleshoot problems
Pros:
Its drag-and-drop design tool is beginner-friendly.
It saves your projects online so you can design seamlessly on multiple devices.
It has plenty of modern invoice templates to choose from.
Cons:
Free members cannot upload their company logos to the canvas.
The app takes time to load and apply effects to your design.
It does not run on some popular web browsers like Firefox.
Pricing:
Free plan
Premium plan – $9.99 per month.
Creative Cloud All Apps plan – $84.99 per month.

Jotform's strength lies in converting PDFs into smart online forms. This can be handy if you send invoices to the same pool of clients and want to add their information in a few clicks. However, you must subscribe to its expensive plans to send invoices without a watermark. This can be a hefty investment, especially when free alternatives are available online.
Best features:
Converts PDF invoices into editable forms for multiple uses
Smartphone app that can create and edit invoices
Over 50 editable commercial invoice templates
Pros:
It lets you upload and edit your invoice templates and PDF files.
It lets you create invoices with fields for clients and vendors to put their e-signatures on.
The web app runs smoothly without many hiccups.
Cons:
Many of its invoice templates look barebones and dated.
It watermarks all the invoices made with its free plan.
The lower-tiered paid plans offer limited storage.
Pricing:
Free plan
Bronze plan – $39 per month.
Silver plan – $49 per month.
Gold plan – $129 per month.
Enterprise plan – Price available upon inquiry.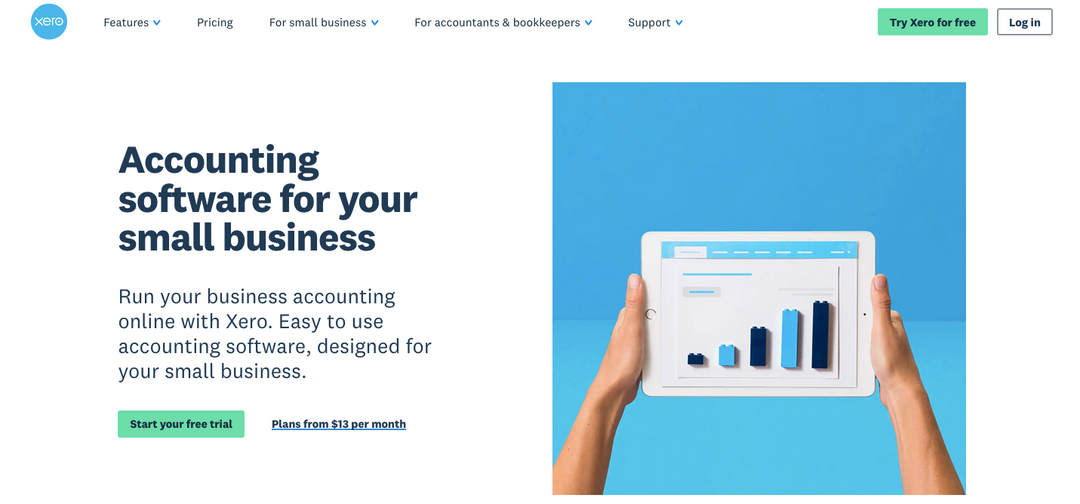 Xero is a well-known paid accounting software that can help businesses with taxes, invoicing, and more. It also offers a free commercial invoice template to those who are not its customers. Despite being handy, you need another app to edit the template and add your logo, which can add time to an otherwise non-complicated process.
Best features:
Free editable commercial invoice template
Offers a free 30-day trial of its accounting and invoicing platform for new customers
Small-sized PDF invoice files that download quickly
Pros:
You can edit the information on the free template on any PDF editor.
Its file sizes are small and download quickly.
Paid members can export their invoices as Word documents.
Cons:
It only offers one free invoice template.
You must enter your contact information and fill out a form to get the free template.
You need a third-party design app to add your logo to the free template.
The free template has a watermark that you cannot remove.
Pricing:
Free plan – one free invoice template.
Early plan – $25 per month.
Growing plan – $40 per month.
Established plan – $54 per month.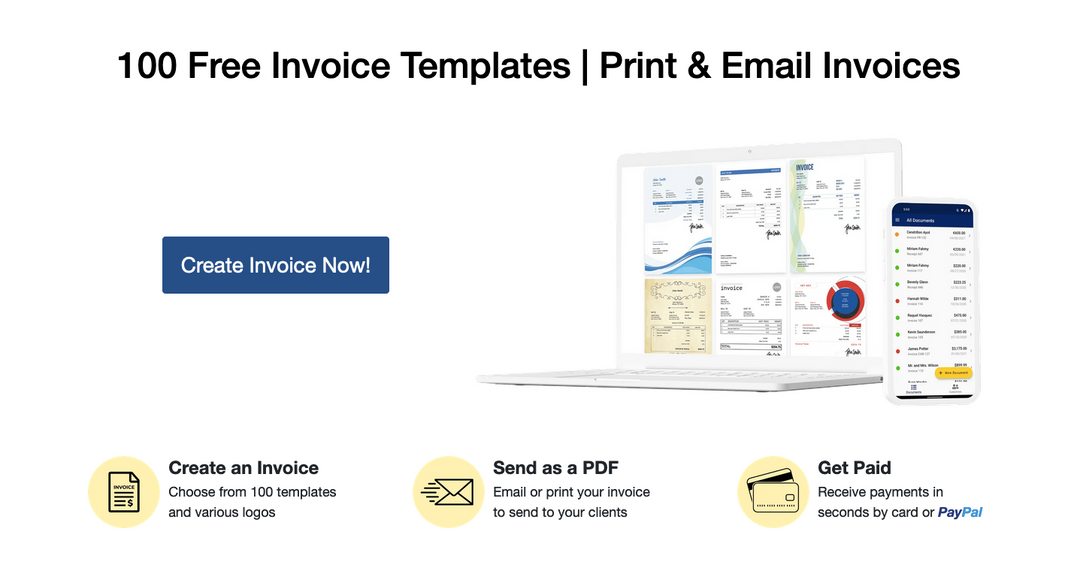 Invoice Home is aptly named as it focuses on creating and managing invoices. With one hundred templates, it has a template for every type of business. However, a difficult-to-use editor and outdated designs don't give it a favorable look amongst competitors.
Best features:
100 free invoice templates to choose from
Option to create a list of recurring customers to save time on future invoicing
Groups unpaid invoices to help you keep track of your payments
Pros:
You can choose between a basic and advanced editor based on how detailed you want your invoice to be.
You can email invoices directly from the app.
You get unlimited storage for your invoices, even as a free user.
Cons:
Its mobile website only has a few features and is difficult to edit on.
It provides little information about the differences between its free and paid plans.
You cannot make changes to the design of an invoice – such as restructuring certain items on the page.
Some of its invoice templates lack a professional touch.
Pricing:
Free plan
Unlimited plan – $5 per month.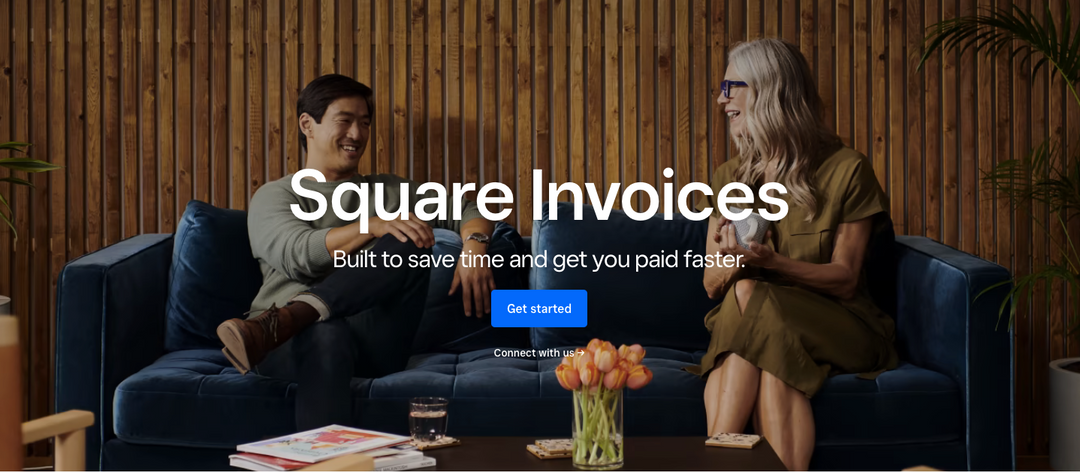 Square allows business owners to edit and send unlimited invoices at no cost. Its free plan is limited and doesn't let users customize their invoice layout. At the same time, its paid subscription can be expensive and excessive if you just want to edit a commercial invoice template. Square can become more competitive with an affordable mid-tier plan.
Best features:
Lets you send an invoice via email, SMS, or as a shareable link
Offers live tracking for payments on your invoice
Sleek and modern-looking invoice layouts
Pros:
You can create and send unlimited invoices on its free plan.
It lets you store customers and products so you can create recurring invoices in a few clicks.
It has a field for custom messages, giving each invoice a personal touch.
Cons:
Its paid plan is one of the most expensive on this list.
You need to sign up to see its invoice templates.
Its dashboard can be overwhelming for beginners, especially those who just want to create an invoice.
Only paid members can choose from custom invoice layouts.
Pricing:
Free plan
Plus plan – $20 per month.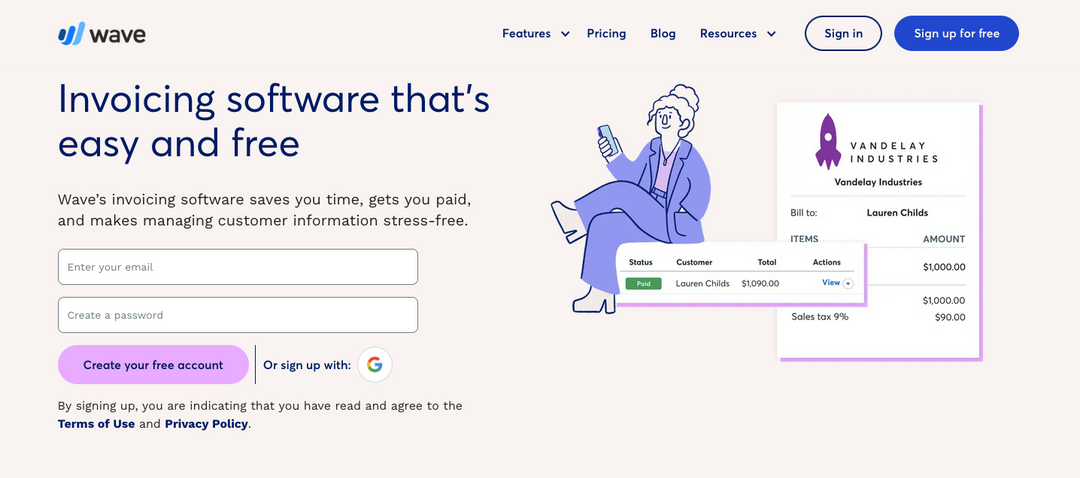 Wave's free invoicing software can be useful for small businesses that want non-complicated invoice templates. Its designs are sleek and easy on the eyes. However, it does not offer an invoice editing platform for non-members. You must download an open file and use it on a third-party app.
Best features:
Provides every commercial invoice template in Excel, Word, PDF, Google Sheets, and Google Docs formats
Free of cost without any limitations
Option to add smart payment links to invoices
Pros:
You can download its invoice templates without signing up.
Its designs have well-organized fields and easy-to-read fonts.
Its Excel and Google Sheets templates are formulated, automatically updating costs on the invoice.
Cons:
You need a third-party app to edit its invoice templates.
It offers fewer templates compared to competitors.
Each template has a watermark that you need to remove separately.
Pricing: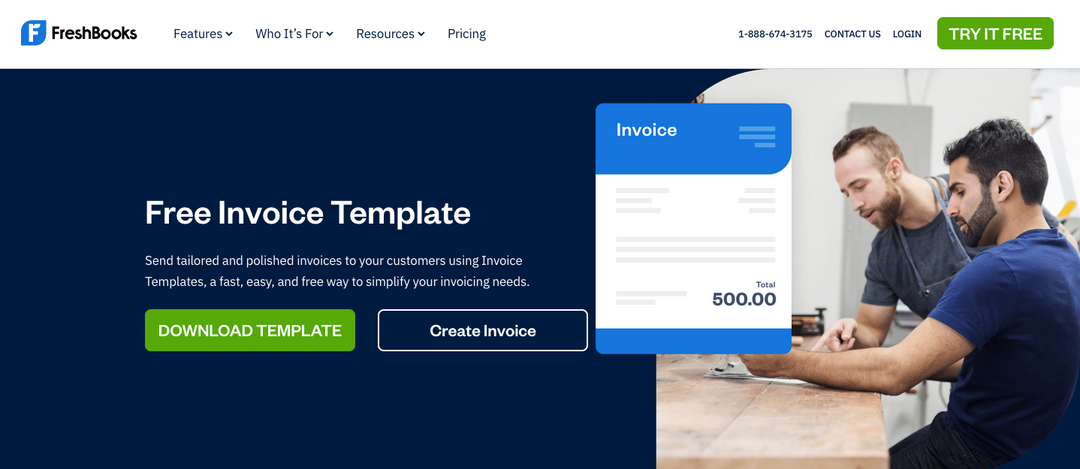 Freshbooks has free (but limited) invoice templates for small businesses with a few clients. People who don't want to use third-party editing software can use its built-in invoice generator. Those looking for modern designs will be disappointed with its offerings, especially as better alternatives are available elsewhere.
Best features:
Generator that lets you create an invoice on the website
Invoice templates in multiple editable formats
Offers affordable plans for invoice and payment management
Pros:
You can download and edit a free invoice without signing up.
It offers a 30-day trial to its premium invoicing and payments platform.
Its invoice generator is simple to use and creates invoices quickly.
Cons:
Its free invoice templates could do with a design update.
Its invoice generator adds a watermark to all the generated documents.
You cannot download a free invoice directly from the website and must enter your email address to get the file.
It only offers five free invoice templates.
Pricing:
Free plan
Lite plan – $8.50 per month.
Plus plan – $15 per month.
Premium plan – $27.50 per month.
Select plan – Price varies based on your needs.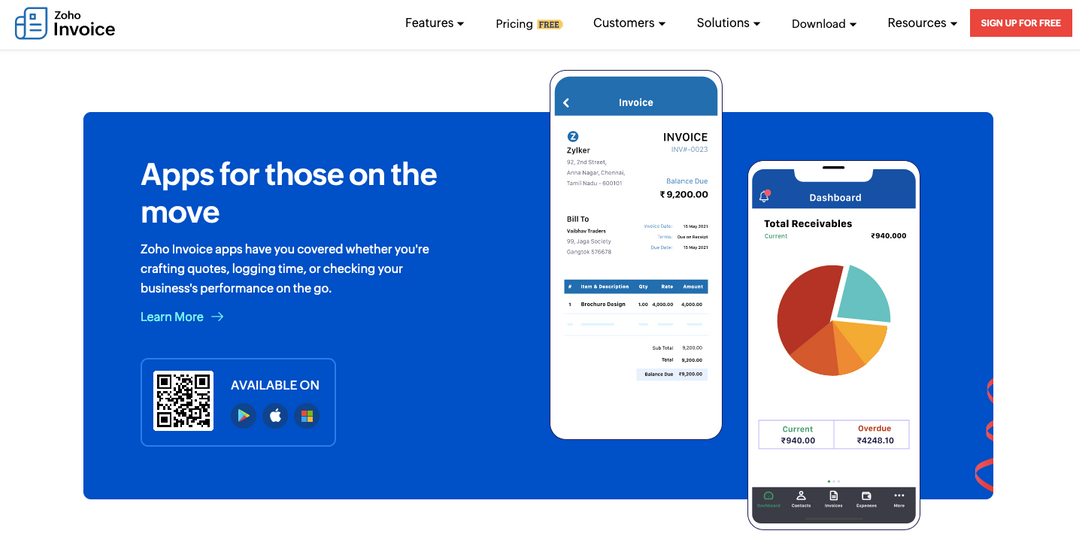 Zoho is best known for its productivity suite, which has over 90 million customers globally. Among its offerings is a free platform that can help you create and share invoices in a few clicks. However, its invoice creator app can feel sparse with its limited templates and a few visual editing features. Those looking to design unique invoices should look elsewhere.
Best features:
Offers an invoice and payments management platform for free
App for creating and editing invoice templates
Minimalistic and well-organized invoice designs for easy reading
Pros:
You can create a custom invoice link for each customer.
Its app works smoothly and creates shareable invoices quickly.
Its dashboard has a simple UI and is easy to navigate.
Cons:
You must go through its long sign-up process to create a commercial invoice template.
You can download the invoice only as a PDF file.
It only has four invoice templates.
Pricing:
How will a generic invoice template impact your brand?
A generic invoice template can tell your clients you haven't put effort into creating a document for your business. Like every communication you send, your invoice must look professional while communicating all information aptly.
A quality invoice offers an opportunity to impress clients by subtly displaying your attention to detail.
How do you know an invoice receipt template is effective?
An effective template is good-looking and has all the information your client needs to process your payment.
Once you're happy with a decision, adhere to this checklist to include all the necessary information:
Your company's name, logo, and contact information.
Your client's address and contact information.
The products or services you're charging for, along with quantity and pricing.
Your signature to show legitimacy.
Optionally, your bank information if your client does not have those details elsewhere.
You can always add a customized message to make the invoice more personal. This is a good gesture that can positively impact your clients.
How do you choose the best commercial invoice template online?
With all the quality invoice templates online, it can seem impossible to choose one. Design preferences will change from person to person. However, here are some crucial questions you can ask yourself before choosing a commercial invoice template:
Does this template have space for my company's logo?
Is this template editable?
Can I edit this template directly on the website?
Do I need a smart app or template that saves my clients' information for future invoicing?
Can my clients open and review the invoice's file type?
Does the information look cluttered or organized?
The last one can be difficult to answer. You can always show the various options to your colleagues to make a final call. Choose one and ask for your client's opinions in case you're not settled on one option. They'll let you know what works and what doesn't. Happy invoicing!