‍
There's never a shortage of jobs for online graphic design professionals. If you aspire to pursue this lucrative career option, it could help if you improve your knowledge. If you have no experience with graphic design, you could explore learning from online resources.
Online learning has become a popular mode of education post the pandemic, with people of all ages finding familiarity with learning platforms.
‍
The 10 best online graphic design courses to get started
We have curated the ten best online graphic design courses you can explore. These comprise independent organizations, design schools, and entire universities. With the increasing demand for online graphic design courses, some entities are offering their services free of cost.
We recommend that you read about the different opportunities and make a decision for yourself based on your existing proficiency and the goals you have set for yourself.
‍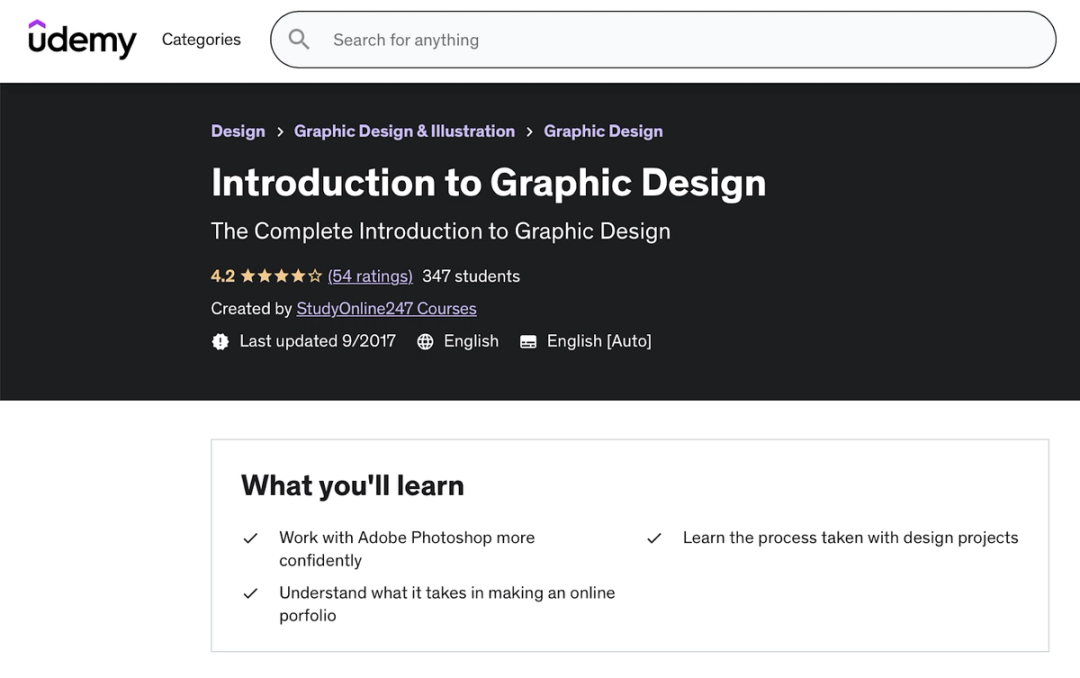 If you are a beginner and are curious about graphic design, Udemy's "Introduction to Graphic Design" course could offer you a good start. The course spans 11.5 hours of on-demand video lessons that you can access at your convenience. You can attend the classes for as long as you like over mobile and TV. The course costs $9.99.
After completing the course, you receive a completion certificate, which is valuable since it bears Udemy's reputed logo design. To begin the course, you will need access to Adobe Photoshop, understand basic computer working skills, and possess the desire to learn more about design.
A key advantage of picking this graphic design course is the unique module that teaches you how to create your portfolio. This skill will prepare me for prospective job opportunities better.
‍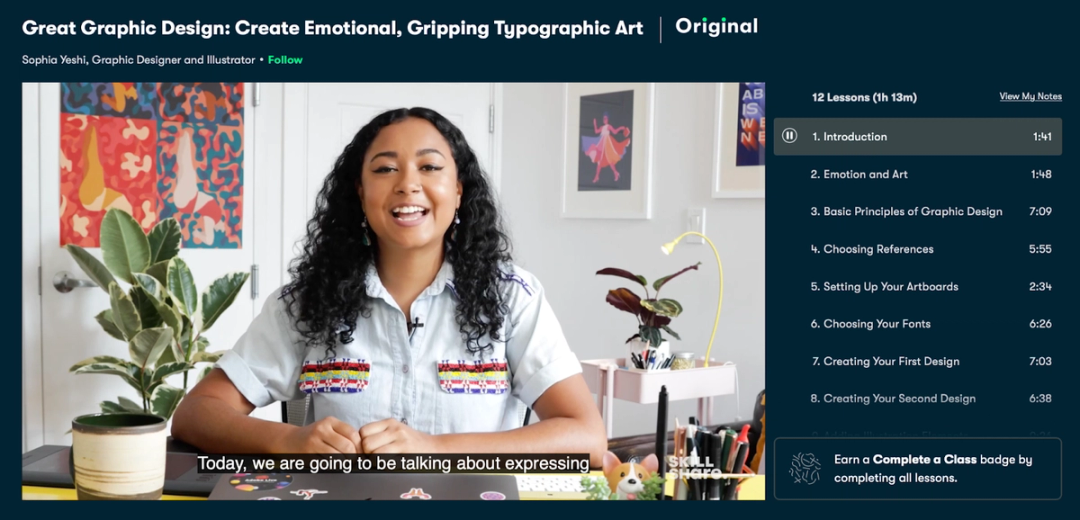 Skillshare's online graphic design course brings out the true artist in you. It helps you "create emotional, gripping typographic art." Each class has eleven lessons. They begin with the fundamentals of emotion and art and advance to teach you about how textures and colors play vital roles in design.
The course is an intermediate-level learning experience and has trained well over 13,000 students so far. Designer, Sophia Yeshi, leads the classes by making learning fun and interactive with examples and stories from her experience as a professional.
Typography is an essential subject in design because it plays a vital role in branding, creative communication, and poster design. Skillshare offers a 7-day free trial for students with access to all lessons.
‍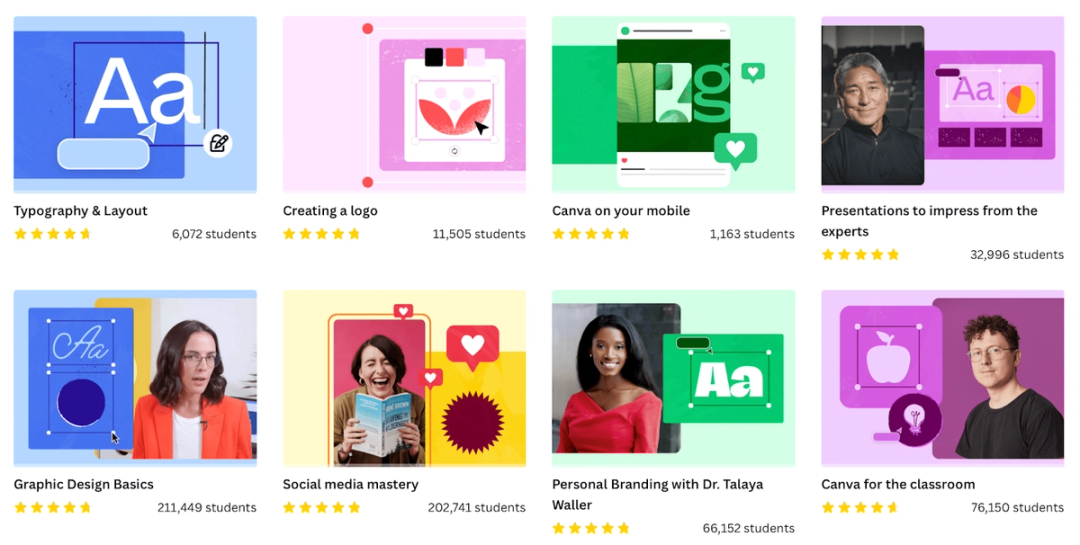 You may have heard of Canva—scratch that, you likely know of Canva. The online platform is a hotbed for ready-to-use templates across several applications from social media branding to job resumes.
Canva Design School targets the next generation of designers. It is created around the principle that anyone can be creative with the right tools. In this case, Canva will be your tool of choice. It is available for free.
The beginner-level online graphic design course includes thousands of tutorials that teach you to design like a professional. You can learn more about typography, color, and trending design styles. Canva Design School offers more courses for eager professionals, such as "Canva Pro for Nonprofits" and "Print Advertising" among others.
‍
If you are looking for one-on-one mentorship programs with experts, then Springboard's "Introduction to Design" is an online graphic design course you should consider. The 4-week curriculum helps you understand the intricate details of the design industry. You will discover techniques and best practices designers follow in their daily interactions.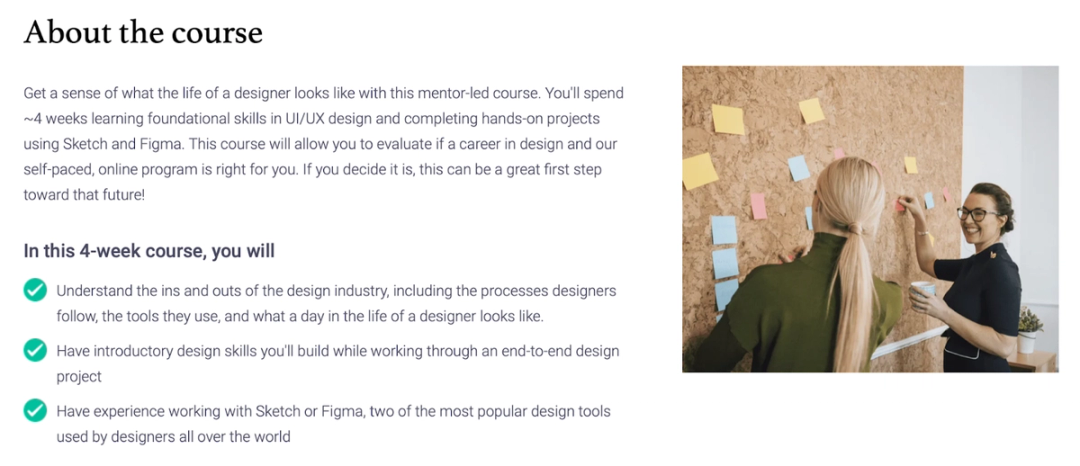 You get hands-on experience working on platforms like Sketch and Figma. The most exciting part of the project is when you develop your project end-to-end.
The course focuses on helping budding UI and UX professionals take the first few steps into their new careers. The course costs $349 and can be completed within four weeks if you put in 10 hours per week. The more time you dedicate, the quicker you complete the course.
‍
Known for its massive bank of stock images, audio, and video, Envato has branched out into a learning center with Tuts+. It covers learning popular design tools like Illustrator, Photoshop, Cinema 4D, and Rhino. The learning portal offers students a wide range of tutorials on tasks that require varying skill levels.
We highly recommend choosing an online graphic design course on this platform for one special reason that may appeal to budding designers: it's free.

From typography courses, t-shirt design, movie poster design, image manipulation, and even hair cropping skills in Photoshop, Envato Tuts+ empowers students with the occupational hacks needed to become professional designers.
‍

Coursera has bagged the reputation of being a truly professional learning and certification program for different life skills. Its tie-ups with established companies and universities give its students leverage they can use for life.
Their online graphic design course is developed in partnership with the California Institute of the Arts and is entitled "Graphic Design Specialization." Nearly 300,000 students have already enrolled for the course for free.
The course takes six months to complete if you dedicate three hours per week. The project covers many disciplines like motion design, interface design, image-making, typography, and visual design.
‍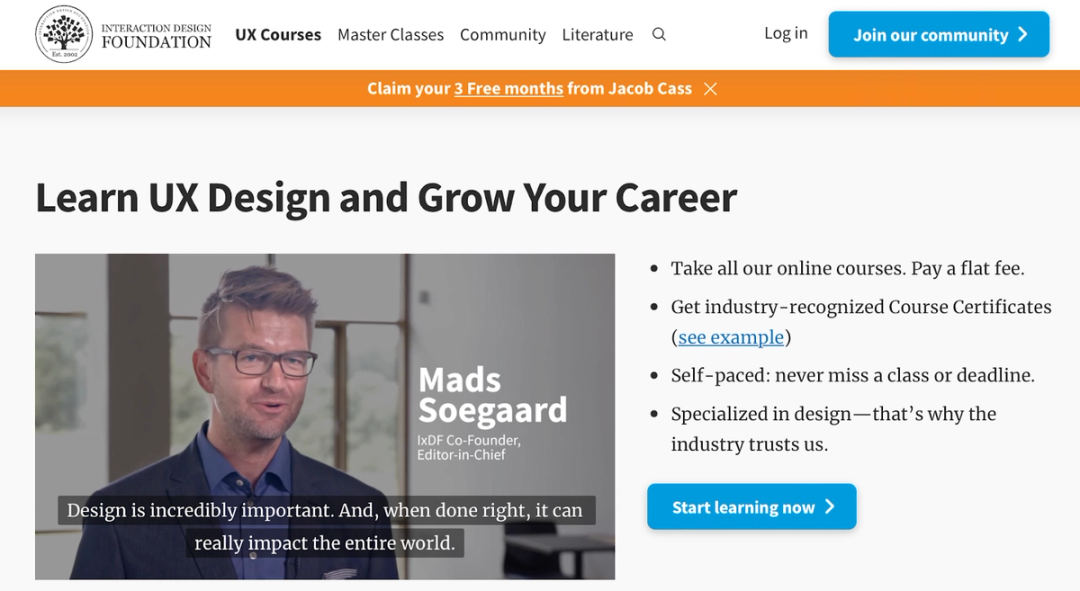 The self-proclaimed "world's leading online design school," Interaction Design Foundation, has all the bragging rights. You can begin with a 3-month, free membership program that exposes you to learning-friendly programs that hone your skills in UX.
The demand for UX professionals is on a perpetual rise. As a result, companies offer attractive salaries to professionals who undertake formal UX training. You pay a flat membership fee to enroll and access all courses without spending again. This model gives you a course advantage over time.
‍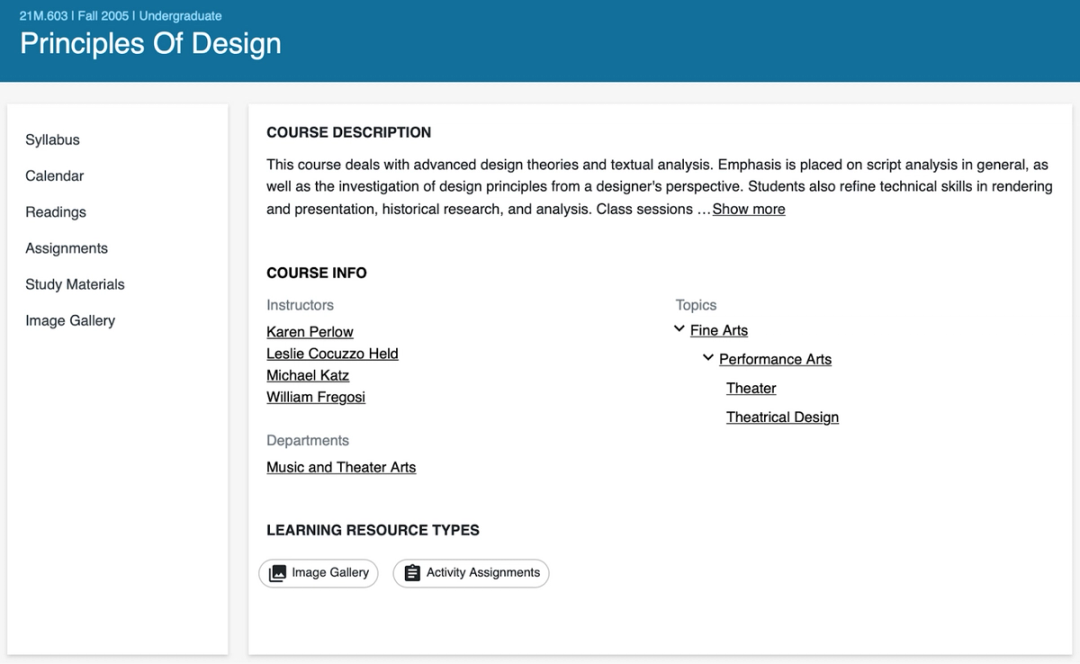 MIT is among the most reputed technology universities in the world. It offers professionals MIT OpenCourseware with free lecture notes, exams, and videos from the best minds in MIT.
You can access the courses independently from the university, online, without registering. The courses are updated regularly, so you may experience that some may disappear while new ones appear. The Principles of Design course is enlightening for professionals seeking deeper meaning in their design.
‍

Here's a Coursera course from the University of Colorado. You can enroll in the course free of cost. Seventy companies have applied for this course to improve their employees' visual language and expression. The course is part of the university's Effective Communication syllabus and takes about 29 hours to complete.
David Underwood is the instructor for the course and has worked with the university since 1988.
‍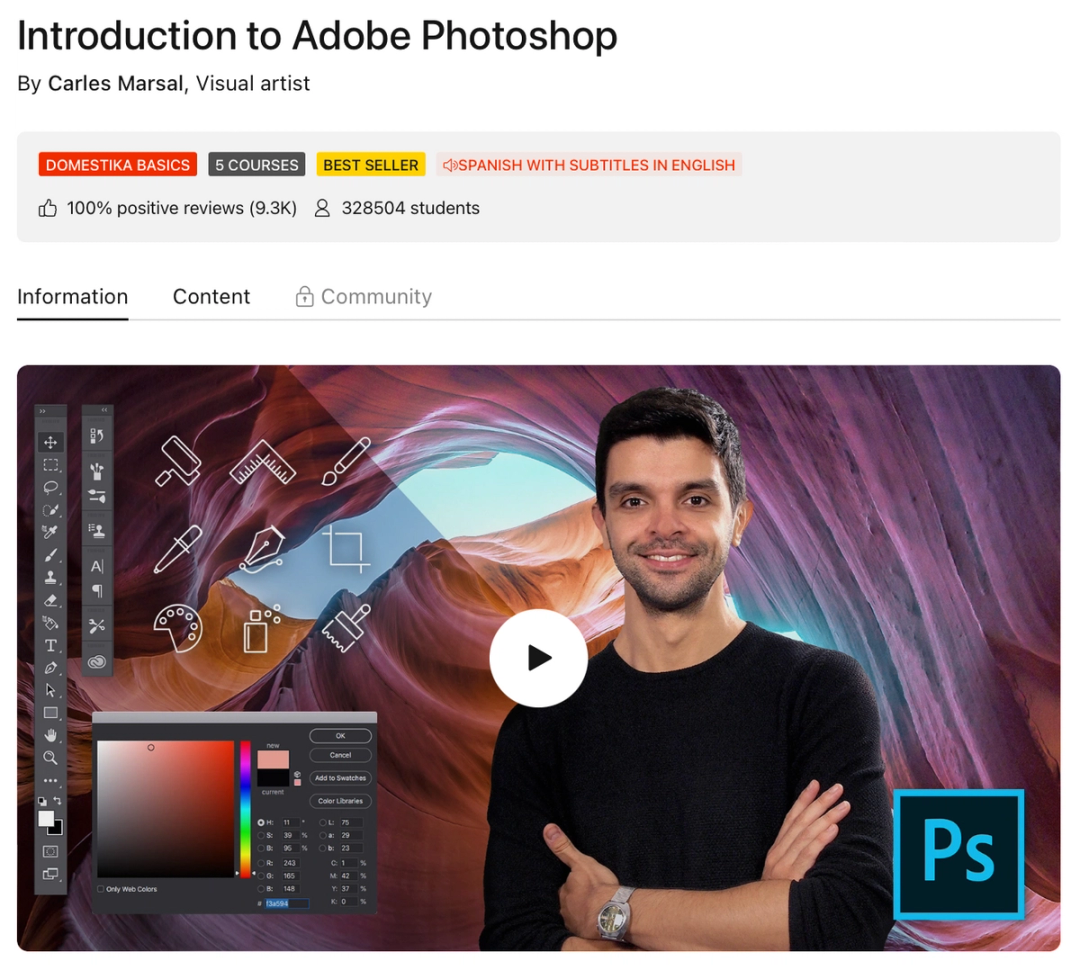 Big on specializations involving all kinds of art, Domestika will give you the right footing to begin your journey as a graphic designer. You can pick from various online graphic design courses for beginners and intermediate students. Each course has a different price. Watch out for festival and holiday discounts.
Domestika's course library lets you choose a software proficiency program or a comprehensive design learning course. The trainers are thorough professionals who impart theoretical and practical advice on how to grow as a design professional.
‍
Frequently asked questions about online graphic design
What are some commonly asked questions about online graphic design? Get your questions answered with these three FAQs.
1. Can you be a graphic designer online?
Certainly, but you'll need to meet some conditions. An online portfolio is essential if you're seeking employment as a graphic designer or want to go it alone as a freelancer. Having a portfolio that can be shown to potential clients and employers online will increase the likelihood of being hired for graphic design positions.
2. Is a graphic design certificate worth it?
Gaining official recognition of your expertise can open doors to better jobs and higher pay. A graphic design certificate can demonstrate to potential employers that you are committed to your professional growth and have the skills they seek.
3. Can I learn graphic design by myself?
You can learn the skills necessary to work as a graphic designer if you are willing to put in the time and effort. To name just a few of the procedures involved: You can't be a designer without the ability to convey your ideas visually, so it's crucial that you master the art of creation, whether on paper or in software.
‍
Bottom line
These are great times to become a graphic designer. Online learning has become simple, intuitive, personalized, and affordable. These online courses allow you to work and learn on your terms with flexible course plans and certifications.
Companies that hire graphic designers are more open to accepting students with a certification from reputed platforms or universities. All of the above courses are reputed and can springboard your ambitions.
Here's wishing you good luck in your journey as a graphic designer. The world can never have enough designers.
Ready to design your free logo? Get started with our logo maker!