‍
It is a necessity to invest in the best accounting software for self employed entrepreneurs such as yourself. The reason is simple: when starting out, most of us don't have the luxury of hiring an accountant.
The right accounting software can act as a reliable substitute, helping you with your personal and business finances, including taxation. Your numbers need to be accurate for you to know how much you're earning, spending, and investing.
Accounting for the self-employed is a crucial skill and software can act as your financial best friend. You never have to worry about crunching the numbers as you take care of other pressing business matters.
Hey, even Batman needs Alfred to take care of his many needs!
Key takeaways:
The most important aspects for the right accounting software are ease of use, affordability, accessibility, security, and error identification.
Due to the huge demand for accounting services, it may take some trial and error to locate the ideal one for you.
There is no accounting software that fits all criteria, but there is one that will suit your business needs perfectly.
It's essential to choose accounting software that doesn't hurt your wallet, especially when you have limited resources.
Every tool has strengths and weaknesses, and it's up to you to find out which one works the best for you.
‍
The 10 best accounting software for self employed entrepreneurs
Accounting is a necessity, both for businesses and for the self-employed. It will take some trial and error to find the best business software for self employed entrepreneurs due to the high demand for these services. You have a bunch of options to choose from, so take your notepad out!
These 10 great self employment accounting software programs are well-known and reliable, so keep reading to discover the perfect one for you and your business.
‍
1. Xero
Xero makes accounting feel like a piece of cake by featuring real-time collaboration.
Xero's UI is intelligently designed and highly pleasing to look at. This self employed bookkeeping software for freelancers organizes all your tasks in one place, so you don't have to cross a proverbial town to get your accounting to-do list sorted out. Everything, from your clients to your invoices, is safely stored in one place for your utmost convenience.
If simplicity and accessibility are your thing, then Xero's the software for you.
‍
2. Zoho Books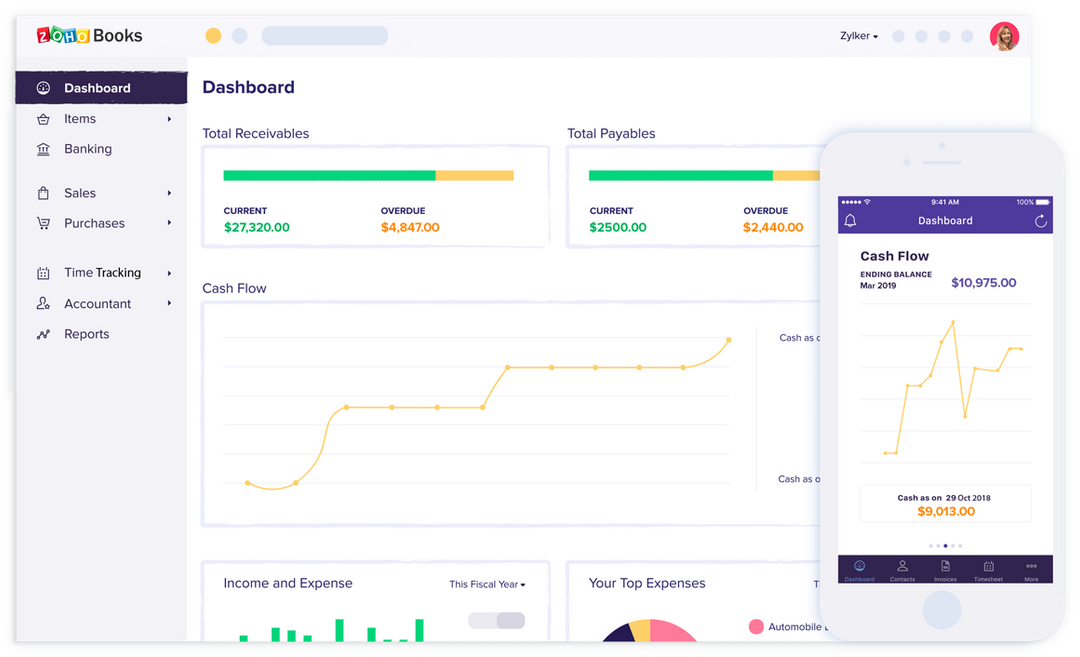 Zoho has a very reliable productivity suite under its belt. So, if you're already a user of their products, signing up for the suite might also be a good idea. However, Zoho Books is a feature-packed software on its own. It is a fantastic choice, whether you use the productivity suite or not.
One of its most impressive features is the automation tool. You'll regularly receive reminders on auto-charges and task automation. Zoho Books is a fantastic self employed accounting software that'll allow you to be at the top of your game accounting-wise.
‍
3. QuickBooks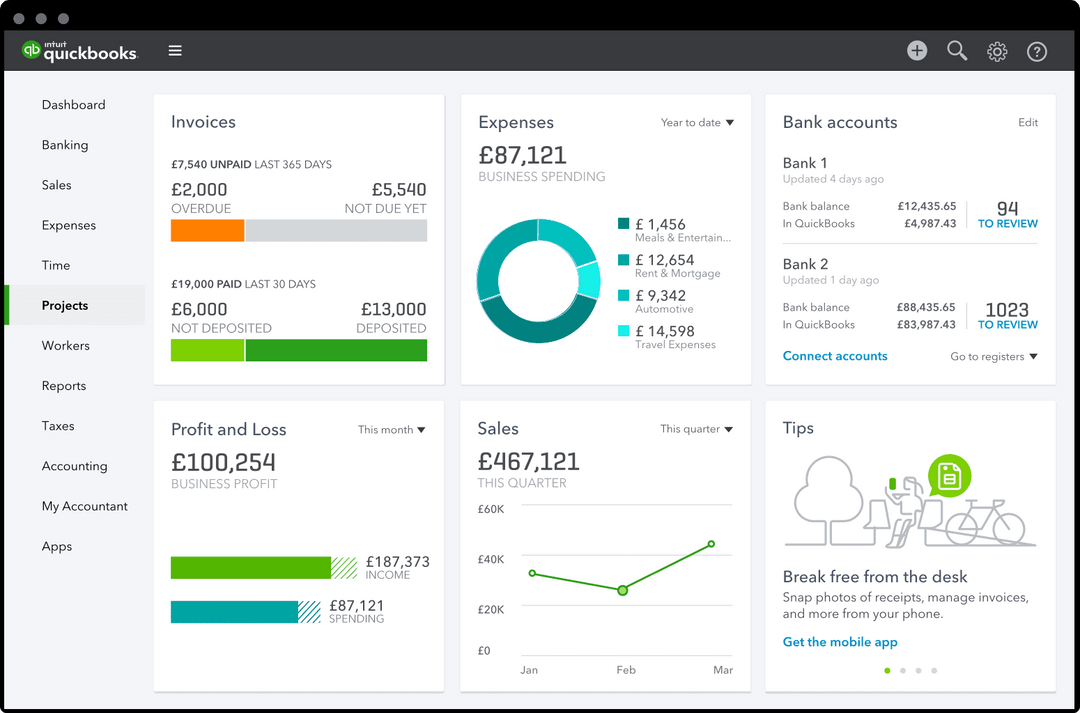 The best business software for self employed people need to be affordable and resourceful. It shouldn't have too many features to overwhelm you, but it also shouldn't have too little to be inadequate. Quickbooks is just that.
It is a highly accessible self employed bookkeeping software with plans that cater to businesses of different sizes and models.
Additionally, QuickBooks has features that answer your questions and clear up any doubts you may have about using the software. It has a mock version that is completely free, so give that a try and determine whether it's right for you. Hooray for free trials and no-risk investments!
‍
4. AlignBooks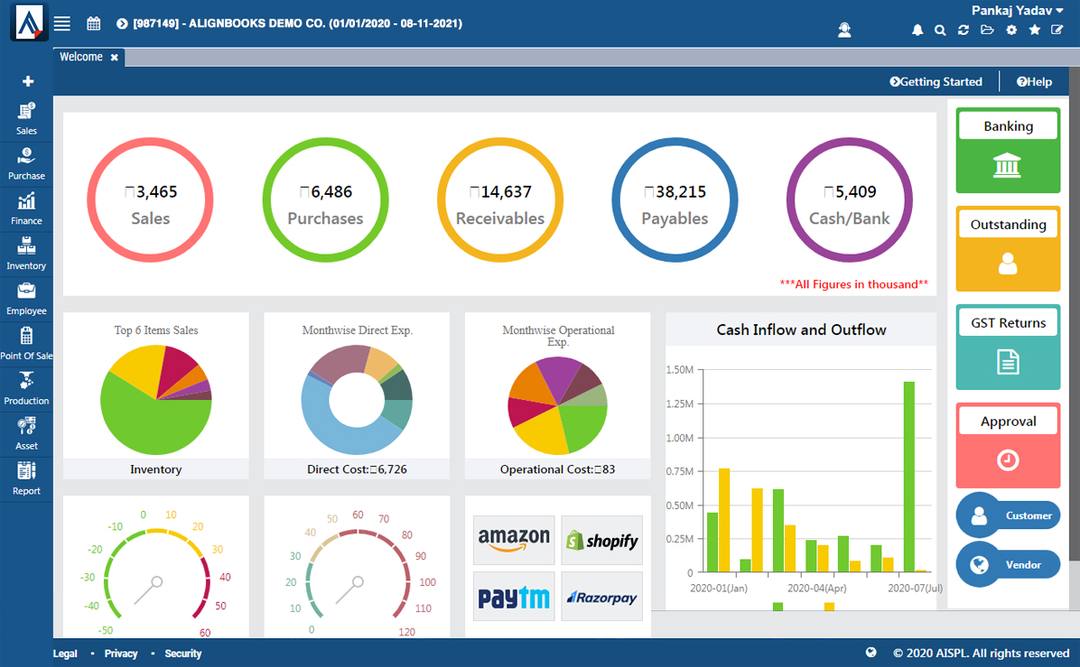 AlignBooks can be your best friend if you're an online seller. AlignBooks is essentially an accounting software for freelancers that also doubles as a resource management tool. So, you can take care of both your books and your inventory in a single place.
AlignBooks easily integrates with Amazon and Shopify, so online sellers don't need to worry about navigating a billion pages to get an overview of their accounting data. It's also really colorful, which makes accounting work seem bright and fun (which is hard to do).
‍
5. Sage Accounting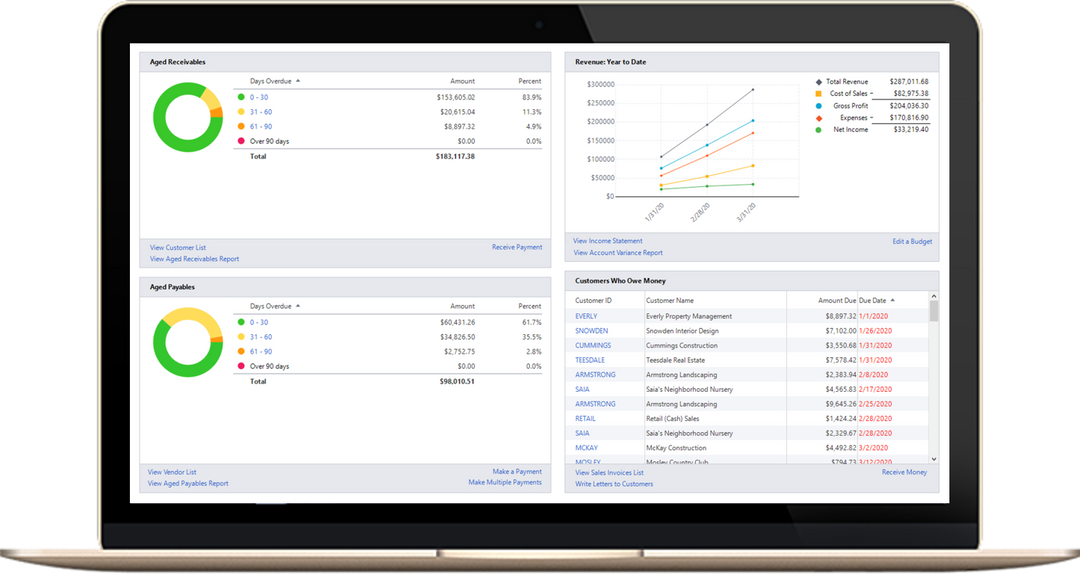 Sage is one of the absolute best accounting apps for small businesses and the self-employed. In fact, that's precisely their specialty. What makes the tool so accessible is that it has solutions for various industries and unique needs.
When you visit Sage Accounting, you'll find an Industry tab. Look for your industry, click it, and feast your eyes on personalized solutions for your niche. Have a candle business? Sage has specific services for you. What about a non-profit? Sage has services for that too, plus a 50% discount!
It's the attention to detail that makes Sage *chef's kiss*.
‍
6. FreshBooks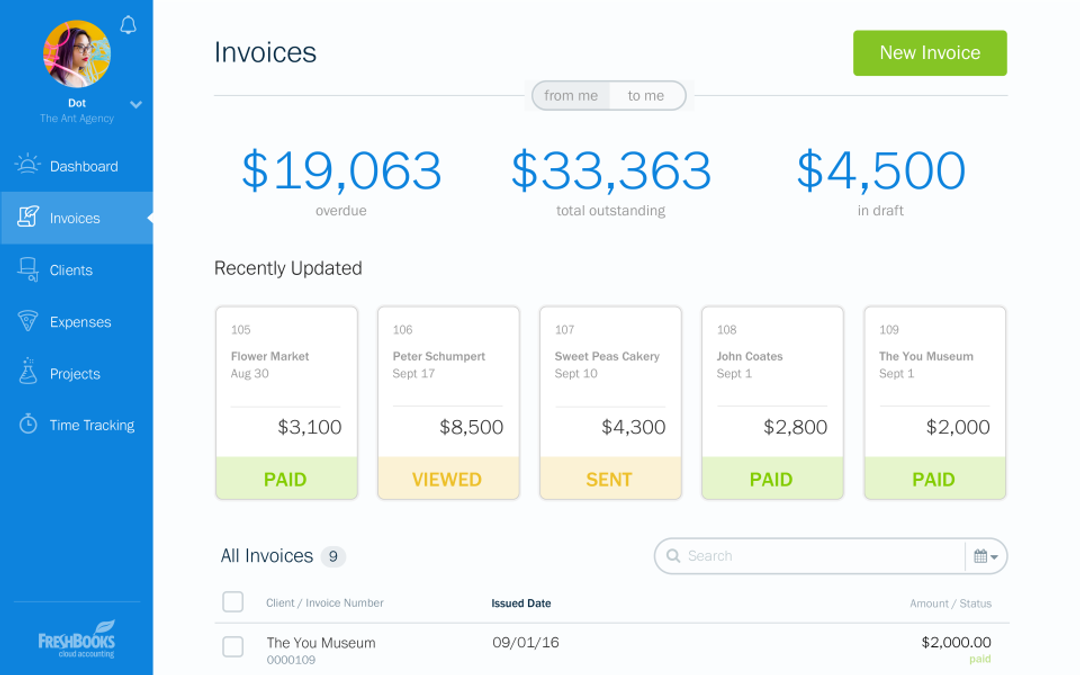 The team behind FreshBooks has taken the time to make their accounting app accessible and easy for self-employed workers. There are separate sections for self-employed entrepreneurs and freelancers, so yes, you will be receiving services solely dedicated to your particular needs.
Not to mention, let's hope you're catching this article early because FreshBooks has a 60% off sale for the next 6 months. If you missed it, don't fret. They regularly have promotions going on, so keep your eyes peeled for the next one.
FreshBooks also has an app store with tons of tools you can integrate with the software. This makes your workflow seamless and easy, especially if you're handling everything on your own without external help.
‍
7. Wave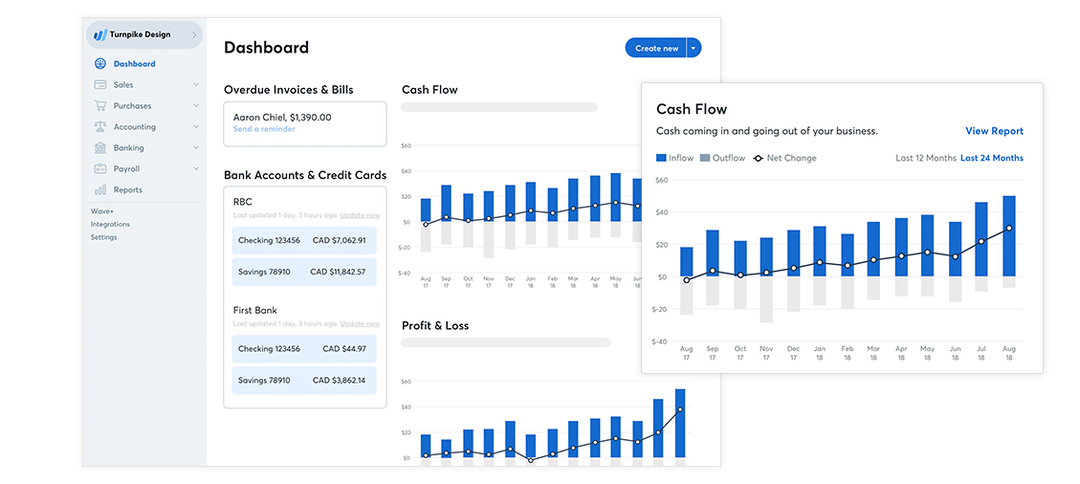 Wave has separate software for both accounting and invoicing. The accounting tool is highly capable and completely free of cost. Yes, this isn't an accounting error on our part. It's reliable and it's free, so you essentially lose nothing by giving it a try and seeing if it works for you and your business.
Wave creates extensive reports, allows you to connect as many credit cards as you want, and has a plethora of other great features. Come on, this one's a no-brainer.
‍
8. OneUp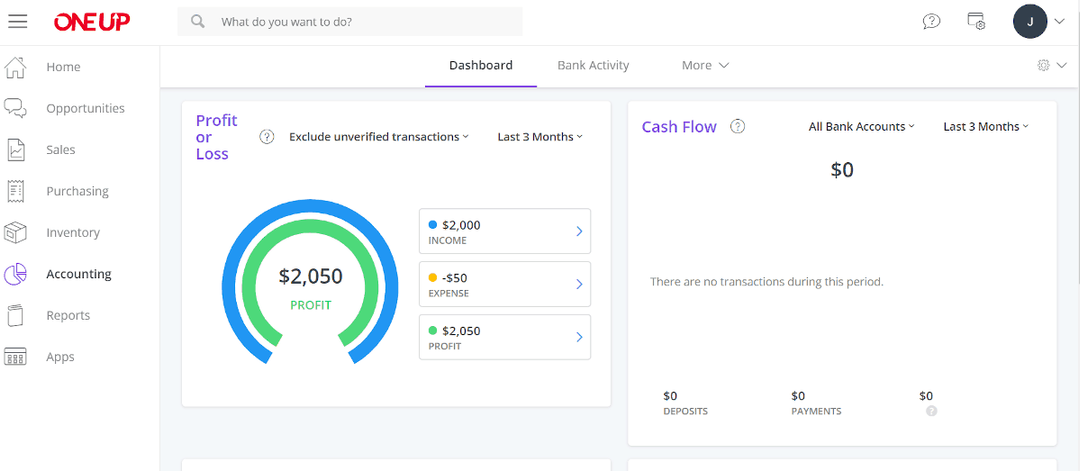 If you feel like hiring someone for your accounting needs, consider interviewing OneUp's Business Assistant and seeing if they're right for the job. Okay, you can't really interview the AI-powered software.
However, OneUp's Business Assistant is a handy and capable sidekick that will take care of you and automate all your accounting needs. If accounting is not your strong suit, you can rely on Business Assistant to also provide you with some Smart Advice.
OneUp has worked on these proprietary technologies to make accounting as simple as possible for people that need guidance.
‍
9. Shoeboxed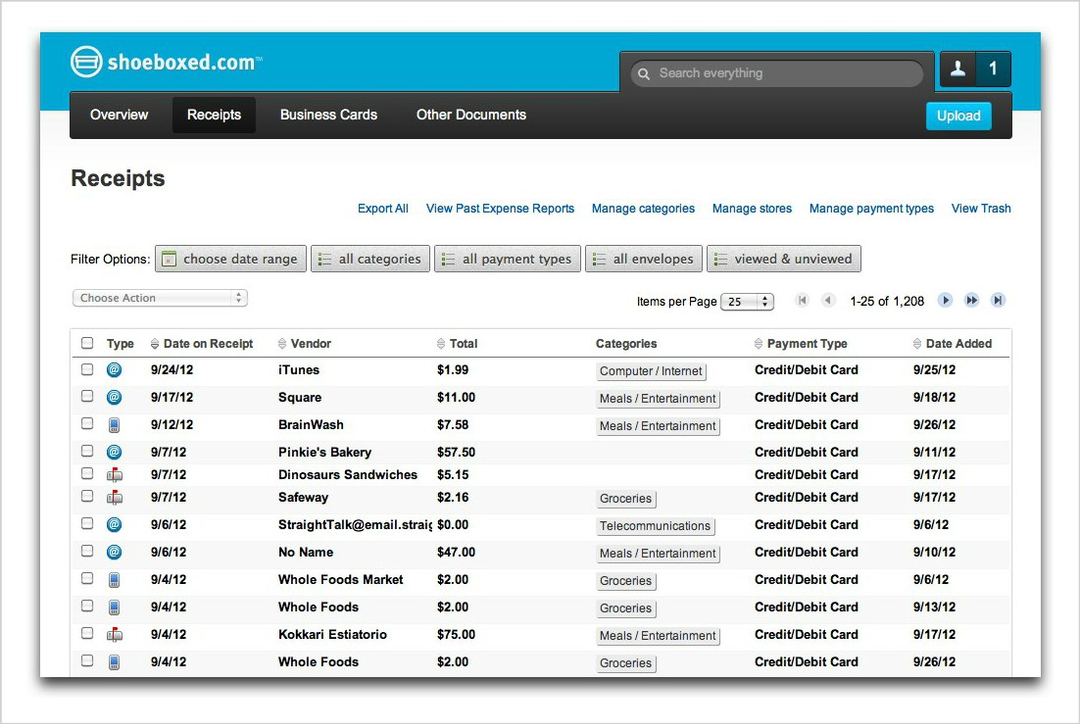 If your business gets a lot of receipts that need regulating, Shoeboxed may be the software for you. We promise you won't get shoeboxed into this, but it will pique your curiosity.
The software specializes in taking receipts and transforming them into data you can actually use. This streamlines and automates a very cumbersome task and turns it into a valuable resource you can use to expand your business.
‍
10. Fiverr Workspace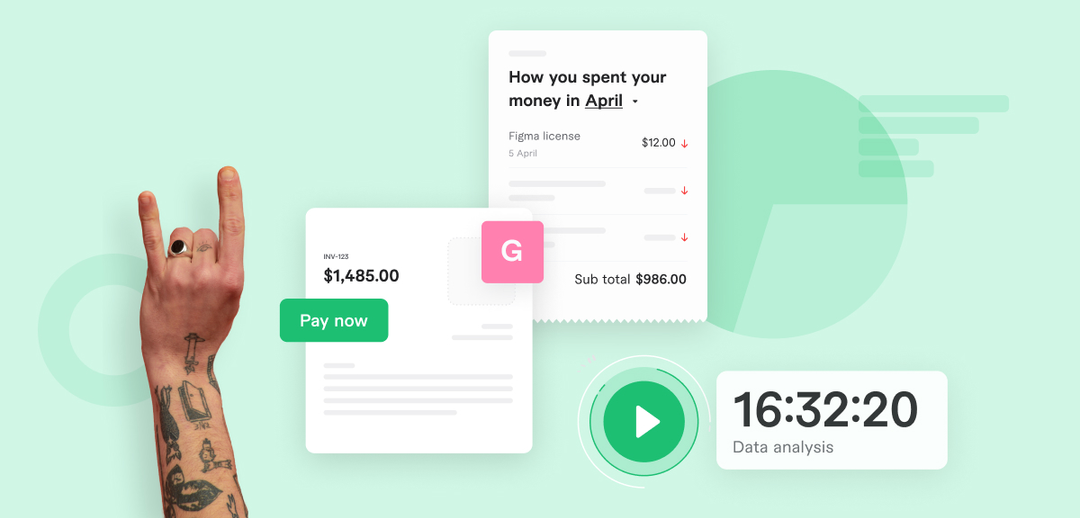 A lot of self-employed people are on Fiverr. More than 830,000 sellers, to be exact. If Fiverr is your marketplace, then using Workspace makes complete sense.
Workspace is more than just a capable accounting tool. From managing contracts to tracking your tasks, the software does it all. It is a very powerful asset for the self-employed person because it helps you take care of tasks with zero fuss.
‍
The 5 requirements of reliable accounting software for self employed entrepreneurs
The best software, be it accounting or other startup tools, is subjective to the needs of its user. Every tool has its strengths and weaknesses. While every self employment accounting software is designed to handle numbers, they're also made for varying specific needs.
With that being said, there are a few general requirements for good accounting apps:
1. Ease of use
The best bookkeeping software for self employed people needs to have an easy learning curve. Most solopreneurs and freelancers aren't accounting experts (unless they're freelance accountants). This is why the software they use should be approachable to them.
Accounting for freelancers isn't as dense or in-depth as it is for corporations. Therefore, an intuitively basic accounting program can make all the difference.
2. Affordability
Unfortunately, self-employed people don't have the same access to funds as companies do.
This is why the software they use needs to be affordable and sustainable for the long term. Affordability is subjective from person to person. However, there are cheap subscription plans or one-time purchases in the low hundreds here and there. You definitely want to gravitate to those deals.
3. Universal accessibility
Solopreneurs and freelancers don't always have full-time staff to do their taxes and vet their numbers. Like most people, you probably do your taxes yourself or hand your files over to an accountant.
Ideally, you need to find a software that is universally accessible, allows collaboration without added purchases, and has the ability to export to common formats.
4. Security features
Full-proof security is a critical prerequisite when choosing the best accounting software for self employed people. Companies usually pay a lot for insurance and third-party security. Freelancers and solopreneurs typically don't have that luxury, especially at the beginning of their ventures.
Therefore, assess the security measures of the software before making a choice. It's arguably the most important requirement of all.
5. Error identification
Let's be honest, you can't always catch and identify stock and accounting errors. They're pretty sneaky that way. However, your accounting software should. The tool should be able to tell you when you've slipped up or possibly entered some miscalculations. Error identification is a lifesaver for any business, big or small.
It'd be even more ideal for the software to notify you about any errors via email or notifications. So instead of being reactive, it actively tries to help you.
Each software has one or more of these features in abundance, while some of them may seem inadequate when compared side by side. Although, at the end of the day, the choice you make should boil down to what you find the most valuable.
‍
Frequently asked questions: 5 popular FAQs about the best accounting software for the self employed
What are some commonly asked questions about the best accounting software for the self employed? Get your questions answered with these five FAQs.
1. What do small businesses use for accounting?
Xero, QuickBooks, and FreshBooks are some of the most popular small company accounting software options. Both systems include robust resources for entrepreneurs, including as invoicing and inventory management programs and mobile point-of-sale systems.
2. Do I need an accountant if I have QuickBooks?
Even if you use QuickBooks for your financial management, you should still have a professional accountant review your tax return. There is usually a good reason to avoid doing your own tax return if your business form is more complex, such a limited company, because of the level of expertise necessary.
3. Can I do my own accounting?
Yes, you can. Single-entry is ideal if you are just getting started, keeping the books yourself, and are still at the building stage. This method of accounting is quick, easy, and suitable for very basic accounting needs. But take note, as your business moves forward, you will need more help.
4. Is Excel an accounting software?
As of now, Excel is still widely utilized by finance managers of small businesses. When compared to large corporations, small firms don't generate nearly as much financial data, so Excel is a great tool for budgeting, forecasting, and other fundamental accounting duties.
5. Do I need accountant software if self-employed?
Yes! Accounting software for freelancers is a must-have for any self-employed individual, regardless of their legal standing, to make sure they are staying on top of their finances and avoiding future problems.
‍
So, which accounting software should you go with?
With these 10 tools to consider, you don't have to look too far to find the one that works for you. It's all about exploring your options and getting a taste of what each one can do for you to simply make your life easier.
The best accounting software for self employed workers depends on many factors. This includes your industry, the number of clients you have, your accounting know-how, and how much work you want to do manually. With that being said, it can even boil down to what software you think looks best!
Rest assured, the answer lies in abundant research, trial and error, and patience. Sooner or later, you'll find the one for you, and the wait will be totally worth it.
Ready to design your free logo? Get started with our logo maker!