Canva has become a staple software for millions. It is easy to use and has a comprehensive collection of free content, making it accessible to anyone with a design itch they want to scratch.
However, its designs may seem repetitive and uninspired because of how widespread they are. Those looking for a change of scenery have plenty of quality options they can explore.
How are apps like Canva useful for newcomers to design?
Most professional applications are expensive, have steep learning curves, and their features can be overkill for the lion's share of design requirements.
Apps like Canva automate many design processes, creating a level playing field for non-designers who want to express their creativity. Many also provide users with free templates and graphics, reducing initial investment.
10 best pocket-friendly apps like Canva for amazing designs
Professional design applications can cost an arm and a leg. This is where apps like Canva come in. Even the paid plans may be significantly cheaper compared to their industry-grade counterparts.
Along with being cheaper, these apps have plenty of features to take advantage of. Those looking to try their hand at designing should look no further than the list below.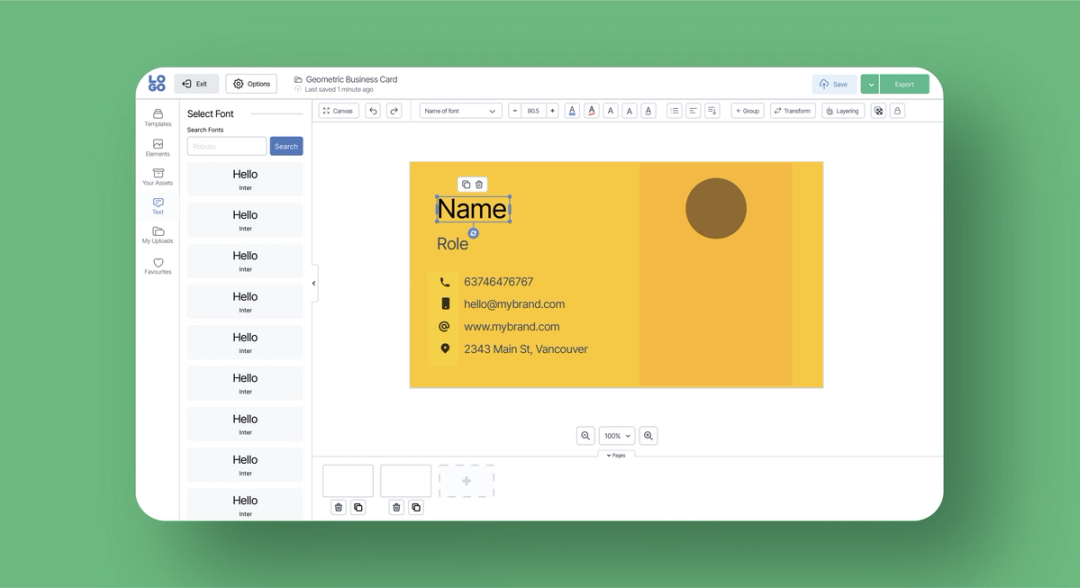 Creating designs has never been easier with LOGO.com's affordable custom designer, Stitch. The tool provides a user-friendly yet comprehensive design experience that allows you to customize readymade templates according to your needs (Canva, but better and more cost-efficient). Whether it's a quirky social media post or a professional letterhead, Stitch has your back and will deliver more than expected.
Best features:
Access to different shapes, stock images, and elements needed for a unique design
A vast variety of templates suitable for all industries and business needs
Masking and photo-editing capabilities that any design beginner can understand
Automatic access to brand assets on LOGO.com, or uploads from another tool, if needed
Pros:
Creating a design on Stitch takes less than 10 minutes with the readymade templates.
You can save your design in a variety of formats, whether digital or print, with infinite scalability.
The customization tools are incredibly easy to use for anyone without design experience.
Cons:
You may encounter technical difficulties if you use the tool in any search engine apart from Google Chrome.
Pricing: LOGO.com's Stitch is a part of the Brand Plan, which only costs $8 every month. The tool is 100% satisfaction guaranteed.
Don't let the brand name fool you: VistaCreate is not just for print-only designs. With a library of vibrant templates, VistaCreate can be of great use to social media teams. Its UI needs to be updated, but it is otherwise a capable alternative to Canva.
Best features:
One-click background remover
Grid alignment that eases the placement of objects
Brand Kit that stores brand colors, logos, fonts, and more
Pros:
It has a lot of design templates.
You can upload and schedule social media posts directly from the app.
It provides 10GB of storage for free users.
Cons:
Only pro members can use its collaboration features.
Free users cannot download HD versions of their designs.
It has a clunky UI that needs to be updated.
Pricing:
Free plan
Pro plan – $13 every month.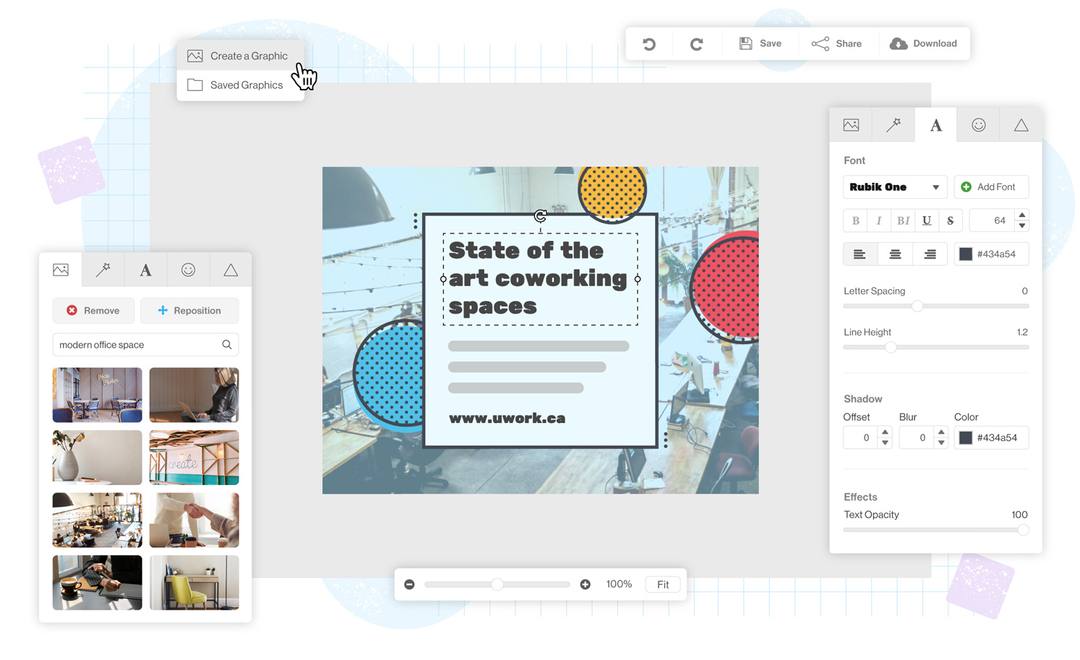 Snappa's responsive web app makes it easy to create designs on the go. Its free plan is limiting due to its download cap. But it does provide new paid users with an extended trial period. It has plenty of fresh templates for those who are tired of the ones on Canva.
Best features:
Magnetic snapping feature that helps with aligning objects to the canvas
Built-in support chat box for newcomers who need help
Large library of backgrounds and templates
Pros:
It offers a free four-month trial for new members.
The Team plan is affordable for small businesses.
The web application runs smoothly– all the graphic elements load quickly.
Cons:
Free members can only download three designs a month.
There aren't too many tutorials on how to use it, given its smaller user base.
Editing options for its templates and graphics are limited.
Pricing:
Starter plan – free of cost.
Pro plan – $15 every month.
Team plan – $30 every month.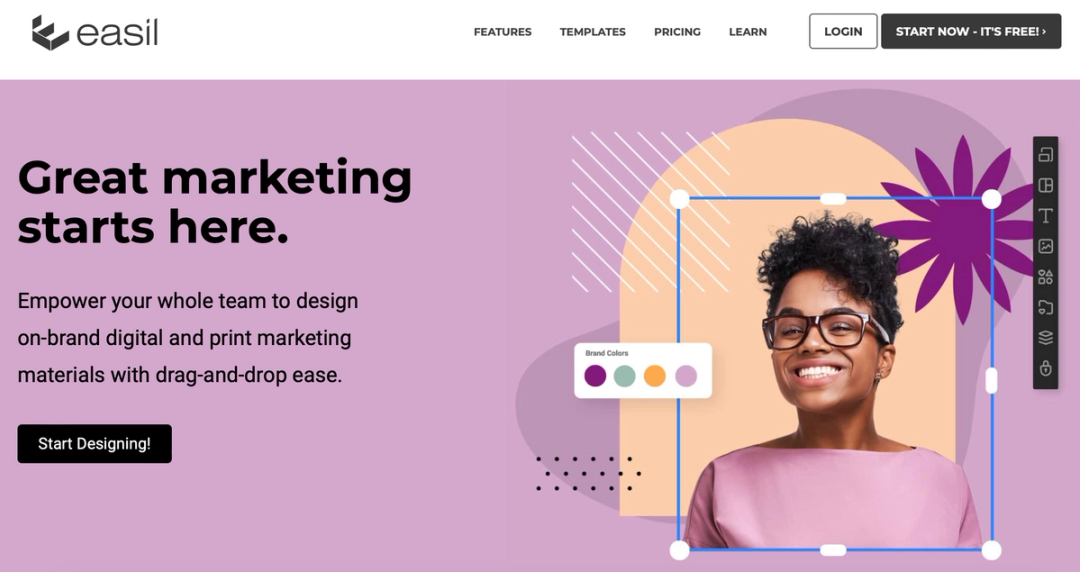 Easil has unique effects, such as font textures, often found only in pro design apps. But its high price point might put off individual creators who can invest in cheaper alternatives with similar capabilities. If you have a large team without a professional designer on board, this can be an option to consider.
Best features:
Inhouse print-on-demand portal for physical designs
Animation templates that make designs dynamic
Color palette generator that automatically picks up colors from uploaded images
Pros:
Its free plan comes with a 30-day trial of its paid version.
Its highest-tier members can order a free custom design if the available templates don't fit their needs.
It has a vast collection of fonts and text effects.
Cons:
Its Edge plan, with essential editing features, is one of the most expensive among the apps listed here.
Not even paid members get unlimited background removals.
Free members get limited file formats when downloading their designs.
Pricing:
Basic plan – free of cost.
Plus plan – $7.50 per user every month.
Edge plan – $59 per user every month.
Enterprise plan – price available on demand.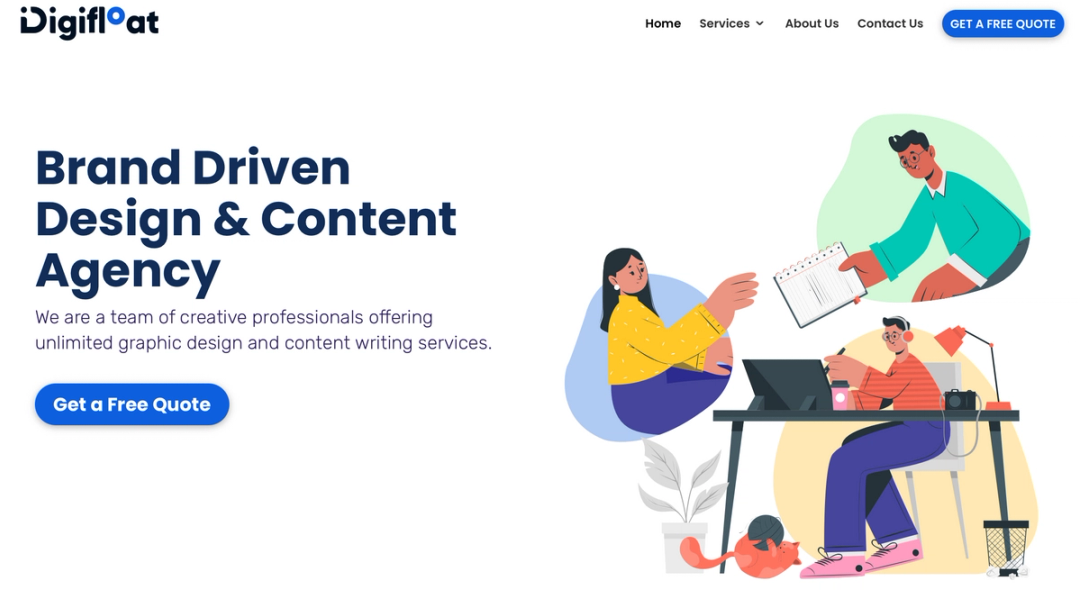 Digifloat is a design-on-demand service run by a team of professionals, unlike most of the alternatives to Canva on this list. Those looking to design by themselves will have to look elsewhere. You can use it in tandem with other applications if your design workload gets unmanageable.
Best features:
Professional designs provided by an experienced team
Option to get unlimited revisions for all designs
Dedicated account manager for each project
Pros:
They provide a 100% money-back guarantee for those unhappy with their work.
They promise short timelines for all their designs.
Customers who purchase their rolling subscription plan can cancel anytime.
Cons:
You have no control over how the initial design turns out.
People looking for apps like Canva that let you design by yourself will have to look elsewhere.
The website doesn't mention whether customers can download open and editable files once the design is approved.
There are no approximate prices available on their website.
Pricing:
Price available on demand.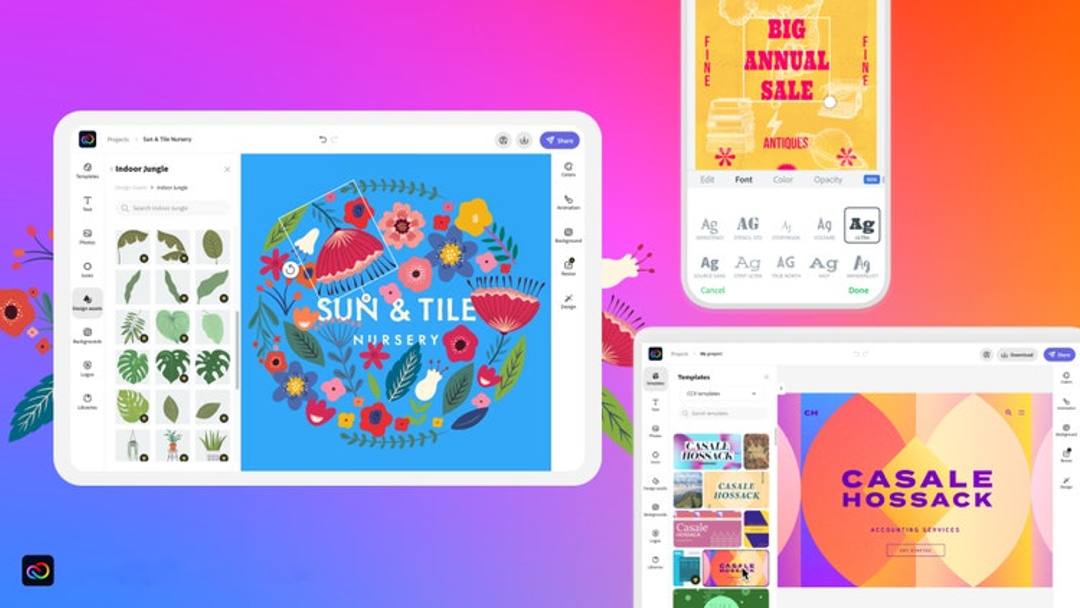 Express is a simpler version of Adobe's professional design applications: Photoshop and Illustrator. Unlike those two, Express requires a constant internet connection and has fewer design features. Its templates and simple editing options are more suited to non-designers who want to create social media creatives quickly.
Best features:
Social media scheduling feature for content creators
Smart file organization system (organized as 'Libraries')
Comes with included apps: Photoshop Express and Premiere Rush
Pros:
You can get design inspiration from publicly shared libraries/ folders.
It has a sizable user base, which allows for plenty of tutorials and troubleshooting.
It boasts a large collection of social media-friendly templates and graphics.
Cons:
The updated version of the app lags and runs slowly.
It doesn't run on a few popular browsers like Firefox.
You need to pay to upload a company logo.
Pricing:
Free plan
Premium plan – $99.99 per year.
Creative Cloud All Apps plan – $54.99 per month, if billed annually.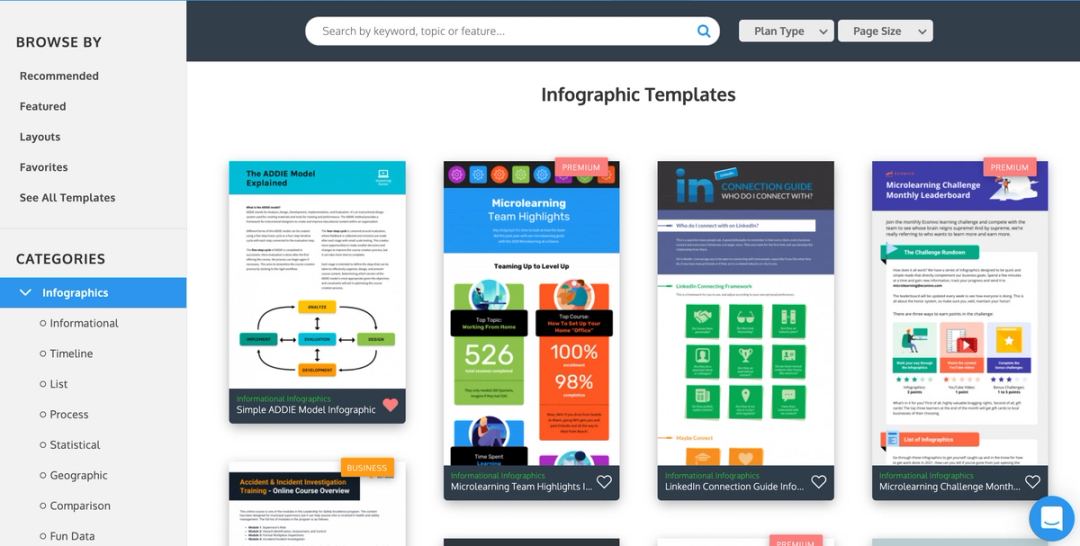 Venngage's expansive library of infographic templates can be useful for people who use apps like Canva to create business presentations. However, it lacks modern templates for other design needs. Those used to Canva will find its UI similar and easy to get used to.
Best features:
Real-time collaboration features for teams
Beautiful infographics and diagram templates
AI generator that can create a professional card with a few commands
Pros:
You can save your infographics as custom templates.
Business members can export their designs as HTML files to integrate with websites.
It offers designers plenty of icons and graphics to work with.
Cons:
Free members can only upload six images.
It can be expensive for smaller teams.
Collaboration features are only available to paid members.
Pricing:
Free plan.
Premium plan – $19 every month per user.
Business plan – $49 per month per user.
Enterprise plan – Starts at $499 per month for 10+ seats, if billed yearly.
Stencil allows users to integrate quotes into images, largely useful for social media posts. Those looking to do the same can make it happen with just a few clicks on the web app. The app doesn't provide much beyond this key text feature.
Best features:
Integrates with your Namecheap account
Has a 'History' button that allows users to revisit and reuse previous versions of their design
Has hundreds of canvas sizes for social media posts, blog images, ads, and more
Pros:
It provides you with millions of quality background images to work with.
It has plenty of fonts for people to add to their images.
It is quick and easy to use.
Cons:
Pro users get access to only 50 image uploads a month.
Templates are available to paid members; free users get to try 3.
The in-built editor is barebones and doesn't offer much beyond adding text to an image.
Pricing:
Free plan.
Pro plan – $15 every month.
Unlimited plan – $20 every month.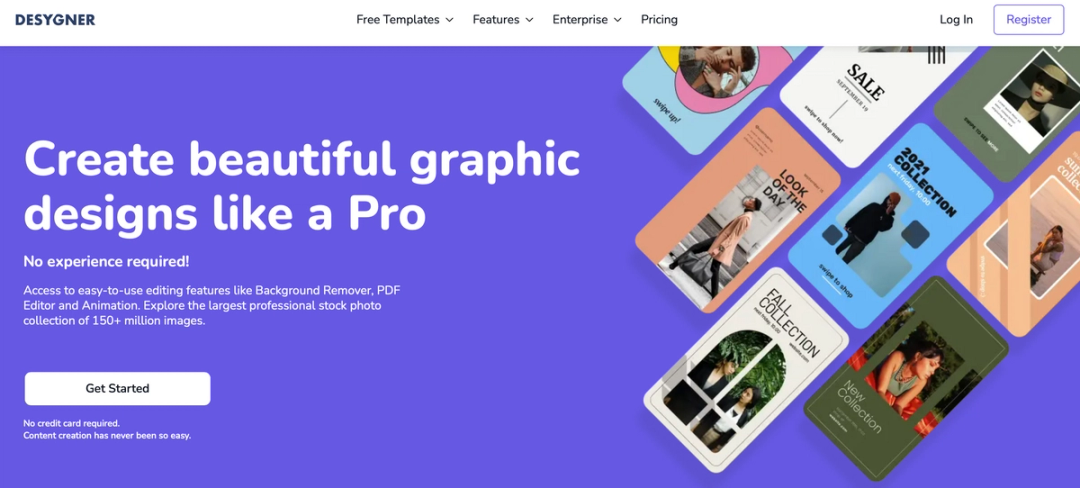 Desygner automates certain designing processes that are otherwise time-consuming. Non-designers can animate, remove backgrounds, resize, and create stunning graphics quickly. It is held back by its web application which takes time to load everything from its graphical assets to its effects.
Best features:
Can edit Adobe InDesign files
Removes image backgrounds in just a few clicks
Option to export files as videos and GIFs
Pros:
You can create simple animations on the app without needing prior experience.
It offers a free Pro+ trial to new members.
It provides users with beautiful stock images.
Cons:
The web application lags and takes time to load.
The layout of the app can be overwhelming to new users.
Its free templates look dated.
The website is difficult to navigate and is not optimized for some browsers.
Pricing:
Free plan.
Pro+ plan – $9.95 every month.
Business plan –$19.95 every month.
Enterprise plan – prices available on demand.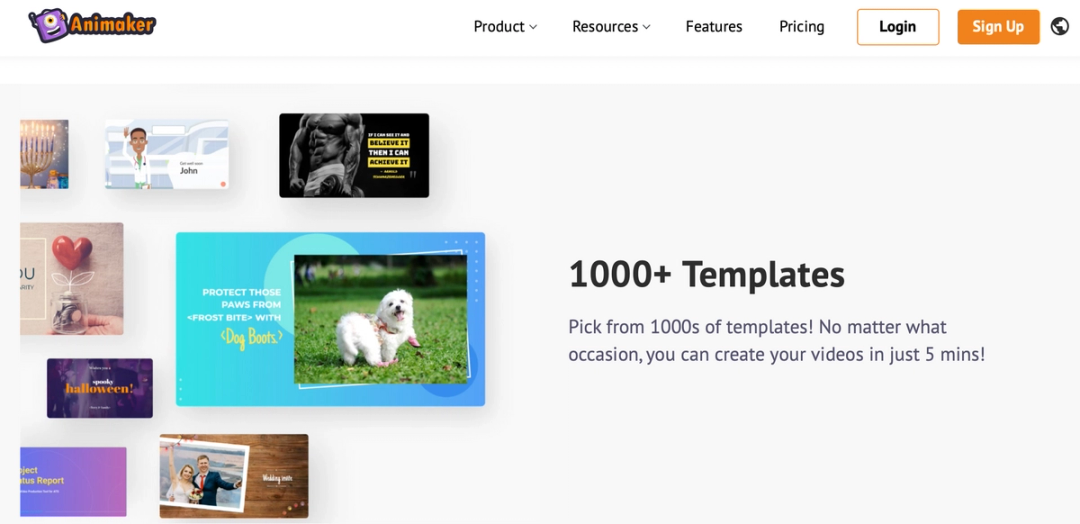 Animaker can help newcomers create simple animations for social media posts and presentations. Its extensive collection of assets can be overwhelming, hence, the app offers comprehensive tutorials for the same. It does not edit images – as is the standard feature on other apps like Canva – but those looking to animate can experiment with it.
Best features:
Offers social media publishing options directly from the app
Has an auto-subtitle feature that cuts down on manual editing time
Has a large collection of animated characters, backgrounds, and other graphic assets
Pros:
It has an intuitive drag-and-drop editor, which makes creating animations easy.
First-time users get a step-by-step tutorial, making the app less overwhelming.
It lets you add your preferred templates to a 'Favorites' tab for easy future access.
Cons:
Its illustrations and fonts need to be updated to meet modern design standards.
Downloads on the free plan are watermarked.
The app needs a fast internet connection to work smoothly, given that it renders animations.
Pricing:
Free plan
Basic plan – $24 every month.
Starter plan – $37 every month.
Pro plan – $79 every month.
Enterprise – price available on demand.
Which of the apps like Canva is right for you?
All the alternatives to Canva have their set of strengths and weaknesses. Some offer specific services, like animations, while others are a jack of all trades.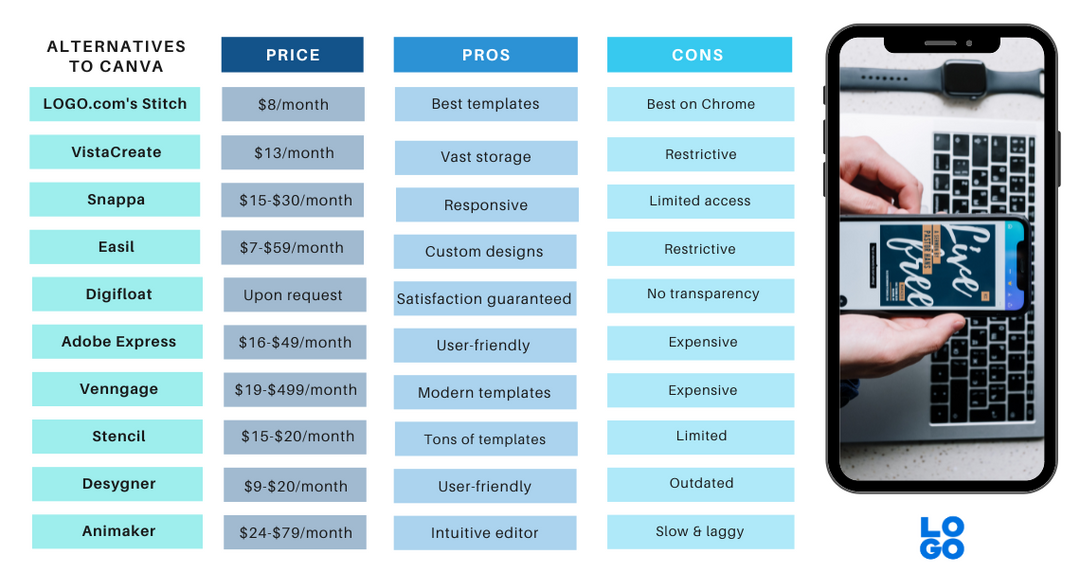 List all your (or your business's) needs and cross-reference them when reviewing the abovementioned apps. Then, shortlist apps that fall within your budget.
How do I choose the right alternatives to Canva for my needs?
Choice paralysis is inevitable with so many alternatives to Canva in the market. While there is never a correct answer to what's right, asking yourself the following questions can get you pretty close to what you need:
What platforms is my content going on? Which apps like Canva have templates for those platforms?
Which of these alternatives has the most relevant templates to work with?
Does it have an easy learning curve? Alternatively, are there online tutorials available for this app?
Are my team members comfortable using the application?
Does this app export the type of files I use regularly?
You'll be designing content for your new app in no time with these crucial questions answered. When in doubt, sign up for a trial to gauge the app.