From choosing a beautiful design to writing the perfect content, it can be intimidating to create your first website.
With so many registrars out there, you may even get stuck on step zero: choosing the best option from available domain names. Which service is the cheapest? Which one provides additional benefits? Which one has exciting domain extensions? This article answers all these questions and more.
Why do you need to purchase domain name for website needs?
You can't take your website public without a domain name. Think of it as an address that your guests need to reach you. A memorable, short, and spelling-error-free domain name can maximize your website's visits, and who doesn't want that?
Why is it important to check for available domain names?
It can be difficult to get the perfect domain name with over a billion websites on the internet already. Chances are the .com extension for the name you want has already been taken.
However, new domain extensions like .store and .ai may be more contextual for your business and available. This is why it's vital to check for available domain names.
The 10 best places for the best available domain names in 2023
Shortlisting the best domain registrars can be cumbersome – you may miss out on the good discounts and add-ons if you don't have time to check them all.
Rest easy because we've researched and listed the best registrars for you. See whose strengths, weaknesses, and features you like best to get the perfect option from the list of available domain names.

In order to distinguish yourself from the competition, you need a domain name that is both memorable and straightforward. Trust LOGO.com, your home for brand-building needs, to provide you with a state-of-the-art domain name that takes you to new heights. All you have to do is input your preferred domain name and buy it for an affordable price with privacy protection that is 100% satisfaction guaranteed.
Best features:
Affordable domain names compared to anywhere else on the market
Complete transparency with pricing with preferred names and alternatives
SSL certificate is included with your purchase
24/7 customer support for any inquiries and guidance on domain name use
Works in tandem with a business name generator for memorable names
Pros:
You have the option to use your domain name right away with a website builder in the same platform.
When you choose a domain name, it'll be delivered to you with the highest quality of customer service.
Your domain name comes with a free logo design that you can endlessly customize with unlimited revisions.
Cons:
Taxes will be included at checkout, which is mandatory to adhere to the law of asset acquisition.
There is no phone support.

GoDaddy is the world's largest domain registrar and offers an array of add-on features for its customers. This includes an AI website builder, integrations with apps like WordPress, and more. While GoDaddy's available domain names are cheap, it upsells and charges for features like privacy, which can pile up and become heavy on your wallet.
Best features:
Affordable AI-powered website builder
Web hosting with a custom email service
Domain and business name generators for inspiration
Pros:
Its web hosting service backs up your website's content daily to prevent data loss.
It offers high discounts on first-time registration of available domain names.
It is easy to find online tutorials on its features due to its large customer base.
Cons:
Its domain name renewal rates are expensive.
You must pay separately for domain privacy, which is necessary to hide your personal information from the public.
Its customer care takes time to respond to you.

Namecheap offers high discounts on domain names, which can reduce costs initially. However, its website can seem too technical for those not well-versed with the internet. This and a lack of phone support make Namecheap a less than apt option for those creating their first website.
Best features:
Provide domain extensions like .tx, .wave, .api, and more
Free one-year malware protection for websites
Free design app to create logo designs for your website
Pros:
It offers a two-month trial on its business email service.
It offers domain privacy services for free, giving customers control over their personal information.
It has a marketplace where you can bid for high-end domain names.
Cons:
Its domain refund policy is restrictive, and premium names are not eligible for refunds.
It does not offer phone-based customer support.
Renewing domain names can become expensive on Namecheap after the first year.
Its menus are disorganized, making the website difficult to navigate.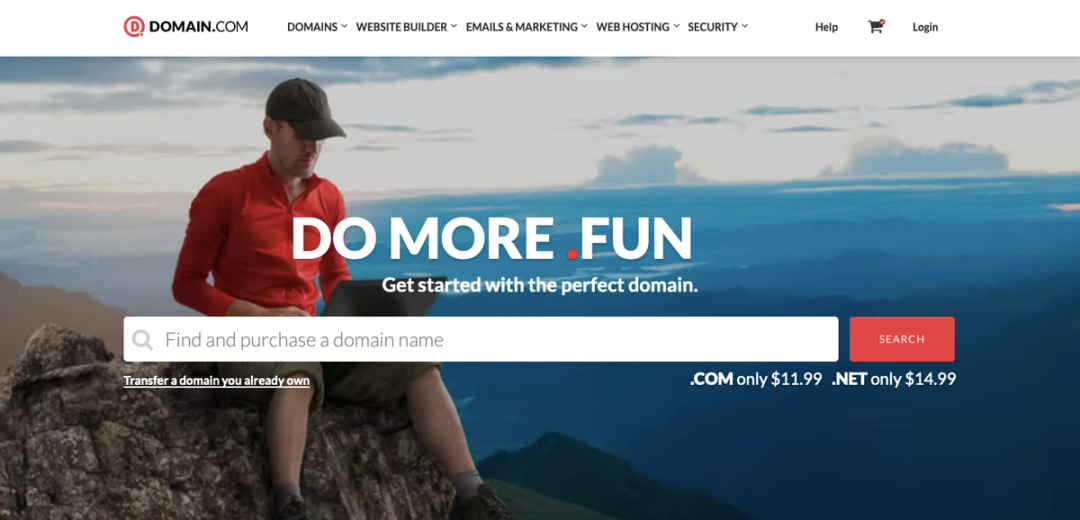 Domain.com offers a free domain for a year to those willing to use its web hosting service. However, highly-priced domain renewals, paid domain privacy, and an expensive website builder can increase your costs in the long run. While it isn't the most affordable, its express support for WordPress web hosting might interest some.
Best features:
Offers an affordable web hosting service
Domain expiration protection, which prevents you from losing domain names
Has a search tool for premium domain names that stand out
Pros:
It offers a free website design consultation for new customers.
Its customers can get a 50% discount on Google Workspace for the first year.
You get a free domain for a year when you purchase a web hosting plan.
Cons:
Its website builder is more expensive than many competitors on the list.
It is complicated to transfer domains to and from Domain.com.
Its checkout process is littered with upsells, making it tedious to register a domain.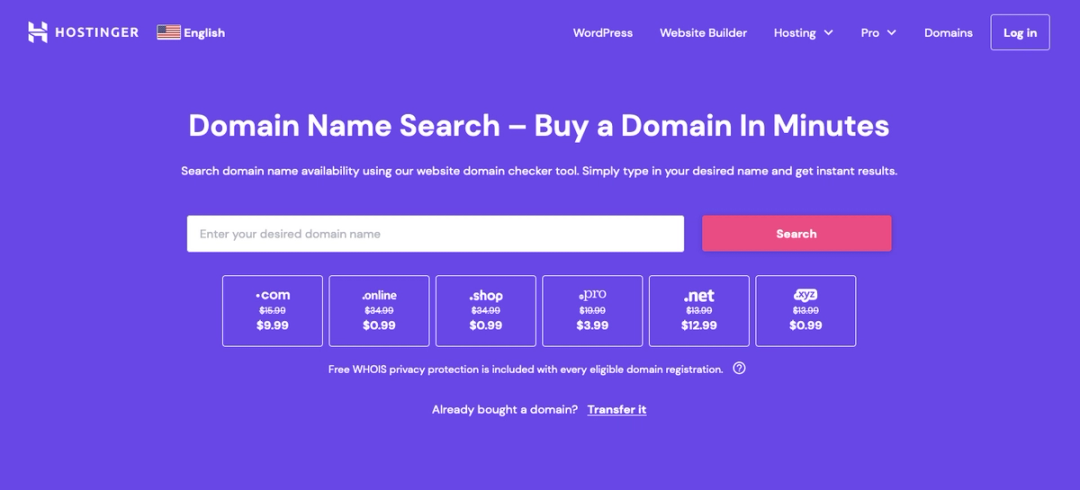 Hostinger's strengths lie in its web hosting service, which comes with a free domain. However, the add-on tools can seem half-baked. Its website builder, for example, has fewer templates than many competitors. Hostinger makes up for it by discounting these tools and services, which can be helpful for those on a low budget.
Best features:
99.99% uptime for its hosted websites
24/7 customer support
Provides an affordable business email service
Pros:
It offers many popular domain extensions for affordable prices.
It has a commission-based program for people who buy domains and create websites for clients on its platform.
It has a well-written blog on domains, hosting, and more for newcomers.
Cons:
Live chat is only available for existing customers, making it difficult for prospective buyers to ask questions.
Its included website builder has limited templates and features, which can cause you to migrate your domain elsewhere.
Its web hosting control panel can be slow to load.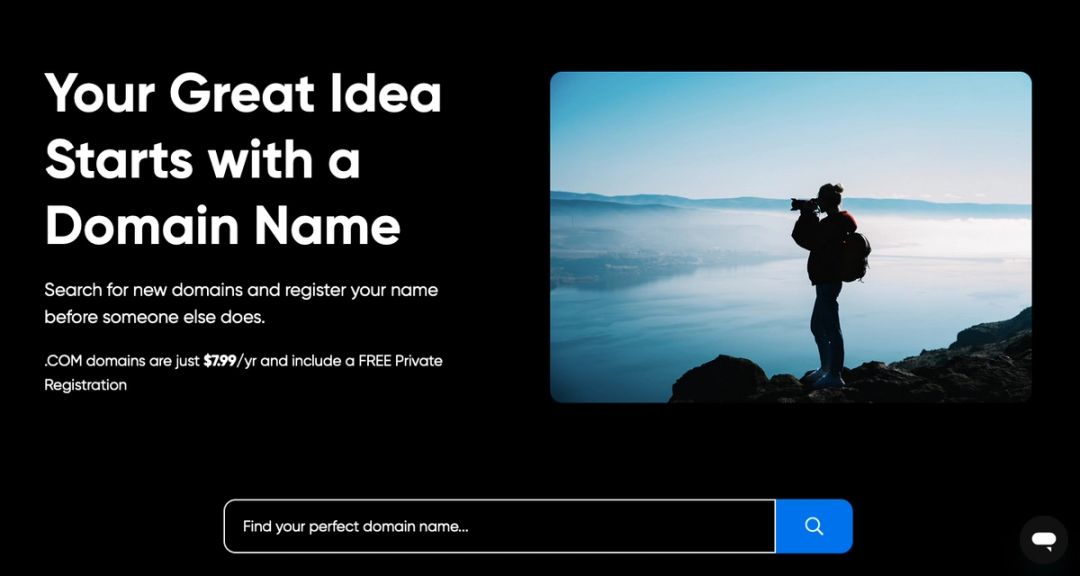 DreamHost provides designing and SEO solutions for websites, along with checking for available domain names. Customers may feel priced out because some of these services cost in the thousands. This is why DreamHost may not be suitable for individuals and small teams – larger companies can look into it and make a decision.
Best features:
Search filters to look for specific domain extensions
Offers add-on services for your website after you purchase a domain
Free domain privacy with domain name purchases
Pros:
It offers domain privacy protection for free on names transferred from other registrars.
It has a search filter for domain extensions on sale, which can help those on a budget.
It lets you create a custom email based on your domain in a few steps.
Cons:
You can only register a domain for a maximum of three years, while many others provide registration for up to ten years.
Its custom website design service is expensive.
Its control panel has an outdated UI, making it difficult to do tasks like domain transfers and custom email setup.

Porkbun is a domain registrar run by a team of less than fifty people. As such, it cannot provide 24/7 customer service or as many discounts as the big companies on this list. However, a user-friendly website, a sizable library of domain names, and freebies on purchases make it a capable place to look for available domain names.
Best features:
AI-powered domain generator for domain name ideas
Has a 'Sales' page that displays domains with price cuts
Provides web hosting on multiple platforms, such as WordPress and Weebly
Pros:
It offers a collection of unique domains like .yatchs, .accountants, .organic, and more.
Its knowledge base has clear instructions on how to buy a domain name and transfer it.
The website is easy to navigate, with organized menus and non-technical language for beginners.
Cons:
Its customer care team can take a long time to respond to emails.
Its first-year domain prices are higher than those of many competitors on this list.
Its domain discounts are lower than many other registrars.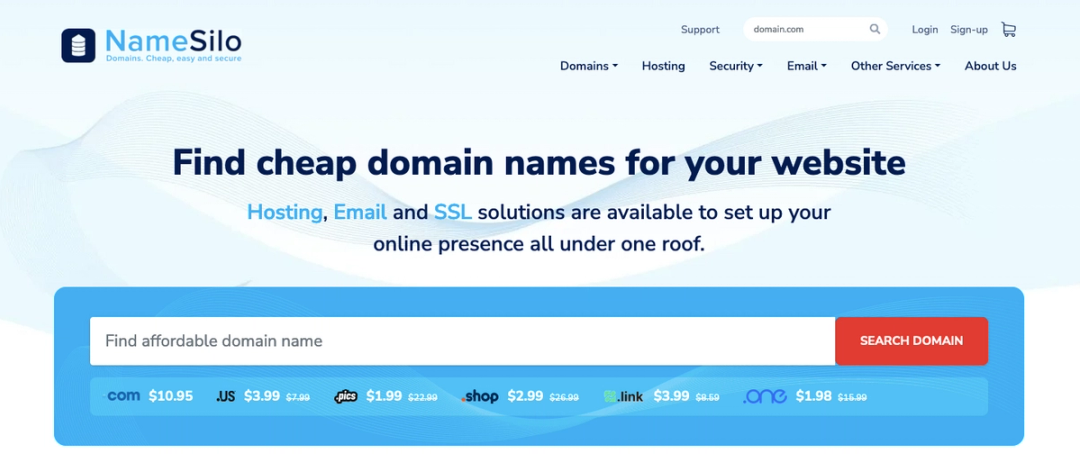 NameSilo has a large library of domain extensions for different industries and interests. However, its discounts only become competitive if you order domains in bulk. As such, it is more suited to you if you are a domain reseller or manage websites for multiple clients.
Best features:
Offers a reseller program for those who want to sell their domains on Namesilo
Option to integrate domain and website with Google Workspace
Provides a free logo maker
Pros:
It has discounts on new-age domain extensions like .blog, .ink, .charity, and more.
It provides a free custom email service with all its web hosting plans.
It lets you backorder some domains that aren't presently available.
Cons:
It provides fewer discounts than some other registrars on this list.
The website freezes on some browsers from time to time.
Its auctioning marketplace has many generic and long domain names.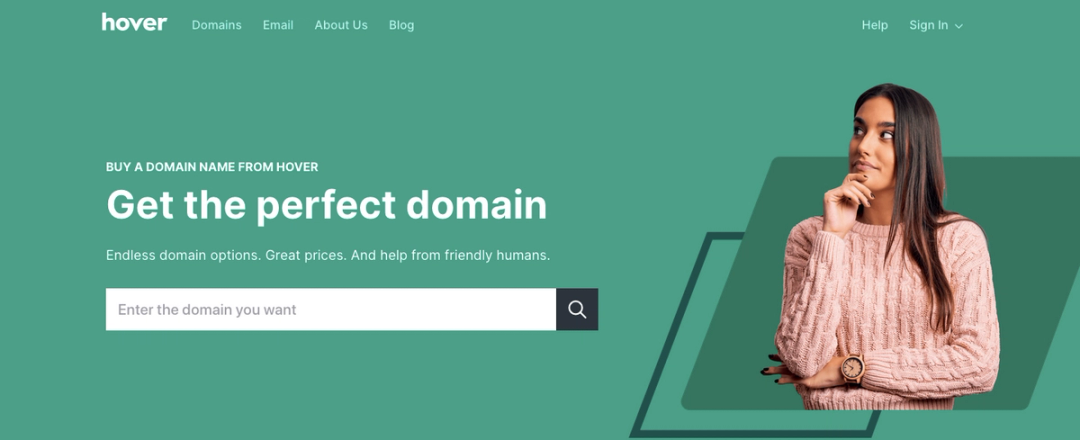 Hover's domain search tool has plenty of filters that make looking for the right domain easier. Those still confused can contact their customer service from multiple channels. However, it lacks a web hosting service, making it less seamless to use than other registrars.
Best features:
Customer service is available on call, email, and live chat
Blog with articles on domain names, custom emails, and more
37 search filters for a variety of domain names
Pros:
It links your domain with any web hosting service in a few clicks
It has language filters for people who want to search for domains in French, German, and more.
Its custom email plans are affordable and provide large storage options.
Cons:
It does not provide a web hosting service.
Its discounts are lower compared to many others.
Its domain renewal costs are high.
Its website takes time to load.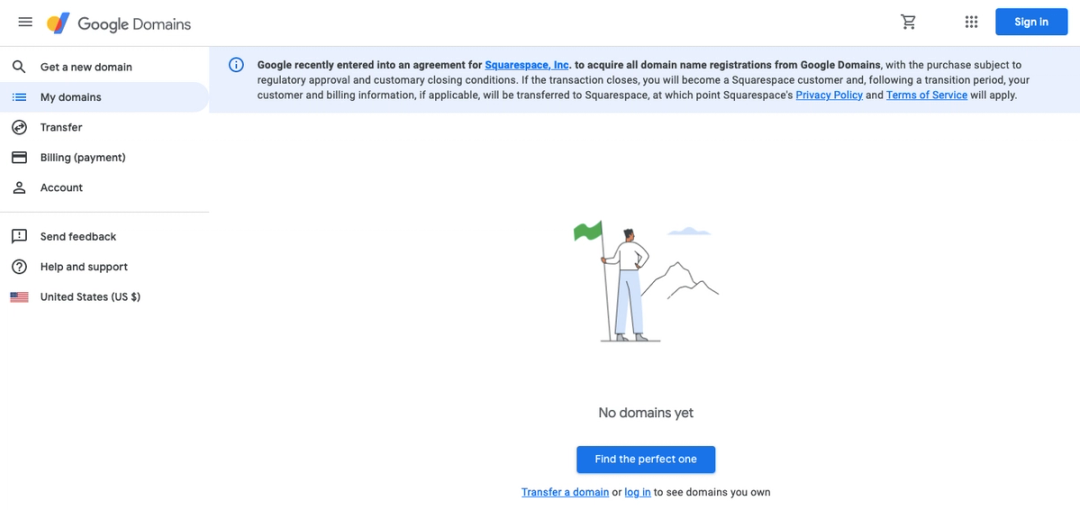 While almost anyone will recognize Google's search engine, not as many know that it is also a domain registrar. It comes with a level of trust, but Google's domains are one of the least discounted, which can add to your total costs. Additionally, Google's potential sale of its domain registration business to Squarespace complicates managing and transferring domains.
Best features:
Simple, easy-to-navigate website
Unique domain extensions and endings, such as .xyz and .company
Heart button to shortlist domain names from the search results
Pros:
It provides pros and cons for every domain name in its search results.
Existing Google customers will have an easy time integrating their domain with Google Workspace.
It lets you choose which domain extensions you want to search for.
Cons:
It has fewer domain extensions compared to some other registrars.
It has fewer discounts on domains than most of the competition.
The potential sale to Squarespace can make managing and transferring domains confusing.
How do you know which domain name ideas are good?
While there isn't a standard checklist for good domain name ideas, you can avoid items from the below list:
Names that are long or difficult to spell.
Expressions, words, or phrases that are in a language your visitors may not understand.
Domain extensions that do not allow Whois privacy may scare off your visitors.
Foul language, cusses, or inappropriate words (unless your brand or audience is well aware of this).
This isn't an exhaustive list, but it should prevent you from getting domain name ideas that are less than perfect.
Choosing the best domain name is all about research and experimentation. You want to select a domain name that helps with search visibility and respects the search engine's standards of quality. These options are your best bet: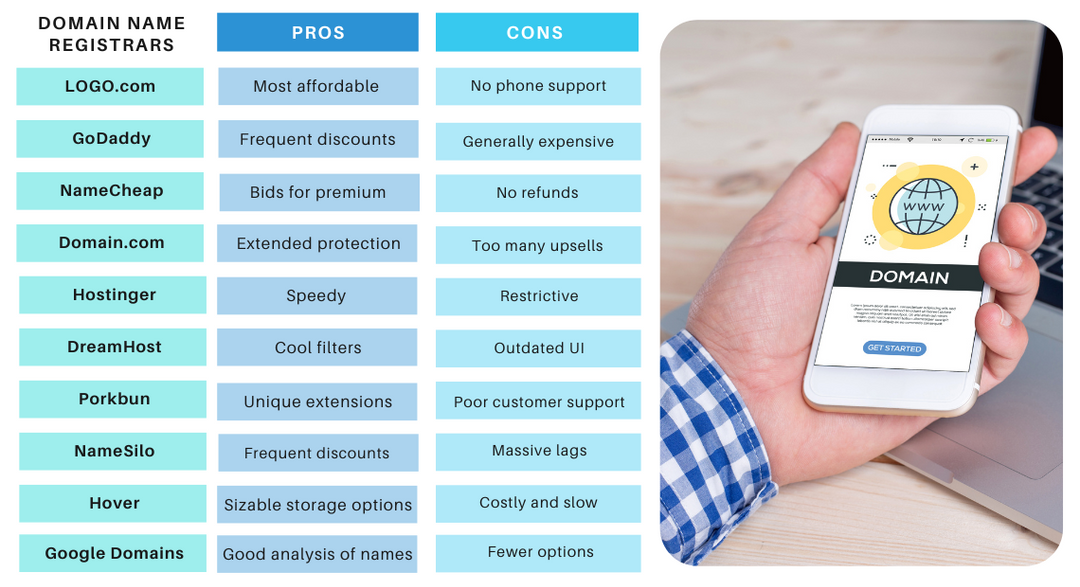 Most importantly, you want to save your precious resources by choosing a respectable domain name at a great deal financially. Rest assured, LOGO.com is the optimal choice for wins on every cylinder.
What do you do after you check domain name availability?
You can shortlist and choose the domain names after checking for availability. Like with an address, a domain name can only be complete once you build something around it.
No, you can't build a house or office on a domain name – how would that even work? You can, however, create a website for a domain name. Most registrars offer web hosting and website-building services to help you make the perfect site.
How do I choose the best available domain names online?
There's no objective best domain name. However, if choice paralysis has taken over, you can use these criteria to shortlist domain names:
For starters, a good domain name should be the same as your company name. Domain names with added letters, hyphens, numbers, or spelling errors may confuse your customers.
Secondly, a good domain name must be catchy and easy to remember. This may be subjective, so try getting feedback from those around you.
Finally, you should be happy with the domain name. Sometimes, your gut instinct is all you need.
Choose a domain registrar that works best for you and stick to this checklist – you'll have the perfect domain name in no time!