‍
Email marketing strategies have been evolving steadily, and with them, the number of users who use this simple method of communication. The number of email users was supposed to reach 4.2 billion by the end of 2022. That's more than half of the world's population.
So, what happens when a mode of communication becomes popular? Advertisers leverage it to their advantage. How will you find your way through the clutter in a world where many brands use email to trigger actions from their target audiences? Read on to find out.
‍
The power of email marketing
Before we dive into the "how" of email marketing, let's understand "why" it is so attractive to marketers.
Here are some statistics that will make you believe in this effective communication medium:
The number of emails sent in 2023 will surpass 347 billion. Yet, many businesses avoid sending emails for marketing purposes.
Personalized marketing emails have 29% higher open rates and 41% higher unique click rates than non-personalized ones. This statistic indicates how closely consumers associate emails with personal correspondence rather than just a tool for advertisement. It is essential to keep this in mind when designing your email marketing strategy.
77% of marketers have seen an increase in email engagement over the last 12 months. This statistic is evidence that more businesses are turning to email marketing strategies. Email marketing can be simple and internalized without requiring specialists to support you.
41% of email views come from mobile and 39% from desktop. Your emails should be readable on both devices.
64% of small businesses use email marketing to reach their customers. So, why should your business miss out?
‍

10 best email marketing strategies for immediate results
Any email marketing strategy you employ will depend on the nature of your business, your immediate business goal, and the effort you are willing to put into this activity. Here are ten ideas to help accelerate your brand marketing efforts with better reach and more engaged customers.
‍
1. Personalize your emails
Aren't you more attentive when someone addresses you by your name in front of a larger crowd? It's the same with your customers, who often receive unsolicited communication from different brands. This chatter causes them to be more distracted and inattentive.
Customers do not think twice before marking your carefully worded email correspondence as "spam" if they are not careful. Personalization adds a touch of empathy and humanizes your communication. Several tools help you customize your email communication so that customers receive it more willingly.
‍
2. Design is everything
It may seem like the obvious thing to do, but avoid sending emails without any visual design. Writing an email only in the email body will achieve far less for you. Engage a designer to create personalized communications for your customers that stand out.
Your marketing communication should reflect your brand's look and speak in a consistent tone that matches your advertising.
Use imagery with which your customers find familiarity and relatability. While designing your email communication, remember to add a prominent call-to-action button that lets your customer know what you expect from them.
‍
3. Keep your subject lines short and snappy
Take any marketing email with state-of-the-art design, phenomenal copy, and working links but a poor subject line. Such a piece of communication will surely fail. Subject lines are essential because they are the gateway to your email communication.
"Open rate" is a success metric for any email campaign. If you do not have a great subject line, your open rates will feel a tremor first. Subject lines that are shorter and convey the contents within them are more effective. Some brands use subject lines as "teasers" for the content contained within the email.
‍
4. Segment your subscribers
Only some email subscribers are interested in every word you say. For this, you need to segment your subscribers smartly. When you create your email list, dedicate some time to segmenting the members based on some demographic and psychographic parameters.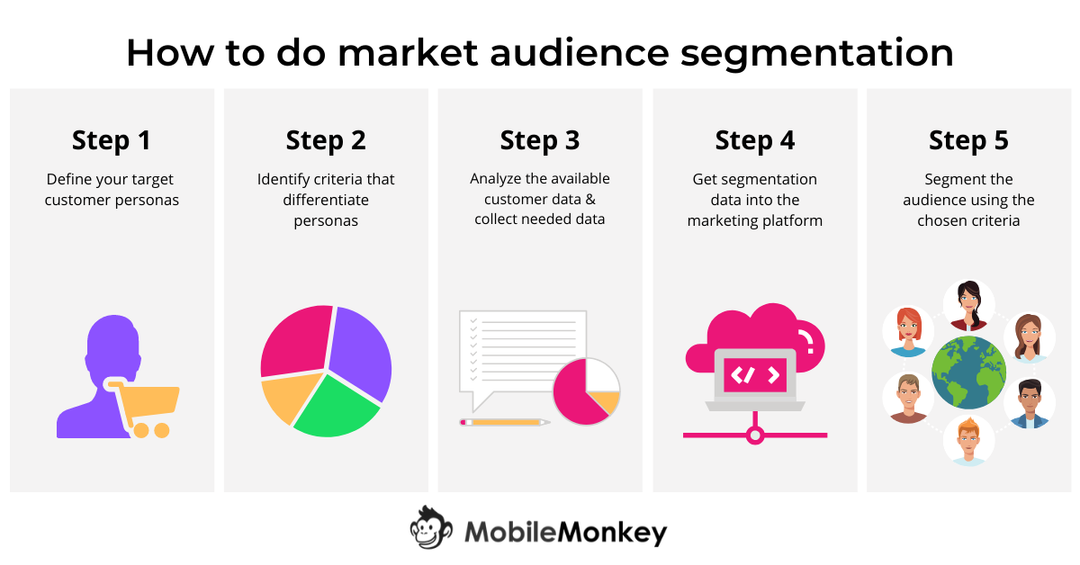 5. Choose your timing wisely
To achieve high open rates for your email communications, time them perfectly. Finding the best time for your emails to reach your customers requires research, testing, and understanding their digital habits.
Pick the best time, day, and season to send your emails out to customers. Every customer base is different. Every product category needs to be scheduled at specific times. There is no fixed rule for shipping out emails for marketing purposes.
‍
6. Optimize your emails for mobile
80% of all internet users own a mobile phone. In all likelihood, the recipients of your marketing emails will view them on their mobile devices. Creating email templates on a computer without considering how they will look on a smaller mobile platform could undo all your marketing efforts.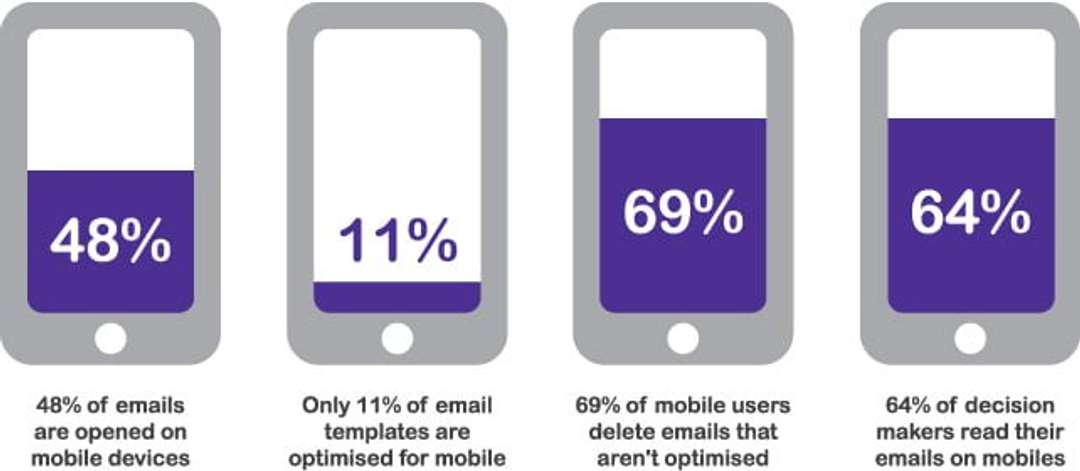 You could choose an approach where your emails look great on mobile and desktop platforms. Write lesser content, which can fit into one narrow column, with critical information made to appear in the center of the screen. Place your calls-to-action in an area where a mobile phone user can click them conveniently.
‍
7. Give away freebies and discount codes
Reward customers who open your marketing emails. There's nothing like a discount code or a freebie to give your customers an incentive that makes it worthwhile. In doing so, you can drop a message you want or get your customers to carry out an action that helps your marketing effort.
‍
8. Master your CTA, HTML, and design
If you have the best offers, imagery, and written copywriting in your email, you want it all to look great together. Since emails are dependent on technology to be presented better, it is recommended that you focus on the little, essential things.
Choose a call-to-action that lets your customers know what precise action they need to take after reading your message. The design and HTML coding used to make the email look good must be on point.
‍
9. Automate email campaigns
51% of companies are using automation to ensure that their emails get sent at the precise time they choose. Other than perfect timing, automation also eliminates human error and lapses. Automated emails get triggered at specific events with no human intervention. Technology has advanced to the point where it can also design emails for these events.
‍
10. Re-Engage with inactive customers
A great email marketing strategy is to communicate with customers who last interacted with your brand a while ago. Adding a discount or benefit to your emails allows customers to open your communication and allows you to build your brand.
‍
Frequently asked questions about email marketing strategies
What are some commonly asked questions about email marketing strategies? Get your questions answered with these three FAQs.
1. What are the 5 Ts of email marketing?
It's common knowledge that content marketing can strengthen a company's reputation, encourage more interaction from customers, and boost sales. However, the "5 Ts" (tease, target, teach, test, and track) are necessary for creating successful email marketing strategies.
2. What is the most important factor of email marketing?
The first and most important rule is to get permission from your target audience. Obtaining the target audience's consent before sending any emails is the most crucial part of any email marketing campaign. Members who have not opted in to receive promotional emails from your organization should under no circumstances be contacted via email.
3. Why is email marketing effective?
Using email marketing, you can keep in touch with customers and website visitors on a consistent basis. Known purchasers also value being informed of new offerings and specials. Research shows that it costs five times as much to bring in a new customer as it does to keep an old one.
‍
Why do you need email marketing strategies?
Without a sound strategy, email marketing can be a fruitless effort.
The discussed techniques will help you sharpen your email marketing strategies from creation to distribution. You can use a single strategy or combine a few to achieve your marketing goals.
One of the best ways to qualify which email marketing strategy works best for you is to test it with a smaller audience base. Once you are convinced that a method works, you can invest heavily in it.
Like every other marketing effort, email marketing takes patience and diligence. Your customer's inbox is a place of privilege. So, when you decide to step in there, have great value to offer and make it worth your customer's while.
If your message isn't good enough, your email could be labeled as spam, banning you permanently from this sanctuary of opportunity.
Ready to design your free logo? Get started with our logo maker!