‍
Amazon is a great place to find the most exciting things to buy. But from where do all these things come? Amazon is a marketplace where sellers can easily upload their products and put them out for eager consumers to purchase. The vast inventory of products on Amazon proves how easy it is to sell products online.
We will discover how easy it is to sell on Amazon and explore eight effective strategies that can make the platform profitable for you.
‍
What can selling on Amazon do for your business?
Amazon has 300 million active customers. It is among the most visited e-commerce websites worldwide and has products that cater to regional preferences across the globe. From heavy electronics to tiny toothpicks, you can find anything on Amazon.
In the fiercely competitive e-commerce space, Amazon has differentiated itself by creating a healthy ecosystem for sellers.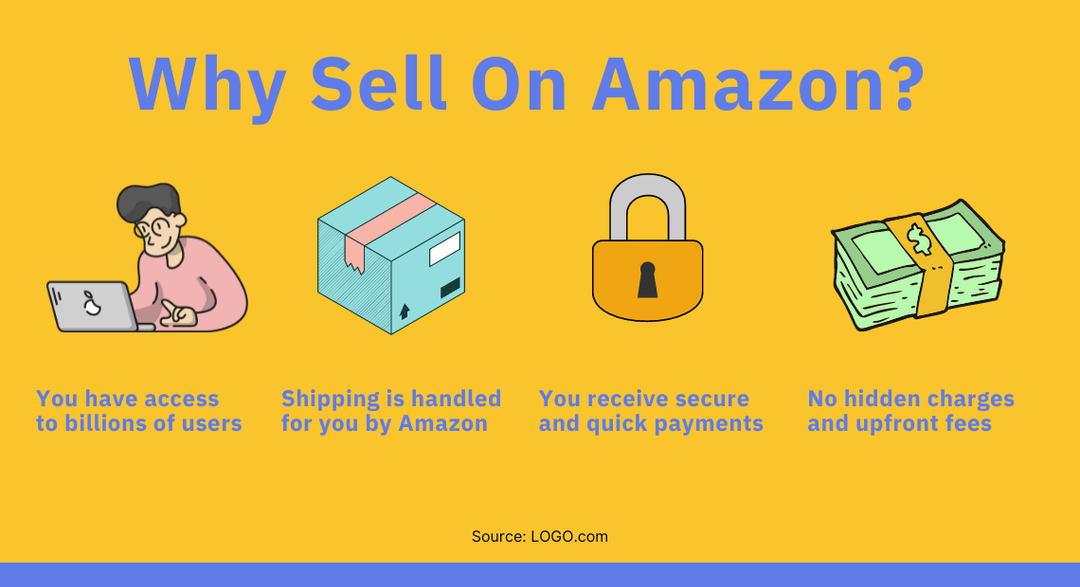 As your digital shopfloor's facade, Amazon becomes your customer interaction center. Having Amazon manage your customer relationships can be a pro or a con. Amazon is considered to be a place for everything. So, no matter how niche your product is, the chance of finding a buyer on the platform is always higher than on other sales channels.
‍
What to consider when selling products on Amazon
Even with its advantages, it is advisable to consider what to sell on Amazon. Some preliminary questions worth asking are:
‍
1. How profitable is it?
Like any marketplace, Amazon demands its share of your sales profits. You can choose between two options when you decide to sell on Amazon; you can choose between two options: Professional and Individual.
The Professional version costs $39.99 for established sellers with more extensive inventory and is billed monthly. The Individual Plan costs just $0.99 for each item sold. It encourages sellers who aim to sell fewer goods without committing to a fixed monthly rate.
‍
2. Is there a demand?
Amazon is to e-commerce what Google is to search engines. It is the most frequented e-commerce platform on Earth, with a projected 2022 earning of $162 billion.
Over 75% of all households in the United States are members of Amazon Prime, the platform's subscription-based membership program. The demand for things on Amazon can span seasons, demographics, and usage trends.
‍
3. Who are my competitors?
Amazon hosts many sellers on their platform, many of whom sell products similar to yours. This popularity is expected from a widely successful marketplace. So, while optimizing your products for your customers, develop your seller pages to stand out from the competition. Your customers will have an easier choice to make.
Here's a handy guide to looking up your competition on Amazon. There are some basics you need to keep in mind. Acknowledge the cost difference between your products and your competitor's products, the reviews you receive, and the acknowledgments you give these reviews and questions. Identify the keywords that work for your rivals, upload great images, and be as detailed as possible.
‍
8 strategies to successfully sell on Amazon
You need to put in more legwork than you might expect to succeed on Amazon. Here are eight strategies to power you through your journey.
‍
1. Consider Jungle Scout for maximum results
If Amazon is a jungle of far too many products and predatory competitors, you need a handy scout to be by your side as a beacon. JungleScout.com is a great tool to discover the nuances of selling on Amazon, whether you are a first-timer looking to sell your first product or a seasoned seller who isn't seeing the desired results.
Jungle Scout tracks products for you, finds relevant keywords for your listings, provides you with sales and advertising analytics, automates your reviews, and so much more. Selling on Amazon has never been this easy with Jungle Scout's features.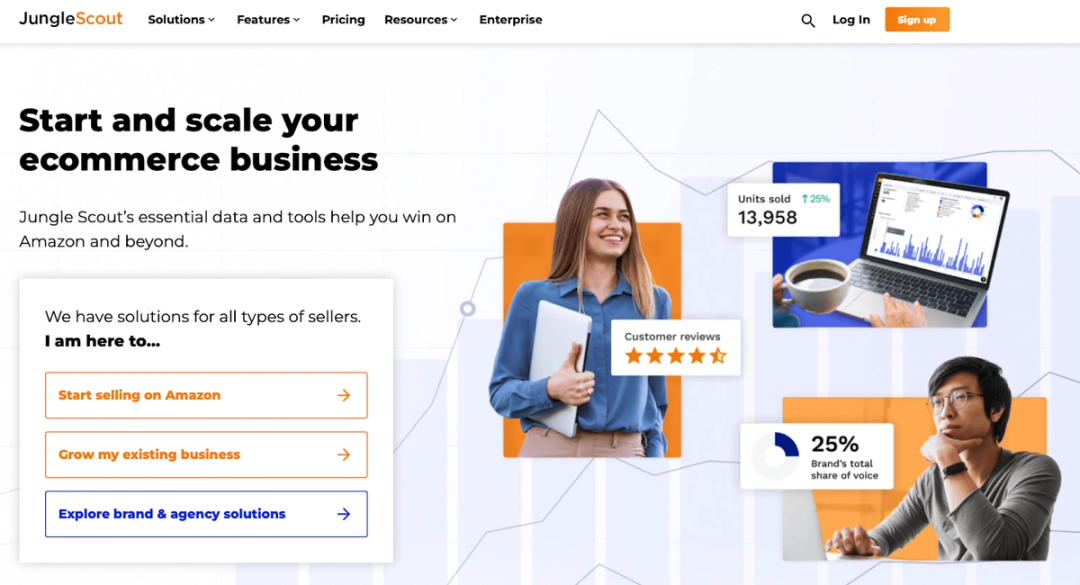 Ultimately, the platform helps you:
Find products that sell well
Discover the best possible keywords you could use
Find suppliers for your products
Access a wealth of information through video tutorials
Optimize product listings
Jungle Scout offers three plans, charged monthly, with a consultative approach that you can leverage for maximum results when you sell on Amazon.
But don't worry about breaking the bank. For $10/month, you get access to our Brand Plan features which include Grow Your Business, a long list of massive sales that will help you grow your business at a discount. One of these sales is with Jungle Scout, and we will provide you with 81% off its Professional Plan, saving you up to $2842 with the Professional Plan.
‍
2. Conduct product research
It's good business practice to test the demand and supply in the market before you enter. You understand these parameters by researching the products you intend to sell on Amazon. Tools like JungleScout and UnicornSmasher can help you automate your research.
Product research can help you position your products better, too. Let's assume you sell rose-scented candles. You notice other manufacturers receiving feedback on how their candles burn off too quickly. With this information, you can work on this aspect of your product. You could name it "Long-Lasting Rose-Scented Candles" on Amazon.
‍
3. Craft exceptional product detail pages
They say that the devil is in the details. It turns out your customer's attention is there too. Amazon uses the words you enter into your product detail pages as keywords to help customers discover your product. It isn't too different from a search engine.
A study shows that 74% of US customers begin their purchase journey by running a product search on Amazon. You want to be discovered by consumers and keep them on your product page by being detailed about the specifications of your product. A highly detailed page tends to build more trust among potential buyers.
‍
4. Set your pricing correctly
Unlike a brick-and-mortar shop, your customer doesn't need to go too far looking for better prices than what you offer. Amazon's pricing can be competitive, but also needs to be realistic. After considering all your costs, from product acquisition to the commissions you will pay the platform to use its service, determine your floor price.
Do a thorough study of your competition and what they offer in terms of pricing and financing options. You want to price your products at least the benchmark lest you make your customers suspicious of your quality.
‍
5. Run targeted ads
Yes, you can run ads on third-party platforms to sell your products listed on Amazon. With Facebook ads and Google ad campaigns, you can reach a vast network of connected individuals who intend to purchase your product. It helps to run an integrated advertising program where all roads lead to your product page.
‍
6. Build an email list
Amazon does not offer its sellers an insight into the email addresses of its customers for their safety. You can still build an email list on your own platforms with the help of a sign-up form that gives members exclusive access to early deals, newsletters with updates, and other goodies. This form will help you populate an email list with loyal customers.
‍
7. Get in touch with influencers
Haven't we all seen our favorite Instagram and YouTube content creators brag about a partnership deal with some brand that has sponsored their content? Influencers help change the perception of products by trying them themselves.
You could mix micro and macro influencers to sell on Amazon and turn a profit. Some influencers even accept free products instead of cash. Pick an influencer who creates content around your product segment.
‍
8. Maximize your product packaging
Buyers are the best future buyers. Attractively packaging your products can improve customers' trust in you as a seller. Add a note or something extra special to the packaging to strike a chord with your customers. This practice adds a human touch to a seller-buyer relationship and can reap benefits over the long term.
‍
Bottom line
Since Amazon is a densely populated e-commerce platform, you may take comfort in the fact that it will give you the best experience because of its wide usage. And you don't have to invest too much to make an impact on Amazon. You can get amazing assistance with Jungle Scout, and you'll be pleasantly surprised by the positive results. You're not in this alone!
As customers are increasingly exposed to different purchase options online, their attention spans shrink while their exposure increases. Use this as your business advantage and capture their attention at the best time with a meaningful, highly detailed purchase experience that will keep bringing them back for more.
Ready to design your free logo? Get started with our logo maker!