A professional business email can set you apart from a sea of competitors by adding a seal of legitimacy to your outgoing messages. The best services are easy to set up, affordable, and offer better features compared to free email providers.
This article covers the ten best business email hosting solutions on the internet right now. These providers stand out from similar services with quality offerings that can elevate your business's internal and external communications.
Why is it essential to have a professional business email?
Getting a professional business email is a clean way to demarcate your work and personal conversations. You wouldn't want to send confidential work material to your best friend or a funny GIF to your client (unless you share that relationship!).
Most business email hosting services also have enhanced security and priority customer support. These features ensure seamless and timely communication, which is crucial for every company.
How will a professional business email boost your brand?
You can use your company name as the 'ending' or address with a professional business email service, which displays a dedication to your brand to recipients.
Additionally, you have the leeway to create concise and contextual addresses that are more shareable than commonly used generic email names. This gives more exposure to your brand – and that's always a positive!
Launch your brand in minutes with a free logo
The 10 best professional business email providers to consider in 2023
Choosing the perfect professional business email provider can be paralyzing, given all the quality options online.
So, we've chosen the ten best services and listed their pros, cons, and best features to make the process easier.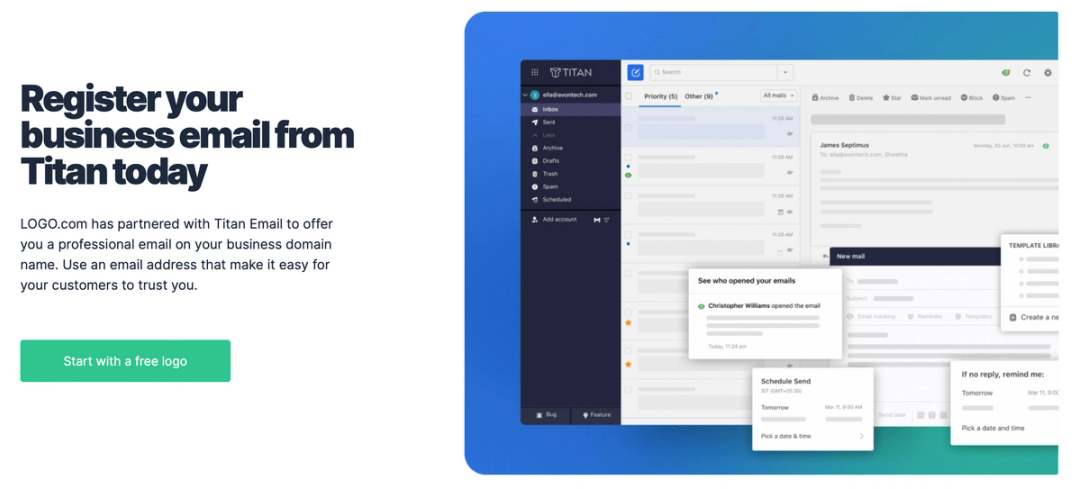 LOGO.com packs a punch as an all-in-one business solution, giving you a free logo design, branded materials, and a powerful business email to top it off. Thanks to a mighty collaboration with Titan Email, LOGO.com is more than capable of providing you with an efficient business email, along with everything else you need to start a business — all in one place.
Best features:
50 gigabytes of email storage, which is perfect for small businesses
Read receipts, scheduled emails, priority inboxes, and so much more – intended to increase and streamline your business communications
Ability to group contacts efficiently to save time when sending emails
Two-Factor Authentication to ensure complete privacy with your account
Pros:
Your business email is a part of a vast collection of important business materials, which will also be accessible to you.
You get the best of both worlds with LOGO.com's expertise in business-building and Titan's ability to produce streamlined communication
You can choose among different email templates to better express your brand identity.
Cons:
You need a domain name to use this service. Fortunately, you can affordably get one at LOGO.com before proceeding to the business email.
Pricing: LOGO.com's business email feature is only 5.75/month. However, users who have subscribed to its LOGO Pro plan get a free trial of Titan email for up to three months.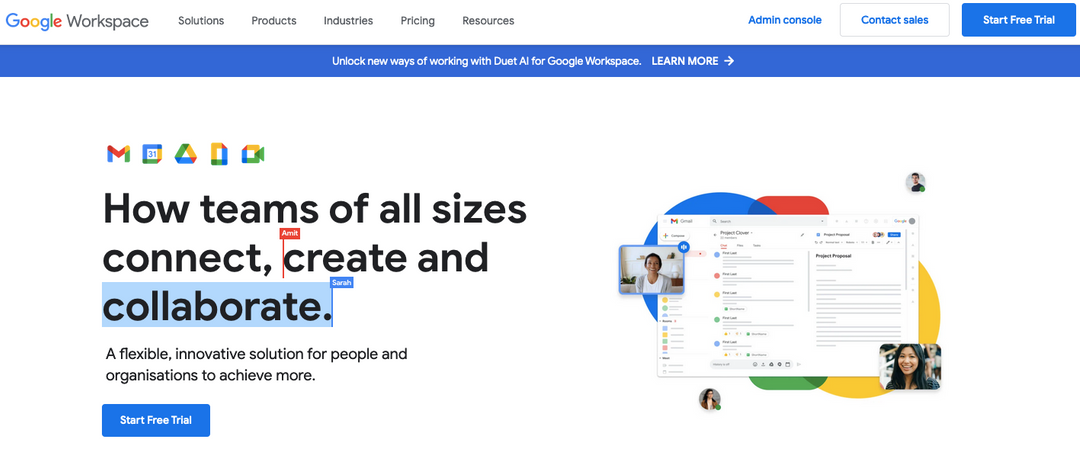 Google Workspace is fast, secure, and easy to use. Additionally, business accounts get pooled storage, which can be helpful if some teams need more space than others. However, Google charges a premium for its services, which isn't viable for small businesses.
Best features:
Pooled storage for smart allocation
Calendar app that works seamlessly with the email
Loads and runs smoothly on most browsers
Pros:
You get smart suggestions for writing emails and drafting responses.
You don't have to navigate to another service for a productivity suite.
Given Gmail's popularity, the user interface may feel familiar to most of your employees.
Cons:
You must commit to the service for a minimum of one year.
They upsell customer service.
The plans are priced at a premium.
Pricing:
Business Starter plan – $6 per user per month, on a one-year commitment.
Business Standard plan – $12 per user per month, on a one-year commitment.
Business Plus plan – $18 per user per month, on a one-year commitment.
Enterprise plan – Price available upon inquiry.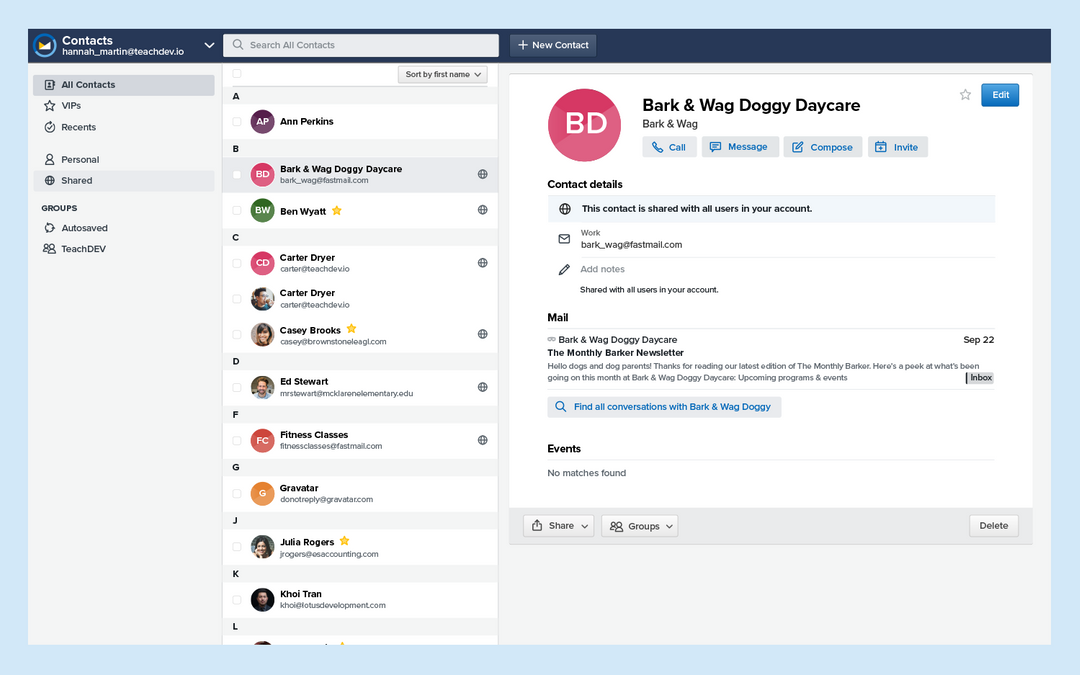 Fastmail offers a professional business email at affordable rates for small businesses. However, this affordability comes with restrictions like poor storage space, which may be a dealbreaker for many. Those unsure about the business email hosting can try the service for thirty days before committing.
Best features:
Customers can cancel their subscription at any time
Email search that gives you precise results
Option to schedule emails for a later time
Pros:
The platform is ad-free.
You can try the service for 30 days before committing.
Their smartphone app is well-designed and easy to use.
Cons:
They offer lesser storage compared to others.
You must subscribe to another service for better collaboration.
Basic plan users cannot create domain-based emails or use their addresses on apps like Outlook.
Pricing:
Basic plan – $3 per user per month.
Standard plan – $5 per user per month.
Professional plan – $9 per user per month.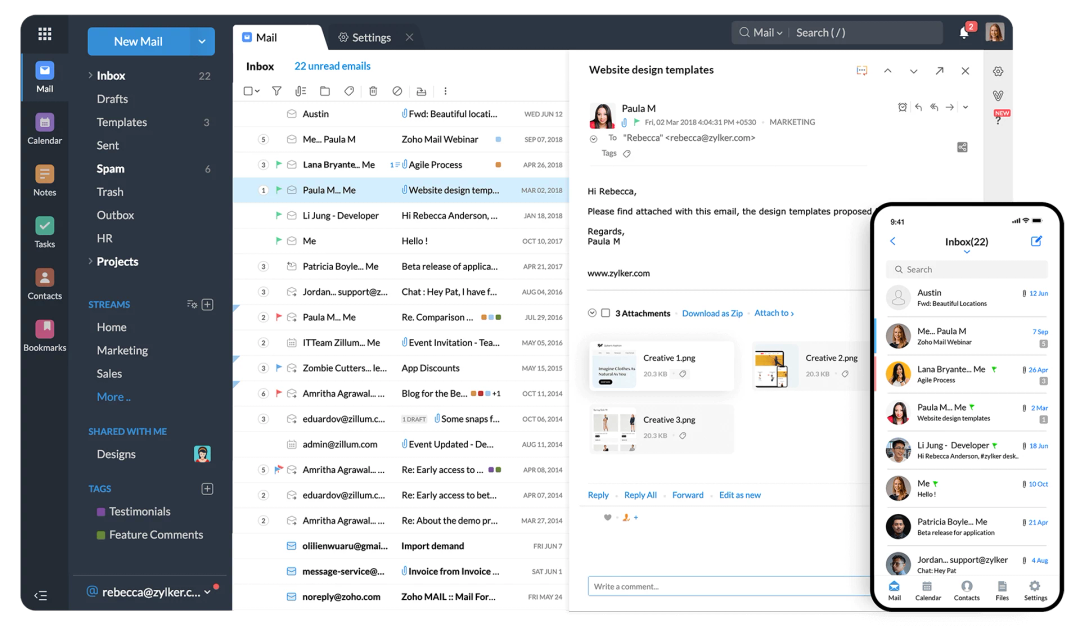 Zoho's free professional business email can be a boon for solopreneurs with limited budgets. However, its free and lower-tier plans lack crucial features like email backup. Those who want the best security and branding features must buy their most expensive plan.
Best features:
Flexible pricing for companies with different needs
'SecurePass' lets you add a password to confidential emails
Offers offline email access
Pros:
Premium members can add their company logo and a custom log-in link to their email platform.
Those who don't need a productivity suite can get their mail-only plan.
You can recall your email after it has been sent to recipients.
Cons:
Features like email backup and large email attachments are reserved for Premium members.
Their customer team occasionally responds slowly.
Their email UI looks dated and needs a design update.
Pricing:
Mail Lite plan – $1.25 per user per month, billed annually at $15/year.
Workplace plan – $3 per user per month, billed annually at $36/year.
Mail Premium plan – $4 per user per month, billed annually at $48/year.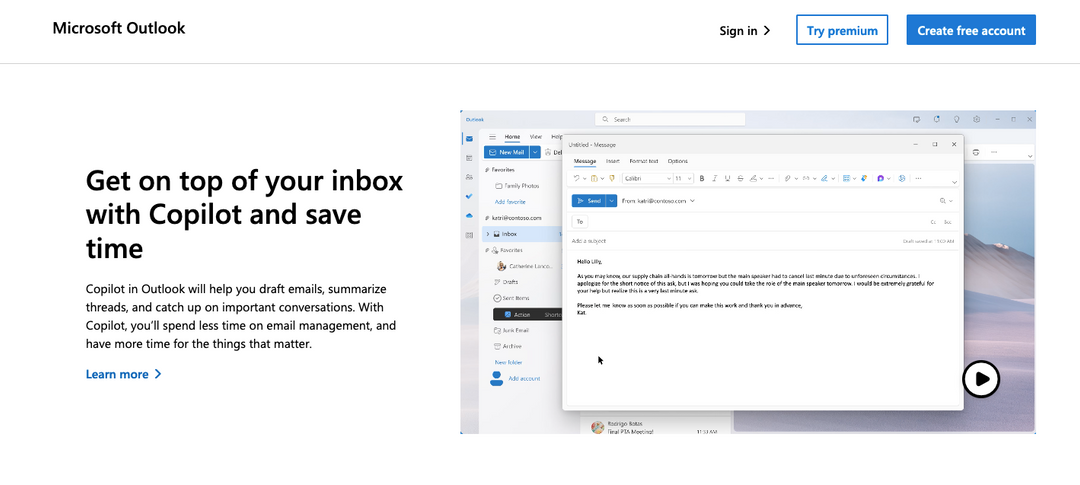 Microsoft's productivity suite pairs familiar apps like Word and Excel with a capable professional business email platform. You can use it with Outlook or a third-party mailing app without too many issues. However, its pricing is inflexible – there is no mail-only plan, and the other plans come at a high cost.
Best features:
24/7 customer support on web and phone
Responsive AI that shortens your email drafting time
Calendar and Notes apps sync seamlessly with your email
Pros:
Their AI can draft emails and messages from your notes and documents.
You can invite and add up to 300 attendees on video calls.
You get 1 TB of storage space regardless of your subscription plan.
Cons:
Their plans are expensive compared to many competitors on this list.
They upsell better email security.
Those on the free plan can only use email and apps like Word on web browsers.
Pricing:
Business Basic plan – $6 per person per month, billed annually at $72/year.
Business Standard plan – $12.50 per person per month, billed annually at $150/year.
Business Premium plan – $22 per person per month, billed annually at $264/year.

With Postmark, there aren't any restrictions on the number of email accounts you can create. Instead, they charge for how many emails you can send per month. However, such a plan can become unaffordable for scaling businesses and companies with a large subscriber base.
Best features:
Fast Time To Inbox metric: emails reach recipients' mailboxes in seconds
Dedicated IPs and add-on services for customers who send over 300,000 emails a month
Customer care on call, live chat, and email
Pros:
They have plans for companies that send over a million emails per month.
They offer a library of templates with pre-written emails and responses.
They allow you to track unsubscriptions for your newsletters.
Cons:
You can't set up or maintain the platform without programming skills.
The service can become unaffordable if you send regular newsletters or marketing emails.
Their add-ons and upsells can significantly increase your monthly subscription fees.
Pricing:
Free plan
Paid plan – Pricing starts at $15 monthly for up to 10,000 emails.
Launch your brand in minutes with a free logo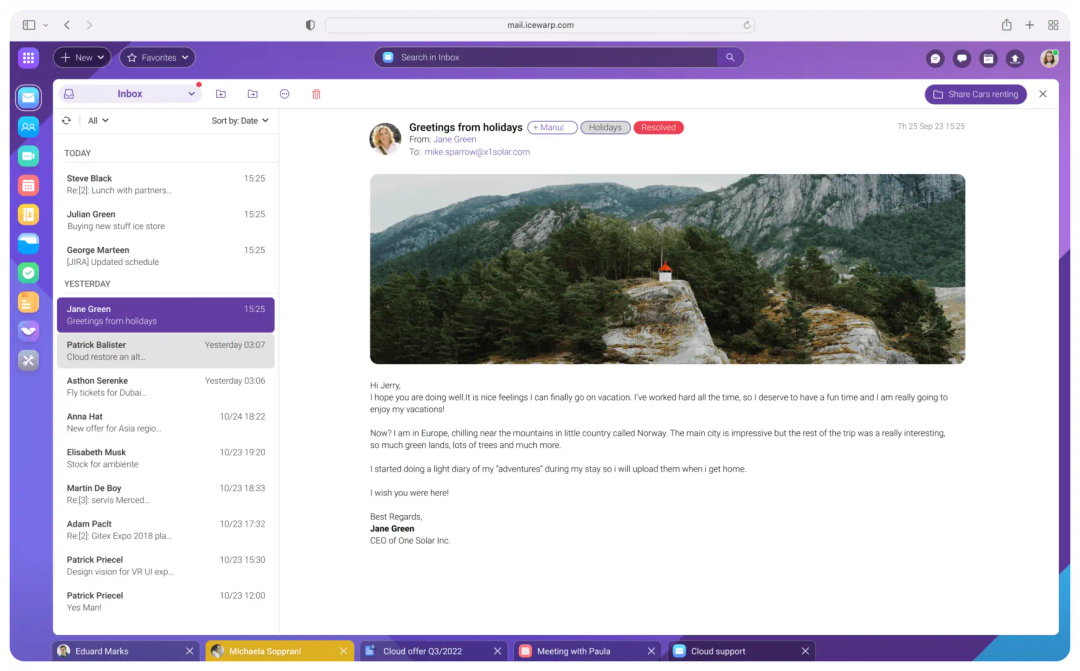 IceWarp offers a sleek and modern-looking app for professional business email users. The calendar, contacts, and email services sync without issues – making for a comfortable experience. However, those on certain browsers may experience lags in performance, which isn't ideal if your employees use different systems.
Best features:
Sleek app for desktops, smartphones, and browsers
Affordably priced for startups and education institutions
App automatically creates shareable links for large email attachments
Pros:
You get an included antivirus and anti-spam protection with the professional business email.
New users can opt for a three-month trial.
They offer recordable video calling with some subscription plans.
Cons:
Their subscription plans are priced confusingly.
Business plan users must pay over and above their subscription fees to get the desktop applications.
The platform requires more time than competitors to deliver emails, hindering timely communication.
Pricing:
Startups plan – $1.50 per person per month.
Corporate plan – $2.60 per person per month.
Business plan – $3.50 per person per month.
Business Desktop plan – $7 per person per month.
Public plan – Price available upon inquiry.
Hosting plan – Price available upon inquiry.
Education plan – $1 per person per month.

A2 Hosting provides business email hosting and pairs it with a hassle-free money-back guarantee for those with buyer's remorse. You can make your purchase affordable by signing up for their 36-month plans.
However, the service is far from perfect as they do not provide a desktop app. Additionally, migrating to their platform from your previous email service can be time-consuming.
Best features:
24/7/365 customer support
Allows you to import contacts from Gmail in one click
Well-designed smartphone app
Pros:
You get a full refund if you apply within 30 days of purchasing a plan.
They offer easy migration from other business email hosting services that use cPanel accounts.
You can undo and edit a previously sent email within a time limit.
Cons:
You must manually migrate to their platform if your previous email was not on cPanel.
They do not offer a desktop email app that lets you write and send emails.
All its plans have a limit on the number of emails you can send per day.
Pricing:
Professional plan – $2.49 per month per user.
Pro Plus plan – $3.49 per month per user.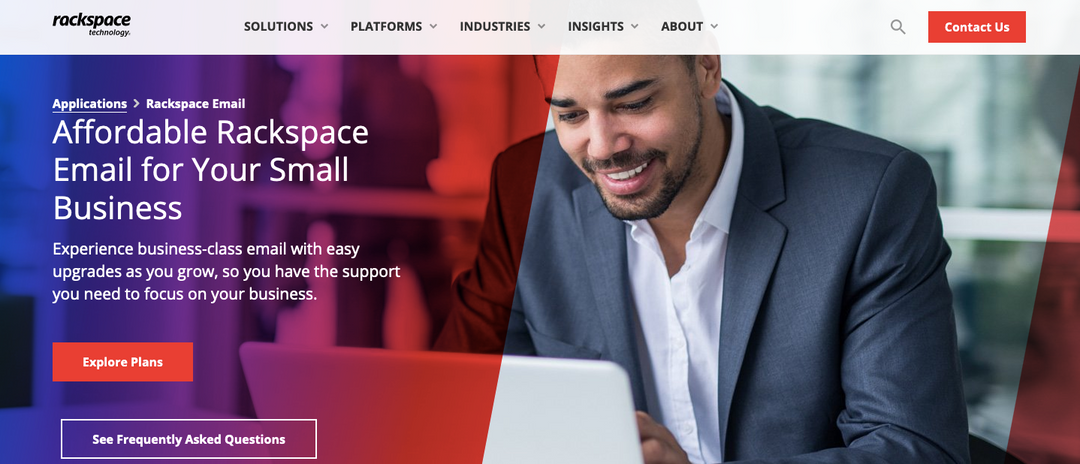 Rackspace is one of the few professional business email services to offer a 100% uptime guarantee. Additionally, they have a team of always-available experts to solve your queries. However, the absence of an inbuilt emailing app and a complex setup process create a less than seamless experience.
Best features:
Easy-to-use webmail platform
Email comes with a pre-included anti-virus program
Free of data-tracking and ads for optimal privacy
Pros:
They scan, mark, and provide warnings for potentially suspicious emails.
They offer a 100% uptime guarantee for their business email hosting.
Their support is available year-round to resolve your queries.
Cons:
They do not provide smartphone or desktop apps; you have to use the email with a third-party application.
It is complicated and time-consuming to set up their email with a smartphone mail app.
Their regular plans have limited cloud storage.
They charge a hefty premium for unlimited storage.
Pricing:
Rackspace Email plan – $2.99 per user per month.
Rackspace Email Plus plan – $3.99 per user per month.
Add Archiving plan – $6.99 per user per month.

Hostinger has built a positive reputation for its website hosting and domain registering services. Their affordable prices extend to their business email hosting plans – something that small businesses will appreciate. However, with a poor visual design and occasional lags, their webmail app leaves much to be desired.
Best features:
Affordably priced for small businesses and solopreneurs
Email comes with a calendar app for scheduling events
Offers quality customer support for queries about prices, technical issues, and more
Pros:
Those who use their domain registration service can easily create a business email in a few steps.
You get 100 business email addresses if you purchase a web hosting plan.
They provide smartphone apps so you can send and read emails on the go.
Cons:
Their web app has a dated design and loads slowly.
There are no package deals for web hosting, domain registration, and professional business email.
Scheduled emails and reminders to follow up on conversations are only available on their best plan.
They do not offer price cuts and discounts on their 24 and 48-month plans.
Pricing:
Business Starter plan – $55 per user per month.
Business Premium plan – $129 per user per month.
How do you create a unique professional email address?
Business email hosting allows you to use names and titles that others may have already claimed on free services. Follow this guideline to create the perfect email address and make the most out of your subscription:
Avoid expletives, curse words, and other slang – unless that fits with your brand image.
Get creative! You don't need to stick to the traditional m[email protected] when you can give your email a fun title.
Make your email address contextual with geographical and industry-related domain extensions like .in, .shop, .blog, .co.uk, and more.
Keep your email address simple and short so people can recall and share it with others.
Create an address for inbound cold emails that is true to your brand or purpose. For example, [email protected] can show your willingness to collaborate with others.
This list should help you create a unique and memorable professional email address that you can be proud of.
What are the repercussions of not having a professional business email?
Generic addresses have plenty of drawbacks that can lead to the following repercussions:
Lack of Opportunities: Your potential clients may not want to respond to a non-professional email, which may cost you a sale or a meeting.
Security Concerns: Personal email addresses have limited security options that are insufficient for businesses – especially for those dealing with confidential information.
Storage Issues: You are likely to run out of storage on free emails, which can create issues with data backup, uploads, and sharing files with stakeholders.
Missed Channel for Branding: Generic email addresses tend to be longer, less shareable, and less brandable as a result.
Investing in a professional business email yields long and short-term returns. Thanks to the competition in the market, getting one is more affordable than ever.
How do you choose the best professional business email online?
The 'best' professional business email serves your needs at a reasonable price point. While the best choice may vary from person to person, there are a few basics you can watch out for when evaluating options:
Does this service provide security features like anti-malware, spam checking, and more?
Will this provider's plans match my growing business's long-term needs?
Is there a limit on the number of emails I can create with this service?
Can I afford this platform in the long run?
Do I need to hire an external team of programmers to set this platform up?
How beginner-friendly is this business email hosting?
Does this vendor offer package deals with other useful apps like productivity suites, domain names, web hosting, and more?
This list should make selecting the best business email hosting easy. Additionally, you can ask your colleagues and team members about their experiences with certain services to get a clearer picture.
You'll be sending and receiving work emails in no time with this article and their help!
Launch your brand in minutes with a free logo