Business cards have thrived, even with the onset of a fully digitalized corporate world. Today, online business card makers are used to develop business cards with designs that match any professional output.
These essential tools help you raise awareness about your brand, give customers and stakeholders a means to contact you, and establish your business as a professional setup.
This blog will explore some of the best online business card makers.
What is the best way to make a business card online?
The internet is rife with tools and templates to make business cards. Instead of reinventing the wheel and creating a design from scratch, you can use ready templates. They offer customization of different styles and colors to match your brand.
What can a professional business card maker do for your brand?
The cost of a design firm to create your branding collateral is high. You may continue building professional-looking branding collateral over time, but a business card is needed. It helps you win customers in your early stages.
Professional business card makers allow you to start small but deliver an effective punch.
The 11 best business card maker software online in 2023
We analyzed eleven of the best business card makers that equip you with a great solution online. Each tool brings convenience and a range of design-friendly features to produce your brand's best output.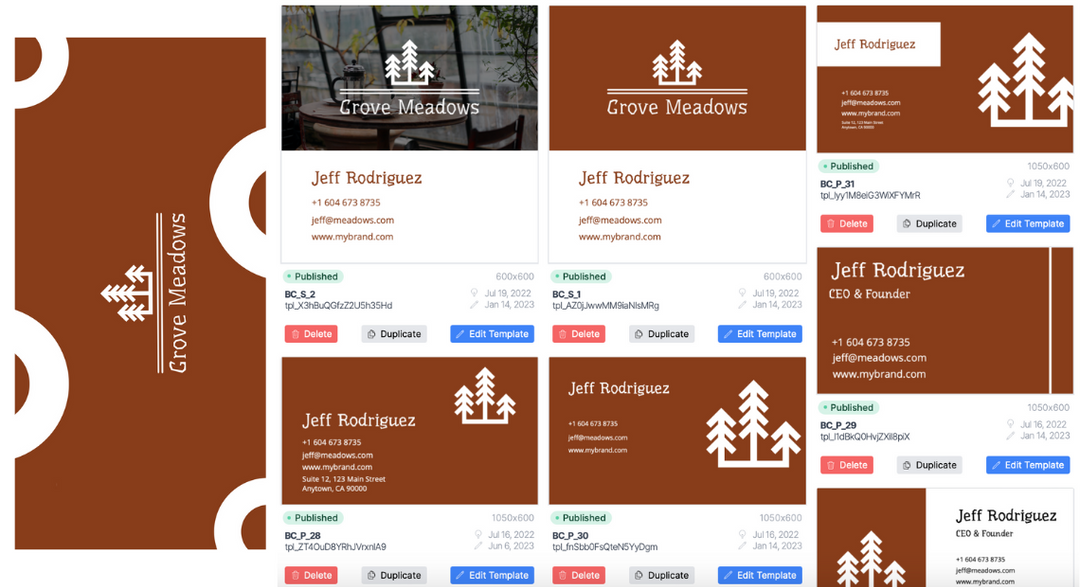 LOGO.com's business card maker is your best choice for creating unique, eye-catching designs that stand the test of time. Allow every handout to be an opportunity for growth and networking with LOGO.com's two-sided business card templates, which automatically comprise a free logo on the platform along with your chosen color combinations.
Best features:
A world variety of dynamic business card templates
Extensive customization opportunities
Automatic logo and brand colors present in all cards
Ready to be printed at your discretion in a matter of minutes
Pros:
It's incredibly affordable with access to 100+ templates.
You can save your business card designs in any image format you like.
You have access to 24/7 customer service for advice and guidance.
You get instant inspiration for the best business card design ideas.
Cons:
You can't upload anything to the business card maker.
LOGO.com does not offer printing or delivery services.
Pricing: The LOGO.com business card maker is a part of the Brand Plan, which only costs $8 every month. The tool is 100% satisfaction guaranteed.
Shopify gets down to business quickly. It offers empty fields to fill in the information you want on the business card. The website also offers a customized card style depending on your business type.
Best features:
Quick and easy process
Business-category-based designs
Wide portfolio of designs
Pros:
It is completely free to use.
It is ideal for e-commerce brands.
The design is emailed to you for print.
Cons:
You need to source the printing yourself.
Only basic customization is allowed.
You may need to use another tool for advanced customizations and detailing.
Pricing: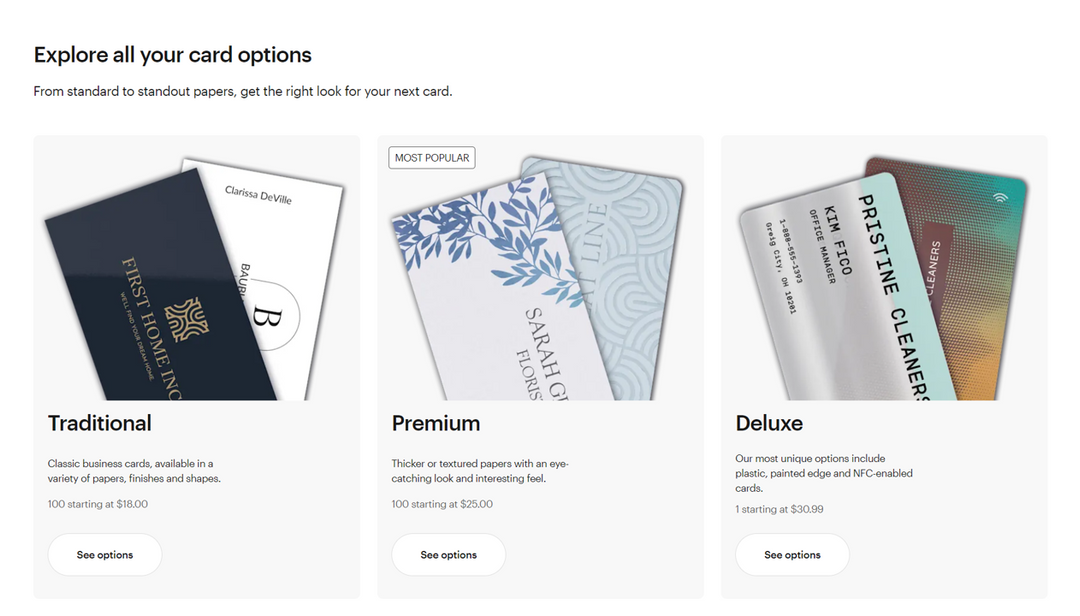 Vistaprint isn't just an online business card maker; it's also a printing shop. You can print various branded materials here without breaking the bank. You can choose from a wide catalog of design templates for business cards and edit the content to suit your needs.
Best features:
Customization options to match your brand and colors
Integration of online designing and physical printing
A large variety of premium business card materials
Pros:
You can choose the paper, finish, and more for physical printing.
It's a one-stop shop for the design and production of business cards.
Vistaprint has design professionals to intervene if needed.
Cons:
$18 for 100 business cards may be too steep for solopreneurs.
Since the orders are delivered remotely, the printing quality may not match your expectations.
There are far too many options, which may need to be clarified for a novice designer.
Pricing:
Starts at $18 for 100 cards
An upgrade on the materials and style can see the price go as high as $31 for 100 cards.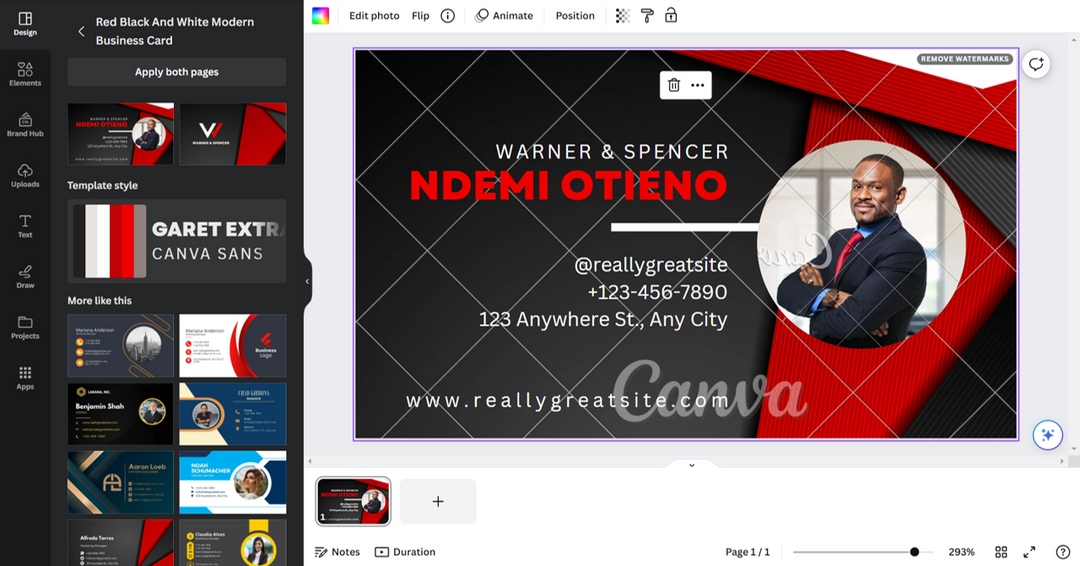 Canva has risen to fame because of its innumerable templates that enable anyone to build their marketing and social media branding with beautiful presentations. Canva also has an online business card maker with easy-to-use tools for your branding.
Best features:
Helpful tools for non-designers to learn and create their professional business cards
Budget-friendly packages
Team access for other members to work on designs simultaneously
Pros:
Access a large catalog of professional design templates.
It has fast and free standard shipping options.
Canva is known to have a helpful customer support system.
Cons:
Canva templates are used by many, so there is a chance that your design may be labeled as a "Canva design."
The alignment tool may take some time to get used to.
You cannot download the raw format of the file onto your computer to edit in any other software.
Pricing:
You can create a design for free but will need to purchase Premium for $13/month to remove the watermark on your design.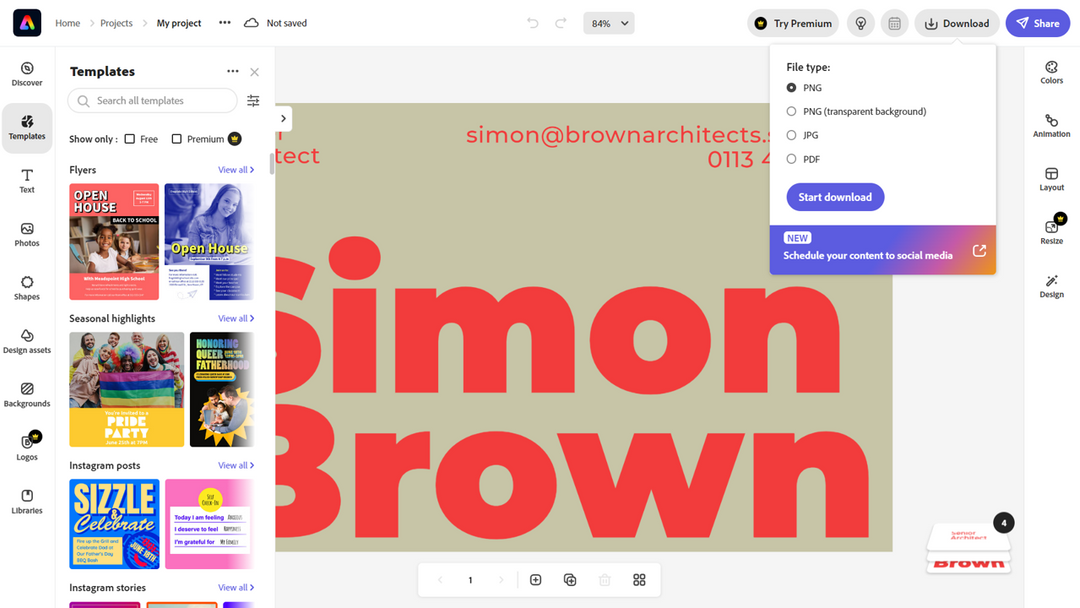 You may be familiar with professional designers using Adobe to create branding material. Adobe Express offers a more simplified solution for non-designers. You can use the brand's online business card maker to create your identity by choosing from pre-made templates on the Adobe Express website.
Best features:
Light and quick interface
If you have Adobe Cloud, you can save your projects online
Animation effects, layout customizations, and more
Pros:
Get access to Adobe's support.
Your design is available free of cost.
Designing is quick and simple.
Cons:
You have only 72 templates to pick from.
The templates do not span across different types of business uses and professions.
Creating new templates from scratch isn't easy.
Pricing: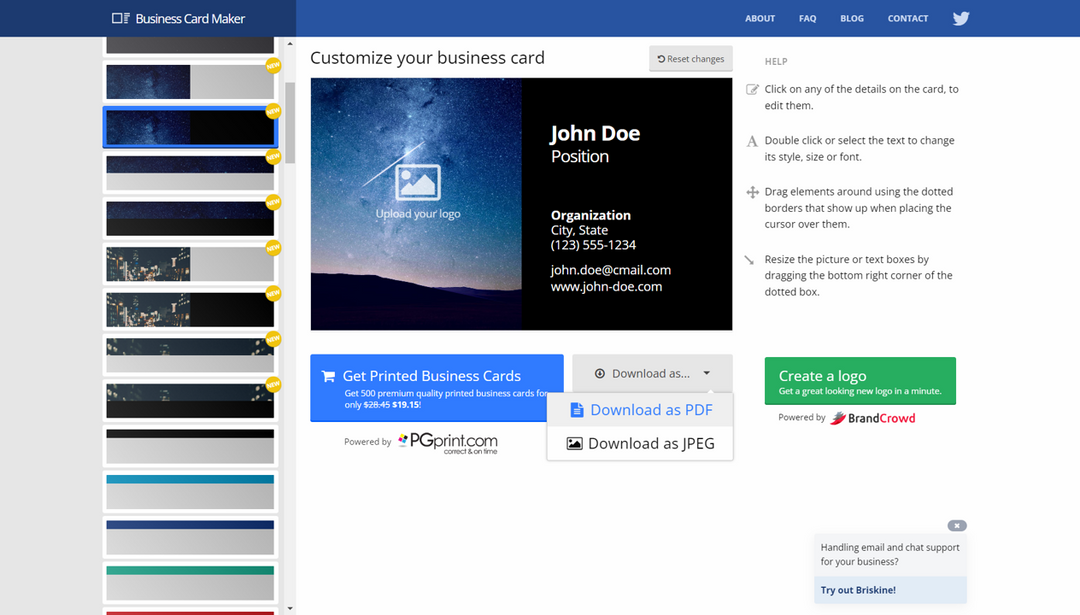 The classic online business card maker is simple, quick, and can do the job. You can instantly pick a template and download it for free.
Best features:
Among the quickest business card creators
Drag-and-drop editor
Click-and-edit cuts out the frills
Pros:
Business Card Maker offers support for printing.
Get 500 business cards printed for under $500.
It's a good temporary branding solution.
Cons:
There needs to be an assurance of quality and support.
Low customization options.
Limited color options that may not align with your brand colors.
Pricing: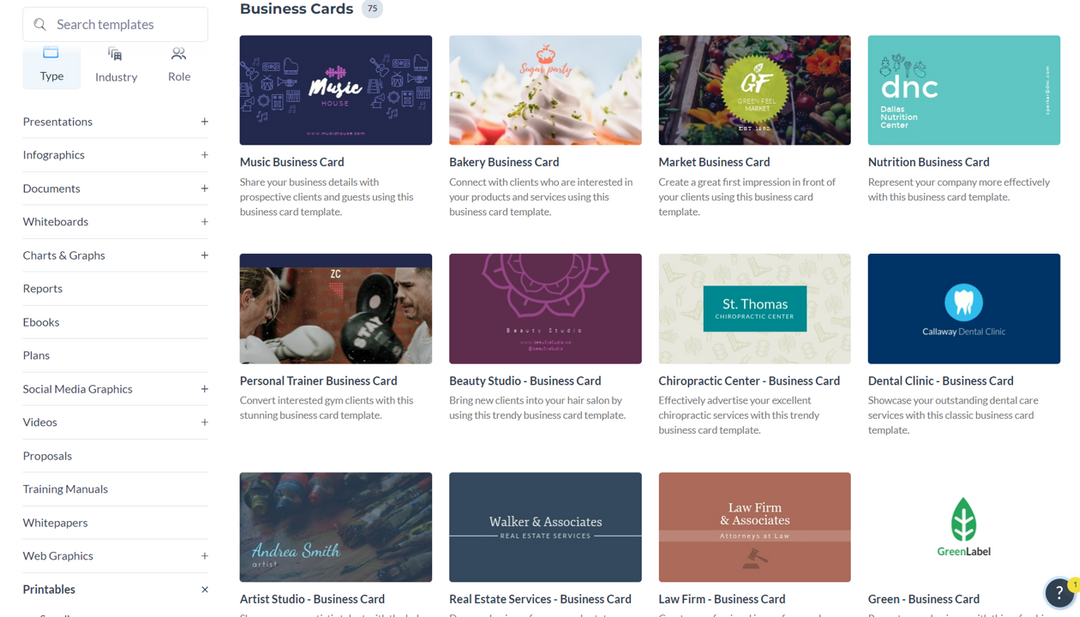 Visme offers a great variety of designs in its online business card maker. You can choose the style you want based on the industry and role you are looking for.
Best features:
Over 120 templates to choose from
Contemporary designs
Easy editing options for non-designers
Pros:
There's a large catalog of styles and templates to choose from.
It comes packed with effective tools to customize templates completely.
There's a free version available.
Cons:
The options are far too restrictive if you do not choose the paid version.
You cannot work with guest collaborators.
The paid version is expensive.
Pricing:
The Basic version is free of cost.
The Starter version for individual use costs $12.25/month.
The Pro version for $24.75/month gives you more business-focused solutions and access to a larger library of templates.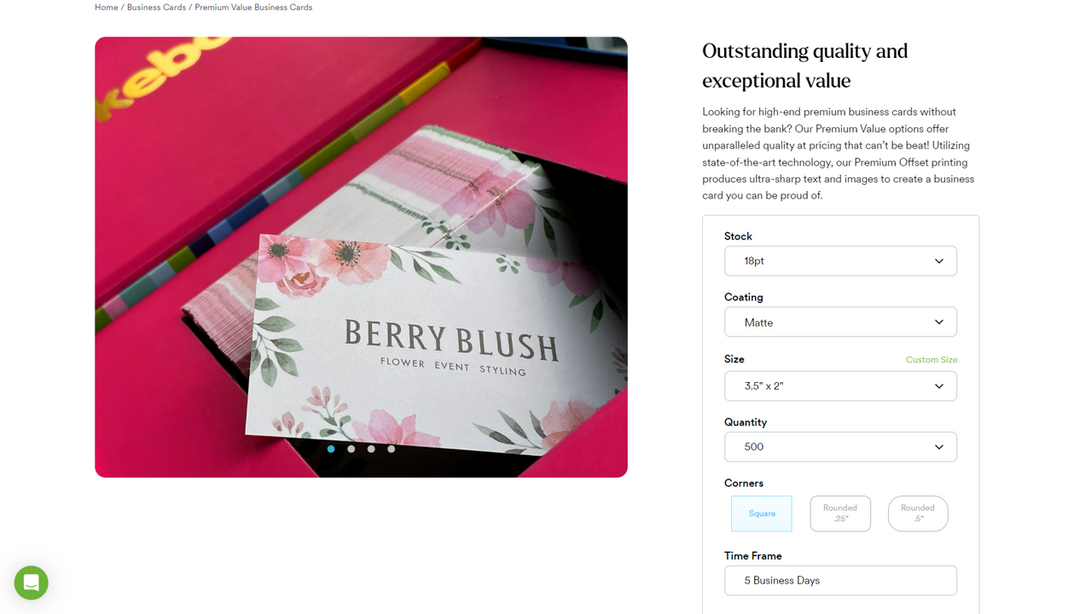 Jukebox is a business card specialist offering various styles to suit your brand identity. The platform offers the widest range of materials to create a business card you can proudly call your own.
Best features:
Exclusive card materials to choose from
Jukebox team at hand to review your output before printing
Same-day or next-day printing
Pros:
You can print cards created by other creators.
It is easier to meet impossible deadlines with the same-day printing service.
Get the benefit of proactive customer support.
Cons:
It is expensive compared to its competitors.
You need more design support.
You need a thorough understanding of special materials before picking them.
Pricing: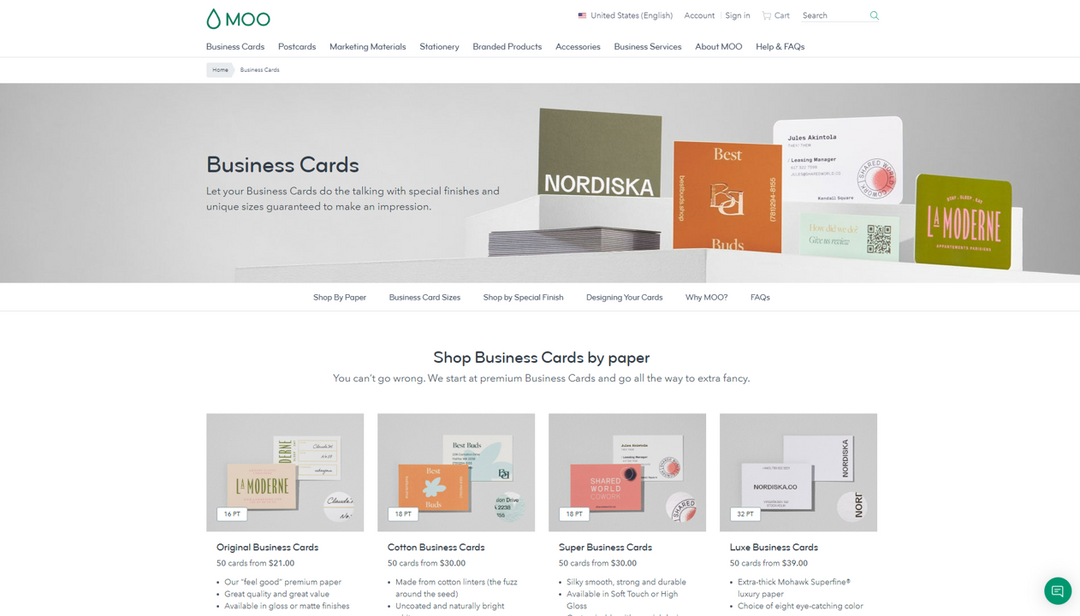 If you are looking for creative business card designs and ideas, MOO can be a great place to explore. You get a choice of materials and designs only competitors can offer.
Best features:
Only premium business cards
Create a business card design from scratch
Special materials available for customization
Pros:
Get cool back design varieties so you can create versions for different team members.
Cards are shipped to your doorstep.
The premium elements to customize the look and feel of your card can enhance your branding.
Cons:
It is expensive.
The customization options are rigid.
No same-day pickup service.
Pricing: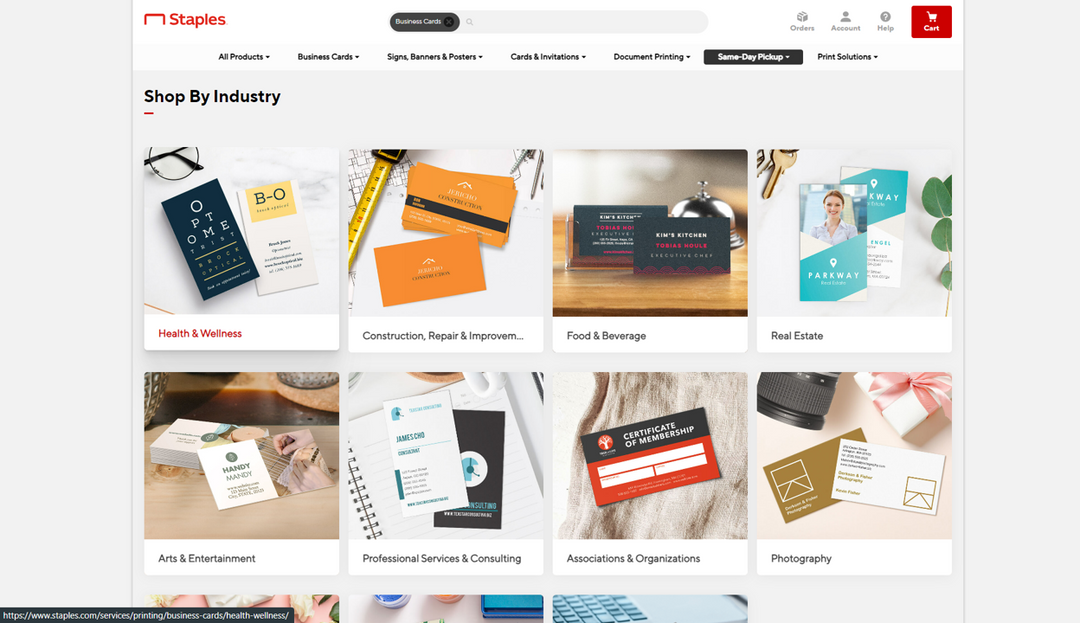 Famous office supply store Staples also helps you create online business cards. Like most other sites that offer the service, you can browse through templates and create a card per your need.
Best features:
Ability to upload an existing design and print it
Cool and revolutionary printing techniques
Competitive pricing
Pros:
Same-day delivery helps you meet tight deadlines.
Get free delivery on orders of $60 and above.
You get quality assurance.
Cons:
The interface is heavy and can be slow to load.
Customizations on templates are not extensive.
You can only download designs in PDF format.
Pricing:
Basic: $14.99 for 250 cards.
Standard: $17.99 for 250 cards.
Premium: $24.99 for 250 cards.
Executive: $34.99 for 250 cards.
Ultra-thick: $74.99 for 250 cards.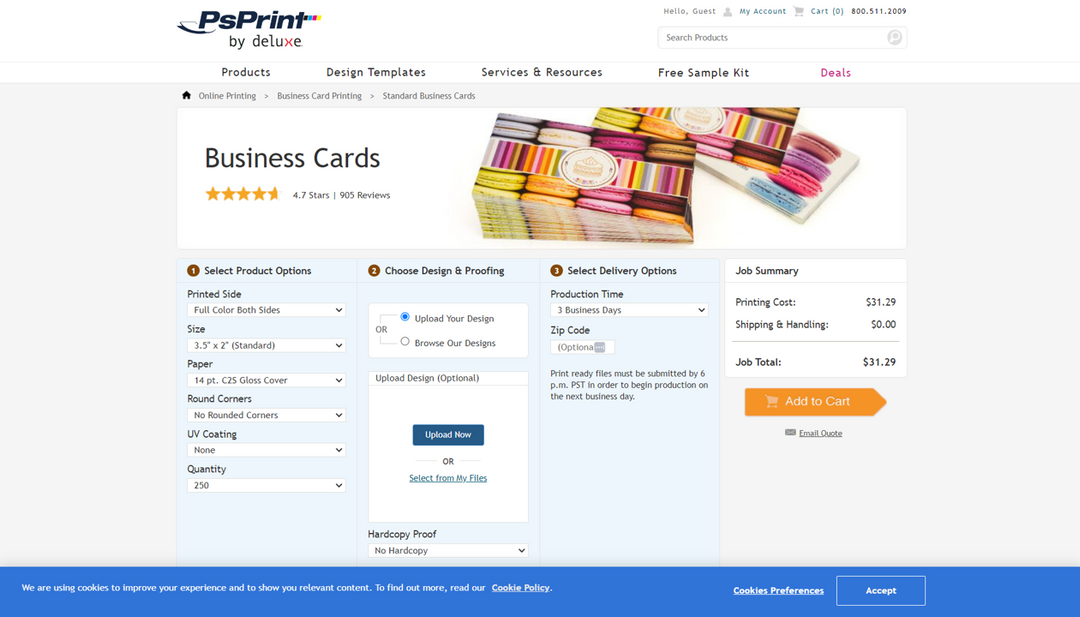 PsPrint is the best option for businesses that need to create die-cut business cards. You can upload an existing design or browse several templates to create a new one.
Best features:
Die-cut business cards can be cut into different shapes other than the conservative squares and rectangles
Option to upload a design or create one using the platform
One business day delivery is an option
Pros:
Submit a print-ready file and have your output shipped to you in one day.
Customization options for paper type and corner styles.
Single-side and both-side printing options.
Cons:
No design templates for die-cut cards.
Old-school interface that isn't appealing to look at.
It is expensive as compared to competitor sites.
Pricing:
$14.44 for 50 pieces of regular cards.
$139 for 500 pieces of die-cut cards.
Summing up your options:
Here is a brief overview of your possibilities for your business card maker of choice. Keep in mind that pricing and quality are crucial factors in your decision because you don't want to spend too much time and money creating your business cards.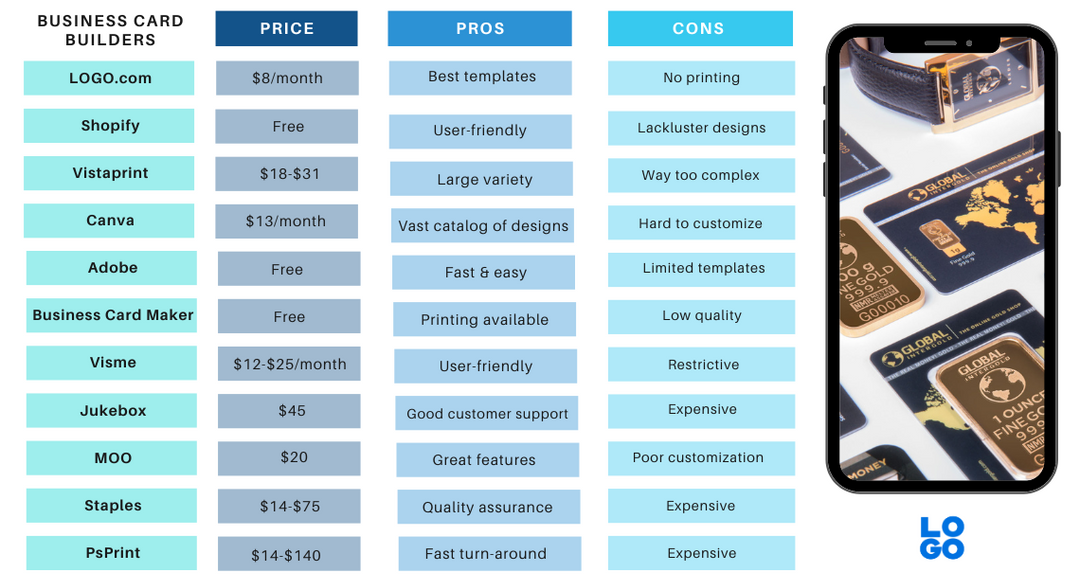 There is no perfect business card design (although LOGO.com comes close), so spend your time exploring your options to find the one that best suits the needs of your business.
Which style of business card templates works best for entrepreneurs?
Each style fits only some business types. Pick a template that represents the personality of your brand and its story. Ensure your written material is legible and the paper is of good quality to withstand the elements.
How do you choose the best business card maker online?
You will want a business card maker that delivers quality and speed as a brand. If you need more technical knowledge, pick a tool that does the design thinking for you.
Pick a tool that only produces the material if you have an existing card design. After a few trials and experiments, you will finally identify your business's best business card maker.