‍
It's never too late to decide to invest in t-shirt design ideas for your business. Ideally, this venture follows the creation of your logo, your color scheme, and other marketing assets. As a result, your company shirt examples have to adhere to guardrails set during the creation of other collateral.
Key takeaways:
The best way to have unique t-shirt design ideas is to go against the grain and develop eye-catching and creative visuals.
Achieve the balance between capturing your brand identity and designing an innovative aesthetic for your brand.
Be careful about your color choices. Some colors display as overwhelming or unreadable when done to a certain extent.
Adhere to proper design hierarchy. Display prominently the design elements you want people to focus on.
Utilize the constructs of a t-shirt to your advantage. Ensure that each side serves a purpose to your design, whether filled or not.
‍
15 design ideas to make your brand t-shirts more memorable
From design to production, and even messaging, your simple t-shirt designs have to be on-brand. Here are 15 ways you can make your brand's t-shirt design more memorable for your employees and customers.
‍
1. Go for minimalism
Less is more. Minimalism is a design principle that shows less but allows viewers to focus on the simple, substantial elements of the design. It could be a single word written in a small font or a tiny graphical element that can do the trick.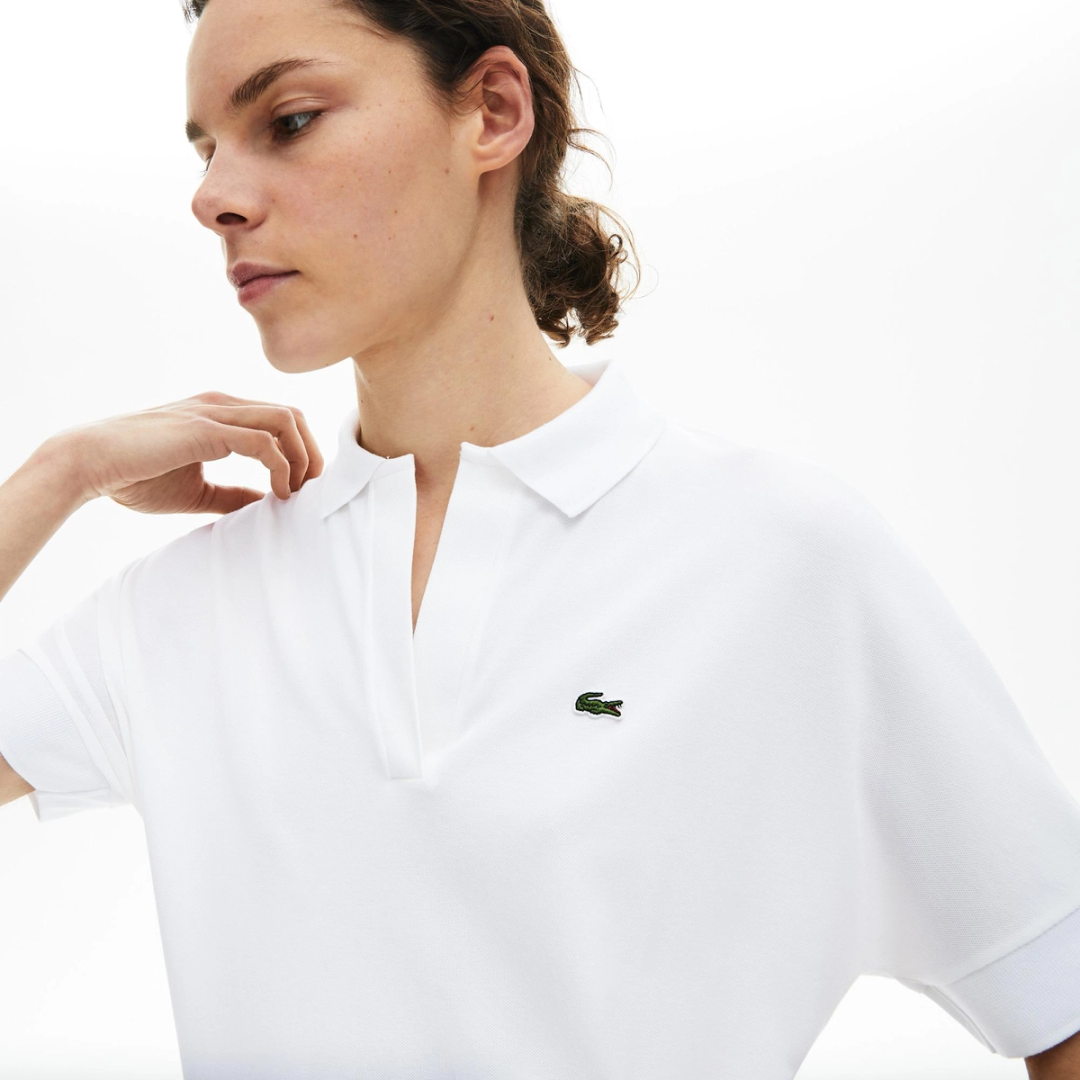 Take Lacoste, for example. It's a simple t-shirt with a tiny green alligator on the upper left, a representation of their iconic logo design. Though the design is highly simplified, it takes one look for people to know it's Lacoste. Minimalism works.
If you don't have a simple logo to make a powerful statement just yet, consider trying a t-shirt logo maker to help you come up with different shirt designs that can go the distance. If Lacoste can do it, so can you.
‍
2. Don't overbrand, don't underbrand
You do not want to come across as trying too hard by having every facet of branding splayed all over the t-shirt. Your design may not be minimalistic, but that doesn't mean that it should be excessive either.
‍
3. Avoid trends
You do not want your brand t-shirt to be lost in the crowd. For example, when in Hawaii, you wouldn't want the waiters in your restaurant to wear Hawaiian t-shirts because that's what some of your patrons are also going to be wearing. Break the trend to stand out without looking too unstylish.
‍
4. Opt for minimal text
If you decide to take the textual approach, then keep your words to a minimum.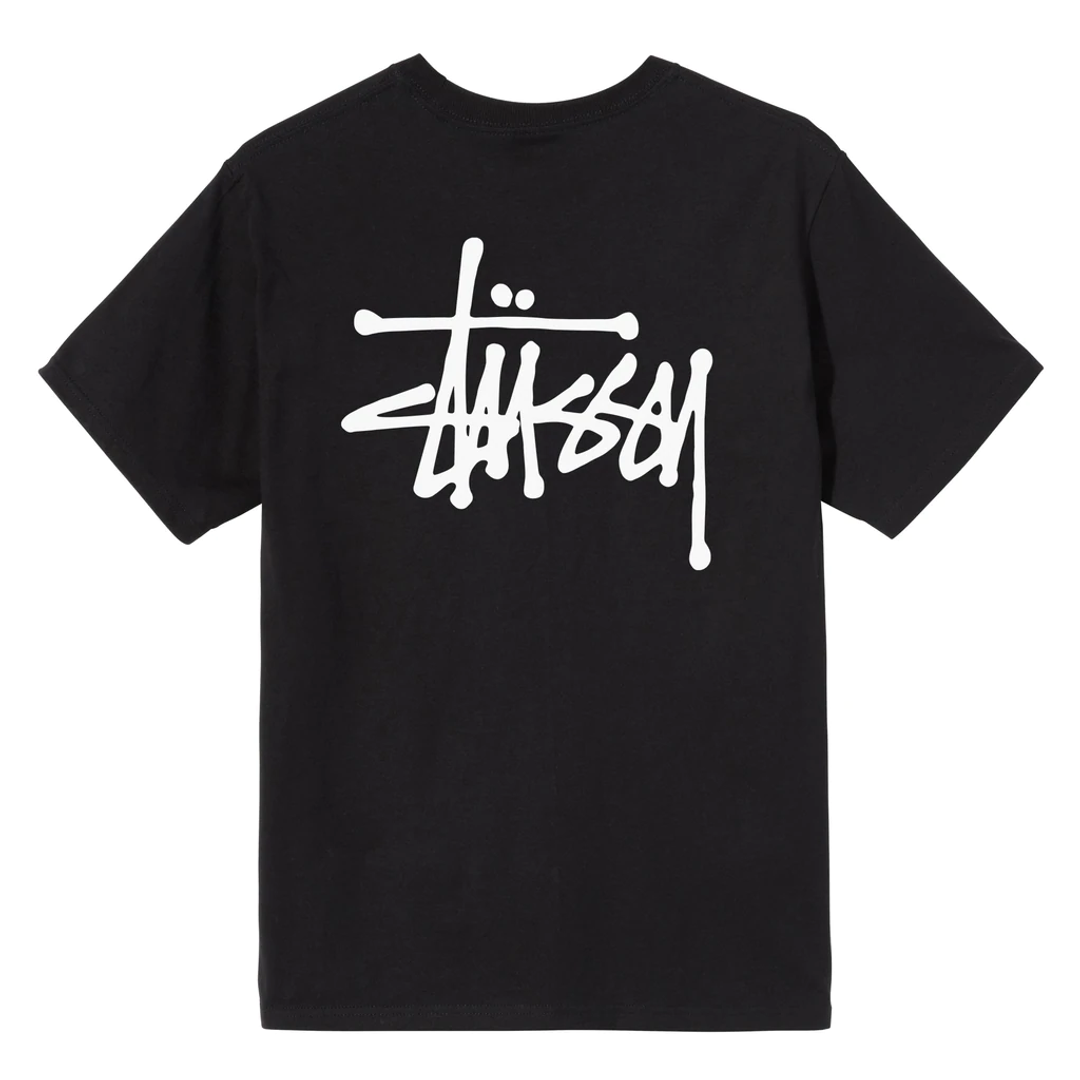 Stüssy capitalizes on simple merchandise featuring their lone wordmark—and it totally works. Have something written that will trigger an action or will make your brand's message clear. More words lead to more confusion and you do not want customers staring at the t-shirts of your employees, trying to take in all that they have to say.
‍
5. Prioritize belief over beauty
If you are a new brand that is just starting out, then customers would rather wear what you stand for than your brand's logo and mascot. Customers aren't your billboards, but your partners in carrying your message and belief across.
‍
6. Be appropriately funny
When you do it wrong, humor can turn into a touchy subject. You have to stay within the lane of being appropriate always. Show your humorous side without humiliating anyone.
Joke t-shirts are also assumed to be cheap bargain bin picks, so you have to be classy with the design. You could also use tongue-in-cheek messaging and cleverly integrate your brand name the way this Budweiser t-shirt does.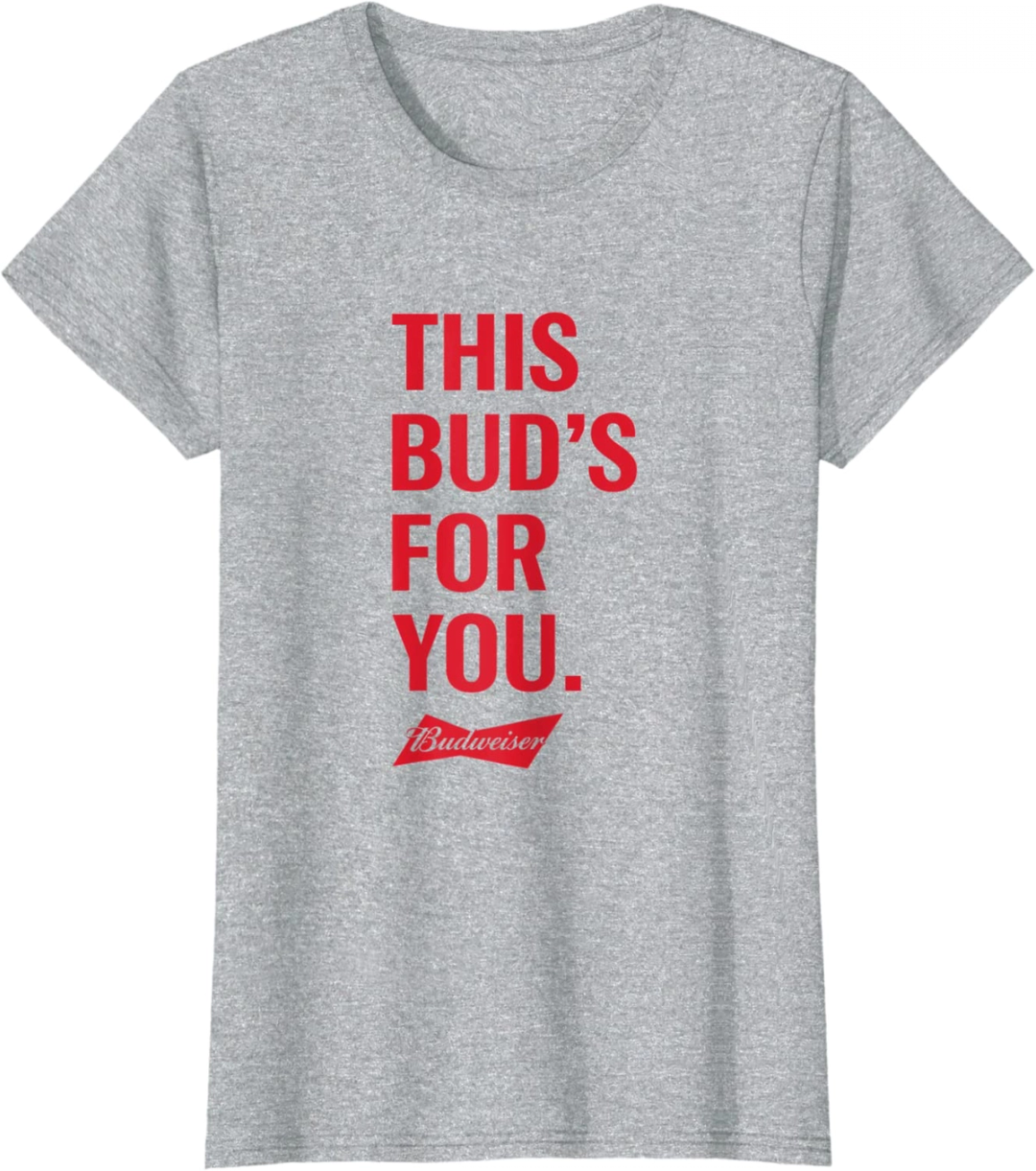 ‍
7. Consider wrap-around prints
You can create interactivity and disruption in design by going for creative shirts that are wrapped around both sides of the tee. Such prints are difficult to pull off, but if done well, your t-shirt design could make a whole new style statement.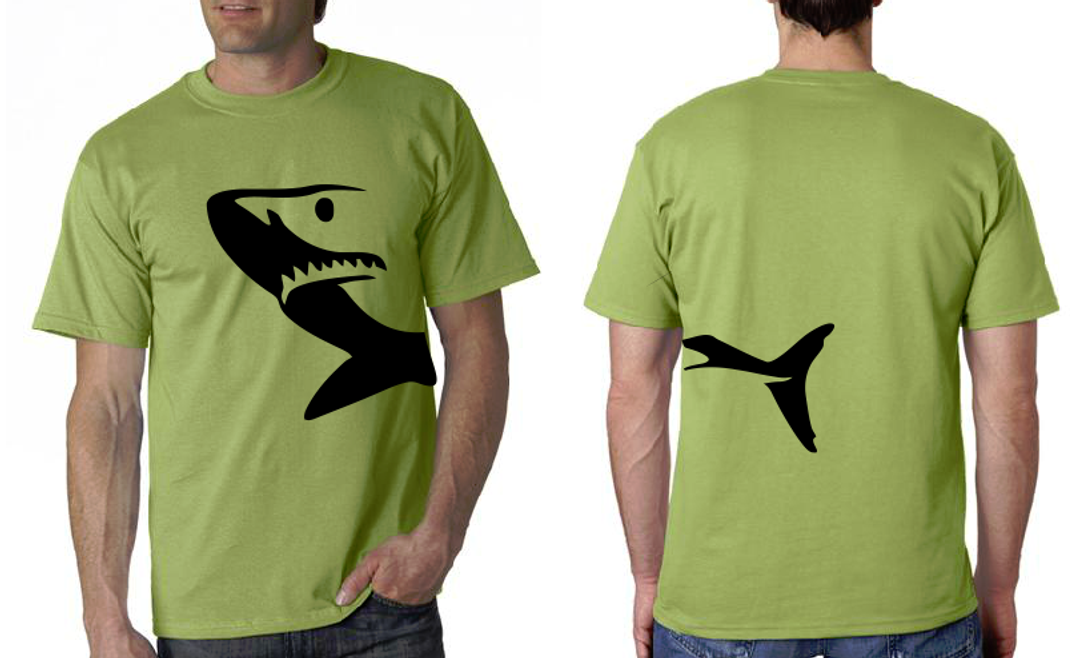 ‍
8. Drop a question
Nothing can encourage customers to engage with your staff quite as effectively as a t-shirt that solicits a question. You could customize the question based on the kinds of queries your business tends to receive.
‍
9. Include your brand hashtag
If your brand is running a campaign, then here's a t-shirt design idea that will help propagate it even further. By including the campaign hashtag on your t-shirts, you are not only spreading it to new channels but also encouraging new conversations between your employees and curious customers.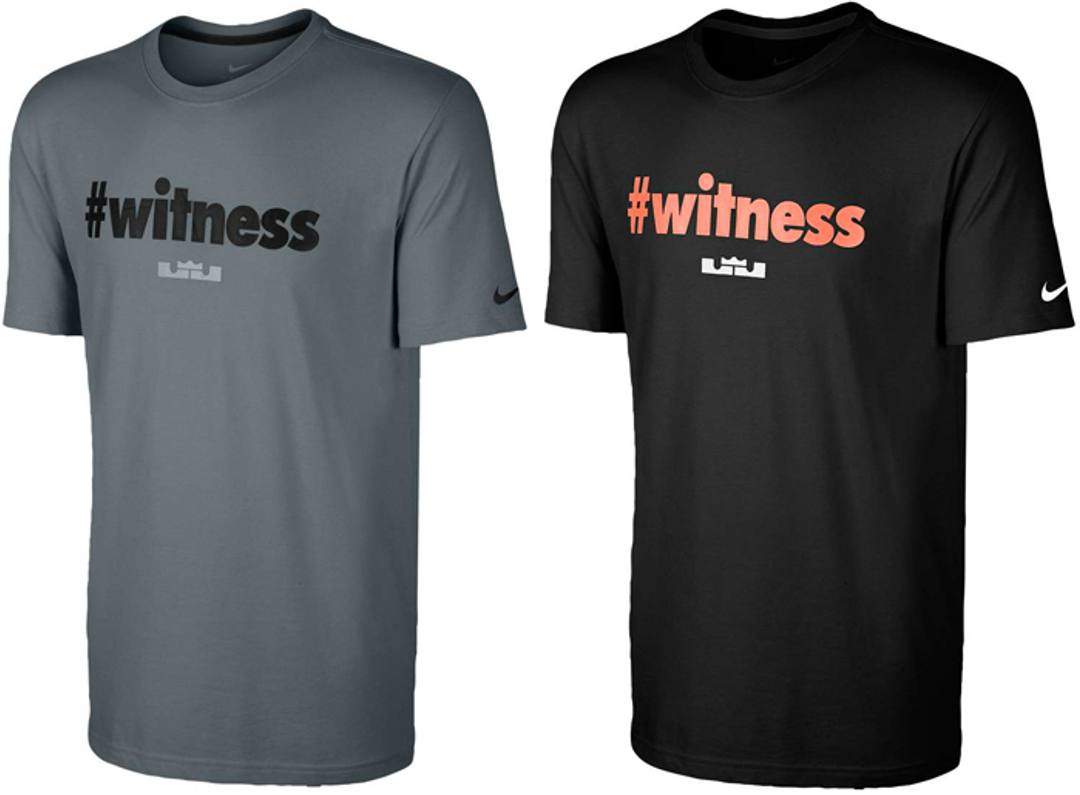 Nike, along with brand ambassador Lebron James, came up with an inspiring campaign hashtag called #witness. The Witness campaign honors James and the millions of fans across the globe who are 'witnessing' his brilliance, power, athleticism, and exquisite style of play.
‍
10. Print in unlikely positions
It's common to see a print on the center of the chest or over the left breast pocket. So, to stand out, how about you print a highly contextual message in an unlikely spot? It is arresting for customers because they aren't used to seeing prints here. As a result, your creative shirts are more memorable. Try the shoulder, lower back, hem, sleeves, and other unlikely locations.
‍
11. Offer personalized t-shirts
Personalizing merchandise for your staff helps them feel acknowledged and gives your customers a touch of genuineness during interactions. You could pair the names with a quote, for instance, "Hi! I'm Rachel, and I'm here to help you."
Customizing your merchandise is more expensive and cannot be done in large batches. This is a great tshirt idea for businesses with specific messages.
‍
12. Create sleeve variations
If your competitor's representatives are donning their t-shirts at an exhibition and they're all wearing smart, short-sleeved t-shirts, your team can stand out by wearing full-sleeved t-shirts. Longer sleeves mean more room to design and convey your brand identity.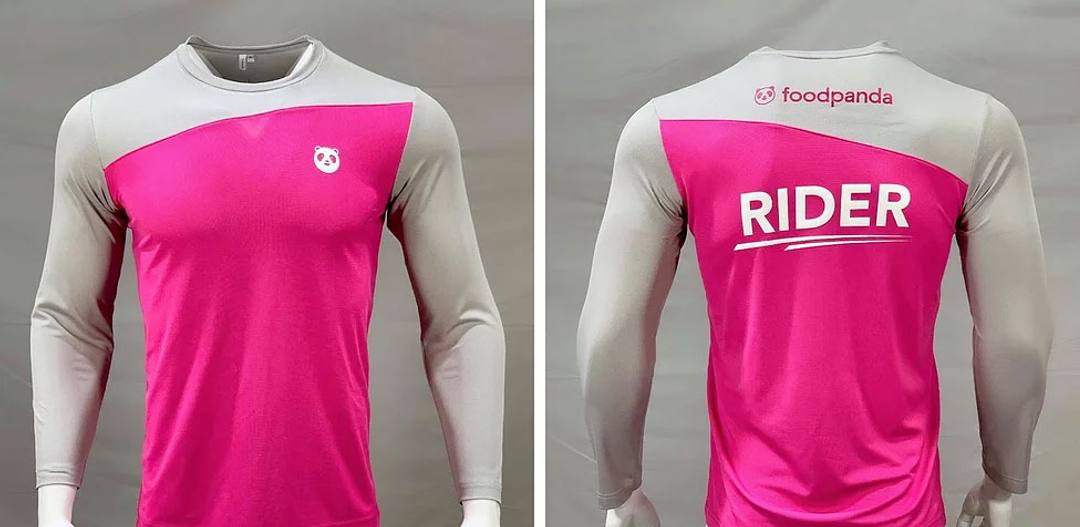 If you've ever ordered a meal on Foodpanda, you've likely noticed that their delivery riders wear long-sleeved t-shirts with the iconic pink and gray colors. It stands out and contributes to their brand reputation by building that association with every delivery.
‍
13. Try different neck types
You may or may not need collars. You could try round necks or V-necks depending on the kind of business environment your staff operates in.
The neck patterns go a long way in ensuring comfort and adding a zing of trendiness to the attire. The type of neck could affect all your other t-shirt design ideas, so it's best to finalize it at the very beginning.
‍
14. Choose comfortable materials
To save costs, many brands create apparel that feature different shirt designs but are uncomfortable to wear. If your brand's t-shirts aren't made for your region's weather conditions, then they won't be worn at all.
If your t-shirt is extremely comfortable to wear, it could be worn without any coaxing.
‍
15. Try halftones
Halftones are great for t-shirts that need to be in a single color but are also looking for some dynamism in the print. Halftones are tiny gray dots of varying sizes that create the illusion of multiple shades of a single color.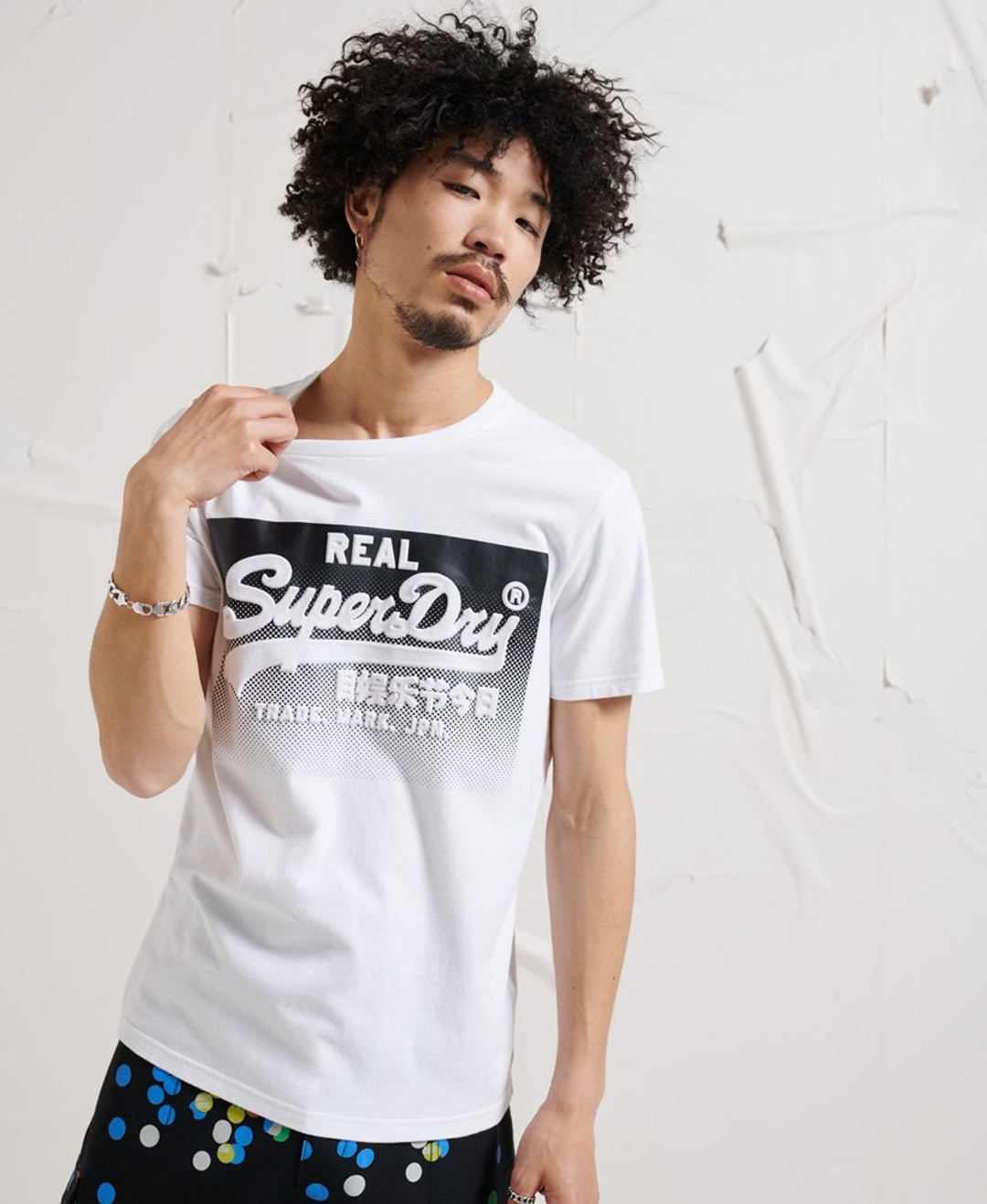 Superdry does this well, providing a fresh and modern take on their designs while remaining minimalistic.
‍
Go big: 5 ways to elevate your brand t-shirt game
You could have a ton of versatile tshirt ideas for your brand, but you still need to think outside the box to make big waves with your prints. These five tips can help you elevate your designs and bring you closer to standing out from the competition.
1. Collaborate with a niche designer
Do you feel that your brand's logo isn't too cool for a t-shirt? Stop worrying. You can tie up with a designer who can give your logo design a spin-off and create a t-shirt print that is inspired by its key elements.
2. Wear it yourself
If you do not enjoy wearing your t-shirt, no one else will. Wear it with pride, take selfies, share it, and show everyone how proud you are to do so.
3. Refresh your designs frequently
No one wears the same t-shirt for too long. Prints get old, as do trends. With a regular refresh of your designs, you can ensure that your customers are always greeted with a fresh new look. It also helps you dynamically adjust to changing trends, seasons, brand communication, and requirements of your customers and staff.
4. Experiment with specialty printing
Shirts design ideas are not limited only to the kinds of designs but also to innovative printing techniques. You can experiment with plastisol, glitter, holograms, and other printing techniques to make your t-shirt stand out.
5. Place your t-shirts in ads
Product placements are a great way to get your t-shirt noticed. You could get in touch with production houses that are always looking for tie-up opportunities to include native, sponsored items in their content. This could work out expensive, but it can be quite effective in gaining more reach.
‍
Why do you need creative t-shirt design ideas?
Several businesses rely heavily on their t-shirts to be more memorable to their customers. Businesses in the fast-food industry predominantly fall into this category. In their case, t-shirts are more uniform than branding collateral, which means that they have to look fresh and casual without coming across as fuddy-duddy.
If your business does not have client-facing employees, you may not need a t-shirt for any purpose other than to create a sense of pride among your team and supporters, or to make a special occasion more memorable.
‍
To identify your brand's concept
Now that you have established that your brand needs a t-shirt, you need to begin thinking about a t-shirt design idea that will live on for a long time.
A great starting point is to identify what concept your brand associates itself with. This concept can go a long way toward inspiring your actual creative shirts.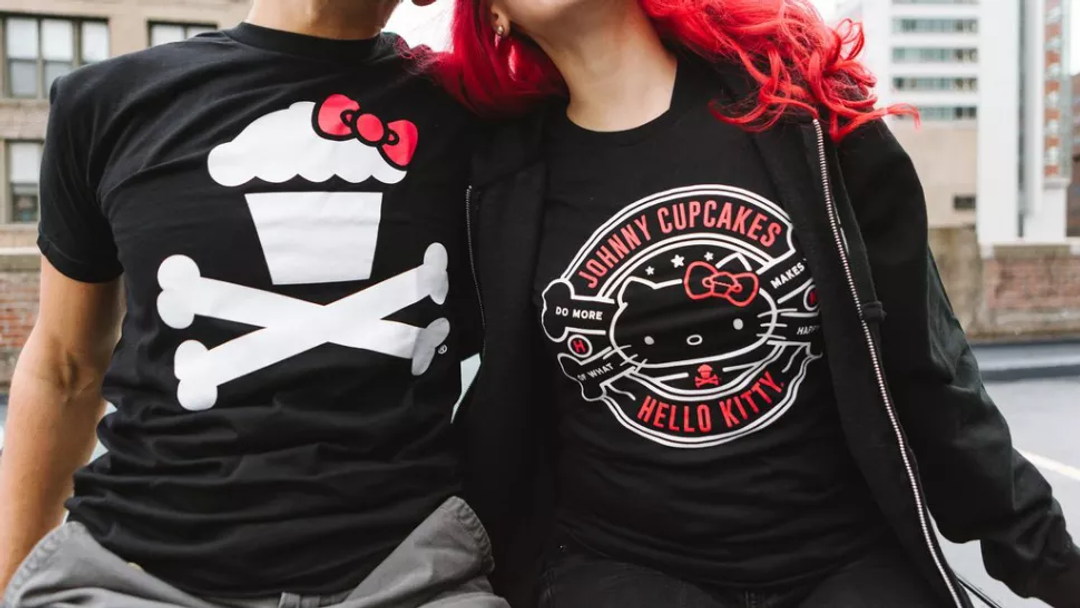 Johnny Cupcakes uses the crossbones in innovative variations across their merchandise and has established it as their design concept. This creates a sense of consistency and recognizability among their customers.
‍
To acknowledge your target audience
Should you be funny? Should you be funky? Should you sound eclectic? Or should you be formal?
A lot of these decisions depend on the target audience you want to attract. Your t-shirt could be more formal with a collar and a logo on the left chest. Or it could be totally funky with long sleeves and glow signs.
It all depends on who is going to come across your brand's t-shirt and the employees who will be wearing it.
‍
Frequently asked questions: 4 popular FAQs about t-shirt design ideas
What are some commonly asked questions about shirts design ideas? Get your questions answered with these four FAQs.
1. Is t-shirt business profitable?
Due to their widespread availability, there is undeniably a market for them. Is it worthwhile to print t-shirts commercially? Absolutely! Since t-shirts have been ubiquitous for so long, it is a great time to launch a company that allows customers to express their individuality through the clothing they wear.
2. Can I print anything on a shirt?
T-shirts can legally display any content that is in the public domain, so that's your safest bet. Works whose copyrights have long since expired are also considered part of the public domain.
Naturally, you own the prints you produce from designs you made yourself or through a logo maker.
3. What file is best for printing on shirts?
A vector file is by far the best file type for printing on a t-shirt. This includes different image files like PDF, EPS, AI, and TIFF. PNG and JPEG files can offer a number of advantages, but it always best to use high-resolution files with minimal compression.
4. What kind of shirts sell the most?
Black t-shirts.
Black shirts are the most profitable. Black is the most versatile and popular color to wear because it can be paired with any other color and doesn't show stains as easily. The color black is widespread and beloved my almost everybody. In particular, white shirts do not fare well in the marketplace.
‍
Bottom line
Managing your budget for a great t-shirt print and comfortable material can be challenging. You could start by first identifying t-shirt producers and then introducing the idea of a design that would match the fit, material, and printing technology best.
And you're not alone in this endeavor! Rely on us to secure high-quality logo print files and get them for free. This includes transparent logo files you can use for your business merchandise. Once you've done that, all you have to do is come back to this article and use these tips to make your designs shine.
What are you waiting for?
Ready to design your free logo? Get started with our logo maker!