With generic emails becoming all too common nowadays, standing out is paramount.
A custom email signature can do that by creating a lasting impression and adding consistency to every email you send. There are plenty of custom email signature creator services online that can demarcate your emails from the clutter.
How can a custom email signature creator help my business?
An email signature creator saves time that goes into creating, checking the quality of, and possibly updating the messaging of every email signature one by one.
This is important because every business needs consistent and clear communication. Trying to do that manually for email accounts can become a nightmare if you run a fast-growing organization.
How do you create a professional email signature?
The best way to create a professional email signature is by using a custom email signature creator. With a wide variety of assets, like fonts, templates, and social media icons, these services make it simple to create clean, professional email signatures.
Most of these tools also have detailed instructions on installing signatures on different mail providers, which makes them beginner-friendly.
The best custom email signature creators that'll help step up your business email game
Below are the best in the business for custom email signature generators. Select one whose designs and strengths are to your liking, and you'll have a professional email signature in no time.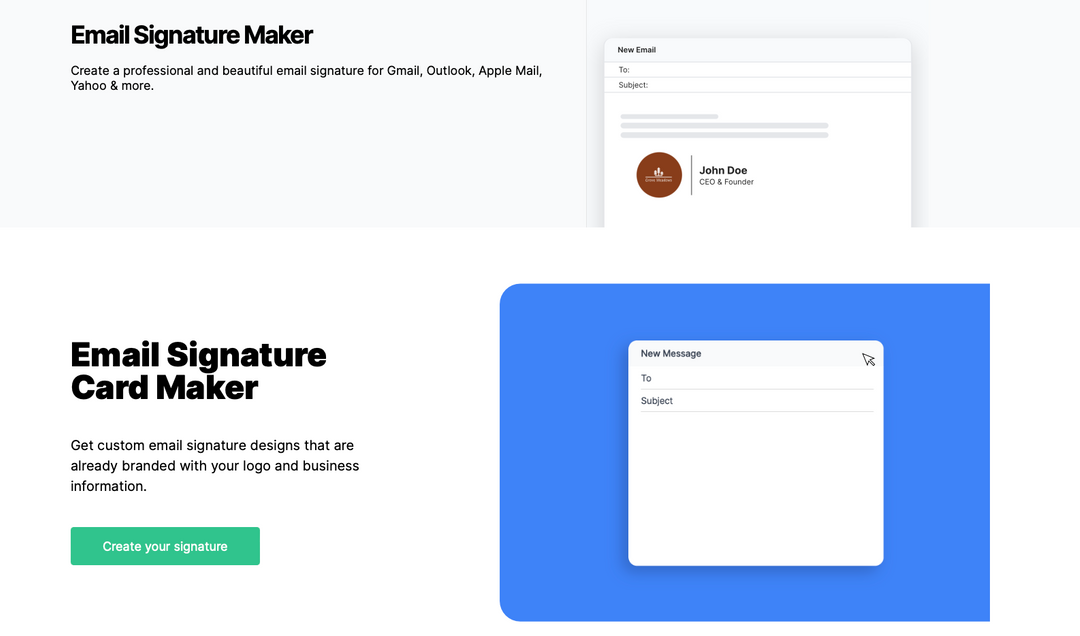 Instead of using a cookie-cutter email signature, create one that accurately represents your personality and professionalism. LOGO.com's email signature generator is the best option for designing eye-catching email signatures that will leave a lasting impression on your audience. You can easily create a polished email signature that will set you apart from the competition with its selection of dynamic, ready-to-use templates.
Best features:
12 high-impact email signature templates to choose from
You get a free logo automatically placed on the email signature
Full customization options for links, images, and format
24/7 customer support for branding tips and inquiries
Pros:
A stunning variety of email signature templates designed to make an impact.
Easy implementation to copy-paste the email signature to your mail provider.
You're in full control of your customization preferences.
You can link to a wide variety of social media channel options.
Cons:
There are color limitations. You can only work with your brand colors.
You cannot upload anything to the email signature generator.
Pricing: The LOGO.com email signature generator is a part of the Brand Plan, which only costs $8 every month. The tool is 100% satisfaction guaranteed.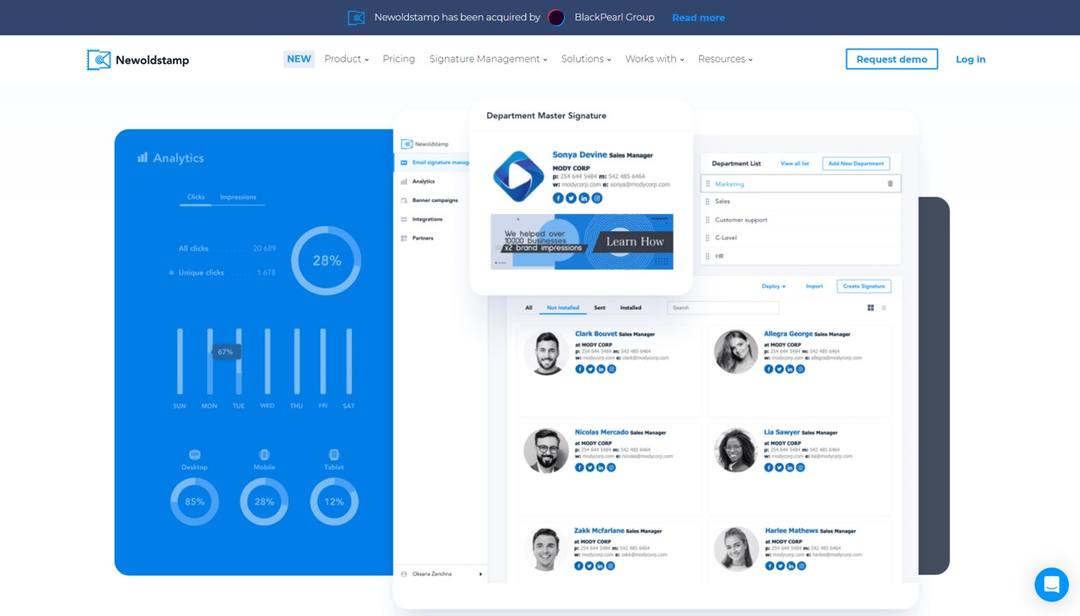 You don't need any prior design or coding experience to take advantage of Newoldstamp's interactive signatures, which integrate well with professional tools like Google Workspace, Salesforce, Mailchimp, and more.
Best features:
Pros:
It has beginner-friendly creation and installation guides.
It has a large gallery with beautiful templates.
It has in-depth customization tools for advanced users.
Cons:
It is pricey for solopreneurs and smaller teams.
Custom design features require additional payment beyond the subscription plans.
It doesn't have additional branding or design tools.
Pricing:
Free – for individual signatures.
Email Signatures and Marketing – $13 per month for one user. The cost per user scales down with increasing users.
Custom plan – priced after contacting the team.
Designhill's marketplace is a one-stop shop for most graphics design-related needs. Its simple custom email signature creator can come in handy to those looking for a one-time investment.
Best features:
Creator loads and exports quickly
Email signature design tool can also export business card designs
Compatible with all mail providers
Pros:
It is easy to navigate through the tool.
It is affordable for smaller teams and individuals.
Customers with unique needs can hire designers from the marketplace.
Cons:
It has a limited number of templates.
The designs are almost identical to one another.
It only offers basic customization options.
Pricing:
Personal plan – $6 for one signature.
Lite plan – $5.5 per user for three signatures.
Professional plan – $5 per user for five signatures.
Startup plan – $4.26 per user for ten signatures.
With a focus on customer satisfaction, Gimmio can be the apt option for entrepreneurs looking for an affordable and effective business email signature creator.
Best features:
7-day trial plan
Small customer-centric team that is accessible
Resources that detail installation on various email services
Pros:
It has a variety of templates to choose from.
Customers can save their custom signatures for future modifications.
It has affordable plans for individuals and large corporations.
Cons:
The email signature generator tool has compatibility issues with some web browsers and cannot run on them.
The template designs look outdated.
The service offers limited perks despite having a rolling subscription plan.
Pricing:
One-time purchase – $7 for one signature.
Business plan – $28 per year for one signature, which scales down with increasing signatures.
Agency plan – $70 per year for a ten-signature package. The cost per signature scales down with increasing signatures.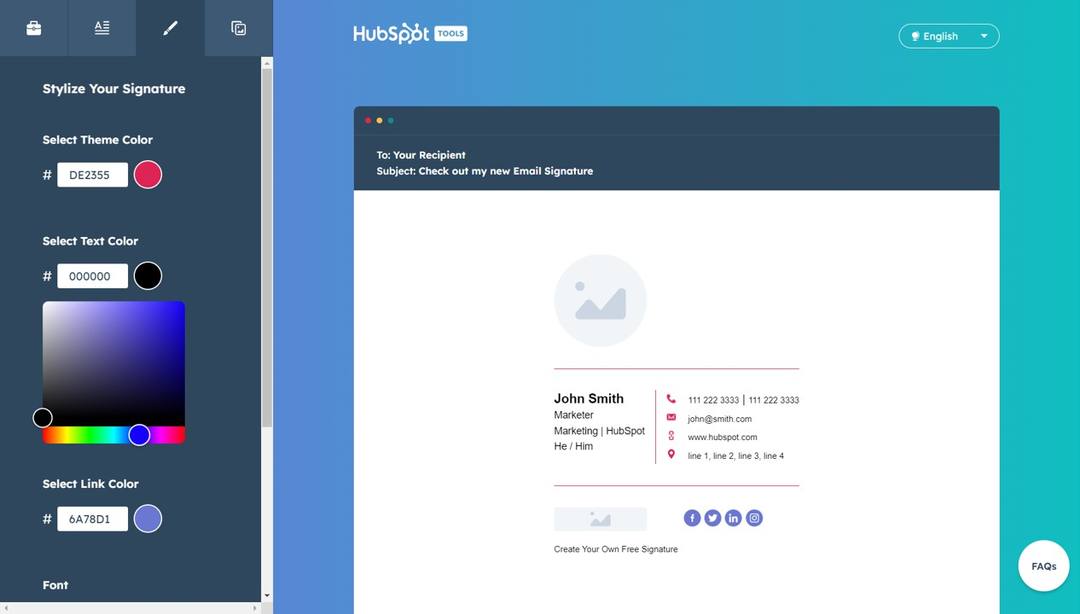 HubSpot's Customer Relationship Management software help organizations like Classpass, Rakuten, Tumblr, and more cater to and grow their existing customer bases. Its custom email signature creator is polished but comes with fewer features compared to many on this list.
Best features:
Hassle-free; no sign-up required
A custom field option for people to enter working hours or additional information
Detailed guide on creating a professional email signature
Pros:
It is free to use.
Troubleshooting problems is easy with HubSpot's leading customer support.
Good option if you're looking for something basic.
Cons:
It has just six templates to choose from, out of which some aren't optimized for mobile viewing.
The email signature creator has buttons for only four social media websites.
The tool cannot be used on mobile devices.
Pricing:

With its library of beautiful designs, WiseStamp promises to generate a signature in two minutes. However, learning how to use its signature management tool can take some time – especially if you are creating your first email signature.
Best features:
Easy and intuitive tool for design beginners
Several customization options for clients with unique needs
Integrates with leading CRM platforms like Zoho and Oracle NetSuite.
Pros:
It has a large collection of templates filtered by profession, goals, and more.
It offers a blank template for advanced designers.
The software is regularly updated with new features.
Cons:
Unlike the signature generator, the signature manager can be difficult to navigate.
The Basic plan offers limited assets.
The web app creator can take time to load.
Pricing:
Basic plan – $0 for one signature.
PRO plan – $5.8 per month for one user.
Soho plan – $9.5 per month for five users.
Soho plan – $1.9-3.2 per user per month for six to ten employees.
Teams plan – $1.67 per user per month for eleven to two hundred employees.
Enterprise plan – Quote varies for organizations with more than two hundred employees.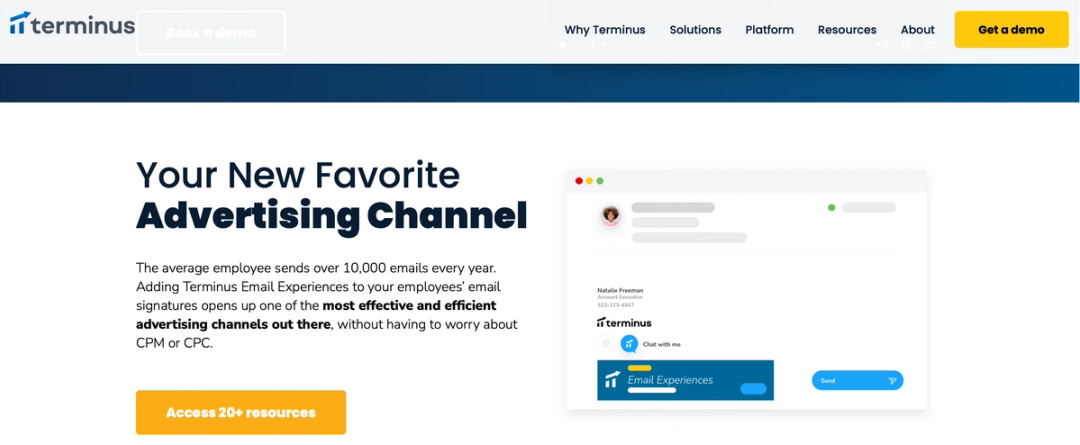 Terminus offers features beyond design, like custom banners and A-B testing, that can turn an email signature into a useful part of your sales funnel.
Best features:
Feature to generate personalized graphic banner ads that appear underneath your email signature depending on who you send the mail to.
'Shuffle Mode' generates different email signatures for every email
Integrates with Office 365 and GSuite
Pros:
They offer support to guide new users to navigate the platform.
It's good for sales teams that rely on cold emails.
They offer lab-researched designs – optimized for engagement and clicks.
Cons:
No option to try out the custom email signature creator without booking a demo.
Pricing is not publicly available on the website.
The tool is not apt for solopreneurs and small teams looking for a simple design-based platform.
Pricing: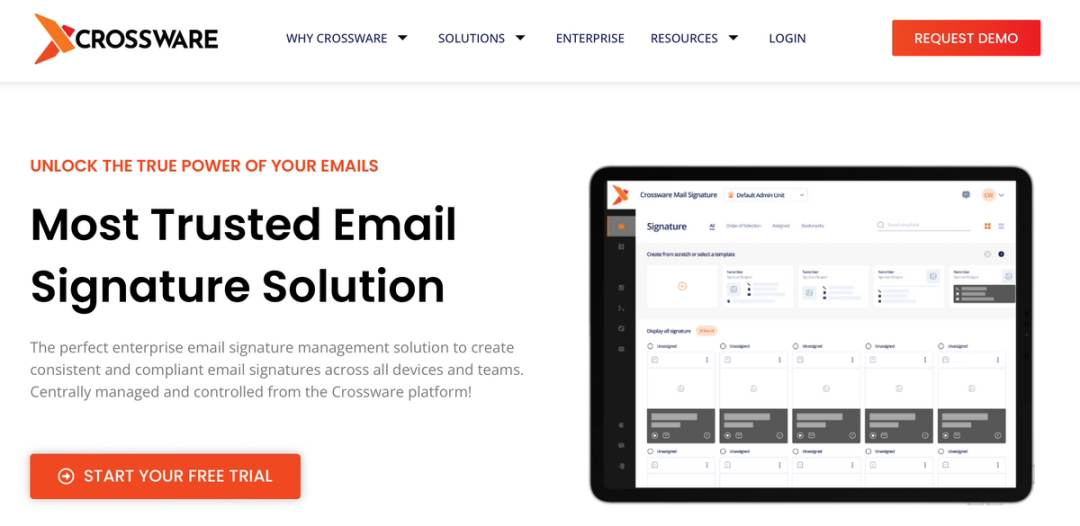 Crossware's team of email experts has created a custom email signature creator worthy of a 200,000 (and growing) customer base. What it lacks in compatibility with many leading email services, it makes up for – with a plethora of useful features.
Best features:
Provision to control who gets access to certain signatures
Easy to set up
Offers a central email signature management tool to ensure consistency
Pros:
Admins can easily change company-wide signatures.
The email signatures are optimized for every device.
The manager auto-updates every email with the latest signatures and disclaimers.
Cons:
Only works with Microsoft Exchange, Microsoft 365, and HCL Domino.
The drag-and-drop editor is only available on Office 365.
Requires a minimum of 10 users.
Pricing:
Pricing is available upon requesting a demo.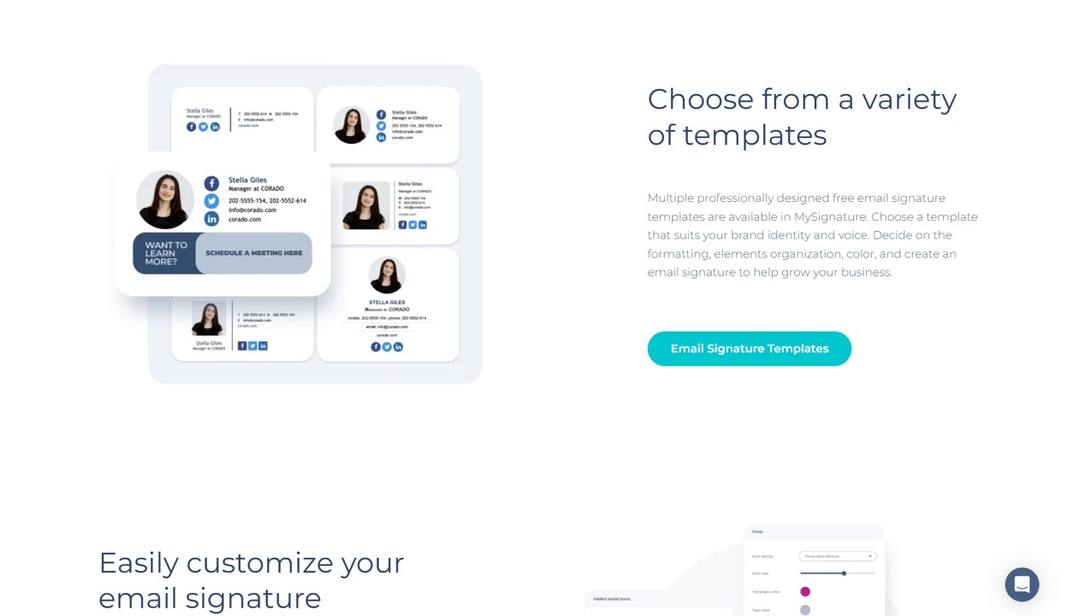 If you want to create an email signature as quickly as possible, MySignature should be on your consideration list. It offers beautiful designs packed in a user-friendly custom email signature creator.
Best features:
Inbuilt button for clients to add video conference links
Signatures come with an optional email tracking feature
Option to preview your signature in dark mode
Pros:
It has over 100 templates to choose from.
It provides analytics, which tracks metrics like clicks and views.
Its subscription plans come with plenty of features.
Cons:
Email tracking is only available on Gmail.
Its one-time pricing of $69 per signature is extremely high.
Its limited payment can be a hassle for clients outside the US.
Pricing:
One-time purchase – $69 for one signature.
Subscription plan for the Pro Plan – $4 per month for one user, if billed yearly. The cost per person scales down with increasing users.
Subscription plan for the Pro Plus Plan – $6 per month for one user, if billed yearly. The cost per person scales down with increasing users.
10. Canva

Canva is a well-known tool in the design space. While it doesn't have a dedicated custom email signature creator, the graphic design website has templates for users to modify and export.
Best features:
A brand hub that integrates assets from other company designs to your email signature
Freehand drawing option for those looking to add e-signatures
Automatically converts most links into icons and presentable assets
Pros:
It has 100+ fonts and a huge library of fonts and graphical elements.
It regularly gets new features – its latest addition is an AI image creator.
Its collaboration tools can make handovers and task management easy.
Cons:
It does not have a dedicated email signature design tool and relies on business card templates.
It can get overwhelming with all the options.
You have to create your email signature manually, as nothing is automated.
Pricing:
Pro – $9.99 per month, if billed yearly.
Enterprise – $30 per user per month
Why use an email signature generator online?
An online email signature design software is regularly updated to meet the latest visual trends.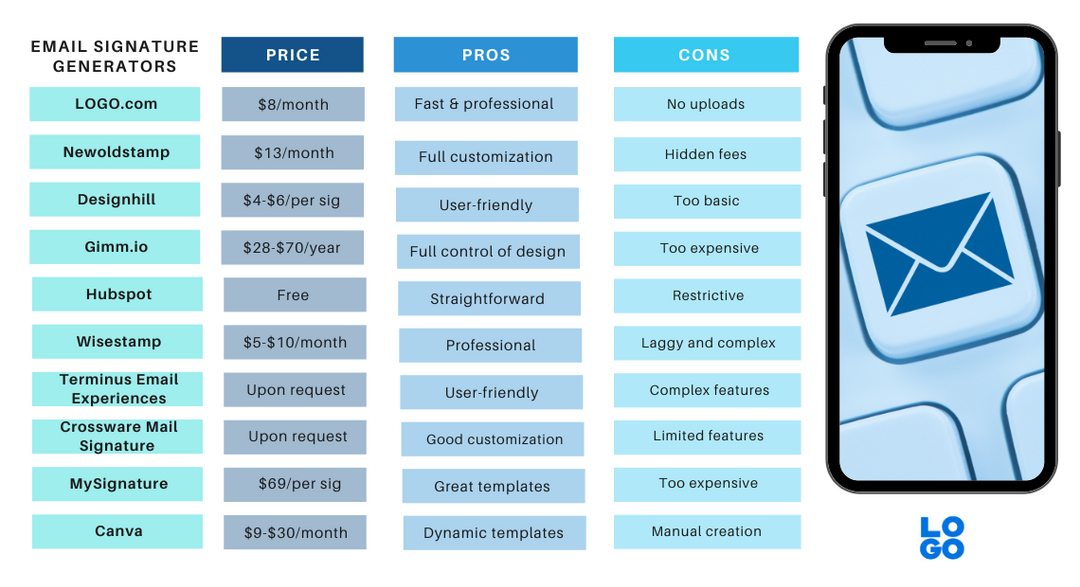 Oftentimes, these tools are created by companies that specialize in branding, so these designs don't just look pretty but are optimized to get make you look professional in front of your customers and business contacts.
What are the qualities of a good email signature management tool?
The best management tools allow admins to automatically update important information for all employees. They also offer easy collaboration features for designers and admins.
What is the perfect business email signature generator?
Choosing a business email signature alone may not feel like a monumental decision. Therefore, when making a choice, ask yourself the following questions:
Does it give me additional benefits for the same price?
Is it time-consuming?
Do you need to change your email signature often?
Is the key information displayed in a clean, coherent manner?
The goal of a good email signature is to communicate important information about your business with minimum friction.