Emails are the primary business communication tools used today. Every business works tirelessly to create effective emails, whether between two individuals on a day-to-day basis or to a wider audience group, informing them about a brand and its offerings.
Whatever the reason, closing an email with a powerful email signature makes your business appear more credible and relatable.
Why do you need a professional email signature for your business?
Unlike handwritten letters, where a mere signature or a company stamp would suffice to close any communication, emails have much more to offer.
A professional email signature has links, buttons, images, colors, and other branding elements that make them stand out. Some businesses use email signatures to show off their recent awards or introduce new products to prospects.
What makes a good email signature template?
Understanding the true purpose of an email signature is important, as this will help you pick a good email signature template.
Pick one that is legible, represents the kind of business you're in, and allows you to be expressive rather than just informative. You may need links and images in your email signature; thankfully, the internet is rich with templates.
The 10 best business email signature generators for your company
What kind of business email signature generator will work best for you? What are the factors you need to consider? How much will it cost?
We've answered all this and more as we explore ten hand-picked business email signature generators for you to make an easier decision.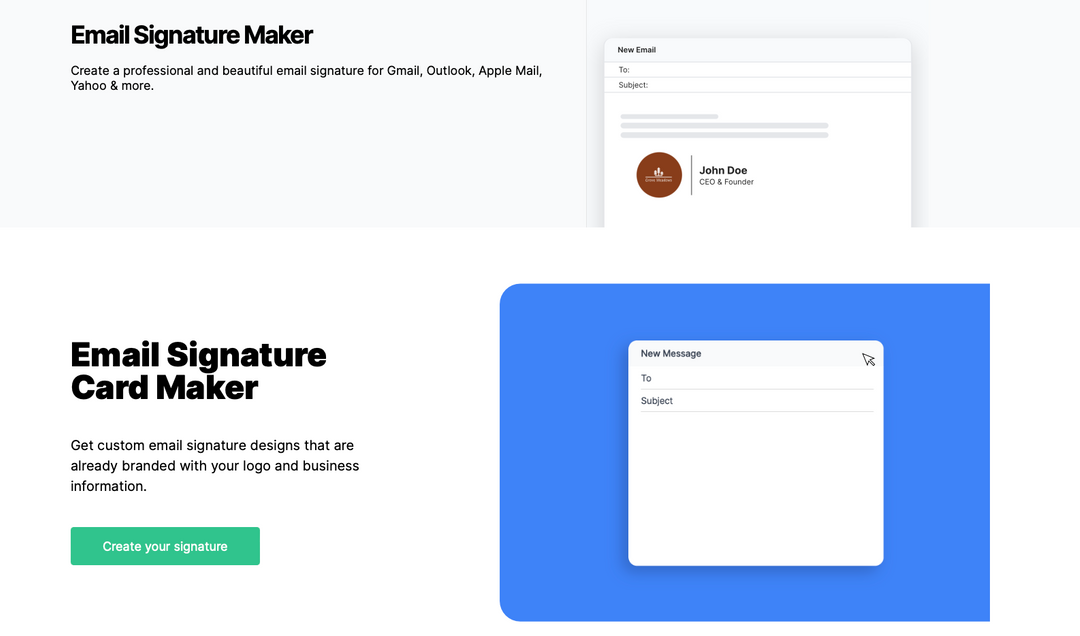 LOGO.com's Email Signature Generator is the ultimate choice for impactful email signatures that will surely leave a mark on all your email recipients. With dynamic, readymade templates at your fingertips, it takes no more than ten minutes to set up a professional email signature that sparks a lasting impression.
Best features:
12 high-impact email signature templates to choose from
You get a free logo automatically placed on the email signature
Full customization options for links, images, and format
24/7 customer support for branding tips and inquiries
Pros:
A stunning variety of email signature templates designed to make an impact.
Easy implementation to copy-paste the email signature to your mail provider.
You're in full control of your customization preferences.
You can link to a wide variety of social media channel options.
Cons:
There are color limitations. You can only work with your brand colors.
You cannot upload anything to the email signature generator.
Pricing: The LOGO.com email signature generator is a part of the Brand Plan, which only costs $8 every month. The tool is 100% satisfaction guaranteed.
Launch your brand in minutes with a free logo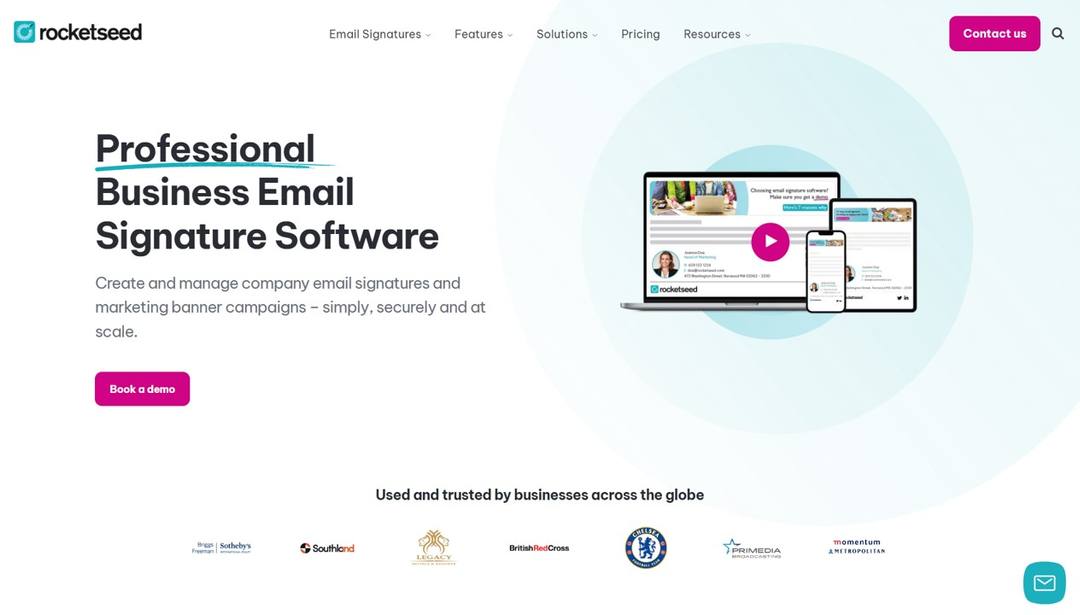 Rocketseed is preferred for professional email signatures from Chelsea Football Club to Sotheby's. You can create a variety of signatures for different platforms by booking a demo on the homepage.
Best features:
Free trial available
Track and analyze recipient behavior
Expert design team available for consultation
Pros:
Ready-to-use templates are available.
It includes G Suite, Office 365, and Exchange email signature templates.
It supports email signature banners.
Cons:
You're required to pay the setup fee before using the tool.
There is no free version.
You can only preview your work by getting into the sign-up process, which means the tool is ideal for larger enterprises.
Pricing:
The Signature Package costs $1 per sender per month (up to 200 senders)
The Campaign Packages cost $2.5 per sender per month (up to 200 senders)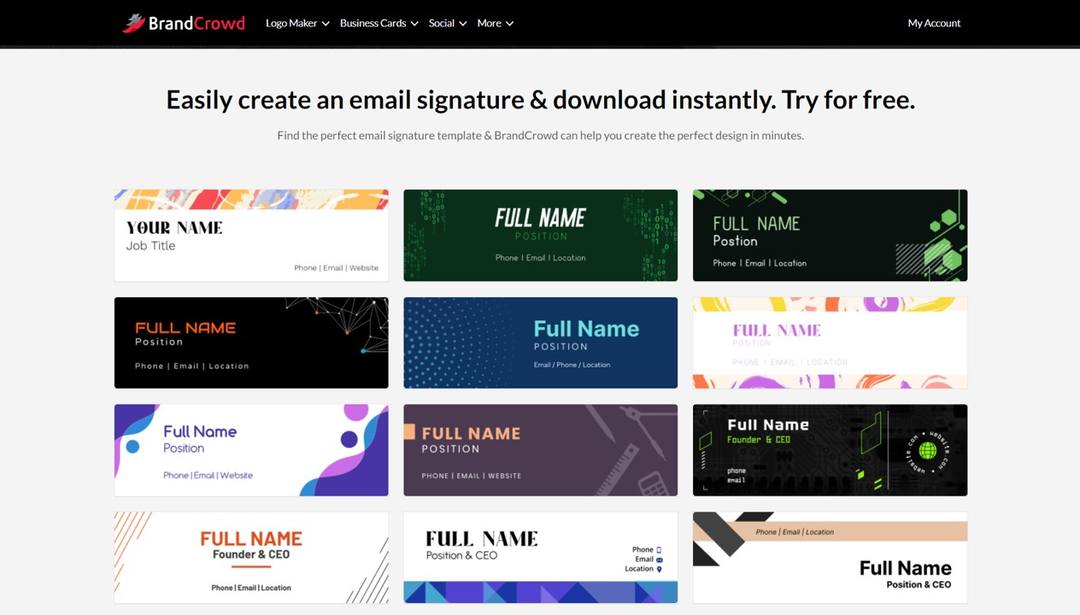 Available with a free trial and rich with variations, Brandcrowd is a business email signature generator that puts you in the driver's seat for your creations.
Best features:
Simple interface
3-step creation process
Free trial version
Pros:
You can download your email signature as high-resolution files or vectors.
Unique social media link templates are available.
Create unlimited edits of your signature.
Cons:
You need to sign up before uploading your logo on the tool.
Most visual design options are playful, with few leaning towards a more formal look.
Users need to purchase a license to use the designs of the website.
Pricing:
Your email signatures are available for a free trial.
The subscription starts at $9 per month.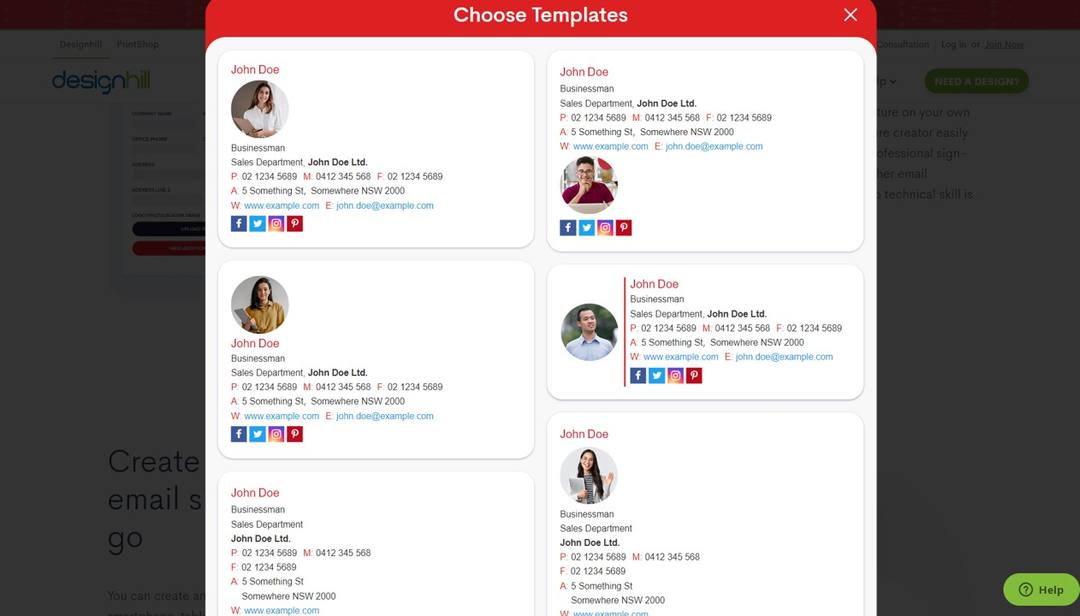 Designhill is big on several branding aspects, and their business email signature generator is yet another offer they extend to brands. Their email signature templates aren't the most exciting ones you may come across in this list, yet they get the job done.
Best features:
Quick and easy to create a professional-looking email signature
Ability to add disclaimers, app badges, and digital business cards
Free for use
Pros:
Support Apple Mail, G Suite, and Office 365.
No downloads, no add-ons, or technical skills are needed.
Generic templates can be used for different professions.
Cons:
It has a simple generic template with little variety.
Not compatible with smartphones.
Pricing:
The Personal plan is $9.99 per user for one signature.
The Lite plan is $9.49 per user for three signatures
The Professional plan is $8.99 per user for five signatures.
The Startup plan is $8.49 per user for ten signatures.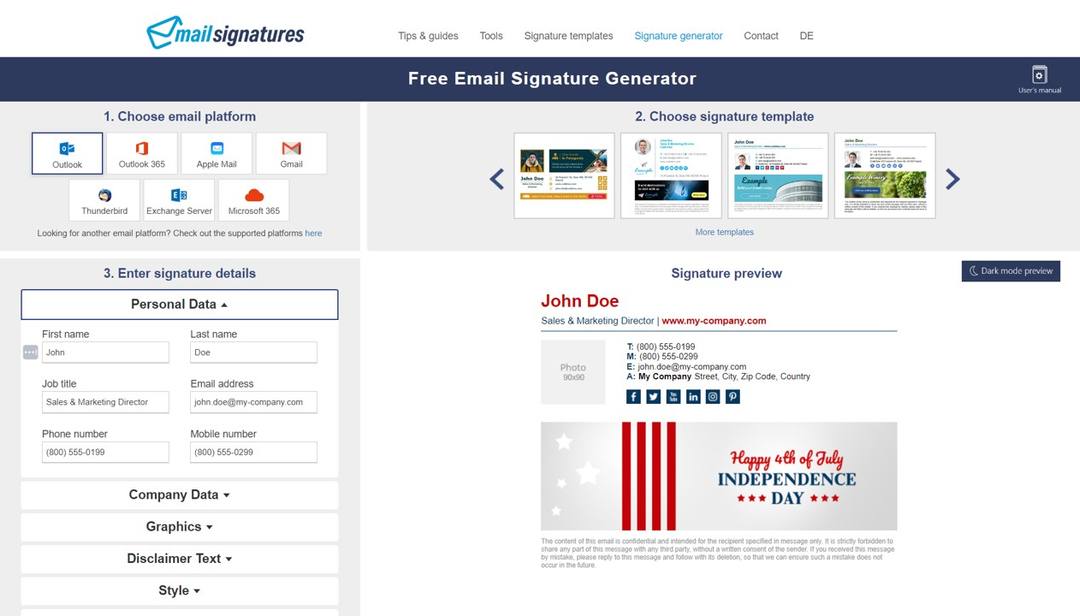 Simplicity and good design meet in a rear combination on Mailsignatures by CodeTwo. While the business email signature generator appears simple, it has capabilities and functionalities.
Best features:
Loaded with features and customizations
Multiple template styles
Dark mode preview
Pros:
Supports Office 365, G Suite, Apple Mail, Exchange Server, Gmail, Outlook, and Thunderbird
Easy graphic design insertion gives you more freedom.
Simple customization speeds up the process.
Cons:
The interface is too complex.
The email signature templates are formal and lack playful elements for more light-hearted businesses.
The cramped interface requires you to look closely for what you're looking for.
Pricing:
The email signatures are free to use.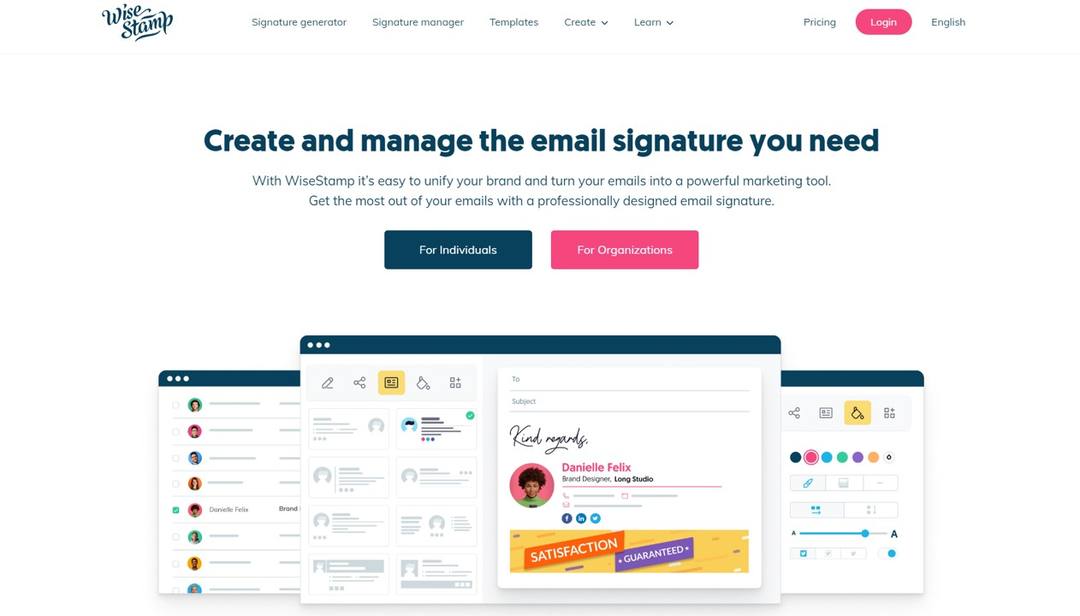 Wisestamp offers a unique proposition for individuals and organizations. The specialized tool focuses on delivering the most professional email signatures.
Best features:
A large library of professional email signature templates
Google Apps and Office 365 integration
Responsive customer support system
Pros:
You can add banners, disclaimers, images, and more to your email signatures.
Adding email signatures to your existing email servers is easy and quick.
You can get more access to a wider team as a cloud-based solution.
Cons:
No monthly plans are available.
The interface is not intuitive.
Users have reported challenges in adding Wisestamp to the iPhone mailing app.
Pricing:
The Basic version is available for free.
The Pro version costs $5.8 per month but is billed annually
Likewise, the SOHO version costs $9.5 monthly and is billed annually.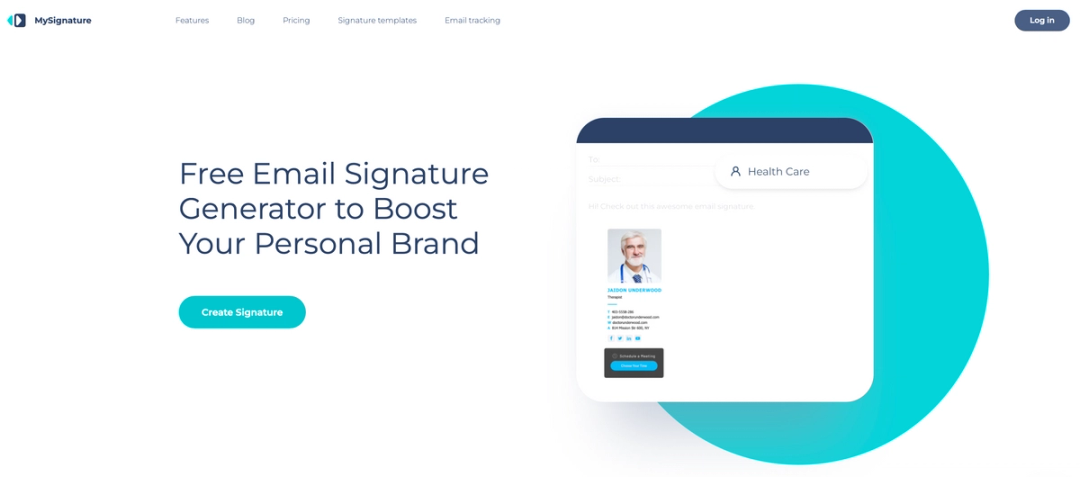 MySignature is a platform-agnostic platform that makes creating your professional email signature easier. You can choose modern templates that suit personal branding and corporate email signature creation.
Best features:
Live preview as you edit
The mobile-friendly editor makes it easier to edit on-the-go
You get a signature management dashboard
Pros:
The interface is easy and fun to work on.
Get support for Gmail, Apple Mail, and more.
Access a live customer support chat at any time.
Cons:
It doesn't integrate with lesser-known email apps.
The tool is suitable for personal branding only.
The pricing is too high for small businesses to afford.
Pricing:
The free version is extremely limiting.
Get the Pro version for $12 per month.
The top-end Pro Plus version costs $18 per month.
Launch your brand in minutes with a free logo
Over 328,000 professionals use Gimm.io to create their professional email signatures. The tool is simple and is preferred by creators and businesspersons worldwide.
Best features:
Over 1,000 fonts
Add banners, images, and social media icons easily
Supports bulk imports
Pros:
Enjoy complete control of your email signature layout.
Scale the number of email signatures you create with your growing team.
Supports Outlook, Apple Mail, Office 365, Gmail, Thunderbird, Mailbird, and a lot more
Cons:
The creation process may be too complicated for some users.
It's not user-friendly for design beginners.
The font sizes on the app may not match that on Outlook.
Pricing:
One signature costs $28 per year.
Ten signatures cost $70 per year.
Fifty signatures cost $210 per year.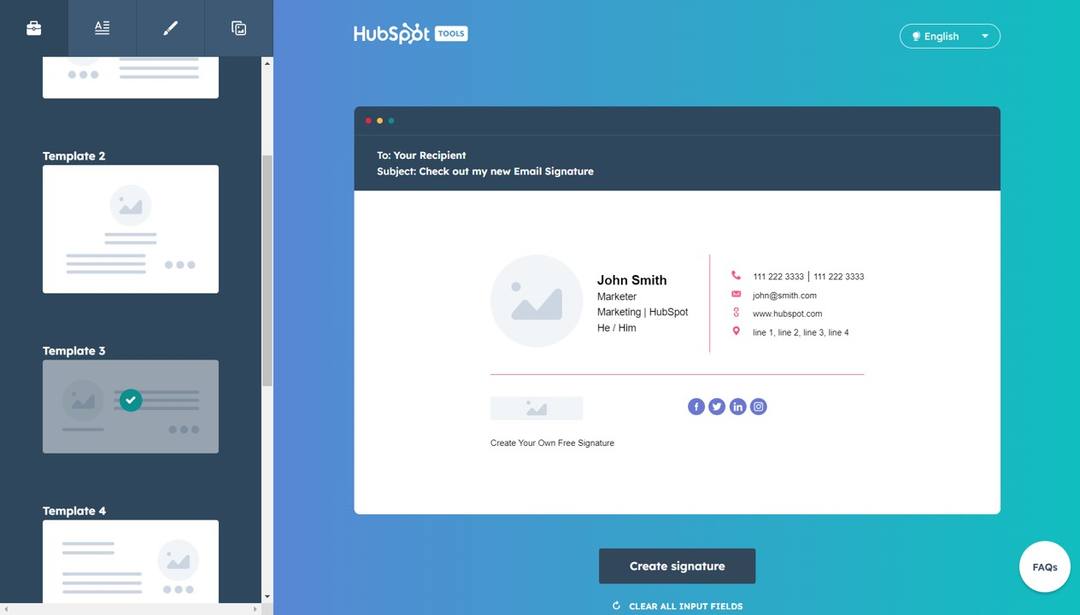 Hubspot has several solutions for small businesses; a business email signature generator is one. The tool is compatible with several email apps and is easy to deploy.
Best features:
High level of customization to match your brand identity
Supports multiple email apps
Simple interface
Pros:
It is quick and easy to work with.
You get what you see.
Completely free to use after filling out a form.
Cons:
The templates are limited.
It is only recommended for smaller businesses.
The editor only lets you tinker with the template a little.
Pricing:
It is a completely free tool.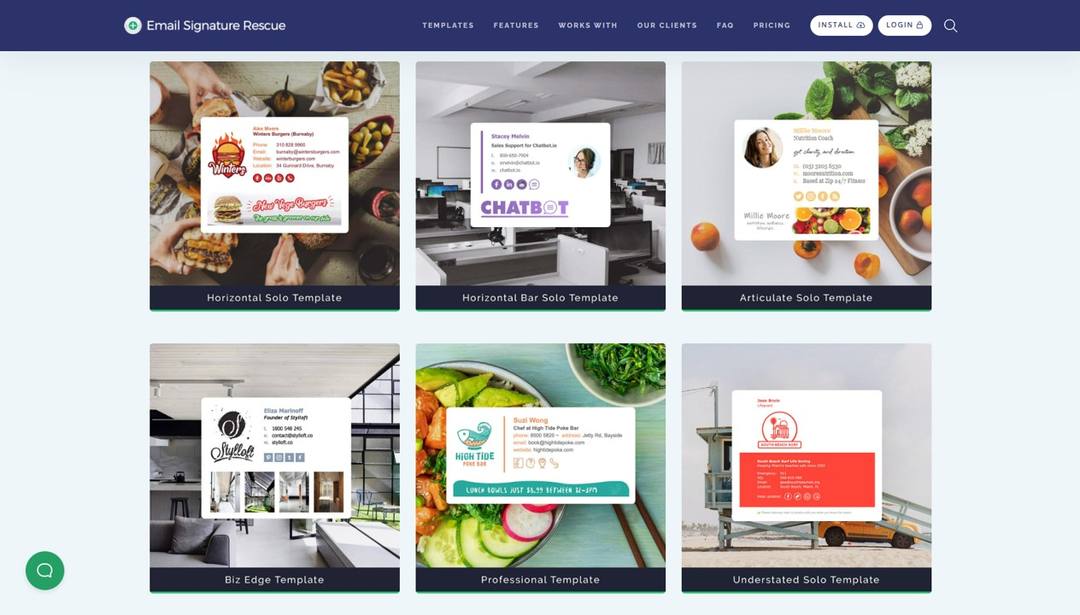 Even with its odd name, Email Signature Rescue has become popular as a preferred business email signature generator. It has an expansive library that you can use to create email signatures that match your need.
Best features:
20 highly customizable templates
Animated GIF support
Live preview of your signature as you build it
Pros:
It supports up to 60 languages.
High level of compatibility with over 50 email apps.
Scales with your business.
Cons:
There is no monthly payment plan.
Easy to understand only after viewing the detailed demo video.
The templates are basic.
Pricing:
Get a 3-user plan for $60 per year.
The 10-user plan costs $120 annually and is ideal for a rapidly growing company.
The 20-user plan costs $240 per year.
Do you need an email signature?
Email signatures offer a communication opportunity you must take advantage of with your email marketing strategy. With links, buttons, and images, you can give recipients more details about your business instead of just your name and designation.
Should an email signature be outlandish or professional?
Pick an email signature that matches the personality of your brand. You could choose a fun choice if you are a peppy startup that delivers local food orders. If you are a law firm, you must choose a professional email signature. Your industry is the defining aspect between choosing something fun and quirky or subtle and professional.
How do you choose the best custom email signature creator online?
Pick a customer email signature creator that comes closest to your business need. The lesser customization you need to do, the better the choice you're about to make.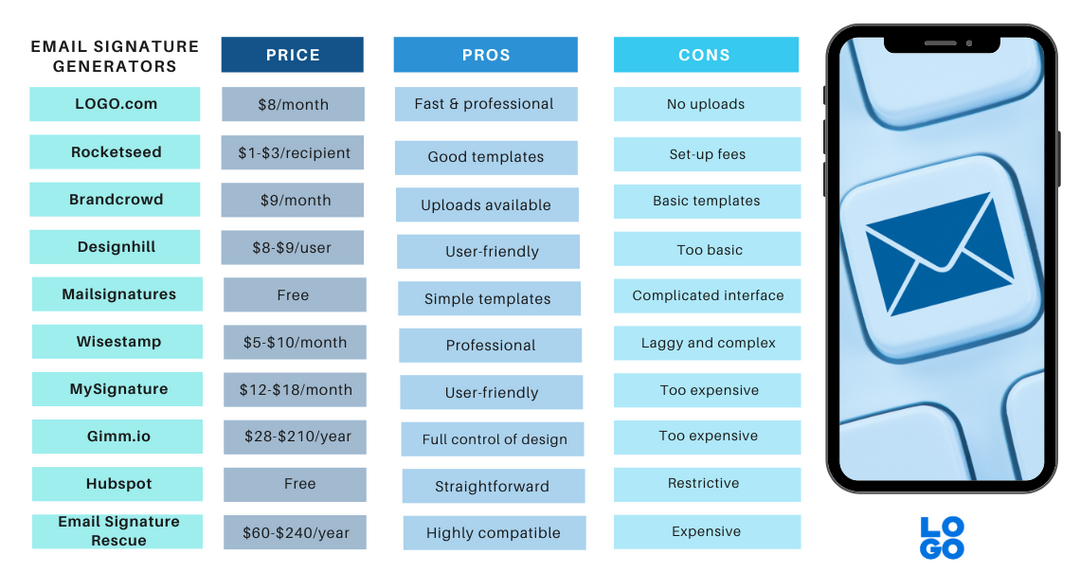 Take note that price and quality are the defining factors of your choice. You want a great email signature that defines your personality, but you don't want to break the bank by getting it.
Choose the best of the best!
Launch your brand in minutes with a free logo