While your email may contain all the important information you want to convey, how you end your communication can make all the difference.
For this reason, email signature generators online are a great option because they help you easily create impactful email signatures that can leave your recipients with more information about your company and an opportunity to get to know you better.
Why do you need email signature design software for your brand?
Creating an attractive and professional email signature from scratch requires design knowledge. Only some companies have the time or resources to invest in working with professionals to create these essential branding elements. It is better to use email signature design software to create a design online.
How do you create a unique email signature?
A unique email signature sets your business apart, improving its recall in the mind of your customers. By applying your brand colors, logo design, and template to your email signature design, you can make it stand out and be exclusive to your brand.
The 11 best email signature generators online for the most professional results
Email signature generators online allow you to try new styles that match your business need. Each generator has its pros and cons, as well as a unique flavor of designs.
We have curated eleven of the best email signature generators online so that you can make a better choice when creating your identity.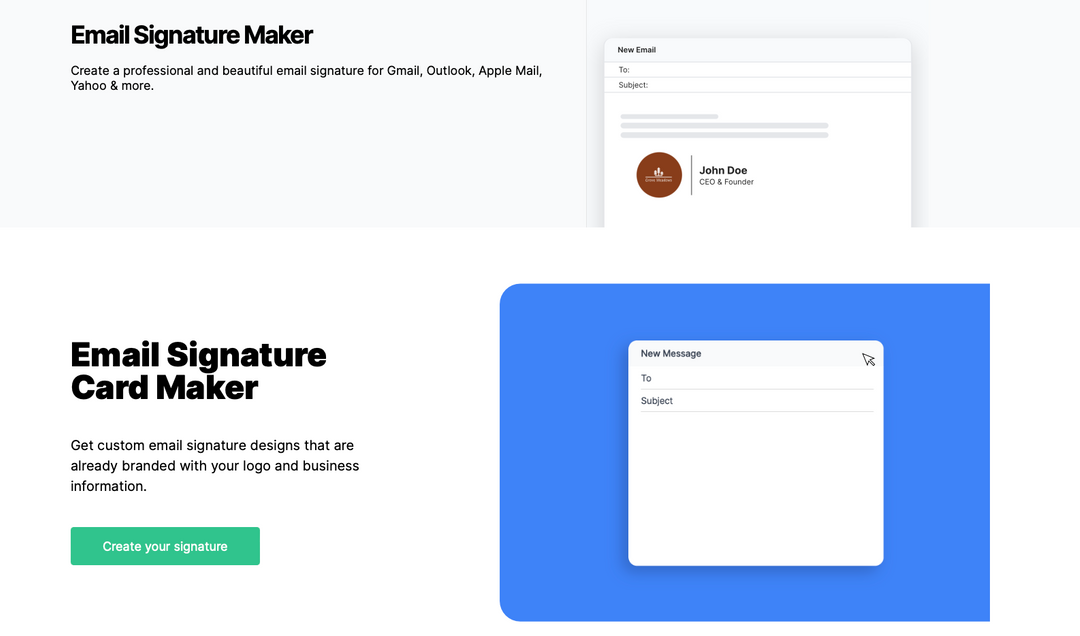 Say goodbye to generic signatures and hello to an email signature that truly reflects your personality and professionalism. LOGO.com's email signature generator is the ultimate choice for creating impactful email signatures that will leave a mark on all your email recipients. With their collection of dynamic, ready-to-use templates, you can effortlessly set up a professional email signature that will make you stand out from the crowd.
Best features:
12 high-impact email signature templates to choose from
You get a free logo automatically placed on the email signature
Full customization options for links, images, and format
24/7 customer support for branding tips and inquiries
Pros:
A stunning variety of email signature templates designed to make an impact.
Easy implementation to copy-paste the email signature to your mail provider.
You're in full control of your customization preferences.
You can link to a wide variety of social media channel options.
Cons:
There are color limitations. You can only work with your brand colors.
You cannot upload anything to the email signature generator.
Pricing: The LOGO.com email signature generator is a part of the Brand Plan, which only costs $8 every month. The tool is 100% satisfaction guaranteed.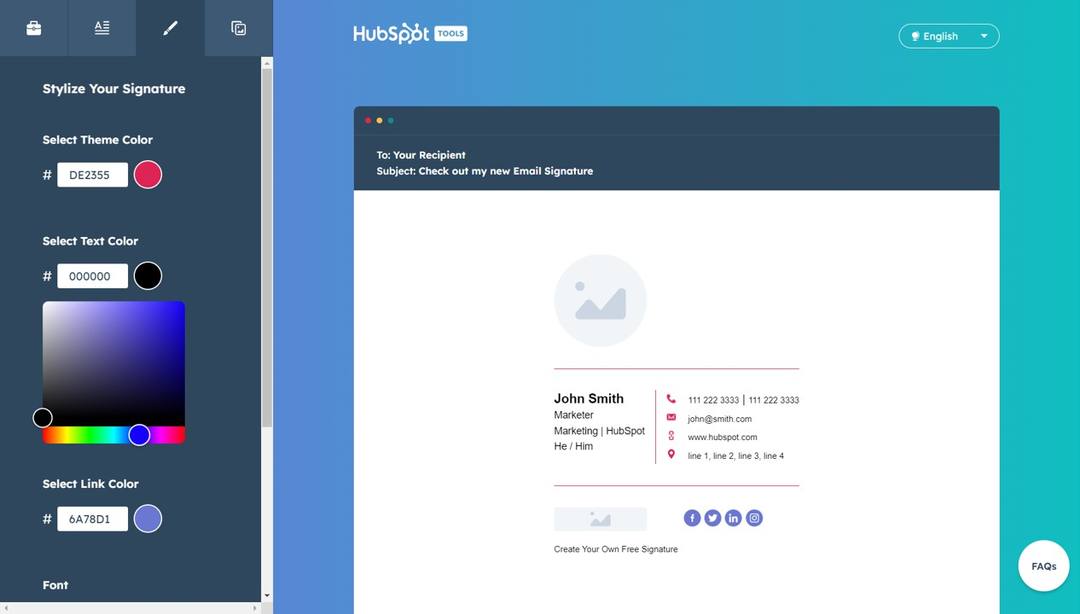 Hubspot is committed to helping small businesses get their branding and communications right. They have an email signature generator online that creates professional designs that can be used across different businesses.
Best features:
Supports popular email applications
Simple interface
Create a design that is closest to your brand identity
Pros:
You can preview your work.
It is completely free to use.
The interface is easy to work with.
Cons:
Hubspot has a few templates to choose from.
You cannot change the style of available templates.
Larger enterprises will need more than generic templates.
Pricing:
The Hubspot tool is free to use.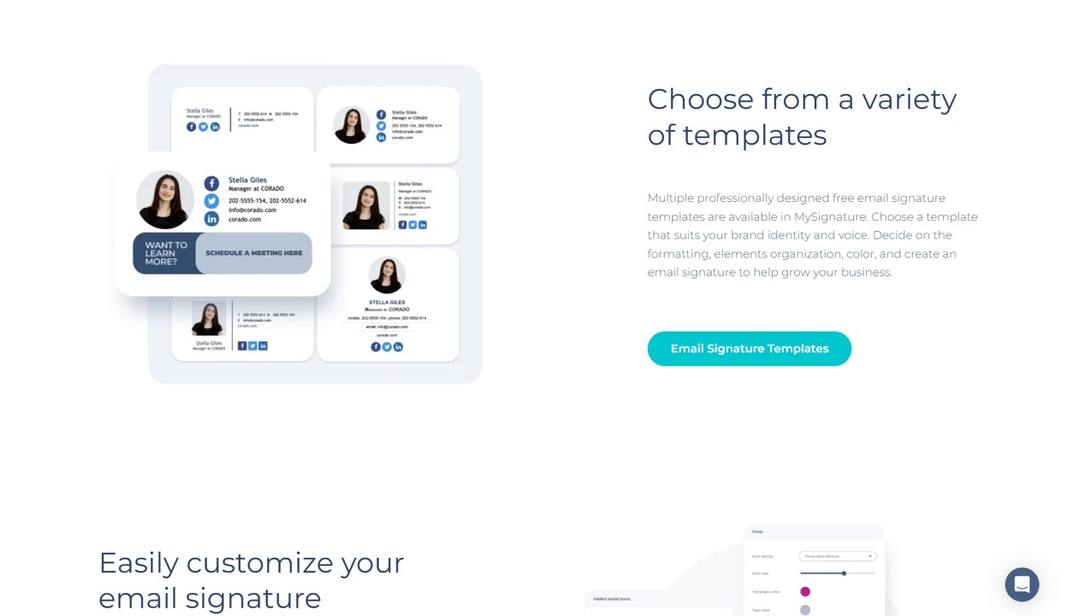 When looking for an email signature generator online, consider one great for your brand or company. Whatever your choice, MySignature adds its unique twist to the process by specifying the kind of email signature you are looking for.
Best features:
You can edit your email signature on your mobile phone
It comes with a cool signature management dashboard
What you see is what you get as you work around your project with a live preview
Pros:
It supports Gmail, Apple Mail, Outlook, Thunderbird, Office 365, and more.
You can reach out to live customer support during working hours.
The platform offers advanced email signature customization.
Cons:
MySignature supports many mailing apps but only includes a few niche options.
It is an expensive solution.
It is suitable for smaller businesses and startups only.
Pricing:
The free version is extremely limiting.
Get the Pro version for $12 per month.
The top-end Pro Plus version costs $18 per month.
Gimm.io offers a simple interface with varying templates that you can tinker with till you find the email signature that matches your brand best.
Best features:
Over 1,000 fonts to choose from
Add custom banners
Trigger bulk imports to save time
Pros:
The quick interface speeds up the process of creation.
You can reach out to the highly responsive customer support team.
It works with all leading email apps.
Cons:
Some fonts appear differently on Outlook.
The interface may take a while to get used to.
There are no online guides for new users.
Pricing:
One signature costs $28 per year.
Ten signatures cost $70 per year.
Fifty signatures cost $210 per year.
Designhill has easily found its loyal customers among the leading email signature generators online.
Best features:
Simple process, from creation to adding it to your emails
Large library of icons, mobile apps formats, and more
24/7 customer support
Pros:
Create email signatures in a minute.
Find templates that work well on mobiles and desktops.
It contains many templates.
Cons:
Incompatible with smartphones.
Signatures cannot be edited later.
More serious, less playful templates are available.
Pricing:
The Personal plan is $9.99 per user for one signature.
The Lite plan is $9.49 per user for three signatures
The Professional plan is $8.99 per user for five signatures.
The Startup plan is $8.49 per user for ten signatures.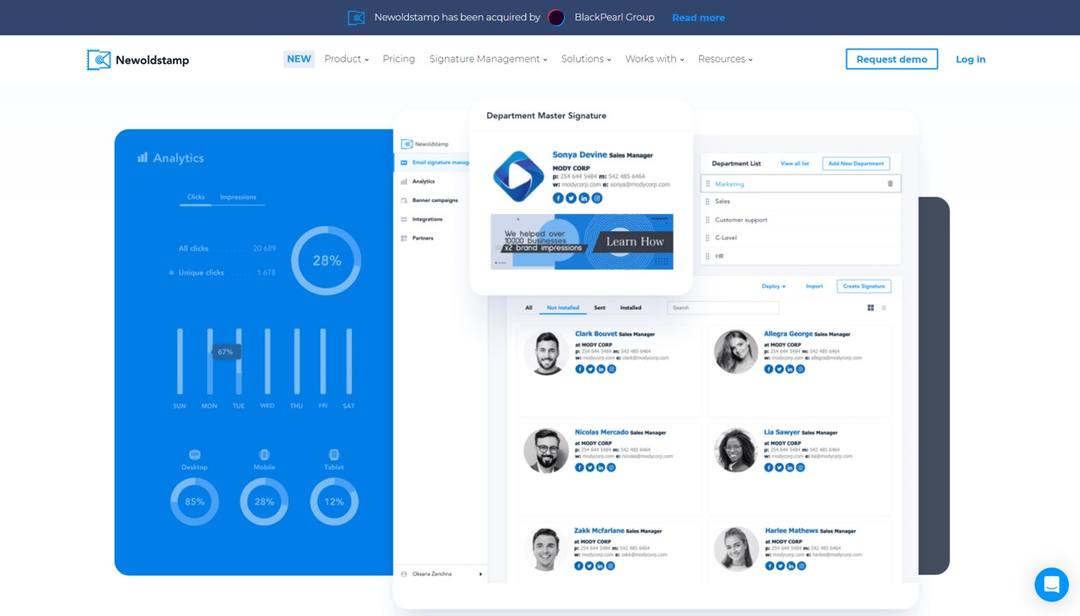 Newoldstamp gives businesses ample control over their email signatures. The signature management service can assist you with creating, managing, and distributing personalized email signatures.
Best features:
Supports Outlook, Gmail, Apple Mail, Outlook, and more
Integrate with Google Workspace
Offers more customization options
Pros:
Create email signatures department-wise and segment-wise.
Create a master template, and you can quickly make adapts for other employees.
Customer support is always at hand to assist you.
Cons:
Plans are only available on a quarterly or annual basis.
You need to sign up before beginning.
It only supports Outlook, Gmail, and Office 365.
Pricing:
Email Signatures Branding costs $23 per quarter.
Email Signatures Marketing costs $32 per quarter.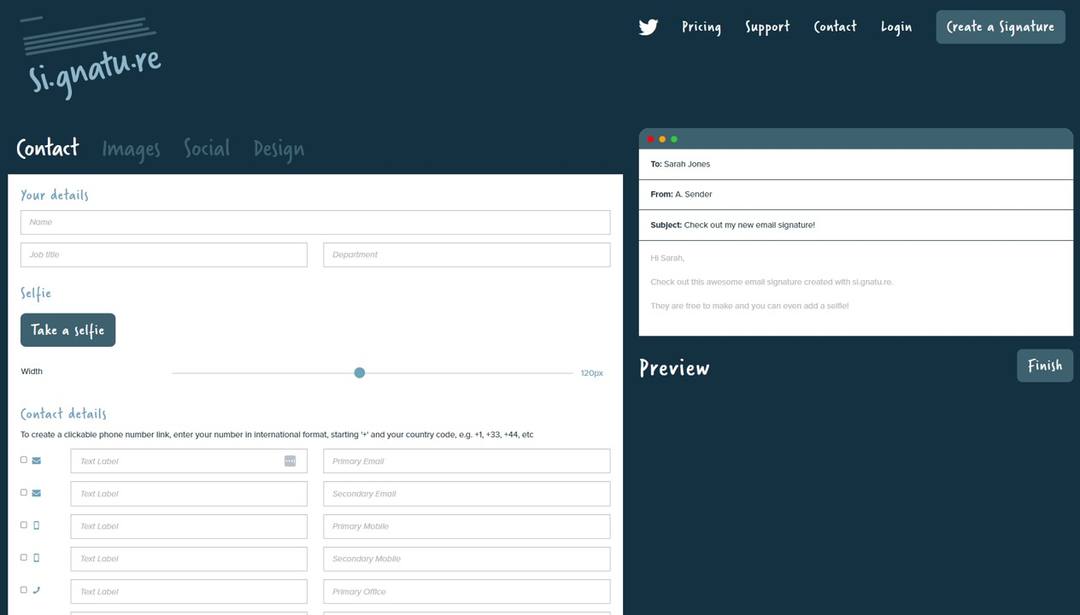 Fun, peppy, and powerful, Si.gnatu.re offers an easy email signature generator online. It is hassle-free and quick, albeit low on options.
Best features:
Selfie mode
Customizable social icons
Autosave feature
Pros:
Create an email signature in an instant.
Find the exact font colors to match your branding.
Your free email signature can be edited for up to 30 days.
Cons:
You can use only 15 available fonts.
The layout is rigid.
To edit your email signature after 15 days, you need to pay $5.
Pricing:
One Free signature is editable for up to 30 days.
Pay $5 to edit your signature forever.
Pay $35 to create ten signatures and edit forever.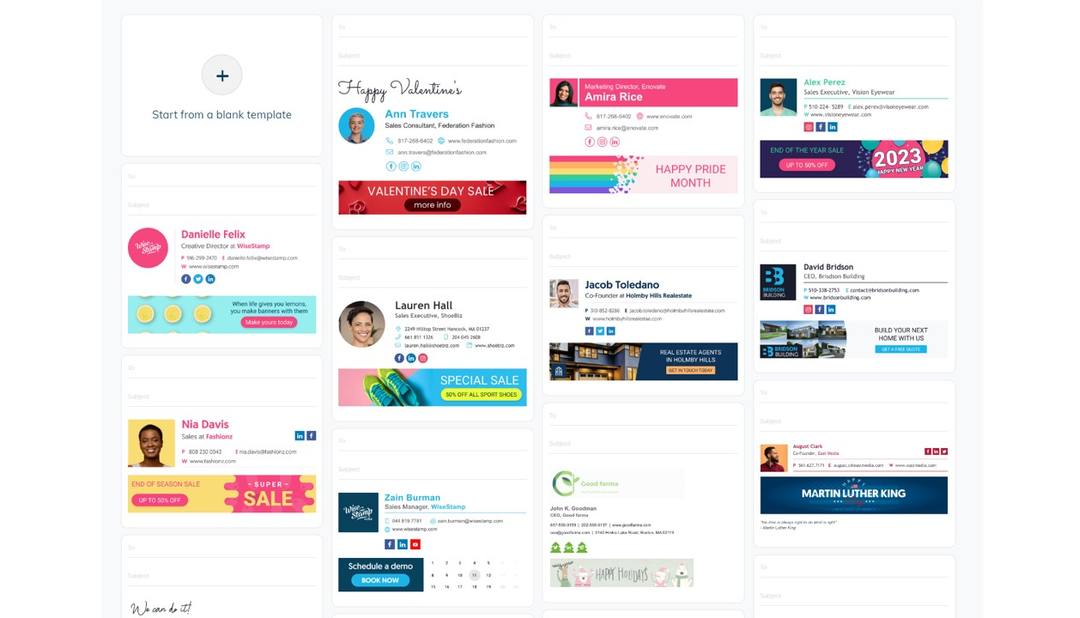 Wisestamp has a large customer base that trusts its features and uses its interesting designs. It supports a wide gamut of email platforms and apps, which makes it a natural favorite for professionals.
Best features:
One-click connectivity between Wisestamp and your email software
Good customer support
Add banners, buttons, and more to your signatures
Pros:
Quick and easy interface.
Several templates to choose from.
Cloud-powered solution for easier team-wide operation.
Cons:
No monthly payment solution.
Challenges with the iPhone app have been reported.
The interface isn't very modern.
Pricing:
Free Basic version available.
The Pro version costs $5.8 per month but is billed annually.
The SOHO version costs $9.5 monthly and is billed annually.
If you're looking for a simple, free tool to create an email signature without hassles, then Signature Maker could suit your need.
Best features:
Pros:
Sign on PDFs and document files.
Create font signatures and record handwritten signatures.
Clean and clear layout and process.
Cons:
It is far too simplistic if you're looking for a design-led approach.
Not suitable for advanced requirements.
The template is limiting and generic.
Pricing: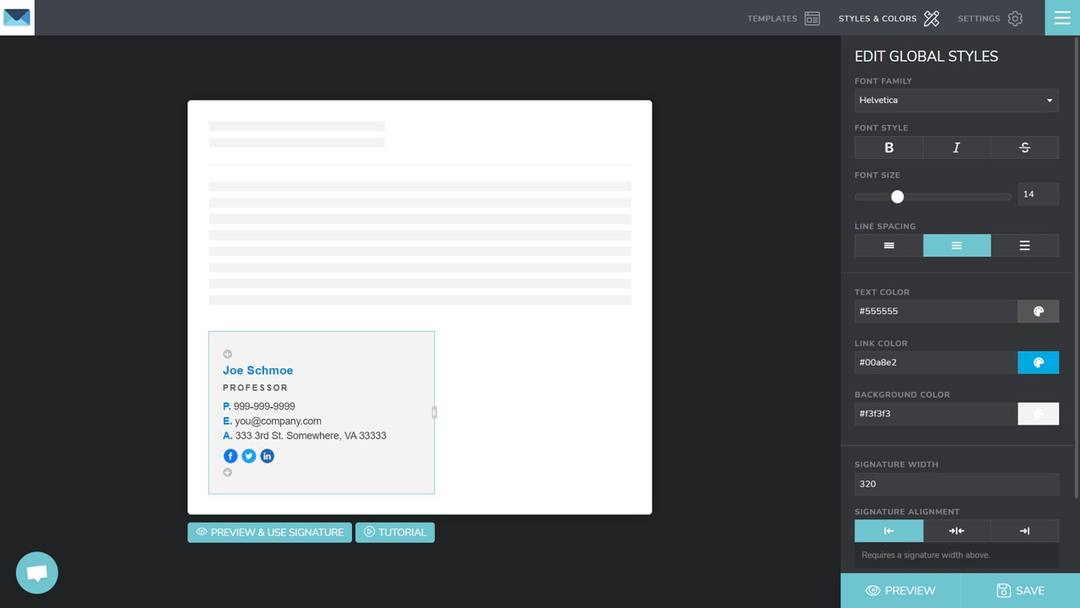 If you are looking for an email signature generator online that can serve not just individuals but entire teams, then Signature.Email is a great choice. It offers a wide range of signature templates and allows you to customize them to a great extent.
Best features:
Drag and drop mechanism
Create for entire teams
High level of customization
Pros:
Compatible with all leading email platforms and apps.
Generator links with examples are available for easy reference.
Ideal for designers and agencies.
Cons:
Very few templates in the free version.
Expensive pricing options.
Drag-and-drop requires some computer proficiency.
Pricing:
A free version for one signature is available.
One-time $19 fee for one signature with full access to the template database.
$199 per year for ten base signatures and 250 employee signatures.
$399 per year for 25 base signatures and 500 employee signatures.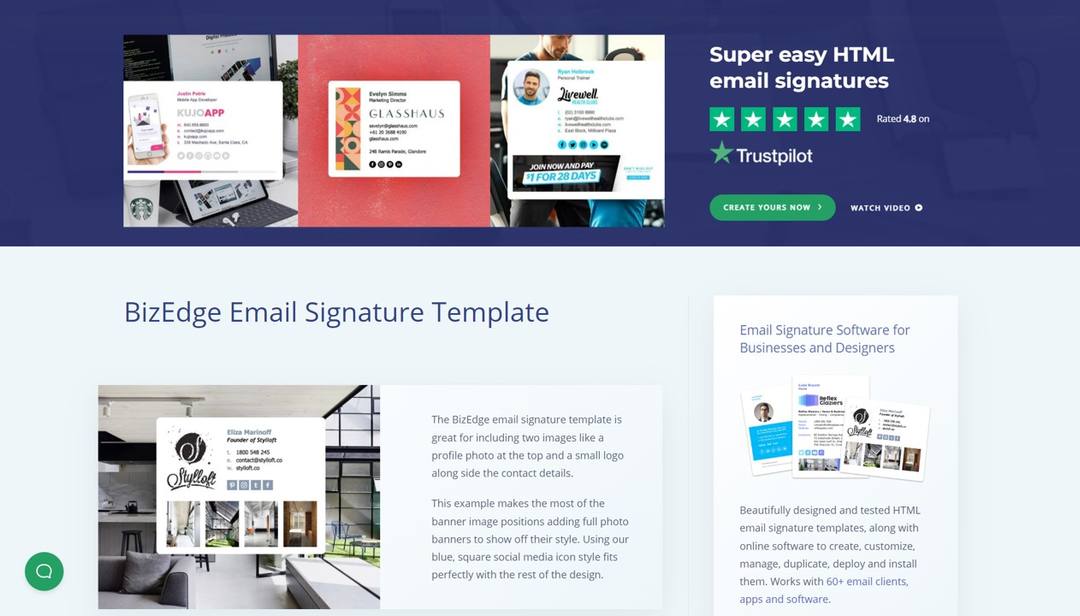 Access the large library of templates on Email Signature Rescue and find one that perfectly matches your brand's personality.
Best features:
Animated GIF support
20 highly customizable template options
Watch your progress as you develop your signature
Pros:
Great for scaling up businesses.
Get support for up to 60 languages.
It works with 50 email apps and platforms.
Cons:
Basic templates with little variety.
You need to watch the demo video to figure some things out.
No monthly payment system.
Pricing:
A 3-user plan costs $60 per year.
A 10-user plan costs $120 annually.
A 20-user plan costs $240 per year.
Will a custom email signature creator boost my business?
Using a custom email signature creator will give you a unique identity for your brand. It will ensure that all your brand's elements look consistent and wear a consistent design.
How do you know you have a professional email signature?
A professional email signature appears consistent and well-balanced. Your brand's colors are vividly standing out on it.
How do you choose the best email signature generator online?
Finding an email signature generator online can be complicated. The factors you need to consider are the price to create a professional signature, a style that matches your business type, the speed at which you can generate a signature, and the scale the generator offers to edit and multiply email signatures for your entire organization as it grows.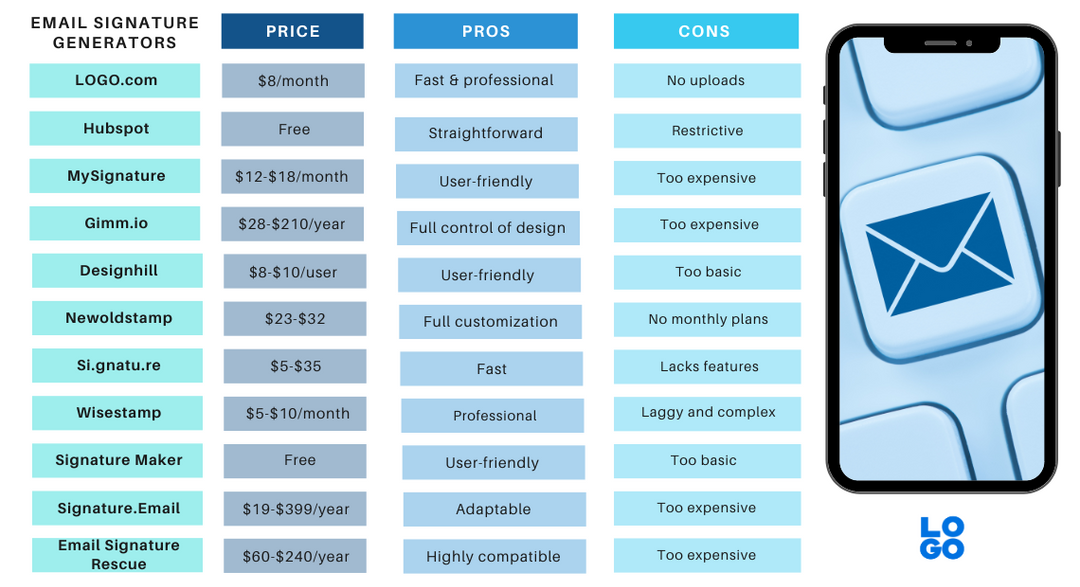 Take note that price and quality are the defining factors of your choice. You want a great email signature that defines your personality, but you don't want to break the bank by getting it.
Best of luck!