‍
It's difficult to get a small business off the ground in good economic times, but it's downright daunting in bad times.
We recognize the high cost of launching and running a business and believe that you should be able to pursue your passion without fear of financial ruin. In order to build a successful company, you'll need to take advantage of a wide range of services provided by a wide variety of channels. But how do you keep track of all of these costs simultaneously?
Enter LOGO.com's Grow Your Business feature.
‍
What is Grow Your Business?
Grow Your Business is a collection of valuable promos and discounts from renowned companies intended to let you build your business while saving funds.
The feature is available in our affordable Brand Plan, which also provides you with:
Two-sided business card templates
Professional email signature templates
Letterhead and invoice templates
Social post templates
A handy custom design tool
25 dynamic logo designs
Mockups and stock images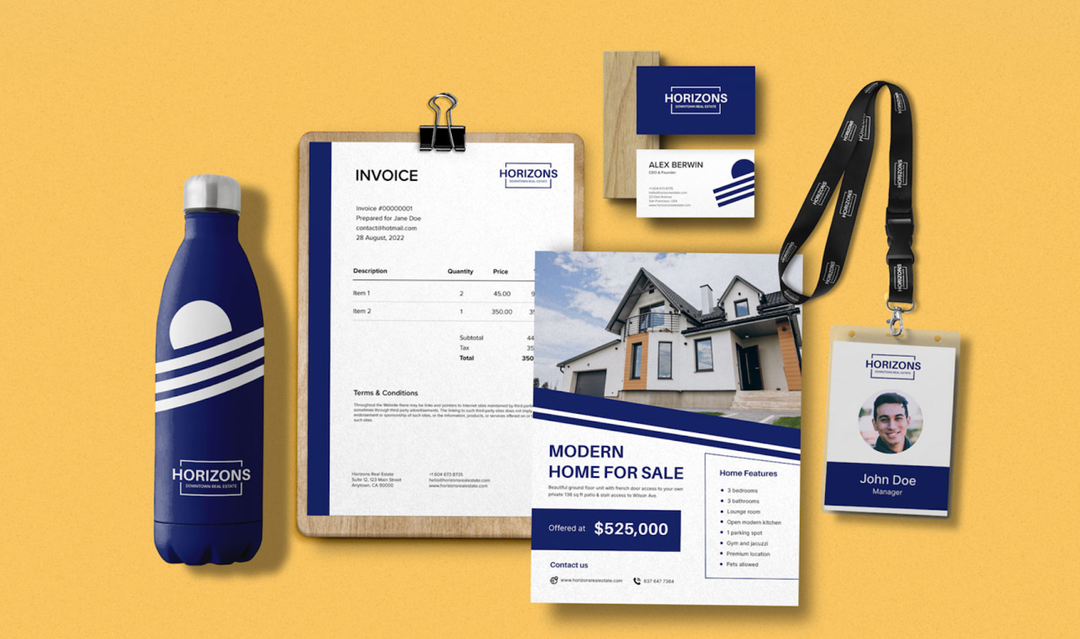 For $10/month, you get these helpful services plus massive discounts at Zoom, JungleScout, Google Ads, Wix, and many more, with Grow Your Business.
‍
13 massive discounts with Grow Your Business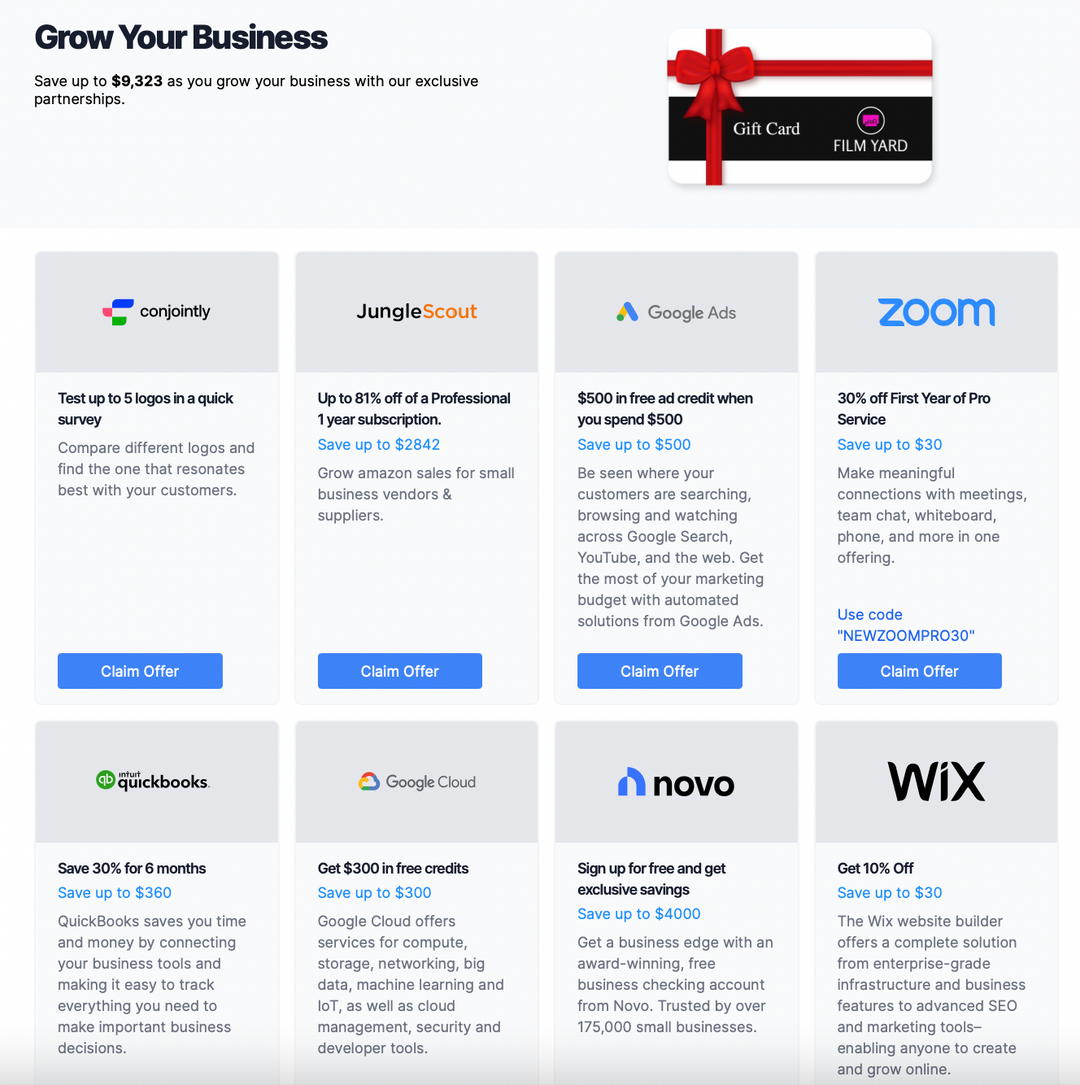 Ready to save big and win big? This is what Grow Your Business can offer you, with savings as high as $9,000 from your favorite brands. Launching your business has never been this easy and affordable with the following offers.
‍
Grow your small business on Amazon and rake in more sales with Jungle Scout's professional plan for one year. Get a massive 81% discount off the plan and save up to $2,842!
‍
Open your business to more customers with $500 in free ad credit when you spend at least $500 with Google Ads.
‍
Level up your storage and get $300 in free credits with any Google Cloud product. This allows you free usage of over 20 great products to keep your business collateral safe and secure.
‍
Get 30% off of Zoom's Pro package, which provides up to 100 video participants, automated captions, editable whiteboards, and 5 GB of cloud recording storage. Use code NEWZOOMPRO30 to redeem your wonderful discount.
‍
Every business, no matter how big or small, needs reliable accounting software. QuickBooks is here to help you with 30% off for six months of service. Save up to $360 with this fabulous deal.
‍
Get yourself an exclusive discount with Novo, an award-winning business banking platform to help you save big bucks. Sign up for free and get access to $4,000 in savings when you open a checking account. Yes, you read that right. $4,000 in savings.
‍
A business can never thrive without a website, so get 10% off Wix's user-friendly website builder and start building your online presence today. Save up to $30 with our discount code.
‍
In order to keep your business running smoothly, it's important to have an easy-to-use accounting and expense tracking tool like Freshbooks. Get 60% off for four months and save up to $132.
‍
Todoist was developed specifically for entrepreneurs and business owners to serve as a central hub for all of their daily tasks and meetings. Level up your productivity and save 25% off the annual plan.
‍
HubSpot is an all-in-one customer relationship management (CRM) and integration platform that encourages integration across multiple departments. Get 10% off the annual plan and save $1,080!
‍
An entrepreneur has places to be and people to see, and you can save money and time by having you and your staff use Zipcar, a short-term car rental service. Get 25% off and save big.
‍
Are you a solopreneur trying to make it big on your own? Rely on Durable for all the essential tools you need to start and run your own business. With us, you can get early access to these standout features.
‍
Have you ever wondered, "How strong are my business name and logo design?" Wonder no more with Cojointly's Business Name Evaluator to test the effectiveness of your business name. You can also test up to five logo designs in one quick survey. Peace of mind with your branding is priceless.
And we're only just getting started. The list for amazing deals and discounts is growing for your and your business's benefit. With us, you can launch your business at a discount—every aspect of it.
‍
Get the Brand Plan and grow your business today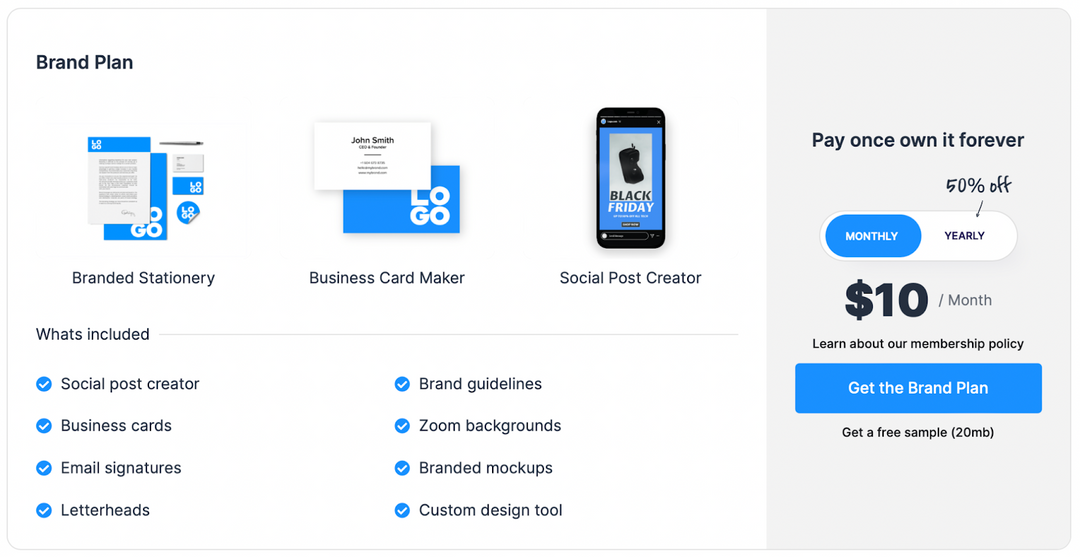 All budding businesses run into the same fundamental problems, and a big one is startup costs. Lack of funding or personal finances is the second leading cause of startup failure (29% of cases).
Richard Lau, founder of LOGO.com, aims to fight this common occurrence by providing massive discounts for customers struggling to manage their budding businesses.
"We've always prioritized offering our customers all the resources they need under one roof. Our partnerships with services such as Wix, Google Ads, JungleScout, Zoom, Novo, and more allow our customers to build their businesses with substantial discounts. Available to all LOGO.com customers."
The Brand Plan is our pursuit to put an end to potentially successful businesses failing due to excessive spending. For $10/month, you get access to all your business materials and unbelievable discounts up to $9000. Let us help you take the leap and start a successful brand from scratch.
Start with free logo and move forward to unbelievable savings!