Letterheads have continued to be a crucial part of business correspondence, even as digital communication has taken over.
While companies may not print business letterhead templates as much, many still use them for digital invoices, formal notices, and more. A professional letterhead can leave a lasting impression on your customers, so take time and make one that represents your organization aptly.
How can a business letterhead template help a brand?
A business letterhead gives your brand a consistent visual identity across all its communication channels. Everything from your business name to your brand colors makes sure that your clients don't confuse you with your competitors.
Your choice of visual elements, like the font, can help convey your brand identity subtly. For example, you shouldn't use Comic Sans if your brand identity leans towards being serious.
How will corporate letterhead templates increase credibility?
A letterhead contains your address, company name, contact information, and logo design. All these things reinforce and prove the sender's identity.
Furthermore, a letterhead adds a touch of professionalism to your communication channels. It shows your team and your customers that you've invested time into creating quality branding material, which can help increase credibility.
The 9 best business letterhead templates to improve your branding
There are plenty of design and branding tools, free and paid, to be found online. Below are the nine best that you can use to create a stunning letterhead for your business.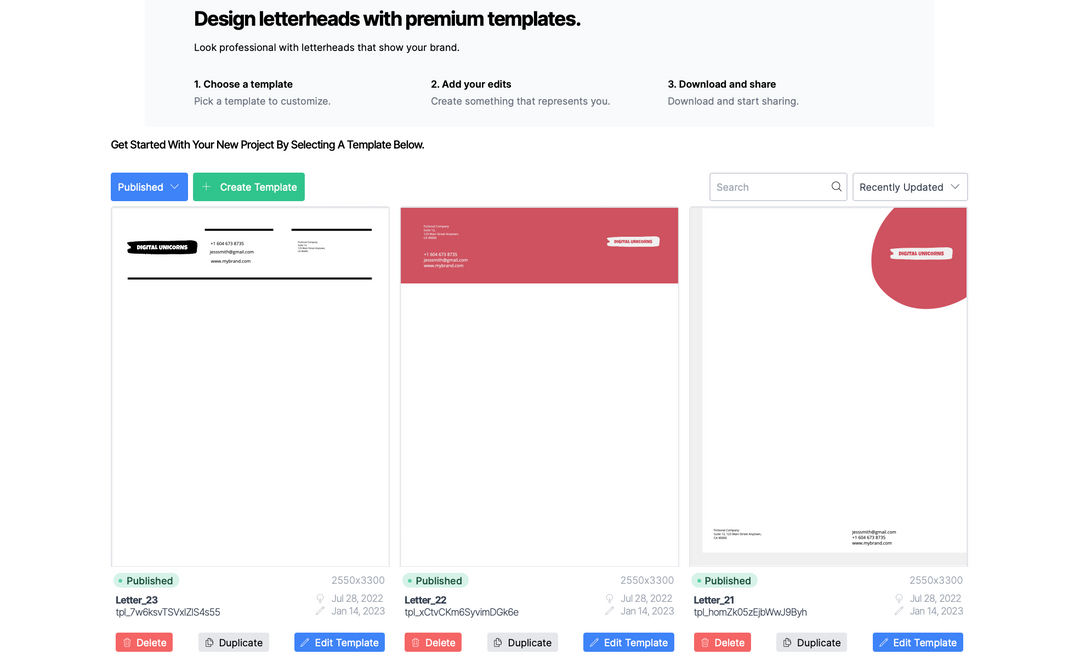 Let's get this straight: corporate letterheads don't have to be all-white, professional documents you send out to your employees. You can make them fun and inviting with LOGO.com's letterheads. The templates come pre-set with your logo and brand colors, and there are various templates you can choose from that best suit your brand personality.
Best features:
Automatically has your free logo and brand colors strategically designed to promote professionalism
Fully customizable and available in several image file types, depending on your needs
24/7 customer support for quick branding tips and guidance with your designs
Over 20+ professional and stunning templates that are being updated regularly
Pros:
It has one of the best letterhead templates in the market today.
You are in full control of your design and its layout.
The platform enforces design principles in its templates so you don't have to be a design expert to use it.
Cons:
The customization process may be a little slow.
Pricing: LOGO.com's letterheads are a part of the Brand Plan, which only costs $8 every month. The tool is 100% satisfaction guaranteed.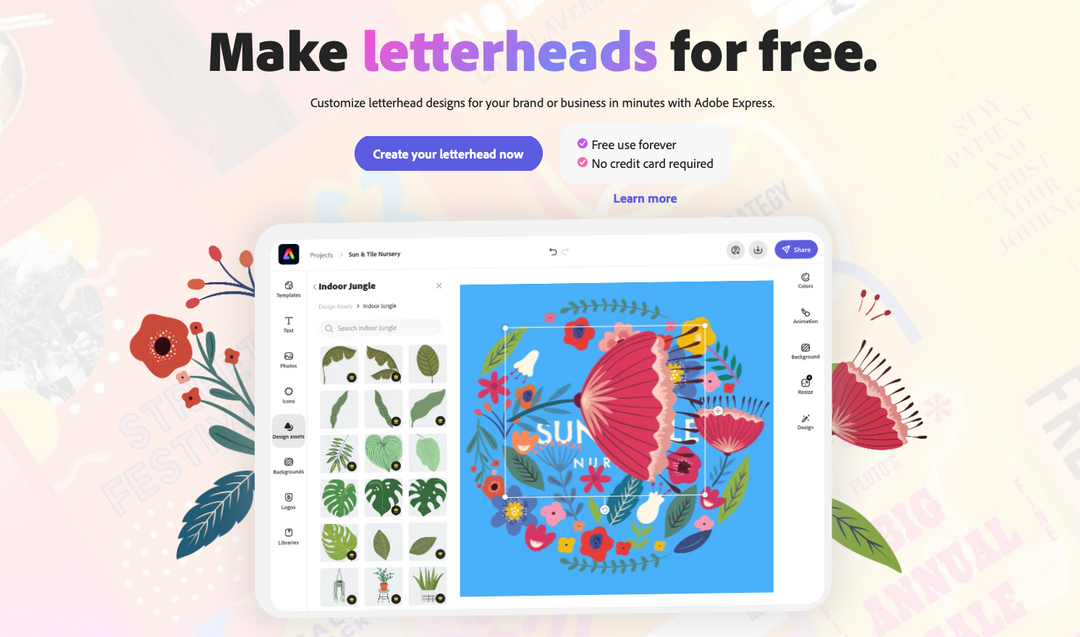 Express is a less powerful (read: lite) version of Adobe Illustrator. However, collaboration features and responsive AI make it a reasonable option for newcomers looking to design basic business letterhead templates.
Best features:
Ability to link Photoshop and Illustrator files into your design
Text-to-image AI that generates illustrations
Free templates and stock photos
Pros:
Its readymade templates and photos are useful for the less design-savvy.
Its collaboration tool works with few to no glitches.
It has a mobile app that automatically syncs your work.
Cons:
You cannot upload your company logo onto the canvas as a free member.
Its templates are better suited for social media than for letterheads.
The design tools from the web app are slow to load.
Pricing:
Free plan – not viable for business letterhead templates as you cannot upload your company logo.
Premium plan – $99.99 per year.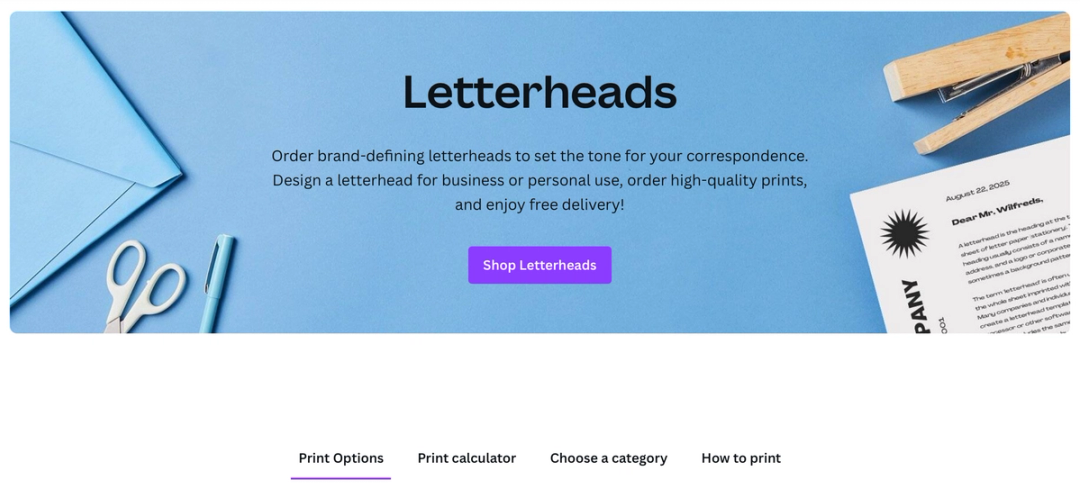 Canva is a jack of all trades, as it has templates for just about every type of document or design requirement. It has plenty of easily editable business letterhead templates that designers can choose from.
Best features:
Plenty of templates to choose from
Background remover for logos with backgrounds that don't look good on paper
Brand hub, a feature, lets your team access and use graphical assets from your brand kit for all your designs
Pros:
It is a beginner-friendly tool – uncomplicated to design with.
It allows you to upload and use custom fonts.
Customers can sign the letterhead with the freehand drawing tool.
Cons:
Its letterhead template library needs to be updated with modern designs.
It reserves its best fonts and graphic editing tools for paid users.
The paid versions are pricey for teams that just want to create good-looking letterheads.
Pricing:
Pro – $9.99 per month, if billed yearly.
Enterprise – $30 per user per month.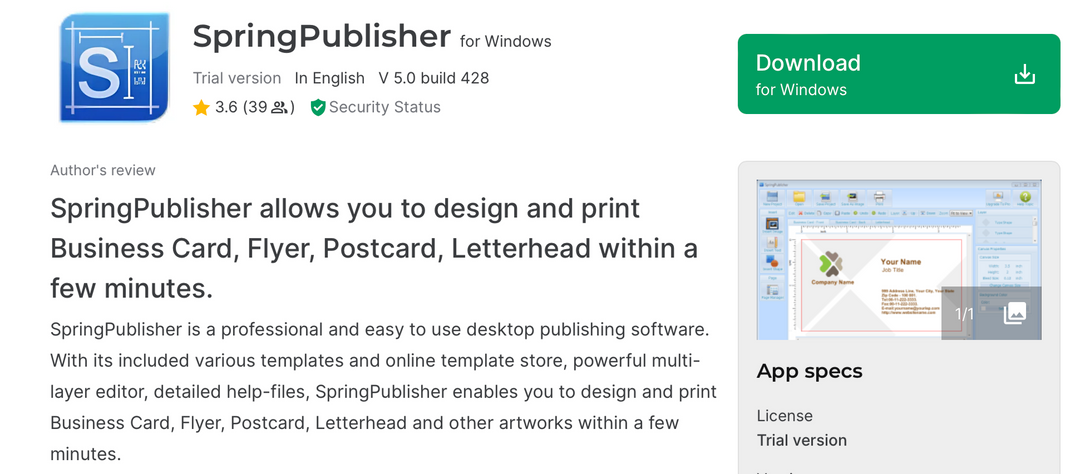 SpringPublisher is a no-frills publishing software that can design simple letterhead templates. This can be a decent option for beginners, but designers who want truly unique letterheads may want to look elsewhere.
Best features:
Easy-to-learn design tools
Simple and beautiful templates
Can export letterheads in a variety of image formats such as JPG, PNG, and more.
Pros:
It is free of cost.
It is not power-hungry and can run on low-spec computers.
Everything is offline and can be accessed without the need for the internet.
Cons:
It is only available on Windows.
It can only be downloaded on third-party software websites and is no longer updated.
The software looks and feels outdated.
Pricing:
5. Marq (formerly Lucidpress)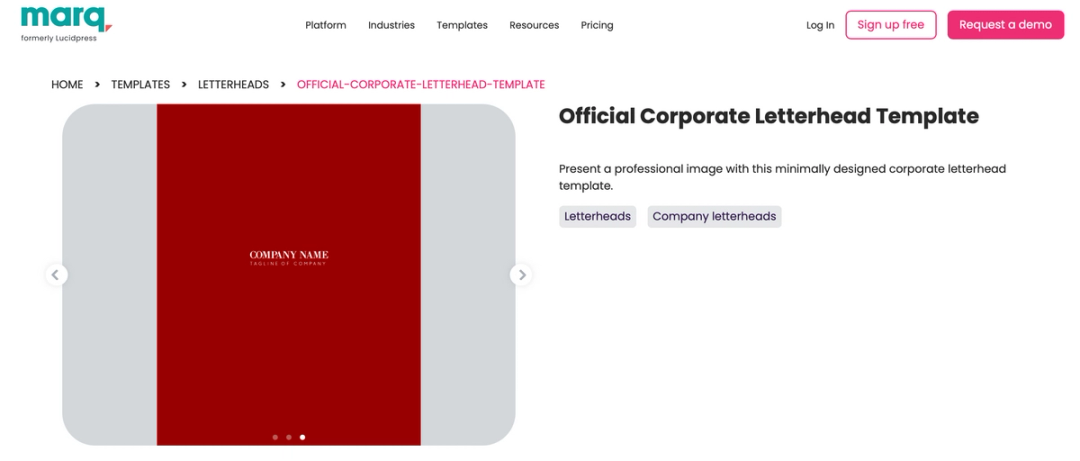 Marq is a capable tool for teams collaborating on multiple design projects. Teams can use one of its inbuilt business letterhead templates or design together from scratch.
Best features:
Locks for colors, logos, and other design elements to ensure brand consistency
Chat and review options for consolidated feedback
The Find And Use button makes software navigation easy
Pros:
It is a responsive and smooth-functioning design tool.
It is affordable for teams, big and small.
It has a detailed help center that can ease the learning curve.
Cons:
Its collaboration-centric approach makes it unsuitable for solopreneurs.
It is desktop-only.
It cannot import open design files from other softwares.
Pricing:
Free plan
Pro plan – $10 every month.
Team plan – $12 per user per month; minimum requirement of 3 users
Business plan – contact Marq for a quotation.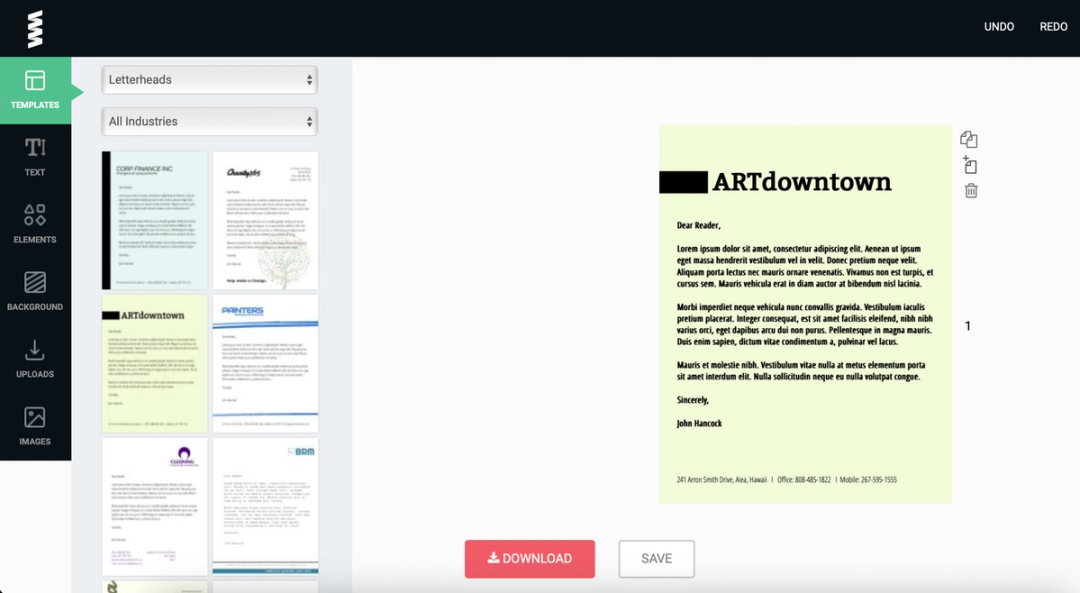 GraphicSprings specializes in creating professional logos on demand but also has web apps for simple brand documents. Customers can use its wide selection of templates to create modern letterheads.
Best features:
Modern business letterhead templates
Has a lot of shapes and clip art to add to your letterhead
Filters like Grayscale for fast image editing
Pros:
It has a team of logo designers that customers can hire for unique designs.
It has a streamlined set of features, making it easy to navigate.
The app loads and exports files quickly.
Cons:
There is no option to pay for just a letterhead, and it is mandatory to credit GraphicSprings for the free export.
It has a limited collection of fonts.
The included graphics and shapes look dated.
Pricing:
Free of cost, but requires attribution.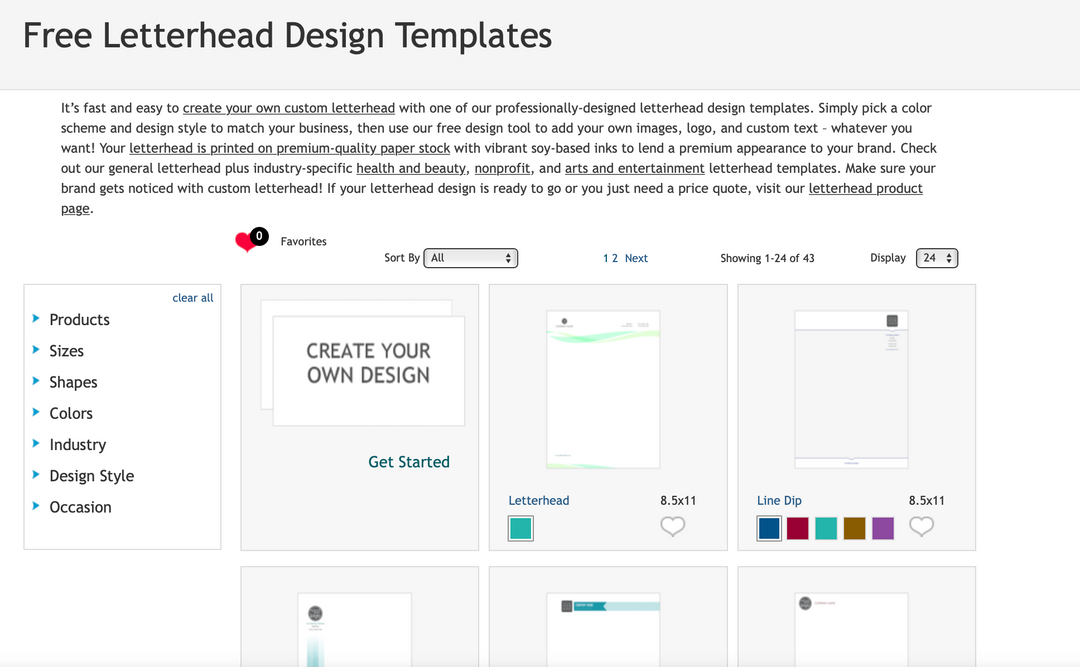 PsPrint is a useful printing service that also offers a creation suite for designers. While it may not boast world-class business letterhead templates, its web app can be a good option for those looking for documents in a rush.
Best features:
Over 40 business letterhead templates to choose from.
Alignment buttons for easy object placement
Option to create and print letterhead on the same website
Pros:
Customers can upload designs from other softwares.
It can produce physical letterheads in as little as 3 days.
None of the web app's features are locked behind a paywall.
Cons:
The business letterhead templates are outdated.
The editor only zooms up to 120%, making editing difficult on smaller screens.
The shapes on existing templates can't be edited or altered.
Pricing:
There is a free plan, but only with a watermarked PDF.
It starts at $25.64 for 25 physical letterheads, produced in 5 days.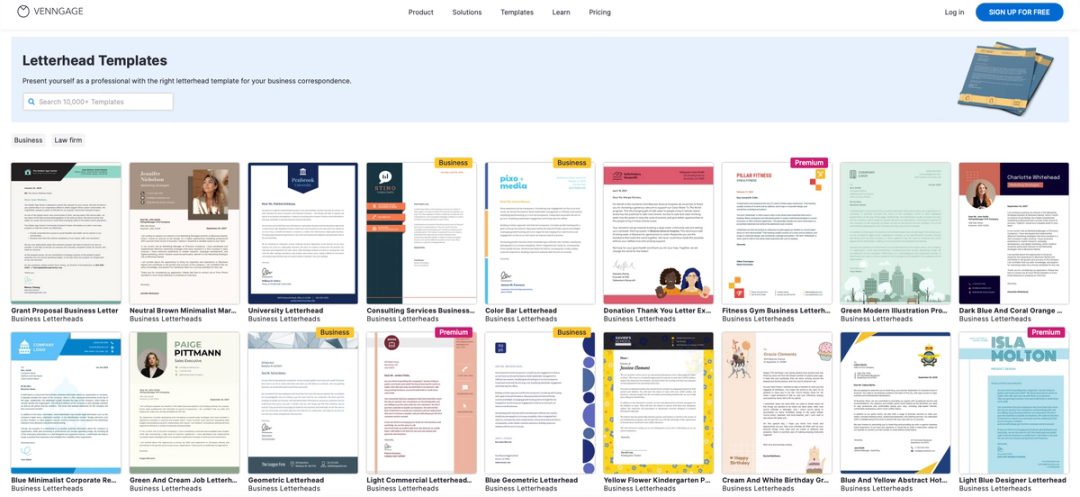 Venngage is a professional infographic maker, so don't expect too much from their letterheads. While their niche is elsewhere, they do offer presentable business letterhead templates that can wow your peers and customers.
Best features:
Large catalog of icons, clip art, shapes, and symbols to decorate letterhead with
Option to favorite templates and graphical elements for later access
Attractive, modern fonts
Pros:
The web app has a built-in chatbot that helps with troubleshooting issues.
The app has a modern UI.
Cons:
It has no more than 6 dedicated templates for professional letterheads.
Customers cannot try the web app without signing up first.
Its most popular plan is amongst the most expensive on this list.
Pricing:
Free plan.
Premium plan – $19 every month.
Business plan – $49 every month.
Enterprise plan – Starts at $499 every month.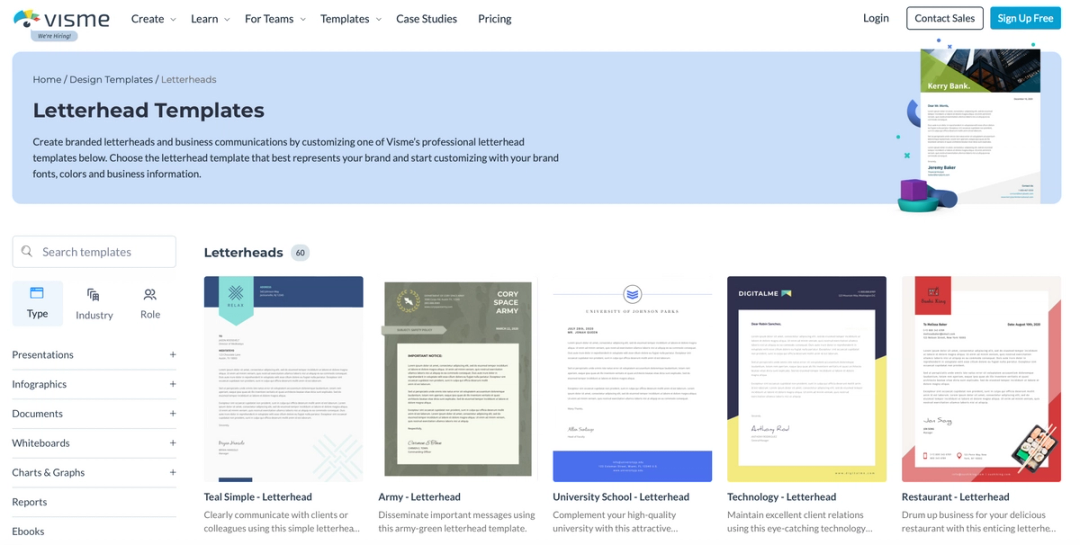 Visme's sleek and modern letterhead templates are as attractive to look at as they are easy to edit.
Best features:
Font pairs option for text combinations that look good
Ability to insert interactive buttons into your design
Auto-replace button to switch an element in a design with another with one click
Pros:
The web app integrates with productivity tools like Slack, Salesforce, and more.
Designers can create and save custom color themes.
It has an extensive list of font customization options.
Cons:
Projects with the free plan are watermarked.
Essential collaboration features are reserved only for premium users.
Its paid plans are expensive while offering fewer features compared to competitors.
Pricing:
Free plan.
Starter plan – $29 every month.
Pro plan – $59 every month.
Visme for teams – contact Visme for a quotation.
How do you pick from the list of modern letterhead templates?
Your priority should be to pick a design that aligns with your brand's needs. Think about your company colors, the kinds of shapes you associate your brand with, and how you want your audience to perceive your organization.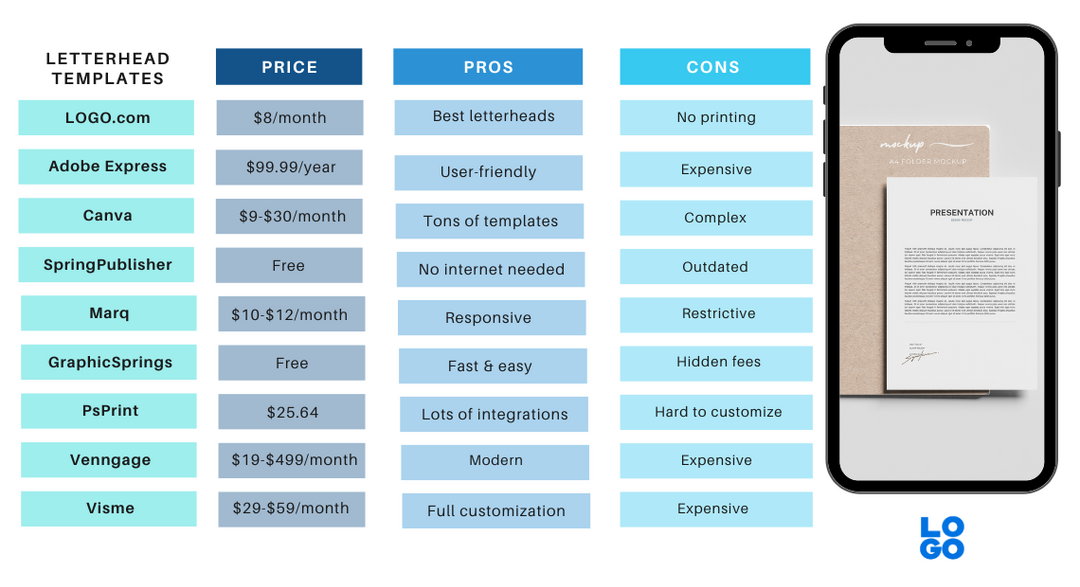 Once you have all the answers in place, choosing the right template will become easy.
Is it worth getting free letterhead templates online?
There are some stunning templates available online, free or otherwise. They may come with design or editing limitations, but these free letterhead templates can work if they fit your brand's needs.
How do I choose the best business letterhead templates online?
Going through the rabbit hole that is the internet may feel cumbersome after a certain point. Therefore, before choosing a letterhead template, ask yourself this:
Is it in my budget?
Is the editing software easy to learn?
Do the readymade designs resonate with my brand?
Will my clients be able to read the contents of this template easily?
You can always take a second opinion and ask your colleagues and other peers how they feel about your shortlisted business letterhead templates. When in doubt, always stick to the one that is easiest to read and understand.