No business would want to pile unnecessary work onto their already overflowing plate. That includes spending that extra, tedious time preparing individual invoices. You don't have to do that anymore because online resources do the work for you.
Each printable invoice template listed here will help optimize your records, minimize errors in information, and give you more time to worry about other pressing issues.
Why do businesses need a printable invoice template?
While emails and messaging have made it easier than ever to send digital invoices online, paper documents still hold value. Internet failures and data loss are just two reasons to invest in a printable invoice template.
Not everyone from your supply chain will be tech-savvy or receptacle to digital invoices. Hence, having a commercial invoice can be beneficial.
How do you make a blank invoice template pop?
Visually, your invoice should look clean and aesthetically match your branding. This comes across as professional and shows that you care about the most minute details regarding your small business.
The rookie mistake is to go overboard with customization. Holding back and focusing on your logo design and information is what will make your blank invoice template pop.
The 10 best options for a printable invoice template that expresses efficiency
The companies listed here all provide quality invoice templates. From free templates to paid ones, from standardized templates to customizable ones, and artistic layouts to minimal ones — there is a printable invoice template for every brand.
See which company provides the best option for your business's needs.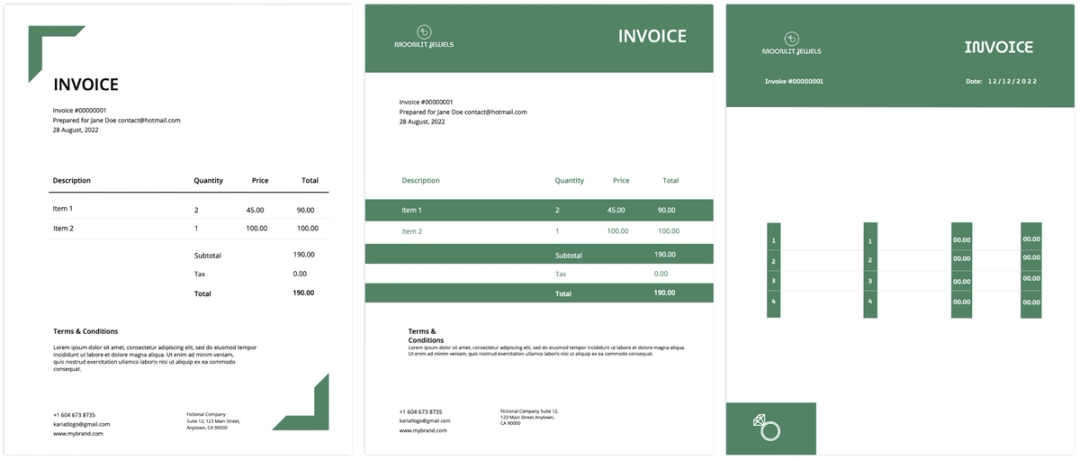 LOGO.com is the home of the most beautiful invoice templates on the web. The platform is perfect for budding entrepreneurs looking to save resources and build their branding materials in one affordable home. Its invoice templates are designed based on the user's free logo design and brand colors. The customization process is easy and straightforward for any design newbie.
Best features:
A variety of 20 commercial invoice templates with dynamic designs
Full customization abilities, such as masking, shaping, and stock photo use
Access to all brand assets created on LOGO.com for design consistency
A 24/7 dedicated customer service team to guide you with tips and inquiries
Pros:
You can customize your readymade invoice templates in less than 20 minutes.
You can save your design in a variety of formats, whether digital or print, with infinite scalability.
The customization tools are incredibly easy to use for anyone without design experience.
Cons:
The templates are saved in image files, meaning you need to convert them into an editable format.
Pricing: LOGO.com's invoice templates are a part of Stitch, its custom design tool. Stitch is a part of a branding solution that only costs $12 every month. The service is 100% satisfaction guaranteed.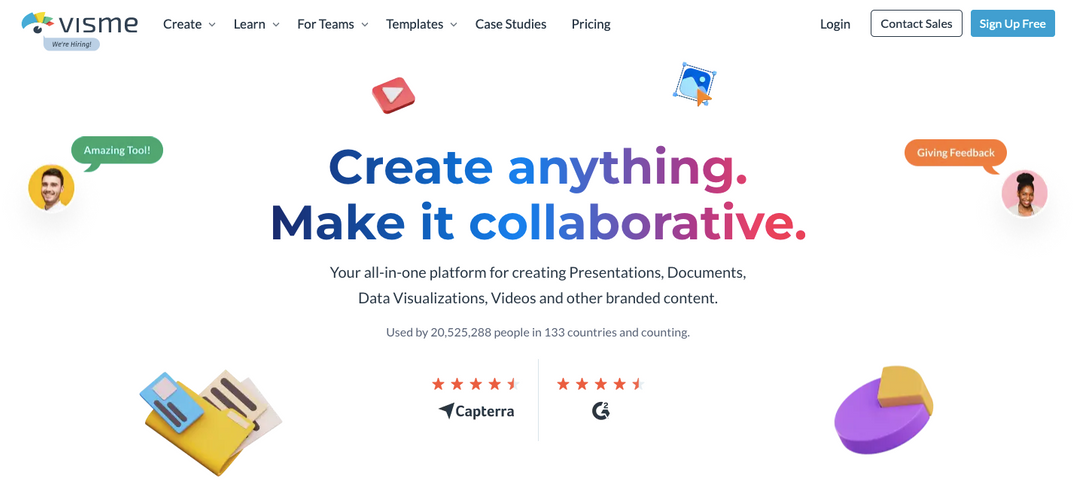 Visme is an online-only drag-and-drop designing tool with templates for various documents and graphics. Its collection of modern invoice templates can come in handy for any company in this day and age.
However, the best templates and editing features come at a hefty cost that may seem unfeasible if you only want options for a printable invoice template.
Best features:
Over 100 invoice templates
Free stock photos and graphic design elements
Multiple export formats for optimal printing quality
Pros:
It has search filters for industries to help you select contextual invoice templates.
Its QR code generator can redirect clients from the paper invoice to a digital payments platform, etc.
It has a short learning curve for non-designers.
Cons:
Its free and paid plans have suboptimal cloud storage compared to the competition.
Its paid subscription plans are expensive.
Its drag-and-drop app is prone to lagging, making it occasionally difficult to use.
Pricing:
Basic plan – Free of cost.
Starter plan – $12.25 per month.
Pro plan – $25.75 per month.
Visme for Teams plan – Price available upon inquiry.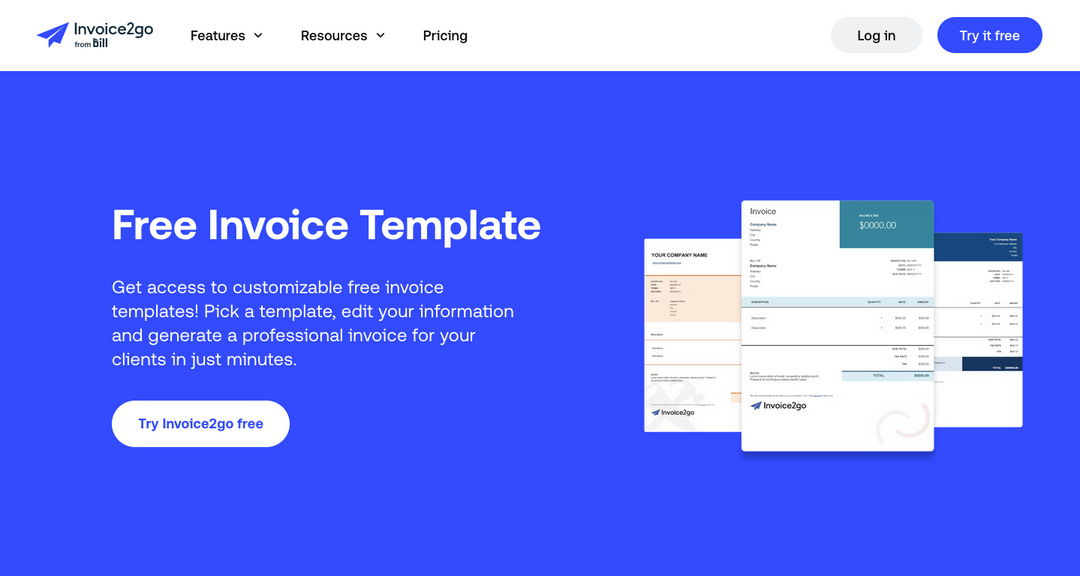 Invoice2go is a platform for businesses to manage their payments and invoices. Those who don't want its premium services can choose a free printable invoice template from the six available options. However, its free designs come with a watermark that can make your document look less professional.
Best features:
Free invoice generator
Provides invoices in Excel, PDF, and MS Word formats
Has invoices for multiple basic industries
Pros:
Its invoice file sizes are small and don't take time to download.
Its invoice templates are print-friendly and can fit A4 and letter-sized papers.
Its PDF invoice templates can be easily edited from browsers and commonly used applications.
Cons:
It has only six invoice templates.
Its designs are not the most modern or attractive.
Its free invoice templates are watermarked and look odd when printed.
Pricing:
Free plan
Starter plan – $5.99 per month.
Professional plan – $9.99 per month.
Premium plan – $39.99 per month.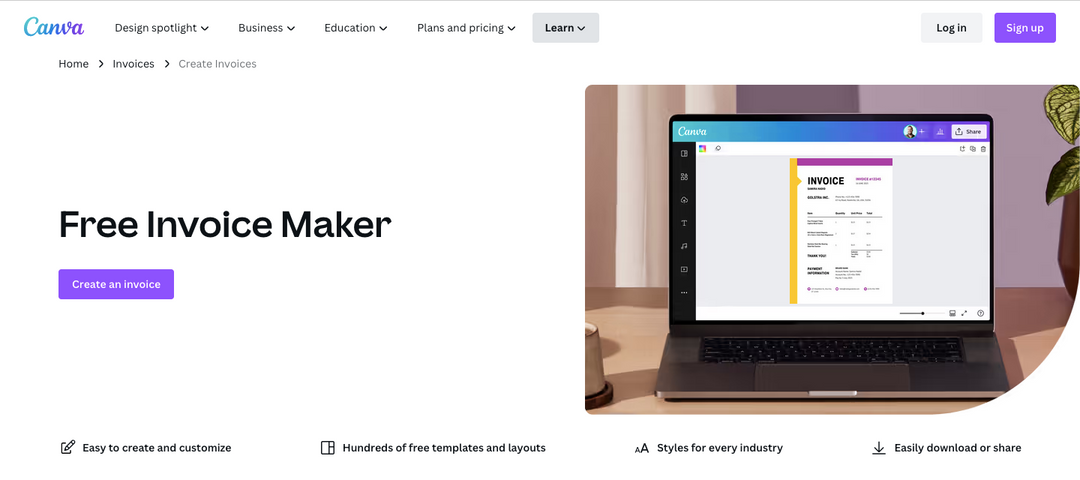 Canva and apps like it are useful for beginners interested in graphic design to create unique invoices. One can create a simple invoice template from scratch or use Canva's templates. The resources available on the free tier are limited, with most of Canva's premium graphics, fonts, and templates kept behind a paywall.
Best features:
Large cloud storage for free and paid members
Hundreds of invoice templates for all types of businesses
Print-version downloading option for all documents
Pros:
It is easy to learn and use the app.
It has a freehand drawing tool that you can use for e-signatures.
The app is not demanding and can run smoothly on low-spec computers.
Cons:
Some of its invoice templates, colors, and fonts don't translate well on paper.
Finding an apt template from its overwhelming number of options can be difficult.
Its best templates are only available to paid members.
Pricing:
Free plan
Canva Pro plan – $18 per month.
Enterprise plan – $30 per user per month.

HubSpot has two solutions for those looking for a printable invoice template. You can choose from its thirteen free templates or create a custom document with its invoice generator. Both provide generic-looking invoices that must be further customized to make them stand out.
Best features:
All invoices are free of cost
Option to download documents as PDFs or MS Excel files
Generator for custom invoice designs
Pros:
Its invoice templates are watermark-free.
All invoices have blank borders, which makes printing hassle-free.
Its generator is simple to use and creates documents in a few clicks.
Cons:
You can only download an invoice template after entering your email, name, and company website.
Most of its blank invoice templates look similar and generic.
It only offers 13 blank templates.
Pricing:

Jotform is a platform that you can use to create shareable online forms for collaboration and feedback.
While this feature is handy, it can be overkill for those who want to create invoices. This is especially true because its paid subscription is expensive. Those simply looking for a printable invoice template can find more affordable options elsewhere.
Best features:
Blank invoice templates for various industries and businesses
PDF editor that can let you edit previous invoices
Approachable and well-designed user-interface
Pros:
It has over 50 invoice templates to choose from.
It has a smartphone app that you can use to create invoices.
Its web app takes little to no time getting used to.
Cons:
Its free invoices are watermarked.
Most of its plans have a limit on the number of forms you can create.
It is among the most expensive services on this list.
Pricing:
Free plan
Bronze plan – $39 per month.
Silver plan – $49 per month.
Gold plan – $129 per month.
Enterprise plan – Price available upon inquiry.

Invoice Simple's templates may look uniform and similar, but they have all the crucial information that any business needs for billing invoices. However, its biggest drawback is that it doesn't provide invoice templates in PDF format. You have to edit and export each file on a third-party app every time, which can take time.
Best features:
Lets you download the invoice in multiple formats
Invoice templates are fully editable and customizable
Sleek designs with space to insert logo and other personal information
Pros:
None of its invoices are watermarked.
Its templates have a sleek and clean look.
Its invoice generator has multiple currency options, which can help with international transactions.
Cons:
You must use a third-party app to export its templates as PDF documents.
Its invoice generator only has a few visual customization options.
It only offers a few invoice templates – most of which look similar.
Pricing:
Free of cost.
Essentials plan – $6.99 per month.
Plus plan – $13.49 per month.
Premium plan – $19.99 per month.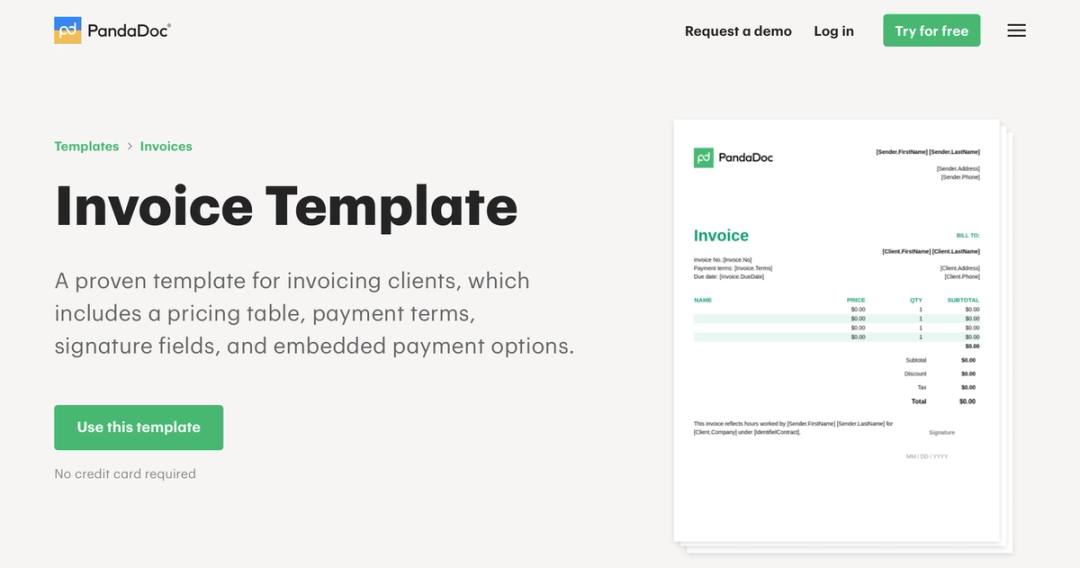 PandaDoc is a cloud-based platform that helps small businesses automate their sales processes. Its free service lets users generate and share professional documents like eSignatures and invoices. However, its visual customizations are limited and may not fit your business's branding.
Best features:
User-friendly app that novices can learn without many hiccups
Electronic signature fields for clients and vendors
Invoice generator with a short learning curve
Pros:
It provides options for you to add discount fields on its invoice templates.
Its platform has a step-by-step guide to creating an invoice.
Its simple invoice template is minimal and has easy-to-read fonts.
Cons:
You must set up an account to download the free invoice template and use the generator.
It has limited options for visual design.
It has no premium plans just for invoicing, making it excessive for those who don't want other features.
Pricing:
Free plan
Essentials plan – $19 per month.
Business plan – $49 per month.
Enterprise plan – Price available upon inquiry.

Express is an online graphic design platform for those who don't want to download Adobe's desktop software like Photoshop or Illustrator. It is easier to use for non-professional designers and has more templates for quick workflows.
However, you must manually add fields and information to its templates before sending them to clients.
Best features:
Beginner-friendly drag-and-drop editor
Can be used on smartphones and tablets
Cloud-based storage up to 5GB for free users
Pros:
It saves drafts online, making it accessible across different systems.
It provides many customizable invoice templates.
Its premium plan allows you to collaborate with others.
Cons:
It requires high-spec devices to run smoothly.
It doesn't have custom fields for financial functions, focusing primarily on aesthetics.
It does not allow free members to add their branding or logos.
Pricing:
Free plan
Premium plan – $9.99 per month.
Creative Cloud All Apps plan – $85 per month.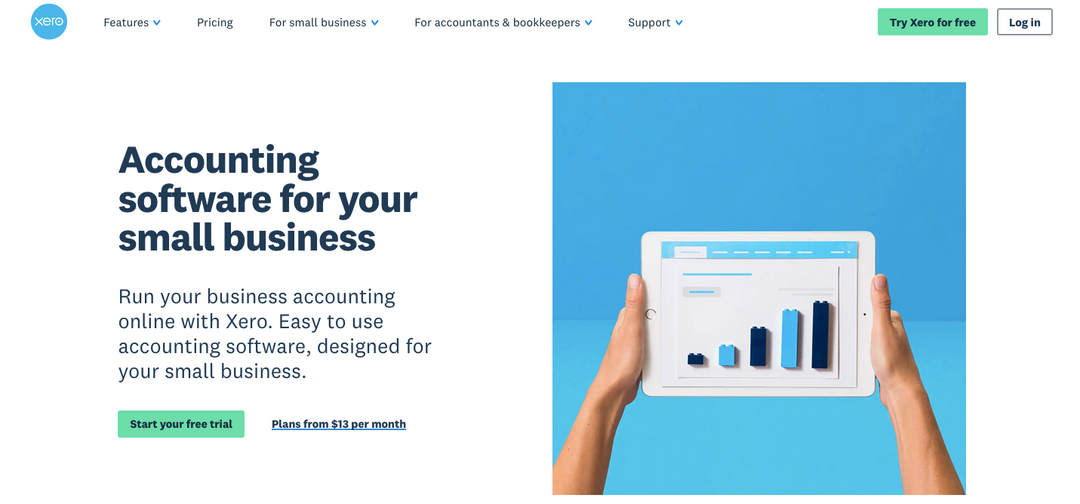 Xero is an affordable financial and accounting software for small businesses. It only offers a single printable invoice template, albeit a well-designed one that you can customize with a PDF editor. However, the template is watermarked and may look less professional to clients.
Best features:
Free to edit and use, even for non-customers
Can create automated reminders for recurring invoices
A4 and US Letter-friendly printable invoice template
Pros:
The template is automated and updates prices based on numerical inputs.
Its paid plans are affordable and can help with managing bills and invoices.
User-friendly tools for non-designers to edit the invoice.
Cons:
It only offers one free printable invoice template.
The invoice is only available as a PDF file, which not everyone can edit.
Non-customers need to enter their personal information to access the template.
Pricing:
Free plan – one free invoice template.
Early plan – $25 per month.
Growing plan – $40 per month.
Established plan – $54 per month.
What information should you include in your invoice templates?
If you're selling to a business or sending an invoice to a customer, the general information to include in the invoice are:
Your client's full name and contact information.
Your business's name, logo, contact, and payment information.
The invoice date and the payment due date.
A unique invoice number.
All the products and services you're invoicing for.
The total remuneration due to you.
Be sure to add your signature for legitimacy. For an invoice to be valid, you may need to include more specific information per the applicable laws and taxes. This varies across industries and regions, so look up the specifics before sharing your invoices.
Should you get paid or free invoice templates for your business?
Why not take advantage of a free invoice template that fits your needs and looks professional? Investing in a paid invoice template may prove more beneficial if you require customization tools and data storage solutions.
The most expensive invoice template may still not be the best option if it lacks a feature needed by your business or industry. Measure the pros and cons against your budget and determine the most practical option for your needs.
How do you choose the best printable invoice template online?
There are plenty of printable invoice template options online. This may, ironically, impair you from choosing one. A good headstart for selecting the best option is by addressing the following factors:
Can you add your company name to the template?
Is the template customizable to your business's needs?
Is editing the template easy relative to your skill set?
Does the platform allow you to save clients' information for future invoices?
Will this template fit the most used paper sizes in your industry?
Will your clients be ok with a watermark on the invoice?
This checklist should help you shortlist some options from the list. Then, you must simply weigh the pros against the cons listed in the article.