Starting a new business can be intimidating. From refining your supply chain to setting a brand voice, the preparation work can seem never-ending.
However, you can fast-track some of these processes with automated tools like a small business name generator. This article looks at ten apps that can generate the perfect name for your new brand.
What are the benefits of using a small business name generator?
A small business name generator, often free, can be a cost-effective solution to coming up with a business name for your company.
You can also search for domain availability on many generators and register a domain on some. Finally, even if you don't plan on using generated names, they can serve as inspiration for a name you eventually go with.
Is it important for a small business to have a unique business name?
When competing with big national brands and international businesses, it is imperative to stand out. A unique name may not be a substitute for a quality product, but it will make your business more memorable.
This, in turn, can land you an inquiry or a call from a prospective customer. Such a name can also prove useful during expos, where you have a limited time to make an impression on passersby.
The 10 best small business name generators for a strong start for your brand
Every small business name generator in this list has distinctive features to produce contextual and meaningful names.
Why brainstorm by yourself when you have these capable apps by your side?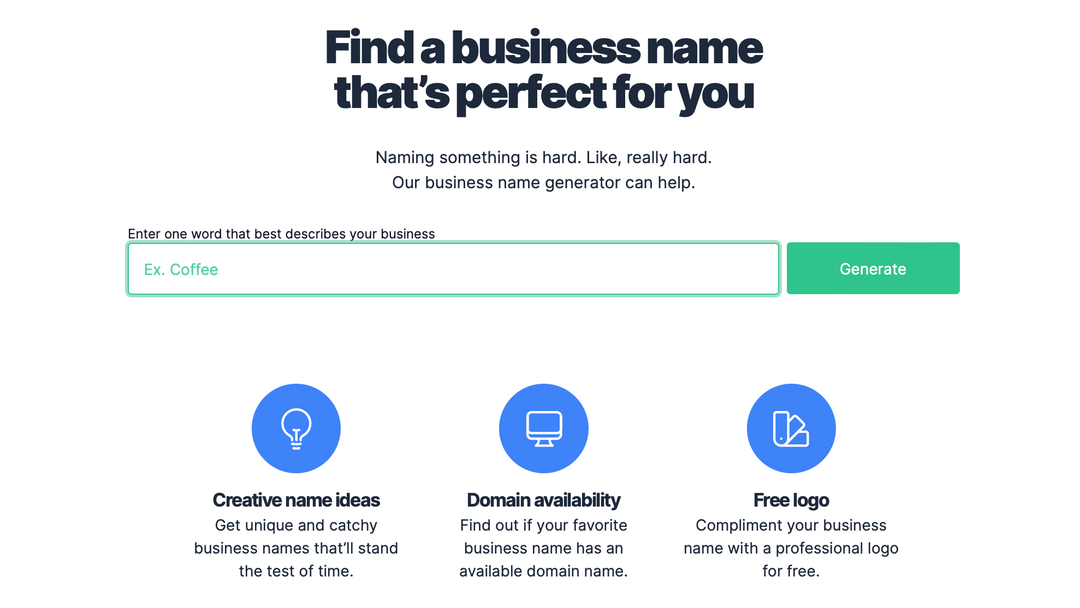 The LOGO.com Business Name Generator is a state-of-the-art, AI-driven tool that provides you with the most fitting business name ideas from a single keyword. LOGO.com's business name generator utilizes cutting-edge algorithms and vast databases to generate unique and memorable business names that capture the essence of your brand.
Best features:
Once you decide on a business name, you get a free logo and a cost-efficient domain name along with it
The business name generator uses machine learning to elevate name suggestions
The business name ideas work smarter using contextual cues, providing unique entries based on a single keyword
The interface has animation smoothness, meaning you will never experience any lags or technical difficulties
Pros:
Easy and efficient way to come up with a unique name for your small business.
A fluid, user-friendly experience as you navigate through the site and explore name suggestions.
The machine-learning generator uses an enhanced understanding of the relationship between words and their meanings.
It tracks your preferences along with market trends to generate the best options.
Cons:
You have to create an account to get your free logo design and affordable domain name.
Pricing: The Business Name Generator is 100% free.

Name Mesh is a self-proclaimed name generator for perfectionists. While the generator has plenty of filters, it has its fair share of flaws. Its high loading times and generic suggestions are problems that need to be addressed for it to live up to its title.
Best features:
Checks availability of names on new-age domains like .pro, .email, and more
Has multiple filters that generate unique names
Generates names in English, German, and Russian
Pros:
It has an SEO filter for name suggestions that ranks high on search engines.
It lists the market prices of various domain extensions, which can help with purchasing decisions.
You can purchase a domain name directly from the website in a few steps.
Cons:
The generator takes time to load.
Most of its Fun filter's suggestions are words with spelling errors.
Many of its generated names are generic and fail to stand out.
Pricing: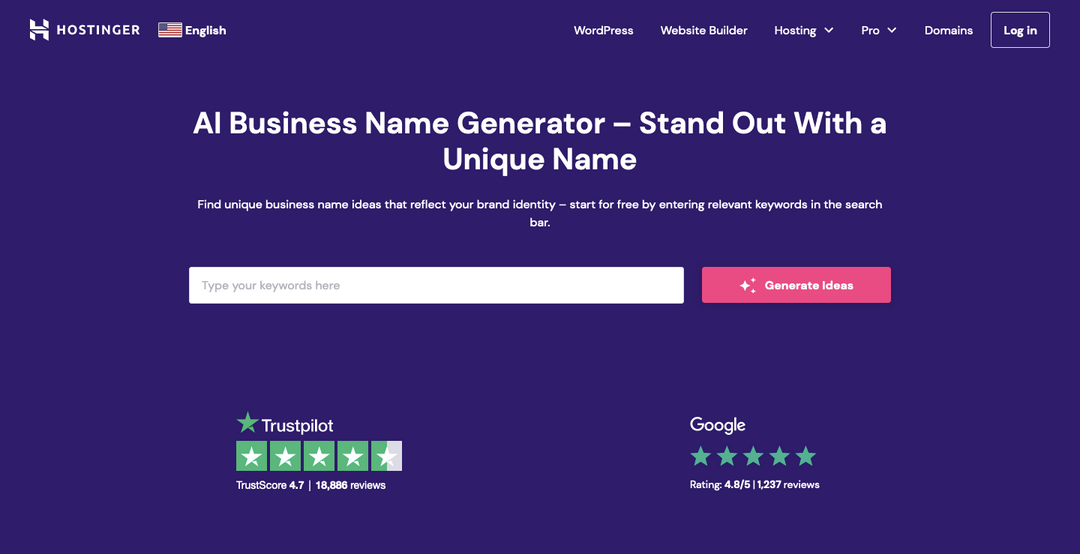 Hostinger, a well-known company in the web hosting space, has many tools that make it easy to create your first website. One of them is its small business name generator – a fast but imperfect app.
The biggest issue is that it generates pre-registered names, which can be a no-go for those who want to avoid trademark issues.
Best features:
24/7 customer care for any questions about domain names
Offers discounts on most domains
Detailed FAQ section that teaches you how to use the app optimally
Pros:
It offers domain registration and website-building services.
The app is fast and takes less than a second to show names.
It generates alternatives to your preferred names if they aren't available as domains.
Cons:
Its suggested names aren't unique and require verification on a trademark database, which can be time-consuming.
Many of its suggestions are direct translations of your keywords in Spanish, French, Russian, or another language.
The app only generates ten names per query.
Pricing: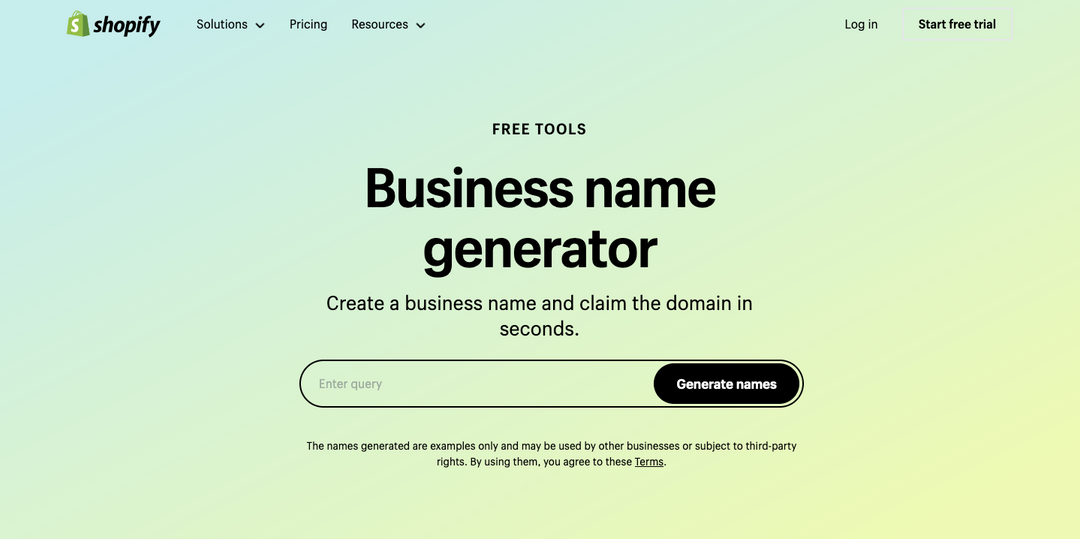 Shopify's small business name generator is fast, free, and creates plenty of names. However, its names are just suggestions and examples and are not available for use. So, while you cannot name your business with Shopify's tool, you can use it to spark ideas.
Best features:
Simple-to-use generator without bells and whistles
Customer care that deals with many small businesses
Generates over fifty names per query
Pros:
You can start a store with an available name in seconds.
They offer a three-day trial for new members looking to create an e-store with their chosen name.
Members can check for a name's domain availability directly on Shopify.
Cons:
Its names are just suggestions that may have been registered by other companies.
It uses all the keywords for each name, leading to long and forgettable results.
Clicking a name leads you to a long business survey and sign-up process rather than to a tool that checks for domain availability.
Pricing: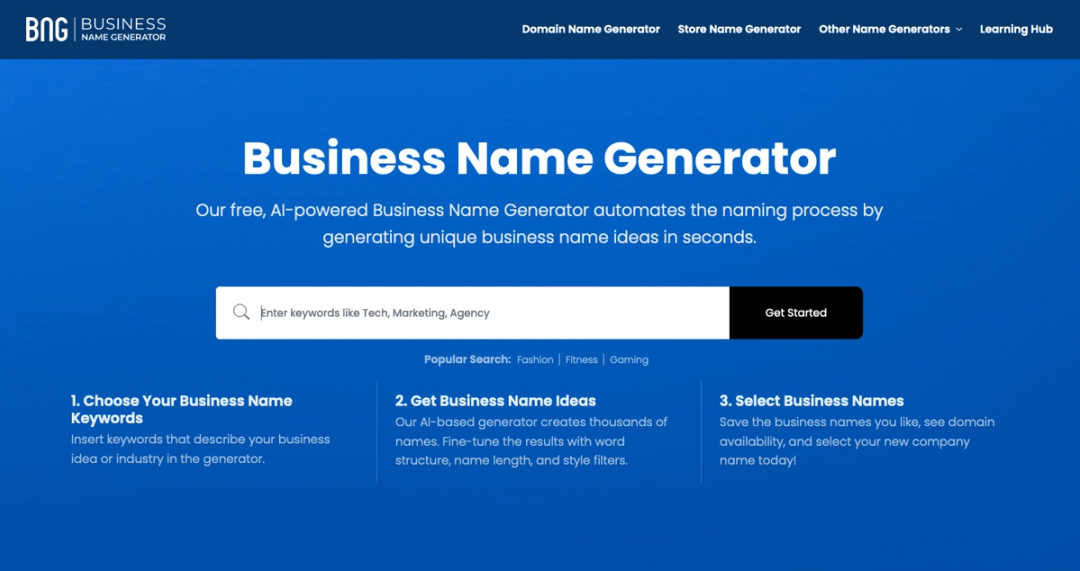 Business Name Generator (BNG) is a free naming tool that also offers domain registration, logo creation, and trademarking services. It has filters for language and business industries, which can help generate contextual names. However, the app is glitchy and oftentimes does not respond to selected filters, which can put off users.
Best features:
In-built logo maker app that automatically incorporates your selected name
Generates hundreds of names per search
'Heart' button to shortlist names
Pros:
It searches for domain availability across thirteen domain extensions.
You have a choice of over a dozen languages to generate your names in.
You can register your company as an LLC for free on the application.
Cons:
It fails to use any of your keywords for many generated names.
Many of its generated names are the same even after selecting different industries.
It opens a separate tab to a third-party website every time you start a new search.
Pricing: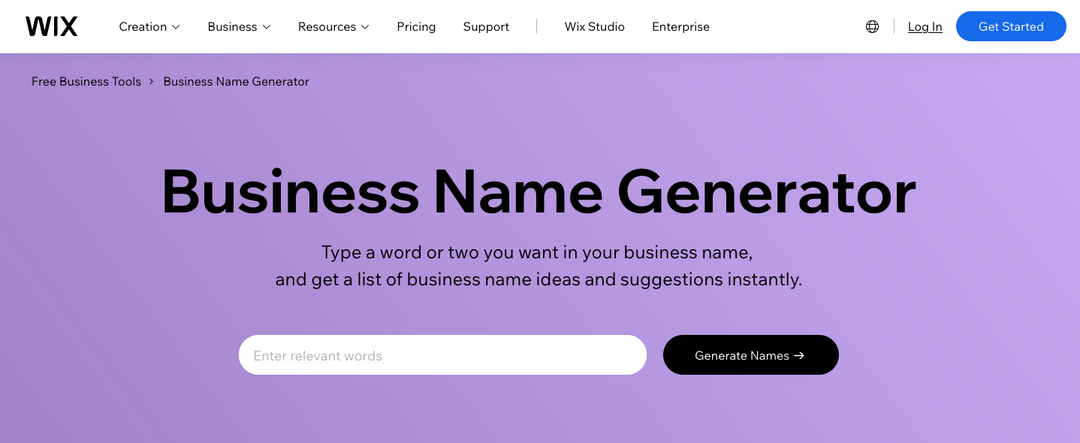 Wix's small business name generator needs a few keywords to generate website-ready names. It automatically creates a website for your selected name, which is useful if you can't make one. This feature would be more effective with catchy name suggestions, which the app's generated results are not.
Best features:
Shows previews of how your name will look on desktop and mobile websites
Hundreds of options for the business category filter
Free domain for a year for Premium members
Pros:
It lets you make a free website with the name of your choice.
It searches for domain availability on new extensions like .shop, .store, .online, and more.
You can chat with their 24/7 customer care before committing to a name and domain.
Cons:
The app has no other filters besides one for the business industry.
The generator takes time to load each result and occasionally freezes.
It generates a large list of long multi-word names – selecting good names can be a tiring process.
Pricing: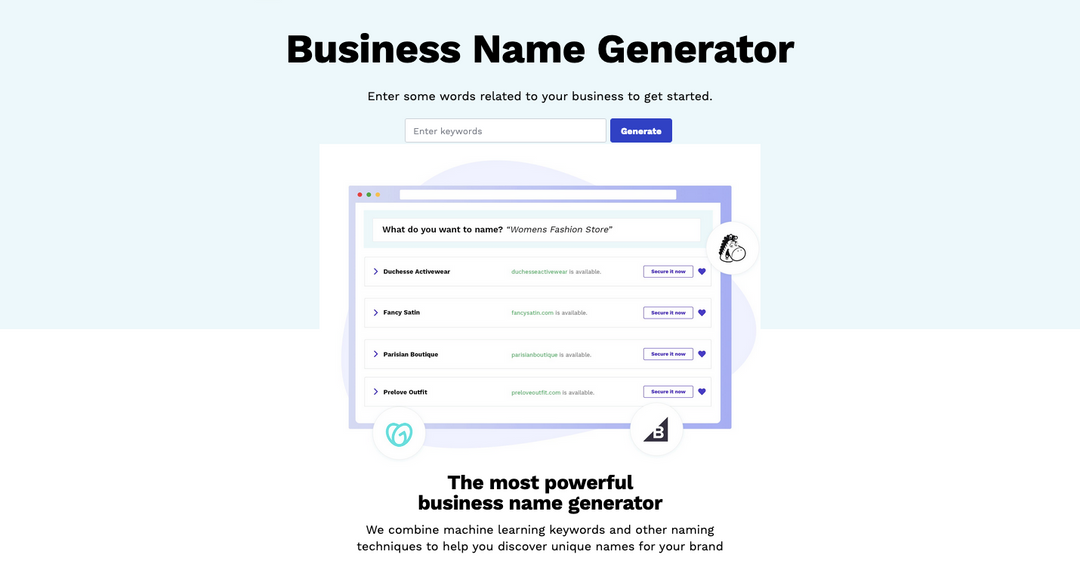 NameSnack's small business generator has hundreds of industries to choose from. It has standard categories like Bed & Breakfast to options like 'Rabbit'. Navigating this filter can become overwhelming, and the efforts could have gone to adding other features to the generator.
Best features:
Generates names contextual to your chosen industry
Free logo with each name
Blog on how to inspect names for trademarks in different states
Pros:
It uses puns and other wordplay to generate quirky names.
It shows domain availability next to each name, reducing your manual work.
It generates a multitude of names in seconds.
Cons:
It lacks filters on competing apps, such as word length and character count.
Its domain availability check is limited to .com and .co.uk extensions.
Its included logos are too simple and lack a professional touch.
Pricing:
GoDaddy's popularity in the domain registration space is no secret. Its free business name generator requires just a few keywords to work. Its results, however, lack variety – the tool works more like a domain extension searcher than a name generator.
Best features:
Shows a mix of premium and affordable domain extensions
Suggests domain names that are easy to remember
Bundles multiple domain extensions for discounts
Pros:
Its name analysis tool tells you if a certain name can be memorable.
It gives you the option of favoriting and shortlisting names.
The prices are mentioned next to each name, making comparison easy.
Cons:
The generator does not produce unique or catchy names.
Its name analysis tool is only available for expensive premium options.
It has no filters in place to control name length, tonality, or business industry.
Pricing:

FreshBooks has a lightweight AI business name generator for small businesses. It takes no time to load results, and navigating the app is a breeze. However, its suggestions aren't original, available to register, and often repetitive, which makes them unusable.
Best features:
No limit on how many times you can search for a name
Accepts unlimited keywords
Has a blog dedicated to small businesses
Pros:
The app loads quickly and generates names in seconds.
It is easy to navigate the app and enter new keywords.
It aims to generate accurate names by making you select an industry before producing results.
Cons:
It only gives you four business industries to choose from.
It only generates three names at a time.
It lacks an inbuilt tool to check for domain or trademark availability.
Pricing:

Looka's small business name generator uses AI to produce domain-ready names. It has features like an SEO tracker and pronunciation tool that can be useful for those looking to design a website. Many of the names, however, sound generic, and its interface makes learning about each name a time-consuming process.
Best features:
Filter to control name's character count
SEO tool that tells you how a name performs on search engines
Free logo maker with each name
Pros:
Most of its generated names are available as domains.
It has an SEO tool that tells you how often a selected name is searched for.
It shows domain availability across twelve extensions.
Cons:
The app could do with more filters to control the results.
Its 'Invented Names' category often has non-contextual and unusable names.
It requires you to sign up if you want to download the free logo.
Going through its list of generic names can take up a lot of time.
Pricing:
How will an effective business name help your brand?
An effective business name fulfills two criteria: it is memorable and represents your brand in a positive light. For example, a PC brand named 'The Malfunctioner 3000' might not fare well with prospective customers.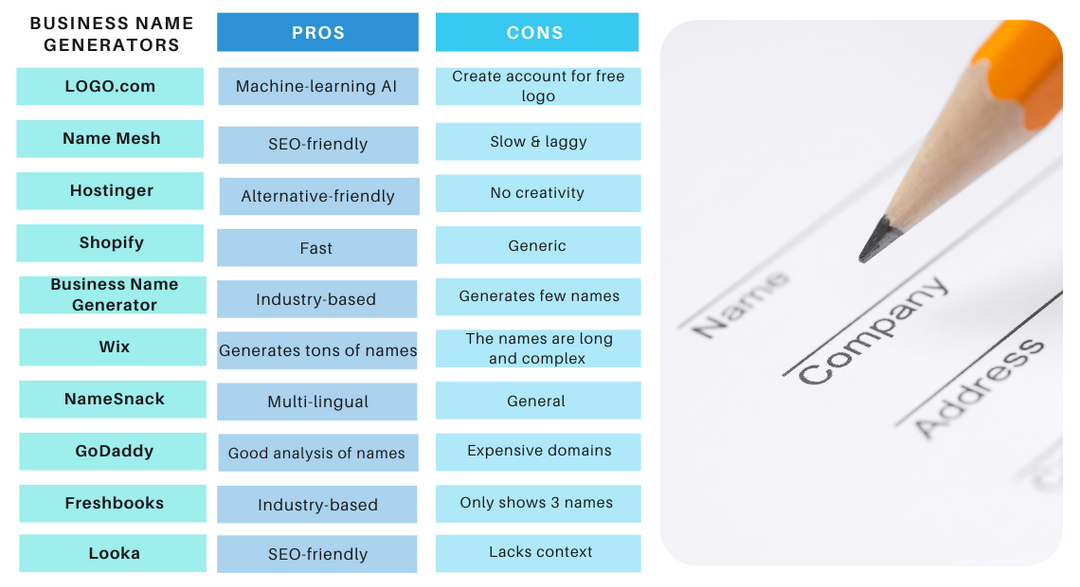 Fret not, you don't have to overthink whether you can get an effective name. Thanks to creative business name generators, you can find many names that fulfill these criteria.
How do you choose the right business name among generated lists?
The complicated answer is that there isn't a 'right' business name to choose from. A name is only effective if it works for your business. When deliberating between options, ask yourself this:
Will this name represent my brand positively?
Does this name match my brand tonality or voice?
Will this name go with my proposed logo?
Will someone remember this name if they see it just one time?
It may be impossible to objectively answer all these questions. However, they should put you in the right direction.
How do I choose the best small business name generator online?
Each of the generators listed above has strengths, weaknesses, and unique features. But which one do you choose? Instead of getting into choice paralysis mode, ask yourself these questions:
Do I need a domain name for my business? Does any generator provide discounts on domains?
Do I have a logo already, or will a free logo maker help?
Which one of these generators has filters for my business category?
How much time am I dedicating to shortlisting and selecting names?
Starting a small business can be a big task, and getting the perfect name is one of them. Answering these questions should help you select the best application to generate an unforgettable name for your brand.