‍
As an entrepreneur or marketer, branding on a budget may seem like an impossible task. But it isn't so. The efforts to build a brand can involve monetary and non-monetary factors. It's always good to have a marketing budget, but branding on a budget can be effective too.
Key takeaways:
Branding your business on a budget can be challenging but it's certainly doable.
The most cost-efficient way to brand is to understand your brand inside and out. It's completely free, and it ensures that your branding is relevant to you.
You can find free logo makers and affordable branding suites to help you attain all your branding materials without spending too much.
Establish yourself as an expert in your field by hosting masterclasses, publishing thought leadership pieces, and getting yourself out there.
Take advantage of social media channels to get your branding out for the world to see.
‍
12 Steps To Branding On A Budget
All brands require some amount of money dedicated to marketing efforts. How much that amount should be will depend on your ambitions for the brand, the kind of market you are targeting, and to what category your brand belongs.
Here are some easy ways to build your brand without breaking the bank:
‍
1. Introspect about your brand
Brands that tend to attract attention are self-aware. They identify what they stand for, build on their strengths and USPs, and acknowledge their weaknesses. Introspecting your brand helps you get a bigger picture of the possibilities.
If you are a brand that makes unique solutions that cater to only a niche market, you wouldn't want to splurge on mass-targeted advertising campaigns. Likewise, if your brand makes products for the masses, then you would like everyone to know about it and find the most cost-efficient way to reach your larger target group.
Introspection lets you keep a check on the appropriateness of affordable branding strategies. Why carry out a brand budget if your communication is hitting a dead wall? It's better not to advertise at all in such a case.
‍
2. Determine your brand identity and brand voice
When asked what your brand identifies as, would you have an answer ready? Or would you have to think about it? Your brand identity helps you identify what gives its unique characteristic. Knowing what sets you apart can go a long way in helping you carry out your branding on a budget.
Gilette exemplified its powerful brand identity and brand voice with its 'The Best A Man Can Be' campaign. While everyone else in the male grooming space celebrated great looks and features, Gillette identified as a brand that stood for the values of exemplary role models.
The company's website declares, "Our ambition is to ensure all boys grow up benefiting from positive role models. Gillette will connect hundreds of millions of boys with programs, resources, and content that harness the power of role models—all while supporting and celebrating those already demonstrating the best men can be for the next generation."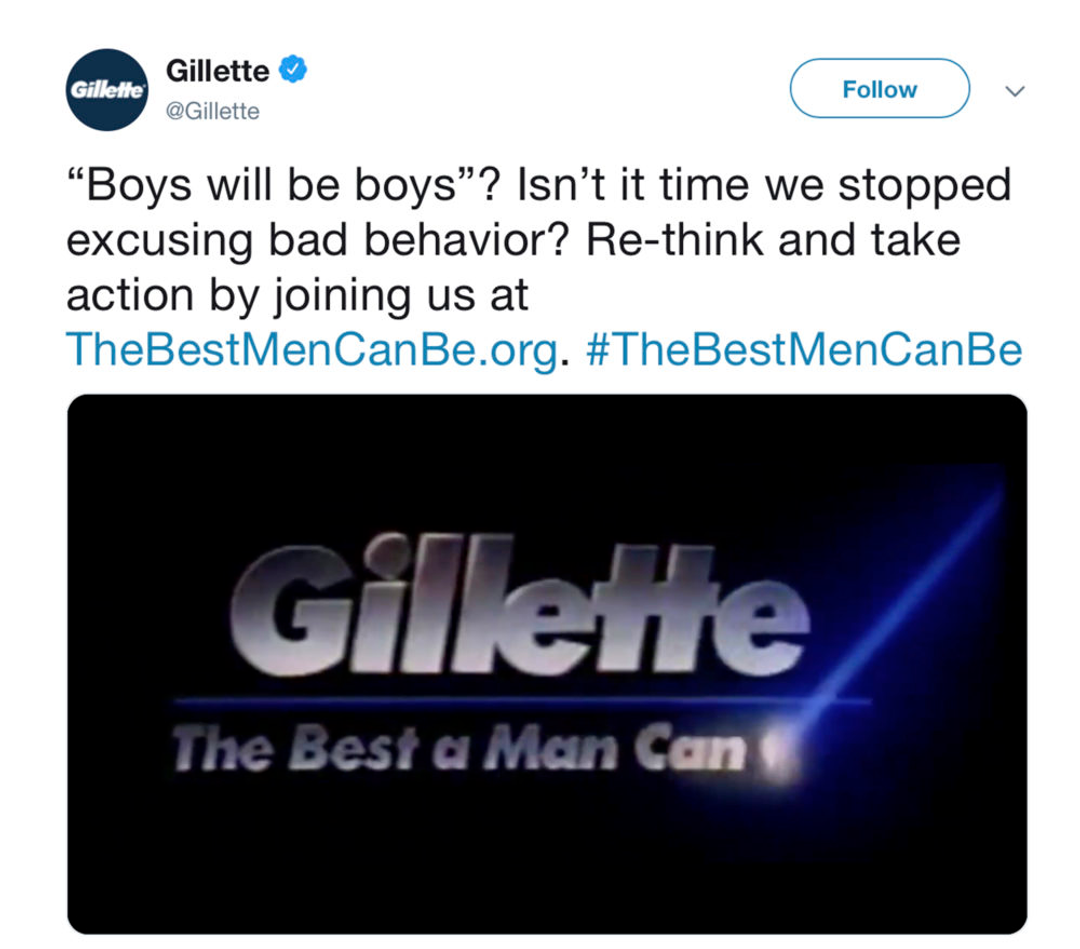 This brand identity has resonated with the target audience. As a result, Gillette can focus its branding only on these attributes and not the sharpness of its blades, as they have done for time immemorial.
‍
3. Find your brand personality
Your brand's personality needs to be consistent and predictable. It's what customers expect from you, constantly. Any brand with a strong personality can endear and win the loyalty of customers who resonate with them.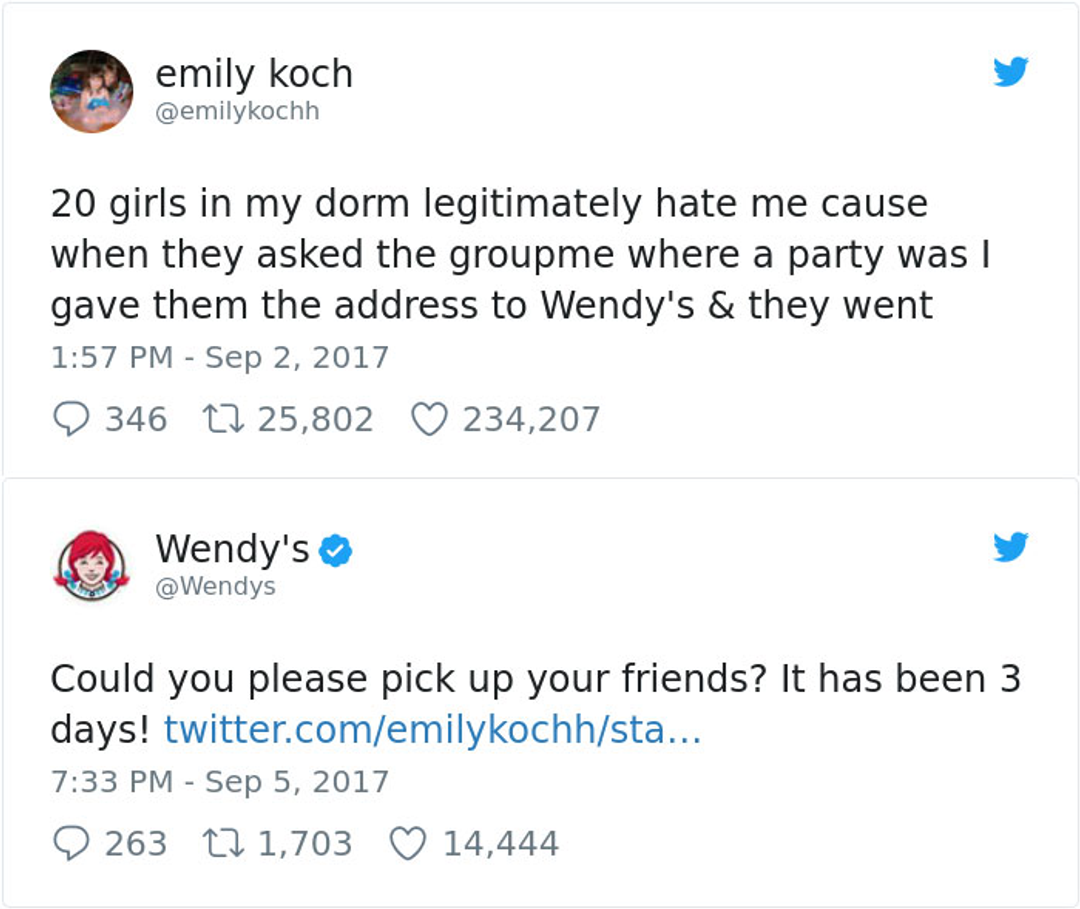 Whether or not Wendy's is your favorite fast food restaurant, their Twitter account is likely your favorite right now. The brand isn't afraid to be funny and controversial, and they seamlessly merge themselves into Twitter communities with their humorous roasts. That's how far a great brand personality can take you.
‍
4. Have a unique business name and domain
Imagine starting a bakery business on a busy street and naming it "Fresh Bakes." There are two other bakeries in the same area as yours. They are called "Mr. Fresh" and "Best Bakes." Wouldn't it be difficult for customers to remember the name of either of the shops?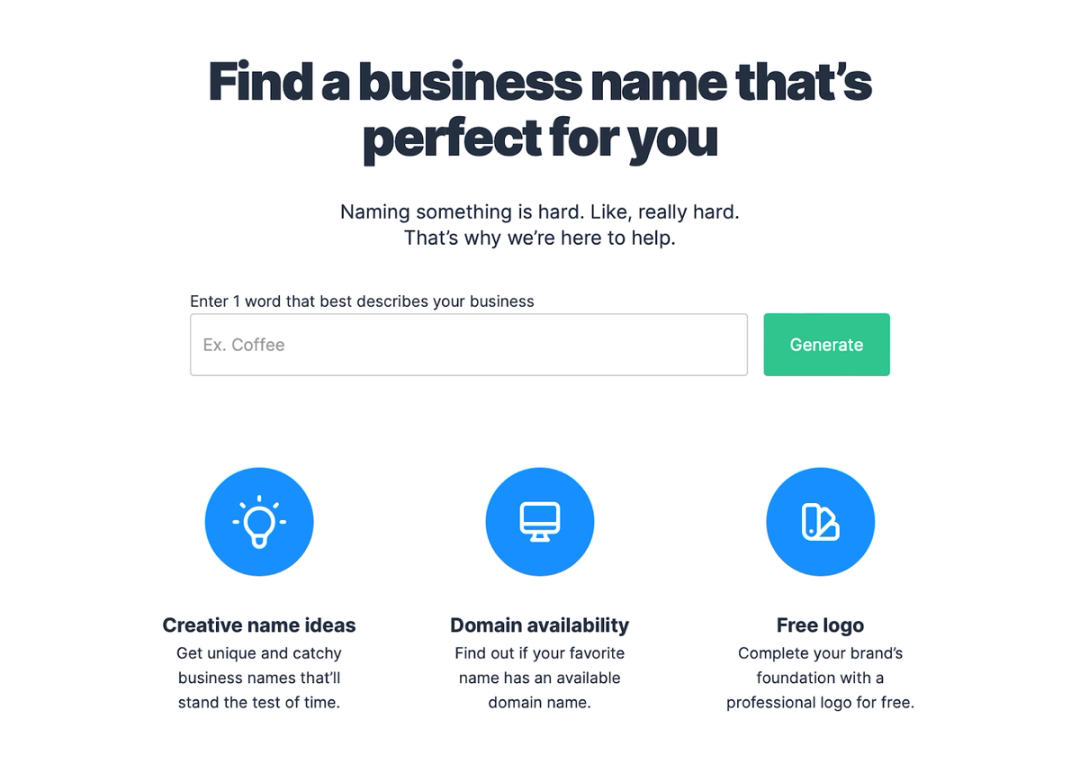 Giving your business a unique name makes it easy for customers to remember you. The name of your business also helps people search for your business online. Because, like the busy street with three bakeries, the internet has businesses like yours, which could be just a different spelling away. Your prospective customers must not face a challenge while trying to recall and locate your brand on the internet.
Pick a domain name that reflects the kind of organization you are. Avoid a long domain name because no one likes typing long website addresses.
‍
5. Design a great logo without a designer
Thanks to useful logo-building tools, brand managers do not need to employ a professional designer to create their logos. If you are on a brand budget, you could use expert tools like those available on LOGO.com.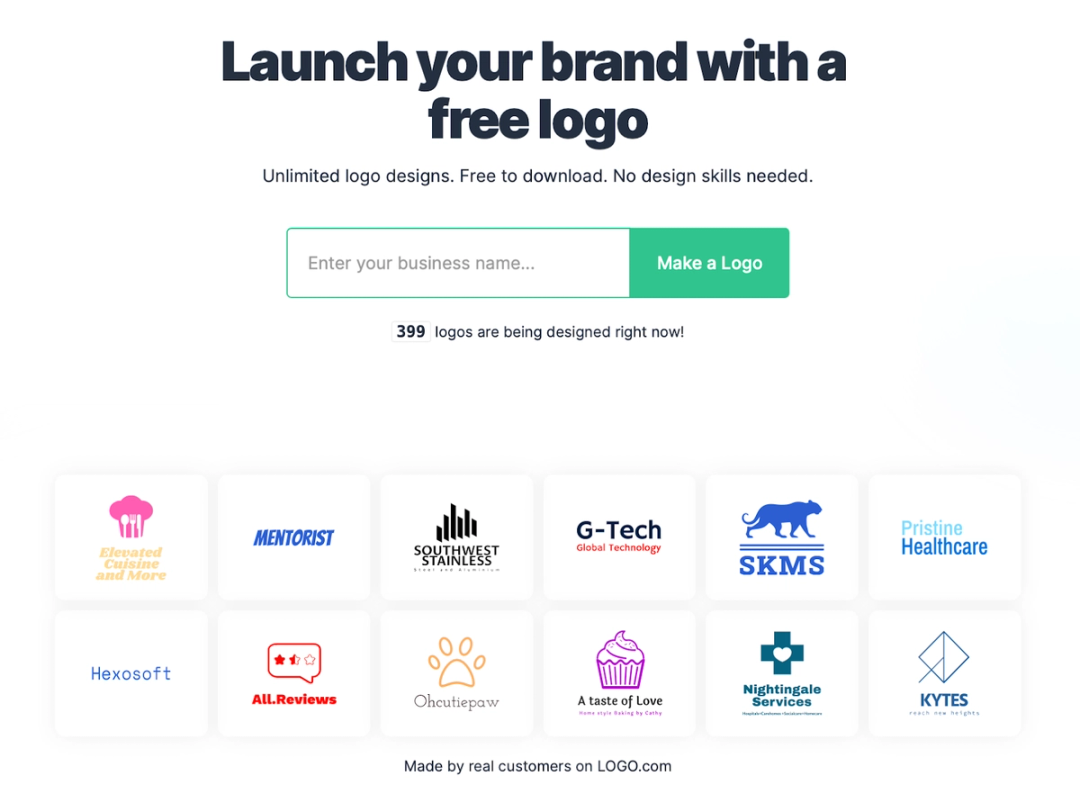 You get to create a professional logo for free and get all your branding materials saved and secured in one place.
‍
6. Find an affordable branding suite
What is a branding suite? It is a compilation of necessary branding materials that help give your business more credibility and visibility. Examples of these materials include business cards, email signatures, letterhead and invoice templates, merchandise, and so much more. A business can't get by with just a name and logo; it needs professional collateral.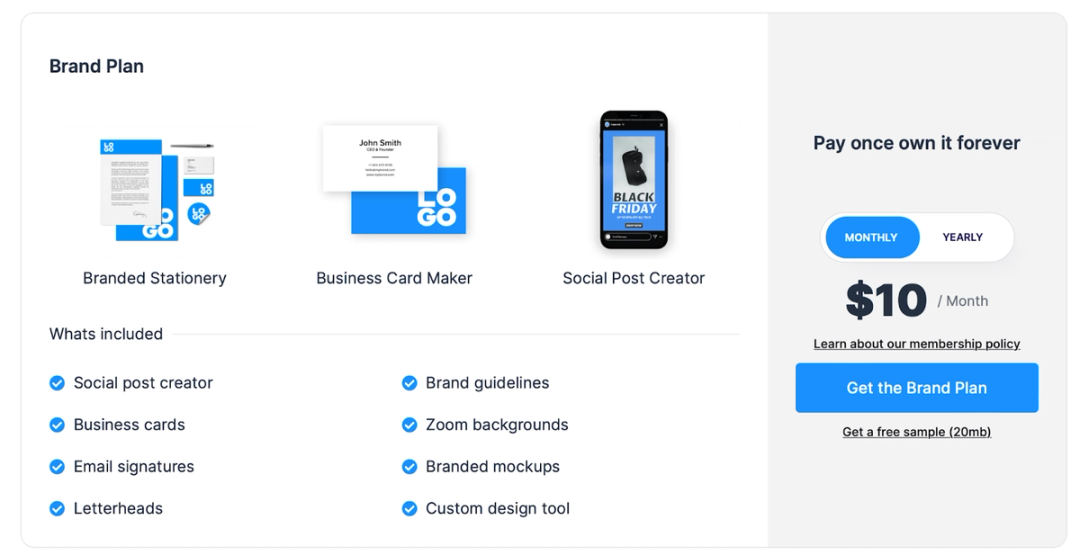 You don't have to empty your piggy bank to find a branding suite that works for your business. For example, the LOGO.com Brand Plan provides every necessary brand collateral you need, including a website builder and free logos, for only $10/month. The key is to outsource these needs to businesses that genuinely want to help you and not make a humongous profit.
When it comes to branding on a budget, is it ideal to get your branding right the first time? Yes, but it's not mandatory. As your business moves forward and reaches new heights, your identity may change along the way, which would entail a new direction in your branding. Having a logo redesign or new branding ideas is a part of the process, so don't put too much pressure on yourself to get it right the first time.
‍
7. Use a website builder
One of the first direct expenses for a brand that is up and coming is website creation. Building a website from scratch with a dedicated team of web developers can be incredibly cumbersome and expensive. Thankfully, website-building tools make it easier and cheaper.
Simple drag-and-drop elements can help you create your brand's website without depending on a team of experts. Website building sites offer you several design options, which are curated based on your business type, the function you want the website to perform, and the development platform of the website. These require little to no knowledge of website development, which is why anyone from your team can develop a website.
‍
8. Use social media to your advantage
Social media branding, when used as an advertising platform, can be effective. Informative and attractive content can attract customers to follow your brand on various social media platforms. You can develop and run a social media platform for free if you have content creators on board. If you do not, platforms like Canva help you access the best resources to make your social feed look professional.
There are several strategies to promote your social media content organically. What this means is that you do not need to pay money to the platforms to promote your posts or ads. So yes, you can have social media marketing on a budget too.
‍
9. Create valuable content
A brand budget can be effective if your business speaks the language your customers understand. Create your business content by keeping your customer's needs and interests at heart. Tell them something new, always. Show your customers how your brand can enrich their lives and fulfill their needs.
Unique content spreads with minimum spending.
‍
10. Employ email marketing
Email marketing is essential if you are branding on a budget. All you need to get started is a list of email addresses of potential customers. You can improve the way your emails appear by using design tools like Canva and MailChimp.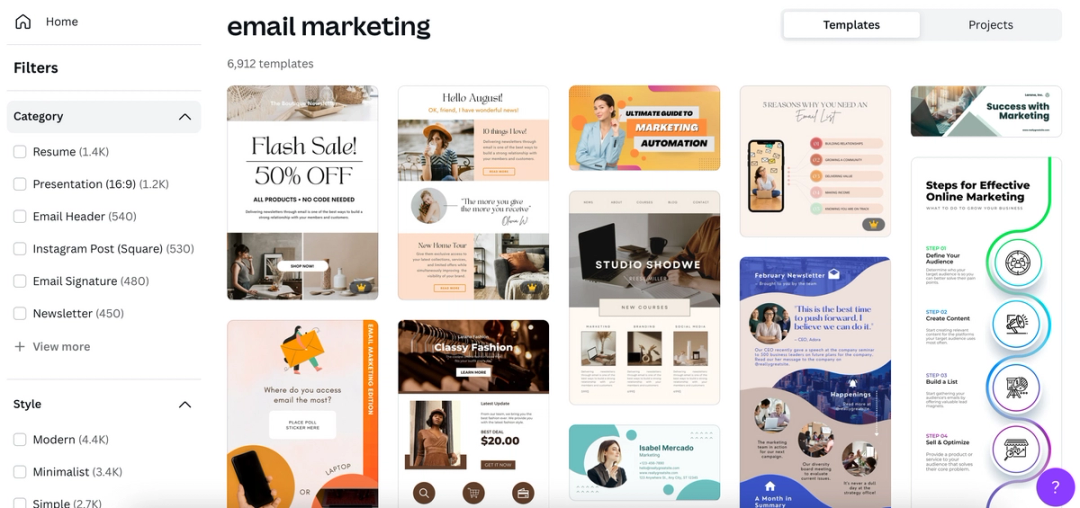 If you want to automate your email marketing process, you could turn to solutions like MailChimp. MailChimp helps you distribute your emails more strategically and gives you key performance metrics to optimize your campaigns.
‍
11. Host a masterclass
As a brand that prides itself on the expertise of its domain, you have a unique chance to take the position of a thought leader. Sharing your knowledge with the masses is a form of advertising that is more believable and proves that your brand is among the best in the business.
Here's one way to get started with your masterclass:
You can organize a masterclass for people who are interested in your product. The attendees could include potential long-term clients, peers, industry experts who could do with the knowledge you have to impart, or regular people. Such engagements promote trust-building and word-of-mouth, two invaluable assets you could wield in your arsenal, especially if you are branding on a budget.
‍
12. Establish yourself as an expert
Position yourself as an expert by conducting a masterclass (as discussed above) or working as a brand consultant. It is surprising to know that doing this can cost you nothing. Experts consult brands about their problems and win their loyalty. This relationship translates into advocacy when your beneficiaries begin promoting and consuming your brand.
‍
Frequently asked questions about branding on a budget
What are some commonly asked questions about affordable branding? Get your questions answered with these three FAQs.
1. How do I build my business on a tiny budget?
Creating a blog is the most efficient and cost-effective method for building a business on a brand budget. You may reach qualified customers more easily this way by generating content that is relevant to the information they are looking for.
It is the very first time that many people encounter your brand (even before they become aware of your products), and it enables you to begin that relationship in a favorable way, which is quite helpful. Blogging can be done at little to no cost, but it does take some time to get results.
2. How does budget affect marketing strategy?
Why is having a marketing budget crucial? Your marketing budget and ROI (return on investment) go hand in hand. How much money you have to invest and how you want to spend it will depend on your marketing budget. Many businesses fail because their owners are unaware of the capital they have access to and how it is being used.
3. What does a master budget include?
All of an organization's budgets, cash flow projections, budgeted financial statements, and financial plans should be incorporated into a master budget as part of the planning process. A company's budget is often created by the budget committee under the direction of the budget director.
‍
Bottom line
Branding on a budget may seem challenging, but it needn't be. You can combine one or multiple strategies mentioned to reach the right audiences, attract them, engage with them, and get them to stay.
The idea is to build a lasting human connection with them through your brand. You can achieve this by creating a powerful brand identity that strikes a chord with customers who seek what you have to offer.
We wish you and your affordable branding efforts good luck!
Ready to design your free logo? Get started with our logo maker!