A letterhead may be a good start in showing professionalism, but adding a creative design to the mix will make your correspondence stand out.
You don't need to be a design expert to make good-looking documents. Pick one of the many creative letterhead templates available online and add appropriate information.
How will creative letterhead templates help a brand?
Choosing the right design can be impactful if it supplements your brand's voice. For example, corporate letterhead templates can reinforce the idea of a premium brand to its readers.
You can exercise your creativity and choose templates with QR codes, videos, and other assets that present your brand's strengths.
Should you use free letterhead templates for your business?
Many business letterhead templates are designed specifically to meet the demands of growing brands. You're free to customize these templates to your brand's needs to avoid them from looking generic.
You don't have to look far, as many templates are paired with editors with which you can carry out your Ship of Theseus experiment!
The 10 best creative letterhead templates to showcase your style
With many options just on the first search page, shortlisting the right creative letterhead templates can be paralyzing. Fear not, here are the ten best available on the internet.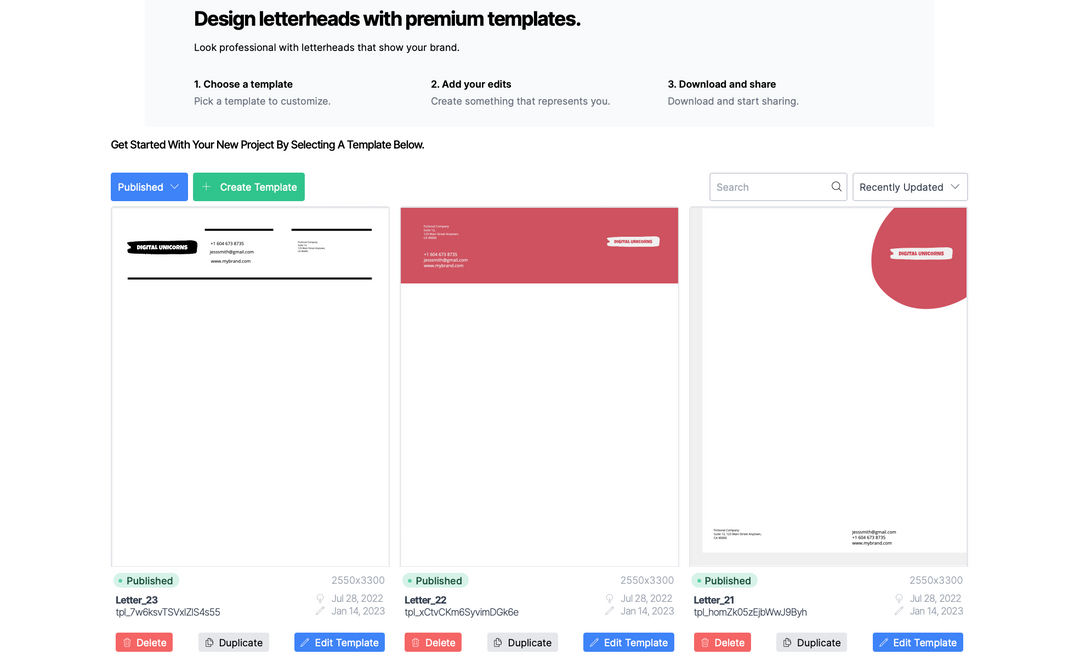 Let's get one thing straight: internal company communications don't need to be on stark white letterhead. Use LOGO.com's letterheads to make your reports more enjoyable and welcoming. The templates can be customized to include your company's logo design and color scheme, and a wide variety of options are available.
Best features:
Automatically has your free logo and brand colors strategically designed to promote professionalism
Fully customizable and available in several image file types, depending on your needs
24/7 customer support for quick branding tips and guidance with your designs
Over 20+ professional and stunning templates that are being updated regularly
Pros:
It has one of the best letterhead templates in the market today.
You are in full control of your design and its layout.
The platform enforces design principles in its templates, so you don't have to be a design expert to use it.
Cons:
The customization process may be a little slow.
Pricing: LOGO.com's letterheads are a part of the Brand Plan, which only costs $8 every month. The tool is 100% satisfaction guaranteed.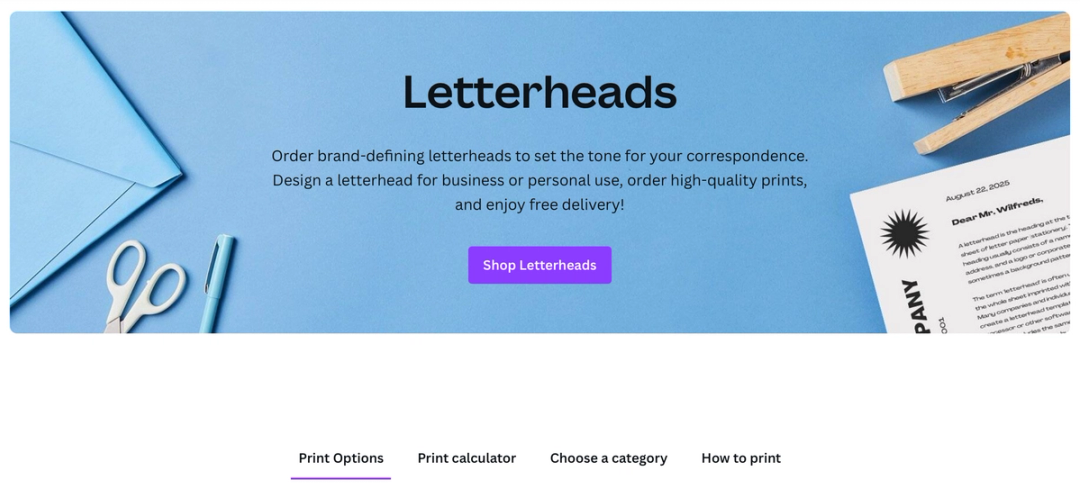 Canva is a household name with over 100 million monthly users. Its simple drag-and-drop approach has made designing accessible to non-professionals. The app's lack of automation and hand-holding has led to poor outputs from people who don't understand design.
Best features:
App auto-uploads images dragged onto the canvas for future projects
Option to automatically download projects on popular online storages.
Brand Hub for teams to upload custom colors, logos, fonts, and more.
Pros:
It has an active community that helps with troubleshooting problems.
It has in-depth text editing features such as spacing, curving, drop-shadows, and more.
It can export SVG files, which can be resized without losing their resolution.
Cons:
It is difficult to make a unique letterhead on this since its templates are widespread.
Brand Hub is only available to Pro members.
Designers are restricted to Canva's in-built graphic elements and cannot create anything from scratch.
Pricing:
Pro – $9.99 per month if billed yearly.
Enterprise – $30 per user per month.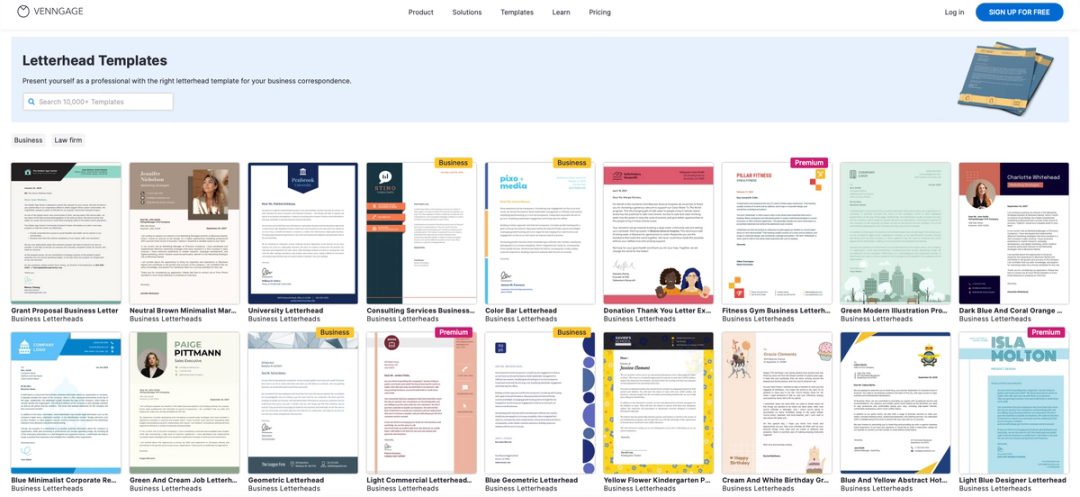 Venngage is an online infographic creation application. It is beginner-friendly, and people without design experience can use its templates or make something from scratch. It has a limited number of modern letterhead templates, many of which are free.
Best features:
Can export letterhead as an MS Powerpoint file for presentations
Large library of free editable icons
Over 40,000 premade icons to choose from
Pros:
It has real-time collaboration for teams to create together and provide live feedback.
All of its provided icons are highly customizable.
Cons:
A majority of its graphic assets are for infographics.
Most of its inbuilt icons have a cartoony look that is not suitable for everyone.
The recently updated web application does not run smoothly.
There is a limit to how many images you can upload on the app – even for paid plans.
Pricing:
Free plan.
Premium plan – $19 every month.
Business plan – $49 every month.
Enterprise plan – Starts at $499 every month.

VistaCreate's web app is as apt for visual designs as it is for creating printable ones for Vistaprint's customers. It offers a variety of free graphical assets and a larger library for its pro members. Vistacreate uses a drag-and-drop editor that can be understood by beginners and experts alike.
Best features:
Detailed graphic alignment options for precise editing
Ability to save and share brand colors, fonts, and other graphic assets on the web application
Social media scheduling for those who want to post their company letterheads online
Pros:
It has free tutorials that can be useful for beginners.
It offers 10GB of storage for free.
It has a smartphone app that can edit on the go.
Cons:
The app's User Interface is outdated.
Free members don't get access to a design's version history.
It needs fast internet connection to function.
Pricing:
Starter plan – Free.
Pro plan – $13 every month.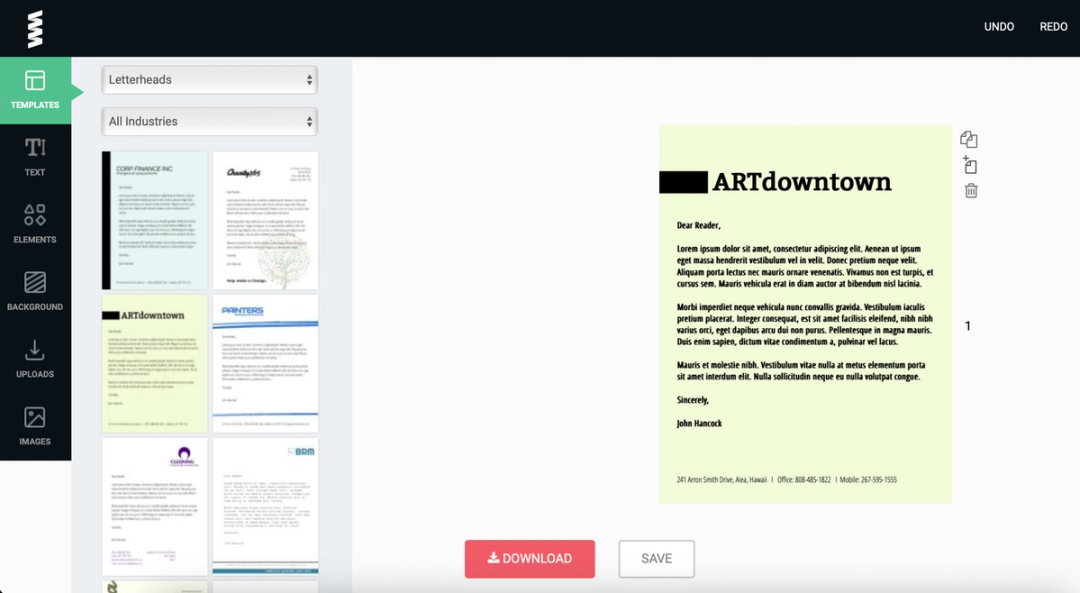 GraphicSprings is a branding service for companies that require logos on various products and documents. It offers a simple design tool with a few creative letterhead templates. The no-frills tool and the letterheads you create on it are free of cost.
Best features:
Minimal and easy-to-navigate design tool
Icons can be resized freely and don't experience pixelization
Compatible with all modern browsers
Pros:
It has plenty of unique fonts.
Customers can hire a team of designers for personalized projects.
Letterheads are downloadable as PDFs, JPGs, or PNGs without restrictions on quality.
Cons:
It has a limited number of creative letterhead templates.
Customers who just want a letterhead cannot get it without a watermark.
The app is online only.
The FAQs section has limited information on letterheads.
Pricing:
Free of cost, but requires written attribution.


Designhill is a marketplace for everything graphic design. Customers can hire professionals registered on the platform or start design contests and pick the winner. Additionally, its little-known design tool can come in handy for people who want to create letterheads by themselves.
Best features:
The app has a large collection of colorful icons
A vast network of professionals for hire for customers who cannot design by themselves
Free design consultation for customers
Pros:
The letterheads you design by yourself are free.
The application has an easy learning curve.
They offer a 100% money-back guarantee for unsatisfied customers.
Cons:
You cannot upload your logo or any external image on the app.
The app does not provide any free letterhead templates.
The app's design is outdated.
Pricing:
Self-Designed Letterhead – Free
Design Contest – Starts at $149 for one letterhead
One-to-One Design Projects – Customers set their own price; Designhill takes a 5% commission.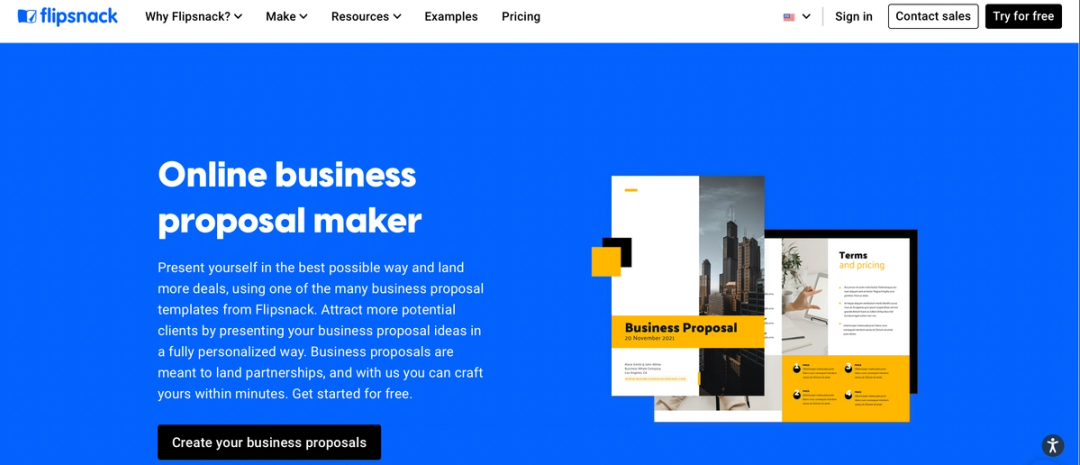 Flipsnack is an online design app specializing in digital flipbooks and marketing materials. This is why it does not have any pre-made creative letterhead templates. However, its design tool can be good if your company makes other brand documents.
Best features:
Free how-to videos and classes that teach customers how to use the application
Regularly updated blog with the latest design trends
Option to add videos, links, product tags, and more to your letterheads
Pros:
Custom colors and logos can be uploaded for all your branded materials.
It provides a collection of beautiful stock photos.
The app has a spotlight tool that puts focus on important information.
Cons:
No free plan is available – just a 14-day trial.
The paid plans are expensive compared to competitors.
Most of its paid features are suited to creating flipbooks rather than letterheads.
Pricing:
Free plan – 14-day trial.
Starter – $32 every month.
Professional – $48 every month.
Business – $99 every month.

Simplified has branded itself as an all-in-one app for marketing teams. It has tools for designing, writing, editing videos, and more. Simplified's giant library of creative letterhead templates and other assets can be an advantage or overwhelming if all you want to do is create a letterhead.
Best features:
Designs can be saved as reusable templates for team members
App updates and showcases designs based on trending topics
One-click AI tools for background removal, resizing, and more
Pros:
It can streamline multiple processes in one place if you design, edit videos, and require an AI writer.
It offers week-long trials for its paid plans.
It can get AI to generate free letterhead designs for inspiration.
Cons:
Signing up takes time, and customers have to select a plan before they see what the design tool looks like.
It needs a fast internet connection and the latest browsers to run optimally.
It is overwhelming to navigate the software.
Pricing:
Free plan.
Pro plan – $9 every month.
Business plan – $15 every month.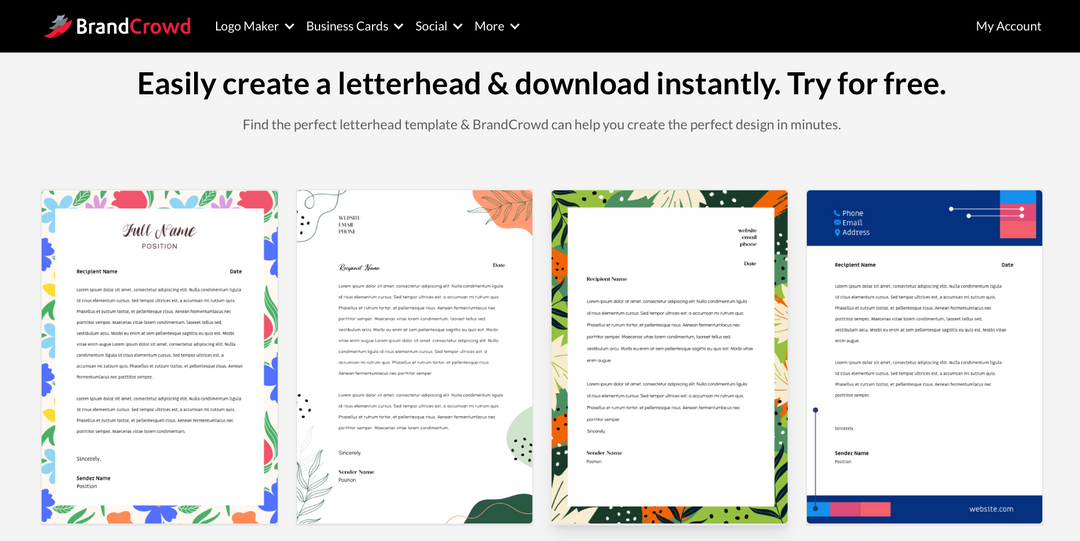 BrandCrowd is primarily a logo generator and marketplace but also provides creative letterhead templates and designs for other branded documents. It has a unique subscription plan – with just one tier that includes all its features. While users can design for free, they need to pay to download the letterheads.
Best features:
Grid and ruler on the app for precise designing
Can upload videos into digital letterheads for added interactivity
Saves every version of your brand's logo for accessibility
Pros:
It has a large collection of modern and vibrant designs.
The app has a modern and clean UI.
Premium plan members get 100,000+ templates for various branded documents.
Cons:
The effects take a long time to apply to the designs.
People cannot download the letterheads without signing in first.
There is no option to download a letterhead – even a watermarked version – for free.
Pricing:
Pro plan – $9 every month.


Fotor started as an online photo-editing software in 2012 and eventually expanded into a design suite. The former takes the spotlight, and the design tools can still be updated with additional features. It also includes AI that can be used for various designing tasks.
Best features:
Image upscaling that increases image resolution to prevent pixelization
AI generator for images, icons, and other graphics
Downloadable PC and smartphone apps for easy access
Pros:
It automatically lets you remove a color from an image, making it easy to implement and fix brand color changes.
The application has a built-in feedback form to improve user experience.
The web app provides layers, making it easier to create and edit letterhead templates.
Cons:
The website opens links on new browser tabs, which makes navigation messy.
Only Pro members can download high-resolution PDF files.
Free members cannot resize the canvas.
Pricing:
Fotor Basic – Free
Fotor Pro – $8.99 every month.
Fotor Pro+ – $19.99 every month.
How do you know if you've chosen a professional letterhead design?
There are no rights and wrongs when it comes to designing brand documents. Yes, that also stands true for using the Comic Sans font – if it matches your brand's voice. When in doubt, check with your colleagues and teammates.
Will modern letterhead templates work better than simple letterhead templates?
Modern and simple letterhead templates can go hand-in-hand. You can shortlist a few thanks to free designs on the internet. You can always start with a minimalistic design and add elements based on your brand's voice.
Let's take a look at the breakdown of the entries: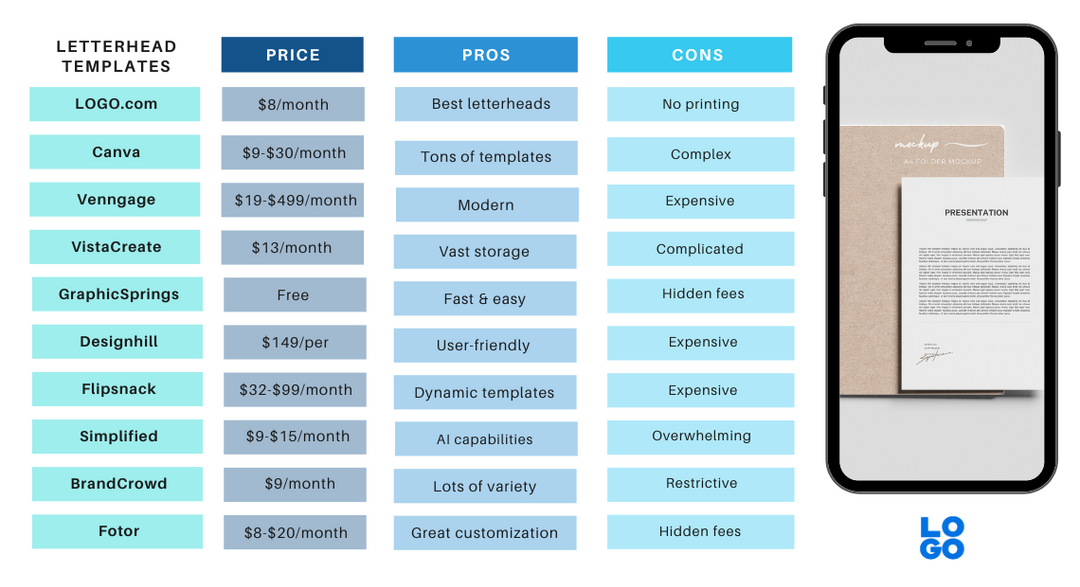 Remember: no matter how modern a design is, it can turn quickly overwhelming if you add too much information.
How do I choose the best creative letterhead templates online?
When shortlisting templates, ask yourself the following questions:
Is this template editable?
Does it work with my current software or does its design suite fit mu budget?
Will I be able to fit all my information into this template?
What kind of letterheads do my competitors use, and how can my brand be different?
Make a checklist with even more questions, if needed, and choose creative letterhead templates that check all the boxes.