A letterhead shows professionalism and credibility to your customers. Creating one doesn't have to be (and isn't) rocket science thanks to the modern letterhead templates available online.
Editing brand documents has never been easier; whether you're a small team or a rockstar solopreneur, you can get started with a good-looking letterhead today.
How will corporate letterhead templates help a brand?
A letterhead will circulate your logo design, company information, and more to valuable customers and tem members. This is crucial for businesses of all shapes and sizes, especially for a new brand looking to get its name out there.
A corporate letterhead is a good starting point – designers can use it as it is or customize it to suit their brands.
Should you use free letterhead templates for your business?
Yes! There are plenty of quality free letterhead templates available online. Also, you don't have to worry about these templates being generic. Many of them can be edited and customized to your brand needs. These templates are cost-effective if you're a small business that cannot afford to hire designers just yet.
The 10 best corporate letterhead templates for professional branding
There are a lot of creative letterhead templates on the internet for companies to use and modify. Choosing from the multitude of options can become overwhelming. Here are the ten best you can start with.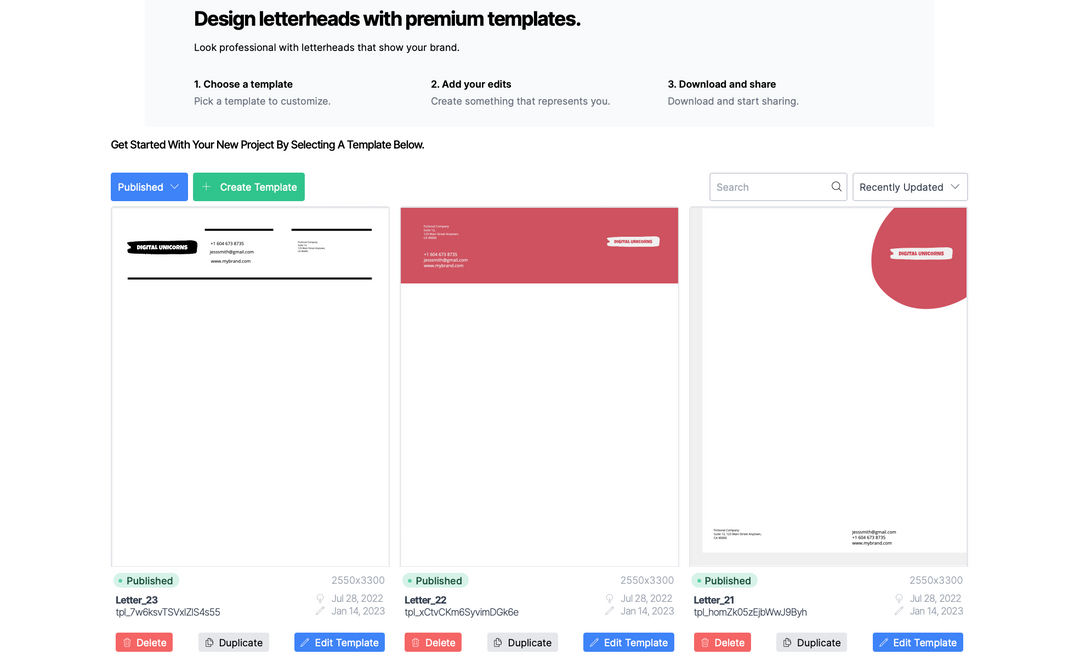 Let's get something straight: internal company communications don't need to be on plain white letterhead. LOGO.com has letterheads that are both entertaining and welcoming. You can choose from a variety of pre-made designs that have already been customized with your logo and business colors.
Best features:
Automatically has your free logo and brand colors strategically designed to promote professionalism
Fully customizable and available in several image file types, depending on your needs
24/7 customer support for quick branding tips and guidance with your designs
Over 20+ professional and stunning templates that are being updated regularly
Pros:
Cons:
The customization process may be a little slow.
Pricing: LOGO.com's letterheads are a part of the Brand Plan, which only costs $8 every month. The tool is 100% satisfaction guaranteed.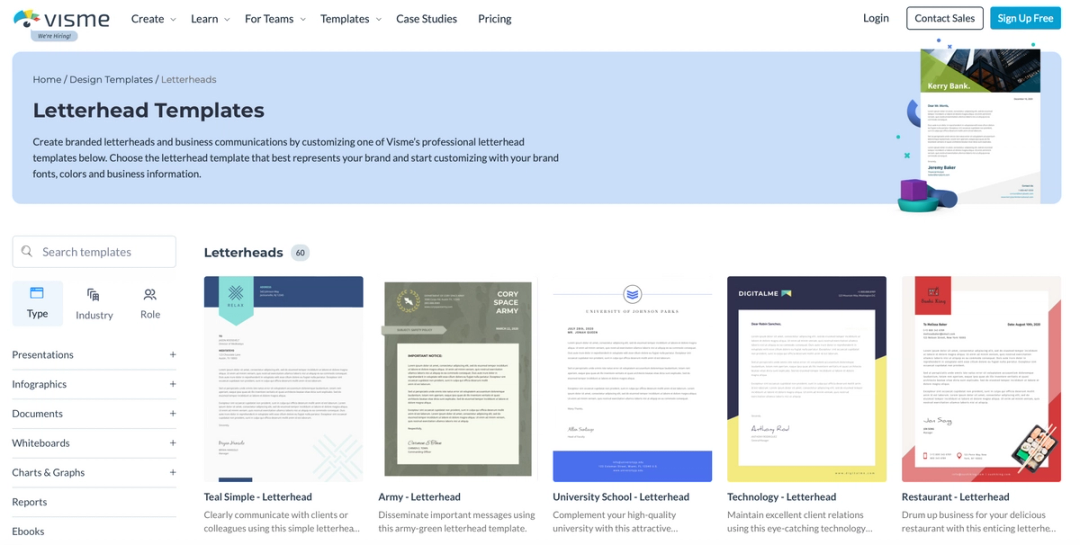 Visme's collaboration tools can be useful for design teams that work live. It has many modern corporate letterhead templates and an easy-to-learn editing tool. It can be a good option if you can overlook its high price point.
Best features:
Ability to assign certain people to specific tasks
Case studies for businesses looking to replicate success strategies
Responsive drag-and-drop editor
Pros:
It has 60 sleek corporate letterhead templates.
It has a chat feature with a tagging option.
It provides free educational ebooks about design and marketing.
Cons:
Essential collaboration features are reserved only for premium users.
All letterheads created with the free plan are watermarked.
Its monthly paid plans are expensive which can create a problem for people who just want to try the premium plans out.
Pricing:
Free plan.
Starter plan – $29 every month.
Pro plan – $59 every month.
Visme for teams – contact Visme for a quotation.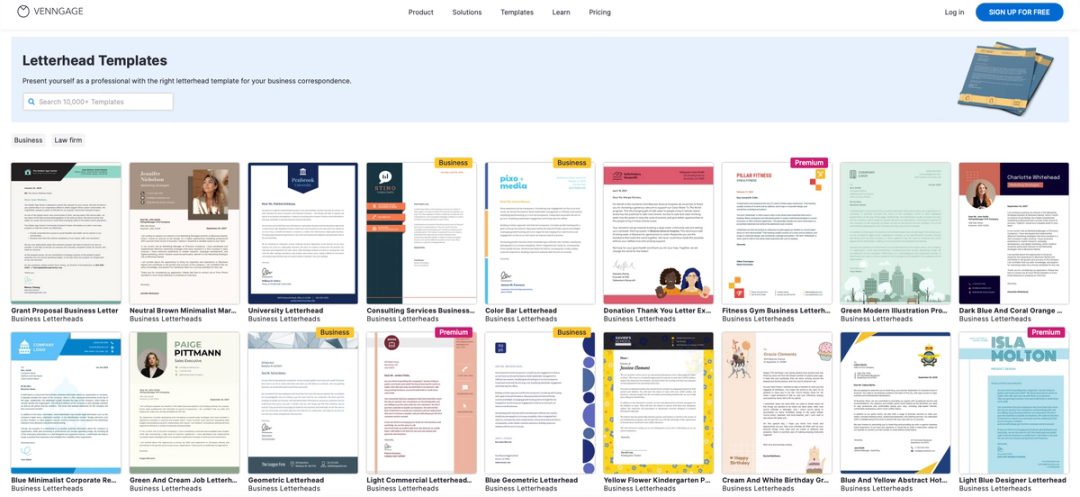 Venngage is an excellent infographic designing tool and can also be used to create letterheads. As such, it only has a few corporate letterhead templates. But it more than makes up for it with its in-depth editing software and dedicated support team to guide newcomers.
Best features:
24/5 online chat-based support
Large library of free editable icons
Responsive AI that auto-generates slides and design layouts
Pros:
It has real-time collaboration tools for live work.
The website has an inspiration gallery that gets regularly updated
Designers can auto-apply brand colors to any template.
Cons:
Only 'Business' plan customers get access to collaboration features.
It has a few dedicated templates for letterheads.
The recently revamped web app will seem jarring to those who have worked with its classic editor.
Pricing:
Free plan.
Premium plan – $19 every month.
Business plan – $49 every month.
Enterprise plan – Starts at $499 every month.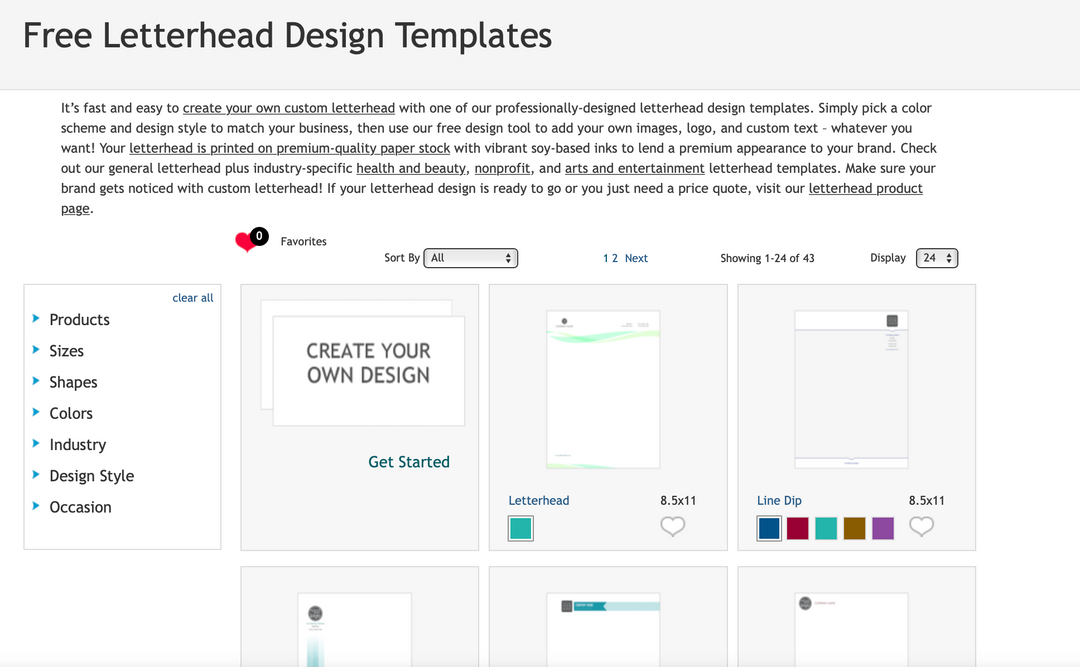 PsPrint's printing service can be useful for companies who want physical letterheads. It has a simple web application that takes no time to get used to. Customers who don't like their designs can upload their own and use their quality printing services.
Best features:
A dedicated design team for those who need custom business letterhead templates
Over 40 corporate letterhead templates to choose from
Vibrant and good-looking prints
Pros:
Customers can try out a free sample kit of their prints before committing.
You can edit and download a digital letterhead for free.
Customers not 100% satisfied with their prints can get free reprints or refunds.
Cons:
The corporate letterhead templates are outdated.
The digital letterheads can only be downloaded with a watermark.
They have a small collection of icons, shapes, and filters.
Pricing:
Free, but only with a watermarked PDF.
Starts at $25.64 for 25 physical letterheads, produced in 5 days.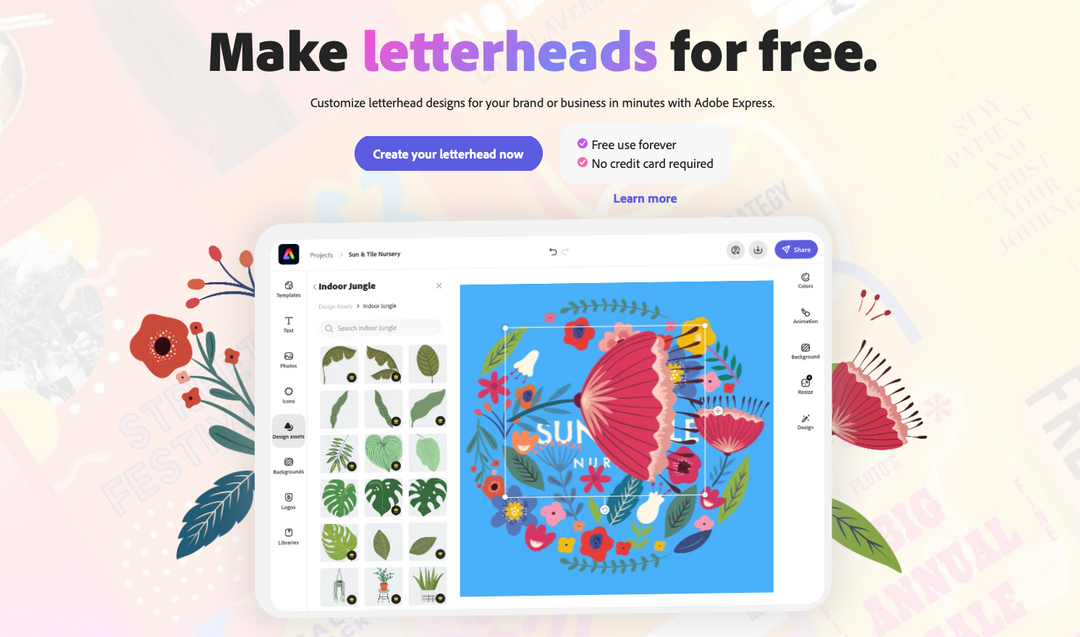 Unlike many of Adobe's offerings, Express is not targeted toward professional designers. It is a capable smartphone and web browser-based tool for those who need beautiful designs on the go. It may not be as powerful as Photoshop or Illustrator but can be useful for non-designers looking to create letterheads.
Best features:
A smartphone app that syncs with the browser tool
Chat-based Support from Adobe's experts
A variety of templates and design assets to choose from
Pros:
Its text-to-AI image generator speeds up the timeline to create your letterhead.
It has a thriving community that can offer design inspiration.
It can create a seamless workflow for those already on Creative Cloud.
Cons:
Not cost-effective for teams as the price multiplies linearly.
Only paid members can upload and edit their company logos.
Creating a letterhead without a template is cumbersome on Express.
Pricing:
Free plan – not viable for business letterhead templates as you cannot upload your company logo.
Premium plan – $99.99 per year.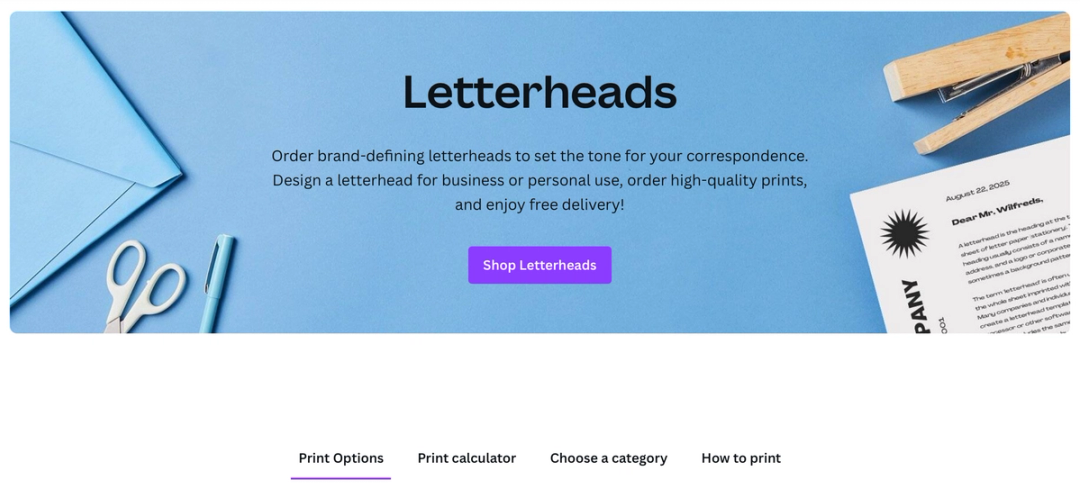 Canva's popularity is a double-edged sword – it has created communities of those who swear by it and those who can't help but ridicule it. It has regularly updated templates for almost every type of document. Navigating its large library is time-consuming, but is rewarding if you find the right template.
Best features:
Plenty of templates to choose from
Can export in a variety of formats
Offers a QR code creator for digital letterheads
Pros:
There are plenty of online tutorials on how to use it.
It can connect with and auto-upload from Google Drive, Dropbox, and Box.
You can implement elements of your past projects into a design with a few clicks.
Cons:
Its features can be overkill for people who just want simple brand guidelines.
Choosing from 4991 corporate letterhead templates can be paralyzing.
Only paid members can use its best editing features, fonts, shapes, and graphic assets.
Pricing:
Pro – $9.99 per month if billed yearly.
Enterprise – $30 per user per month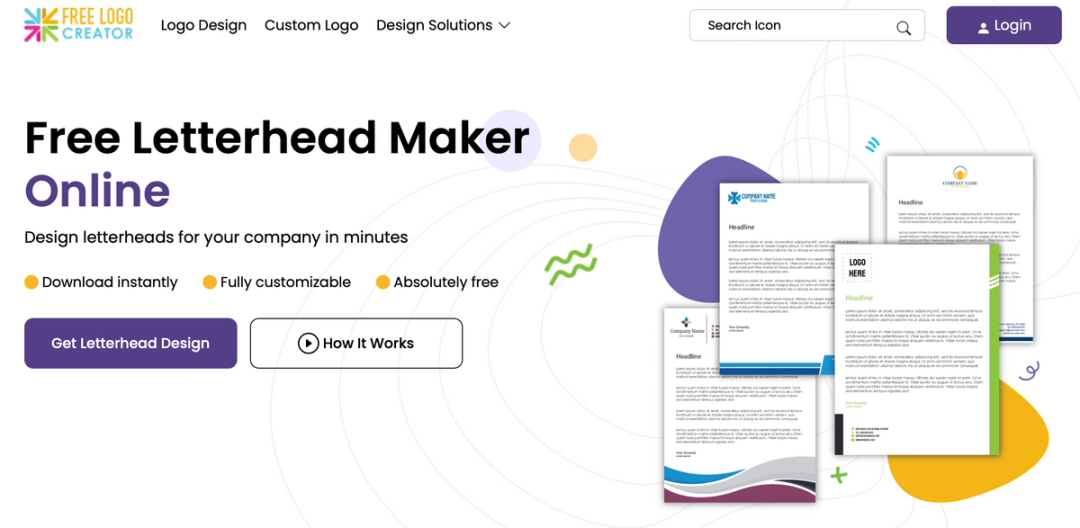 While FreeLogoCreator specializes in generating logos, it also has options to design letterheads. The application is simple and easy to learn. However, the high price per letterhead may detract those looking to make minor changes to their letterheads for every team member.
Best features:
A large library of simple letterhead templates
Drag-and-drop editor
A beautiful collection of stock images to choose from
Pros:
It has a large library of simple letterhead templates.
It is compatible with every modern browser.
Designers can download low-resolution letterhead templates for free.
Cons:
The templates have a non-serious clip-art look to them.
The web application takes a long time to load and run.
It does not let you download open, editable files.
The cost to download a high-resolution letterhead is high.
Pricing:
Low Res Download – Free
High Res Download – $37 per letterhead

Fotor's filters and editing tools are apt for photo editors. Its design features may feel scant compared to its photo editing ones but are easy to learn and use. Those new to Fotor can take advantage of its AI to get the job done quickly.
Best features:
Has AI for a variety of features like background removal and image generation
A library of professional fonts
Layers for detailed editing
Pros:
Designers can use the software on their browsers or download it as an app.
It has sleek modern letterhead templates.
High-resolution PNG and JPG files are free to download.
Cons:
Those on the free plan see ads when designing.
Only paid members can resize the dimensions of their canvas.
It needs a constant fast internet connection to work smoothly.
Pricing:
Fotor Basic – Free
Fotor Pro – $8.99 every month.
Fotor Pro+ – $19.99 every month.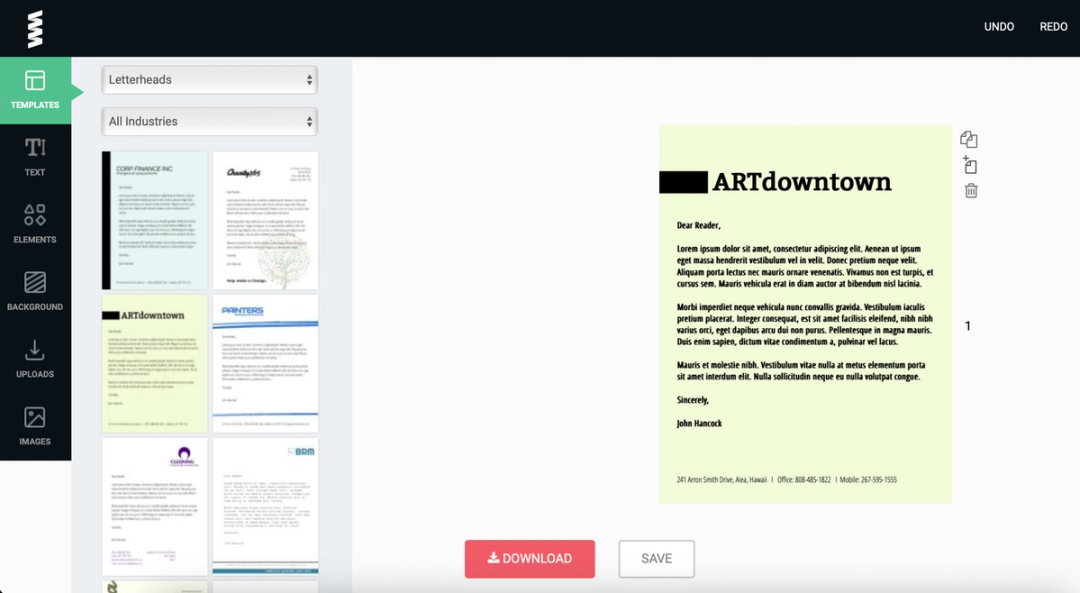 Small teams can use GraphicSprings's web application to design simple letterheads with no frills. The web app can be easy to learn but may be too limiting to people who want their letterheads to stand out. However, those who want unique designs can contact their dedicated support or hire their in-house team.
Best features:
A committed support team
Multiple brand document templates for those looking beyond letterheads
Team of in-house professionals for customers who don't want to design on their own
Pros:
It lets you download resizable vector files.
The app runs smoothly on all browsers.
The app has a modern UI that is pleasant to the eyes.
Cons:
There is no option to pay for just a letterhead, and it is mandatory to credit GraphicSprings for the free export.
It has limited editing features, making it difficult to create unique letterheads.
Some of the graphic assets, photos, and elements look outdated.
Their in-house team only works on logos, according to the website.
Pricing:
Free of cost, but requires written attribution.

VistaCreate is a design software from the team behind the popular Vistaprint. Those already on the latter can instantly get started on VistaCreate. However, navigating it can take a learning curve.
Best features:
Lots of templates and fonts to choose from
Ability to create multiple brand kits that designers can easily add to new designs
Option to work with print-ready templates and dimensions
Pros:
The free plan comes with 10GB of storage.
Pro users get access to over 70 million photos, vectors, and more.
It works on PCs and smartphones.
Cons:
The application runs slowly on some browsers.
The UI feels clunky and overwhelming.
Only paid members can create and work with teams.
Pricing:
Starter plan – Free
Pro plan – $13 every month.
How do you choose creative letterhead templates?
Pick a design that best suits your brand. Everything else takes a backseat.
Once you've shortlisted designs based on your company's needs, you can further narrow the list with creative letterhead templates that look the best.
Is it better to work with simple letterhead templates or professional letterhead designs?
There's no reason why a template can't fulfill both of those criteria. Choosing one that is the best of both worlds is possible with so many free options on the internet. The advantage of starting with simple letterhead templates is that you can customize them to best fit your brand.
How do I choose the best corporate letterhead templates online?
Choice paralysis is a real problem, especially when many quality corporate letterhead templates are a few clicks away. 'Best' is a subjective concept. Instead, you should ask yourselves this:
Can I afford this template or design software?
How much of the letterhead creation process can be automated?
Are these designs good for my brand?
How will my peers react to these designs?
Answering these questions will help with decision-making. Keep in mind that all brand documents can be improved over time. Stick to a design, circulate it, and see how people react.