The debate of having a one page site vs multi page site is never-ending. Both types come with their advantages and disadvantages. Depending on your business type, you may find more value in one than the other. Several resources offer both kinds at low rates, and in some cases, even for free.
One page site vs multi page site: Which one to choose?
A single page site is great if you focus on something specific and target mobile platforms. In contrast, a multi page site can offer a rich and informative browsing experience to visitors who want to learn more about your brand. Decide on the objective of your website and pick which of the two you would settle for.
How does one page site SEO work?
One page websites have the advantage of all links directing users to the main site, but they need strong keyword ranking opportunities. This is offset by advanced SEO strategies such as siloing, which is the organization of content on a website such that specific topics point to a focused subject.
These 9 brands offer the best one page sites and multi page sites to choose from
Choosing a one page site vs multi page site is more strategic. Thankfully, some websites offer the best of both worlds. You can skim through several templates for each type of website and make a choice depending on the objective you aim to achieve.
Here are nine brands that offer one page templates and multi page options for you to choose from.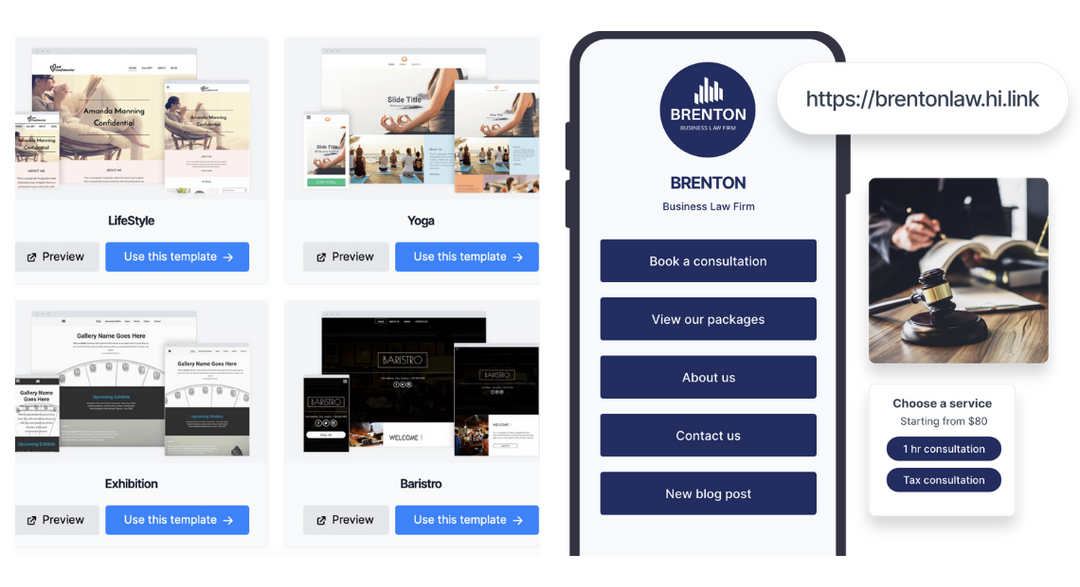 When it comes to making an immediate and everlasting impression, LOGO.com is your best bet for both one page sites vs multi page sites. Their websites are simple to build and take a few minutes to complete. Due to the intuitive nature of the tool, you can quickly and easily release your website after making the necessary adjustments to the provided template.
Best features:
Set-up in under 10 minutes
Diverse with features and options
Free logo automatically placed
24/7 customer support for guidance
Pros:
You don't need any design or technical experience to get started.
The most affordable option for professional websites.
You are in total control of your design preferences.
Cons:
You only work with one core template for the one page site.
There are limited color combinations.
Pricing: LOGO.com offers a free plan which includes your One Page Site with a watermark (removed on the paid plan), along with a free logo and brand board. The Brand plan costs $8 per month, billed annually. A basic multi-page site costs $20/month.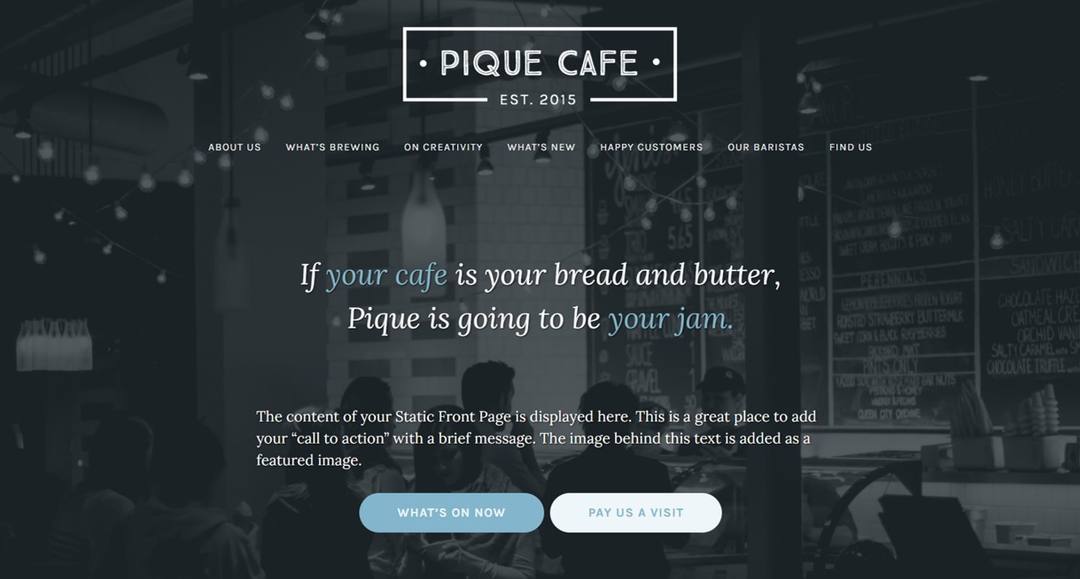 WordPress is among the most popular tools for one page site inspiration. It has several themes to choose from. If you are building a campaign that involves a one page website and a multi page site, you can ensure design consistency by picking both from WordPress.
Best features:
Thousands of themes to pick from
Several plug-ins and features that support a wide variety of styles
Open-source software that you can use, study, and customize
Pros:
WordPress is known for its CMS, which is user-friendly and flexible to fit your requirements.
It is easier to set up and maintain the SEO of your site in WordPress.
These are highly responsive sites that look great on mobiles and desktops.
Cons:
Some WordPress themes contain heavy code, which results in slow load speed.
Open-source platforms are vulnerable to threats from hackers.
WordPress continuously releases updates on some themes, which are hard to keep track of and install regularly.
Pricing:
$0 for a Free version.
$160/month for Personal.
$280/month for Premium.
$640/month for Business.
$1,152/month for Commerce.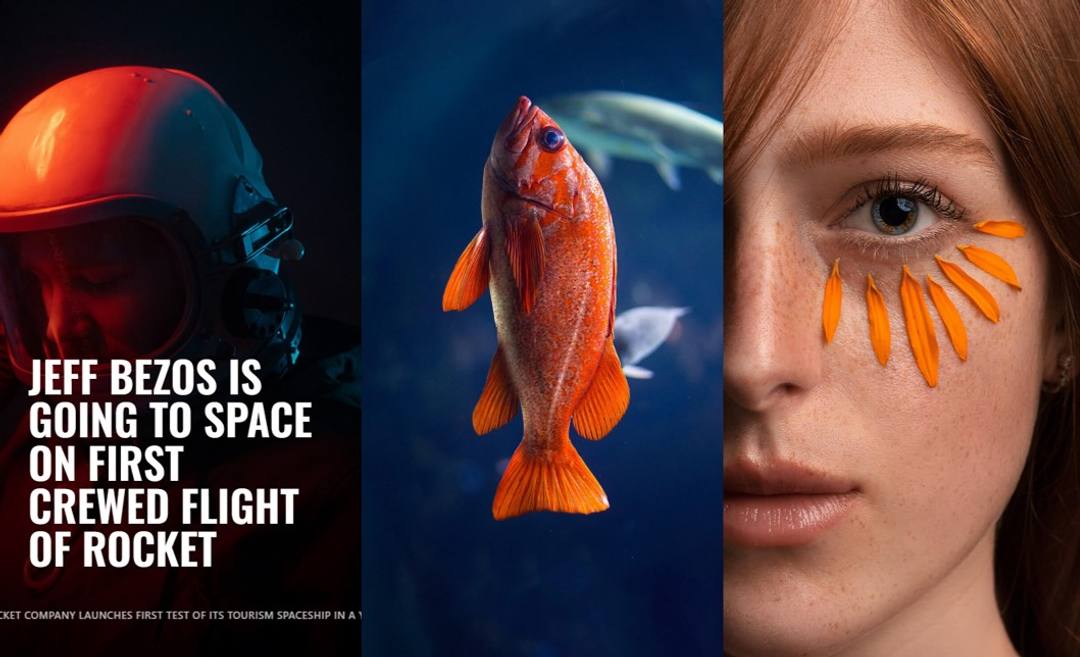 The Webflow community is active and thriving. The members continuously create new templates that are contemporary and multi-themed, which can be used easily. The website categorizes websites based on formats and styles, from animations to interactive, one-page to CMS-driven.
Best features:
Extensive catalog of one page websites
Capture all your information, connect your CMS systems, and work in an integrated flow
Great for one page SEO
Pros:
HTML, Java, CSS, and JavaScript support.
Quicker time-to-go-live, which increases your productivity.
High-level customization that goes beyond regular templatized sites.
Cons:
Webflow does not offer a mobile app, so you depend on your desktop, even for minor edits.
The e-commerce functionality is still in the beta stage.
Payment is only through Stripe, which is available in only 26 countries.
Pricing:
Starter package is free.
Basic package costs $14/month.
Business costs $39/month.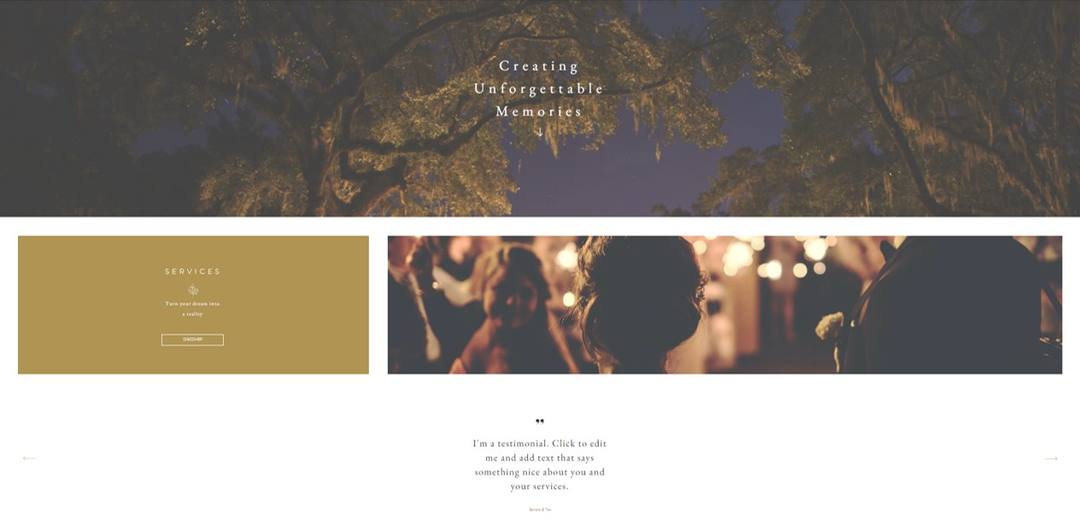 Wix has grown in popularity in recent times because of its large catalog of one page templates. It is popular among bloggers, freelancers, and small business owners. Their designs are contemporary and modern, with something for every business type.
Best features:
The smart and easy drag-and-drop editor
Advanced SEO features
Built-in brand marketing tools
Pros:
Wix means what it says; you do not need any web development knowledge to begin.
Over 200 app integrations are available.
Wix takes care of your marketing and SEO needs, as well.
Cons:
The site analytics are unavailable in the basic plans, and you may need another tool.
The e-commerce setup could be more convenient.
There are storage limits on all plans.
Pricing:
The VIP package costs $24/month.
The most popular Unlimited version for freelancers and entrepreneurs costs $12/month.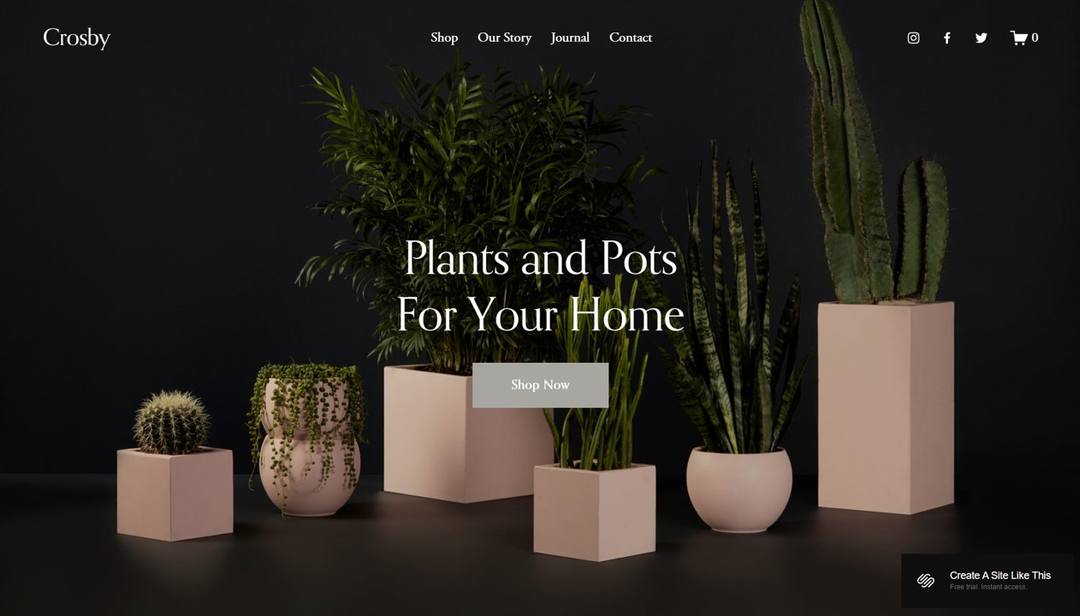 If you have something to sell online, Squarespace could be one of your top choices. Often compared to Wix, Squarespace websites are simple; they offer incredible support to help you grow your business with one page site inspiration for you.
Best features:
Well categorized library of website templates to choose from
Powerful e-commerce integration and support
Email campaigns that use the design themes of the website
Pros:
Cons:
Poor page load speeds have been reported.
It is great for smaller websites but does work well with more than one level of sub-navigation.
Autosaving is not as proactive as it is reactive.
Pricing:
Personal packages start at $16/month.
The Business package costs $23/month.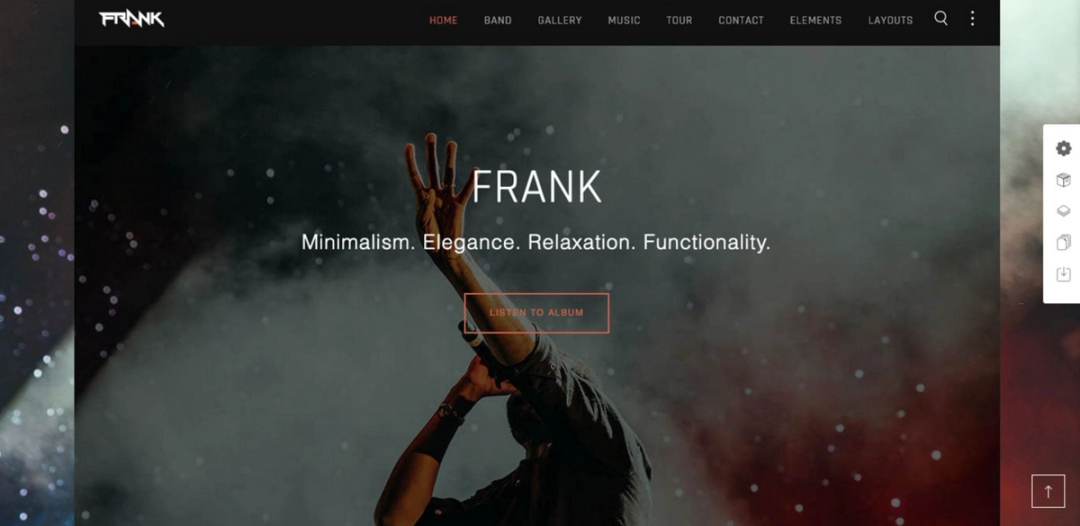 Weebly is a great tool if you are looking for a reliable, free-for-life tool to create professional one page sites vs multi page sites.
Best features:
Free SSL security offered
Good e-commerce support
Free forever plan
Pros:
No technical knowledge is required to create your stunning professional page.
The products are competitively priced.
It is easy to use for everyone.
Cons:
There are limited customization options on the templates.
You must learn to live with square ads unless you agree to pay for the Professional plan and above.
Cross-browser support issues have been reported.
Pricing:
You can choose the free version or upgrade to Personal at $10/month.
The Professional costs $12/month.
For more efficiency and control, the Performance version is ideal and costs $26.
Zyro combines great website design with a professional outlook to create effective sites. Hostinger recently acquired the company.
Best features:
Zyro has simplified drag-and-drop website designing
The website has AI tools
You get a 30-day moneyback guarantee
Pros:
It's a good choice for basic e-commerce sites.
You can sell products with different sites like Amazon and Facebook via your Zyro site.
Enable SEO optimization with simple tools.
Cons:
It has a limited catalog of website templates.
The elements that can be added are limited.
Your template cannot be changed once it is updated.
Pricing:
$2.59/month for simple websites.
$3.59/month for e-commerce sites.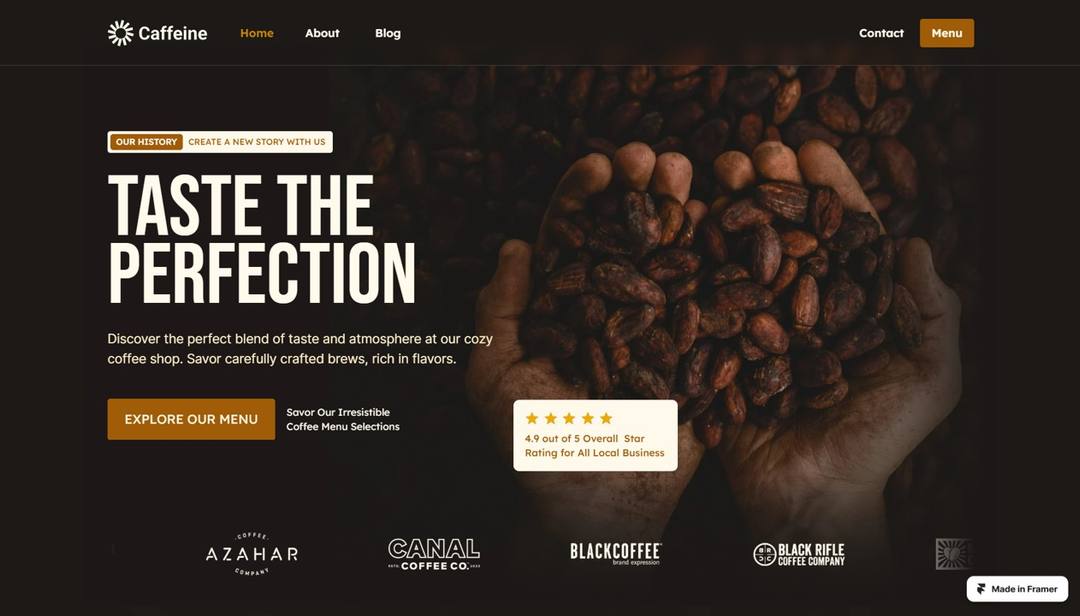 If you have basic designer experience and want to create a website, then Framer could be an ideal option. It's fantastic for product features and portfolio content. Here, you will be able to deliberate between creating a one page site vs multi page site, thanks to several options offered.
Best features:
Great for designers who are familiar with Figma
Support for CMS
Allows custom domains at a nominal fee
Pros:
Free positioning feature, where you are not restricted to fixed boxes within templates.
Buttons and other elements can be animated to look more spectacular.
Several tutorials and walkthrough videos are included.
Cons:
Not all designer elements can be copied from Figma to Framer.
The CMS could be more robust.
Some limitations on functionalities and customizations have been observed.
Pricing:
There is a Free version available.
$15 for the Basic version.
$25 for the Pro version.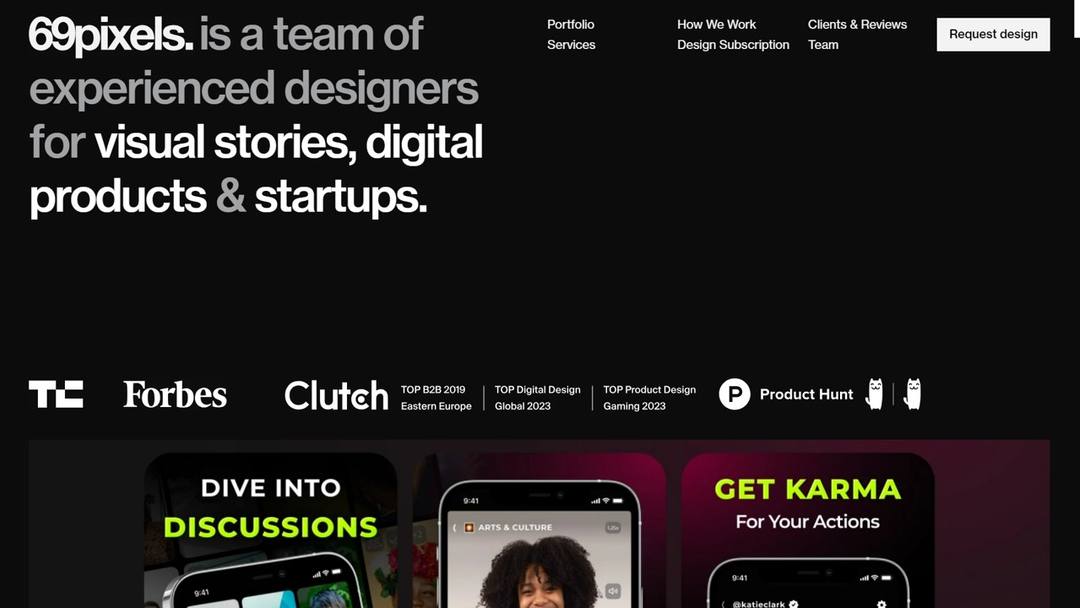 Readymag is known for its vivid, modern, pop-art-like website designs. Serious businesses may need help finding templates that suit them here. It is great for portfolios, casual businesses, design studios, and advertising agencies.
Best features:
Highly interactive websites
Several plugins, widgets, and forms can be added
Improved workflow solution
Pros:
Analytics tracking codes are supported to analyze customer journeys.
You can invite co-creators to work on the project with you simultaneously.
Custom cursors, slideshows, shadows, and more are available.
Cons:
The learning curve could be steep for some users.
Few to no designs for formal brands.
Some overcomplicated templates may not resonate with senior audiences.
Pricing:
Readymag offers a Free version.
$36/month for the Studio version.
$58.5/month for the Business version.
Summing up your options:
Here is a brief overview of your possibilities for your new one page website. Keep in mind that pricing and quality are crucial factors in your decision because you don't want to spend too much time and money starting your new site.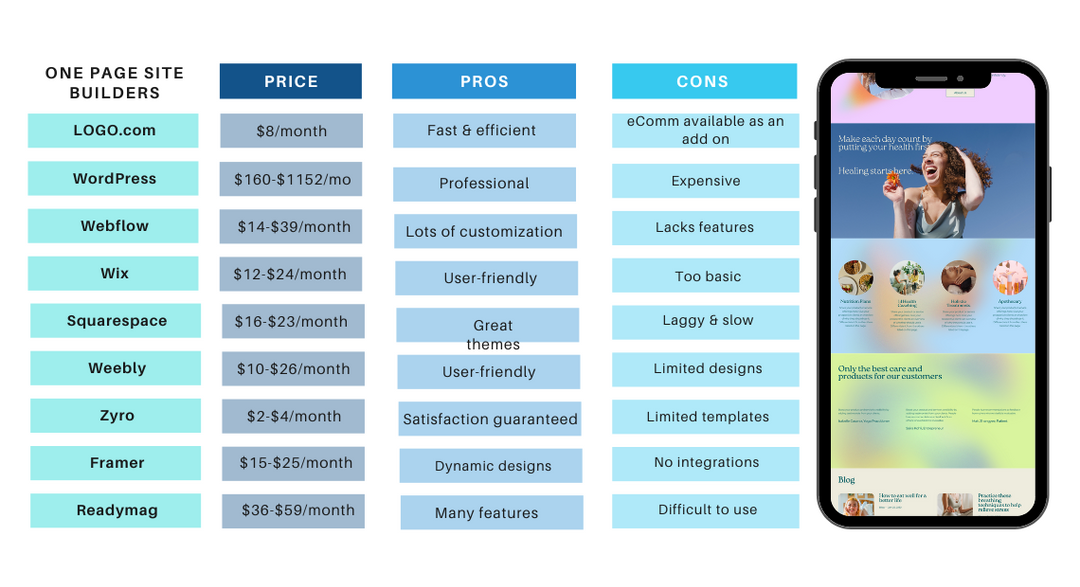 There is no perfect one page site (although LOGO.com comes close), so spend your time exploring your options to find the one that best suits the needs of your business.
How does a one page site vs multi page site differ in results?
When you think about one page site vs multi page site, keep your business and marketing objectives in mind. A one page site will drive more immediate results like visits and engagements or lead capture.
How do you choose the right website for your business?
Acknowledge the type of business you are in and fix a solution that could match the sensibilities and preferences of your customers. Use a multi page site if you are creating an elaborate website with more company information and details.