Wix Vs Squarespace - these are two of the biggest names in the world of website building. And it's not even remotely close.

Together, they make up 55% of websites built with a website builder in the entire digital space. Suffice to say, they get the job done and they do it well.

But how are you going to know which of the two would be best suited for your business and its needs? Well, in this article, you'll find out!

Wix Vs Squarespace: What's The Difference?

Before diving into Wix Vs Squarespace, you need to understand what they are and what they can do for you individually.

Wix is a user-friendly website builder that offers highly customizable, modern templates. Squarespace is not as simple to use, but it does hold the torch in terms of structure.

The main advantages of Wix are its free plan and a vast number of additional integrations. But wait—Squarespace offers a better blogging tool for companies that prioritize content.

What a quagmire! How do you begin to choose?

Let's start with the glaring difference between Wix Vs Squarespace: the page editor.

Wix has an unstructured editor where you can basically drag elements anywhere on a page. This is great for businesses looking for more flexibility with their website, and it gives them total control over its elements.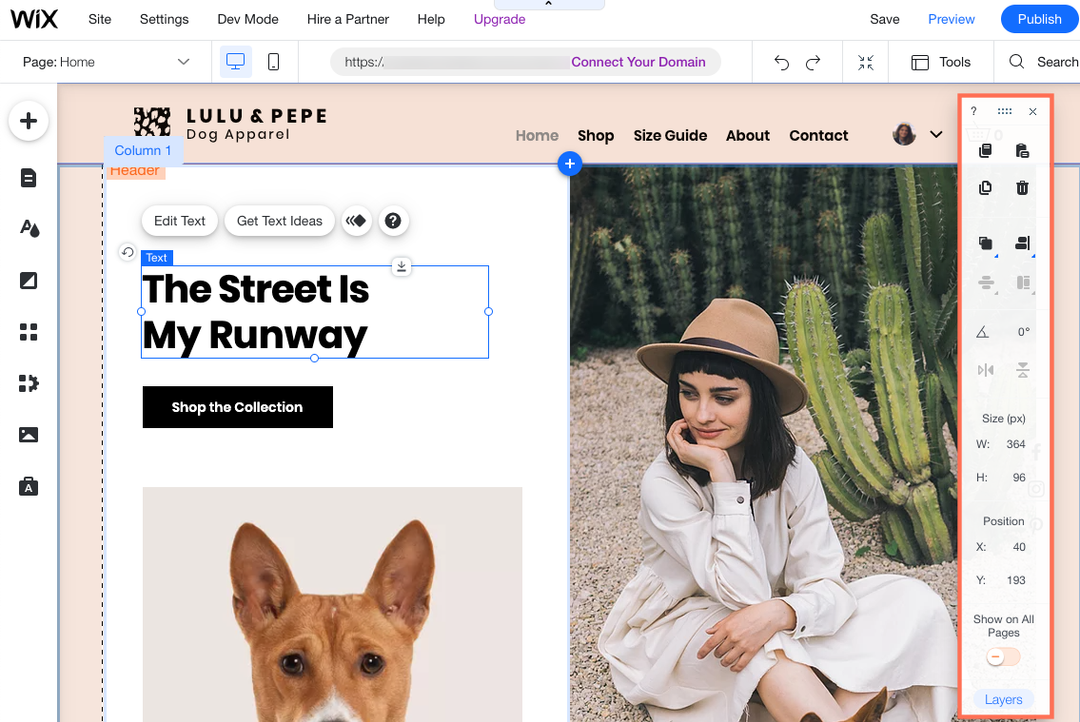 Whereas Squarespace has a structured editor where you are limited to snapping elements into columns and rows. Though this gives you less editing freedom, it does give your page more stability and symmetry.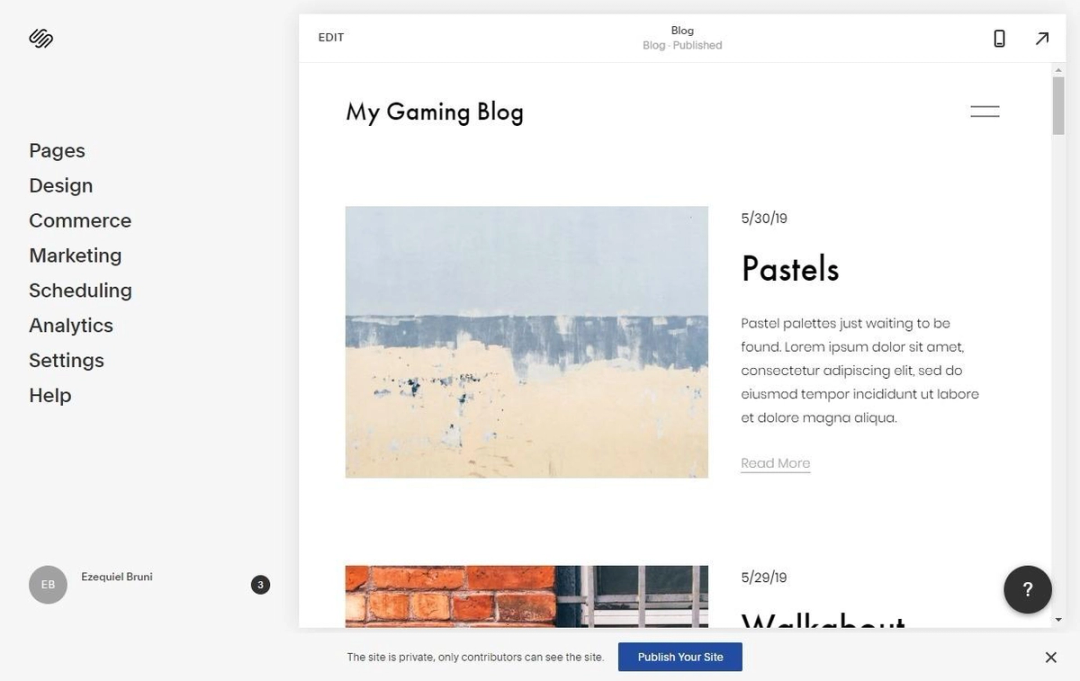 One thing businesses look for when shopping for a website builder is the number of features they can use at their disposal, such as forms, photo galleries, maps, audio players, and so much more. Both Wix and Squarespace have these features covered, with a slight point going to Wix for a larger list of services.

Let's put it this way: Wix has more templates than Squarespace, but Squarespace has higher quality templates. In fact, Squarespace is renowned for its amazing templates.

How amazing? Check out this preview of how to choose a template on Squarespace, where you'll see a bunch of examples bound to wow you:
But let's say that awesome templates aren't a big priority for your business. What if you want more variety and features for your brand? If that's the case, you may want to fall back on Wix.

At the end of the day, the answer to Wix Vs Squarespace is all a matter of preference. What does your business prioritize? What does it depend on to thrive?

Both Wix and Squarespace are great website builders, but let's break them down into different factions to determine which would be better for your business needs.

Commence The Contest: Wix Vs Squarespace

Is there a clear winner between Wix Vs Squarespace? Let's find out!

This list is a round-up of some of the most important points of consideration when choosing a website builder. Hopefully, it will make your choice a little easier.

Round 1: Which One Is The Most Beginner-Friendly?

Both platforms have a drag-and-drop function, which is generally easy to use for website building purposes. But in terms of which is more user-friendly for beginners, Wix might be taking the cake on this one.

Wix's drag-and-drop approach works wonders, allowing you to click and move any element you want for any modifications, and the rest is history. Its user experience is highly visual and straightforward, making it perfect for startup businesses that want more control over their site layout.

Wix also has a Site History function, which makes it really easy to recover elements should you decide to backtrack and make adjustments.

This can mean the world for startups that are still figuring out their content and style.

Squarespace also has much to offer with its editor, but it's not as simple to use. In fact, you'll find a large array of tutorials online on how to crack Squarespace's building system. Whether or not you have the time to bypass the learning curve, beginners need simplicity when building a website from scratch.
Squarespace allows you to drag and drop elements, but only on specific sections of the page. You're basically constrained by content blocks. This is reminiscent of WordPress's layout, wherein users only have so much control over the editor. Of course, this system does work for some people, but it isn't the most user-friendly for beginners.

Winner: Wix
‍Wix, for its free-form functions that intuitively make you at home from the start to the end of your website-building journey.

Round 2: Which One Is More Flexible For Adjustments?

Take a quick visit to Wix and you'll find a great range and variety of templates, almost a thousand of them listed in different categories for varying purposes. However, they come with some setbacks, namely:

The templates are not fully responsive. You have to tweak them manually to be compatible with mobile phones and tablets.
You can't use CSS or HTML codes in the editor.
You cannot change a template to a new one after building the website and putting it live. This is, by far, a huge hindrance. You can still move elements around and change fonts and colors, but other than that, you're pretty much locked in.

With Squarespace, it's a different, better story. There are about 100 templates to choose from, which is a big drop from Wix's 1000 templates, but here's the catch...

There are a bunch of perks, namely:

Mobile and tablet devices are fully responsive
It can be edited with HTML and CSS
It can be modified at a later time, even after putting your website live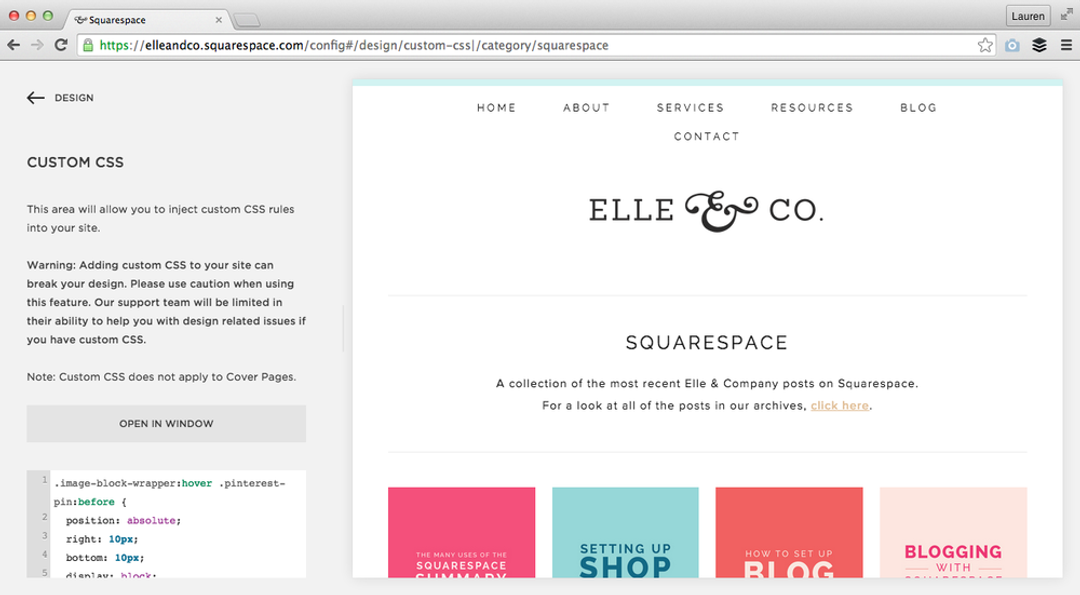 The last line only applies to Squarespace versions under the 7.1 version, but even then, you can change or overhaul the design whenever you need to without any headaches.

Winner: Squarespace
Squarespace, for meeting the fine balance between flexibility and structure. Quality beats quantity in this round!

Round 3: Which One Provides A Stronger Blog?

First things first, if we're talking about blogging capabilities, WordPress is undoubtedly the best platform out there. This part is all a matter of assessing how well Wix and Squarespace fare in comparison.

Wix has a number of useful blocks for its blog, such as tables, copies, and even different image files like GIFs. You can even include a song from Soundcloud!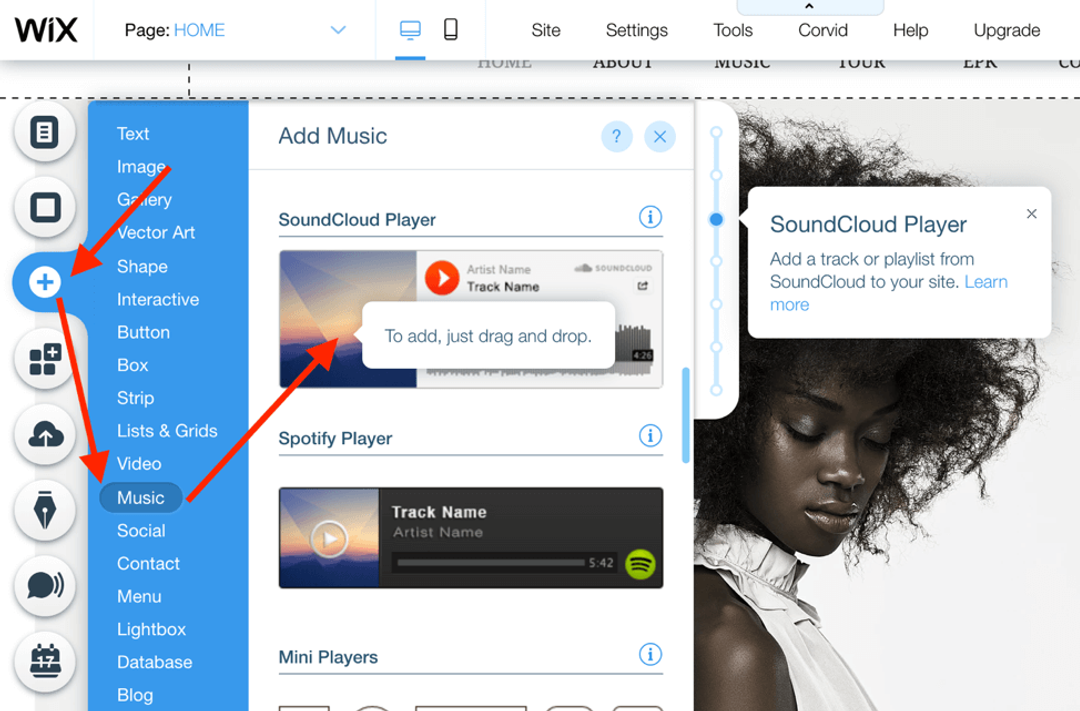 As thorough as it seems, Wix's blog lacks some other important features, like social media bars. You also won't find an undo option, which can be challenging when it comes to finalizing the content.

On the other hand, Squarespace is a close contender to WordPress. You pretty much get all the blogging features you'll need, plus post scheduling and so much more. Also, are you thinking of starting a podcast? If so, Squarespace can offer integrated hosting for your new podcast!

Aside from a strong blogging system, Squarespace allows you to add contact forms, maps, and newsletters (none of which you can find in Wix's blogging editor).

Yeah, this one is clear as day.

Winner: Squarespace
Squarespace, for pretty much making all your blogging dreams come true with such comprehensive features.

Round 4: Which One Is Better For An Online Store?

You want the best for your eCommerce store, and this means branding it well and choosing the perfect website builder to showcase its full potential.

To be honest, Wix isn't usually the first thing that comes up when people discuss eCommerce stores for their businesses, but it truly works well for small to medium-sized markets.

Squarespace also packs quite a punch as an eCommerce solution, with cool features you likely didn't expect from the platform.

Here's a quick look into what it would be like to start a Squarespace online store:

Both Wix and Squarespace have surprisingly good eCommerce features for you, but they're still different in various ways.

Wix and Squarespace let you accept online payments for products, services, and subscriptions. But Wix throws in a bunch of additional applications aimed at boosting and improving your cash flow, namely Wix Bookings, Wix Restaurants, and Wix Events. They make your life easier, and they make you look more credible.

For a preview, here's a sneak peek into Wix Restaurants and how it functions:

This is where it gets tough.

A Squarespace eCommerce store is highly professional. It's a feast for the eyes. The sleek templates put a powerful emphasis on your products.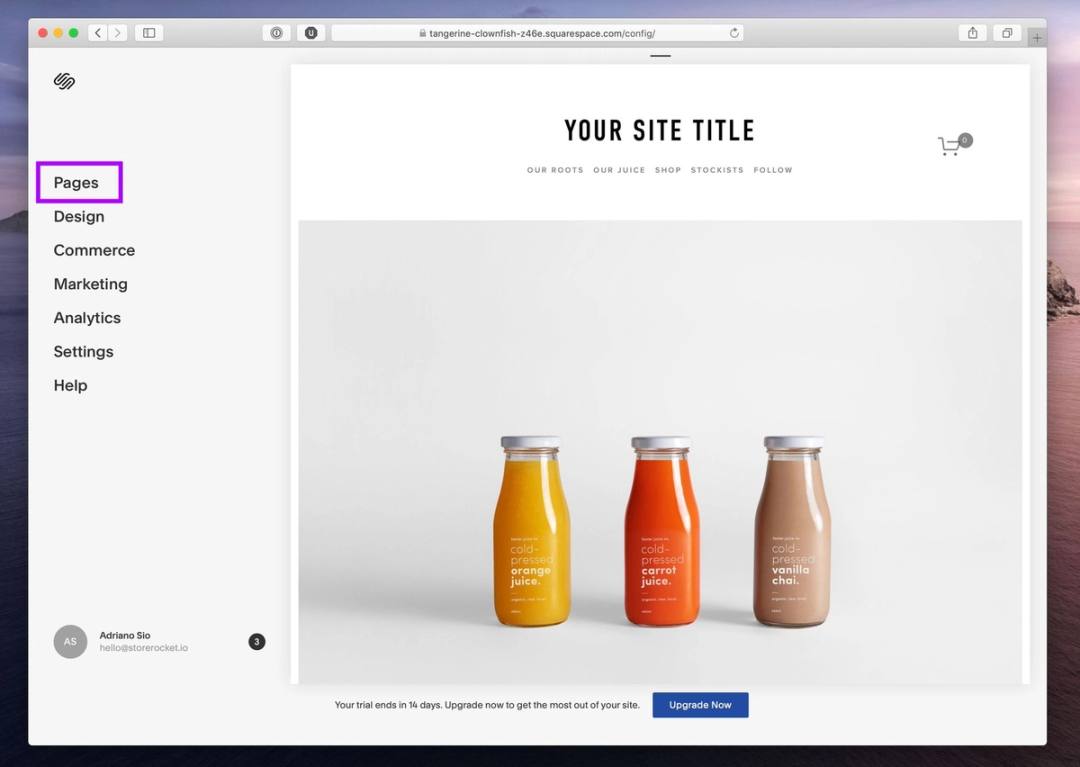 They're also incredibly easy to customize, so you can change the layout depending on how it best matches your brand and products.

(Remember, Wix is not the most flexible with customization and changes, and this can affect your online store in a number of ways.)

There's a slight learning curve, which is pretty typical with Squarespace, but the rewards make it totally worth it.

Winner: It's a tie!
Both are great for eCommerce stores. If you want more features for your store, choose Wix. If you want a more professional and sophisticated option, go with Squarespace. Either way, it'll be great!

Round 5: Which One Is More Cost-Efficient?

Now, we get to the main event: pricing comparisons.

If you're looking for a website builder, it means you're probably in the beginning stages of starting your business. And when you're at this stage, frugality is of the utmost importance.

Your website is important, but it shouldn't burn a hole in your wallet. Let's discover which of the two can give you the most value for your money.
Wix gives you the option to pay for your website monthly, bi-annually, or yearly. But get this: there is also a free plan that you can start right away to determine whether it works for you. You will be bombarded with ads, but hey, it's free, so why not?

If you decide to move forward with Wix, there are a couple of pricing tiers for both the website builder and the eCommerce store:

Website plans:
Combo - $14 a month
Unlimited - $18 a month
Pro - $23 a month
VIP - $39 a month

Ecommerce plans:

Business Basic - $23 a month
Business Unlimited - $27 a month
Business VIP - $49 a month

These numbers are based on the yearly pricing.

With Squarespace, the paid plans are a little more straightforward. There are only four options, which you can pay either monthly or yearly.

Personal - $12 a month
Business - $18 a month
Online Store Basic - $26 a month
Online Store Advanced - $40 a month

Unfortunately, there is no free plan, but you do get a 14-day free trial. Oh, and should you ever stop paying for your website, your Squarespace website will literally vanish from the web. So, Wix has the upper hand in this light.

As for their similarities, Wix and Squarespace both offer a free domain name for your first year if you purchase at least one yearly plan. So hooray for that!

Winner: Wix
Wix, thanks to their free plan and for being the more cost-efficient option. Oh, and the not disappearing from the web if you stop paying—that's a big one. You'll merely just keep the account in the free version, which is still safer than Squarespace's practice.

So far, we have Wix with three wins and Squarespace with three wins. It's a tie, folks!

And this leads you to the next point.

Wix Vs Squarespace: What Does Your Brand Prioritize?

Wix and Squarespace are great website builders. Choosing between the two is a matter of your business priorities, preferences, and brand identity.

Wix is a useful and versatile tool that gives you the freedom to let your website be whatever you want it to be at a fair price. Squarespace is a structured and sophisticated platform that impresses with fully-responsive templates and professional functions.

You have to think about what your business needs to achieve its version of success. Is it through content? Choose Squarespace. Is it through creative freedom? Choose Wix. Are you on a budget right now? You could stick with Wix for now, and transition to Squarespace if you want to. There are no rules!

Make the decision that feels right for your business, and feel free to take your time doing research on both platforms to figure it out.

Figure out what your business needs, and you'll know the answer.

Ready to design your logo? Get started with our logo maker!