In today's world of distractions, less information is the best information. For this reason, businesses today prefer one page site designs to tell their entire brand story, showcase their catalog, and generate leads.
Thanks to incredibly supportive tools, you can create your one page website in a blink without any technical know-how. We will explore some of the most interesting one page site examples you can experiment with.
What are some one page site benefits?
These compact sites are more interesting as they must get the user to scroll, and as a result, they ensure lower drop rates and require fewer clicks for your customer to get from one point to another.
What can a one page site builder do for you?
Hiring a full-fledged technology company or a professional coder to develop a one page site design for your brand may not be practical.
A one page site builder offers you all the flexibility to create a website that truly exemplifies your beliefs and brand, with no prior technical knowledge needed.
Create a free logo for your one page site
10 best one page site designs to catch attention to your brand
In a world where options for smartly designed websites are aplenty, finding one that suits your business and marketing goals well is essential. We often fall into the trap of beautiful one page site templates that offer medium to low practicality.
Here are some handpicked one page site examples to help you sharpen your search.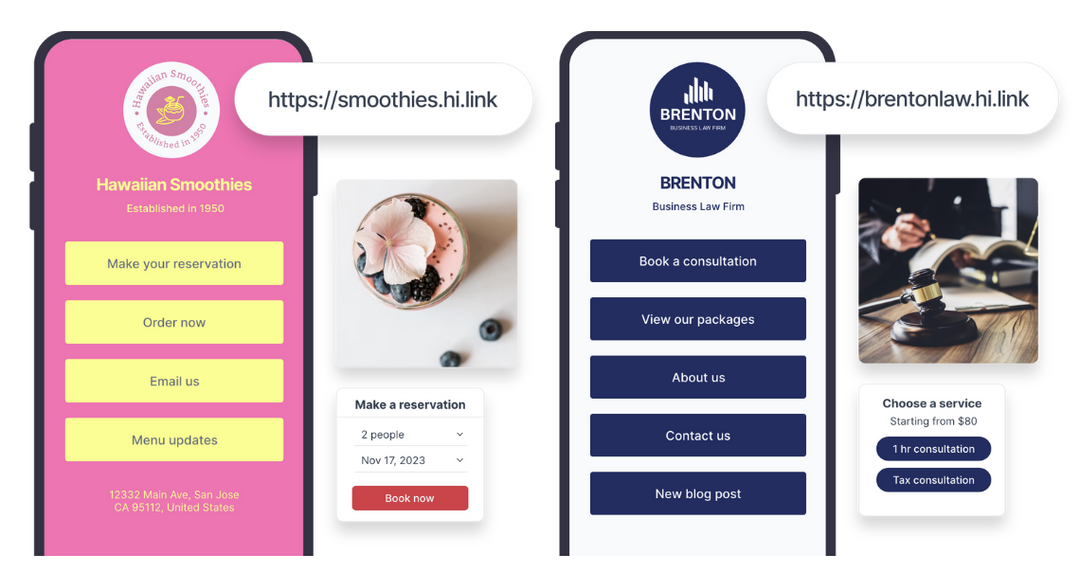 LOGO.com is undoubtedly the ultimate choice for creating a one page site that effortlessly leaves a lasting impact. You can easily create your one page site in just a matter of minutes. With its user-friendly platform, simply input your links, make necessary modifications to the template, and swiftly launch your website in record time.
Best features:
Set-up in under 10 minutes
Diverse with features and options
Free logo automatically placed
24/7 customer support for guidance
Pros:
You don't need any design or technical experience to get started.
The most affordable option for a professional one page site.
You are in total control of your design preferences.
Cons:
You only work with one core template.
There are no ecommerce capabilities.
There are limited color themes.
Pricing: LOGO.com offers a free plan which includes your One Page Site with a watermark (removed on the paid plan), along with a free logo and brand board. The Brand plan costs $8 per month, billed annually.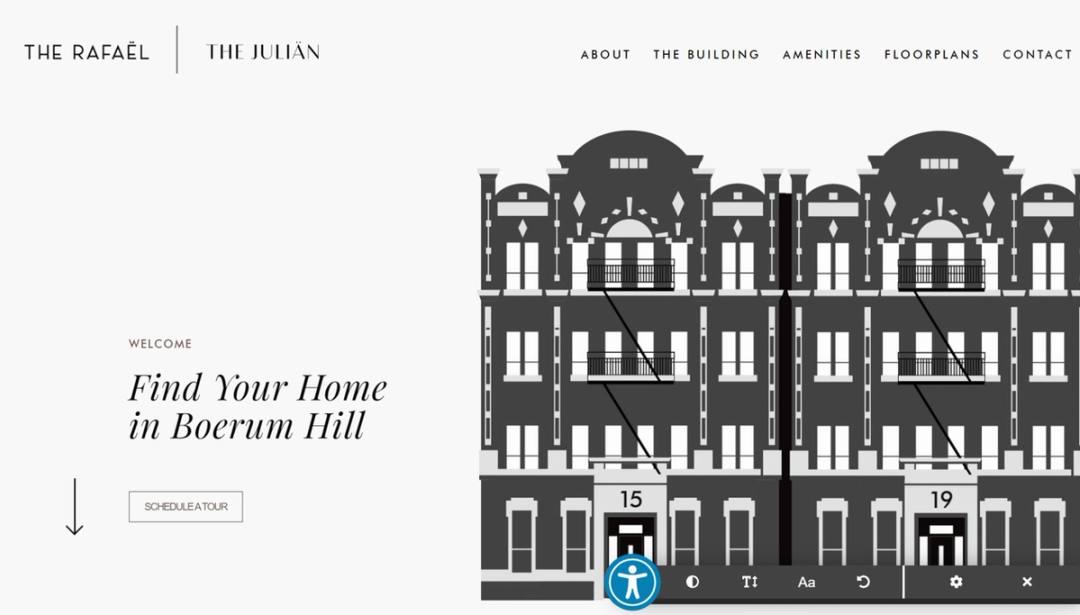 "The Rafael" by Zyro.com is a property advertising site with a captivating illustration on the top banner. An arrow guides users to follow the journey of the parallax site to read and discover more, ensuring that nothing is missed.
Best features:
Map integration
Informative with interactive animations as you scroll
Carousel-style image gallery
Pros:
It has a clean black and white design.
The elegant and clean structure suits all kinds of businesses.
You have ample opportunity to populate the site with different types of content.
Cons:
Gallery may affect loading times on slower internet speeds.
The different typefaces may need to be more consistent.
The text readability is poor on black background.
Pricing:
$2.59/month for the Website and blog option.
$3.59/month for the Business option.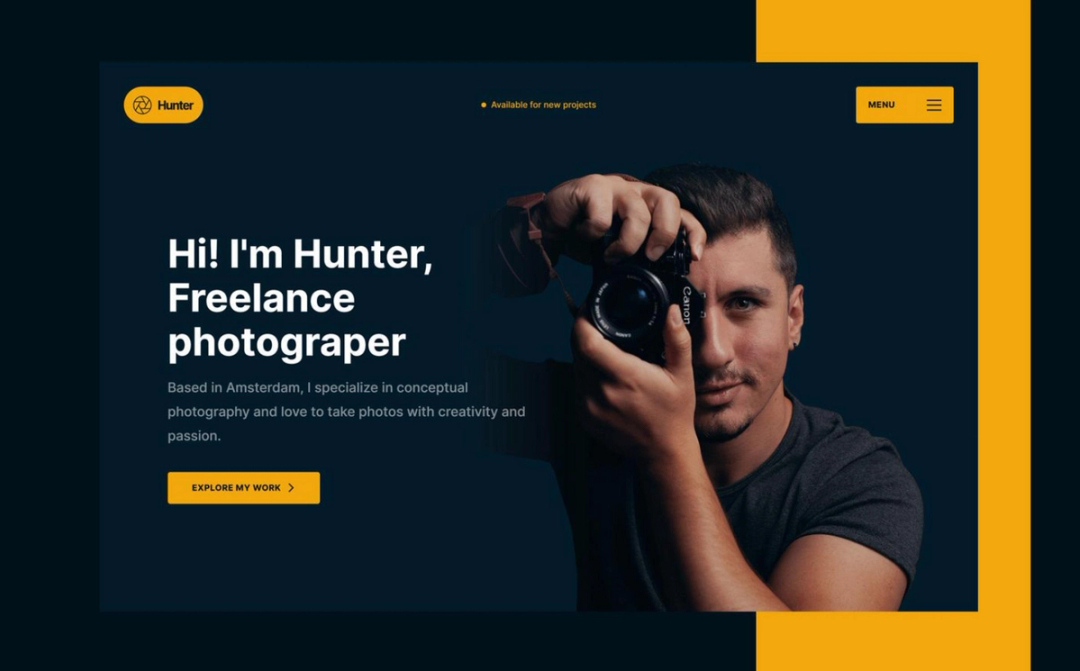 A portfolio template must show as much as possible without requiring users to switch between pages. "Hunter" is a straightforward, upload-and-go one page site design ideal for artists, photographers, and models who must feature their work elegantly. You can quickly add your logo, upload your images, and pick a color combination without hassle.
Best features:
Fully optimized for all screen sizes
Usable for commercial and personal use, albeit with the purchase of licensed pages
Optimized for speed
Pros:
Subtle interactions are built into the website design to present the content dynamically.
It's a modern layout and premium design style that is timeless.
Represent your portfolio work in the style you want it to be shown.
Cons:
No e-commerce support.
It is considerably higher in price.
Once you upload content on Webflow, you cannot edit the publishing date of the content, which may affect your SEO efforts.
Pricing:
Free Starter plan that helps you explore Webflow's features.
Basic plan costs $14/month and helps you launch a sample site.
CMS plan costs $23/month with abilities to maintain a blog and content.
Business plan costs $39/month to develop a high-traffic website.
Create your free logo for your new one page site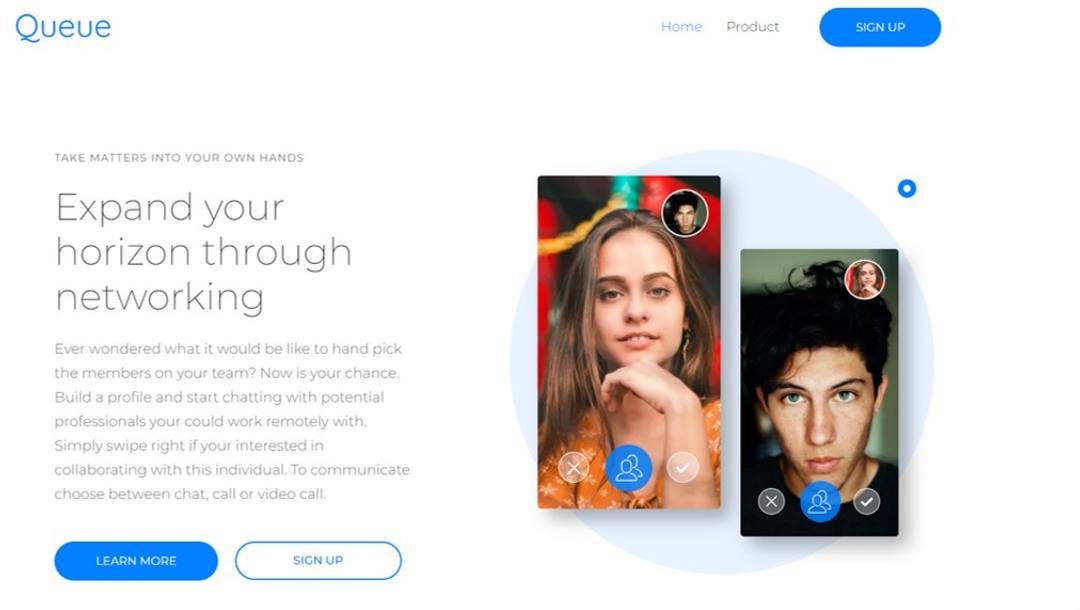 A good one page site design for product features, "Queue" by Pagecloud features your products elegantly, giving you ample room to edit and format their appearance. It can be a handy tool to capture leads for short-term brand marketing endeavors.
Best features:
Highly customizable for product features
Support for sign-ups
Hosting support provided by Pagecloud
Pros:
Enjoy a high-speed browsing experience.
The design is clean and minimal.
Pagecloud's hosting support is great to work with.
Cons:
Recommended for beginner developers and creators of basic websites.
Minimalism can cost you the flexibility to be elaborate.
It is only recommended for simple product catalogs.
Pricing:
$20/month for Small Business sites.
$36/month for Business websites that require team collaboration.
$79/month for marketing teams, agencies, and freelancers.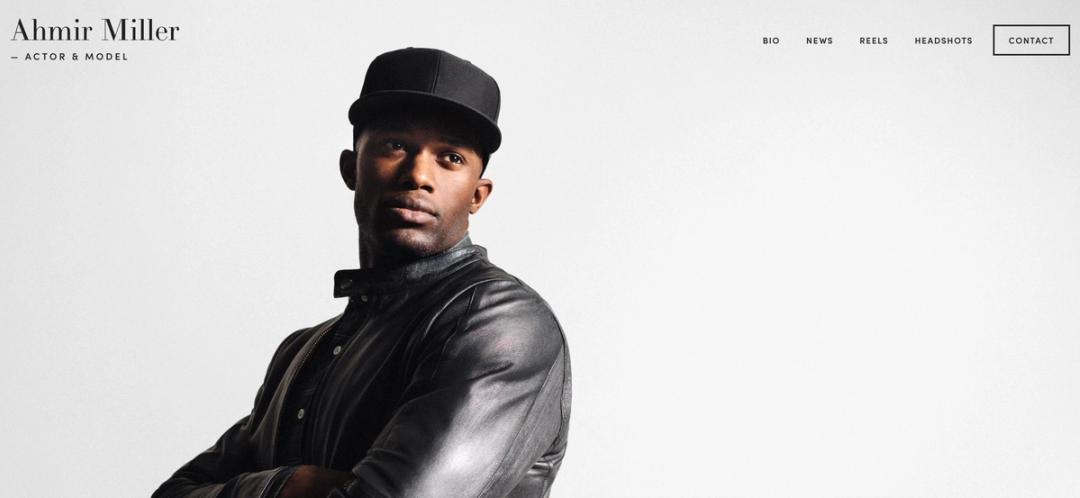 "Miller" by Squarespace is a functional and aesthetic one page site design for models and other personalities who need to lead their communication with images. While the template created has links to inner pages, they can be removed to have a single page to operate.
Best features:
Domain name support
Squarespace support to help you through your development
A submission form to capture leads
Pros:
Miller offers a highly-visual and well-balanced layout.
It is ideal for individual profiles and portfolios.
You can leverage the image browsing carousel support.
Cons:
It requires more content to be written to maintain the balance with the imagery.
More images can slow down loading speeds.
The image placeholders do not look native on the mobile view.
Pricing:
Free demo for 14 days.
The Personal website plan costs $16/month.
The Business website plan allows you to accept and make payments on your website for $23/month.
The Commerce Basic website plan costs $27/month with fully-integrated e-commerce functionality.
The Commerce Advanced plan has everything you need to run an enterprise website and costs $49/month.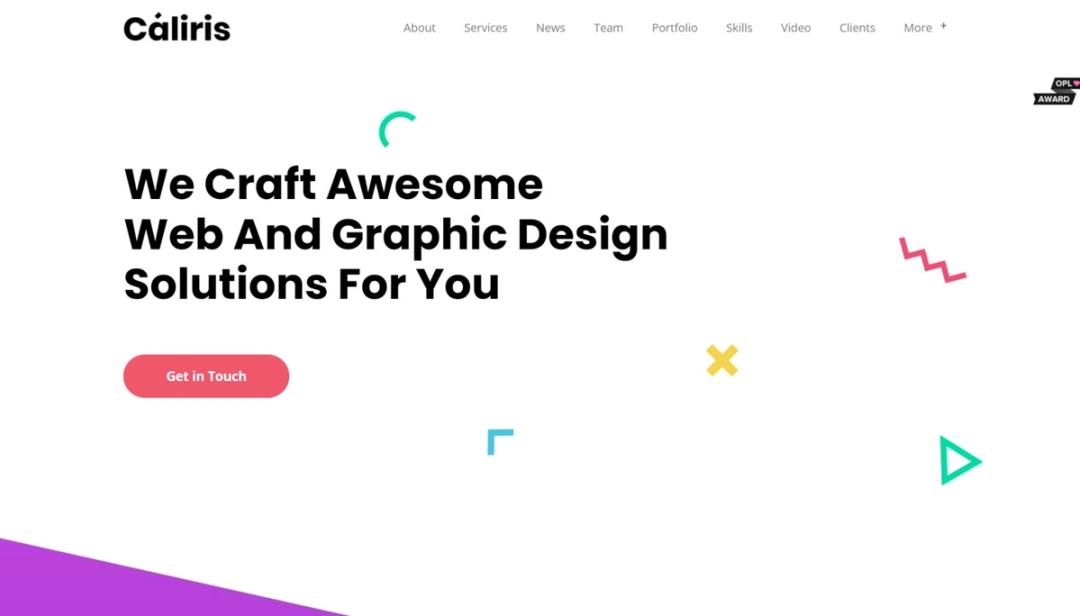 Visually interactive websites can be created using vivid colors, dynamic partitions between different parts, and branding elements strewn across the page at regular intervals. "Caliris" is a WordPress template that brings all this and more to the table, allowing you to create a visually informative website.
Best features:
Room for infographics and diagrams
Consistent iconography to call out your product features
Blog connectivity and features on the one page site design
Pros:
Caliris offers an aesthetically playful and colorful interface.
The call-to-action button is located at the very top.
It's perfect for informative product websites.
Cons:
The eccentric visuals may only be suitable for some industry types.
You may need more area for elaboration in paragraphs.
The increased number of elements on a website can lead to visual fatigue.
Pricing:
WordPress offers a free version to discover and explore its functionality.
Personal plan allows you to create a website with your plan for $160.
Premium plan gives you more design tools and costs $280.
The $640 Business plan supports cloud-sharing abilities for better teamwork.
Commerce plan costs $1,152 and offers comprehensive, enterprise-level website creation.
Create your free logo for your new one page site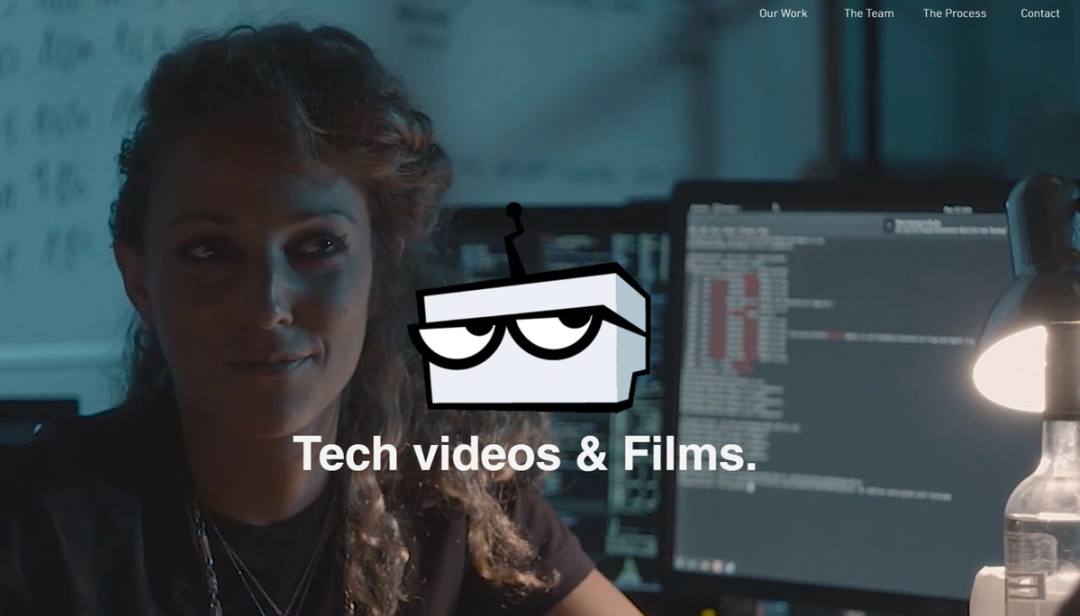 Nothing stuns users like a full-screen video playing as soon as a website loads. "Robot Genius" by Wix has achieved this without compromising the website's speed. With black, grey, and white dominating the site's color scheme, users can truly appreciate the products featured.
Best features:
Visually stunning
Smooth transition via anchor links
Ample opportunity to inform through text, video, or static images
Pros:
The content appears more professional than static websites.
A clever "secret magic sauce" message is hidden in the middle of the scrolling experience.
Create a quick display of your portfolio work through video.
Cons:
Requires videos to be optimized for speed, which may compromise quality.
The content is highly distracting.
The over-stylized form may only be ideal for some user types.
Pricing:
Connect Domain package has basic features for $4.50/month.
The Combo package is great for personal use and costs $8.50/month.
Unlimited access to all tools can set you back $12.50/month.
For priority support and all features, you can opt for the VIP package for $24.50/month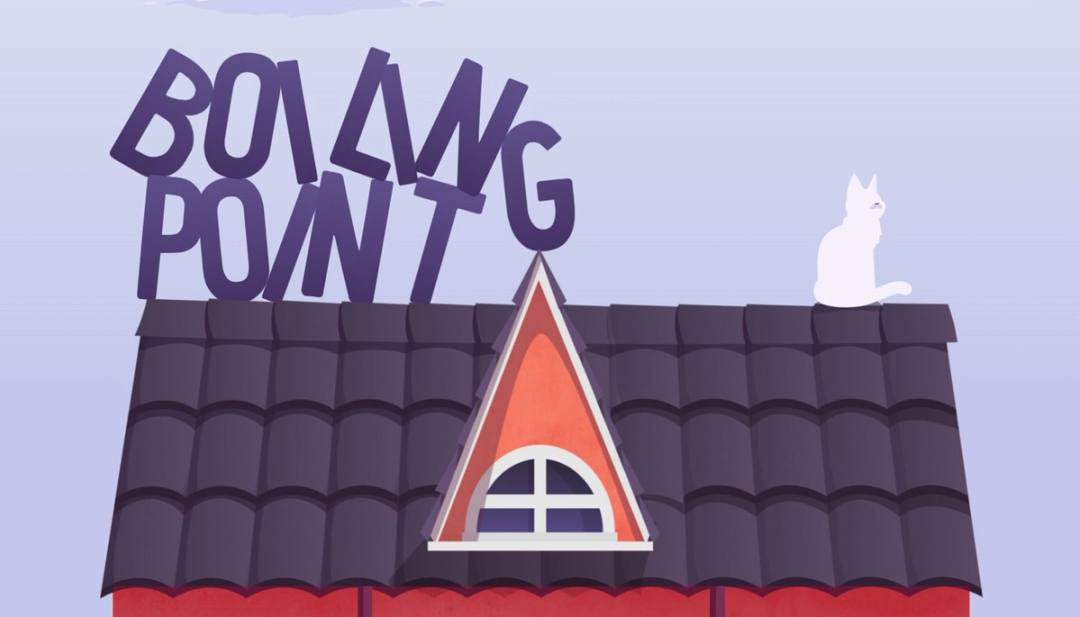 Interactive websites are an instant hit with all kinds of audiences. Tilda's "Boiling Point" is a glowing example of how websites can bring content to life through interactive scrolling and animations.
Best features:
High interactivity with no lag
Well-balanced template for all screen sizes
Footer that is rich with links
Pros:
This one-page design is fun to scroll through.
There is ample room to detail your product through text and visuals.
The visual elements are customizable depending on your skills.
Cons:
It may come across as childish or casual.
It looks incomplete without sufficient information.
It works better only with illustrations rather than images.
Pricing:
Tilda offers one website for free.
For full access to blocks and custom domains, the Personal package costs $10/month.
You can create 5 websites with the Business package for $20/month.
Sometimes, minimalism is the way to go. Framer.com's "Oslo" theme is minimalism with utility. The one page site design includes the essential ingredients for a business to showcase the key features of its products.
Best features:
Ample customizations possible
Anchor links in the footer and the header
Links to independent product pages
Pros:
The layout is minimal and clean.
The site loads quickly.
The large product feature placeholders offer customers better visibility.
Cons:
The minimalism may compromise the sharing of valuable information.
It is ideal for product or project websites only.
The site offers high utility with moderate aesthetic appeal.
Pricing:
Framer offers a free version.
The Mini version is useful for designing landing pages and costs $10/month.
The Basic version adds a CMS, multi-pages, and search support for $15/month.
For comprehensive site support, you can opt for the Pro version at $25/month.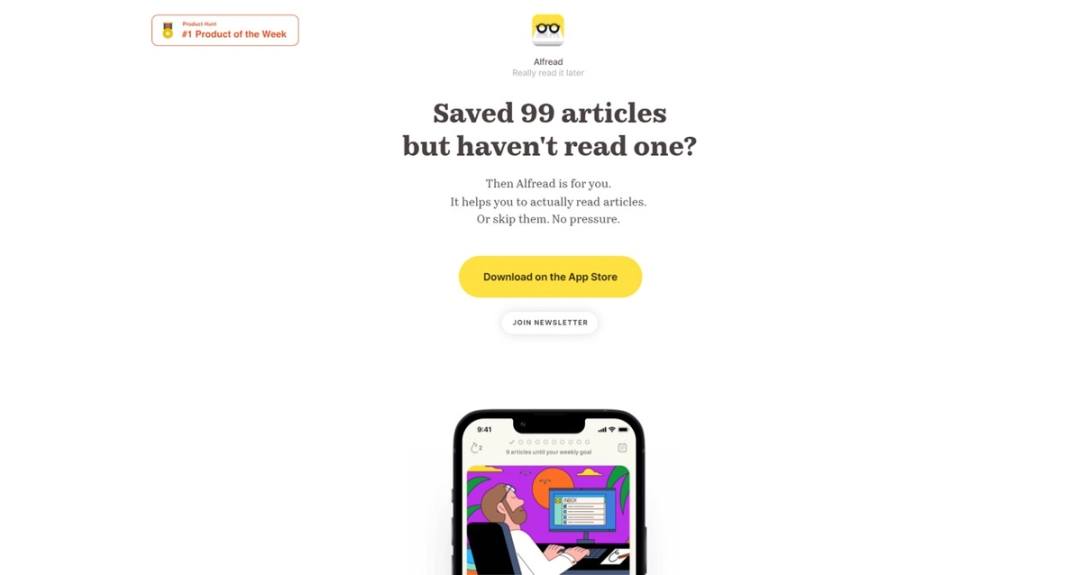 Readymag's "Alfread" demonstrates how you can effectively advertise a vertically aligned product feature, like an app. The scroll-controlled animations interact with the user, making the experience entertaining and informative.
Best features:
Pros:
The site is interactive and fun.
It is full of visual information like infographics and charts.
You can include social media feeds with redirects to actual posts.

Cons:
It may take longer to load on slower internet speeds.
Users may drop off after the first screen and may not scroll.
The mobile and desktop versions, though similar, appear distinct.
Pricing:
The Free version helps you understand the interface better.
Studio version is ideal for small and medium companies. It costs $36/month.
The Business version is for bigger companies and larger teams and costs $58.5/month.
Summing up your options:
Here is a brief overview of your possibilities for your new one page website. Keep in mind that pricing and quality are crucial factors in your decision because you don't want to spend too much time and money starting your new site.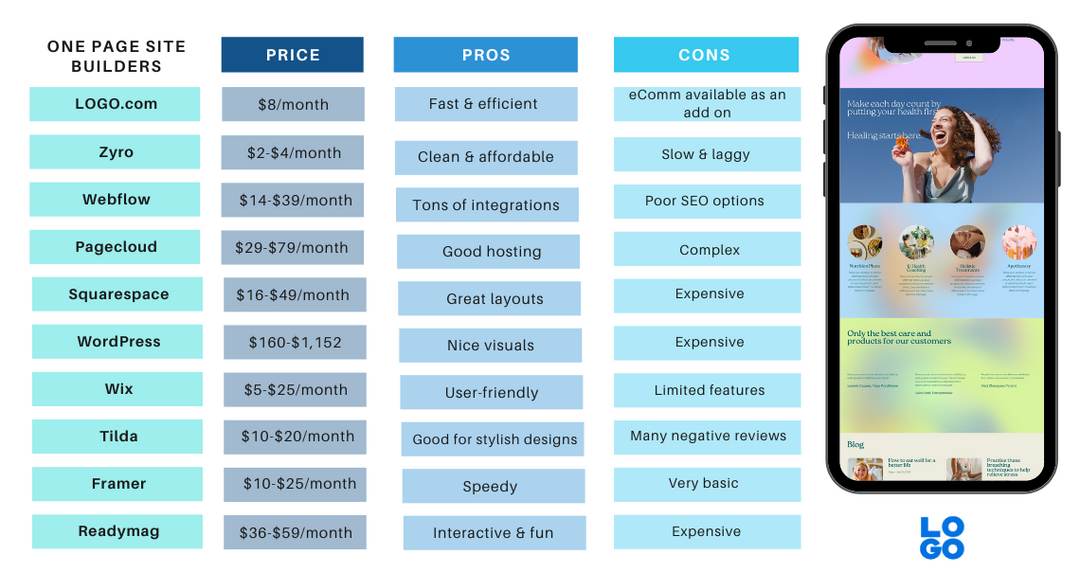 There is no perfect one page site (although LOGO.com comes close), so spend your time exploring your options to find the one that best suits the needs of your business.
What can these one page site examples do for your brand?
One page site designs are interesting to scroll and explore, leading customers to stay engaged with your content rather than dropping off easily.
Where are the best places to get one page site inspiration?
Website template generators are the best hunting grounds to search for one page site inspiration. Professional designers make these and allow you to express your brand interestingly.
How do you choose the right single page website for your business?
Every business has niche requirements, and only a few websites may be perfect for your business. The right single page website template resonates with you quickly and makes your brand fit seamlessly with its style.