incoiOrganizations of all shapes and sizes rely on consultants to elevate their operations. Businesses expect consultants to be professional and knowledgeable in their fields. As such, every document you send out should reflect that, including your invoices.
Creating the perfect invoice can take them. Luckily, some services can provide the perfect consulting invoice template for your business. This article lists and discusses the top resources available online.
Will a consulting invoice template help your consultation business?
A commercial invoice template is unique to the needs of your business as opposed to a generic document. Everything from the itemizations, fonts, spacing, and the structure of the invoice template reflects that.
Using and customizing an industry-specific template will save time when you're filling out the billing information. It may also display your attention to detail towards all your external communications to clients.
Why do you need an invoice receipt template for a consulting business?
As a business consultant, you'll be playing various roles for multiple clients. This holds even if your expertise applies to a specific industry. A well-structured invoice receipt template will help you keep track of all your clients.
Additionally, you can use these invoices as data to gain insights into the most frequently requested consulting services in a year. Most importantly, your clients need a professionally-crafted and printable invoice template to facilitate hassle-free payments.
Launch your brand in minutes with a free logo
The 10 best options for a consulting invoice template that communicates your expertise
The listed resources offer the best invoice templates online – free and paid. Choosing a consulting invoice template from the list may not be straightforward. So, we've compiled the pros, cons, and best features for each service. Take your time in reviewing the list to select a template that best suits your needs.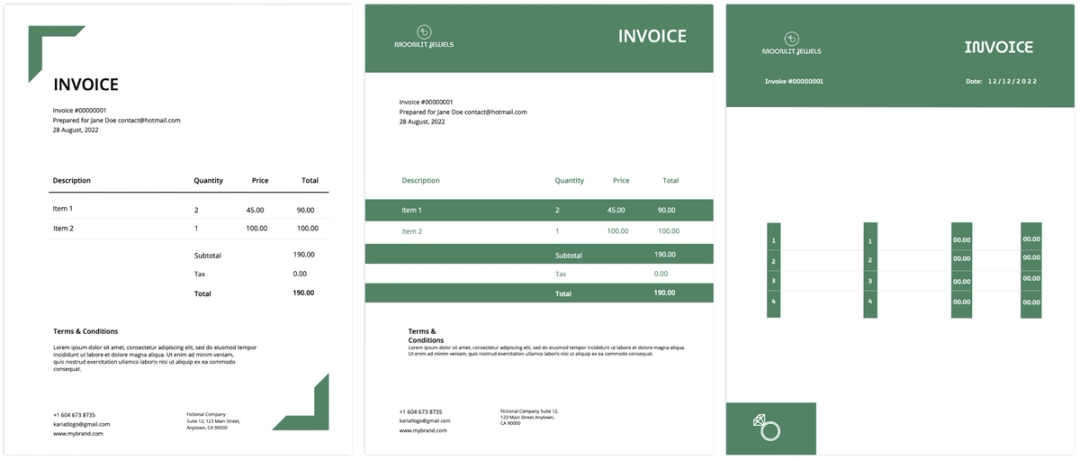 LOGO.com is the home of the most beautiful invoice templates on the web. The platform is perfect for budding entrepreneurs looking to save resources and build their branding materials in one affordable home. Its invoice templates are designed based on the user's free logo design and brand colors. The customization process is easy and straightforward for any design newbie.
Best features:
A variety of 20 commercial invoice templates with dynamic designs
Full customization abilities, such as masking, shaping, and stock photo use
Access to all brand assets created on LOGO.com for design consistency
A 24/7 dedicated customer service team to guide you with tips and inquiries
Pros:
You can customize your readymade invoice templates in less than 20 minutes.
You can save your design in a variety of formats, whether digital or print, with infinite scalability.
The customization tools are incredibly easy to use for anyone without design experience.
Cons:
The templates are saved in image files, meaning you need to convert them into an editable format.
Pricing: LOGO.com's invoice templates are a part of Stitch, its custom design tool. Stitch is a part of a business suite that only costs $12 every month. The service is 100% satisfaction guaranteed.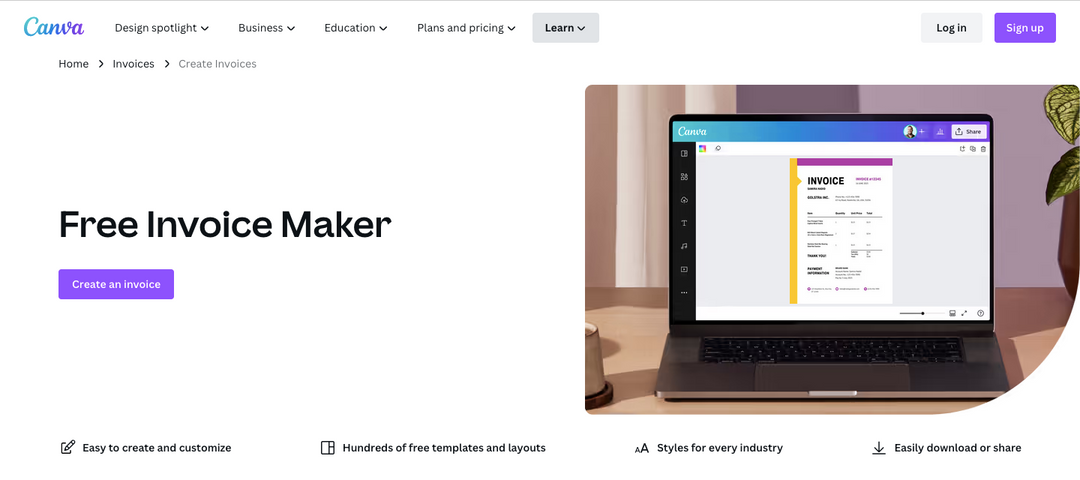 Canva is a beginner-friendly graphic design application with free and paid plans. It has an extensive library of invoice templates for various industries. However, its free templates often pale in comparison to those offered by competitors and Canva's premium designs.
Best features:
Over 50 consulting invoice templates
Option to print a design directly from the app
Offers generous cloud storage across all its plans
Pros:
All users get access to collaboration features, which can allow teams to edit invoice templates together.
It can be easily picked up by people without designing experience.
It integrates with Google Drive, Dropbox, and Box, enabling you to effortlessly sync and upload logos, graphics, and other brand files.
Cons:
Its best export settings, templates, graphics, and tools are only available to its paid members.
Its UI can be difficult to navigate on devices with smaller screens.
You need a steady and fast internet connection to use it optimally.
Pricing:
Free plan
Canva Pro plan – $18 per month.
Enterprise plan – $30 per user per month.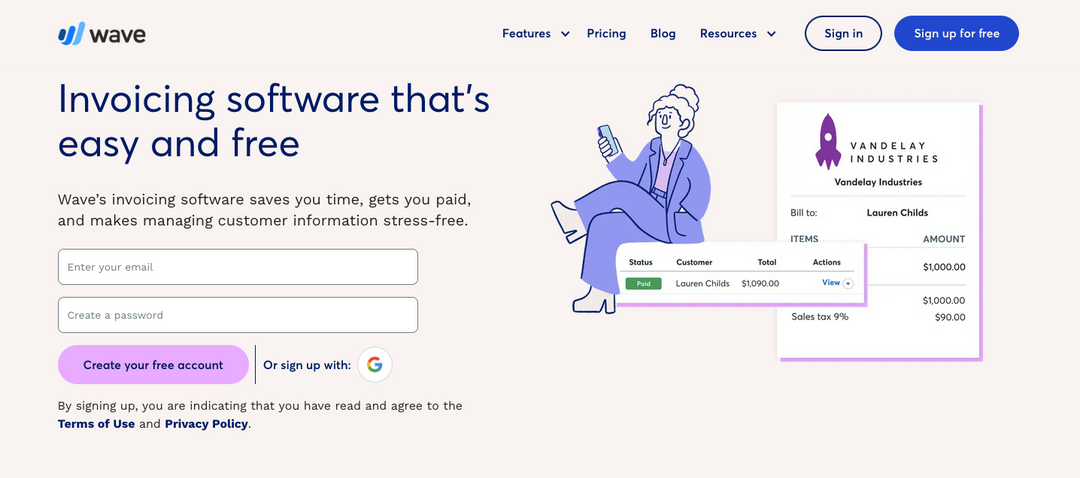 Wave offers a free-of-cost invoicing platform, which can be helpful when managing multiple clients. Although limited in number, the invoice templates have modern designs and require minimal editing. However, people who don't sign up for its platform are required to edit the templates on a third-party app.
Best features:
Has a dedicated invoice template for consulting businesses
Templates are available as Word, Google Docs, PDF, Excel, and Google Sheets files 
Option to create links for recurring invoices
Pros:
Its invoice management platform is easy to navigate.
Its Excel and Google Sheets invoice templates have formulas that automatically update the total costs on the invoice.
You don't need to sign up to download its invoice templates.
Cons:
All of its free invoice templates are watermarked.
You require an external app to customize its consulting invoice template.
It only offers five templates for free, all of which have minimal differences.
Pricing: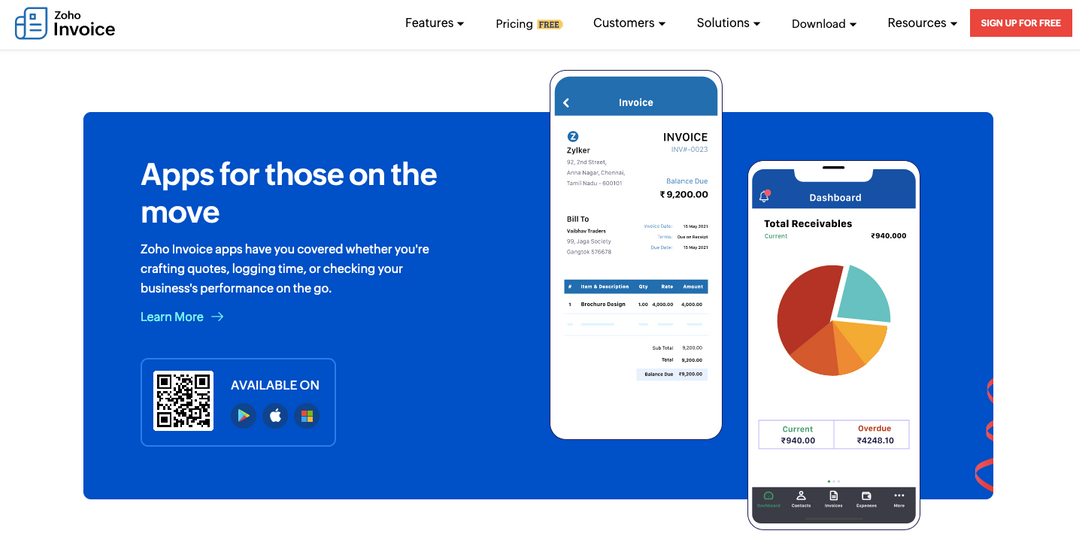 Unlike many of the resources on this list, Zoho doesn't provide a consulting invoice template. Instead, it offers a free platform for managing and creating invoices for multiple clients. The invoice creator, however, produces generic-looking documents that might not present your business in the best light.
Best features:
Platform is free of cost, without any limitations
Option to create invoices in 10+ languages
Saves client information for recurring payments
Pros:
It lets you create invoices in multiple currencies for international clients.
It lets you share invoices as links, on email, or as hard copies directly from the platform.
The app takes seconds to generate invoices.
Cons:
The invoice designs are generic and do not cater to specific industries.
You are required to complete a lengthy sign-up process before you can create an invoice.
It offers a limited selection of templates and visual customization features.
Pricing: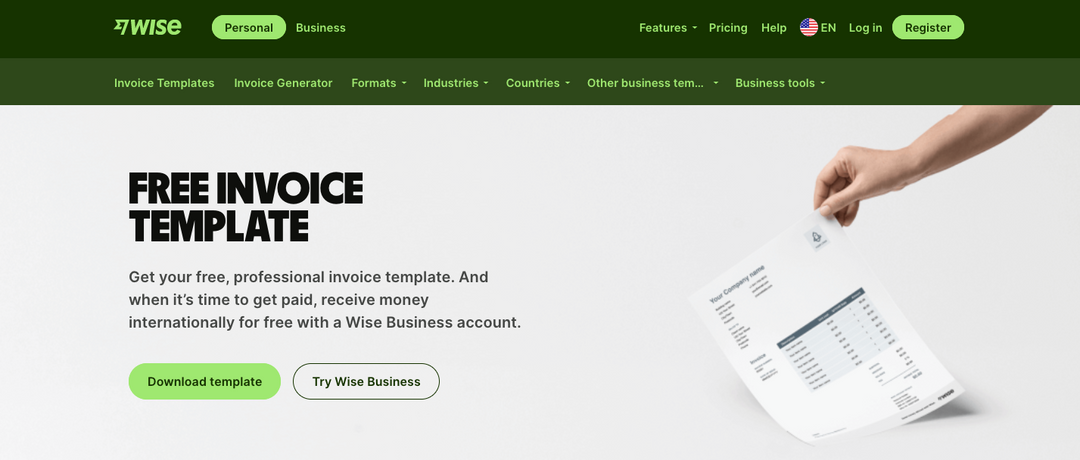 Wise is a commonly used service for facilitating international payments. Its free invoice templates are well-designed with clean, sleek, and structured layouts. However, they can only be edited on specific apps that you may not have, limiting their accessibility.
Best features:
Small file sizes that download quickly
Well-structured and easy-to-read documents
Invoice templates are free to download
Pros:
The templates are watermark-free.
The templates provide designated spaces for a logo design and company name, which makes customizing them easier.
The templates have a large section for itemization, which can be useful if you've done multiple jobs for a single client.
Cons:
Wise does not offer a platform to edit its invoice templates.
It does not offer a consulting invoice template; most options look similar.
It offers only three templates.
The templates are only available as MS Office files that don't translate perfectly on other apps, thus increasing your editing time.
Pricing: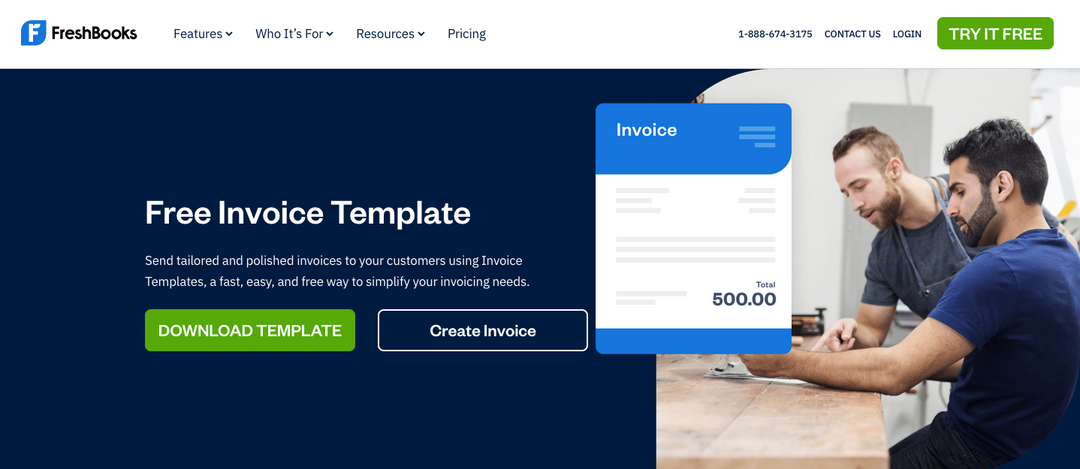 Freshbooks offers free invoice templates and a custom invoice generator to customers and non-customers alike. However, most of the invoices are generic in design and don't stand out. Despite this, Freshbooks is a viable option if you want to create and edit a consultation invoice template without going to a separate website.
Best features:
Offers open, editable files for multiple programs
Invoice generator has hundreds of currency options
Generator runs on smartphones and allows for invoicing on the go.
Pros:
Its invoice generator runs smoothly on most web browsers.
It does not require you to sign up to create an invoice.
Those who wish to try out its premium platform can opt for a 30-day trial.
Cons:
It is difficult to convert its Excel and Google Sheets templates into printable documents.
It provides only five invoice templates, which is much fewer when compared to competitors on this list.
Its invoice templates have a dated look to them.
All invoices are watermarked, which does not look professional.
Pricing:
Free plan
Lite plan – $8.50 per month.
Plus plan – $15 per month.
Premium plan – $27.50 per month.
Select plan – Price varies based on your needs.
Launch your brand in minutes with a free logo

Jotform's PDF editor can prove useful for recycling and reusing old PDF invoices. It also offers editable invoice templates tailored to multiple industries and businesses. However, only paid members can send non-watermarked invoices. This may be a deterrent, considering that its paid plans are costly compared to those of its competitors.
Best features:
Beginner-friendly UI, which is helpful for non-designers
Converts old PDFs into editable forms and documents
Over 50 invoice templates for various industries
Pros:
Customers can easily share invoices with clients as links.
It lets you create smart PDF invoices with interactive fields for e-signatures.
The web app and smartphone app run without many glitches.
Cons:
You must subscribe to a paid plan to remove the watermark from your invoice.
It has limited choices for those looking for a consultation invoice template.
There is a cap on how many invoices and forms you can create, even as a paid member.
Pricing:
Free plan
Bronze plan – $39 per month.
Silver plan – $49 per month.
Gold plan – $129 per month.
Enterprise plan – Price available upon inquiry.
True to its straightforward name, Online Invoice Generator offers a platform to design and edit blank invoice templates. All templates are free without limitations, such as watermarks. However, many templates have antiquated designs that may align with today's professional aesthetic.
Best features:
Free-of-cost templates
Hundreds of simple invoice templates
Easy-to-use invoice template editor
Pros:
It filters templates by country, business, and more for a simple search process.
Its templates are watermark-free.
You can email the invoice directly from the platform.
Cons:
It does not let you download your invoice as an open or editable file.
Its invoice generator glitches from time to time.
Its invoice templates look dated.
It requires a constant internet connection to run smoothly.
Pricing:

Chances are you've heard of PayPal if you've conducted business online. PayPal has plenty of free tools that can help you send and receive payments seamlessly. The free generator runs smoothly, and it can create a custom invoice based on your needs. However, its designs lack variety compared to many free and paid competitors in the market.
Best features:
Free-of-cost invoice generator
Printer-friendly invoice template that is formatted to fit standard paper sizes
Generator is compatible with almost all smartphones
Pros:
Its invoice generator is noncomplicated to use and runs smoothly.
The invoice has a polished and modern design.
You can print or send the invoice directly from PayPal.
Cons:
You need to sign up to preview and download your consultation invoice template.
It requires a constant internet connection to run without hiccups.
It only offers one template design, which is fewer compared to competitors.
You cannot download the generated invoice as an editable file for future use.
Pricing:
The templates are free, but you get charged with fees if you are paid online. The fee ranges from 3.49% + $0.49 per domestic transaction.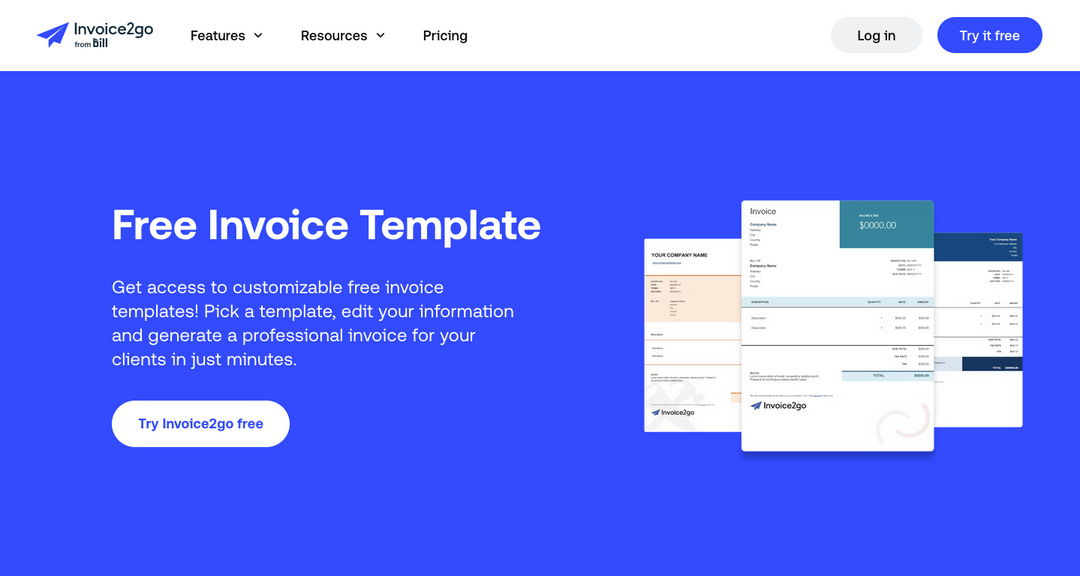 Invoice2go offers free templates and a generator for customized invoices. You can easily download the documents without signing up or taking additional steps. You must simply fill the invoice with the information needed to process your fee. However, the invoice's designs appear plain compared to many on this list. Those looking for modern invoice templates may find more appealing options elsewhere.
Best features:
Offers a dedicated consultation invoice template
Provides a generator for custom invoices
Fully editable blank invoice templates that you can customize to your needs
Pros:
The templates can fit the most popular paper sizes.
You can edit the templates on most word processors and spreadsheet programs.
You can get the invoice templates without going through a tedious sign-up process.
Cons:
Some of its designs appear lackluster compared to competitors.
It only has six invoice templates.
All its invoice templates are watermarked.
Pricing:
Free plan
Starter plan – $5.99 per month.
Professional plan – $9.99 per month.
Premium plan – $39.99 per month.
How will professional invoice templates help your consultation business?
As a consultant, you're valued for your ability to cook up bespoke solutions to each client's needs. You must reflect that skill with every external communication you send, including an invoice.
Professional invoice templates will tell your clients you don't settle for a generic option. Furthermore, a professional and well-structured invoice is likely to get processed without issues, and that's always a positive.
What essential information should go on your consulting invoice template?
While every industry has different requirements for an invoice's content, there are some essentials that you cannot skip.
Follow the checklist below to avoid hassles when invoicing:
A clear writeup of the services you're charging for.
The cost breakdown for the above services.
The total cost, including any taxes.
Your banking or payment information.
Your company's logo, contact information, and address.
The cost breakdown, including taxes.
Your client's contact information.
Your signature and a space for your clients to sign.
These items should serve as the foundation for all your invoice templates. Feel free to add more items once you've checked these off.
How do you choose the best consulting invoice template online?
Choosing one from all the options above can be difficult. Choice paralysis is a (very) real issue, and sometimes you just need to pick one.
The questions below can make your decision easier:
How much editing does this template need before it resonates with my brand?
Can I remove the watermark from this template?
Would I have an easy time reading the information as it is presented in this template?
Can I use the design or editing software required to customize this invoice template?
Is this template print-friendly?
Ask yourself these essential questions before committing yourself to a template. Moving from one template to another can become tiring when you have multiple invoices to file simultaneously. Stick to one that fulfills all your requirements while making life easy for you!
Launch your brand in minutes with a free logo