Running a construction company comes with a heavy set of tasks, literally and figuratively! From managing contractors to raw material suppliers to employees, you must be a master juggler to ensure everything runs smoothly.
However, there are online services that can automate tasks to reduce your manual work. For example, you can get a quality commercial invoice template without making one yourself. This article covers the best resources to get your hands on one.
Will a construction invoice template help your construction business?
Yes! The construction company has unique needs, costs, and itemizations that may not fit in a generic invoice template. An industry-specific invoice will be sized and constructed (puns intended) to make it easier to bill your clients.
Additionally, professional and well-made invoice templates display attention to detail that will impress your clients. This can result in recommendations and positive word of mouth – and who doesn't want that?
What would a generic invoice template express about your business?
While a generic invoice template is faster to make, it comes with the opportunity cost of creating a negative impression with your clients. It may show laziness and hasty work on your end. You also miss the chance to stand out from many businesses that choose the first template available to them.
Every outgoing communication you send has the potential to create a positive perception for your business. It will take time to choose an apt template, add your logo design, and customize the font. However, that effort is worth the reward!
Launch your brand in minutes with a free logo
The 10 best options for a construction invoice template that builds good standing
The companies provide free and paid templates for different types of businesses. At times, you may prefer another option to a construction invoice template. Take your time in reviewing the services on this list to select the perfect choice for your business.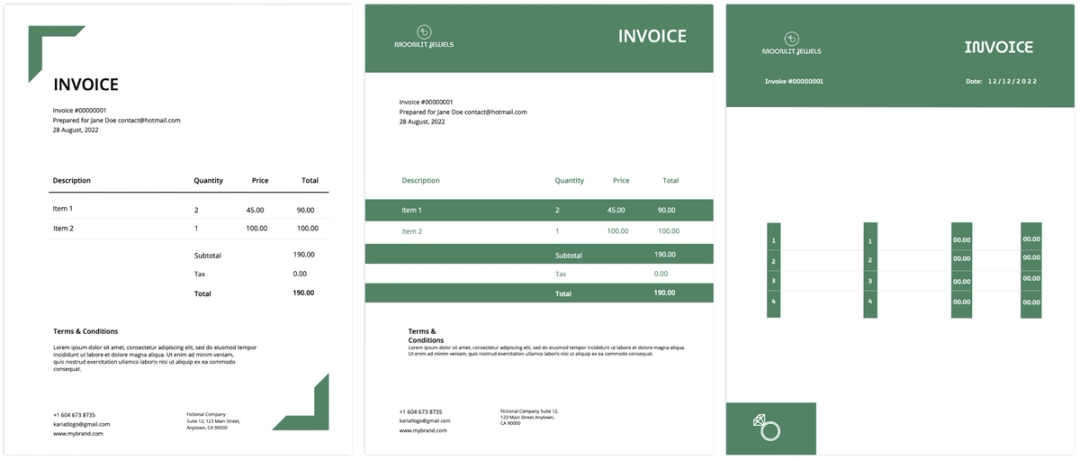 LOGO.com is the home of the most beautiful invoice templates on the web. The platform is perfect for budding entrepreneurs looking to save resources and build their branding materials in one affordable home. Its invoice templates are designed based on the user's free logo design and brand colors. The customization process is easy and straightforward for any design newbie.
Best features:
A variety of 20 commercial invoice templates with dynamic designs
Full customization abilities, such as masking, shaping, and stock photo use
Access to all brand assets created on LOGO.com for design consistency
A 24/7 dedicated customer service team to guide you with tips and inquiries
Pros:
You can customize your readymade invoice templates in less than 20 minutes.
You can save your design in a variety of formats, whether digital or print, with infinite scalability.
The customization tools are incredibly easy to use for anyone without design experience.
Cons:
The templates are saved in image files, meaning you need to convert them into an editable format.
Pricing: LOGO.com's invoice templates are a part of Stitch, its custom design tool. Stitch is a part of a business suite that only costs $12 every month. The service is 100% satisfaction guaranteed.

While Invoice Simple does not have a construction invoice template, it provides templates in multiple editable formats. You can customize their invoice templates on Google Sheets, Docs, MS Word, and Excel. However, most options look uniform and dull – giving you little to deliberate between.
Best features:
Invoice templates in many file and export formats
Invoices are free of cost without any limitations
Print-friendly invoices that fit on most used paper sizes
Pros:
All the templates have a dedicated space to enter a business logo.
The invoice templates are free of watermarks.
Its custom invoice generator can create documents with your company colors.
Cons:
The invoice templates look generic unless customized.
It has a limited number of templates to choose from.
It requires you to follow a lengthy sign-up process to export files from its generator.
Pricing:
Free of cost.
Essentials plan – $6.99 per month.
Plus plan – $13.49 per month.
Premium plan – $19.99 per month.

Smartsheet offers free invoice templates for various industries, ranging from construction to photography to law and beyond. There are plenty of free and unique-looking templates for you to decide between. However, those looking for a modern construction invoice template will find its options outdated.
Best features:
55 free invoices to choose from
Invoices for different types of basic industries
Collaboration features for team members to create invoices together
Pros:
Each of its invoices looks unique.
The fields and items in every invoice are contextual to their industry.
Its Excel and Google Sheets invoices have formulas that update total pricing when you add or remove items.
Cons:
Some invoice templates only open in specific softwares that you may not have.
Its templates could do with a design refresh.
Many documents have a watermark leading to Smartsheet's free trial, which looks unprofessional.
Pricing:
Free plan
Pro plan – $9 per month.
Business plan – $32 per month.
Enterprise plan – Price available upon inquiry.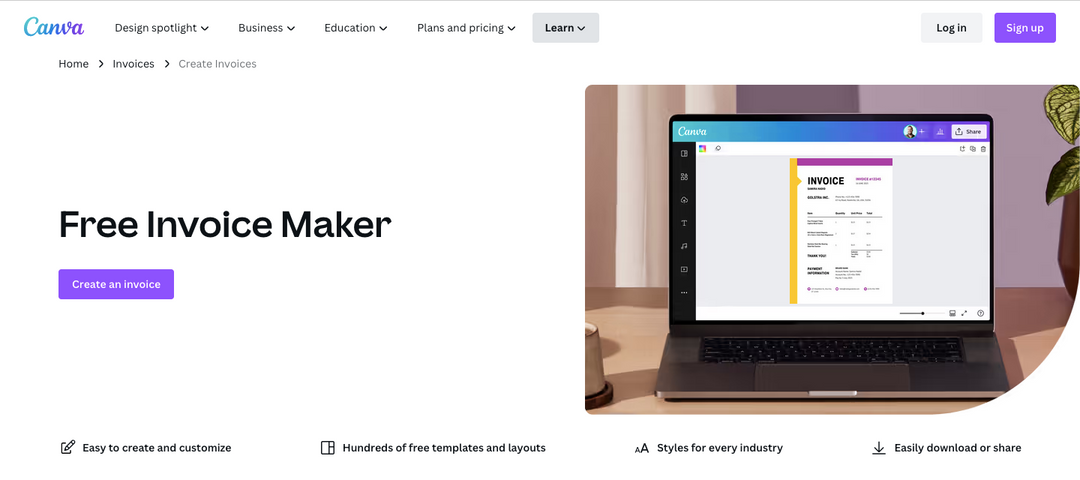 Despite its critics, Canva remains one of the most popular online design apps globally. However, navigating through its vast library of invoice templates can be overwhelming. Many templates look dated and require extensive customization before you can send them out.
Best features:
Text-to-image AI generator for faster design timelines
Almost 150 templates for construction companies and contractors
Collaboration and feedback tools for teams
Pros:
People without design experience can easily pick it up.
All templates can be sized and cropped to fit various page sizes.
It gives you the option of directly emailing the invoice from the app.
Cons:
You need a regular and fast internet connection to design on it.
You must pay to use its best templates, graphics, fonts, and other assets.
Some templates have poor designs and lack fields for essential information that goes into invoices.
Pricing:
Free plan
Canva Pro plan – $18 per month.
Enterprise plan – $30 per user per month.

With Jotform, you can create online forms and invoices and get them signed by clients directly on the platform. It offers only a singular construction invoice template with an outdated design. However, Jotform can be a good investment if you plan on using its form creator and editor for other purposes.
Best features:
Runs smoothly on most devices
Can edit most PDF files made on other apps
Smartphone app to create invoices remotely
Pros:
Its design app is easy to use.
Your clients can directly e-sign the invoice on the platform.
You can upload old PDF invoices and convert them into forms.
Cons:
Its free invoices have a watermark that cannot be removed.
Its paid plans may be expensive for small businesses and teams.
It only offers one construction invoice template.
Its entry-level subscription plans have small cloud storage.
Pricing:
Free plan
Bronze plan – $39 per month.
Silver plan – $49 per month.
Gold plan – $129 per month.
Enterprise plan – Price available upon inquiry.

An aptly named service, pdfFiller lets you fill and edit PDF documents and forms. This can be useful for people who don't want to navigate to a third-party app to fill their invoice templates. However, it doesn't offer a free plan, even one with exporting limitations. Purchasing a recurring subscription may not make sense if you only plan on reusing one construction invoice template.
Best features:
Many simple invoice templates for construction companies and contractors
Does not require a powerful device to run
Offers a 30-day trial for new customers
Pros:
It works on portable devices like smartphones and tablets.
Its paid plans are affordable for small and big teams alike.
It is easy to learn and use the app.
Cons:
You cannot add a color palette to the templates.
It does not offer a free plan.
Many of its templates look barebones and cannot be customized to look better.
It requires you to sign up to view pricing plans.
Pricing:
Basic plan – $20 per month.
Premium plan – $50 per month.
Launch your brand in minutes with a free logo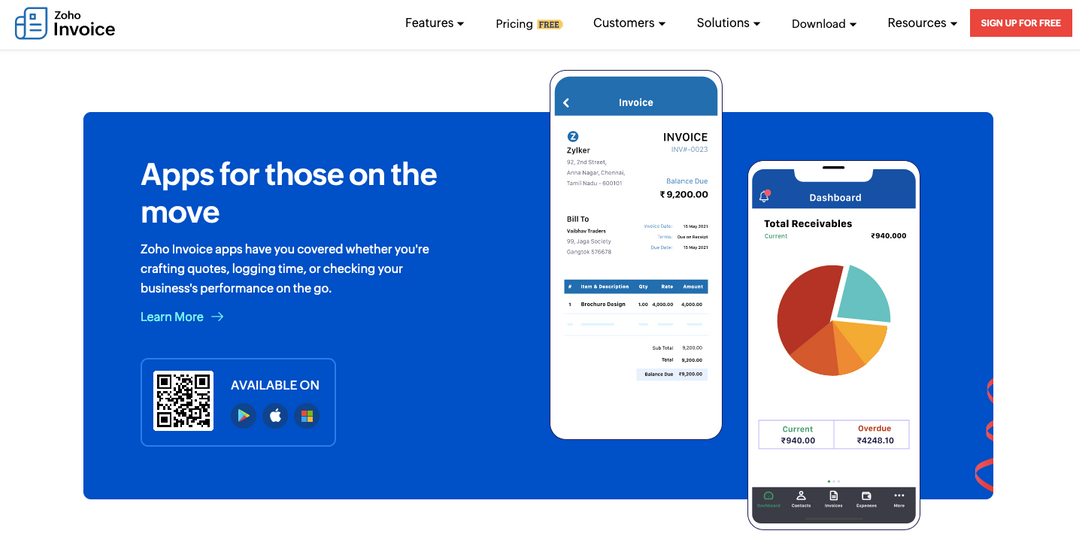 Zoho has a free-to-use application for those looking to manage their invoices and clients. While it does not offer a construction invoice template, it lets you create custom invoices. However, with limited editing and design features, most created invoices will likely look plain and not unique.
Best features:
Free-of-cost app
Stores client information for recurring invoicing
Lets you share invoices via email, SMS, and as a shareable link
Pros:
You can create a link for a client to review the invoice and complete the payment on Zoho.
It gives you the option to choose from multiple currencies for international transactions.
It lets you add your company logo to the invoice.
Cons:
You cannot download your invoice as an editable file.
It requires you to sign up before previewing the app.
It has limited customization and design options compared to other free services.
Pricing: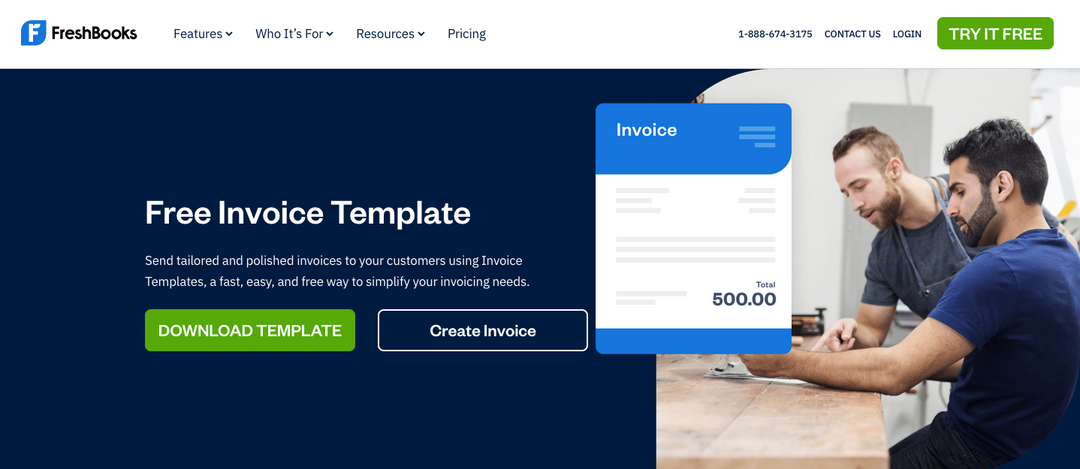 Freshbooks provides simple invoice templates and an invoice generator for free. You can download these in various file types and edit them in an app you're comfortable with. However, all these documents are watermarked, which may create a negative impression with clients.
Best features:
Intuitive and straightforward generator for custom invoices
Light file sizes that don't take up much space
Invoice templates available in five different file types
Pros:
Each invoice template has a distinctive and unique design.
It has affordable options for an invoice management platform to help you keep track of clients and bills.
The templates are editable as MS Word, Excel, Google Docs, and Sheets files.
Cons:
It does not provide a construction invoice template; you must customize it to your industry's needs.
It only offers five free invoice templates.
Its spreadsheet invoice templates aren't formulated – you must enter each number manually.
Pricing:
Free plan
Lite plan – $8.50 per month.
Plus plan – $15 per month.
Premium plan – $27.50 per month.
Select plan – Price varies based on your needs.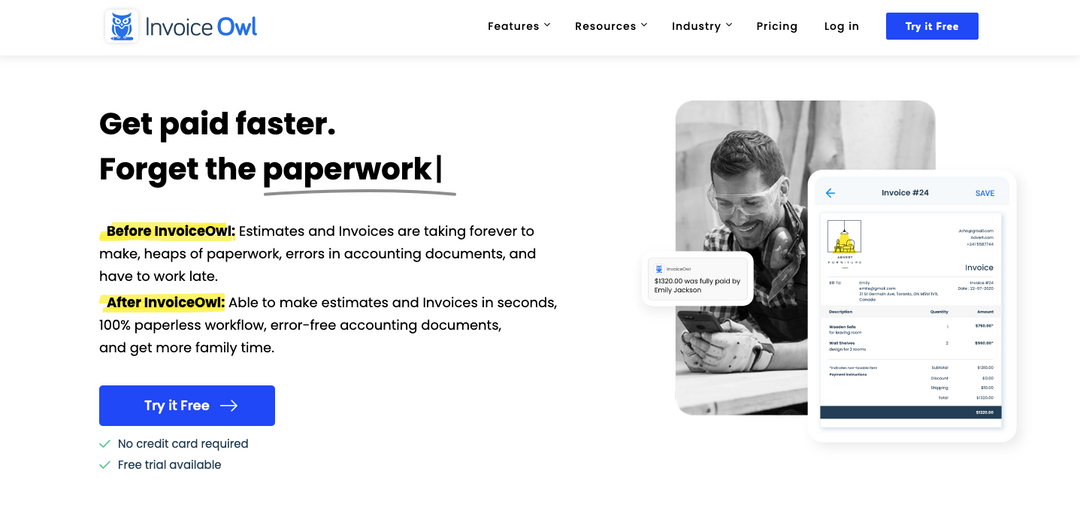 InvoiceOwl is an invoicing and estimating platform meant for independent contractors. Its paid plans allow you to create and share invoices directly from the platform. However, it does not offer a non-paid subscription, and the free invoice templates are lacking in design compared to the competition.
Best features:
Easy-to-use invoice generator
Allows you to email and sign invoices directly from the platform
Smartphone app to issue invoices
Pros:
Its paid plan allows for in-depth invoice customization.
Its free templates are editable on MS Word, Excel, Google Docs, and Sheets.
Its entry-level paid plan is affordable for independent contractors and companies.
Cons:
It does not have a free plan for invoice customization and management.
It only offers a 3-day trial to its premium service.
Its invoice templates translate poorly on MS Word and Google Docs, with items, words, and fields all over the place that need fixing.
Pricing:
Free plan
Growth plan – $11.99 per month.
Champion plan – $38.99 per month.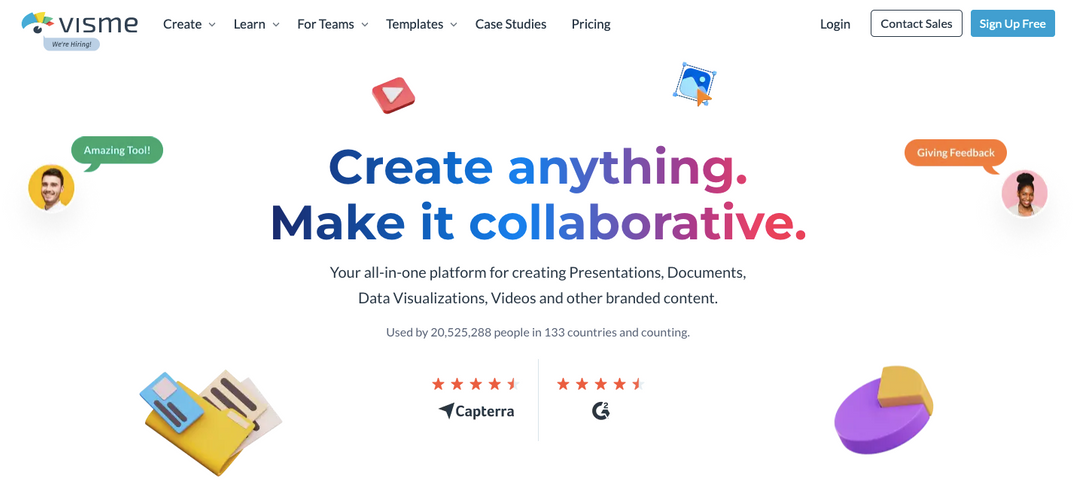 Visme is a design tool that can translate data into engaging infographics, presentations, and graphics. It also offers a host of printable invoice templates for different types of businesses. The best designs, tools, and export options are for premium members, which may disappoint most users.
Best features:
Fully customizable invoice templates
Powerful filters for a faster search process
Lets you insert tables, filters, and icons with a few clicks
Pros:
It integrates with productivity apps like Slack, making sharing invoices easier.
It has multiple blank invoice templates for the construction industry.
It lets you send invoice templates to team members as shareable links.
Cons:
Its paid subscription plans are expensive.
Free and entry-level paid plan members get a few exporting options.
The color selector and creator tools are barebones compared to similar apps.
Pricing:
Basic plan – Free of cost.
Starter plan – $12.25 per month.
Pro plan – $25.75 per month.
Visme for Teams plan – Price available upon inquiry.
How will professional invoice templates help your construction business?
Professionalism is a must for every construction business. There are codes, safety procedures, and dos and don'ts for every process. While a professional invoice template can't replace good work, it can tell your clients that you pay attention to everything your business sends externally.
The choice of font, a clear e-signature, and sound structure can subtly create a positive impression for your business. Combined with a timely and quality service, this can help generate good word of mouth!
What essential information should go on your construction invoice template?
The information in an invoice will vary from business to business. However, there are some must-haves that you need to check off to avoid having to redo an invoice:
Your company name, logo, and contact information.
Your client's name, logo, and contact information.
All the services and goods you're charging for.
The cost breakdown, including taxes.
Your signature or stamp of approval.
A space for client approval with their signature on the invoice.
Your bank information (if not provided already) or a gateway for your clients to complete the payment.
Follow this checklist to ensure an easy time for you and your clients!
How do you choose the best construction invoice template online?
'Best' is often subjective and will change from person to person. We'll leave the design taste to you!
At the end of the day, you can find the best construction invoice template with a little research and experimentation.
However, some essentials can help you find quality invoice templates faster. Ask yourself these questions when evaluating an option:
Do the fonts in this template resonate with my company, or can they be edited?
Can I customize this template to my business's needs?
Is there space to add my logo without disrupting the invoice's structure?
Does this invoice template let me add QR codes, links, and other items for easy billing?
Can I remove the watermark from this construction invoice template?
Is this invoice template print and paper-friendly?
These questions should help you shortlist the best invoice templates online! The rest is up to you – take time to add a personal touch to the invoice to make it your own.
Launch your brand in minutes with a free logo