Over 4.4 million businesses are started each year in the US alone. This staggering number shows that every industry is more competitive than ever. New and existing brands have to stand out from the crowd and vie for the attention of prospective customers.
A crucial step is to make your external correspondence documents, collectively known as business stationery, look professional. Due to affordable and accessible online services, branded documents are easier than ever to create.
This article covers the three most important types of business stationery and how you can design them.
What is business stationery?
Business stationery refers to all the documents a company uses for external communications. This includes business cards, letterheads, invoices, brochures, flyers, and more.
Think of business stationery as a silent ambassador for your company. When you send out letters, invoices, or even a simple thank-you note, each piece becomes a representation of your brand. This visual reinforcement fosters brand recall, making your business more memorable in a crowded marketplace.
You can learn more about the crucial types of business stationery further below.
Launch your brand in minutes with a free logo
Why brand guidelines are essential for your business stationery design
A brand guideline is a marketing and design team's best friend. It is a collection of visual assets and guidelines that ensure you don't stray from your brand's identity. This, in turn, allows consumers to tell what belongs to your company and what doesn't.
So, the next time a designer tells you that the brand color is salmon and not peach or pink, you know they're referring to the brand guidelines.
Every company with a unique voice has a similarly unique style guide. Apple, for example, has a 56-page identity guideline for partners looking to use their brand assets. This includes everything from email signature samples to guides on avoiding branding mistakes when representing Apple.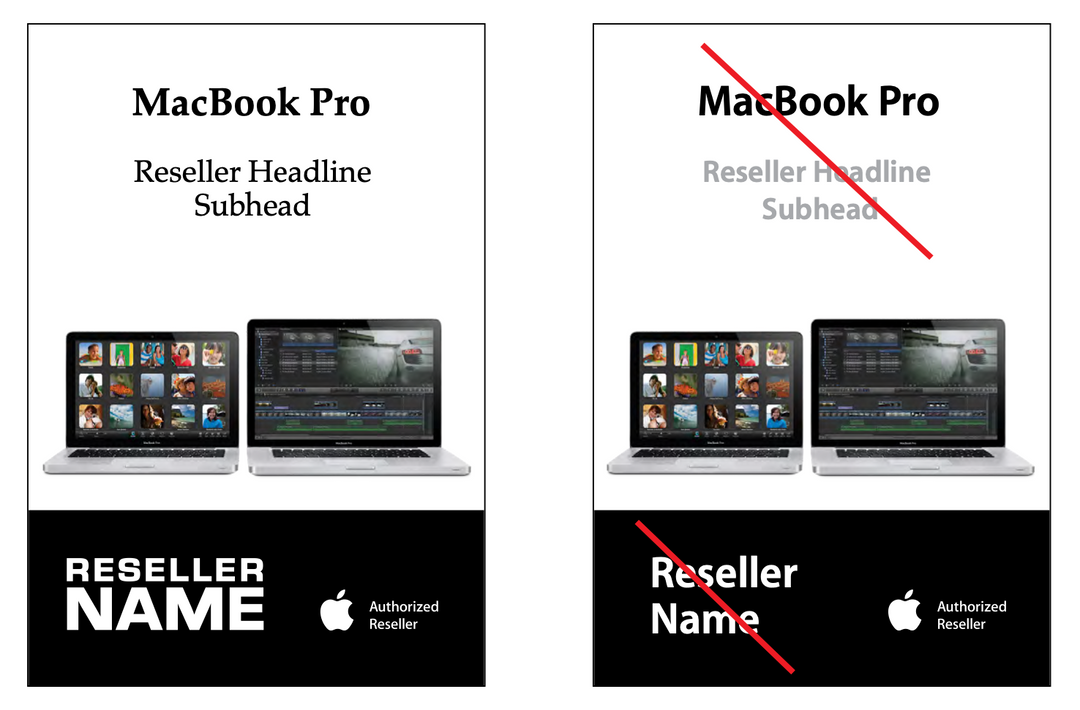 However, your brand guidelines do not need to be as detailed; it should typically include the following items:
Logo and graphic assets: This includes vector images of products, multiple logo variations, presentation templates, and more.
Style guide: A written guide with examples on how to create branded assets for the company.
Color palette: Primary and secondary colors with identification codes for designers to use in branded assets.
Fonts and typography: The brand's custom font or a guideline on what font to use for specific correspondences.
Prototypes: Sample business stationery documents for you and your team to print and modify.
3 materials for your business stationery
The business stationery documents mentioned below can promote brand recall, boost your sales, and improve how professional you look to the outside world.
With accessible and affordable online tools, you no longer require expensive apps or design expertise to get started.
1. Business cards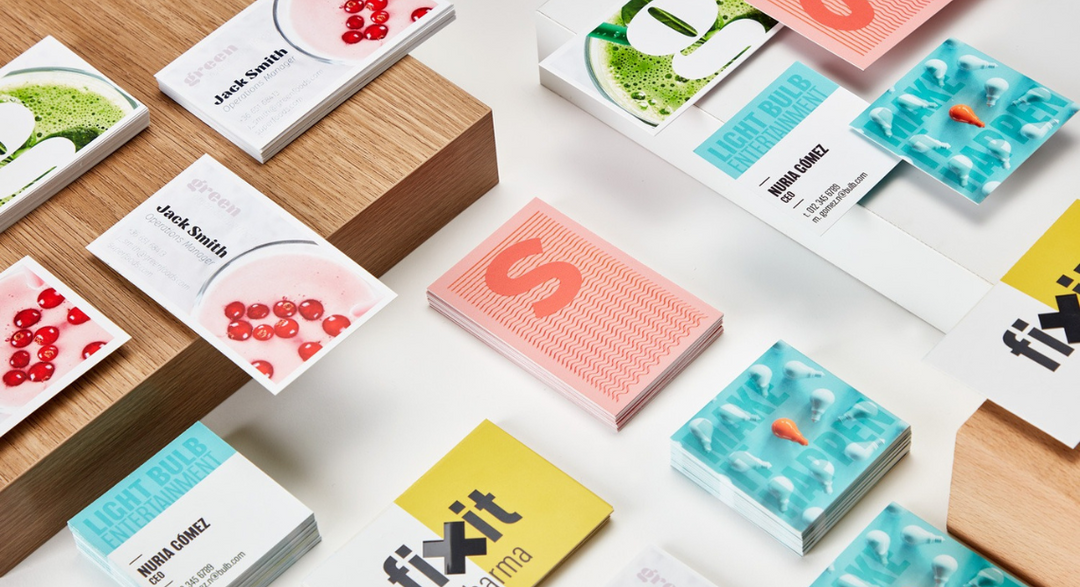 Over ten billion (!!!) business cards are printed each year – a number that isn't expected to slow down soon. Despite the prolific growth of the internet, physical business cards still have their place for communicating with customers, clients, and other peers.
Here's why you should use a business card:
It is helpful during brief meetings: It may be impossible to exchange phone numbers or social media information during conventions and meet-and-greets. A business card can be a simple and fast way to make that happen.
It can increase recall: A well-designed business card can leave a lasting impression on prospective clients, establishing a professional image for your brand. This, in turn, may lead to potential sales.
It is compact and shareable: Business cards are compact – they can fit almost anywhere and are easy to share, which can be useful for networking.
It consolidates your contact information: Business cards have phone numbers, emails, websites, and other contact information – making it simple for clients to contact you.
A professional business card can be a vital networking tool but only if you invest in its design. Numerous online services can help you create this and other business stationery at affordable prices.
2. Letterheads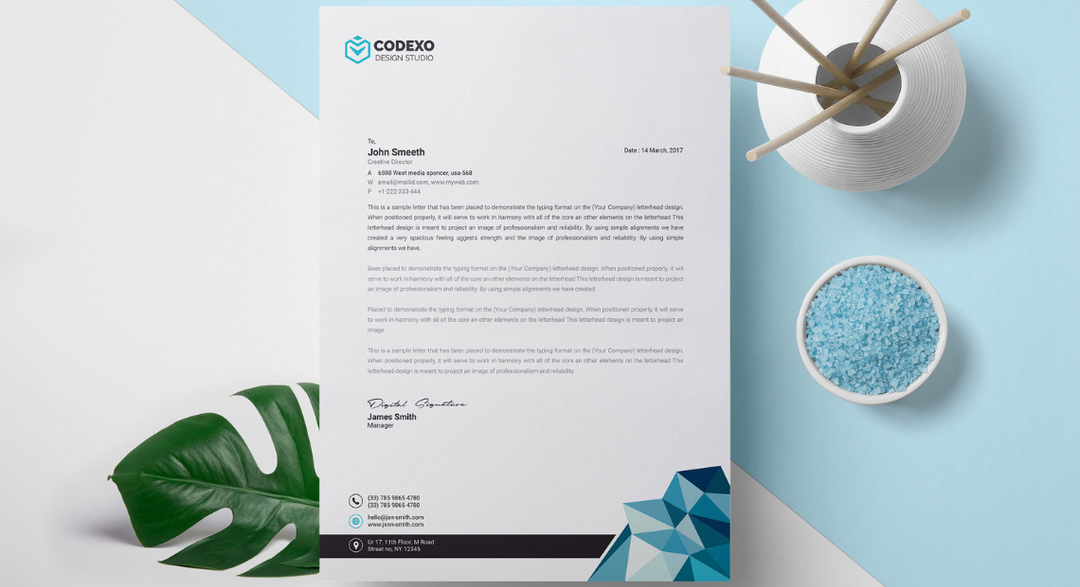 A letterhead is a vital business stationery for official correspondence. It allows the reader to easily identify your company and contact you. While you can design it from scratch, plenty of letterhead templates online can shorten the process.
Here's why a letterhead is a must-have for every brand:
It adds a professional touch to your communication: Letterheads make your content look more credible and official. This increases the chances of the receiver reading the message.
It can be useful for marketing: Most letterheads have space for taglines that you can use to mention products, an announcement, or a company slogan.
It is an affordable way to increase brand recall: There are plenty of affordable and free letterhead templates online that can reinforce your brand's identity with readers.
Letterheads are useful for establishing authority in formal communications.
Launch your brand in minutes with a free logo
3. Invoices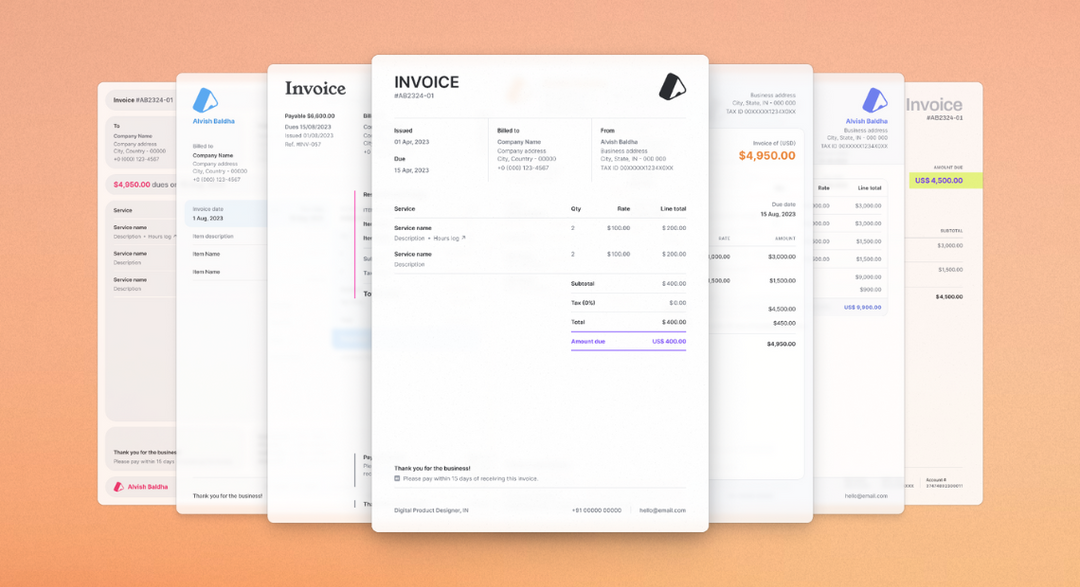 A professional invoice ensures a hassle-free payment and can create a positive impression on the payer. However, poorly designed invoices are far too common.
A 2022 study by Genio states that 61% of late payments are due to wrong invoicing. You can avoid mistakes by using industry-specific invoice templates that you can easily access online.
A thoughtfully created invoice has plenty of benefits for a scaling business:
It leads to faster payments: Well-crafted invoices are easier to read, potentially prompting faster payments. This is especially true if your clients process multiple invoices from many vendors.
It promotes your brand: Professional invoices with your logo, fonts, and color palette display your company in a positive light and can lead to better brand recall.
It helps with tracking income and expenses: Properly structured invoices are easier to read and analyze. This is a boon for you (or your accountant) during tax season – as reading documents with a chaotic structure can lead to significant delays.
Specialized invoices prevent payment errors: Invoices for specific industries have columns, itemizations, and labels that can reduce avoidable confusion and errors.
Every document you send out offers an opportunity to promote your brand – invoices are no different. Put yourself in your payee's shoes before sharing your invoice to know whether your document is optimal.
How to design business stationery
Designing business stationery is an art that combines professionalism with creativity. Your stationery should not only convey vital information but also leave a positive and lasting impression.
With LOGO.com, you can create stationery that speaks volumes about your business in a confident yet friendly manner.
The LOGO Pro plan offers intuitive design tools for all your business stationery documents. It will surely help in creating beautiful and professional assets that retain your brand's personality.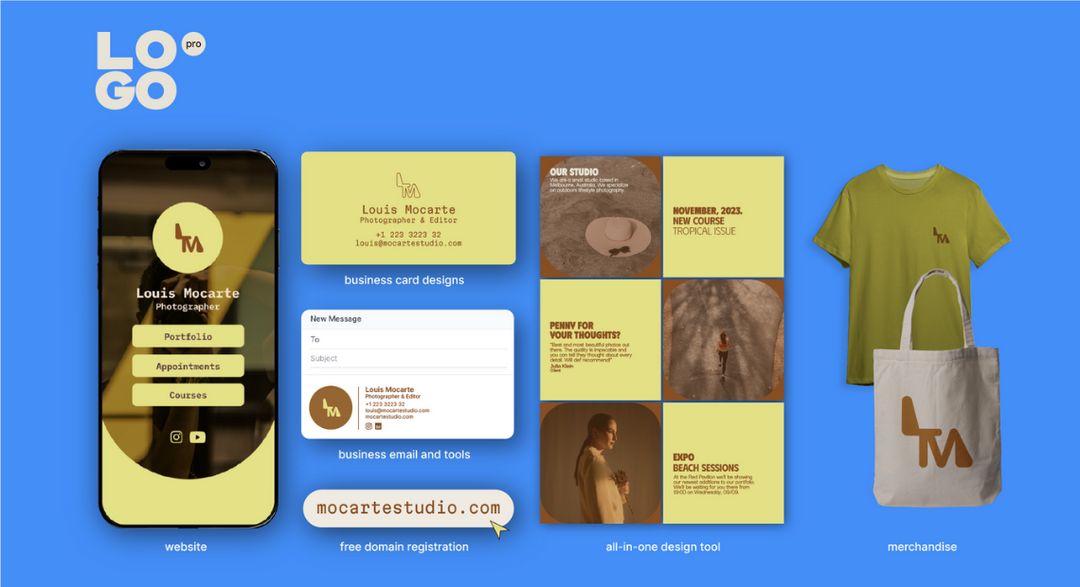 Here's what you get when you sign up for LOGO Pro:
25 logo designs
Brand guidelines
Logo resizer
Domain name
One-page website
Business email
Business cards
Email signatures
Invoice and letterhead templates
Stitch, a custom design tool
And so much more!
Starting at $10 per month, LOGO Pro offers unparalleled value and is the perfect tool for growing businesses looking to increase their brand awareness with business stationery and tools.
Bottom line: Business stationery you need
Business stationery can help increase your brand's awareness while adding professionalism to your correspondence. There are three must-have documents that you can start with today:
A compact business card with a logo and your contact information.
A professional letterhead for formal communications.
An invoice that is structured according to your industry's standards.
All these documents must follow the fonts, color palettes, and elements set in your brand guidelines.
Business stationery documents are a worthwhile investment for companies of all shapes and sizes. You can get started as early as today to leave your audience impressed.
Launch your brand in minutes with a free logo