The classic business card is still relevant and impactful in the digital-obsessed world.
While it may have taken many forms in the virtual world, physical business cards are still exchanged at every level across industries.
If they're great to look at and cleverly designed, these effective communication tools can start conversations and be pivotal in closing a deal.
Why use a calling card creator for your brand?
Your business calling card represents your business in your absence. Online calling cards or business card creators are exchanged between individuals to make reaching out easier.
They are descriptive and personalized for each individual, defining their roles, designations, company information, and contact details.
How does a business card design generator simplify the process?
Business cards must be designed well, outlining the key features that balance the creativity of the card and the necessary information it is supposed to contain. Businesses outsource the creation of business cards to design firms or freelancers, who may charge a premium fee for the process.
Business card design generators are created to give business owners more control over creating their business cards by presenting several options and simple do-it-yourself information for a nominal fee.
The 9 best business card maker templates to consider for your branding
Some business card maker templates may work for your business and operating style, while others may not have everything you're looking for.
To help you pick a professional business card maker, we have handpicked nine of the best options, so you don't have to.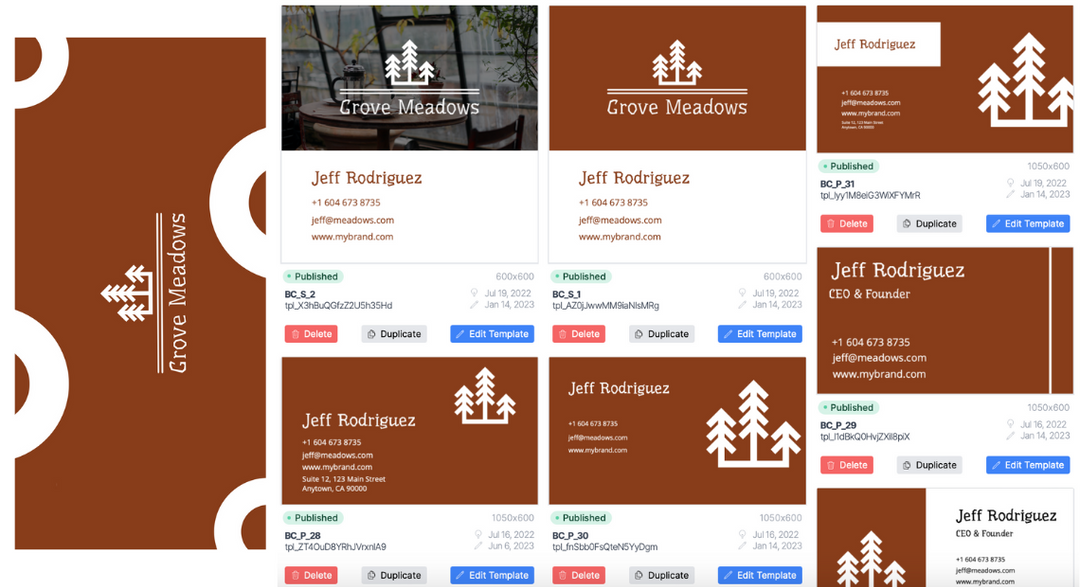 LOGO.com's business card maker is the ultimate solution for crafting captivating designs that will endure the test of time. Unlock the potential for professional growth with their exceptional two-sided business card templates. Along with a free logo from the platform, you can embrace every handout as a chance to expand your network and foster growth.
Best features:
A world variety of dynamic business card templates
Extensive customization opportunities
Automatic logo and brand colors present on all cards
Ready to be printed at your discretion in a matter of minutes
Pros:
It's incredibly affordable, with access to 100+ templates.
You can save your business card designs in any image format you like.
You have access to 24/7 customer service for advice and guidance.
You get instant inspiration for the best business card design ideas.
Cons:
You can't upload anything to the business card maker.
LOGO.com does not offer printing or delivery services.
Pricing: The LOGO.com business card maker is a part of the Brand Plan, which only costs $8 every month. The tool is 100% satisfaction guaranteed.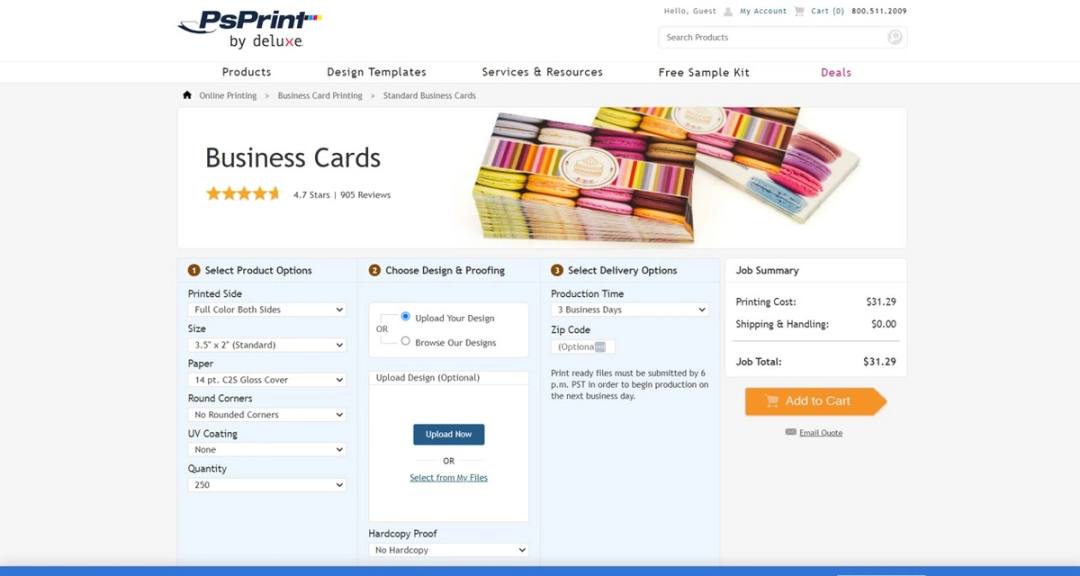 Are you looking to create a business card with extra customization? PsPrint's business card templates offer you the option to die-cut your business cards. If you have an existing design, simply upload it and get started. If you do not, then pick from the many template options available.
Best features:
Upload an existing design or choose from template options
Offers shipping of the business cards
Multiple shapes and patterns of business cards
Pros:
Printing options for single-side and both-side business cards are available.
You get a print-ready file in an instant.
Enjoy high customization options for choosing shapes, materials, and corner styles.
Cons:
The design interface of the tool could be more convenient.
Card printing is expensive.
You will not find pre-made templates for die-cut cards.
Pricing:
$14.44 for 50 pieces of regular cards.
$139 for 500 pieces of die-cut cards.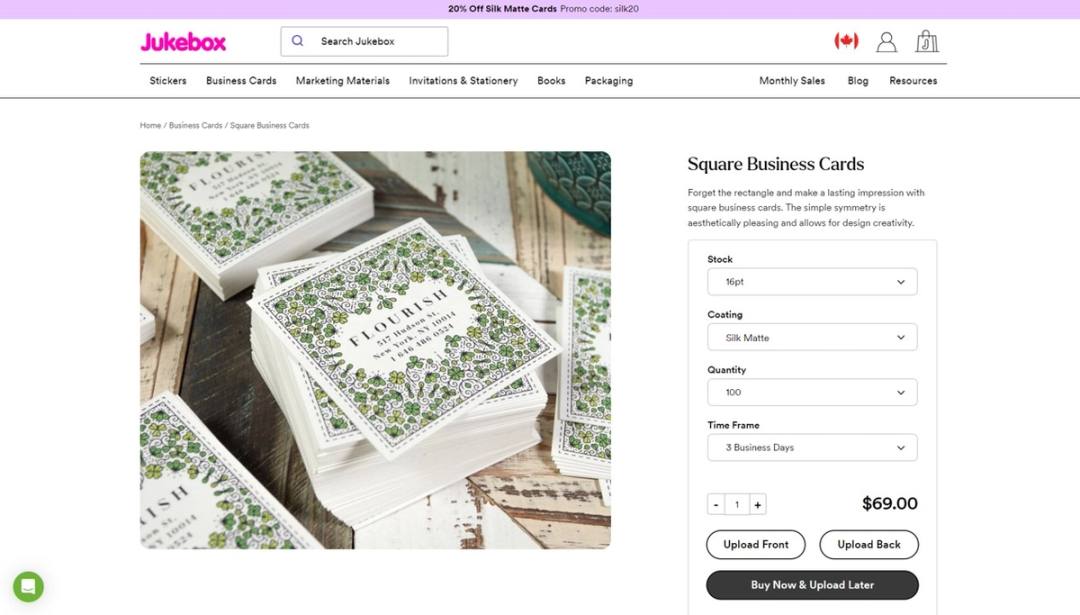 Jukebox houses some of the best business card maker templates because it's the core specialty of the tool. It gives you access to incredible designs and materials for your business card to stand out from conventional styles.
Best features:
Premium materials for unique cards
Same-day printing
The Jukebox support team offers consultation
Pros:
Print a high-quality business card and deliver it to your doorstep in a day.
You have access to help from a customer support team.
You get the option to print your design or use pre-created templates.
Cons:
The creation and printing process is relatively complicated.
You may depend heavily on customer support.
The options on Jukebox are more expensive than most competitors.
Pricing:
Digital business card designs are completely free.
Specific pricing based on the materials ranges from $69 to $125.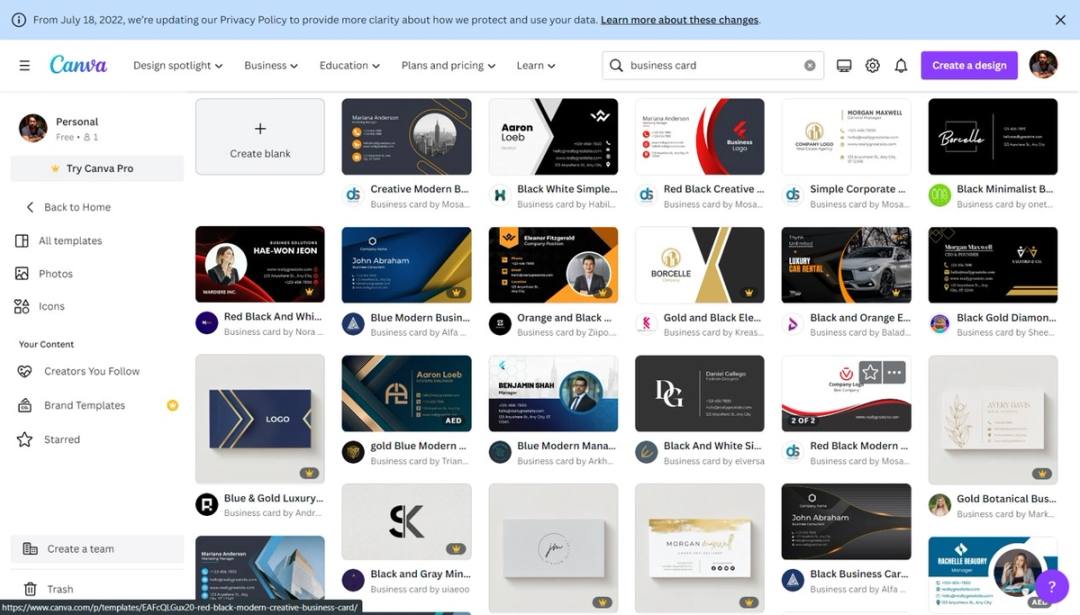 Canva has become a go-to design platform for professionals who need designed marketing material but lack Design 101 skills to create them. Among many other things, Canva also packs a library of business card maker templates.
Best features:
Easy-to-understand interface
Several options to choose from
Fits every budget
Pros:
Create professional-looking business cards.
Good shipping options.
Active and reactive customer support.
Cons:
The wide usage of Canva may cause your business card design to be viewed as generic.
You do not get access to the raw format of the design file for future edits.
There is a high dependence on a reliable internet connection because the design tool is heavy and consumes heavy data.
Pricing:
Canva Free - Free.
Canva Pro - $12.99/month, billed annually.
Canva Teams - $14.99/month, billed annually.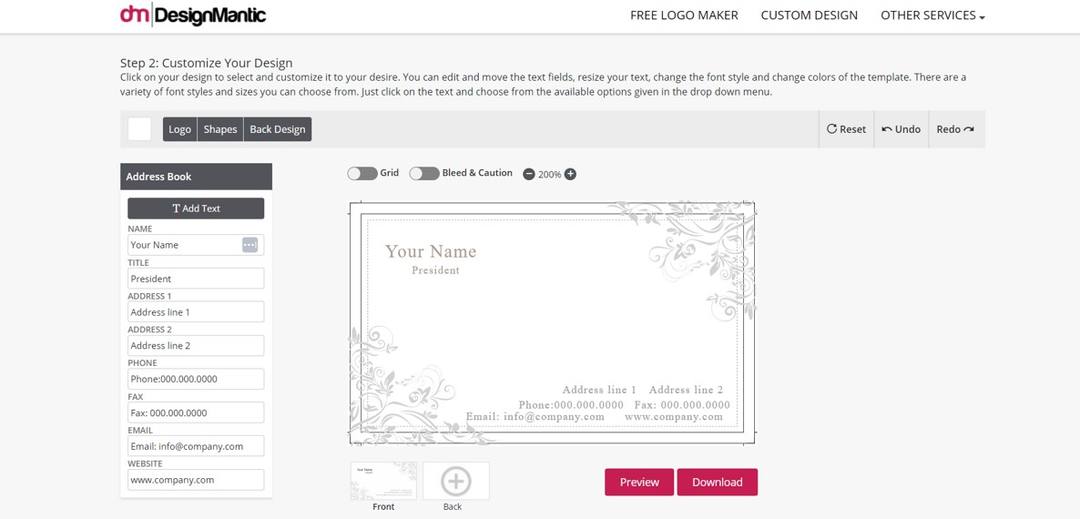 Desginmantic offers a functional tool with a simple interface. Clear text fields let you update the information on your selected business card template. You can preview and download your business card for free.
Best features:
Free to preview
Easy interface
Free consultation
Pros:
You have several design options to choose from.
Quick and easy designing tools.
The simple interface means that there is a smaller learning curve.
Cons:
The overly simplified tool does not allow higher levels of customization.
Adding your logo design takes work, as the site prefers that you use logos created on its platform.
It's difficult finding things (like pricing plan options) on the website.
Pricing:
The logo maker pricing begins with a Basic Package of $37.
The Standard Package offers business card design and other things for $57.
The Pro Package costs $97 and is suitable for businesses that need a range of branding elements.
The Platinum Package costs $197.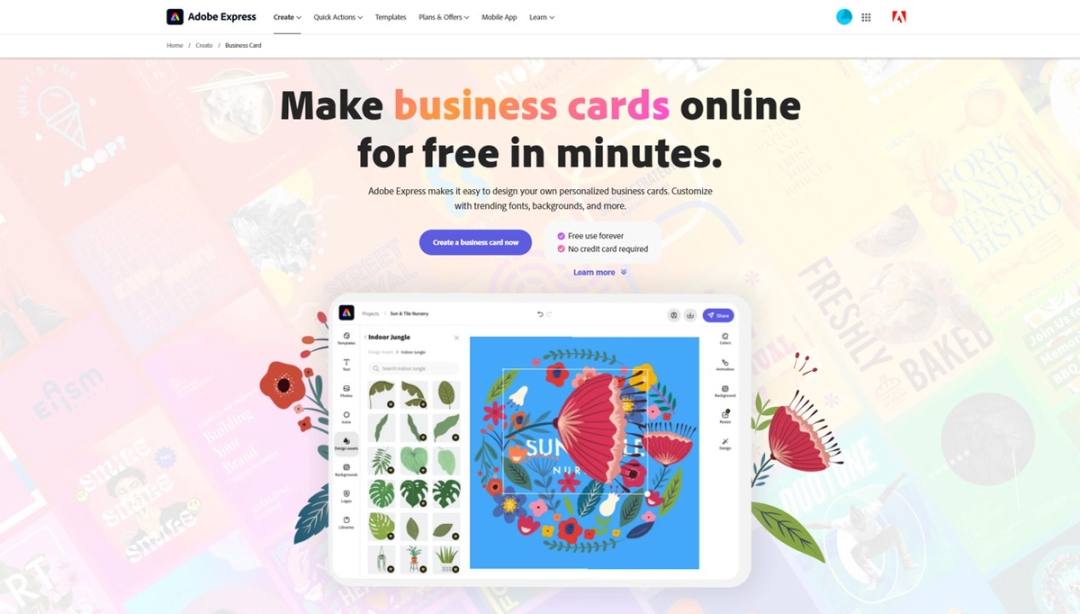 Adobe caters to the needs of professional graphic artists and designers. Adobe Express offers easy-to-use tools for those without design knowledge to create branded material. It includes intuitive business card maker templates that you can pick from.
Best features:
Free tool
Access over 2,000 Adobe fonts for free
Share and store your projects over Adobe Cloud
Pros:
The light and quick interface makes work easier.
Create animation effects on your digital business cards.
Create a new template or use one from the existing list.
Cons:
Creating new templates is much harder than using existing ones.
Adobe Express has a smaller catalog of templates.
The templates are generic and may not suit your specific type of business.
Pricing:
Beta Plan - Free.
Premium Plan - $9.99 per month, billed annually.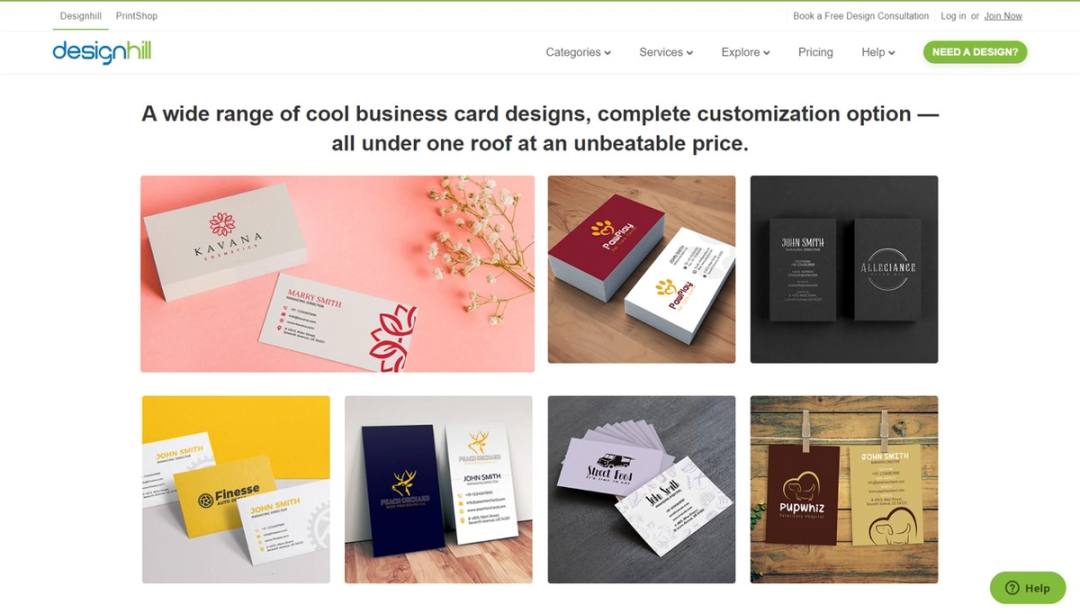 Designhill helps professionals with its business card maker templates, allowing them to create a unique brand look. The platform employs skilled designers to develop its marketing collateral.
Best features:
24/7 live support
The AI-powered tool helps generate unlimited ideas
High-resolution vector files that can be edited
Pros:
All designs are 100% customizable.
Good value for money.
Full copyright and ownership of designs.
Cons:
You must begin work by signing up.
Once the files are downloaded, you cannot get a refund.
The pricing may be steep for smaller businesses.
Pricing:
Fast Track ($149) offers entry-level designers, 20 designs, and other benefits.
Standard ($249), and you get experienced designers and 40 designs plus other benefits.
Executive ($549) gives you access to expert designers and 60 designs, plus other benefits.
Premium ($949) connects you with exceptional designers and 80 designs, plus other benefits.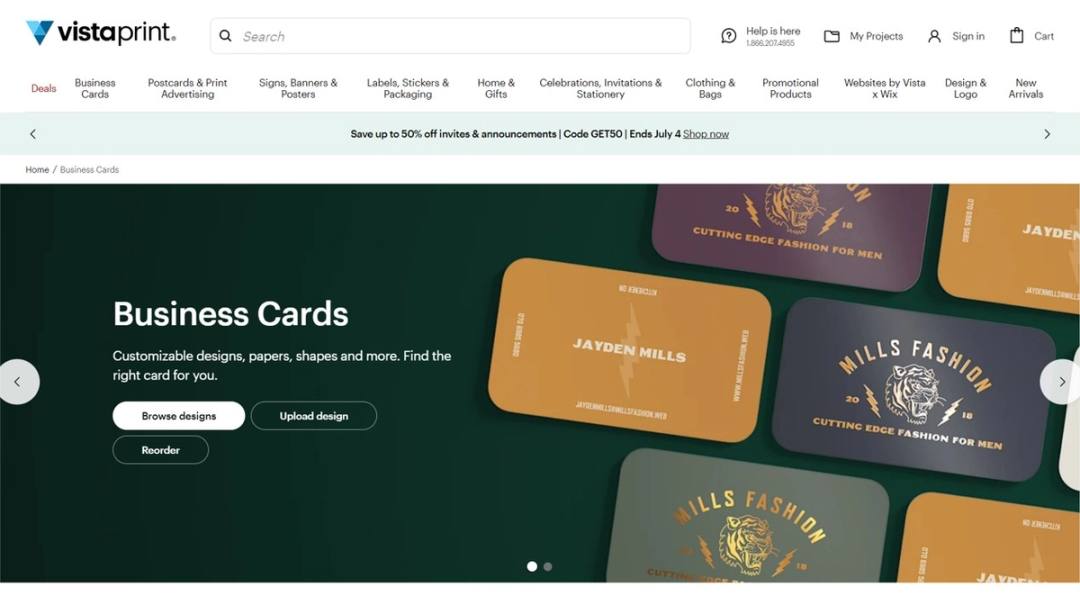 Vistaprint offers interesting design templates and functions as a print shop. You can easily design, print, and ship your cards to your doorstep.
Best features:
Specialized print shop with several printing and shipment options
Customization options that match your branding look and feel
Premium business card materials
Pros:
Get everything done in one place, from one website.
Pick from a range of shapes and papers.
Designer consultation is available on request.
Cons:
Not the most affordable business card creator in town.
Far too many options require you to spend ample time browsing till you find the specific design you need.
You do not get a physical preview of the product that will be delivered since it is an online platform.
Pricing:
It starts at $18 for 100 cards.
Upgrading materials and shapes can increase the rate to $31 for 100 cards.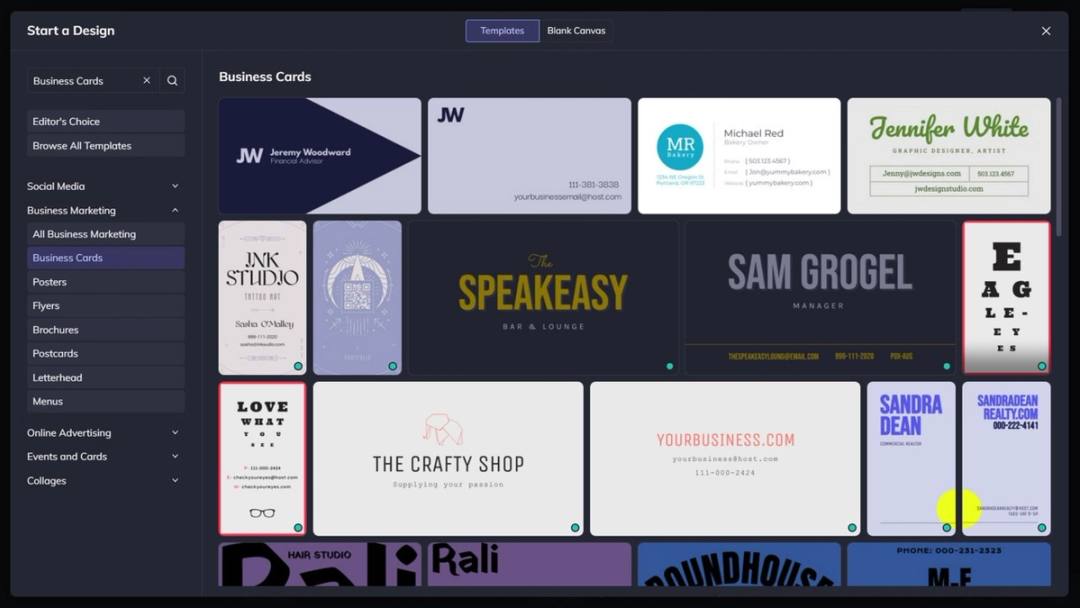 One of the best business card maker templates can be found on BeFunky's website. The designs are dynamic, you have great control over what you create, and the result is delightful.
Best features:
Four simple steps to create a design for your business card
Multiple genres of industries to explore
Unique design portfolio
Pros:
Find a template that matches your industry easily.
Cons:
Editing platforms may lag on slower internet speeds.
It has a limited catalog of design options.
Pricing:
Free version available.
Plus version that costs $11.99 is being offered at just $5.99.
Is it a good idea to make business cards yourself?
If you are a new business and need more budgets to spend on marketing, making a business card yourself is a great option. You can create one for yourself and have it printed and delivered to begin booking meetings immediately.
How do you choose the best business card builder online?
Pick a business card builder online based on the control it offers you to customize, the designs that can be found, and the cost advantage.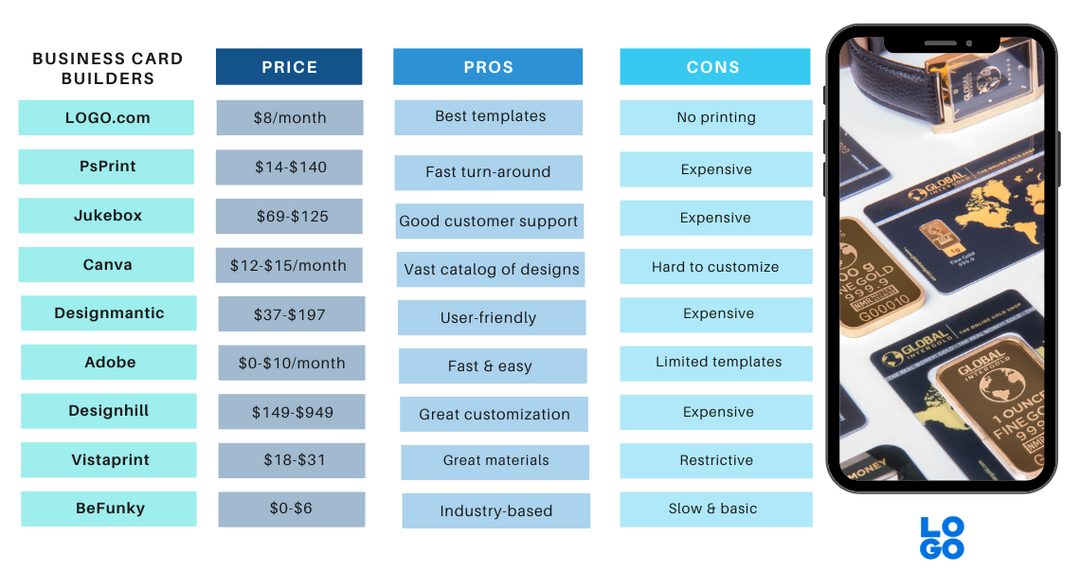 Take note that price and quality are the defining factors of your choice. You want a great business card that defines your brand identity, but you don't want to break the bank by getting it.
Will a business card design generator ultimately help your brand?
For a growing brand, a business card design generator presents a quick and easy solution to improve your recognition and create a recall among partners and customers.
As you bag more meetings, close more deals, and grow, you can employ a professional design team to do this for you with a larger marketing budget.