In the age of instant templates and QR codes, professional business card makers continue to serve the purpose of several entrepreneurs and professionals.
The dawn of digital formats to share contact information, such as a website address, may have you believe that these branding tools are less relevant.
Incredibly, they're still the most dependable means of sharing information about yourself and your company and giving customers an easy way to stay in touch with you.
What is a business card design generator?
Designing a business card design may sound mechanical, but with business card maker software, you can get multiple business card designs in a blink. Most business card design generators are quick and intuitive and offer ready-to-use templates to be selected, tweaked, and downloaded as ready-to-print business card designs.
How to make a business card look professional?
Professional business card makers do a wonderful job of creating business cards that look like design firms designed them.
They have all the right ingredients, with branding, name, address, designation, and key information that can direct a customer to you.
An important aspect to remember when choosing business card templates is to be mindful of the industry you are operating in.
The 10 best professional business card makers to spread the word about your brand
The internet is a sea of options for any professional who wants to create their business card at the best price.
Explore the 10 best professional business card makers that simplify business card design and give you a solid tool to build your network.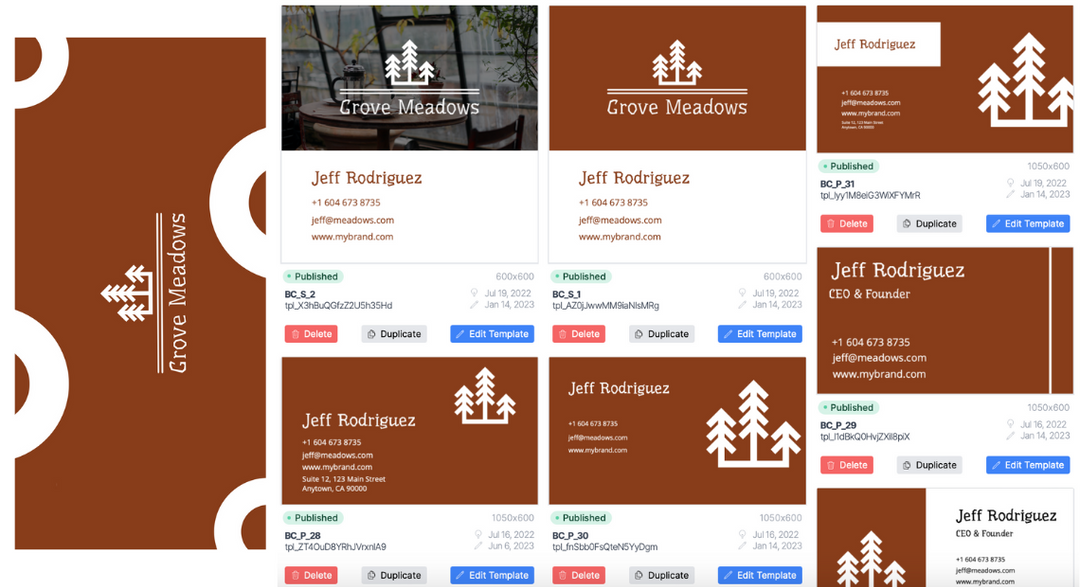 LOGO.com's business card maker is your best choice for creating unique, eye-catching designs that stand the test of time. Allow every handout to be an opportunity for growth and networking with LOGO.com's two-sided business card templates, which automatically comprise a free logo on the platform along with your chosen color combinations.
Best features:
A world variety of dynamic business card templates
Extensive customization opportunities
Automatic logo and brand colors present on all cards
Ready to be printed at your discretion in a matter of minutes
Pros:
It's incredibly affordable, with access to 100+ templates.
You can save your business card designs in any image format you like.
You have access to 24/7 customer service for advice and guidance.
You get instant inspiration for the best business card design ideas.
Cons:
You can't upload anything to the business card maker.
LOGO.com does not offer printing or delivery services.
Pricing: The LOGO.com business card maker is a part of the Brand Plan, which only costs $8 every month. The tool is 100% satisfaction guaranteed.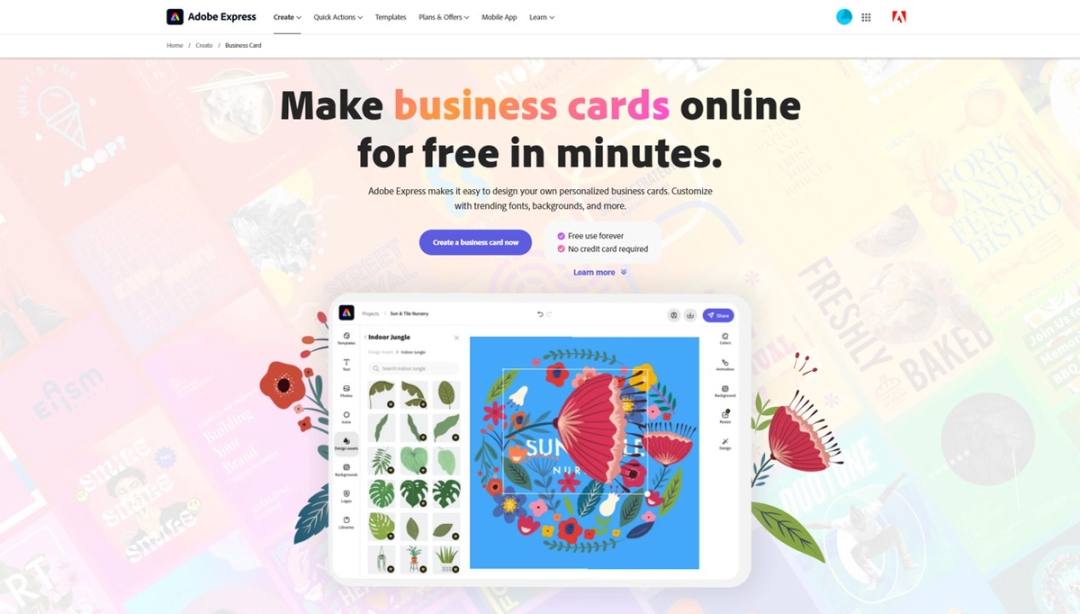 Professional designers use Adobe's Creative Cloud solution extensively. The brand's Creative Cloud Express is for everyone who needs to design something, regardless of proficiency. Among many things, the tool aids in creating professional business cards.
Best features:
Free use forever
No credit card required
Over 2,000 unique Adobe Fonts
Pros:
Create your professional business card on a desktop or a mobile.
You can create a new template if you're unhappy with the existing options.
Add animations to your business cards to distribute digitally.
Cons:
There are a limited number of Adobe templates for business cards.
Creating templates from scratch requires too much effort.
Finding a business card that suits your industry can be challenging.
Pricing:
Beta Plan - Free.
Premium Plan - $9.99 per month, billed annually.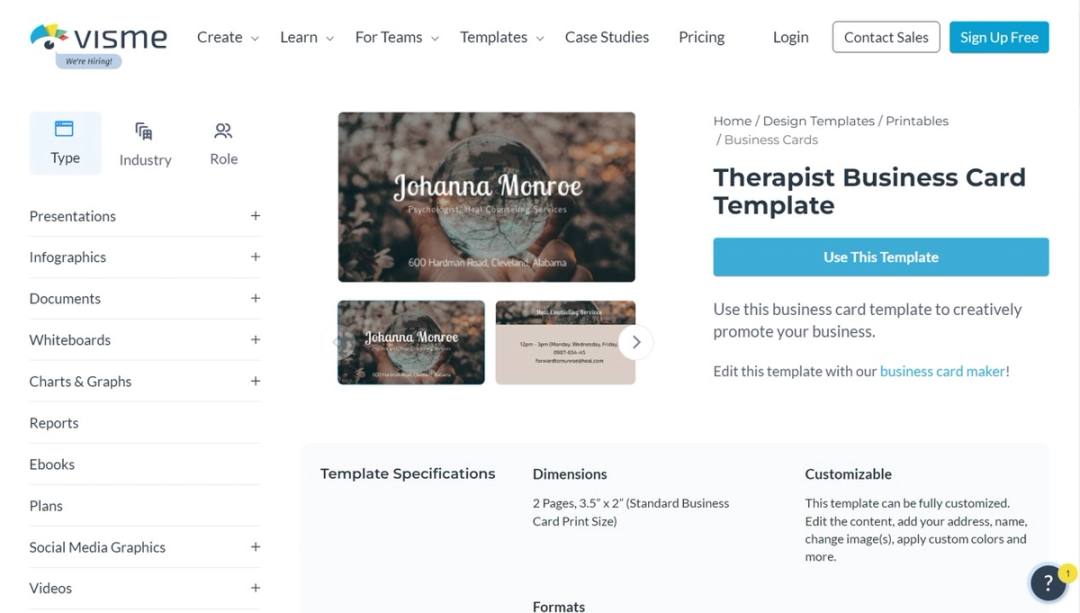 Visme is a handy professional business card maker if you're unsure about the style of design that suits your type of business. With several options, the platform lets you create professionally-looking designs for free.
Best features:
Free templates
Industry-specific filters to search business card styles
Multiple file format downloads are available
Pros:
Access highly customizable templates.
Better keyword searches help you find the template that suits your need.
Get recommendations of similar business card templates when you pick one.
Cons:
You must sign up to begin customization.
The paid version of Visme is comparatively expensive as compared to other platforms.
It does not support collaborative design.
Pricing:
Basic - Free.
Starter - $12.25/month, billed annually.
Pro - $24.75/month, billed annually.
Visme for Teams - Price on demand.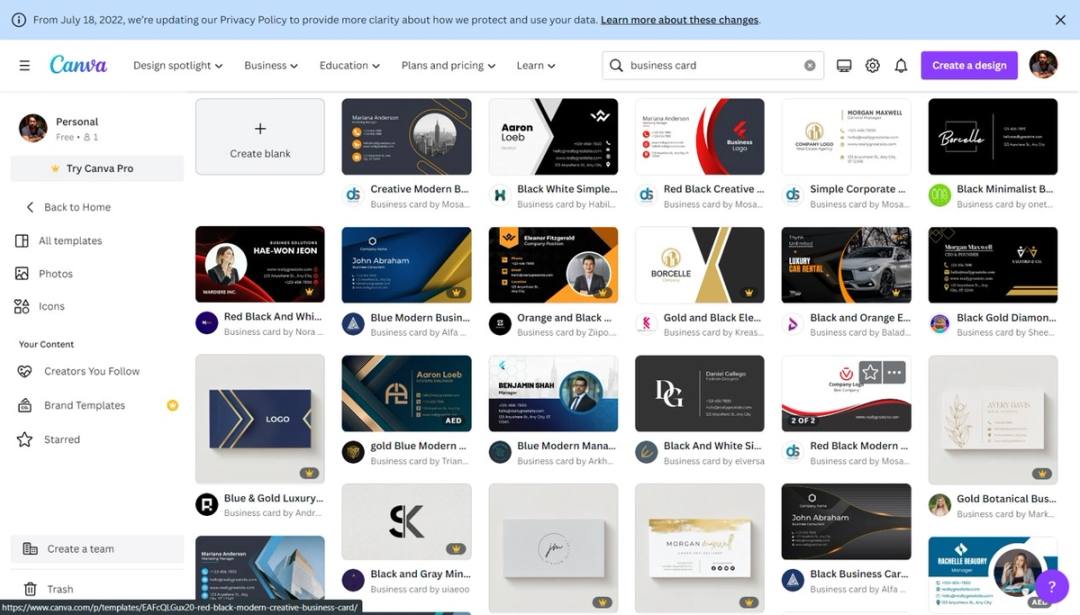 Loved by marketers and detested by designers, Canva has earned a unique reputation. Its intuitive user interface helps novice non-designers create amazing graphics with the help of templates and a vast catalog of designs. Likewise, business cards take up a special place in the Canva catalog.
Best features:
Offers a ton of template options
Multiple team access on documents simultaneously
Specially built to convenience non-designers
Pros:
You can pick from a vast selection of professional design templates.
Because of its growing volume of users, Canva has a powerful support system in place.
Access fast and free shipping options with every shipment of business cards you send or receive.
Cons:
Canva does not give you access to the raw file or the open file to edit later on your desktop.
The look of Canva templates is well-known by customers and may not help you look serious.
The interface is heavy and demands quick and constant internet connectivity.
Pricing:
Canva Free - Free.
Canva Pro - $12.99/month, billed annually.
Canva Teams - $14.99/month, billed annually.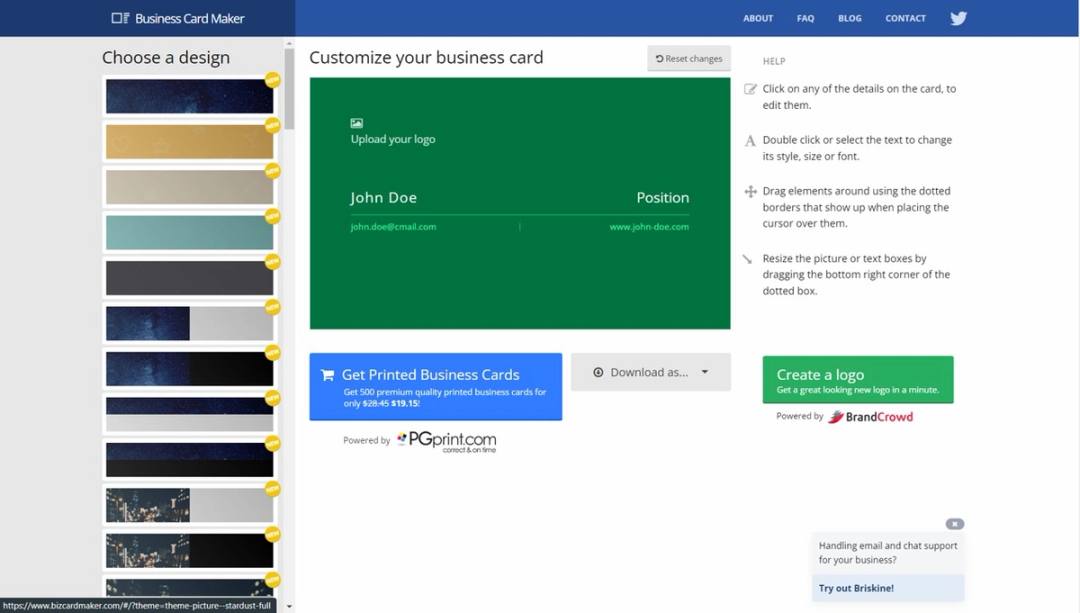 If you're looking for a professional business card maker that cuts all frills out, then the Business Card Maker tool could be a good choice.
Best features:
Ideal for meeting tight deadlines
Quick and easy to use
Convenient drag-and-drop functionality
Pros:
The tool does not require a fast internet connection and is light to use.
Printing costs are comparatively lesser than the competition.
It is an ideal solution for simple, nothing-unique business cards.
Cons:
The business card templates are generic and may not work for businesses that want to come across as unique.
Doesn't offer a lot of customization options.
There are limited color options to choose from.
Pricing:
Print five hundred premium quality business cards for $19.99.
Digital downloads of cards are free.
Vistaprint offers a large database of pre-made templates, making it a popular professional business card maker. The templates offer various regional styles, business purposes, and useful customizations.
Best features:
Linear and convenient process
Thousands of templates
Digital and printable cards
Pros:
There's a template for nearly any purpose.
You can start with a blank business card and create your template.
You get a free account option.
Cons:
You must sign in before you can edit business cards.
There are reports of the website crashing during development.
Vista Create has poor mobile compatibility.
Pricing:
Free version available.
The pro version costs $10/month with a 14-day free trial and access to more features.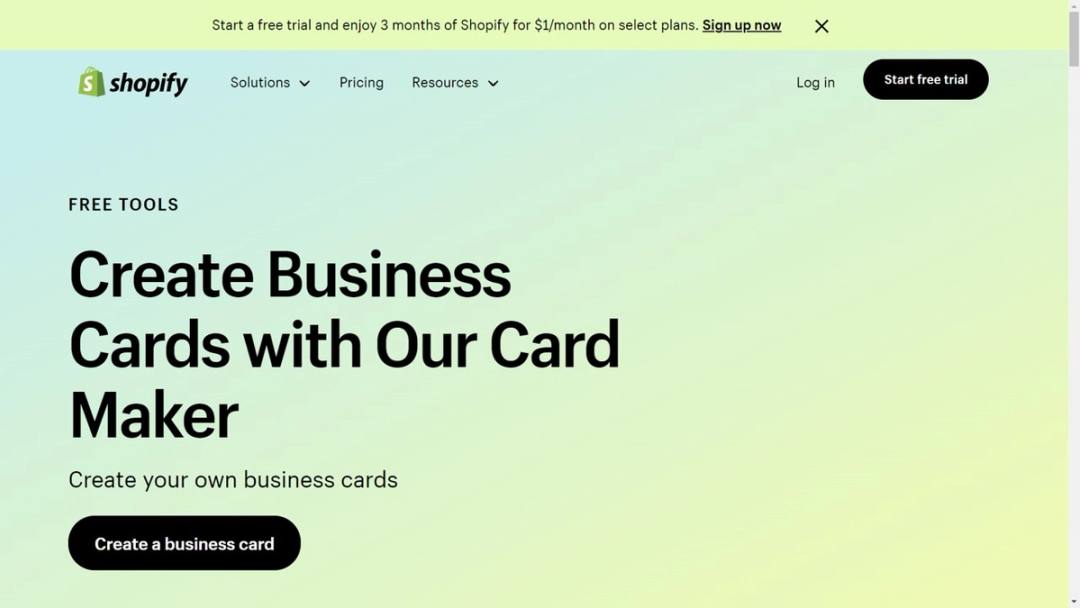 In addition to being an e-commerce solution for brands, Shopify offers a free business card creation tool. You can choose from a range of templates and get your cards printed.
Best features:
Large portfolio of templates
Free tool
Unlimited number of cards
Pros:
Business card templates are categorized based on the business type.
You can add a QR code to your business cards.
Shopify supports the creation of print-ready designs.
Cons:
The professional business card maker requires you to sign up before displaying the designs.
You need to manage the printing of business cards yourself.
It is not recommended for advanced customizations.
Pricing:
Free business card maker is available once you sign up.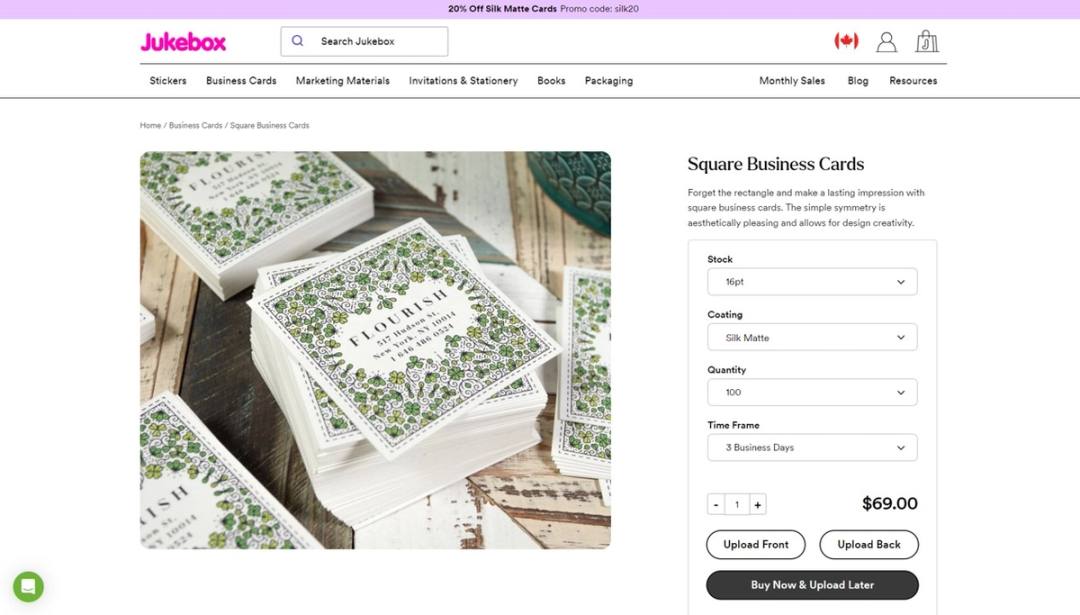 Jukebox is an exclusive tool for creating business cards. It is the website's core functionality, which is why you can get better customization options.
Best features:
Offers printing services
Special materials available
The consultant team from Jukebox is always within reach
Pros:
Offers same-day printing facility.
An accessible and supportive customer support team is always ready.
You can print existing card designs by customizing them with different printing materials and create your designs.
Cons:
It is an expensive option as compared to competitors.
The process from idea to implementation can be long and tedious.
The interface is heavier and may require quicker internet speeds.
Pricing:
Digital business card designs are completely free.
Specific pricing based on the materials ranges from $69 to $125.
If you have a brand style that you would like to apply to your business cards, then Designs.ai offers something unique.
Best features:
Create from a range of templates
Apply your brand style easily
Several tips and tricks
Pros:
You can extend your brand look to your business cards without contacting a professional design firm.
The professional business card maker offers over 1,000 templates.
Multiple customization tools help you achieve just what you want.
Cons:
The editor has a clunky interface that may need to be fixed.
No printing support.
It is expensive compared to competitors.
Pricing:
$29/month for the basic version.
$69/month Pro version for businesses to use advanced editing.
With customizable business card layouts, Easil allows you to create professional business card designs. Simply submit your logo and other brand components, and customize the template by changing the text, fonts, and colors to get your business card.
Best features:
Quick and easy with templates
Good drag-and-drop interface
Free version available
Pros:
Get a Free Plus version trial for a month.
The templates can be customized to match your brand colors.
Contemporary template designs that can suit all businesses
Cons:
You must sign up to use any feature.
Only some templates are available in the free version.
Customers have testified about the poor customer support.
Pricing:
Free version with a 30-day trial period of Plus.
Plus version costs $7.50/month.
The Edge version offers even more templates and unlimited access for $59/month.
How to choose the right business card maker template
When picking a template, consider the definition of your business, the purpose it serves, and the values it maintains. Your business card template should match the brand's personality you convey to your customer.
Most professional business card makers overwhelm you with multiple designs, templates, and options, and it is up to your discretion to pick something that mirrors your company perfectly.
What can the best business card makers do for your business?
The best business card makers will remove the stress of dealing with expensive design agencies or freelancers to create business cards. You can use your branding, colors, logo, and style to instantly customize and create a business card and get it printed.
How do you choose the right professional business card maker for your brand?
Pick a template that gives you more than just a convenient interface. It should help you strengthen your brand as a whole. Depending on your design proficiency, you may also want a tool that does most of the work without requiring more involvement or input.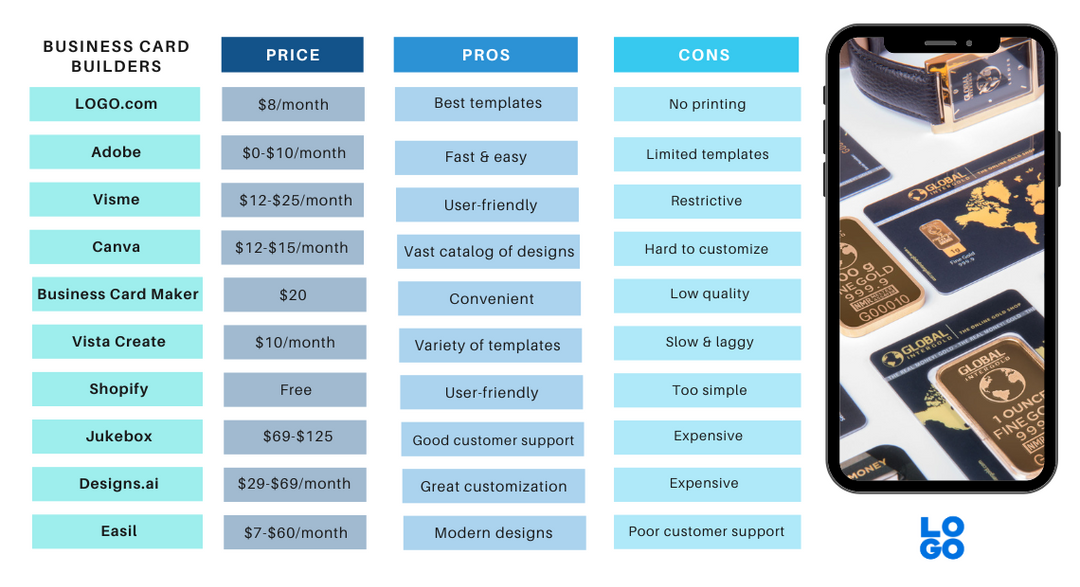 There is no perfect business card design (although LOGO.com comes close), so spend your time exploring your options to find the one that best suits the needs of your business.