‍
We're happy to announce that you can now launch your own personal one-page site with LOGO.com, compliments of the Brand Plan. Even better, we'll throw in a free hi.link domain name to go with it!
With a one-page website, the sky is the limit for any budding entrepreneur. Good websites don't need to be complicated. In fact, a well-designed one-page website can convey a great deal of information.
No matter the purpose of your website—a freelancer portfolio, a restaurant website, or the homepage for your small business—a one-page site can help you achieve your goals with ease and simplicity.
‍
What is a one-page website?
Simply put, a one-page website is one that consists of a single HTML page. This means there's no scope for adding and managing different pages, such as "About Us," "Features," or "Contact Us." One-page sites give you the opportunity to add all this information on one page, creating a seamless and easy-to-navigate experience.
When your business has a very specific target demographic, a one-page website is the way to go. There has been a rise in their use for a variety of purposes, such as events, portfolios, product pages, and service-based businesses.
All you need is our all-in-one platform, and you can have your own website up and running in no time. All you have to do is add the information, and we'll create the site for you in the backend. You don't need to have any experience or knowledge of coding to make websites that look like they were developed by professionals.
‍
Secure your one-page site with these 6 easy steps
But is one page enough to show all the important information effectively? The constraints of a single-page layout can actually be used to your advantage. With less real estate, you can concentrate all of your creativity on a single page.
Now, let's get started on how you can make this site your innovative playground. The best part? It only takes under ten minutes to fully set up.
‍
Step 1: Create an account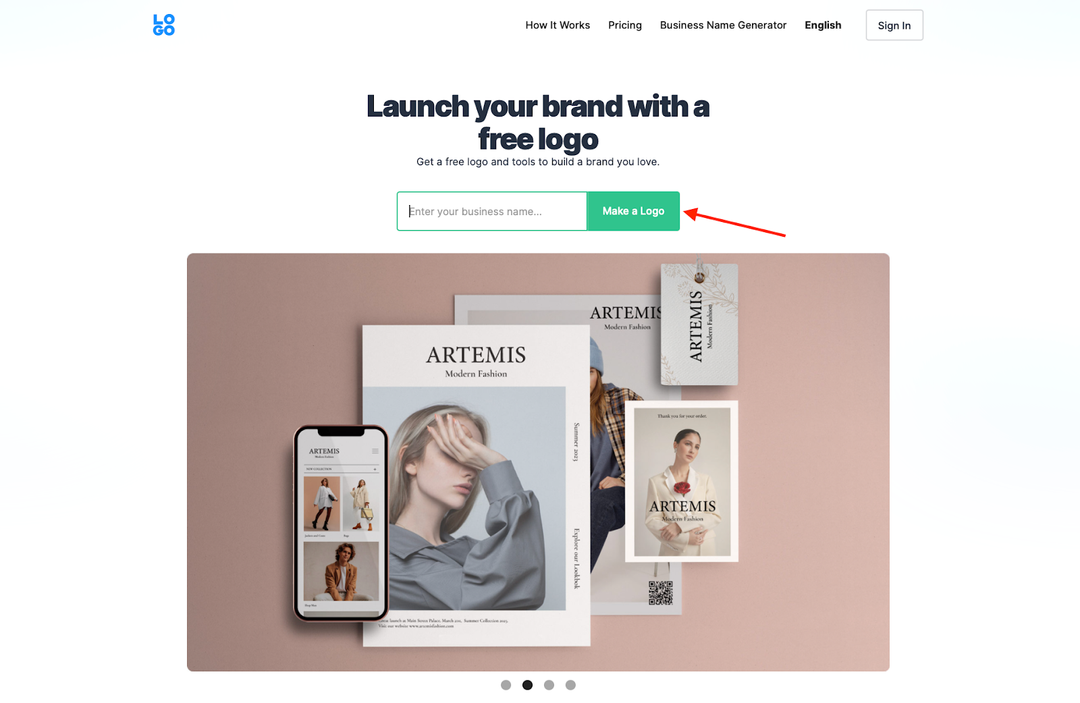 The first step is to create an account with LOGO.com, which will allow you to get a logo design for free. Once you have completed creating your logo, click "Get your logo" on the upper right of the editor to gain access to your personal branding dashboard.
‍
Step 2: Click One Page Site in your dashboard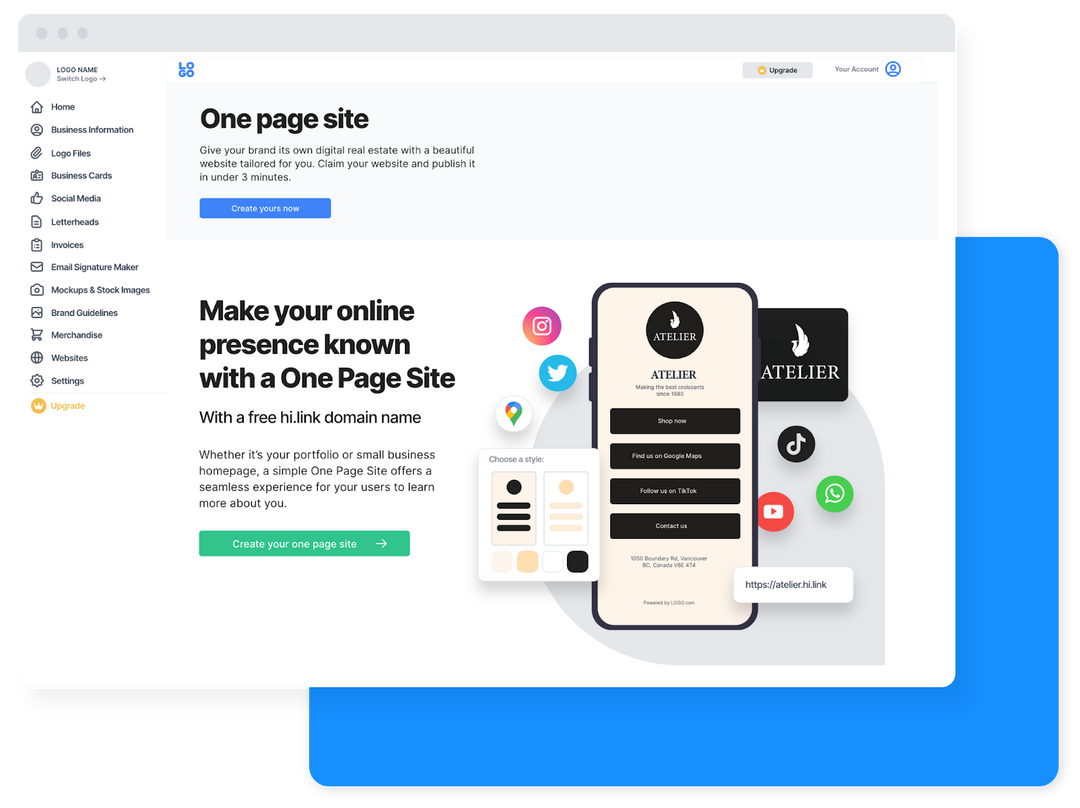 With your new logo in tow, you can officially start creating your one-page site by going to Websites located in your dashboard's left-hand menu and clicking One Page Site. From there, you'll gain information on the advantages of the tool, giving you insight into its potential benefits for your business.
When you're ready to start, click "Create your one-page site" to begin setting up your new and exciting website.
‍
Step 3: Choose the brand you want to create the one-page site with
The first step in creating your one-page site is deciding which brand you want it to represent. If your account contains multiple brand logos, simply choose the one you want to be published.
If you change your mind and want to use a different logo down the road, you can always go in and make the necessary changes to your one-page site.
‍
Step 4: Fill in your business details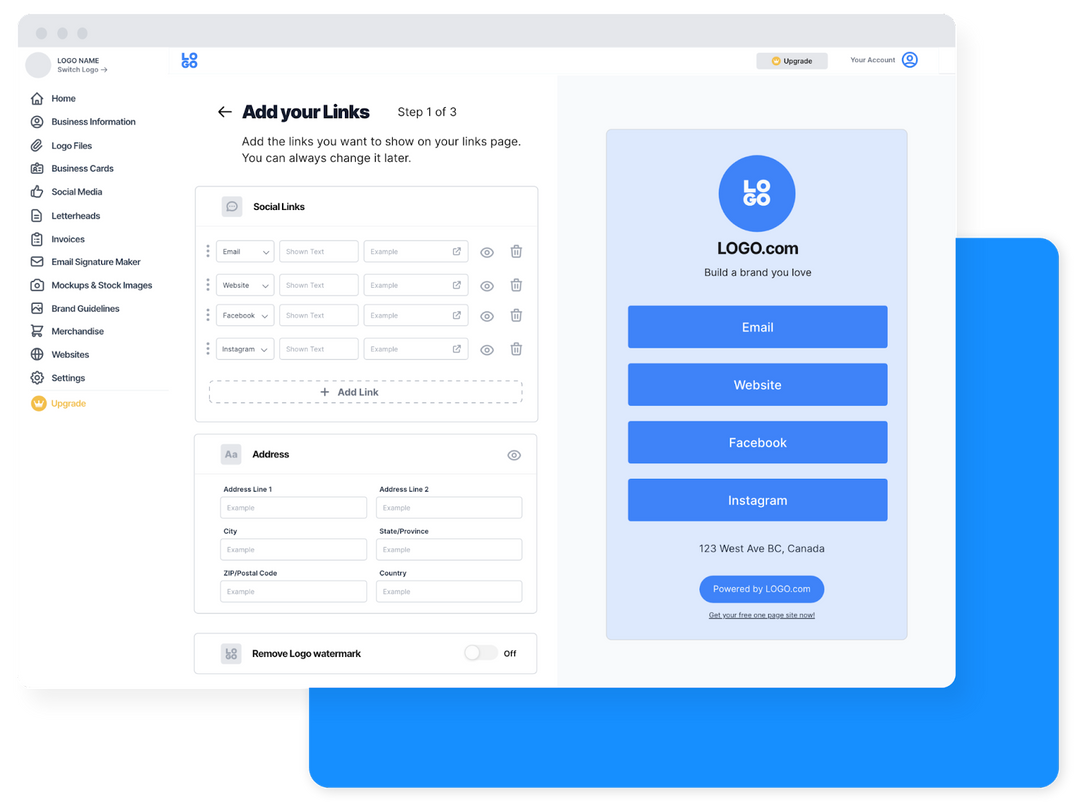 To get your one-page site going, you first need to add key information about your business, such as social media accounts and the location of your company. These details make it easy for customers to get in touch with you through your one-page site and reach you on several other channels.
But don't feel too much pressure! You can always change the details later on should your contact information or social media handles update in the future.
‍
Step 5: Select your preferred style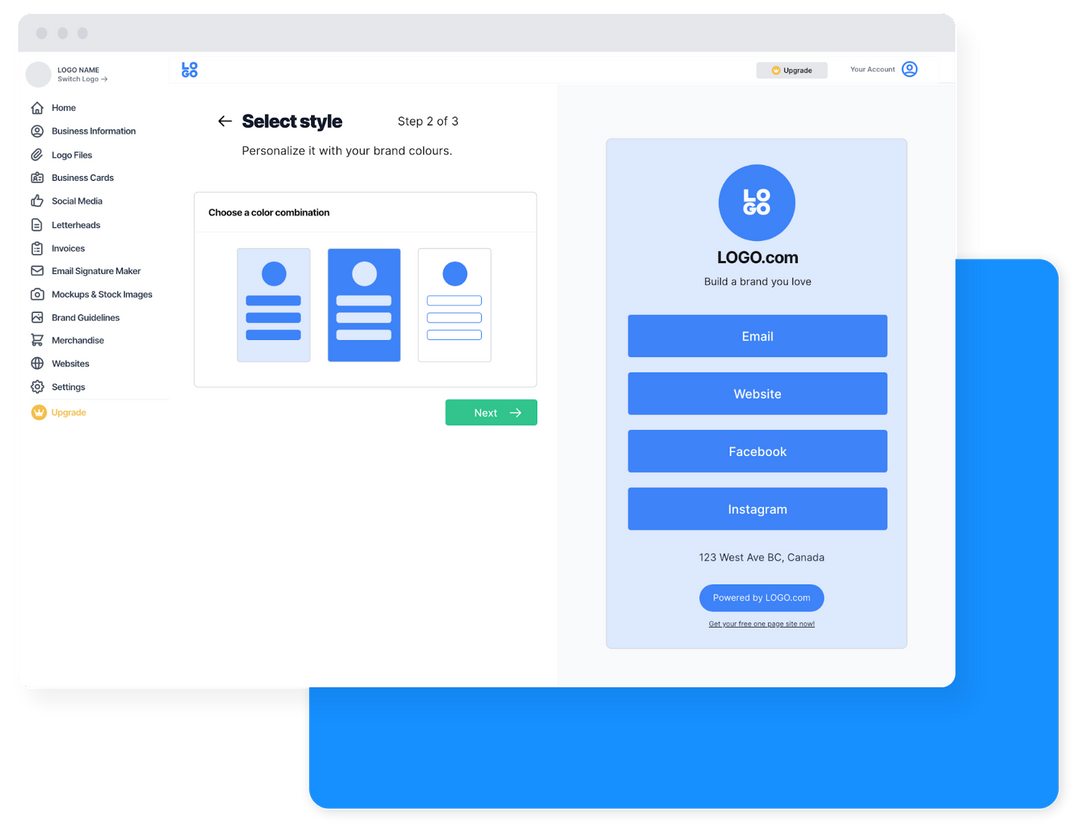 Once you've filled in your business details, you can now choose the style of your one-page site The color combinations you see will be in direct correlation with the brand colors you've chosen for your logo design.
‍
Step 6: Get your free hi.link domain and publish your site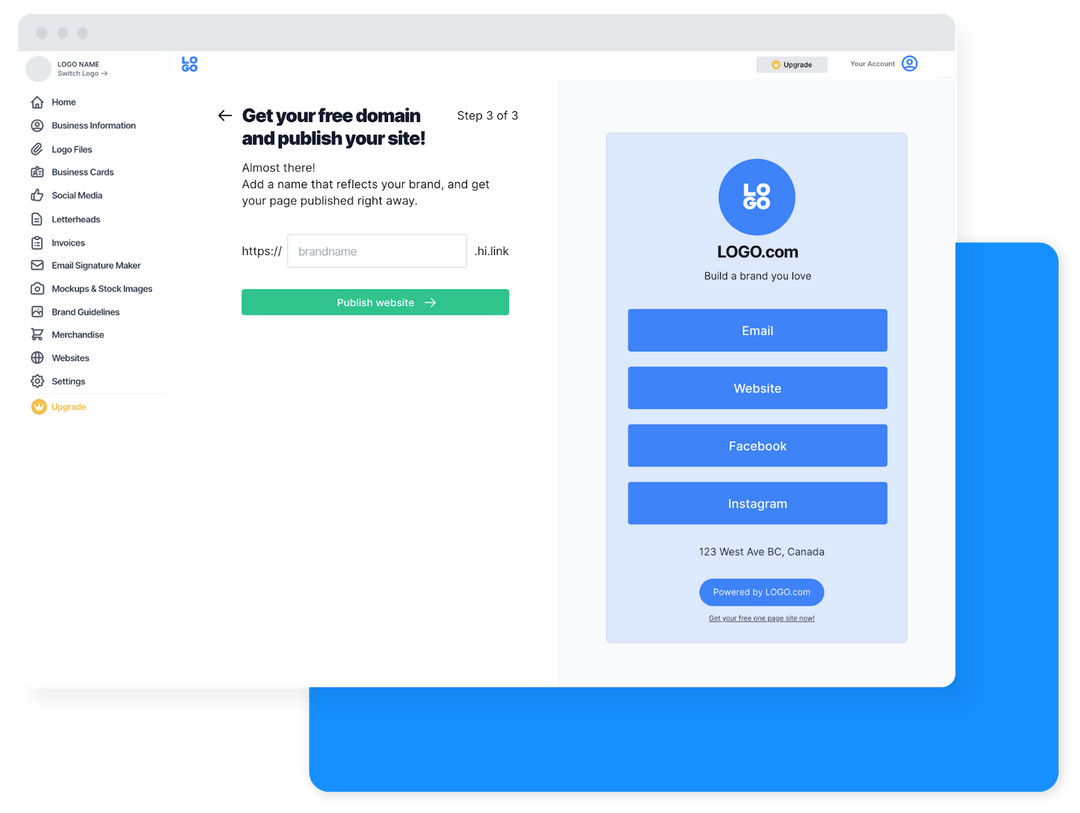 The last piece of the puzzle is the easiest. Input your business name or a name that you want people to associate with your company and get a free hi.link domain name on us. This domain name will be placed in the URL of your new one-page site, so make sure to include it in your branding materials.
Once you've found the perfect name, click Publish Website to get your one-page site up and running.
For only $10/month (Brand Plan Subscription), you can have a low-maintenance site with a free domain name where customers can find you and enlist your services without any obstacles in the way.
The $10/month Brand Plan Subscription also gives you access to other premium tools such as business cards, letterheads, email signatures, flyers, posters, social media posts, and so much more.
If you ever need to edit your one-page site, you can do so easily by logging back into your dashboard and making the changes.
‍
Create your one-page site today!
Raise your brand's visibility on the web with a specialized, one-page site. Save your visitors the trouble of overcrowded information, multiple pages, and slow loading speeds. Express everything that's important to your business on one page today.
Ready to design your free logo for your new one-page site? Get started with our logo maker!