Your logo is an important part of your brand identity. A well-designed logo helps with brand recall and communicates vital messaging to your audience. The Nike tick is a prime example of a captivating logo that triggers an instant brand recall. A lot of Nike ads now just feature the logo without the brand name.
Yet, your logo can become dated, and you'll need a logo redesign. This blog post will discuss the triggers that dictate a logo redesign, current design trends, and how a redesign can help in strengthening your brand identity and recall.
What Is A Logo Redesign?
Apart from being the 11th bonus track on Lemon Demon's 8th album, "Spirit Phone", logo redesign is a rather dramatic approach compared to a logo refresh. In the latter you maybe only changing a few elements, a slight modification, or a different font; in the former, you completely redesign your logo. It's almost like doing a plastic surgery on your logo. You could have a whole new color scheme and maybe even change your business name (for example, Federal Express to FedEx).
After a logo redesign, your new logo will most likely be completely different from your earlier logo.
When Should You Consider A Logo Redesign?
Your logo is the first step in narrating the brand story. The logo should represent your brand personality and leave customers with a positive impression of your company. Yet, sometimes your logo just doesn't seem to deliver that positive impression you desire.
I'll start this guide by looking at some of the different reasons you might need a logo redesign. Let's begin by looking at one of the primary factors that led us to recently go through a rebranding process; when your business evolves.
‍
1. When your business evolves
Perhaps you've recently added a new line of product or service categories to your company or are now servicing a new business domain unrelated to your original segment. If your company has grown and evolved, it might be time to update your logo as well.
Amazon is one of the best examples of a brand outgrowing its logo.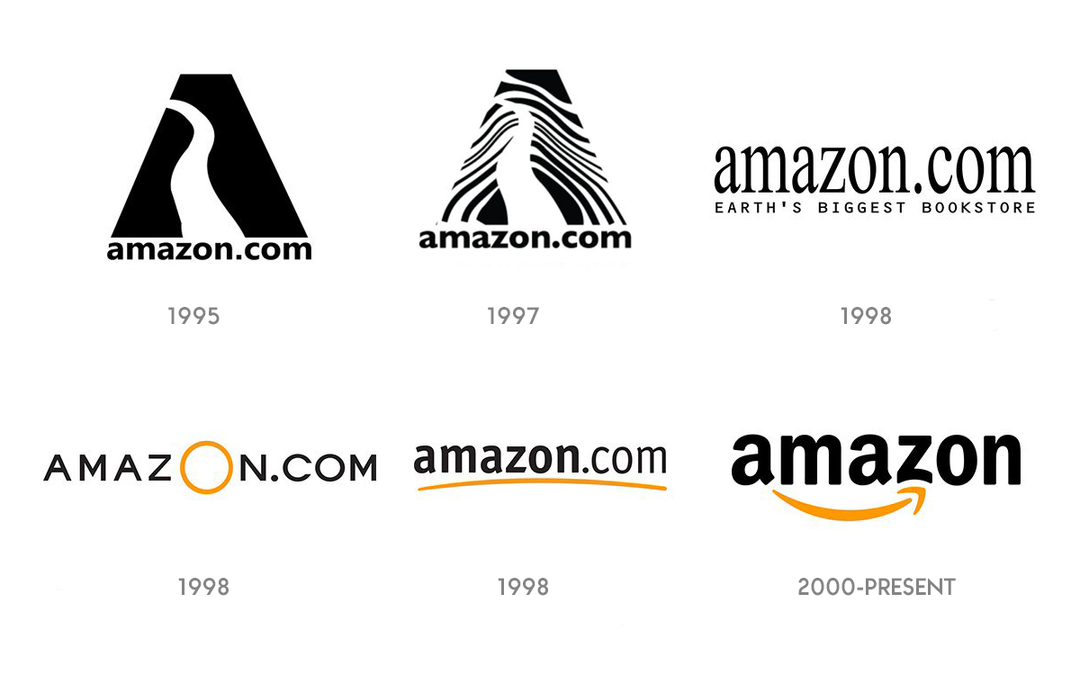 Amazon initially started as an online bookstore. However, over time, they evolved by adding multiple product categories. Notice the arrow in the new logo that starts at A and ends at Z? It's an indication that Amazon today sells everything from A-Z.
We recently went through a major rebranding process. We changed our name from 3DCart to Shift4Shop. Part of the reason we changed our name is because of a fundamental change in how we do business. You can build an online store for free on Shift4Shop if you use Shift4 for payment processing.
That change, a pivot to the name Shift4Shop, was undertaken to align the eCommerce part of the business with the payment processing service. The aim is to align the service offering in the mind of customers.
2. When you're targeting a new audience

Let's say your brand is a fashion label targeting people between the age of 20-30. Your audience base will be continually changing. Your brand needs to evolve to stay up to date with the latest trends.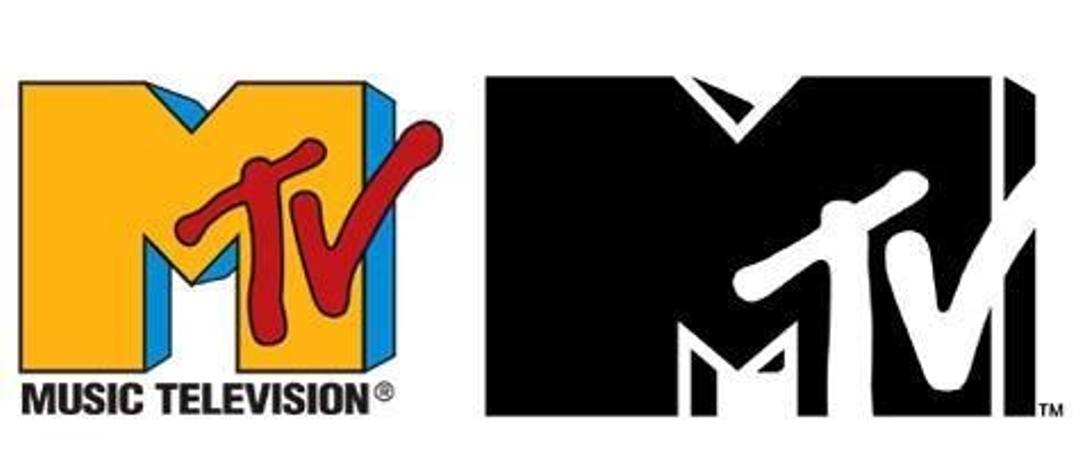 MTV is a classic example where both the business and its audience evolved. MTV went from being a music channel on TV for young adults to a channel focused on reality shows for teenagers.
In line with these changes, the words "Music Television." were dropped, and the logo was made larger and in monochrome.
Your logo should fit the image you want to create for your brand. However, it does not have to depict what your company does. There are no cheeseburgers on the golden arches in the McDonalds logo.
Similarly, a children's toy brand does not need to include a toy icon in your branding. What matters more is that you use a kid-friendly color scheme and font.
3. When you're logo is too dated
Most brands are identified by their name, tagline, or logo. Both the tagline and logo can age over time. The aesthetics tire and advancements in technology could mean you need adaptive logos that work with modern devices.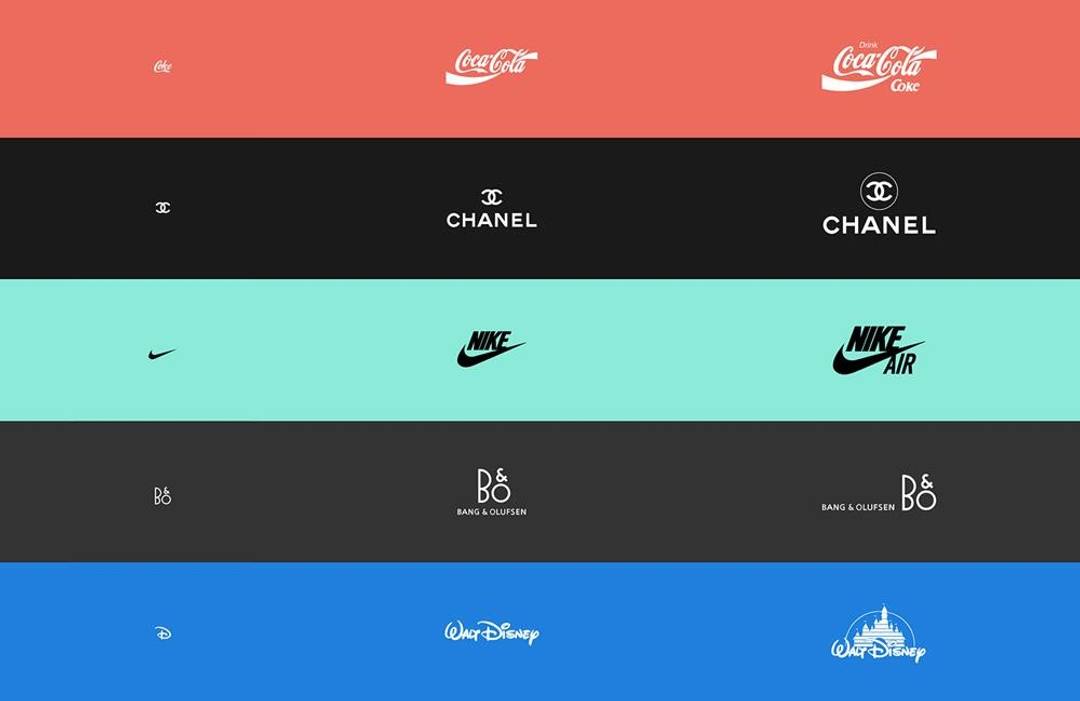 Like any branding element, your logo needs to be refreshed over time.
Another point to keep in mind while redesigning your logo is that you don't want to lose your brand identity. Keep the modifications simple so that you stay recognizable to your target audience.
The next question to look at is, how often should you resign your logo? Coca-Cola, for instance, updates its branding nearly every year with minor modifications that often go unnoticed.
Since the changes are minor, consumers notice the changes subconsciously and feel the brand and product are fresh and contemporary.
Google, on the other hand, changes its logo every three years or so. As a digital business, Google must keep up with accelerated technology advancements in its industry.

These updates are more noticeable when spaced out. Spacing out the changes also enables you to make more significant changes. These changes create a buzz with the audience. It is important to note that since 1998 the Google logo uses the same color scheme and overall look to lose touch with the brand.
If you have an outdated logo that hasn't been updated in a long time, it might be time to consider a redesign or upgrade. Companies, markets, technology, and consumers evolve. So should your logo.
‍
Logo Redesign: Three Things To Keep In Mind

A powerful logo can assist in brand recall and have a positive impact on your business. Some brands get their logo right the first time, and the business grows but doesn't evolve in new directions. These companies stick to their original logo. Shell is one such company that comes to mind.
However, most businesses will need to change their logo over time. A logo will need a makeover as time goes on. When going in for your logo redesign, keep the following three points in mind.
1. Elements to keep and change
When you think to redesign your logo, several businesses attempt to complete a makeover, including design, color scheme, font, and imagery. Try incorporating subtle changes into your logo while maintaining its overall look.
When you opt to change only a few elements of your logo, you give fresh legs to your logo without losing audience recall. If you feel you need to make sweeping changes, break up the changes over time and multiple iterations.
Follow the Google approach. With each change, make sure you seek and analyze consumer feedback. It's essential to keep track of what your consumers like and dislike about the changes.
2. Customer attachment to the old logo
Sweeping changes to your logo can often yield polarised opinions. Some customers may love it while others will hate it. By limiting the scope of the redesign, you will prevent polarized opinions.
Redesigning your logo is often a slippery slope, and not all designs work. Pepsi is a prime example where the redesign failed.
In 2009 the company decided to redesign its logo to commemorate its 45th anniversary. The company spent a million dollars on the redesign and $1.2 billion on a comprehensive update of all its branding elements.
However, the customers hated the new design, and Pepsi's market share fell instead of rising. It was an expensive lesson in a redesign gone wrong for Pepsi.
Customers often form deep and visceral bonds with a brand's logo, and sometimes even tinkering with it can go wrong. Often, the most faithful consumers are the most likely to be disturbed by a redesign.
Once you finalize your redesign, make sure you test it with your consumers. Use focus groups with your consumers to seek feedback and be prepared to make changes based on the feedback.
Advertise and promote the new logo before launch. Promoting the logo will help in creating a buzz around your brand. Stay on your customers' radars by sharing the planned update across multiple channels like social media, email campaigns, and ads. We will look at promoting your new logo in the next section.
3. The extent of the change

It's not always easy to define the extent of change required in the redesign process. Does your logo need a tweak or two, or does it need a complete overhaul?
Incremental changes are great when you want to make minor tweaks to ensure your logo looks up to date. That's the approach I mentioned that Google takes earlier. These minor tweaks are likely to go largely unnoticed. You don't necessarily need to promote these changes.
When you change your logo as part of a major rebrand, you will need to address your audience. You need to explain why you made this change. Often, a major logo redesign will occur when you want to shift customer perceptions about your business. I provided the example of Amazon and Shift4Shop earlier.
In the case of Amazon, they slowly shifted from being an online store that sold books to a company that sells almost everything. In our case, we made a pivot from being an eCommerce platform to being the first completely free eCommerce platform (free if you use our payment processing tool).
That was a major shift for us. We felt that this shift required a major rebrand, which necessitated a logo redesign.
If you run a business for any length of time, you will probably undertake incremental changes to your logo. From time to time, you might need to consider if you want to redesign your logo. That's fine; just be clear on your goals.
Marketing Your New Logo
Once your new logo is finalized, you want to create awareness of the changes. Marketing the logo has the dual objective of creating awareness of the logo and bringing your brand front and center in the customers' minds.
Here is a list of helpful tips to assist you in marketing your redesigned logo.

1. Create a buzz
The first thing you need to consider is to what extent you want to promote the logo. If you are making a small update to your logo, you probably want to acknowledge the change, but you are unlikely to want to invest a lot of energy in promoting the update.
On the other hand, a major rebranding exercise should be part of your business development plan. You need to engage with your audience and the press and communicate why you made those changes and the implications of those changes. Often, the implications are significant. For example, you might be trying to shift perceptions about the brand after a PR disaster.
The approach you agree on will impact how you market your logo redesign.
Whatever your approach, it's good to be transparent with your audience. You should share the changes that are afoot at your brand. Use all your favorite marketing channels to spread the word about your brand refresh.
Your objective is to create anticipation and buzz around your brand. You want to raise awareness and excite the audience. Ideally, start creating a buzz about three weeks out from the actual launch date. That timeline gives you time to reach your audience.

2. Update your marketing material
Before you launch the new logo, ensure that all customer-facing elements that carry your logo are updated. That includes products, packaging, website, brand stationery, etc.
Identify the elements that require the new logo, and define your timeline to make the required changes. There are two main ways to make the switch:
Change one thing at a time.
Choose a goal date and make all of the changes at once.
Consider the process carefully. It's essential to make a transition in a way that benefits both your clients and your brand.

3. Introduce changes on social media & owned channels
Social media platforms like Facebook, Instagram, and Pinterest are excellent channels to showcase your new logo. Not only do they attract a large audience, but they are platforms geared for displaying visual elements.
Make sure you change the logo on all your social platforms and through owned marketing channels like your website. For example, you might write a blog post where you discuss the redesign process and explore the reason behind those changes.
Seek comments from your audience on the new logo. Since you have already tested the new logo through multiple focus groups at the design stage, most of the comments should be positive. However, there will always be haters, be prepared to address their concerns.
Do A Successful Logo Redesign
This guide can be the starting point when thinking about redesigning your logo. I started by discussing the various reasons that companies go through a redesign. Those reasons include targeting a new audience, changes to the way your business operates, and a dated logo.
If you decide you need a new logo, consider the elements you want to keep and change, customer attachment to the old logo, and the extent of the change you want to implement. Finally, consider how you want to market those changes to your audience.
Author Bio:
Jimmy Rodriguez is the COO of Shift4Shop, a completely free, enterprise-grade ecommerce solution. He's dedicated to helping internet retailers succeed online by developing digital marketing strategies and optimized shopping experiences that drive conversions and improve business performance.
‍
Ready to redesign your logo? Check out our logo maker!