‍
Are you wondering how to start a tutoring business and make it thrive? You're about to find out.
When you compare tutoring to other business ventures, it involves lower investments, more flexibility, and can grow organically. As soon as you establish your domain knowledge and win the trust of parents, you can get started almost instantly.
Perks of starting a tutoring business include: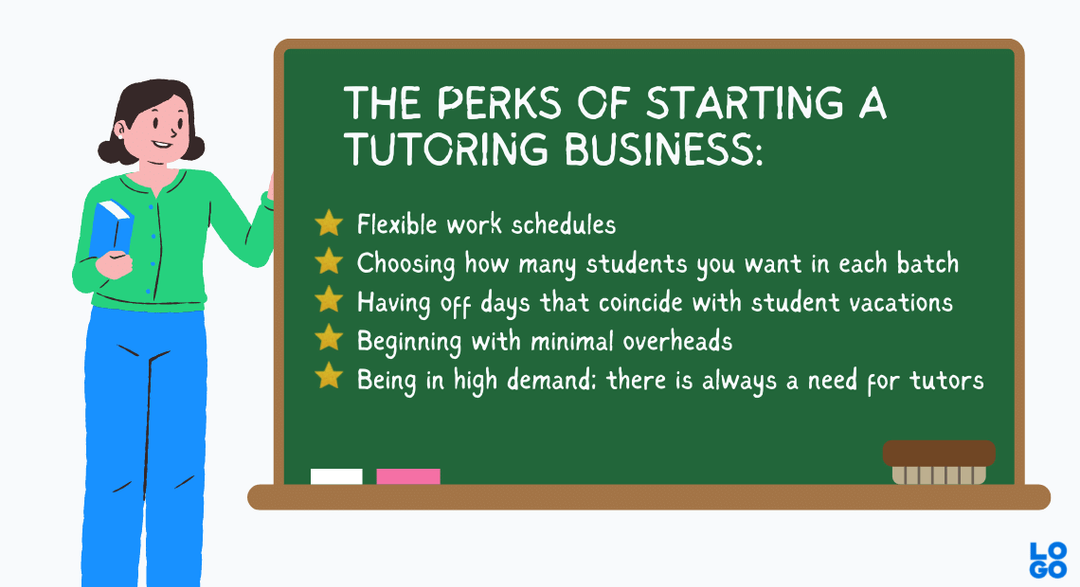 Flexible work schedules
Choosing how many students you want in each batch
Having off days that coincide with student vacations
Beginning with minimal overheads
Being in high demand since there is always a need for tutors
‍
So, how to start a tutoring business that spoils you with all these benefits while earning a good income?
‍
How to start a tutoring business with 9 easy steps
Like any other business, tutoring ventures involve planning and branding to propel them to desired heights. Here are nine simple and practical steps to help you on your way.
‍
Step 1: Identify your expertise
The educational tutoring industry is growing at a rapid rate. New subjects, new streams, and evolving teaching methods give parents ample choices. It is good to build trust among parents and to come across as a professional business. Identifying your niche and making it your differentiator helps too.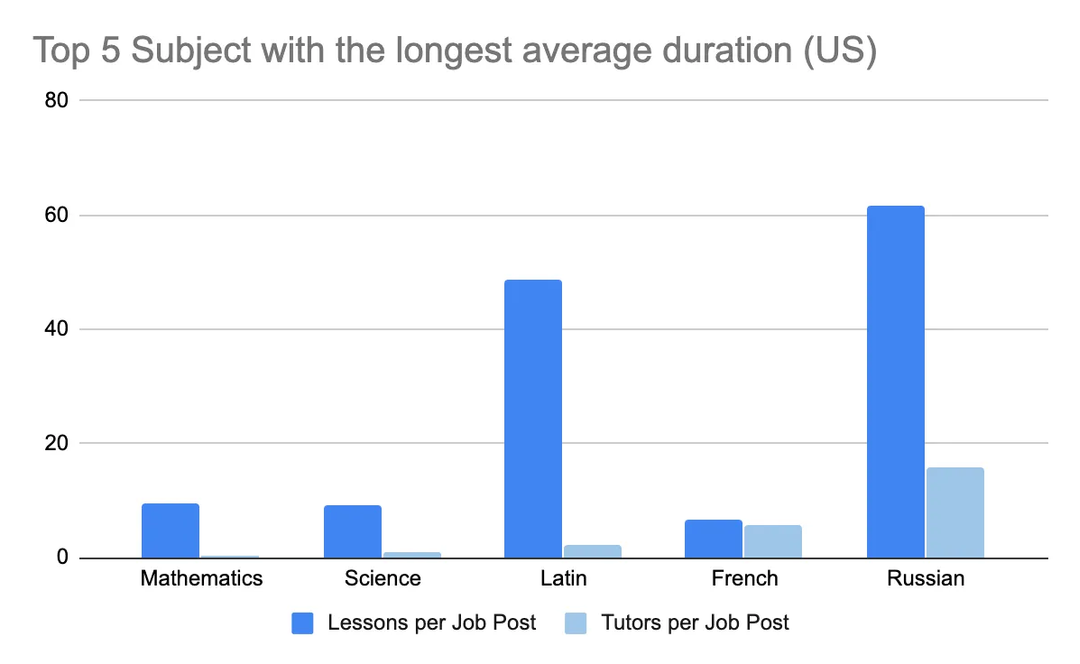 Here are some ways you can identify your expertise for your tutoring business:

Pick a subject that you understand thoroughly. It is better to pick one that you have specialized in, academically or professionally
Update yourself with revised syllabi and new ways of learning
Pick a subject that doesn't have many tutors for it within your area of operation
STEM subjects (science, technology, engineering, and math) are in high demand and offer several sub-specialties
Try exploring SATs, LSATs, and other such tests, if they fall within your area of expertise
Once you have identified your niche, chart out a unique study plan and make part of it visible to parents. Doing this can demonstrate your adeptness.
‍
Step 2: Do market research in your area
Whether it's starting a fashion boutique, a food stall, or a tutoring business, every venture requires market research to be successful. Tutoring is a local business and attracts students from around your location.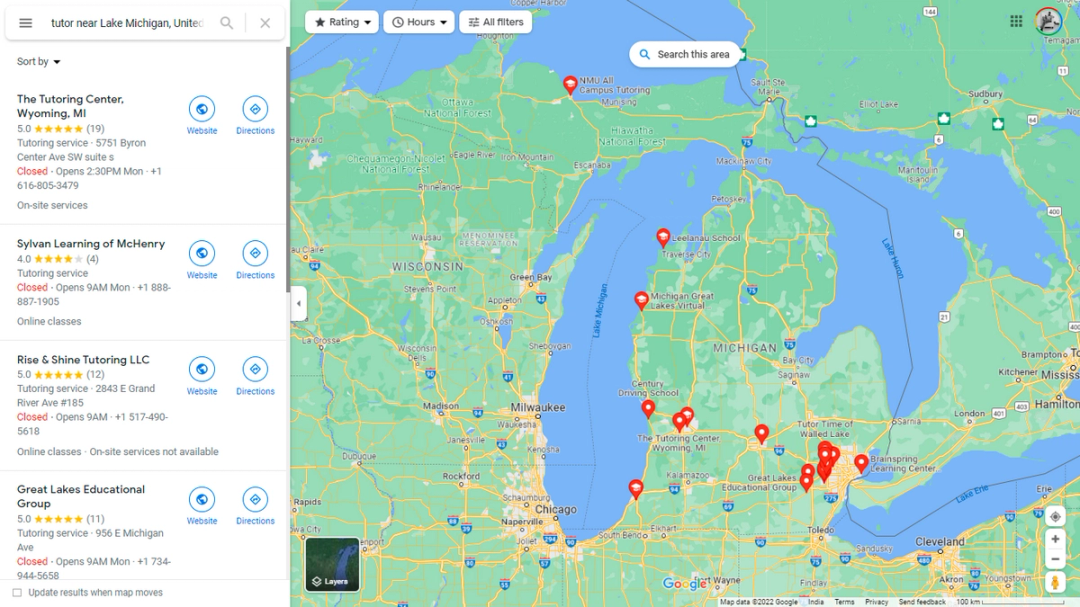 Good market research will reveal which subjects are most in demand within your area. It sheds light on functioning tutoring services that offer courses similar to yours. This information can help you improvise and adapt to stand out in the market.
You discover facts about your target audience, including age, income group, if they have any financial aid such as Pell Grants, areas of expertise, vocations, and more. These parameters will help you qualify your tutoring services and play an important role when deciding how to start a tutoring business.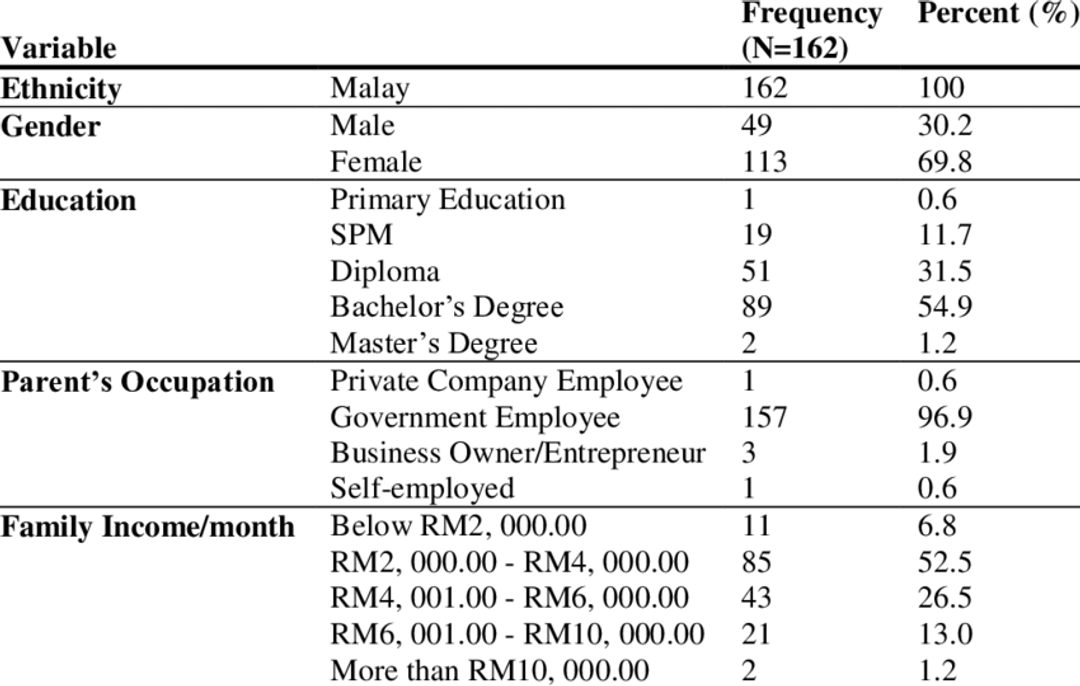 These details give insights on how to price courses, what subjects they may consider for their children, and more.
The good news is that you can conduct this research yourself by:
Observing the number of schools, colleges, and academies in your area and recording the subjects they specialize in
Joining Facebook Groups of parents who discuss their children's education.
Getting hold of the syllabus used by your competitors
Understanding the pricing range of your competitors
Conducting surveys and offering rewards for participants. These can be done digitally and spread across your local community or at local gatherings
‍
Step 3: Determine a setup for your business
Infrastructure can be a challenge for a new tutoring business. The events of the last three years have normalized online learning. Many parents still opt for personalized tutors for their children.
The way you set up your tutoring business will impact your:
Initial costs
Positioning against the competition
Student's convenience
Earning potential
Influence over students

Here are some factors that you need to consider before choosing a setup for your tutoring business:
Do you plan to teach online or offline? Offline courses require an investment in space. Online courses require an investment in dependable technology.
Are you going to teach students in batches or one-on-one?
In case of a physical class, will you rent a classroom or set it up within your living premises?
Do parents of students in your area prefer personal tutors who visit their homes?
Do you need to invest in onboarding other teachers or assistants?
Is it a good idea to buy a tutoring franchise from an established brand?
‍
Step 4: Develop a pricing plan
The pricing of your tutoring business should be competitive but not heavily discounted. Below-average rates can seed doubt in parents. Here are some strategies to help you price your tutoring business.
Competitive pricing
In this case, you price your services based on your competition. It is the most convenient pricing model, but not the smartest one. If you price too low, your business will come across as mediocre, and if you price too high, it will be assumed to be expensive.
Modular pricing
Not all subjects, students, and syllabi require the same investment of time, energy, and resources. A modular pricing structure lets you assign differential pricing ranges for different subjects. You can create packages as well. For example, literature and fine art can be a module.
Cost-based pricing
This rational method of pricing rarely fails. Once you sum up all your costs, simply add a markup that you would like to see as a profit, and price your services accordingly.
Premium pricing
Reputable tutors with experience can try a premium pricing model. Such models attract higher earnings and more demanding customers. You could opt for an hourly rate as a premium tutor.
‍
Step 5: Create education modules
When you plan how to start a tutoring business, you should also plan how you will impart your style of education. It should be engaging, effective, and easy for students to absorb.
Divide your lessons into theoretical and practical sessions to keep them engaging. Space out the tests for your students so they get sufficient time to prepare for them. Simple lesson plans can help you understand the efficacy of the lessons you impart.
‍
Step 6: Build an online presence
Your tutoring business should be easily discoverable online. And when discovered, the interested customers should find some way to get in touch with you. Getting your business listed on Google My Business is a great start.
Here are some other ways in which you can improve your presence online: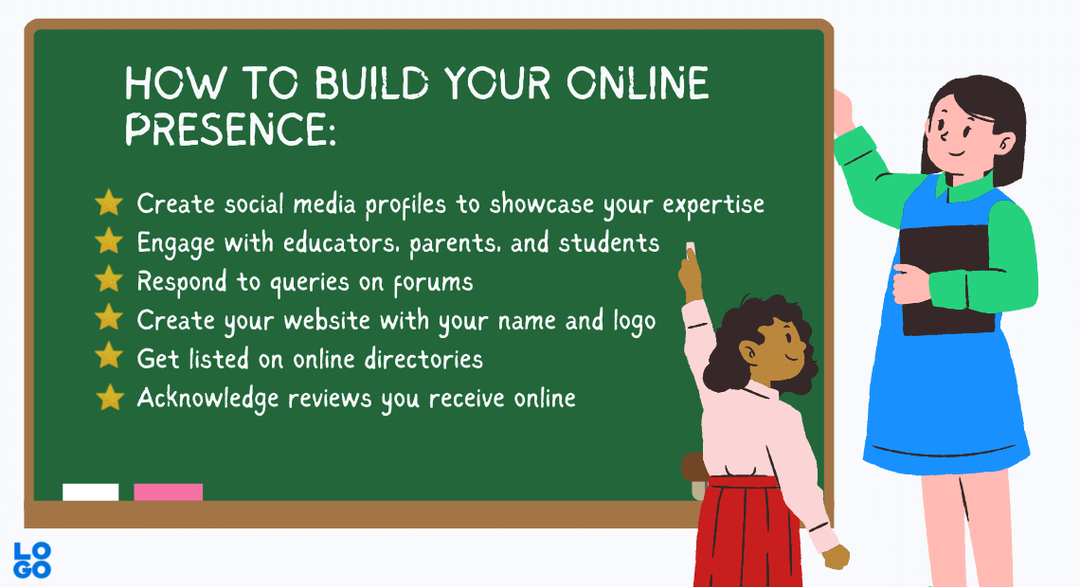 Create social media profiles across platforms and populate them with content that showcases your expertise
Follow and engage with content from educators, parents, and students
Respond to generic queries on forums and participate in online discourse
Create your website that shows off your logo and provides information about the business
Get listed on online directories such as Yelp, Craigslist, and more
Watch out for reviews you receive online and acknowledge them
‍
Step 7: Maintain a good relationship with parents
For most tutors, parents of students are the key target audience. Be transparent, empathetic, and considerate towards them. Report their children's progress to them at regular meetings.
Parents may reach out to you for counseling. Always be ready with your answers before meeting with them. Assess each student's strengths and weaknesses, and discuss them openly with the parents.
‍
Step 8: Secure your supplies and materials
The infrastructure of your business should come close to (but not match) that of a school. Educational streams like chemistry, physics, engineering, etc., require professional and safe equipment. Invest in these so that students can have a fulfilling learning experience.
‍
Physical tutoring classes require investments in magnetic boards, benches, air-conditioning, appropriate lighting, projectors, stationery, health and safety kits, and more. If you're doing it digitally, on the other hand, your investment will not be so costly. It will include a tablet, digital pen, quality procreate stamps and more.
If you are an online tutor, invest in good connectivity and a premium subscription to a video conferencing platform where you can project your notes while maintaining facetime with your students. Create and share online calendars with parents and students so that everyone is in the know.
‍
Step 9: Launch your tutoring business
Everything you learned about how to start a tutoring business comes down to this moment. Begin with a smaller batch or just a handful of students so that you understand some challenges before you begin a full-fledged operation.
You will enjoy the fulfilling joy of imparting knowledge to curious young people as a tutor. Whether you teach music, academics, or any other vocational skill, be sincere and genuinely considerate of the well-being of your students.
Happy tutoring to you!
‍
Looking for a free logo for tutoring business? Follow these 6 steps
A logo for tutoring businesses—is it essential? Yes, it is! Here's why: A logo establishes and strengthens the visual identity of your tutoring business, setting it apart from your competition.
More than that, you need proper branding to build a strong foundation for trust, which is especially crucial in this line of business. Parents will be trusting you with their children, and your branding can subconsciously help them regard you as professional and reliable.
A beautiful logo for tutoring business can enhance your brand's appearance, but it does more than that. It provides credibility, which is a critical attribute for any business to have from the start. A strong beginning can do wonders for your tutoring business.
Building your tutoring brand can promote reliability between you and potential customers, which is vital as they would be relying on you for their children's supplementary education.
A great logo is a huge step in the right direction, and with our efficient logo maker to guide you, your visual branding needs are good to go.
But before we dive into that, here are some valuable tips you should consider to make your tutoring business stand out from the competition.
‍
How to make your tutoring business stand out easily
A logo for tutoring businesses is essential, but there are other ways to stand out and make a good impression with parents. ‍
Studies show that the online tutoring market will grow by $153.07 billion from 2021 to 2025. This is due to the widespread effects of the pandemic.
Having an online tutoring business at the moment is a lucrative venture as children are no longer recommended to attend schooling for safety reasons. Many parents depend on online tutoring to help their children catch up educationally.
Branding is essential, but here are other valuable tips to consider: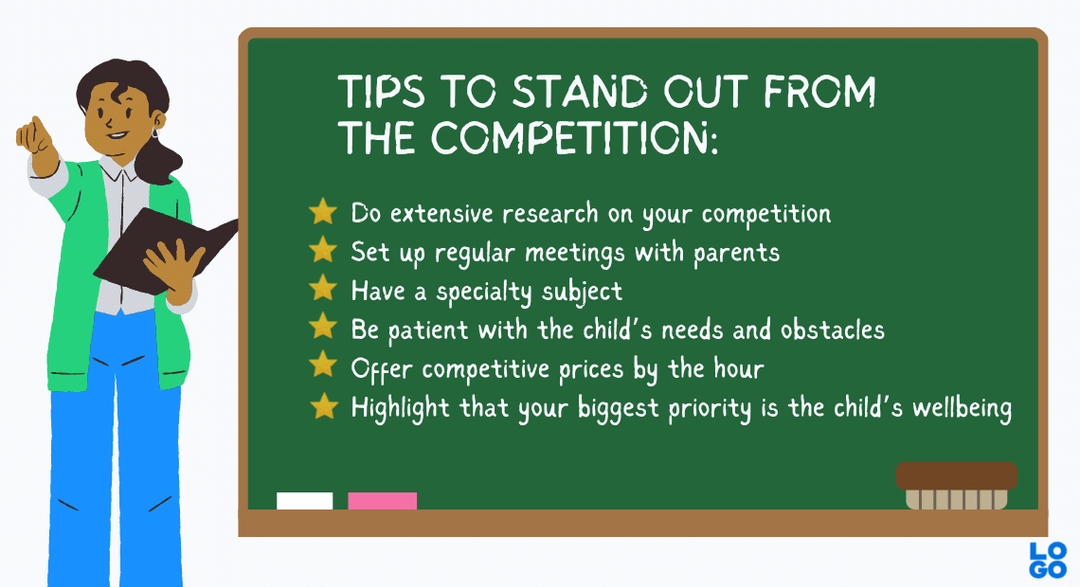 Do extensive research on your competition
Set up a meeting with the parents and discuss your teaching methods
Highlight that the child's education is your biggest priority
Ensure that you are capable of teaching children accurately and professionally
Have a specialty subject (science, mathematics, history, etc.)
Be patient with the child's needs and possible obstacles
Create weekly reports of the child's performance for the parents
Acknowledge the child's successes and be gentle about their failures
Motivate the child to ask you questions and talk to you about their concerns
Build a strong bond with the parents
Offer competitive prices by the hour
Provide payment plans for parents who need your services in the long term
Promote your tutoring business on various social media channels
The best way to stand out is to build a genuine and reliable connection with the parents. Don't forget that they are trusting you with their children's education during a global health crisis. This is a significant responsibility, and it is fundamental to reassure them that their children are safe and sound in your capable hands.
These tips can definitely have customers intrigued and interested in you, but a great branding strategy raises the quality and professionalism of your tutoring business as a whole. A logo is like a visual pitch, and if it's compelling and strong enough, it can encourage users to learn more about you.
We can assist you with getting a logo, a name for your tutoring business, and many other services to help you market and promote your business. Find out how below!
‍
6 steps to create a free logo for tutoring business
Here are six easy steps to get a free logo for tutoring businesses and ways to promote and market your brand with your new visual.
‍
Step 1: Find a great tutoring business name
Your business name is more for your customers than it is for you. Decide on a name that oozes skill and professionalism, enough that it would sway people to learn more about your tutoring brand.
Consider trying a business name generator to give you inspiration in finding a distinctive and memorable name along with a gorgeous logo to go with it.
All you need to do is type 1 to 3 relevant keywords that describe your tutoring business and optimize your preferences.
For example: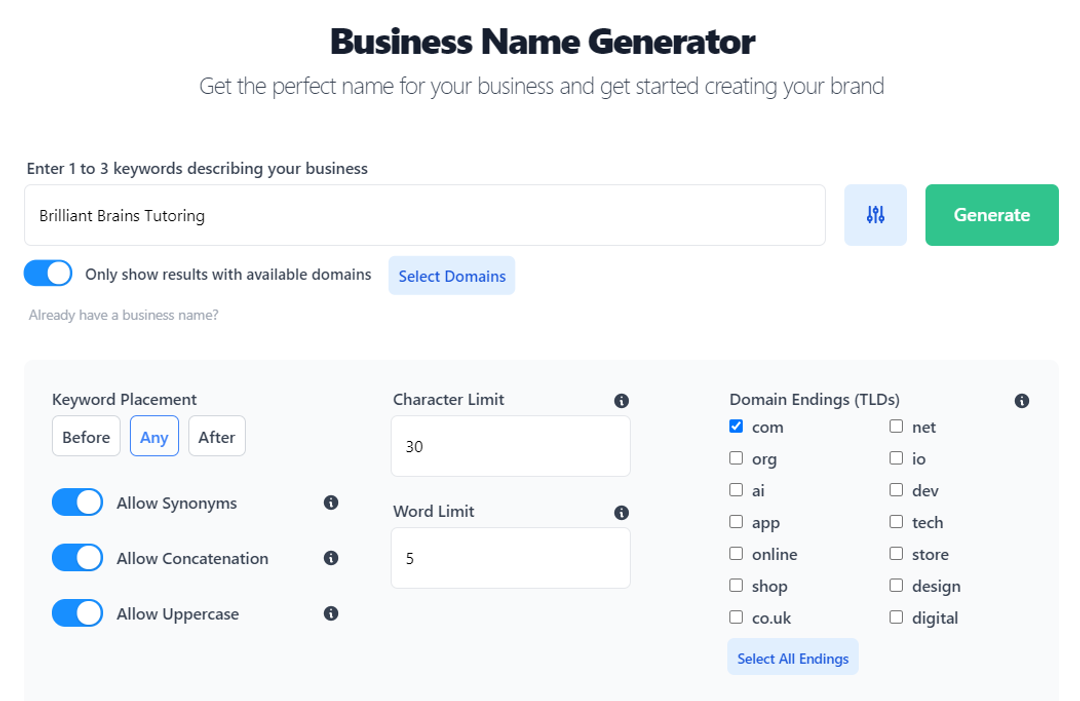 The tool will generate tons of names along with potential logo designs for you to choose from.
‍
Step 2: Choose a tutoring business name you like the most

Skim through the selection of business names and choose the one you like the best. Don't worry too much about the design just yet. Eventually, you'll come across hundreds of different designs to choose from. Here are a couple of tips on choosing a great name for your tutoring business:
It must be unique and distinctive
It must be relevant to your services
It must be easy to pronounce and memorize
It must be simple and recognizable
It must reflect who you are as a tutor
Once you have chosen your ideal tutoring business name, click 'Ideas' on the upper left to check out hundreds of logo designs for it.

‍
Step 3: Find the perfect tutoring business logo and customize it
Every design you see before you is totally customizable according to your ideas and preferences. Find one that is closest to your ideal logo for tutoring business and click it to customize it. From here, you can modify its colors, icons, font, spacing—anything you want! Keep going until it reaches your vision.

Here are a couple of tips to customize an effective logo for tutoring businesses:
One or two brand colors at most
Colors that best represent your tutoring business
One or two fonts at most
Sans serif fonts for their readability
Not overcrowding the logo with too many elements
A simple yet strong design
A memorable and professional visual
An icon that best represents your tutoring business
Customization is vital because it reinforces that the design is truly your own. You are in full and complete control of its elements and overall design. Nobody understands your ideal logo as you do, and with the help of our professional logo maker, you make your vision come alive with your creativity at the helm.
Not to mention, customizing your logo for tutoring businesses is a great way to stand out from your competitors. You get to add your creative take to the design or use our pre-designed logos. As long as you let your intuition fly, you should be fine. You know the heart of your business the best.
These are some examples of the benefits of logo customization:
You stand out from competitors
You tap into your creativity
You achieves your ideal logo
You add distinction and memorability to your logo
You get to add brand-specific elements
You go home with a design that is truly your own
‍
Step 4: Finalize your tutoring business logo

Are you happy with the design? If you are, click 'Preview' to see how your new tutoring business logo will look on various products and applications. You will also receive details and information about the logo's font, color palette, business card mockups—whatever you need to get your tutoring business running.
Can you believe it? That's all it took to get a logo for tutoring business— four easy steps, and you're almost at the finish line.
‍
Step 5: Take your free tutoring business logo home
Once you have finalized your logo, click the 'Get Your Logo' button. From here, you can take your new tutoring business logo home free of charge!
You can start using your tutoring business logo right away with these benefits:
Full ownership of your logo - Once you purchase your logo, it completely belongs to you and no one else, even if you decide to delete your account.
Instant access to your logo - Your logo is safe in your account. It is secure for you to come back to it whenever you need it.
100% satisfaction guarantee - Your happiness is everything to us. If you're unhappy with your logo, we will issue you a full refund.
Launch your tutoring business in almost no time at all. It's practical to get an early start, so go for it! But take note that your logo is just the start. You still need branding materials featuring your new logo to build your online presence.
This is where the Brand Plan comes in.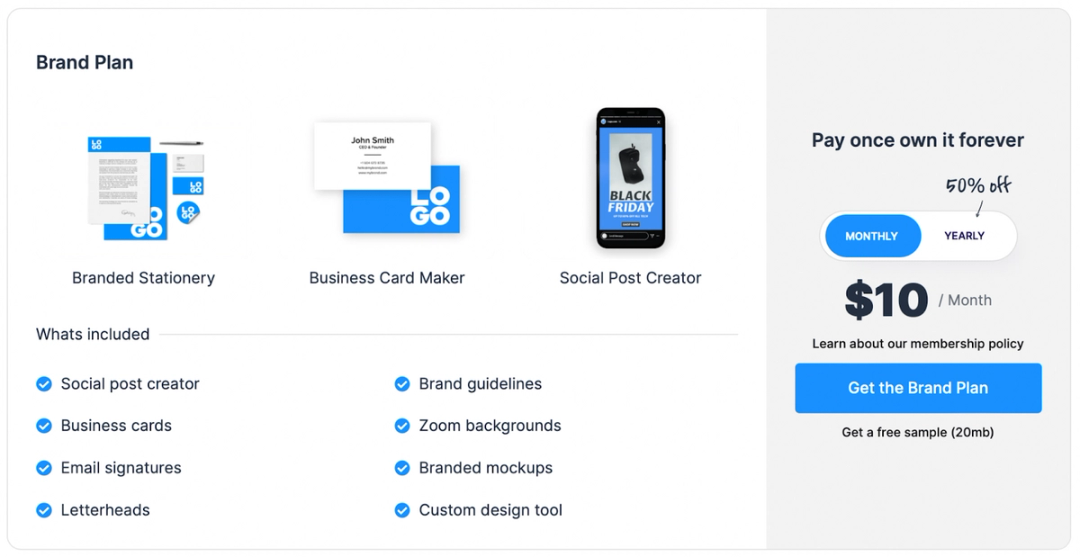 Our Brand Plan is your brand-building best friend. For only $10/month, you have instant access to:
Unlimited logo edits
Business card maker
Email signature maker
Custom design tool (Stitch)
Brand showcase
Brand guidelines
Perpetual brand backup
Oh, and all of them are pre-set with your new tutoring business logo. Say hello to instant convenience and results!
‍
Step 6: Promote your tutoring business
Social media branding is a beneficial strategy that allows you to promote your tutoring brand to your target audience efficiently.
But take note that having successful social media interactions only happens when you have brand credibility, and a way to boost professionalism and credibility in your tutoring business is to make your social media presence consistent across all channels.
Our social media kit offers this consistency. We can provide you with ready-to-use files for all your social media platforms, such as Facebook, Instagram, LinkedIn, Youtube, and Twitter, so that you can get your tutoring business started as soon as possible.
We also offer a website builder, which gives you many opportunities for how you would want to use it to boost your tutoring brand. Every business needs a website, and now you have one! Why not use it to feature images of happy students and positive testimonials? This will show parents how reliable you are as a business.
You don't have to put yourself in a box. You also have the option to use it for diving into other forms of promotion, such as creating education blogs about your journey in educating children— providing tips and tricks to other tutors while also building your business. Talk about a win-win.
Statistics show that businesses with a blog get 55% more website visitors than businesses that don't. What better way to get more visibility than this? Give it a shot!
‍
5 great examples of a logo for tutoring businesses
Here are five logo examples to give you some design inspiration:
1. What logo could be more distinct than a bunch of school chairs assembled together into a strong and symbolic visual?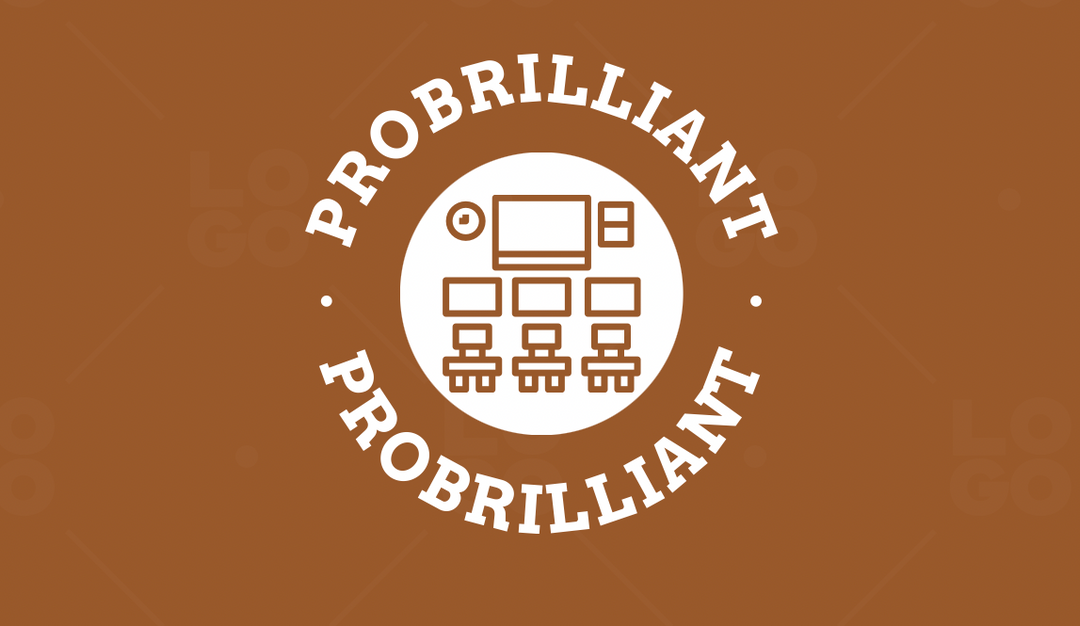 ‍
2. This logo is a powerhouse of memorability. Red, blue, and yellow in one logo? It's sure to catch some eyes!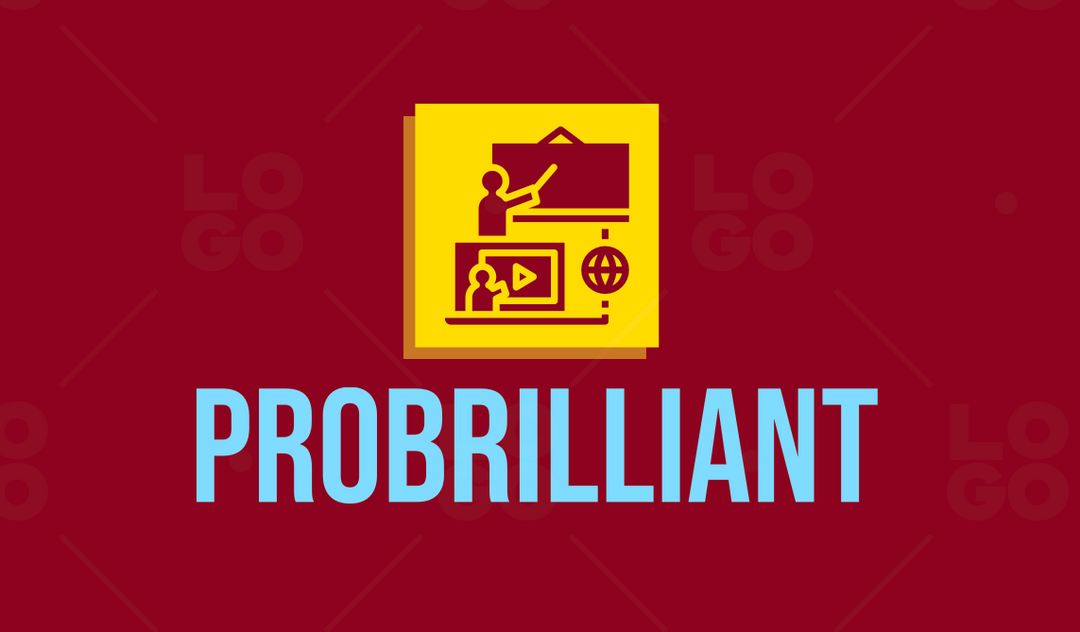 ‍
3. This logo for tutoring business is a substantial visual with a fun font. It's so good that it doesn't even need an icon!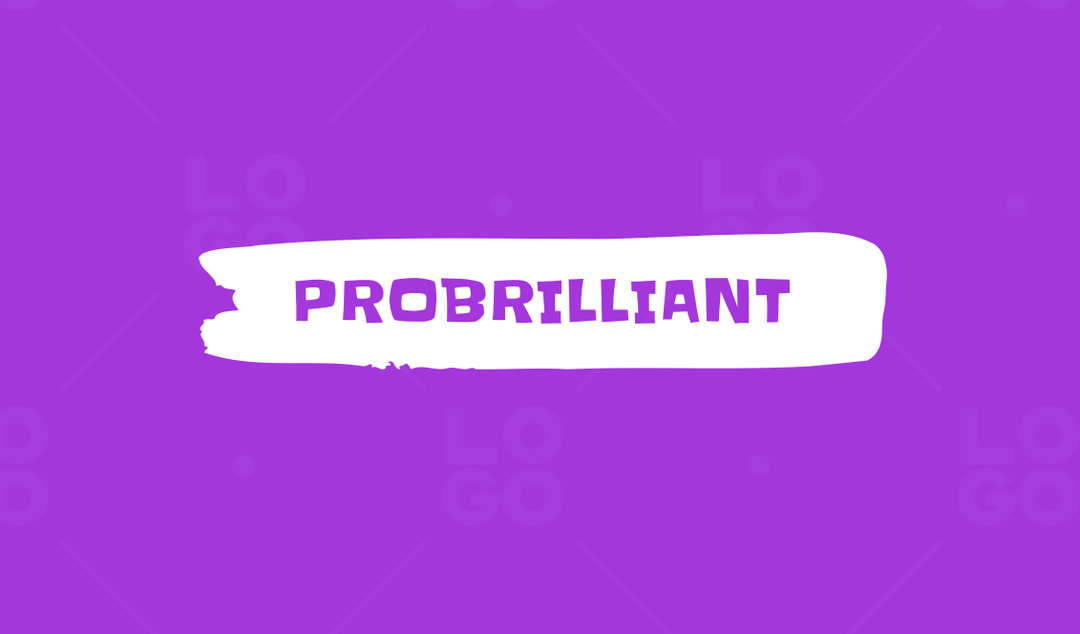 ‍
4. Green symbolizes growth and movement, and those traits are absolutely relevant for a tutoring business.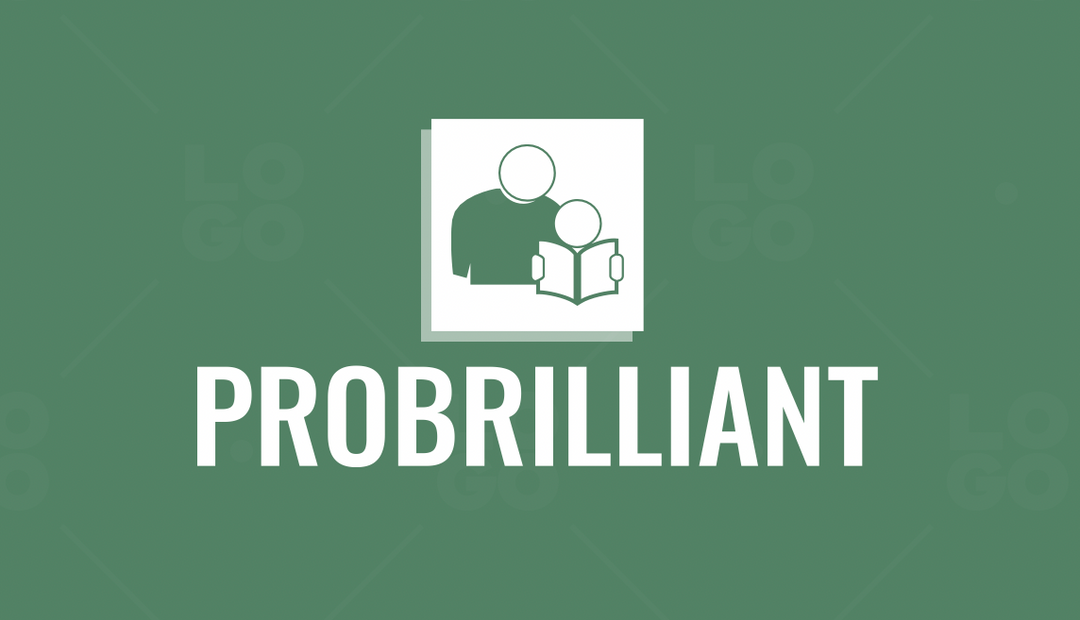 ‍
5. Blue is a popular choice for logos— why not use it as a backdrop to emphasize your professionalism?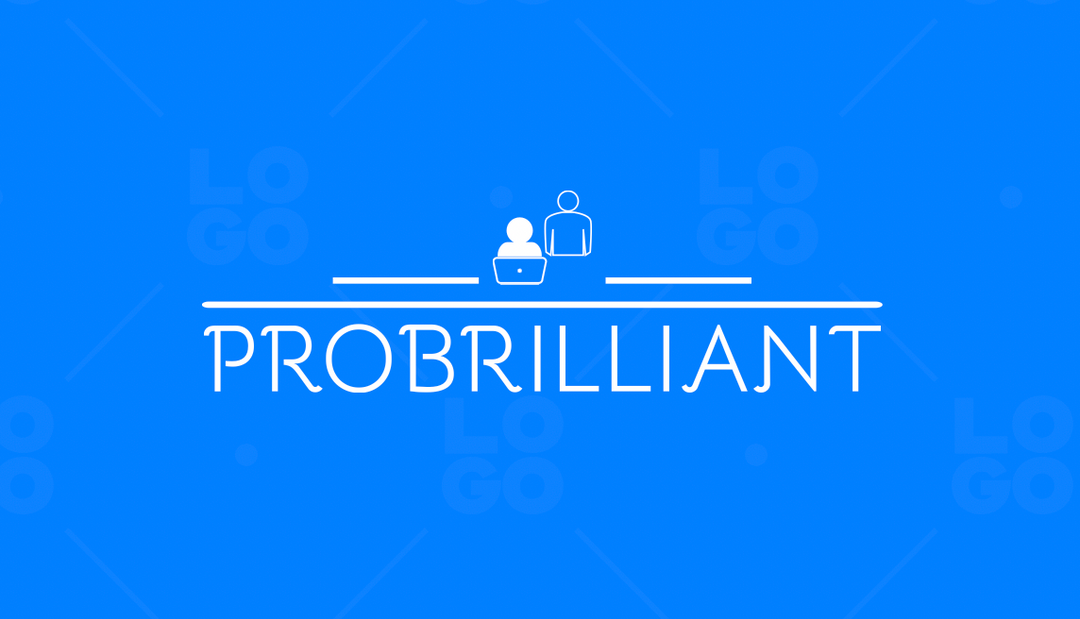 ‍
Frequently asked questions: 5 popular FAQs about how to start a tutoring business
What are some commonly asked questions about starting a tutoring business? Get your questions answered with these five FAQs.
1. What qualifications are needed to be a tutor?
It is not necessary to have a teaching qualification, to have finished a specific course, or to have specific job experience. Tutors come in many shapes and sizes, but they should all have the necessary subject expertise, a love of learning, and a friendly, professional demeanor.
2. How much does a private tutor make?
Because part-time tutoring requires little experience and competence, the pay is typically modest. Your hourly wage would range between $25 and $40 per hour, depending on the grade level you teach.
3. What tutors are most in demand?
The two primary areas where additional tutors are needed appear to be in the sciences and language subjects. Also, as a rule, these are subjects that teachers find intriguing because they offer several classes per opportunity and pay highly.
4. Is tutoring a good side hustle?
Teachers or experts can start a tutoring side business to supplement their income, whether the goal is to pay down high-interest debt or save up for a vacation. Providing tutoring services on the weekend or after school is a simple endeavor to launch.
5. What subject do kids struggle with the most?
Many students find mathematics to be one of the most difficult courses they take. 37% of teenage students said they found mathematics more challenging than other subjects.
‍
Get your free logo for tutoring business today
A logo is the core of your visual branding needs because it builds a foundation between you and your audience. It shows that you care about your tutoring business enough to brand it correctly from the start.
Compelling logos can ultimately set you apart from the competition, and they can potentially tell users a story with a single glance.
Ready to design your free logo? Get started with our logo maker!‍
‍