You have the skills to create, and now it's time to learn how to start an Etsy shop to show the world what you're made of. If you love designing, crafting, painting, collecting, and so much more, you would do well to tap into Etsy to rake in some dough for your efforts.

Etsy is an international marketplace for thousands of online stores selling handmade products to vintage crafts and everything in between. You name it! Paintings, fine jewelry, knitwear—it's all there.

If you are interested in fully honing a craft and turning it into a business, Etsy is the best place to do that. But how do you build your own shop and actually get sales?

Follow this step-by-step guide on how to start an Etsy shop and showcase your beautiful creations to people who will love them too.

8 Simple Steps On How To Start An Etsy Business

These eight steps will tell you everything you need to know about how to start an Etsy shop worthy of loyal, devoted, and happy customers.

Much of the process entails a good grasp of your Etsy business structure and operations, such as content, pricing, and so much more. Keep reading to have this in the bag.

Step 1: Create An Etsy Account

If you have already created an Etsy account to make some purchases, you can click 'Sign In' in the upper right corner of the page. If you don't have an account yet, click 'Register' and create an account.

When you register for a new account, you will have to input your name, email address, and password. Once you've done that, scroll down until you see the words 'Sell On Etsy' and click the button to get started.

Whether you are newly registered or have an existing account, you will now see a form asking for your details.

Step 2: Choose Your Shop Preferences

You will be directed to the 'Shop Preferences' page, where you have to choose some basic settings for your Etsy shop. You will be asked about:

Your default language - This is the language in which you will be describing your products upon starting out. After opening your Etsy shop, you have the option to translate your page into other languages.
Your home country - This is the location where you will be starting your Etsy business. It would be more convenient for you to choose the currency that correlates to your home country.
Your preferred currency - If your home country's currency is different from your shop currency, you will have to pay an Etsy conversion fee of 2.5% for every customer purchase.
Your hours - Are you conducting your business full-time or part-time? If it's neither and you have another structure in mind, you may choose 'Others'. Etsy needs this information for its own purposes; it does not affect your shop in any way.

Step 3: Have A Great Etsy Business Name

This is the time to get creative. The ideal Etsy business name is attractive and unique enough for customers to remember you. It also needs to be incredibly relevant to your products so onlookers can understand what you're all about from a single glance.

Before coming up with an Etsy business name, take Etsy's guidelines into account, namely:

It cannot be a name taken by another seller.
It must be 4 to 20 characters long.
It must not have spaces or special characters.
It must contain no profanities.
It must not infringe on any trademark names.

Your Etsy shop name can be anything you like, as long as it adheres to Etsy's provisions. If you enter a name that has already been taken, Etsy will suggest similar titles that are available. You can also try our business name generator, which gives you tons of Etsy names to choose from. All you need to do is input three relevant keywords to your brand.

A little tip: take as much time as you need to find the perfect Etsy business name because you can only change it one time after you open your shop.

Step 4: Add A Logo And Biography

Your logo is the face of your Etsy business, and it is the first thing users see and know about you. It is the visually subtle impression of your products, your goals, and your Etsy business as a whole—more on this below.

On the other hand, your biography is the apparent impression of who you are, what you do, and what you are trying to achieve. You pretty much have free range to tell your target audience whatever you want, so go big with it. Talk about your background, interests, the story behind your craft, and why you love what you do.

Step 5: Complete Your Shop's 'About Us' Section

Just like your biography, your Etsy shop deserves a narrative of its own. You have 5000 characters to communicate the essence of your Etsy brand and how it could potentially impact your customers.

Here's another valuable tip: Etsy users (and the business itself) value openness and transparency. So don't try too hard to sell it. Instead, be genuine. Be real. Feel free to list out the people who have helped you come to this point and fellow partners that assist you in creating your products and managing the business.

Don't forget to include links to social media channels associated with the business and its products! Nothing like that extra boost of visibility.

Step 6: Determine Your Pricing And Shipping Costs

Now, you have the freedom to come up with the appropriate prices for your products. After all, you did craft them. And who would know more than you the suitable costs for your time and effort? Just keep in mind that you also have a sea of competitors in this vast marketplace, so don't go overboard. It would be a good idea to keep your prices reasonable at the start.

Ironically, shipping cost is the trickier part of the process. People may not mind investing in a product that helps them, but if the shipping price is too high, they very well may desert it. You can opt for Etsy to calculate your shipping cost, which they recommend, but you will be required to fill in the product's size and weight.

The truth is, people are more inclined to buy a product when shipping is free. It's common for people to abandon their carts upon seeing steep shipping costs. A study shows that 90% of consumers say free shipping is the top incentive to make a purchase. You don't necessarily have to ship for free, but consider low-balling the cost. Food for thought!

Step 7: Add Items To Your Shop

A fundamental step of learning how to start an Etsy shop is listing your products. You can include a maximum of 10 images for a product listing, but Etsy recommends using at least five. If you have at least five photos of the product, make sure that they hit the mark. Take pictures of the product from many angles with great lighting and contrasts.

If you have variations of a product, like color or subtle design changes, include the photos for each variation, so customers know their options. Ensure that the first thumbnail is the strongest because it is the first thing potential customers will see about the product. Regard it as your product's headshot.

Lastly, be as descriptive as you can with the listing details. You have a limit of 140 characters to sell it, so do your best. You can include in-depth information, bullets—whatever you want! As long as you capture what the product is all about.

Step 8: Open Your Shop

You have officially learned how to start an Etsy business, and there is one last thing left to do: launch it! Once you have established your Etsy page, click 'Open Your Shop', and voila, you are now open for business.

Pat yourself in the back for getting here! But do know that just opening your Etsy shop is hardly enough to get sales and build a loyal following. You need to upkeep your page with solid branding and marketing materials continuously.

Now, let's get you an awesome, free logo for Etsy business to propel your credibility forward.
How To Create A Logo For Etsy Business In 6 Easy Steps

So, you need a free logo for Etsy business—you've come to the right place!
A logo helps establish the visual identity of your Etsy business and sets it apart from other sellers in the market. Proper business branding gives you the opportunity to build a connection with your target audience, potentially inclining them to learn more about you.
A strong logo for Etsy business can elevate how it looks to viewers, but more than that, it provides you with professionalism and credibility.
Building your Etsy brand boosts trust and dependability between you and potential customers, which is crucial as they would be relying on you for quality products and purchases online.
When you start to connect with your target marketing through effective branding, your job gets much more manageable.
A logo is one huge step that can help you get there, and with our AI-powered logo maker to assist you, your visual branding needs are pretty much set.
Before we get to that, here are some other steps you should take to make your Etsy business stand out from the crowd.

How To Make Your Etsy Business Stand Out

A logo for Etsy businesses is essential, but there are other ways to stand out and make a good impression right away. ‍
Statistics show that 61 million new shoppers joined Etsy in 2020, and customers spent $3.3 billion from October to December. Etsy's overall sales increased by a whopping 145% from 2019, and these numbers are only going up in 2021 and the years to come.
As of April 2021, the most popular products on Etsy are gifts, with gift-related keywords topping the Etsy search ranking. Home decor and accessories continue to dominate the market above other categories.

Branding your Etsy shop is critical; here are other helpful tips to consider:

Do extensive research on other sellers in your industry.
Learn about popular trends among your types of products.
Modify your aesthetic and designs to fit with your products.
Offer premium products and budget-friendly options too.
Provide reliable customer satisfaction and service.
Use Etsy templates and snippets when you interact with customers.
Focus on optimal customer experiences above all.
Up your photo game with quality images.
Let your personality shine in your descriptions.
Emphasize the benefits and convenience of your products.
Optimize your product titles for Search Engine Optimization (SEO).
Tell your story in your Etsy profile; be genuine and authentic.
Boast about why you would be better than your competitors.
Increase and update your product inventory regularly.
Make the most of social media branding to promote your products.

The Etsy market is oversaturated and crowded; there are tons of sellers like you offering similar products. The best thing you can do for your Etsy business to stand out is to use high-quality and appealing images.
At the root of it all, these images are the first things potential customers see about you. Make a preemptive strike and include attractive photos for your products—ones that are bright, easy on the eyes, and beautifully appealing.
These tips can help keep customers intrigued and stick around, but a good branding strategy boosts the professionalism and quality of your online entity as a whole. A logo is like a visual pitch, and if it's appealing enough, it can compel users to click on your products.

Steps To Create A Free Logo For Etsy Business
Here are six easy steps to get a free logo for Etsy business and ways to promote and market your brand with your new visual.
Step 1: Look For A Great Name

Your Etsy name is more for your customers than it is for you. Decide on a name that oozes quality and appeal, so much so that it would compel onlookers to learn more about your brand and buy from you.
Consider using a Etsy store name generator to provide you with a great and memorable name along with a beautiful logo to go with it.
Add 1 to 3 keywords that are most relevant to your Etsy store and products and start your search.
For example: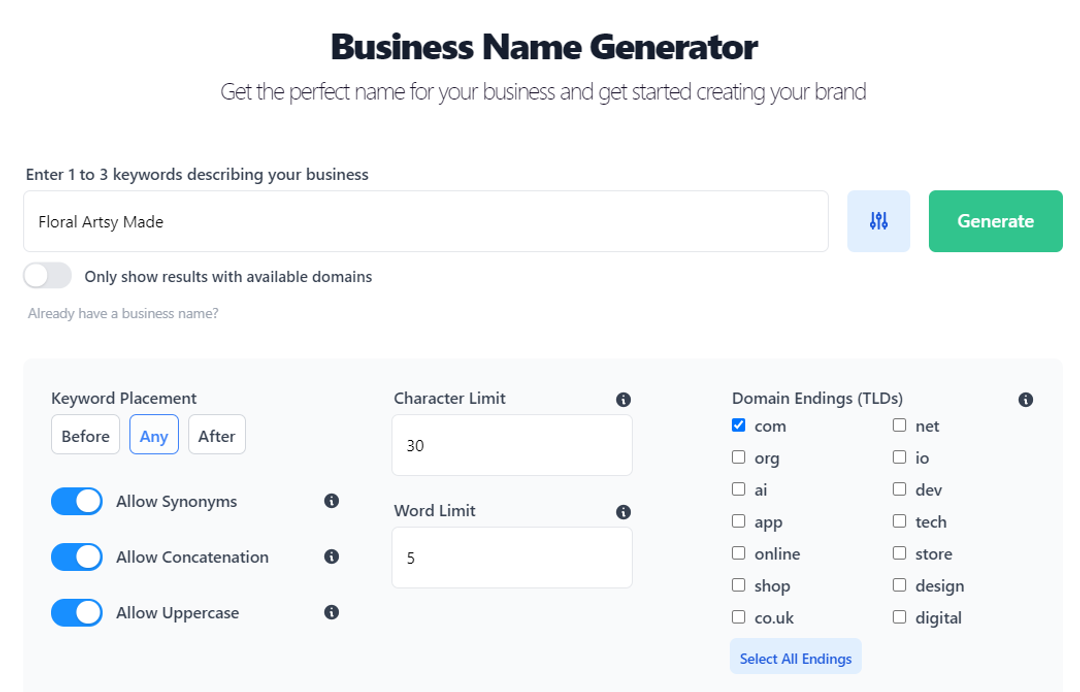 The tool will generate a ton of names along with potential logo ideas that you can browse and choose from.
Step 2: Choose The Name That Truly Describes Your Etsy Store


Browse through the selection of names and choose the one that suits your Etsy store the most. Don't worry about the logo design just yet—you'll soon get hundreds of different designs to choose from and customize them according to your needs.
Here are a couple of tips in choosing an effective name for your Etsy business:

Let it be unique and distinctive
Ensure that it's relevant to your products
Choose one that's easy to pronounce and memorize
Make sure it's simple and recognizable
Let it reflect who you are as an Etsy seller

Once you have chosen the right name, click 'Ideas' on the upper left of the page to check out hundreds of logo designs for it.

Step 3: Find The Logo Design You Like And Customize It

Every logo is customizable according to your preferences. Find a design that is closest to your ideal logo for Etsy store and click it to start customizing it. From here, you can alter its font, colors, icons, spacing— pretty much everything about it! The process is fun and you'll love the final design that you create.


Here are some tips for customizing a compelling logo for Etsy business:

Choose one or, at the most, two brand colors for your store.
Decide on one or two fonts at most for your Etsy shop.
Consider sans serif fonts for their readability.
Try not to overcrowd the logo with too many elements.
Choose and customize a simple yet strong design.
Make sure that your logo looks memorable and professional.
Choose an icon that best represents your Etsy business.

Customization is important because it ensures that the design is yours and yours alone. Nobody knows your ideal logo as you do, and with a professional logo maker, you get to make your vision come alive on your own terms and the best part is you don't need any design skills to do this.
Customizing your logo for Etsy business also makes it stand out from the competition. You get to explore your creativity with the designs. Customization gives your brand a distinctive and authentic style that only you can provide for it.
Here are some perks of logo customization:

Helps you stand out from competitors
Lets you tap into your creativity
Helps you create your ideal logo design
Adds distinction and memorability
Makes brand-specific elements come alive
Proves that the design is truly your own

Step 4: Preview Your New Logo On Marketing Merchandise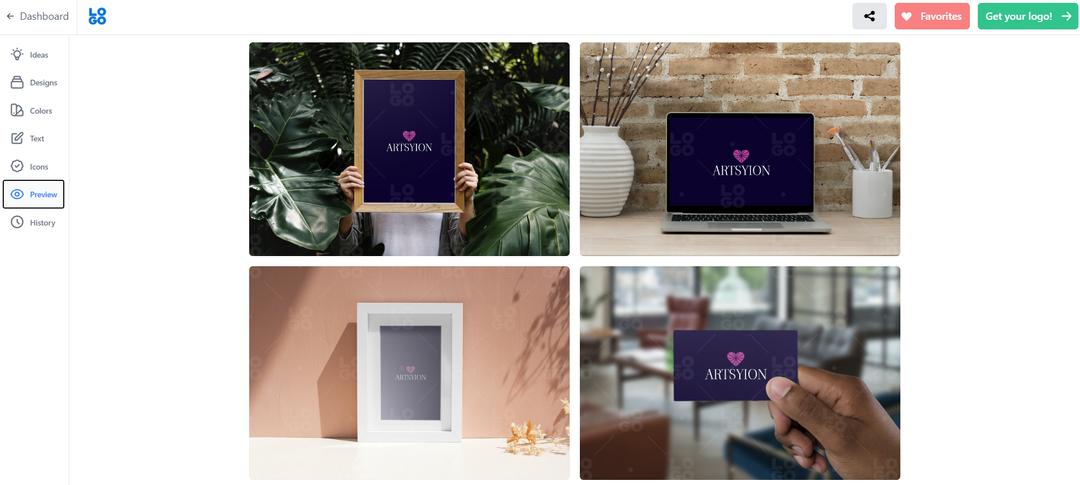 Once you're happy with the logo, click 'Preview' to see how it looks on several platforms and merchandise. You will also receive information about its font, color palette, business card designs— whatever you need to get your Etsy store running smoothly.
That's all it took to get a logo for Etsy business—four easy steps, and you're almost finished.
Step 5: Take Your Free Etsy Logo Home
Once you have finalized your logo, click the 'Get Your Logo' button. From here, you can take your new Etsy logo home free of charge!
You can start using your Etsy logo right away with these benefits:
Full ownership of your logo - Once you purchase your logo, it completely belongs to you and no one else, even if you decide to delete your account.
Instant access to your logo - Your logo is safe in your account. It is secure for you to come back to it whenever you need it.
100% satisfaction guarantee - Your happiness is everything to us. If you're unhappy with your logo, we will issue you a full refund.
Launch your Etsy business in almost no time at all. It's practical to get an early start, so go for it! But take note that your logo is just the start. You still need branding materials featuring your new logo to build your online presence.
This is where the Brand Plan comes in.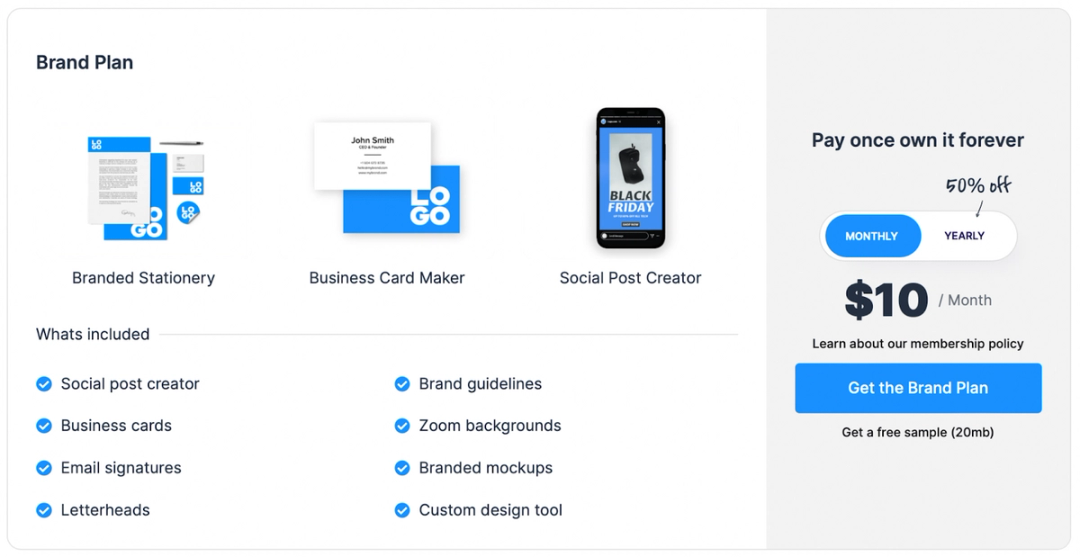 Our Brand Plan is your brand-building best friend. For only $10/month, you have instant access to:
Unlimited logo edits
Business card maker
Email signature maker
Custom design tool (Stitch)
Brand showcase
Brand guidelines
Perpetual brand backup
Oh, and all of them are pre-set with your new Etsy logo. Say hello to instant convenience and results!
Step 6: Promote Your Etsy Business On Social Media

Social media is a fundamental tool that allows you to market your Etsy products to the right audiences efficiently. For example, you can use Instagram to post appealing images of your products with descriptive and engaging captions.
Remember, good branding means forming credibility, and a way to build such a crucial trait for your Etsy business is to make your social media presence consistent.
A social media kit offers this consistency for your brand. In our kits, you get ready-to-use files for all social media platforms such as Facebook, Instagram, LinkedIn, Youtube, and Twitter so you can build your online presence in no time.
You also get access to a website builder that is free to use and you pay only when you're happy with the final result. This gives you countless opportunities for how you would want to use it to build your brand.
You can use it for recreation and diving into other forms of promotion, like creating engaging blogs about your journey as an Etsy seller—providing advice and tips to other sellers while also building your brand.
Did you know that 48% of people reported that a website's design is the top factor in determining a business's credibility? What are you waiting for? Build an awesome website for your business today!

10 Great Examples Of A Logo For Etsy Businesses

Here are ten logo examples for some design inspiration and creativity:

1. Go with this gorgeous shade of red! This logo for Etsy business is eye-catching and shows that you are passionate about your brand.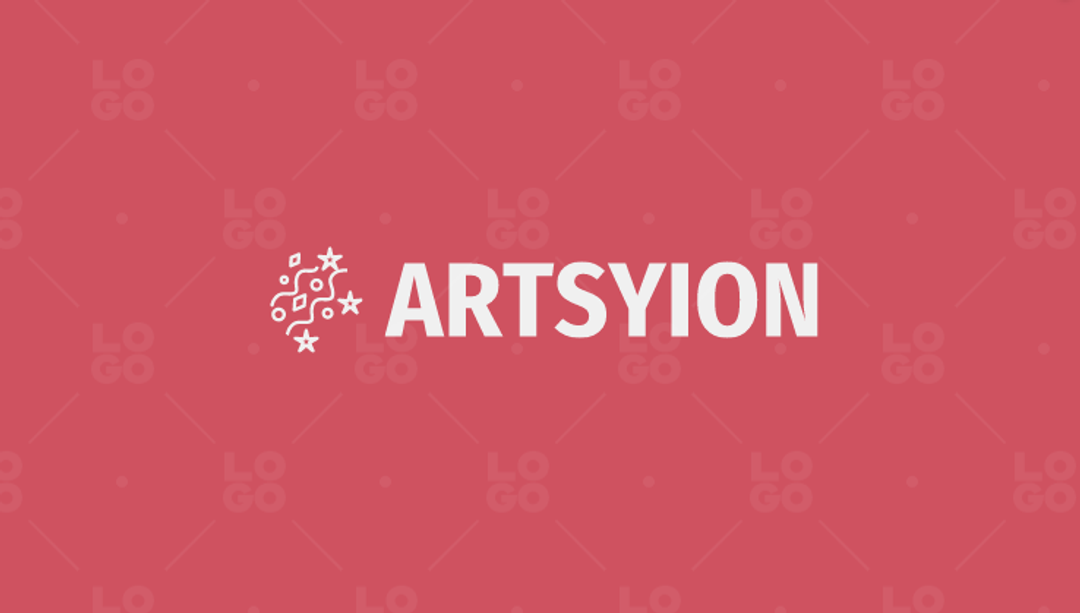 2. Show off your quirky side with this fun icon! A logo like this shows that you're humble, down-to-earth, and unique.
3. White space is an excellent principle in designing logos. It makes your elements stand out, and the chances of people remembering you are higher than if you use colored backdrops.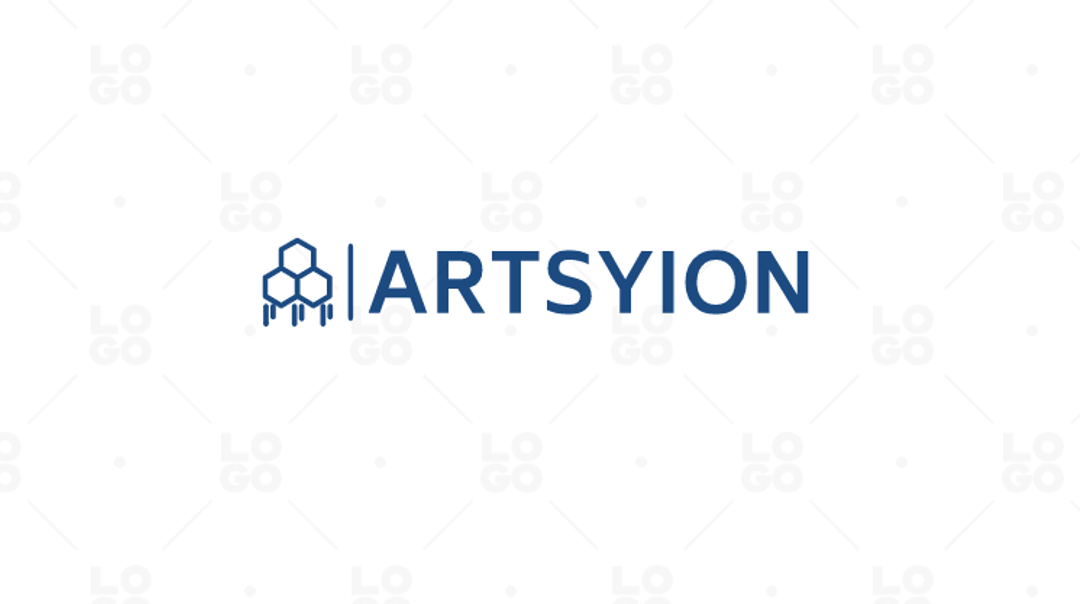 4. Nothing beats a simple black and white logo. Minimalist logos are compelling for any business, no matter the industry or specialty!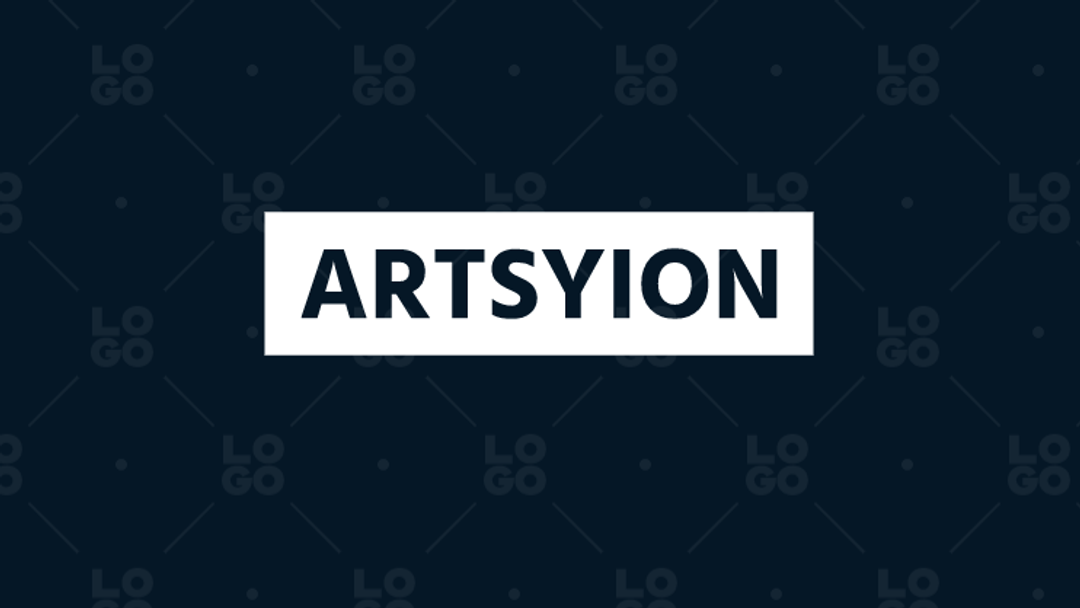 5. Do you sell clothes on Etsy? Use an icon of these cute buttons so people know what your brand is all about. Let your logo tell your story!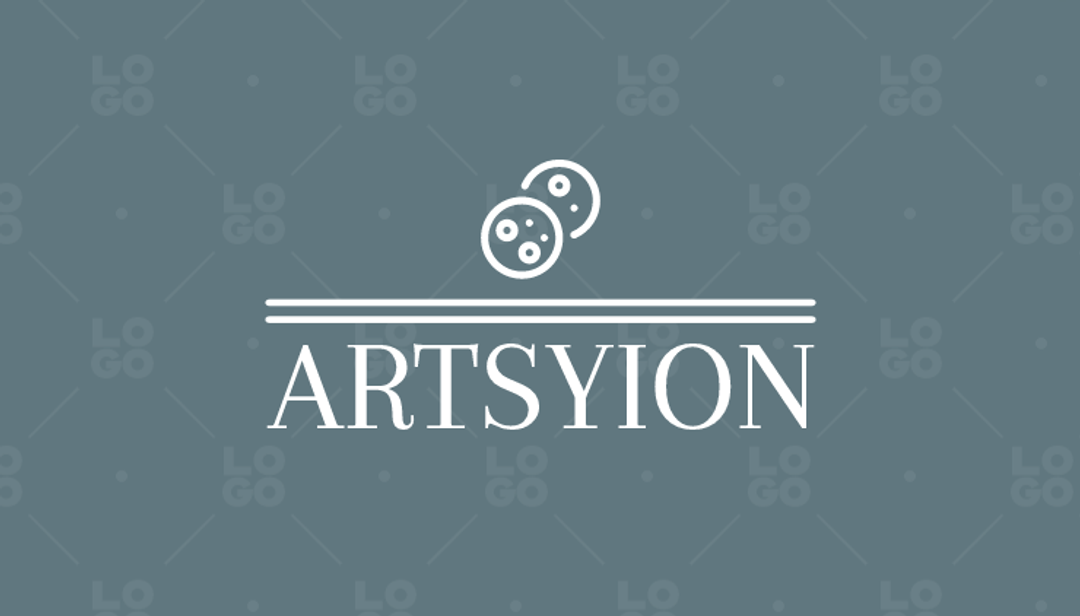 6. Do you make prints for your Etsy business? This icon shows precisely that in black, which also evokes sophistication and class.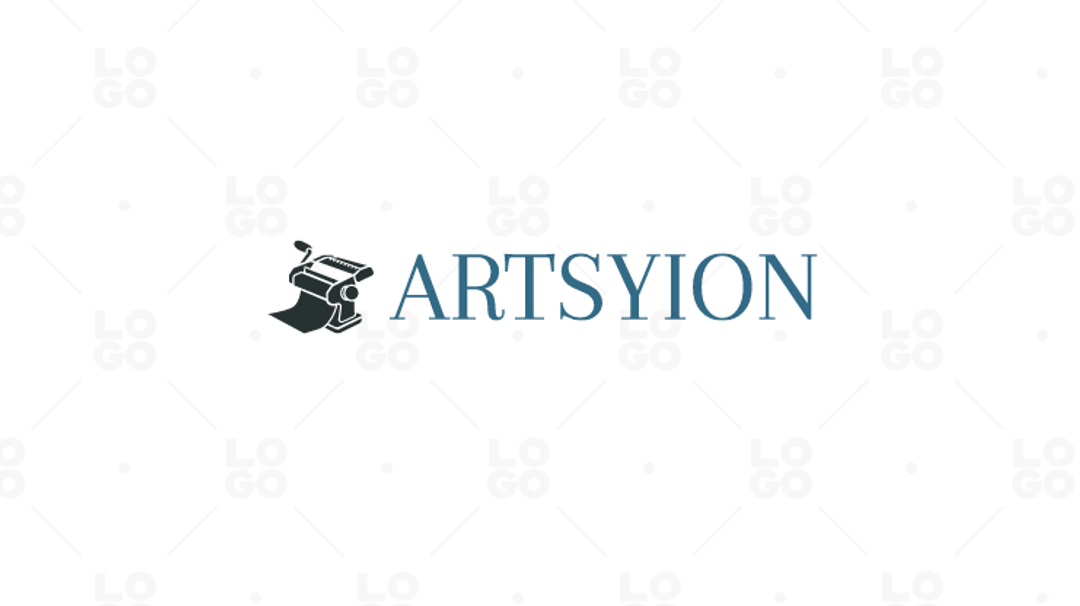 7. An effective logo also means having a readable and appealing font— and this font fits all the criteria!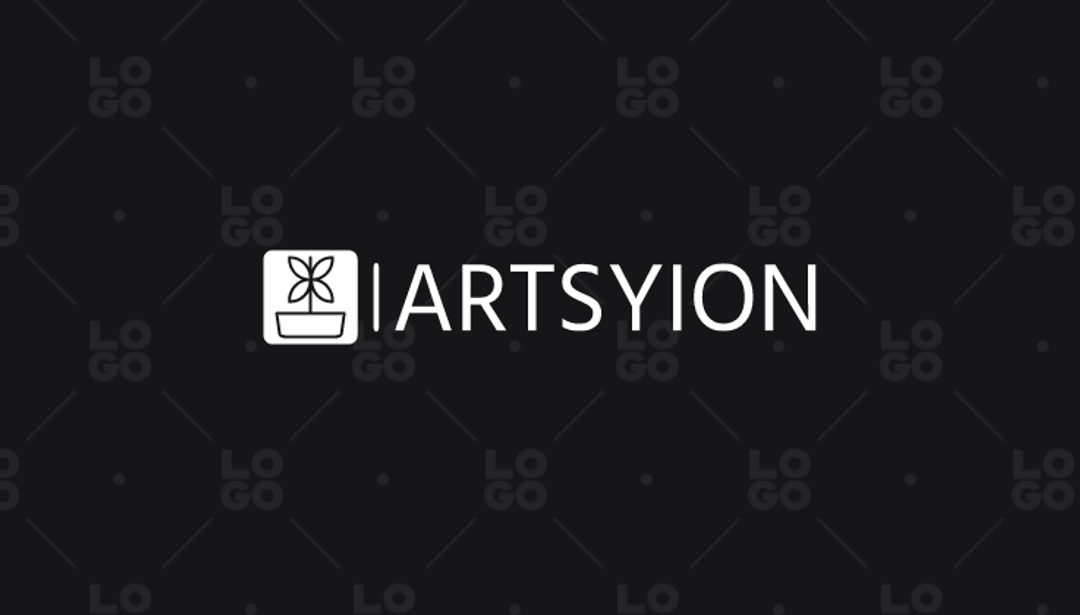 8. Do you feature some of your art on Etsy? This icon expresses that perfectly and with a touch of class, too!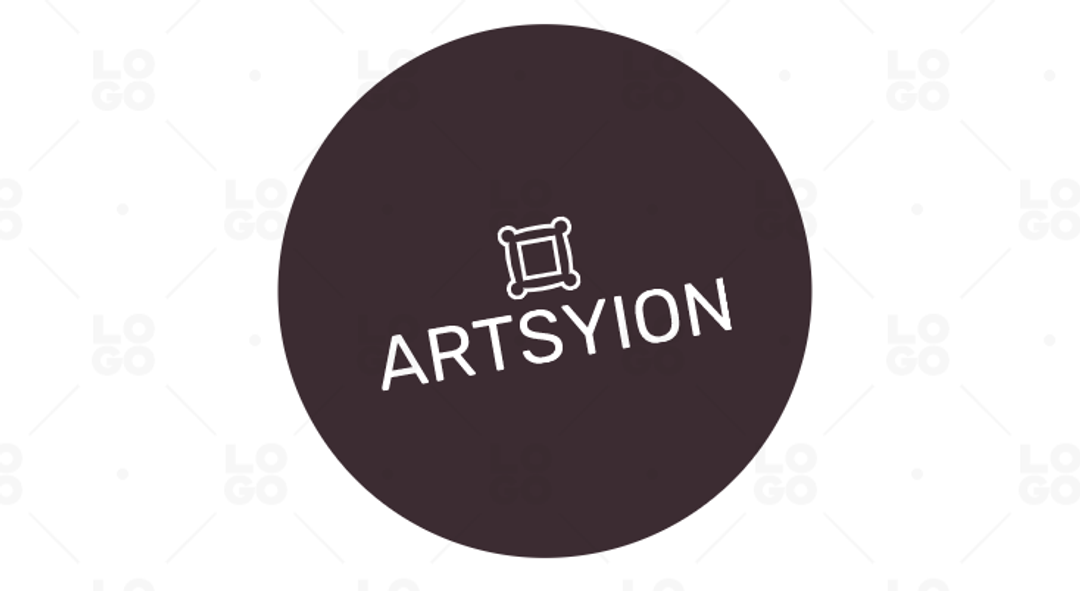 9. Show your love for what you do with a heart icon! Statistics show that 81% of Etsy customers are women— and what woman wouldn't be drawn to an adorable heart?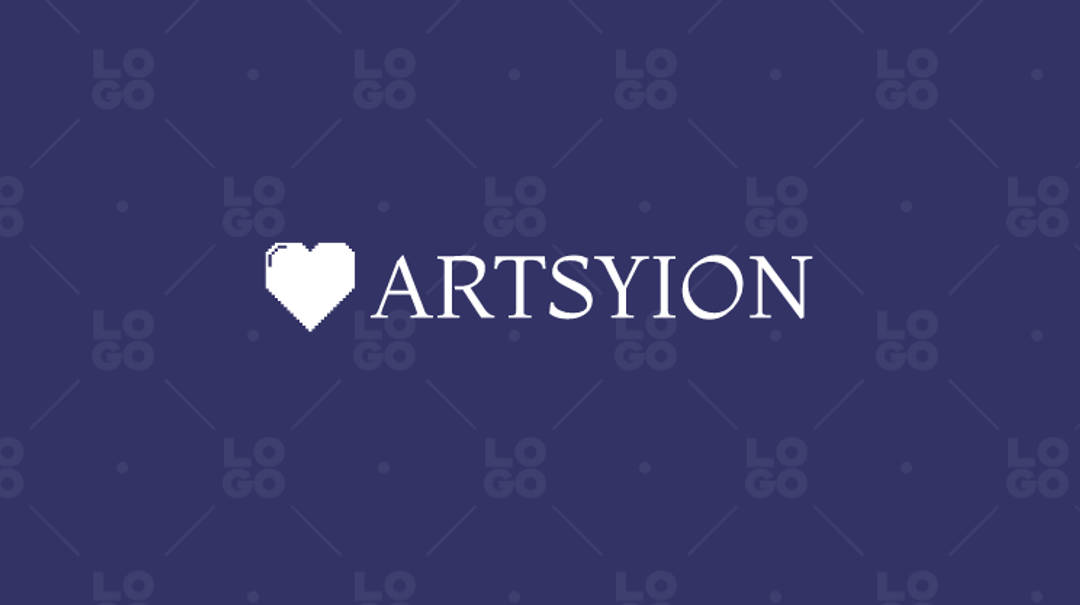 10. You can't go wrong with a pop of color! Utilize blue's professionalism, a unique and legible font, and an eye-catching icon— the perfect trifecta.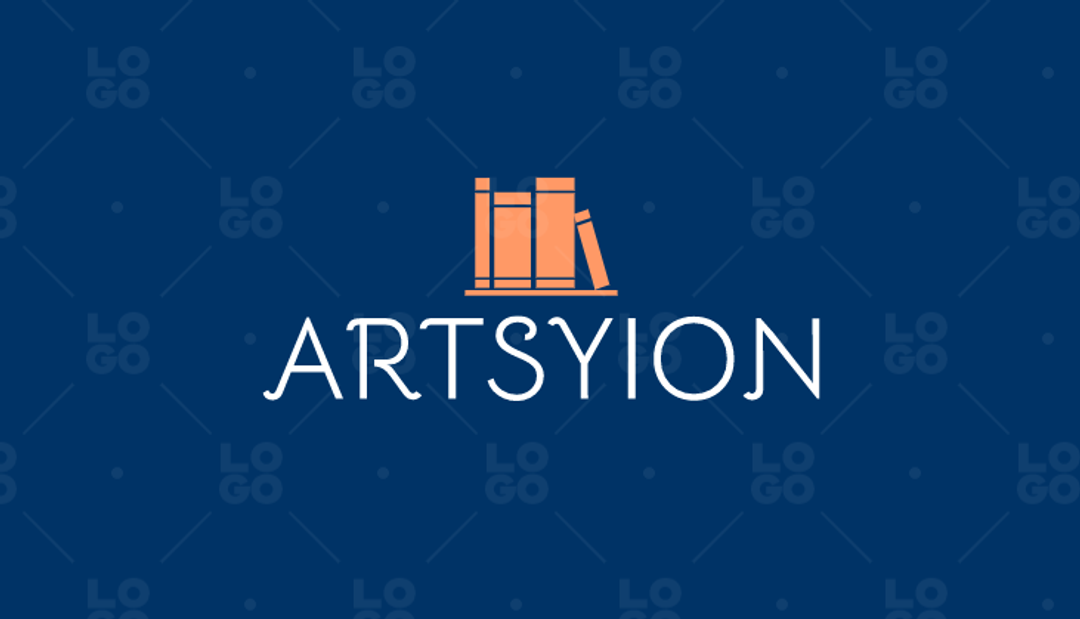 The Importance Of A Logo For Etsy Business

A logo is the core of your visual branding needs because it builds a foundation between you and your audience. It shows that you care about your Etsy business enough to brand it properly.
Compelling logos can ultimately set you apart from other sellers, and they can potentially tell users a story with a single glance.
Give our Etsy Shop Logo Maker a run, and let your store shine through with a beautiful, new logo today! Get started:
‍