Despite what you may have heard, your brand is more than just your logo, company name, and website.
We're not saying that visuals aren't important. It takes a mere 0.05 seconds for someone to form an opinion about your website, so it's clear that visuals play an important role. But your brand encompasses so much more. It's the entire experience your customers have with your company, including your product or service.‍
And that's what makes your brand strategy one of the most important elements of your business. ‍
With a solid brand strategy in place, your business can fully maximize the power of its brand, aligning creative elements with the company's overall business goals and objectives.
So, without further adieu, let's take a look at how you can create a powerful brand strategy that will stand the test of time.
But first, let's start with the basics: What is a brand strategy?

What is brand strategy?
Put simply, brand strategy is the plan that outlines how you'll achieve your long-term brand goals. A successful brand strategy must feed into all areas of the business. It should aim to improve the customer experience and gain a competitive advantage in the marketplace. ‍
As a result, it should directly contribute to the growth and development of the company. ‍
Although this might not sound too difficult, creating a successful long-term brand strategy is easier said than done. This is especially true if you're working in a competitive marketplace.
Let's take a look at some of the ways you can create a powerful brand strategy for long-term success.

What goes into a successful brand strategy?
The primary goal of a successful long-term branding strategy is to let your users know that your brand exists, know its purpose, and what defines it. A branding strategy is a fluid strategy that often needs to be revisited over time based on its success (or lack thereof).
The success of a brand development strategy is not always very straight and easy to measure. Branding strategies often involve intangible, difficult-to-quantify elements and, when building this kind of strategy, defining how success will be measured should be defined from the beginning.
Every company will approach how to measure success differently, but the results will include similar elements in their strategies. Answering the following questions can be a good starting point in drafting a successful brand strategy:
What are your brand's objectives and how do you communicate them?– What problems will your brand solve and how will it benefit its intended customers?
How do you identify your ideal customers?– who will benefit from the brand? How do these customers feel and how would they like to feel?
How do you identify your competitors– who is already giving your potential customers what they want and how?
How do you engage potential customers?– What personality and tone of voice will your brand have to achieve its goals?
9 steps to create a brand strategy for long-term success
Unfortunately, there's no set formula to create a successful brand strategy. Every business is different and requires a different brand strategy.
However, there are some best practices you can follow to make sure your brand strategy is as foolproof as possible.
We've outlined nine of the most important steps for you to consider when it comes to creating a brand strategy for long-term success.
Now, let's take a look at what we've got.

1. Identify your brand positioning
First things first, you need to identify where you want to position your brand in the marketplace.
This means spending some time figuring out where you want your brand to sit in the marketplace and how you want consumers to perceive your brand. Without this information, your entire brand strategy won't have a leg to stand on.

But how exactly do you identify your brand positioning?

Good question.

You need to figure out the following:

Your brand's current position in the marketplace

Conduct competitor research to see where you fit in relation to competition

Identify what makes your brand unique

Once you've done this, you can create your brand positioning statement that encompasses everything your brand is and aspires to be.

This leads us nicely into our next section.
2. Create a brand positioning statement
A brand positioning statement is a few sentences that capture the essence of your brand.

It's a chance for companies to highlight what they do, why they're different from competitors, and who their customers are. Think of it as the backbone of your brand strategy.

Ranging from your marketing activity to product development, this statement will inform all of your business decisions and make sure that everything is aligned with the company brand and expectations.

Here's a good example of a brand positioning statement from Mailchimp:

"Mailchimp is an all-in-one Marketing Platform for small [businesses]. We empower millions of customers around the world to start and grow their businesses with our smart marketing technology, award-winning support, and inspiring content."

From this statement, it's clear what Mailchimp does, who their customers are, and what makes them stand out from the crowd.

It's also pretty aspirational, and so it should be. After all, this is the statement your entire company will use to guide its brand strategy.
3. Align your brand strategy with the business strategy
To create a brand strategy for long-term success, it must align with your business strategy.

After all, if your brand strategy doesn't contribute to the overall growth of the company, it's not serving its purpose.

Think of your business strategy as the context from which your brand strategy is created.

Use your business goals, objectives, and KPIs to guide your brand strategy. As a result, everything in your brand strategy plays a role in the overall growth and success of the company.

Let's use an example to put this into context.

Imagine one of your company KPIs is to increase revenue from returning customers. To support this KPI, you decide to focus your brand strategy on customer loyalty.

You make sure that the importance of customer loyalty is reflected in your brand messaging and in your brand positioning statement. It can be shown off on your website, via professional email, or through any other platform where existing customers are likely to engage with your brand.

As a result, your brand strategy directly impacts the success of company KPIs and, by extension, the company's growth.
4. Identify and understand your target audience
Creating a brand strategy is pretty pointless if you don't know who your target audience is.

Without knowing who you're targeting, your brand strategy can lack the direction it needs to target the right people and be successful in the long run. ‍
And with 67% of consumers saying that brands need to provide personalized experiences, it's clear that you need to provide them with a tailored and customized experience.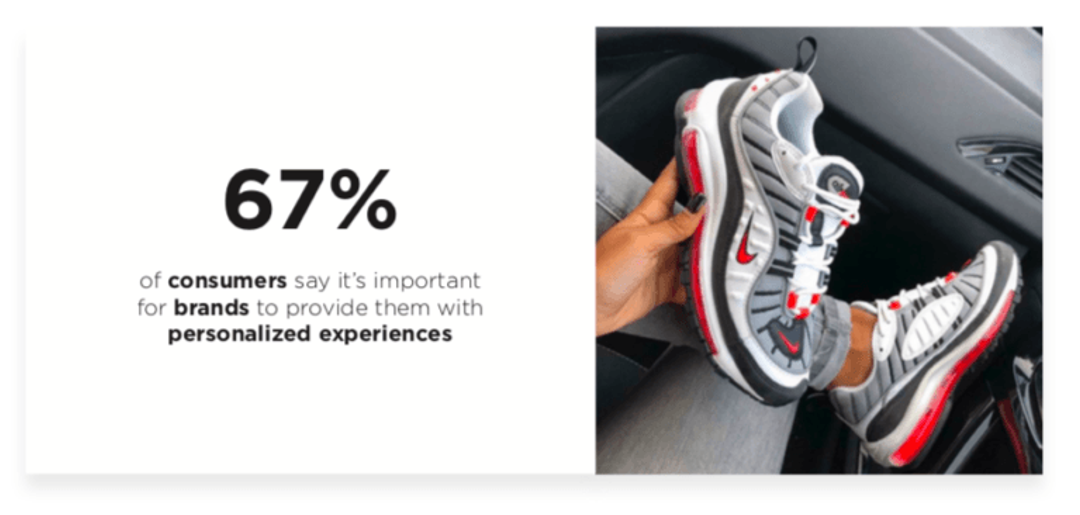 So how can you identify your target audience?
This is where market research can help.
Market research helps you figure out who your customers are, determine what their perspectives and priorities are, and allows you to tailor your brand messaging to resonate with them. ‍
In other words, it helps you to understand your target audience and identify the best methods to engage with them.‍
Once you have this information, you can make sure that your brand strategy is tailored toward your target audience.
5. Create relevant and useful content
Every piece of content you share reflects your brand. Whether that's a social media post or an article on your website, it all represents who you are as a company. And with a recent survey showing that 79% of customers find user-generated content influencing their purchasing decisions, the importance of content is apparent.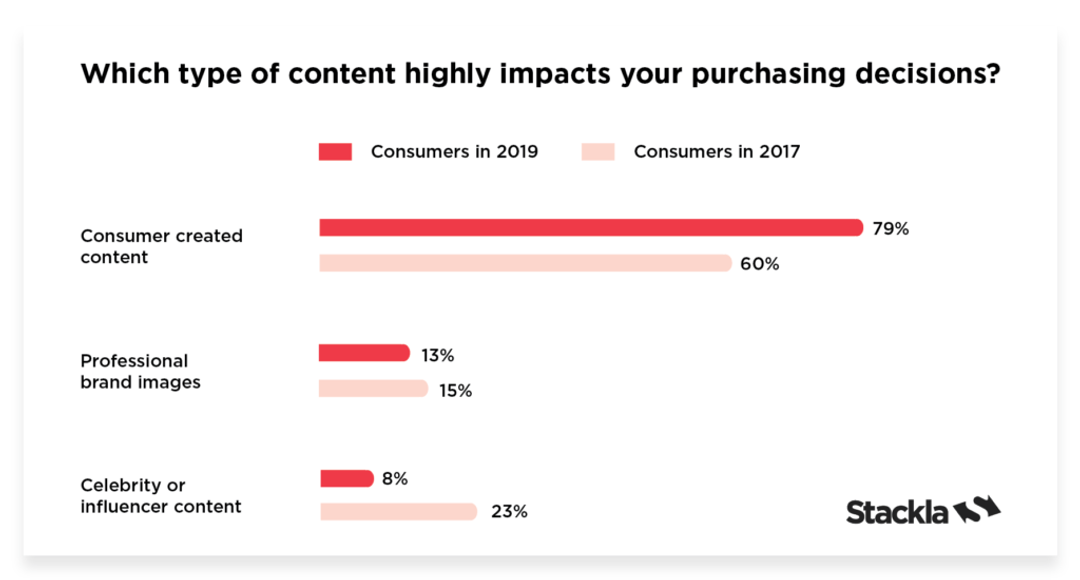 So it goes without saying that content should be part of your brand strategy. But we're not just talking about any old content.
Your brand strategy must include content that is both relevant and useful to your target audience. ‍
All of your content needs to have purpose and relevance. This will ensure that your target audience finds it both useful and interesting. It also helps to make sure that your brand strategy is built for the long haul. ‍
Take a look at Preply, for example.
As an online tutoring platform, Preply created an "online English courses" blog for beginners.
Not only does this content resonate with Preply's target audience, but it also provides them with useful and relevant information.
When it comes to creating your brand strategy, make sure the content you put out there provides useful information to your target audience. This will ensure that consumers engage with your brand and value the information you're putting out there.

6. Collaborate with other brands
Strategic partnerships can be incredibly useful for developing your brand strategy.
The process involves partnering with other companies to cross-promote your product or service.
‍As a result, you get to reach a new audience, increase your brand awareness, and provide added value to existing customers. ‍
Let's take a look at a successful brand collaboration in action.‍
Swagbucks, an online rewards program, partners with a variety of brands to develop its coupon business. As a result, its customers have access to far more discounts, and Swagbucks gets increased brand exposure by associating itself with several well-known brands, like Old Navy, for example.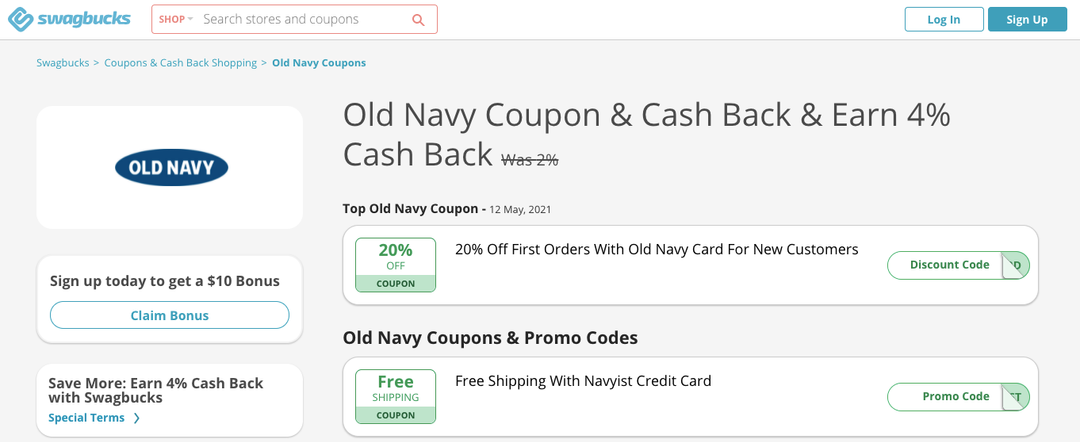 This is a perfect example of a successful brand partnership. Everyone involved benefits from the partnership, and the two companies both have a similar target audience.
This leads us on to another point.‍
You must partner with a company that has a similar target audience. The company you choose should reflect your brand in a good light. ‍
Imagine a partnership between a sustainable clothing company and a fast-food restaurant. Not only are they unlikely to target the same audience, but their brand perceptions will likely change because of the partnership.‍
So how can you make sure you partner with the right brands?‍
Ask yourself the following questions:

Does this brand cater to a similar target audience or a new audience I'd like to reach?

Does this brand have a good reputation?

Does this brand reflect your brand's messaging?

If so, get that partnership up and running.
7. Invest in your customer relationships
We've already mentioned the importance of identifying your target audience. Now, we want to talk about the importance of building a relationship with that audience.

73% of customers cite customer experience as playing an important role in their purchase decisions, and 32% would stop doing business with a brand they loved because of one bad experience.

Based on these statistics, you definitely want your brand to be known for providing a great service. That's why your brand strategy needs to focus on customer experience.

But how can you show customers that you provide an excellent service?

Well, testimonials and case studies are a good way to start. Take Frevvo, for example. Using a customer review about its small business workflow, this company has created a case study that illustrates the impeccable service it provides and how great the product is.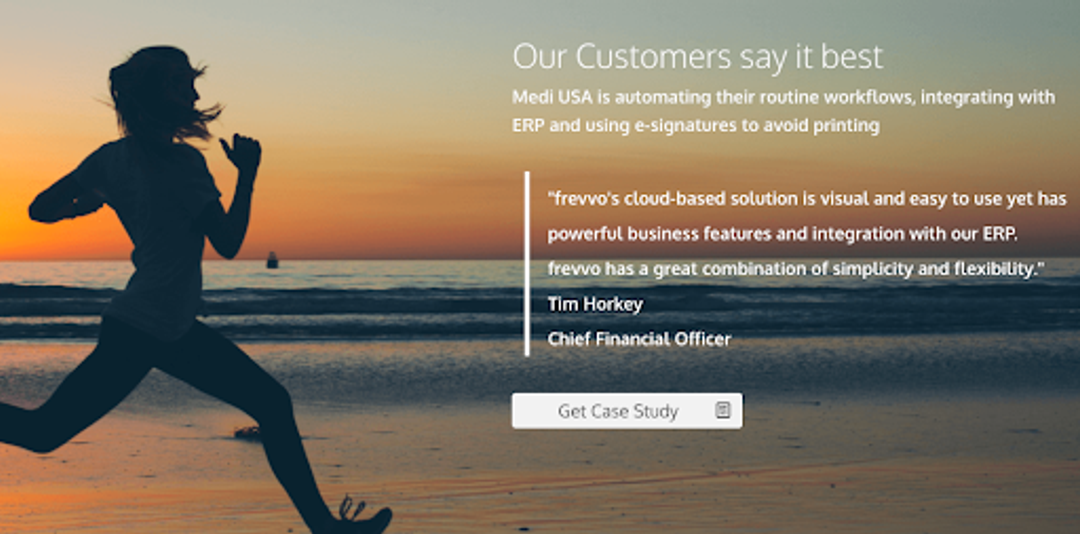 By doing this, Frevvo reaffirms itself as a reliable and quality brand, showing consumers that it provides a great service. If you want consumers to know that your brand provides a good service, make sure you include customer experience as part of your brand strategy.

8. Consistent branding across all platforms
A key element of any branding strategy is consistency.
This means keeping your messaging and visuals consistent across all your platforms, whether that's online or print.
This is important for a few reasons:

Build trust in your brand: People trust brands they recognize. It's a fact. Research shows that when a consumer has seen your messaging repeated across three different channels, their trust strengthens. So keeping your branding consistent helps consumers trust your brand.
Raise brand awareness: If your branding is consistent, people are far more likely to recognize it. As a result, consumers become more familiar with your brand.
Increase revenue: Businesses estimate an average increase of 33% in revenue when their branding is consistent.

Let's take a look at some consistent branding from a real company.

Nlyte, a company that provides small businesses with Data Center Infrastructure Management, matches its branding across its entire website and all of its social media platforms.

Here's an example of its homepage: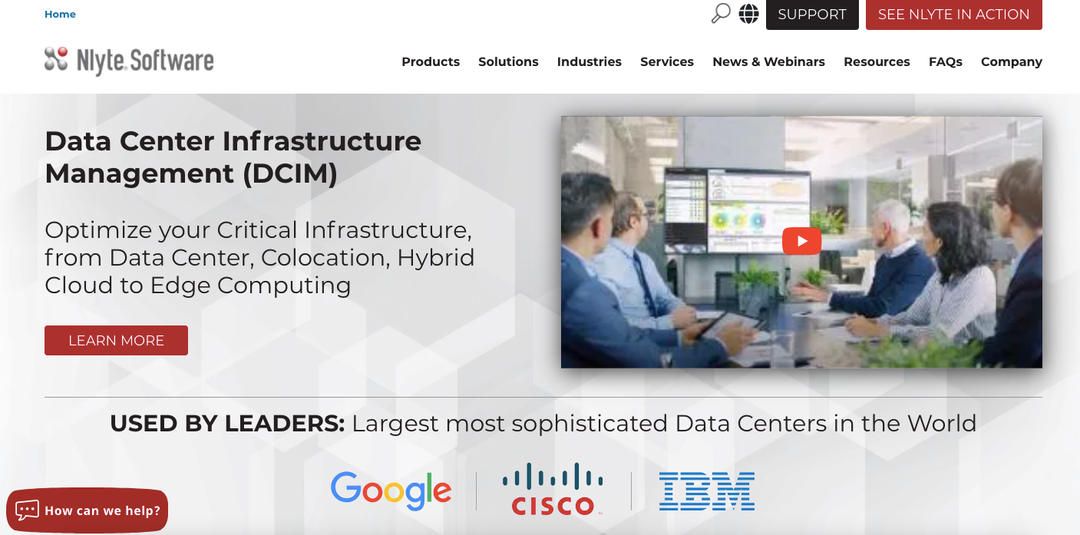 And now, take a look at its Twitter page:
With the use of consistent branding, consumers can see this is the same company. The same goes for if they visit Nlyte's LinkedIn or Facebook pages, too.
Posts across all of its social media channels also reflect the same messaging from the website. Not only does this align the brand visually, but it keeps messaging aligned, too.
So, when it comes to your brand strategy, make sure you think about how you can achieve consistency across various channels. Doing so will ensure that consumers recognize your brand and build trust.
Additionally, focusing on continuous product development and innovation is crucial to meeting customer needs and staying ahead in the competitive market.

9. Constantly track progress
As much as we hate to admit, it's rare for strategies to run smoothly with no hiccups along the way.

And that's why tracking progress is important.

To maximize your brand strategy, you need to monitor progress continually. This will ensure that your brand strategy stays relevant and continues to support the company's overall development.

When it comes to tracking progress, here are a few questions you can ask yourself to get the ball rolling:

Has the brand strategy been implemented as planned?
What are the measurements by which you're defining success?
How many leads or conversions have you seen since implementation?

The progress markers you set will be much more specific to your actual strategy, but these questions are a good starting point.
Whether you're reviewing progress weekly, monthly, or quarterly, ensure that your strategy is playing out as planned. And if it isn't moving as planned, you can spot any mishaps and make the changes you need to get things back on track.
A Brand Strategy Template To Use Right Away
Having brand strategy templates can guide your business in the right direction. They help you organize and allocate specific business priorities in a way that unifies your brand's elements. It may sound complicated, but when you take it one step at a time, you achieve so much for your brand.
Before getting into the specifics, these are essential tips to remember as you start building your brand: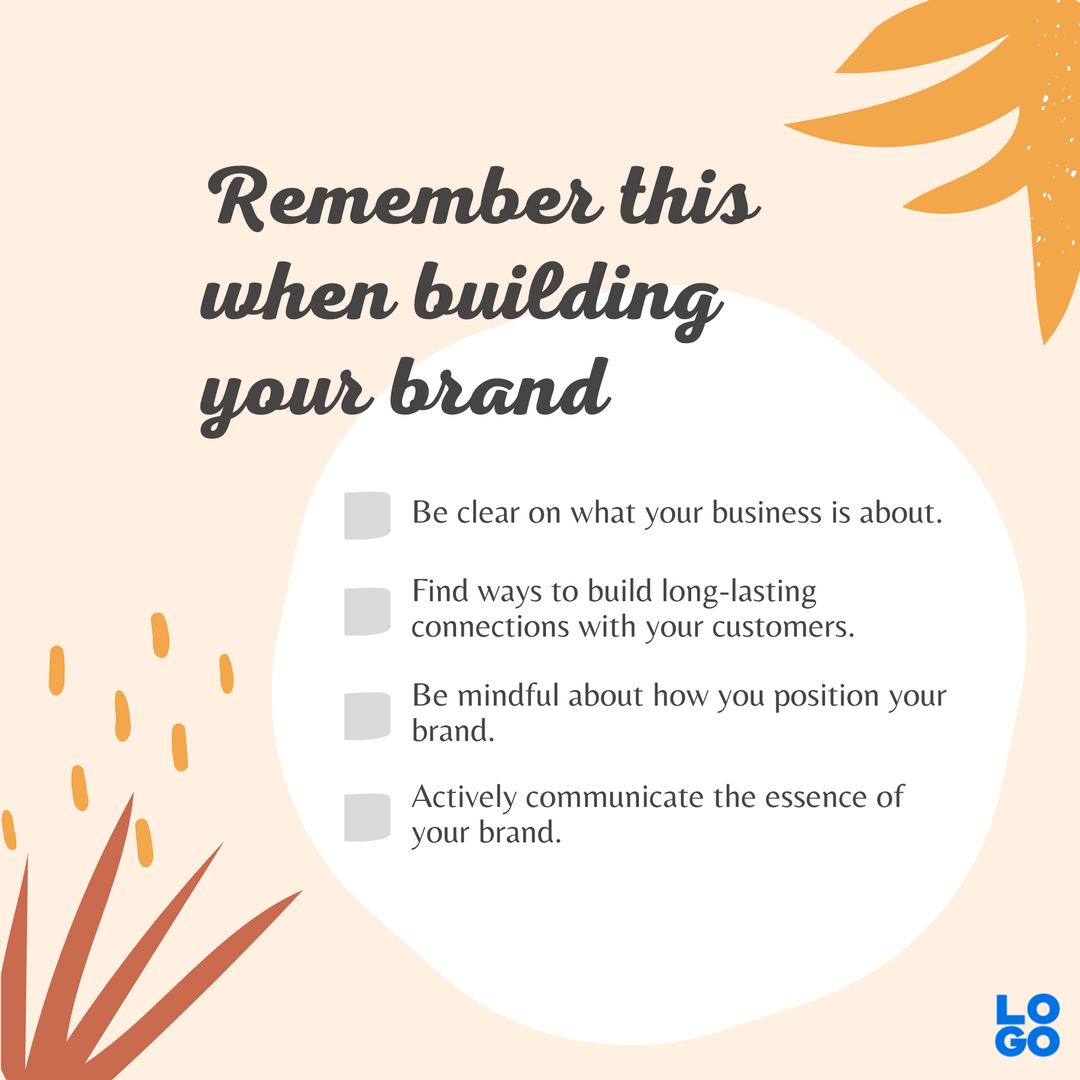 Take the time to introspect and truly understand what your business is all about. What was the intention behind creating this brand? What do you want your audience to know about you?
Attract customers in a way that they would eventually want to build a long and lasting loyalty to your business.
Position your brand accordingly— let your standing allow you to display why you are better than your competitors in every stage of business growth.
Communicate the essence of your brand at every move, decision, and opportunity that presents itself.

These tips are the key to unlocking a strong brand— one that has much to offer. But to take on these necessities, it is vital for you to understand this brand strategy template— essentially the whats, whys, and hows of building a brand.
Brand Strategy Template

Effective brand strategy templates allow you to build a story for your business. If it's impactful enough, this story will have your audience remembering you, and soon enough, loyalty follows. Follow these steps to create a solid brand from the get-go.
Determine The Heart Of Your Brand

The heart of your brand comprises its history, values, purpose, vision, and mission. Take the time to understand your brand's belief system. People connect to ideologies that resonate with them, and the heart of your brand can form a bond that shows them why they should invest in you.

History

How did your brand come to be? Was it a lightning bulb moment during a walk in the park? Did you discover the idea because you thought it would help people and make their lives easier? The roots can say so much about a foundation. Build a strong story for your brand by incorporating its history in every move.
Values

What does your brand believe in? What are the principles behind everything the brand stands for? These values must be considered throughout every business decision. More importantly, they need to be authentic. What is this business all about, and what qualities make it up?
Purpose
What is the point of having this brand exist in the world? It seems like a bit of an existential question, but the answer behind it is essential. Every brand has a purpose for being. Whether it is a personal mission, a guide to help people, a pursuit for answers— whatever it is, let this purpose come through at every touchpoint of the business.
Vision
Where do you see this business going? Outline where you would want your business to be in the short term and the long run. Understanding your goals will help you detect the right priorities that will help you reach your vision.
Mission
The vision is the destination, but the mission is how you plan on getting there. What is it that you need to do to reach your goals? Take the necessary steps to attain the future of your business that you're looking for.

Determine The Essence Of Your Brand

The essence of your brand is in its personality. Try thinking of your brand as a person with a distinct personality. Describe them and convey these brand traits in everything you create and do.
Your brand personality is what separates you from the pack. What are the attributes and characteristics of your brand? Is it fun and quirky? Is it formal and professional? Curious? Sophisticated? The options are endless. And whatever personality is best suited for your brand, it must be consistently shown to the world.
The reason that personality is the essence of your brand is that it reflects the heart of your brand. How you demonstrate your identity goes back to your history, beliefs, purpose, vision, and mission.
When you have a solid understanding of your personality as a brand, you allow customers to connect with you. And you, as a brand, will stand out in the way you can cultivate relationships with your audience.

Determine The Communication Of Your Brand

How you communicate with your customers is in your brand voice and tone. The two regularly get mixed up, but their differences are stark. Once you have established your brand personality, figuring out the tone and voice is a simple feat.
Voice

Your brand voice is the way you speak to your audience. Every brand voice is unique depending on the personality and industry of a business. Is your brand a fashion line? If so, a brand voice of sophistication and confidence is best suited. Is your brand a daycare business? That would mean a brand voice of friendliness and gentleness is the best way to go.
Tone
Your brand tone is essentially a depiction of your attitude and disposition. If a brand voice is how you communicate, a brand tone is how your audience perceives this message. You can have a voice that is authoritative one day and one that is soft the next— depending on the purpose of the message. The brand voice is consistent at every step, but the tone can change according to the type of communication needed.

Design The Visual Identity Of Your Brand

Now that you have your brand's heart, essence, and communication, it's time to translate all those branding characteristics into your designs. The visual identity of your brand comprises the logo, brand colors, different types of fonts, and typography of your business.
Did you know that 65% of the global population are visual learners? People respond to designs because it is more easily digestible than content that requires effort to be perceived. In fact, people form first impressions in a matter of seconds. This is why the visual identity of your brand is fundamental in developing a bond with your audience.
Logo

An effective logo is a memorable logo. And the most memorable logos embody simplicity, minimalism, and quality. Your brand logo is a regular sight to see— it's displayed on any and everything associated with your business. Because logos are a significant reflection of a brand, many companies make the mistake of overloading it with too many elements in an attempt to communicate themselves immensely. But evidence has shown the more simple the logo, the more personal the connection.
Colors
Your logo will be everywhere, so ensure that you choose the right colors for your brand. Taking the time to introspect on steps one to three helps you understand the most suitable colors for your business. Every color represents different characteristics. Is your brand a fitness business, possibly a gym? Green, red, and yellow are popular choices for fitness brands. Green exudes movement and growth. Red is the color of power and strength. Yellow represents optimism and energy. Depending on your industry and personality, you can find the best colors to say what you need to say.
Typography
Another extension of your logo is the typography, and it's just as important as the colors. Choose a font that remains readable on whatever platform or product you feature it on. A particular font can look great on a website but not so great on tangible products. This can also happen vice-versa. As the millennials say today, get you one that does both!

Make Your Brand Elements Come Alive

Coming up with a brand strategy isn't the end of the road. Brand building never stops. It is important that you make your efforts come to fruition by regularly making your brand shine through in everything that you do.
Here are a couple of ways to effectively implement the brand strategy:

Start creating content that is aligned with your brand. Content marketing is an industry predicted to be worth $412.88 billion in 2021.
Use social media branding to engage with your target audience and build a connection with them by telling your story.
Determine which benefits of your brand are most important to each of your customer pillars.
Don't forget that the most powerful brand strategies tap into the emotions and thoughts of the audience.
Stay committed to your brand at all times. A brand strategy needs to be re-evaluated. Elements may change as the years go by, but the dedication should always remain for a successful business.

Time to create your brand strategy
So there you have it. You now have the knowledge you need to create a brand strategy geared toward long-term success.
Using this information, you can give yourself a solid starting point to continue growing and developing your business.
Author Bio:
Joanne Camarce is a digital marketing expert specializing in SEO, eCommerce, and social media. She loves meeting new people and embraces challenges. When she's not wearing her marketing hat, you'll find Joanne perfecting her art and music skills.
Ready to build your brand? Get your logo here!